Since TV was invented for commercial use in the 1920s people have extolled its virtues and decried its vices.
Love it or hate it, television is a big part of many people's lives.
As with other staples of pop culture, some TV shows gain a place in the hearts of viewers.
Redditor RunningInCali asked:
"What TV show is your go-to comfort show?"
Call of the Wild
"Wildlife documentaries."
- LucyVialli
"Anything with David Attenborough."
- Wizdad-1000
"His voice is just relaxing on its own."
- Aarizonamb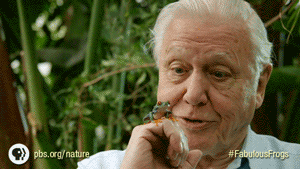 Giphy
Laughs in Space
"Futurama. I have so many good memories laughing at it with friends, it brings me back."
- throwingplaydoh
"I've been falling asleep to Futurama for about 6 years now. Whenever it's not playing I have difficulty sleeping."
"Now if my girlfriend is sleeping over I'm so acutely aware of how quiet it is."
- UptownShenanigans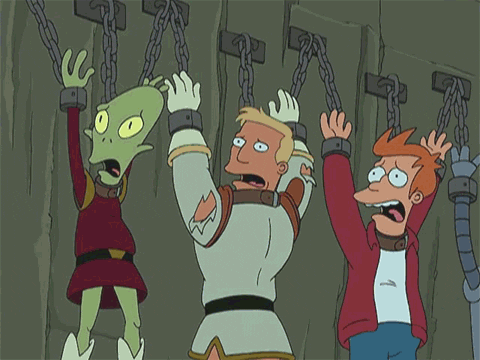 Giphy
Adrian
"Oddly enough I really love rewatching Monk from time to time as it gives me comfort about my own self. Even though it's a fictional show it was the only show that I've been able to fully relate to it's main character."
"It helped me come to terms with and fully accept my mental quirks and the reality that just because I suffer from severe social anxiety and various phobias those things don't make me any less of a person than anyone else."
"Abnormalities aren't inherently bad and there's plenty of real people out there that you can connect with or relate to."
- BradRodriguez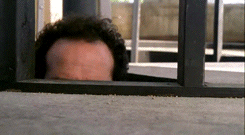 Giphy
Poor Lois
"Lately Malcolm in the Middle."
"Not only is it a fantastically well-made show, but my family's problems exist to a greater degree in their family."
"They're a troubled family but ultimately have great lives. It's comforting."
- Cartossin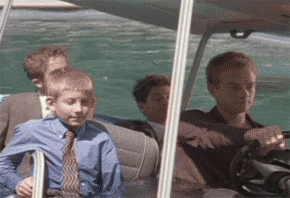 Giphy
Make It So
"Star Trek: The Next Generation"
- SissyCouture
"Oh man, absolutely. My dad and I butted heads a lot when I was a teen, and sometimes it got pretty heated."
"But no matter had happened, or what had been said, at the end of the day we could always sit and watch TNG together."
"Now, some 20 years later, it still helps me when I've had a bad day."
- CaptainDrunkBeard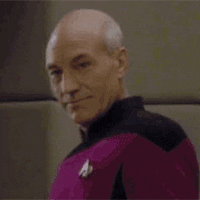 Giphy
Poor Gus
"Psych!"
- flyinhawaiian02
"This is one of my favorite comfort shows to re-watch!! My friends and I used to watch it during study breaks back when I was in school."
"Even after all this time, it's laugh-out-loud funny. Gus will forever be my favorite."
- thematrix1234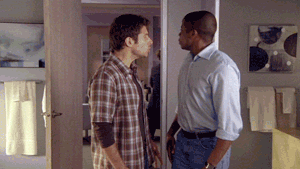 Giphy
Ron Swanson Is A Mood
"Parks and Rec because it's just so feel good."
- TheWildGooseChaser
Giphy
The Hollywood Handshake
"The Great British Bake Off."
- penny_can
"The very definition of a comfort show. It's like being in a warm bath that never goes cold."
- CyanManta
"The comradery is so heartwarming! This is definitely my go-to, and is a great palate-cleanser type of show after watching something heavy."
- catlady3LSS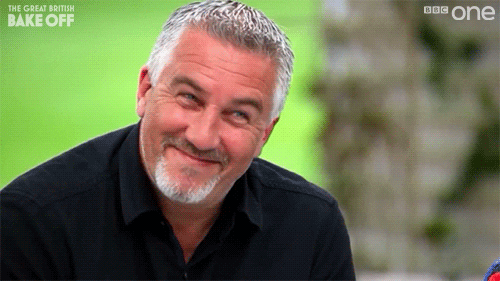 Giphy
Poor Tina
"Bob's Burgers, something easy to half pay attention to while unwinding."
- System_Soup
"That's my go to show. It's like going home and seeing family. You feel like everything is going to be ok, and you're not alone."
- SummerOfMayhem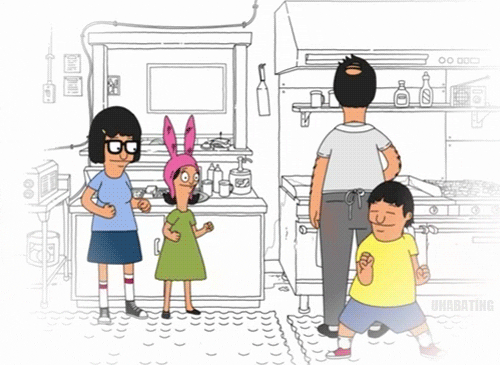 Giphy
Dearly Missed
"No Reservations."
"Anthony Bourdain had this way of making you feel immersed in these far flung destinations and cultures."
"When working six to seven days a week with a full time job and a part time job I often just feel caged by work sleep repeat."
"Anthony and his show seems to open that cage and put me at ease if only for a moment."
"RIP Mr. Bourdain, and thank you."
- randomandy90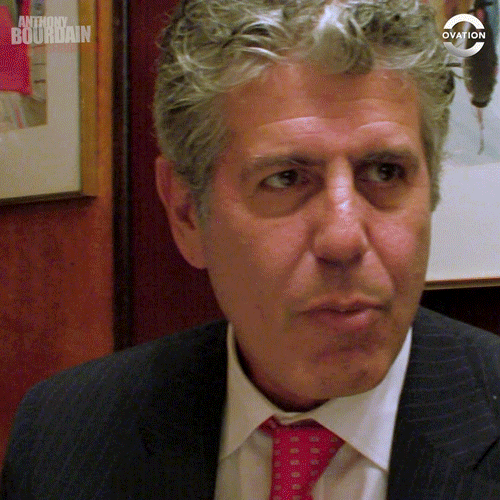 Giphy
Did your comfort show make the list?
What would you add?
Want to "know" more?
Sign up for the Knowable newsletter here.
Never miss another big, odd, funny or heartbreaking moment again.
Keep reading...
Show less
We like to think we have more control over the world than we really do.
Not to venture into dime-store super-villain territory, but so much of the world is chance, or luck, or a random simulation of numbers assembling in front of us in a Matrix-like scenario. Life is chaos.
We can't predict everything that will ever happen to us, nor should we, because how could you ever predict anything like the following stories?

Reddit user, Financial_Lime_252, wanted to know what could never be fully understood when they asked:
"What's the most unexplainable thing that's happened to you?"
Turns out the world is not as big as you think, if these random chance encounters are anything to go off of.
What Are The Chances Of Finding You Here?
"I was visiting the united states, tens of thousands of miles from home, walking along the beach and heard someone call out from the terrace of this cafe. It was my former boss from back in my own country. My mind can't even begin to calculate the unlikeliness of that."
paconadamas
...Not That High, Apparently
"I was walking down a busy street in Dublin on my way to work and I bumped into a guy who was the bouncer at a club I used to go to before I left to go overseas. We both stopped, looked at each other and said "what the f-ck are you doing here?" at the same time. That was over 20 years ago. I'm back in my home country now and not long after I moved into my new place I bumped into him. He lives a couple of streets away from my place."
reverendgrebo
Maybe the inexplicable thing that happened to you isn't so much bizarre and otherworldly, but a just a crazy random happenstance that would take eons to do the mathematics on.
Baby Trash Panda Stories Are Always Cute
"Was in a Krogers parking lot trying to figure out a car issue. Dude who had something tucked under his arm came up, and asked me if I needed help -- I knew what I was dealing with, but said yes, because I'm a computer guy, not a car guy, and you don't know what you don't know, so to speak."
"He proceeded to take the tool I was using to mess with the battery terminal, and handed off the thing that was under his arm, which happened to be a raccoon pup, saying, "Don't worry, he don't bite." I'm completely stunned, holding and petting a completely calm raccoon while this guy sorts out my car. He takes it back, and goes about his day."
"One of many random and unexplainable encounters in my life, but probably my favorite."
Crimsonial
The Connection Is Made
"When I was really really small, like 4 or 5 years old, a woman my mom worked with at the insulation plant, gave my mom one of those 90's fisher price dollhouses because her daughter outgrew it. I even remember the night my mom brought it home, she was so excited that she woke me up at midnight to give it to me (she worked a late second shift). An insulation factory wasn't really a safe place for a really small child, so I had never met the lady. I only knew her name was Rosella, because I thought it was such a beautiful name."

"I had never seen photos or anything to identify her. Fast forward about a month after mom brought home the doll house, I was walking into the general store with my mom. I have no idea what compelled me, but I ran up to a lady checking out in line and yelled out "Rosella!!" Turned out, it was her. My mom just stood stunned, and Rosella had assumed that mom pointed her out to me. Except I had yelled out her name before my mom had even seen her."
todaysmomsawyer
Your Spider-Sense Tingled
"My husband was driving and I was a passenger in the front seat. I dont know what made me do this but I quickly grabbed his arm and I shouted "slow down!"which he did. Then a few seconds later a car on our left side sped past us really fast, then careened into our lane and crashed into the car in front of us. The person speeding died and the person in the car in front of us died. Had I not had told my husband to slow down we would've died because we would've been hit."
"It's inexplicable what made me do that but I'd like to believe I have a good angel watching out for me."
CA_catwhispurr
We like to think there's random luck in the world, where fate and chance meet at the crossroads of life, giving us wondrous experiences to tell later on.
However, not all of these events are actually random, no matter how much we wish they were.
Do Dogs Climb Trees?
"like 15 years ago while still lived with my mom we had a big backyard and had two dogs, one night i heard the dogs running back and forth not barking but they were whimpering, like scared or something, and when I went out to see I saw another white dog, like a BIG white husky dog, and it looked at me with piercing red eyes, then turned around, climbed a fucking tree and jumped to the backyard next door."
"To this day I know for sure I wasn't high, and still don't know what that was."
orbit103
Well, That's A Little Easier To Comprehend...
"I have very bad luck, but I think the most significant was when a cop thought I was someone they were chasing (on an open street) and I got tazered in the back and was hit with a baton several times in the face and ribs. The cop realized I wasn't the person and just ran off without saying anything."
"I called the police and they claimed they have no record of it, and I got a lawyer and tried to pursue action against the police department but it all just fell flat and everyone acted like it didn't happen, even most of my family."
"So I got the pleasure of having partial blindness in my right eye (left eye dominant so thank goodness) and suffer from a broken nose and two broken ribs along with being tazed and humiliated in public for no reason. Things are good, I tell ya what."
ConnieSparks
People Explain Which Conspiracy Theories They Believe Are 100% True | George Takei's Oh Myyy
It's often the bizarre, almost trivial conspiracy theories that take root in people's minds and a Reddit thread dedicated to plumbing the depths of these bel...
Not Even Security Footage Can Explain This
"My wife had the week off work, so she offered to drive me to work. I asked her to check if she had her keys, phone, and wallet before we left. She noticed her wallet wasn't in her pocket and asked me to help look for it. I sort-of recalled her putting it on the mostly cleared kitchen island the previous evening. It wasn't there. We moved the few things off of it, but still couldn't find it. Both of us thought that she might've dropped it while she was out shopping the previous day, and to call around to the stores when they opened."
"So we went about our day and she drove me to work. She was quite disappointed to have to spend one of her days off calling the bank to cancel all of her cards, going to ICBC (auto insurance provider) to get a replacement drivers license, and going to her work to get a new key card. She stopped by the two stores she visited the previous day but both had no such wallet in their lost & found. She decided to head back home so she could grab her passport/other ID incase she was asked for it."
"She walked into our condo and saw the wallet, sitting alone on the kitchen island, in the exact spot that I remembered it was. We have security cameras but the footage during that hour corrupted and wasn't viewable."
"Neither of us can explain what the fuck happened. No one has spare keys except my MIL, whom was out of the country. No friends stayed over. The only "logical" explanation is that one of our cats took it off of the kitchen island, hid it, and then brought it back while we were out."
"We definitely had some odd situations happen in that condo."
fishymoo
You Found Your Doppelganger
"When I was 5y/o my mom opened the door to two cops who where telling her that her daughter, (me) was outside alone in spring with only a t-shirt and shorts at 1AM ish."
"At the time I was sleeping with her every nights. So she told the cops it cannot be true I'm in her bed right now. She comes to get me and we go in the entry. The two cops said that the little girl knew where she's living and that's her who said she was living at my house. The two cops then look at me creep out and ask my name. I have a very unique name by the way."
"Then the cops took the little girl to show my mother that it wasn't a joke of some sort. The little girl entered and ran to my mom yelling "mommy mommy it's me lili". My name is Livia I don't know how the f
"We often tell this story with my mother to family reunions. I wish I was kidding, she had similar physical traits too, not identical but similar."

"She knew my name and made a nickname with it to this day. I do believe she heard the cops asking me questions. Then I started to cry and eventually the cops left with the little girl."
According-Car-296

Helping Someone Pass Beyond
"My best friend passed away this past March. On the morning that she passed, right around the time that the coroner said she must have died, I woke up from a dream where she had been dying. In the dream, she thanked me for everything I had done for her. A few hours after I woke up, I sent her a text just wanting to check in. It was right after I sent that text that I got a phone call from her mother who told me she had passed that morning."
"I'll never understand why I had that dream, but I like to think that on her way out she visited me one last time."
Itsnotaduck
Things. Hurt.
"I still have a print of the photo."
"Around 1996, I borrowed a new digital camera from my work and brought it to band practice at our bassist's house, who was also studying computer programming at the time. I took a bunch of "band pics" and excited about the new technology, we loaded the photos onto his computer to get a good laugh at our drunken foolishness."
"In one particular shot of the bassist, we were stunned to see something bizarre. The TV screen behind him in the photo was black, except for white, cloudy "ghost writing" that said "things hurt." We had NO explanation for this. My friend printed the photo on his black and white printer, and I still have a copy to this day."
Tomegunn1
The world is a big place, and a lot can happen to you in that time. Think critically. You'll find the world makes a lot more sens if you do so.
Keep an eye out for baby raccoons.

Want to "know" more?
Sign up for the Knowable newsletter here.
Never miss another big, odd, funny, or heartbreaking moment again.
Keep reading...
Show less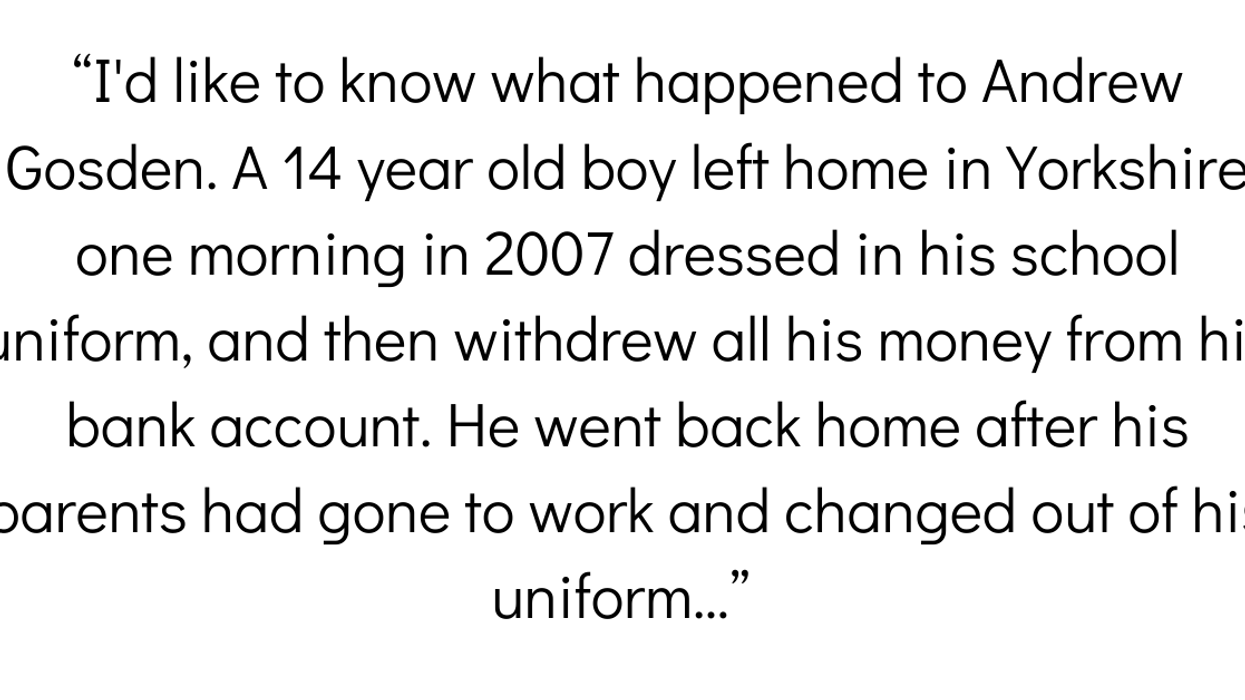 When a tragedy happens it sticks with the community for a long time. However, when such an event goes unsolved then it becomes a point of interest.

One of the most famous disappearances from my childhood was what happened to Jonbenet Ramsey. As a young child, I didn't understand then what horrible things could have happened except that this beautiful girl about my age was missing and her parents missed her.

It is one of those unsolved cases that has always stuck with me and is so sad that her family never received any answers. One Redditor wanted to share which unsolved cases kept them up wondering.
Keep reading...
Show less
Unsolved mysteries remain a fascination not only to those directly involved in the case, but to many other people across generations.
The lack of closure in many peculiar cases can become an obsession and the subject of discussion among many theorists.

Who killed JonBenét Ramsey in 1996? Who is the identity of the Zodiac Killer – who murdered five known victims between between December 1968 and October 1969?
Those and many other cases remain under investigation that still hold the general public's attention.

Curious to hear about other unexplained incidences from strangers on the internet, Redditor the-70s-kid asked:

"People of Reddit, what's a mystery that still hasn't been solved?"
Keep reading...
Show less
Unsolved mysteries provide a very interesting piece for the human brain to sink its teeth into.
Without an answer, humans will inevitably try to solve the mystery. Have you ever found yourself on Wikipedia at 4 am trying to solve the Jonbenet Ramsay murder? Yeah, we're talking about things like that.
As such, humans gravitate toward these mysteries. We can't help it.
u/Crusader_boi_420 asked:
What mystery was never solved?
Here were some answers.
Gone Baby Gone
Disappearance of the Beaumont children in 1966 in South Australia. Three kids were playing at the beach and never came home. Multiple witnesses saw them playing with a mid-30s male suspect, who possibly gained their trust over time. It's crazy how many people saw this man, and he was never found, and neither were the children. Their mother died last year in her 90s, never knowing what happened to her children, and their father is alive and in his 90s as well now.
What Happened To Them?
The disappearance of the Yubo County five aka the disappearance of Gary Mathias.
The Yuba County Five were young men from Yuba City, California all with mild intellectual disabilities or psychiatric conditions, who attended a college basketball game at California State University, on the night of February 24, 1978. Afterwards, they stopped at a local market for snacks and drinks. Four of them—Bill Sterling, 29; Jack Huett, 24; Ted Weiher, 32; and Jack Madruga, 30—were later found dead; the fifth, Gary Mathias, 25, has never been found.
Zoooooom Zoooooooooooom
D.B. Cooper.
My theory is he faked his jump from that plane, and was still on board hidden somewhere when it landed.
It's generally accepted that he worked in aviation, or was very familiar with aircraft. He knew to choose a flight operating the Boeing 727, which was one of the only aircraft of it's type with an aft airstair door, and also how to unlock the door and lower the airstair mid-flight, something that even the cabin crew were not trained to do.
Jumping out over a remote area, within the benefit of a predetermined drop point, or being in contact with someone on the ground which wouldn't have been possible in 1971, would have been suicidal. Even if he'd survived the drop and landed safely, he'd likely have died of exposure or hypothermia unless he was picked up or reached shelter soon.

My theory is; Cooper locks the flight crew in the cockpit, then opens the aft door, throws out two parachutes and a small portion of the ransom money to make it look like he jumped. He then uses a maintenance access panel to access the cargo bay or landing gear area (prior to takeoff from Sea-Tac he advises the pilot to remain at 10,000ft with the flaps extended and the landing gear down) and waits there until they land in Reno. FBI sweep the cabin and confirm he's gone but I'll bet they never checked the cargo bay or landing gear. Cooper then waits for the confusion to die down and walks away with his money in hand, wearing the uniform of a cop or airport ground crew which he either changed into or had hidden under his suit all along.
Realising that the bills were marked and that he could never deposit them or spend them without attracting attention, Cooper either destroyed them or hid them somewhere and waited for the heat to die down which hasn't really ever happened, going back to his normal life instead.
Hotel Roofs Are The Site Of Many Mysteries
Rey Rivera
He went missing for 8 days until a hole was found on the roof of a building one day. When the hole was investigated, they found Rey himself, clearly dead. It's theorized he must've jumped off the neighbor hotel's rooftop but there a bunch of holes (pun slightly intended) regarding that theory
No one staying those nights Rey was gone heard any screams or a crash
The hole was pretty far away from any close part of the rooftop of the hotel
Not only his glasses were intact, but his cellphone was in one piece
The Twilight Zone
James Tetford. He boarded onto a bus, and when it got to his stop, he was simply gone. His belongings were still there. There were no stops in between, so there's no way he'd gotten off.
I like to think different realities crossed, and he got transported to another reality.
A Personal Mystery
I have a very large family, especially on my mother's side. A few weeks ago, we were talking about how large my maternal family is, and she brought up her cousin Patricia. When Patricia was seven, she went to daycare during the day while her parents were at work. The daycare was only two miles away from her home, this comes in to play a little later. Patty's mom was at home cooking dinner, and her dad was going to be working late. Her mom got a call from the daycare worker, and told her to have Patty walk home, since it was only two miles away, and she didn't want to leave the house unattended while dinner was still cooking. Patty never came home.

Search groups were put together that night, but to no avail. The following Sunday, a group of boys were playing in a field after church, where they stumbled upon Patty's corpse, battered and broken. Her murder hasn't been solved, but there was speculation that it could have been the Zodiac Killer or the Golden State Killer, as Patty lived in California with her family at the time of her death. If it was truly the Golden State Killer who killed my mother's 7 y/o cousin, then I hope he rots in his prison cell, and then in hell. I know this isn't a well known mystery, since it's a very personal story, but I thought I would share.
Unfortunate Expeditions
The frog boy murders. 5 South Korean boys went looking for salamander eggs in the forest one day. They disappeared. Their skeletons were found years later in a shallow grave on the mountain. Still unsolved.
Alone In The World
The unknown dead hiker. This case will never cease to blow my mind
This guy met, chatted with and hiked with several people over the course of a year. Most people knew him as "Denim" which isn't too weird since backpackers commonly use trail names.
Then one day a man recognizes Denim's tent, goes to check up on him & finds him dead. Reports afterwards apparently claim the man only weighed 80 lbs at the time of death, which points to him dying of a severe illness. One hiker said he told them he wanted to do this "while he still could" which reinforces the theory that he was sick.
Thing is though, no one has cone forward to claim this poor dude since he was found. Literally NO ONE knows who he is. Barely any info has been released on the investigation around him, not even an autopsy can be confirmed to have been done.
He was found with nothing more than his gear, a notebook containing code, presumably for a game or hiking app he was claiming to be designing, and about $3k. People have speculated him to be from Brooklyn, Seattle, and Louisiana, yet still no one can name the poor fella.
Le Mystère
More than 300~ years after,in France, the identity behind "The Man in the Iron Mask" ("l'Homme Masque de Fer" in french) is still unknow, some people said that he was the brother of the king at this moment, others people said that he was the king himself, most people think that because he was held as a political prisoner...
No relation, but Eichiro Oda took this man to make some of Sanji's background in One Piece...
Wasn't This A Buffy Episode?
In the 1850s a boy and girl were observed in a field a very short time before an explosion was observed where they were. When people went closer to investigate, the boy and girl were dead. Nobody knows who they were, how they ended up in that field, or what they were doing there. The explosion appears to have been caused by the boy and girl trying to do something with explosives, but why they were doing that is not known.
I saw a morgue photo of the girl's face and it didn't ring any bells. Whether other photos exists, I don't know. After all this time it's unlikely that this mystery will ever be solved.
Keep reading...
Show less