Everyone loves a good mystery or ghost story, particularly one with a massive twist regarding one of the main characters.
But surely, stories like this never happen in real life?
Such as finding yourself stuck on the side of the road, when a guardian angel of sorts comes and helps you, seemingly out of nowhere, then disappears just as mysteriously.
Or getting a call warning you about something which sounds far-fetched, then happens three weeks later?
Surely, these are the types of situations only found in the work of Shirley Jackson or Edgar Allen Poe.
Or are they?
Redditor vinnlo was curious to hear if people had ever gone through a mysterious experience which they still can't explain to this day, leading them to ask:
"What's the most mysterious thing happened in your life that you can't find any explanation for?"
Mom Acting Weird
"My mum is a type 1 diabetic, has been since she was 11 years of age."
"When me and my little brother were very young, I was about 7 and he was 5 , I came into my mum's room to find she was acting extremely strange."
"She looked almost drunk, and wasn't really responsive."
"I went to pick up her insulin needles to see if she would react to that and she didn't."
"So I panicked and phoned my Nan who told me to put the phone down and dial 999."
"For some reason I was so frightened and confused I didn't, and sent my little brother outside to get help while I tried to get my mum to respond to me."
"My brother came back in crying saying he couldn't find anyone and then about five minuets later this woman just walked into my mum's bedroom, called me by my name, and my brothers, said she knew my mum and help is coming, she was calm, soft-spoken and had a warm feeling about her."
"I didn't recognize this woman and neither did my brother."
"Shortly after the ambulance arrived and got my mum's sugar levels back up."
"And when I went to find the woman, she was gone."
"Like literally gone."
"When my mum came round I explained to her about this mysterious woman and what she looked like."
"And my mum had absolutely no idea who she was, and we never saw her again."
"If she didn't help us my mum would have died eventually."
"Still gives me shivers now."- leeshouse90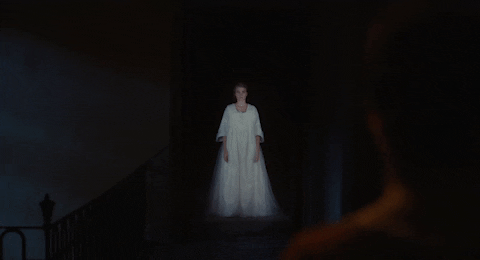 Portrait Of A Lady On Fire Neon Rated GIF by NEON
Giphy
Psychic, or lucky?

"When I was around 18 a friend and I were traveling in Europe."
"We were walking along a pleasant, quiet street in Rome one day and saw an elderly homeless man sitting on the street."
"He said to us if he could guess our date of birth could we give him some money?"
"Of course we said ok."
"He did it! "
"He told us both our correct dates of birth!"
"Never met him before and never saw him again."- robertodurian
Some Unfinished Work, Maybe?
"I was at my mother in law's flat in Hungary."
"Fyi I don't speak Hungarian, so I couldn't be aware of any of this."
"I tend to go to bed later that my wife, and for the first couple of nights, I had trouble falling asleep because around midnight I could hear the neighbor upstairs."
"It's an old block of flats made under the communist era, walls are incredibly thin."
"Walk in high heels, which was very annoying."
"I could also hear little objects fall on the floor, and I told my wife it sounded like the plastic buttons you have on some clothes."
"She looked at me funny and told me her niece hated to sleep in that room because she was scared by the noises coming from upstairs."
"I said that was a bit exaggerated, and I thought it was until my wife told me the flat upstairs had been empty for the past at least 4 years."
"Neighbor died years before that, and guess what?"
"She was a tailor, always nicely dressed and wearing high heels."- mimzou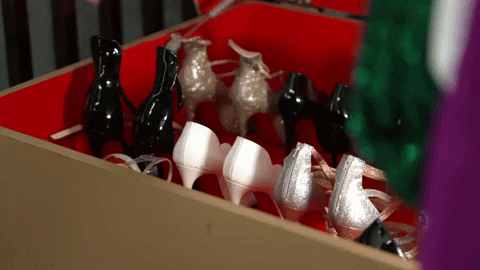 High Heels Shoes GIF by Real Housewives Of Cheshire
Giphy
Gone Without A Trace
"When I was a kid, I participated in Big Brothers Big Sisters, which if you don't know what that is it's pretty much just a mentorship program in the US."
"I basically just hung out with this dude Chris for a couple hours a week."
"We'd go to the movies, out to eat, he'd help me with my homework, that kinda thing."
"One day, he tells me that he's going to Baltimore for a couple weeks and when I should expect him back."
"The day rolls around and I give him a call to see if he's back yet."
"A man whose voice I didn't recognize answered and I asked if Chris was there."
"He said no."
"I asked him when Chris would be back just kinda thinking it was someone staying at his house or watching his dogs or something."
"But he said that I had the wrong number, that he and his wife had lived there for years, and there was never a Chris there."
"I double checked in the phonebook to see if it was the right number which it was because I had it circled."
"I was confused so I just said sorry and hung up, and I never heard from Chris ever again."- theautomemoriesdoll
A Clever Distraction?
"When I was 10 or so I was staying at my grandma's over the summer break and we were having breakfast."
"We barely started eating when the phone rang."
"She left the dining room and I followed her thinking that maybe they were my parents calling."
"When we returned most of the food was gone."
"She asked me if I ate while she was on the phone and I said 'no'."
"There was no one else home and there were no pets."
"My grandma just shook it off saying we might have eaten more than she remembered but I am absolutely positive that I had at most two bites of my toast by the time the phone rang."- queenliz2fr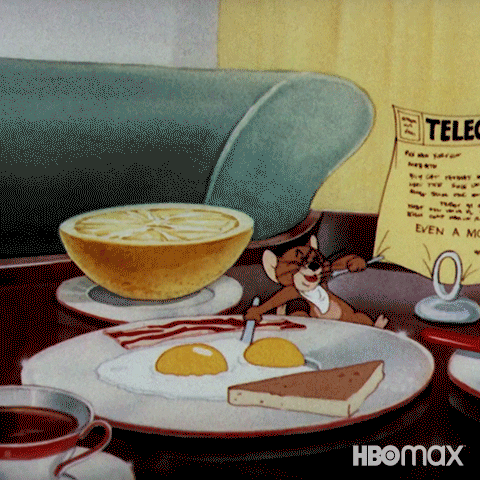 Hungry Good Morning GIF by HBO Max
Giphy
Mystery Benefactor
"Every month around the 5th I get a letter with exactly 23 dollars."
"No note, no return address."
"I've asked family, relatives, friends, the two past occupants of this apartment."
"Nobody knows anything about it."
"It is not addressed to me, but to my unique postal address."
"The total is now exactly 1886, I have just stashed it all in a box."
"I do not want to spend it in case it is cursed."- Puzzleheaded_Ad928
A Comforting Sign

"My grandmother always loved roses and had them growing in her back yard."
"She died in a December and when we were gathered at her house for the funeral my father happened to look out the back window and saw a bright red rose had blossomed."
"It stood out brightly against the snow."
"He brought it in and put it in a vase on the kitchen table."
"We all left for the funeral and when we came back the rose was on the living room floor."
"No one had been in the house while we were gone."
"My father is the most hard-headed person alive but he was convinced it was his mothers way of telling him she was all right."- regular6drunk7
Mystery Portal?

"We have a built in wardrobe in our bedroom."
"About a month ago our cat had managed to get herself inside and I must have closed the door."
"I heard her meowing and I opened the door and she jumped out and walked off."
"Silly cat."
"I closed the wardrobe door."
"Less than five minutes later I hear a meow in the wardrobe, I open the door and to my surprise, our cat jumps out again and walks off."
"My partner and I were both stunned as there is no way into the wardrobe with the doors closed."
"Neither of us have any idea how this happened."- TorthOrc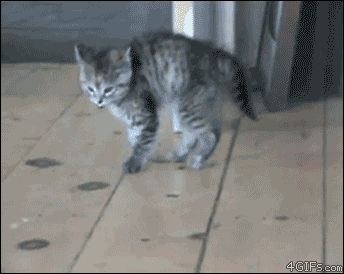 Cat Jumping GIF
Giphy
Lost Time
"I had just picked up a coworker from her house heading to work.'
"We are just talking and chatting, "how'd your weekend go" type of stuff."
"We are maybe 5 miles away from her house, when all of a sudden, we realize we are in town pulling into works parking lot."
"We both kinda look at each other not sure what happened."
"We had gone near 20 miles in a blink of an eye."
"And what cemented this experience as something that I actually happened, and not just simply losing track of time, IS THE TIME!"
"It should have taken us almost half an hour to get to work."
"Instead the time from when I picked her up was 2:30."
"And the time when we got to the building was 2:40."
"There is no way in HELL!"
"We couldn't have gotten there that fast."
"From that point on we both called that experience the time when we Jumped, like from the movie Jumper."
"I have no explanation why."
"I'll also state, I don't believe in the paranormal or supernatural."
"So this experience is one of those things that makes me question my own sanity."- belac4862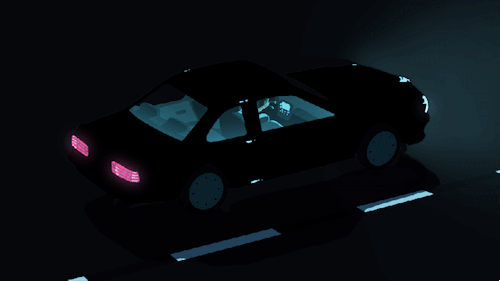 car dark GIF
Giphy
There must be an explanation for these circumstances...
Even if it's not an explanation that will make any sense, otherworldly or not.
It's not difficult to understand why true crime content, be it in film, television, or podcast continues to grow in popularity.
Of course, the most fascinating crime stories are those which remain unsolved.

It allows us to put on our detective hats, and evaluate the cases ourselves, hoping we might find the answers which evaded the police at the time.
Knowing full well, the answers may never arrive.
Redditor inevitableloudmouth reached out to the crime buffs of Reddit to discover the most bizarre mysteries which have yet to be solved, leading them to ask:
"What is the strangest mystery that is still unsolved?"
Atomic Cover-Up
"The lost A-bomb off the coast of America, which the US government said not to worry about in the 50's and tried to cover up."
"Was dumped in the ocean in an aviation accident and it's still lost to this day."
"100x more powerful than what was dropped in Japan."- BremCrumbs
Targeted Divorcée

"I remember seeing a video about a woman that after getting divorced started getting stalked and assaulted in her own house."
"Every time police would arrive no one more than her was at the scene, sometimes she would appear with bruises, once she appeared with a screwdriver through her hand."
"This happened so many times that police started ignoring her calls after the investigation on her husband and on the case left no suspects."
"Three months later she disappeared just to reappear next to a highway in the middle of the desert, miles away from her house, with her hands tied, dead."
"Autopsy later confirmed she was beaten to death."
"Creepiest sh*t I know."- JustCallMeAttlaz
The Oakville Blob
"The Oakville Blob."
"In 1994, there was a rainstorm in Oakville, WA."
"Only the 'raindrops' were a strange clear substance that had the consistency of Jello."
"Lots of people experienced flu-like symptoms after coming into contact with it, and peoples' dogs and cats all over the city were dying."
"When a local hospital ran a lab test on the substance after one of the patients suggested it, it was found that whatever this mysterious 'rain' was, it had human white blood cells in it."
"Some time after that, a sample was also sent to the Washington State Health Laboratory, where it was being researched by epidemiologist Mike McDowell."
"After he determined that it was man-made and speculated that it was some sort of matrix for transporting viruses/bacteria, the samples suddenly went missing from the containment facility and his supervisor told him not to ask any questions."
"There are no known samples of the stuff anywhere today, despite being sent to several different facilities by various Oakville residents."
"So yeah, I'd personally say that this was clearly some sort of bio-weapon test run, but by whom?"
"I'd like to give the US Government the benefit of the doubt here and assume it wasn't us testing something like that on our own citizens, but if it wasn't, why would it have been covered up like that?"
"And you'd think an event like this would be a lot less obscure."
"Also, even if it being a bio-weapon seems super obvious, how the heck did whoever dispersed it manage to make it rain over an entire city for several days?"- Xaldyn
A Family Thing
"An unsolved murder of an entire family in Japan which to this day remains unsolved despite DNA evidence indicating the ancestry of the killer, a sand sample left by the killer which was traced back to the California desert near Edwards AFB, and even sesame seeds in the killer's stool."- PaperbackWriter66
The Circleville Letters
"THE CIRCLEVILLE LETTERS."
"In 1976, residents of the small city south of Columbus Ohio began receiving handwritten sinister and graphic letters."
"Each letter included secret and dark details about their personal lives."
"One resident received a ton of letters, accusing her of various unsavory acts."
"The author warned the resident that he had been keeping an eye on her home, as well as her comings and goings."
"The resident was horrified and tried to keep the letters a secret until her husband began receiving them."
"The attacks on the family continued, with large posters appearing around town spreading rumors about their 12 year old child."
"One day in 1977, the husband left the house after receiving a call from who he thought was writing the letters."
"A few minutes later, the husband was found dead at the end of the street dead behind the wheel."
"The sheriff had ruled it a homicide when he realized that a single shot had been fired before the accident, but there was no evidence that the husband was shot at the site."
"The sheriff found the husband was twice the legal limit and ruled it a drunk driving accident."
"The letters began once again, this time accusing the sheriff of covering up the true nature of the death."
"The letters also accused the sheriff of mishandling an investigation into the county coroner who had been accused of other grotesque acts."
"The harassment continued, this time with signs along the road and in 1983, the original resident who had been accused of having an affair pulled over to remove a sign."
"During the effort to remove the sign, she discovered a box was attached and inside of it was a small pistol."
"The gun was part of a booby trap designed to fire when the sign was removed."
"Paul Freshour was arrested and given 25 years, but one small problem."
"The letter writing continued even after Freshour was put in jail."
"In a new batch of letters, the author had promised to dig up the grave of a deceased baby and mail the bones to the police in the case of another potential affair turned murder."
"Hundreds of residents continued to receive personal letters until 1994 when everything stopped."- GeneralMadAnthony
Running Man

"This dude got lost in the catacombs, and they found camera footage of his journey, but at some point he drops the camera and just starts to run."
"As far as I know, nobody has found out wtf happened to him."- Cookyloco6
The world may never know the fate of these poor souls, and those responsible might never be brought to justice.
However, cold comfort though it may be for the families of those involved, there will always be people searching for answers.
As the saying goes, the truth is, indeed, out there.
Some people are less easily scared than others.
While some people live off of the adrenaline of zombies jumping out at you in a haunted house, others will jump ten feet in the air at the tiniest sound of a crack in the floor.
Even people who live to be scared, however, have had one genuinely spooky experience that they simply cannot explain, no matter how hard they try.
Managing to disrupt their sleep in a way that slasher films and haunted hayrides couldn't even begin to do.
Redditor Generic_Garak was curious to hear the absolutely scariest thing people have ever experienced which they still can't explain, leading them to ask:
"What is your spookiest or most unexplainable event that has ever happened to you?"
Unexplained Orb
"Sitting at the desk in my basement at my house during college, I saw a ball of light the size of a basketball 'manifest' across the room from me, fly towards me, then veer off and disappear."
"It was the middle of a clear, sunny day."
"Not sure, but given it's the only time something like that has ever happened to me, I would classify it as abnormal, maybe even paranormal."
"Also, immediately after, it was like I could see the air 'flowing' in the room."- milkomeda
Santa?
"I was a kid but a teenager, old enough to know that Santa Claus didn't exist."
"But one Xmas eve was staying at my uncles old farm house."
"In the middle of the night, I awoke to the sight of an old man looking exactly like the typical Santa."
"I was so confused and scared so I just kept my eyes closed and eventually fell back asleep."
"Told my family about this mysterious Santa visit and to my surprise, no one ridiculed me for thinking I 'saw Santa'."
"Instead they determined I was old enough to know the truth about the former owner of the farmhouse."
"He was a real person who was sadly found dead with suspicious conditions."
"Turns out my uncle had had plenty of odd occurrences throughout his time living there."
"Never anything hurtful or violent but definitely his presence was known."
"What really sealed the deal was when they showed me a picture of said previous owner, Saul, and what do you know...he had a remarkable resemblance to Santa."
"RIP Saul!"- jmvk2018San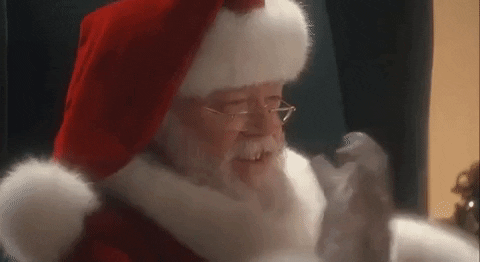 Sign Language Applause GIF by filmeditor
Giphy
The Others...
"This story is from a childhood friend who told me this and it still unnerves me to this day."
"She was genuinely freaked out and her family even backed up her claims so here goes."
"Basically my friend and her family moved into this rental property which my friend said was haunted."
"It gave everyone an off feeling, those who visited or stayed over would mention it."
"I myself experienced this odd feeling of foreboding whenever I went over there and believed in the consensus that the house was haunted."
"It honestly felt oppressive in the house and you would feel this pitiful dread that is hard to compute into words and was extremely uncomfortable to experience to say the least."
"Anyway this particular inexplicable event, that is the basis of this post, was enough for my friend's family to pack up and stay with relatives until they moved out permanently."
"On this fateful afternoon my friend had arrived back home from the park and heard an argument taking place in the kitchen between her mum and dad."
"My friend thought this was odd as both her parents should be at work so she called out 'Mum?' before unlocking the front door and going inside."
"My friend said the house fell instantly silent: an uncanny silence like all the air had been sucked out of the place and felt stifling and wrong."
"Then her mum said 'hey friend's name we are just in here'."
"My friend was just outside the closed kitchen door at this point and froze beyond opening."
"It was her mother's voice but there was something off like the cadence was missing that made it her mother."
"It sounded flat and unnatural."
"My friend decided to bolt back out the front door and wait outside until her brother came home but she said as she turned back to the house she saw her mother peering at her from the lounge room window."
"But it wasn't her mother."
"The face was the same, everything was the same but her face was devoid of anything that made it her mother."
"There was no recognition on her mother's face, there was no indication that she was looking directly at her daughter, there was no emotion in the expression: nothing."
"The eyes looked unstaring and utterly blank."
"My friend screamed and ran down the street to her mother's work and confirmed that she was there all this time and had never been home."
"Initially my friend's mother reasoned that someone must have broke in but a later investigation proved nothing had been stolen and the back door was locked as was the front door when my friend came home."
"No one could rationalize who my friend saw in the window and why it looked so much like her mother, but not fully human, so that was the deciding factor to nope the f*ck out of there and find somewhere else to live."
"The landlord of the house denied anything like this happening when they lived there but did admit tenants didn't stay long saying there as something was 'wrong' in the house."
"My friend also told me she was the only one who actually saw anything definitively sinister in the house but her family said they definitely felt an evil presence there which manifested into the doppelganger experience my friend had."
"Utterly terrifying."- Mummyto4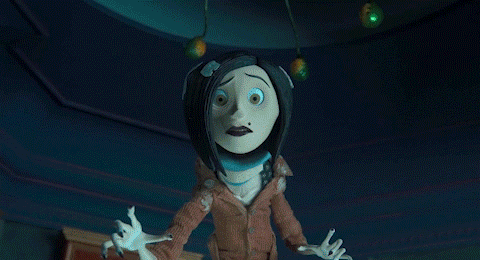 Your Mother Animation GIF by LAIKA Studios
Giphy
A Lucky Premonition...

"Okay, so once when I was about 9yrs old, it was late at night, I'm asleep in my room and my younger sister (8) is asleep down the hall in her room."
"It's not uncommon for us to run into each other's rooms if we have a nightmare, you know that whole trying to outrun the demons just run and jump into the others bed?"
"Well, this night I literally wake up out of a dead sleep, its dark, the moon is high outside my window, and my sister is standing in my doorway."
"It's not debatable that it's her, her height, her stupid haircut, down to the New Kids on The Block oversized t-shirt nightgown from my mom's youth."
"But she's just standing there."
"One hand on the doorknob, other hand on the doorframe, staring at me."
"Silent."
"I look at her for a minute and then kind of annoyed I throw my blanket open, 'COME ON IF YOU'RE COMING IN HERE!'"
"She doesn't move, doesn't say anything, she's still staring."
"And I'm not even creeped out at this point, I'm just annoyed and sleepy and white trash, lol, so I get up to go hit her."
"I know, it's a garbage pail kid thing to do, but I'm just being honest."
"Our parents didn't teach us self-regulation, it is what it is."
"I'm better now, lol."
"I jump out and stomp over to where she is and stop about arms length in front of her, she's still silent, still staring."
"Now I'm a little creeped out, 'WHAT ARE YOU DOING?!'"
"And I swipe at her overhand."
"She disappears as my hand falls."
"Like not dissipates into nothing, like straight up is just gone!"
"I look back at my bed?"
"I look in the hallway?"
"NOTHING!"
"SO now I RUN TO HER room down the hall because it's that time!"
"Nightmare time!!"
"zoooOOM JUMP WRESTLE INTO HER COVERS!"
"And when I get there, I notice she is there, thank God, but she's SHAKING violently!"
" She's HAVING A FUCKING SEIZURE!"
"SO then I go on the full tilt alarm, run to my parents room turn all the lights on, yelling that sister is having a seizure."
"We go to the emergency room and she gets her diagnosis of childhood epilepsy."
"I also didn't even know what a seizure was when I started yelling about this, which was also weird."
"I honestly think to this day that she Astral projected or something, that b*tch found a way to come get me because she was in trouble in her bed."- aceinnoholes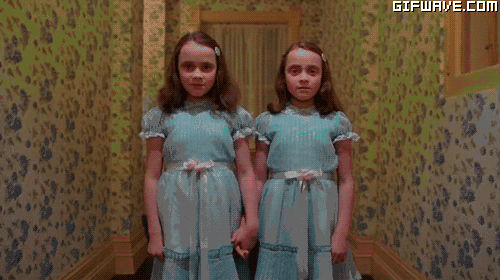 shining stanley kubrick GIF
Giphy
One Complicated Panty Raid...

"Was camping with my wife sitting around the camp fire."
"Started to pour rain, so we went back inside the tent."
"Inside the tent the rain was so heavy we couldn't hear anything over the pitter patter hitting the tent. "
"We decide to change our clothes and call it a night."
"We get into our sleeping bags and turn out the light and hear 'dleet dleet dleet' again 'dleet dleet dleet' like the sound Motorola phone would make when the battery was dying."
"Only thing was we don't have phones that make that sound and our phones are turned off."
"Miles from anyone."
"Pouring rain."
"Can't hear if someone is walking up to your tent."
"Can't tell if someone walked away from your tent."
"We were trapped inside this canvas death trap with only one exit."
"We froze and waited for what seemed like hours."
"Eventually I grabbed my gun and light and made a dash for the door trying to get out as fast as I could."
"Once out I ran around my tent."
"Nothing."
"No one."
"Not a sign of life anywhere."
"We grabbed our our valuables and decided to make the 10 minute trek to our car."
"We made it safe."
"Drove an hour home."
"And slept better than we would've if we stayed."
"The next day we drove back to get our stuff."
"When we got to our tent it didn't look like anything had been messed with."
"Nothing out of place."
"Once we got home and unpacked my wife couldn't find her underwear."
"None of them."
"Literally nothing else was missing from our stuff."
"It was the wildest and creepiest experience of our life."- dktaylor32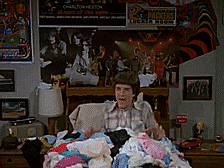 panties GIF
Giphy
Going through these experiences is enough to make you afraid of spending even one minute home alone.
However, as time goes by, you discover the biggest advantage of having the living daylights scared out of you.
Having a tale to tell...
The world is full of mysteries. Why are we here? What's at the bottom of the ocean? Is there other intelligent life in the universe?
Humans are naturally curious creatures, so we find mysteries in every corner of our universe. And when we can finally solve those mysteries, it's so satisfying for our little squirrelly brans.
Luckily, there are an abundance of mysteries we have solved in our time on earth.
u/Vrothgar asked:
What is your favorite SOLVED mystery?
Here were some of those answers.
Beautiful Trenches
That one where the rocks moved in the dessert leaving an eerie trail.
Some guy put a camera on the area for like two years and discovered that when there is a thin layer of water with ice on it, the wind will move the ice as it starts to melt and so moving the rocks.
Death Valley.
Underwater Bloop
"The Bloop". For years science was baffled, not having a good explanation. Some supposed it may be an as of yet undiscovered creature, but the magnitude of the sound itself was such that if it were produced by an animal, it would be larger than even a blue whale, by a wide margin.
A few years back we recorded the sound again, along with solid seismological data. Turns out the famous "bloop" was the sound of a large piece of the Antarctic ice shelf cracking and falling into the ocean.
The Hump
For years it was speculated about King Richard III's appearance. Due to many different historical perspectives on him as a King some believed he had a hump back of sorts and others believed this stuff was added when the historical rhetoric was added as he became less favourable.
A few years ago they discovered his skeleton buried under a carpark in Leicester. They determined they he actually probably had scoliosis and likely did have a hump of sorts.
My favourite part about the discovery was the presence of a woman who was part of some Richard III group that adamantly denied the appearance he was described who then realises the truth and is very disappointed.
Running Away
Lori Erica Ruff. This guy in Texas married a woman he met in bible study, had a child with her, and then she started showing signs of mental illness. They divorce and she commits suicide in 2010. She left a suicide note that was incomprehensible and full of random phrases and references.
When her ex was going through her stuff, he found a birth certificate with the name Becky Sue Turner on it, who was a 2 year old girl who died in a house fire in WA in the 70s. Lori had stolen Becky's identity and used it to get her name changed to Lori Erica Kennedy. There were no clues whatsoever as to who she was before she acquired the false identity and her backstory remained a mystery for years.
A few years later she was identified by matching her daughter's DNA to a distant relative in Pennsylvania. It turns out Lori's real name was Kimberly McLean, and she'd left her home in PA in 1986 as she didn't get along with her mom and stepdad.
I was really fascinated with this one when it was still unsolved, and I found the actual answer a bit anticlimactic. It was clear from everything she'd left that something was wrong with her, and it really gave me the creeps.
Birdies
Those flying "rods" in the background of cave diving videos.
People in the 80s and 90s would go cave diving or sky diving and film it, and in the background would be all these foot-long, flappy, rod-shaped creatures that no one would see until they were caught on film. People thought they were inter-dimensional creatures that would slip into our dimension occasionally. Some studied the shape of these things in wind turbines to understand how they fly. I think there was even a hieroglyph found of the creature from ancient Egypt.
It turns out the frame rate of the poor handheld cameras from that day made birds and bugs get caught in multiple frames at the same time, and so they looked like long rods with wings.
A Whole Lotta Nothin
Al Capone's vault is the most hilarious solved mystery. A renovation team found the vault and some underground tunnels under his hotel over 50 years after his arrest. Geraldo Rivera hosted a huge 2-hour live grand reveal of the opening of the vault which they hope would contain a huge fortune. 30 million people watched the live spectacle. The vault was finally opened and..........there was nothing there.
https://youtu.be/pgx7--A_NCU?t=806
Here's the whole special starting when they brought down the vault wall.
A Tragic End
The case of Jacob Wetterling.
He was and 11 year old boy abducted near his home in 1989. Him and his friends had gone to a local video store and were on their way home when a man stopped them and forced Jacob to leave with him at gunpoint. He forced the others to turn and run and threatened them that they would be shot if they didn't.
For almost 30 years the case went unsolved. His friends and his brother grew up feeling the guilt of not being able to stop the abductor. His parents and family had no closure as they had no idea where he was taken, or who had taken him. But they held out hope for all those years that maybe he was still alive. A local man had even been falsely accused of abducting him.
Sadly, his remains were found in 2016. About 30 miles from where he was abducted. Investigators were able to find the man responsible, and he confessed to the crime. He had assaulted Jacob and killed him on the same night he was abducted.
It's a tragic story and there are a lot more details. Thankfully detectives never gave up on this case and they were able to solve it after all those years.
An Out Of Place Burger
The mysterious In-N-Out burger found on the street in New York City, apparently still warm (In-N-Out is a hamburger chain only found on the west coast).
The person who bought this cheeseburger responded to the post with the explanation: they had bought lots of cheeseburgers prior to boarding their San Diego to NYC flight and lost one after their arrival while boarding a bus.
Source: https://ny.eater.com/platform/amp/2019/7/24/20726407/in-n-out-nyc-burger-mystery-2019-solved
Polar Bears From The Void
The voyage of HMS Terror and HMS Erebus, who in 1845 embarked on a journey around Canada to locate the Northwest Passage with the backing of the royal navy. The voyage was expected to take 2 years, but by 1850 it was suspected something had gone very wrong, as the last sighting of the ships had been as they entered baffin bay 5 years earlier, and all the search parties could find were some lonely graves, and a cairn with a scrawled message. It was only with analysis from the graves, some old testimonies about contact with local Inuit groups, and the discovery of the remains of the crew in the 1990s and the wrecks in 2016, that the full story could be pieced together.

Essentially the ships' arctic modifications and stocks had been ill thought out for the voyage, and the cheap canned food the crew relied on had led them to contract lead poisoning and scurvy, but with no alternatives and being locked in ice for months at a time, they had no escape. The illnesses were compounded by the lack of alternative food sources in the harsh environment and diseases which crippled the already weakened crews. The poisoning (and associated hallucinations) combined with the deteriorating mental health of the crew created a living nightmare. After the officer in charge died, the surviving crews abandoned ship and tried to cross the barren Arctic towards a known settlement in Canada, with everyone involved falling and dying en route. The bodies that were found were very well preserved, and contemporary Inuit testimonies corroborated the story. It made for a good horror series, even if there weren't any supernatural polar bears involved in reality.
Haunted By The Spirit Of Electricity
In a Chinese science discovery type show, they went to investigate reports of a old haunted house where an alleged murder happened year ago. People say the light in the house would flicker on and off, no animals can be found near it, and any dogs/cats brought over would run away, very agitated.
Turns out the electrical cable connected to the house was damaged, so the light flickers. And the ground near the house became electrified, mildly shocking animals coming close. The people had shoes on so they never noticed.