Some people take advantage of artists. They expect them to share their skills without any compensation for their art. Redditor ThenSwim567 encountered this very issue with his girlfriend. So he turned to the "Am I The A**hole" (AITA) subReddit for moral judgment. He asked: AITA for telling my girlfriend she'd need to pay me if […]
More
Let me be real for a second.
Every time I listen to Bjork's "Unravel," my heart breaks a bit.
Have you ever listened to it?
It's on Homogenic, her third studio album, and it's incredible, passionate, smartly produced and a great showcase for her stupendous voice.
That song? An emotional rollercoaster, for sure.
There's tons of great music out there, though, and even more sad and gorgeous songs to discover.
People shared their thoughts after Redditor humanbear07 asked the online community:
"What song genuinely breaks your heart everytime you hear it?"
"Ann Wilson has such an amazing voice..."
"There's a few, but the isolated vocal track for Heart's 'Alone' is especially heartbreaking to me. Ann Wilson has such an amazing voice and her emotion really made that band."
FartAttack911
A classic!
Doesn't grow old.
There have been quite a few excellent covers of this one over the years, too.
"The first words give me chills..."
"Most songs by the late Jeff Buckley are sad on their own, and even more devastating in context. But the one that hits me the hardest is his cover of 'I Know It's Over' by the Smiths."
"The subject of the song is up for interpretation no matter what, but Jeff Buckley's premature death adds an element to it that seems to be about his life, whether he planned to or not."
"The first words give me chills the most— they happen after the classic reverby Jeff Buckley intro, the kind Hallelujah fans will be familiar with. He takes his time with this one, like he does with that."
Danielmav
No love for "Lilac Wine"?
C'mon, people.
It's clearly the best track.
"Ever since my husband..."
"'Merry Christmas, Darling' by the Carpenters. Ever since my husband Tom died in 2012, my heart breaks every Christmas since. We loved Christmas."
MysteriousTax5613
Karen Carpenter's voice hits differently when you realize how tortured her life was.
Gone too young.
"My Dad told me..."
"In My Life by The Beatles. My Dad told me when I was a teenager that he wanted it played at his funeral. I still can't listen, and when that day comes and I HAVE TO listen to it to honor his wish, I'm going to be a blubbering mess."
pennylane3339
Sounds like you have an excellent relationship with your dad.
Cherish it.
"My grandmother died..."
"He Stopped Loving Her Today, by George Jones. My grandmother died almost 20 years before my grandfather, and we played it at his funeral. Just typing this chokes me up a bit."
TimfromTampa
Songs have even more meaning (sometimes painfully so) when linked to specific moments in our lives, particularly the moments when we've lost people we care about.
"I'm not a Christian..."
"'Bridge Over Troubled Water' by Simon & Garfunkel. Not a Christian, but when I hear it, I understand why people believe."
holeontheground
A beautiful song, and timeless, too.
"My sister's husband..."
"Always on my Mind by Willie Nelson. My sisters husband chose to have it played at her funeral. And yes he was a crappy husband and she died young in a car accident."
kearlysue
Sounds like art imitating life, no?
"He's an amazing songwriter..."
"Jason Isbell has so many it's honestly hard to choose one. Speed Trap Town, Decoration Day, Cover Me Up. He's an amazing songwriter."
RoamingBison
I don't know him–it's time to look him up and see how I feel.
"I can already feel tears..."
"One More Light by Linkin Park. I can already feel tears coming to my eyes just by typing this."
azavaloka
Chester Bennington's death was such a shock.
His music lives on.
"My brothers passed away..."
"Simple Man - Lynyrd Skynyrd."
"My brothers passed away in a car accident shortly after coming home from Afghanistan. Reminds me of them every time I hear it."
Nessahtron
Sorry for your loss.
Hopefully hearing the song brings you peace.
Hearing a beautiful song can be an immensely moving experience.
And hearing a sad song can, for many people, help them cope with the pain of heartbreak better than they would have otherwise.
Have some suggestions of your own? Feel free to tell us more in the comments below!
Want to "know" more?

Sign up for the Knowable newsletter here.
Never miss another big, odd, funny, or heartbreaking moment again.
Keep reading...
Show less
"We're gonna have a party like it's 1999!"
And the 90s certainly didn't disappoint. It was quite a decade.
It was a decade that molded the future of the world, and yet it never seems to get its due. It gets lost in the decade shuffle.
Let's take a stroll down memory lane. Generation X had a ton to say.
Redditor Youcancallmesizzles wanted to reminisce about a decade long debated as one of the most controversial and underrated, they asked:
"What do you miss about the 90's?"
The music. The music and movies do it for me. "Titanic, Scream, American Beauty, Seven," those are just some of the classics. And who doesn't remember the first time they heard Nirvana?
The Edge
"My Super Nintendo being cutting edge technology." ~ detectivebabylegz
IRC
"I honestly miss the internet from the 90s. I spent so many hours exploring, reading things. Every webpage felt like I was visiting someone's house, they were so personal as design standards did not exist yet. I enjoyed my netscape navigator. And I LOVED my IRC chat rooms. Keep in mind I was like 9 and 10. lol, so I mostly spent time in Pokemon Chat rooms that had bots. Discord is not the same as the IRC days." ~ UnusualSoup
Fridays
"Blockbuster/Pizza Hut on Friday nights." ~ EdwardPackard
"My parents would always rent a movie and they'd let me rent a game. We'd walk to pizza hut, place our order, then walk to the brand new blockbuster and browse. It was amazing as a kid."
"I remember they had an N64 kiosk in the middle, and I actually begged my parents to let me stay and play Starfox 64. Got it for Christmas that year and played it all night into the morning. I fell asleep at my grandma's house at the table during Christmas dinner that night haha. Good freaking times man." ~ Hammose
Go outside. That was it.
"That Friday afternoon after school feeling, when you knew you had two glorious days before you had any responsibility again, so you'd call your friends on the land line and hope their parents didn't pick up so it wouldn't be awkward, and you'd get together and just. Go outside. That was it. There was no plan, but maybe somebody would bring a football, and you'd have a pickup game at the park." ~ Surewhynot62189
MUSIC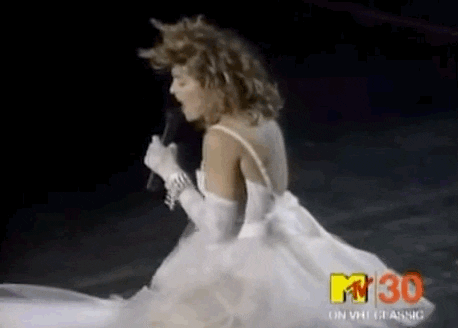 Performing Mtv GIF
Giphy
"Music, MTV, and listening to my huge 5 disc CD changer boom box." ~ jasdq
Too Much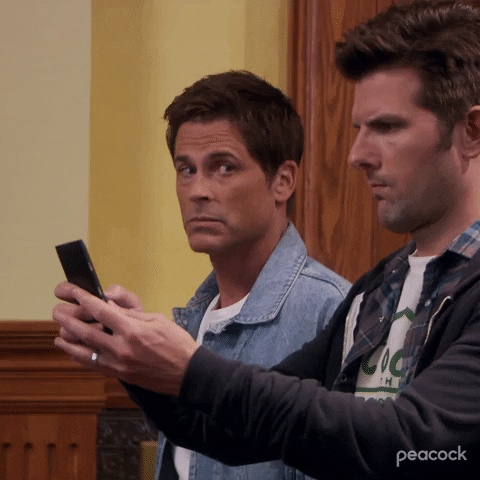 Season 6 Chris GIF by Parks and Recreation
Giphy
"The quietness before every freaking idiot in the world had access to the internet and a camera phone." ~ -RUNPMT-
Everything
"Building cubby houses, playing in the creek, rollerblading, then coming home and playing Sega/Nintendo. I miss taping stuff off the tv 🤷🏻♀️ hanging out in my room, still playing with toys, reading cool magazines, going through my card collections. The hype of the cinema back in the 90's. Not being a slave to technology, but still having wicked gadgets like Walkmans." ~ Ultimatelee
Trajectory
"Watching grunge music videos on MTV and Keebler chips." ~ kittenya
"MTV has had such a weird trajectory over the past 25 years. First into just not playing music anymore by the mid-2000's, and now it is literally just Ridiculousness 24/7 with an occasional 16 and pregnant thrown in. I don't even know what demographic they are going after. Who the hell is wanting to watch a middle aged bro comment on YouTube videos so much?" ~ TogarSucks
Like it's 1999!
"Think about some of the biggest hits of '99. The Matrix, American Beauty, Fight Club, Being John Malkovich. These movies (and a few more around this time) all had a unifying theme of the general ennui of living in a time without strife. They were about people making problems for themselves because they didn't have enough real ones."
The Good Ole Days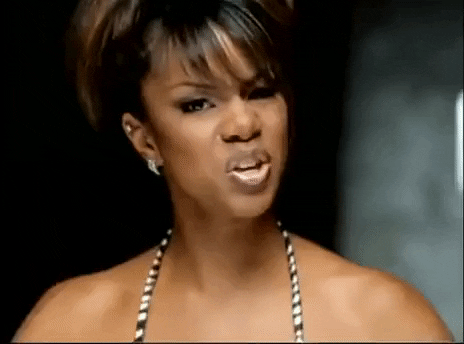 Music Video Dancing GIF
Giphy
"Going to the mall, and hanging out with friends. Malls were awesome, and I hate that the strip mall style has taken over."
"Especially up in Canada, where it gets to -40 in the winter. Back in the day you could legitimately spend hours wandering the mall, indoors and warm. Now it is depressing. Maybe the big malls like Mall of America or West Edmonton Mall are still okay, but the ones in my city are crap." ~ Lexi_Banner
The 90s were a special era. And we learn just how special by each passing year. Let's keep digging, because there is still much to discuss.
Want to "know" more?
Sign up for the Knowable newsletter here.

Never miss another big, odd, funny or heartbreaking moment again.
Keep reading...
Show less
In the immortal words of the Queen... Madonna, "Music. Makes the people come together." No truer words have been spoken.
Well, some truer words about different topics, but for this topic it works. Music is a lifeline. It keeps us going when we have little momentum left on a treadmill.
Music is a hug when we're low and a dancefloor companion when we're flying high.
Music has been known to change moods and keep us smiling. There are certain songs, that when they come on... watch out and let me just do my thing.
And take notes, I'm a life lesson in that moment.
Who feels me?
Redditor reddit_dumpsterfire wanted to discuss the playlists we all need to be moving to everyday, by asking:
"What is the ONE song that no matter how bad your day is or how bad a mood you are in you can put on and just dance around or sing it at the top of your lungs and feel better?"
"Bad Romance" by Lady Gaga not only puts a smile on my face it sends me to a place mortals rarely go. Also, anything and I do mean ANYTHING by ADELE!!!
I don't care how heartbroken she is...
For the Dogs
"Joy to the world by Three Dog Night." ~ airfriedandbbqed
"JEREMIAH WAS A BULLFROG!!! Here's another 3DN song that fits for me..." ~ drhu22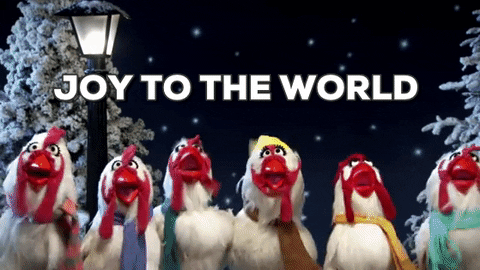 Giphy
go ahead, and try it...
"When the Levee Breaks - Led Zeppelin"
"During the intro to this song, I always picture myself walking down a street in slow motion wearing a trench coat with guns strapped all over my body...when the singing starts, I begin to kill ALL the bad guys! When he starts to scream a little louder, the slow motion uzi-action starts... go ahead, and try it." ~ bamtime
The Whole Package...
"If going all the way back to Abbey Road is okay, I'm going to put in a mention for The Rise and Fall of Ziggy Stardust and the Spiders from Mars by David Bowie. It's a concept album. It's meant to be played as a whole, not just chopped up into singles. And it's fantastic."
"And in the same throwback mode. Exile on Mainstreet by The Rolling Stones is pretty amazing listening in its entirety. None of the singles seems to bring alone what they all bring together." ~ diana_mn
Be Proud!
"Don't judge me... I'll Make a Man Out of You - Mulan Cast." ~ katffro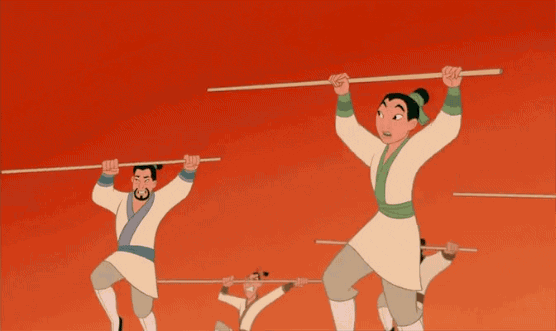 Animation Movie GIF by Disney
Giphy
I can always use more songs for my playlists.
Those are a good start. Musical wise I'm going with West Side Story.
Let's keep listening...
I Must Dance
"Bye bye bye - NSYNC. I'm a dude that was raised on NSYNC and Backstreet Boys. Sounds silly but that's my childhood. Anything by them comes on and I literally cannot not dance." ~ samdaman94
Giphy
POWER!
"Some 80's hair metal like Triumph or Poison with a steady beat gets you pumped. I also like to listen to Cage the Elephant because their songs are really energetic."
"Power Song: Harder, Better, Faster, Stronger from Daft Punk's Discovery album."
~ jimminyjojo
"Hair Metal exists for workouts." ~ tnecniv
mix tapes...
"I usually listen to rap but I mix it up sometimes. Lupe fiasco (mix tapes) are always a favorite But in general I use workout sessions as a time to sample new albums that have been recently released on Rhapsody."
"I don't use music really to get pumped up so like a few days ago I was listening to La Havas an R&B singer who sings about love etc... then the next, I'll be listening to 2 Chainz because he's dumb but funny." ~ DetectiveClownMD
Watch the Video
"OK Go's White Knuckles. Not because it's the greatest song or anything (it's pretty average), but because I've seen the video enough that the song makes me picture it."
"And it's hard to be in bad mood after watching the video. OK Go's videos are always awesome such that the music (to me) is just an afterthought for whatever they're doing."
"But White Knuckles is by far my favorite. Not only does it have lots of dogs (and a goat), but it's also a single unbroken take which I also find impressive given the puppers." ~ wedgebert
Listen Close
"Pinkerton. Sums up being a teenage male all in 37 minutes." ~ wordfish
"Pinkerton is superb. They got a lot of flack for it being inappropriate but if you really listen to what they are saying it isn't as offensive as the critics were saying."
"I wonder if all the press about that album helped to push them into the crap they make now." ~ REDDIT
Happy!
"Mine has to be "Shiny Happy People" by REM. You can't be in a bad mood listening to that song." ~ reddit_dumpsterfire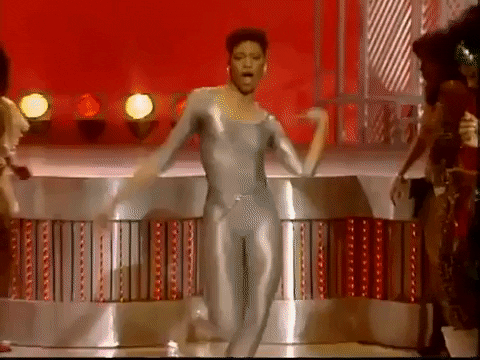 Giphy
Cross Barriers
"A few from different genres:"
"Dream Theater - Scenes from a Memory - Jethro Tull - Aqualung - Porcupine Tree - In Absentia - Christy Moore - Ride On."
~ dude_from_dc
Be Happy.
Feel the music.
And go listen to Madonna often.
She can get anyone shaking. Strike a Pose.
Want to "know" more?
Sign up for the Knowable newsletter here.

Never miss another big, odd, funny or heartbreaking moment again.
Keep reading...
Show less
Living in an apartment comes with a lot of uncomfortable run ins with neighbors. You can hear when they flush the toilet, see them getting their mail wearing pjs and doing laundry in the most unflattering outfits. But, there has to be a line. And, listening to your neighbors having sex should be that line. […]
More