When it's time to go... GO!
Our guts know when it's time time to exit.
Knowing how to run and save yourself is important.
That little voice in our minds always knows when something is up.
Don't deny it.
It's especially obvious when a murderer is chasing you, or someone is on fire running toward you.
Redditor Apprehensive6815 wanted to hear about the times we knew we had to flee, so they asked:
"What was your 'I need to get out of here ASAP" moment?'
I've lost track of the amount of times I've felt that feeling and fled.
ROAR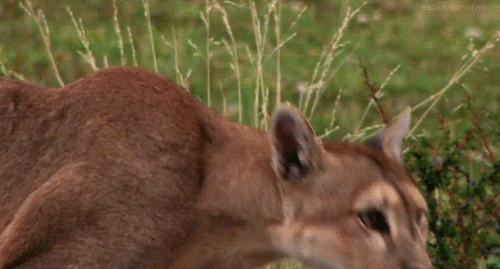 MOUNTAIN LION cougar GIF
Giphy
"I unknowingly walked up next to a mountain lion one morning on a hike. And I've never felt true fear til that moment."
_captaintripz
EXITS
"In the late 70s and I was stationed at Ft. Campbell, KY. I was off-post drinking with a buddy and we met a couple of older vets and we started talking, joking... nice time. As the bar was closing down they invited us to their place to have a few more beers. I drove a `65 Chevy pickup so we followed them down into Clarksville and ended up drinking beers in the family room while the one guy's wife and kids hung around."
"But all of the sudden the mood changed in the room. These guys turned nasty... making off-hand insulting remarks. No more jokes. Got dark real quick. I excused myself to take a leak and just as I came out of the john... I heard the guy who owned the house say to his wife in the kitchen, 'Take the kids back to the bedroom and lock the door. Don't come out no matter what you hear out here.'"
"The hairs on the back of my neck stood up and I immediately got tunnel vision. I turned and ran top speed down the hall and yelled to my buddy as I whistled past the family room and out the door. I had the Chevy fired up in no time flat and saw my buddy dive into the bed of the pickup through the rear-view mirror as I gunned the engine and fishtailed out the driveway. That's my 'I need to get out of here ASAP' story and it still makes my palms sweat thinking about it."
flippenstance
No Big Deal
"I was walking home one night after the bar, on a long semi lit street. There was a man walking a fair piece back yelling at me to stop, he wanted to talk to me etc. I just kept walking thinking just a drunk dude NBD. A cab pulled up to me and stoped and asked if the guy walking was my boyfriend. I told him know I have never seen him before. The cabby told me to get in the car because that guy paid him $50 to go around to block and stop me."
"The cabby did so thinking maybe we were a couple having a fight. I got in the cab and we had to drive past this guy to turn around to head toward me house and he started freaking out that the guy didn't stop for him. That night a cabby may have saved me from many years of therapy or possibly my life. I did not walk long stretches at night again."
yeahsheskrusty
Tarped
"I was building a cinder block wall in the winter in Canada. We had the area tarped off with a salamander heater running to keep us warm. One day I noticed my eyes were starting to burn so I looked over at the guy I was working with and asked if he felt weird in any way. When he looked at me I realized he was squinting and so was I. We were maybe 20 feet from each other. Needless to say we killed the heater and got outside the tarp. I wasn't in the mood for carbon monoxide poisoning."
PocketSand111
Members Only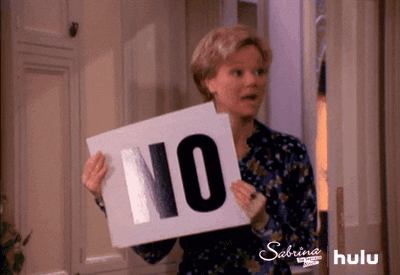 Cbs No GIF by HULU
Giphy
"I used to be a part of a rapidly growing cult. I knew I needed to leave when they started convincing teenagers to recruit kids at their high schools."
hermanalexie
Stay away from cults. Keep an eye out.
The Dad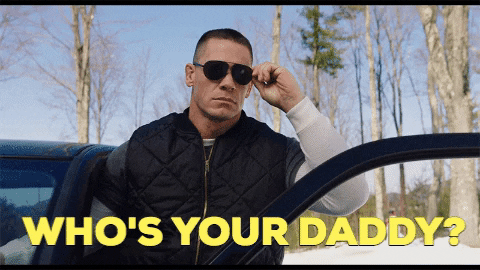 John Cena Movie GIF by Daddy's Home
Giphy
"My friends had a friend in high school we called The Dad. If he ever felt uncomfortable at a party and wanted to leave, we would follow. He had the best instincts and saved us from the police, random fights and other foul drama many a time."
joykilled
Wrong Turns
"I once took a wrong turn on a street in Chicago from a pretty decent neighborhood somewhere around Archer and Harlem. Anyways, I don't know how we ended up where we did but I was like 18 driving my Dad's Toyota Camry through a large group gathering of some gang all decked out in colors. Like they were literally everywhere on the street, just hanging out and chilling like they were having a block party... maybe they were, but we got the distinct impression that we did not belong on this particular street and sort of got the hell out of there as fast as we could."
DryEyes4096
Shots Fired
"I was 19 and hanging out with some work friends in Cleveland and one of the guys looked out the window and pulled out a gun and told us all to get down. I, of course, was terrified. Thankfully no shots were fired, but I excused myself after it ended and went home."
dma1965
Machete
"Was hanging out outside of my church when a dude ran by that kept looking behind him, then another one passed by that was throwing rocks behind him. When I looked what were they running away from there was a group of 5 dudes with machetes chasing them and one dead by the side of the road. Actually took me a minute to process and get inside."
MaximumPower682
Gotta Go!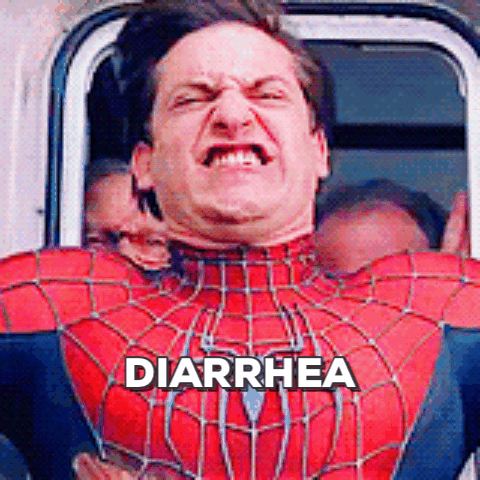 Tobey Maguire Poop GIF
Giphy
"Major diarrhea at the airport, and the toilet wouldn't flush."
Fracture_98
Life Lesson:
Always have good running shoes.
Do you have any experiences where your instincts quite literally saved you? Let us know in the comments below.
Though we learn about criminals when they're caught, it doesn't mean they're not brilliant.
It takes a lot of planning and patience to pull off the bigger ideas.
That's why there is such a hefty penalty for pre-meditation.
Maybe that's why we're obsessed with the true crime stories that roll out over time and aren't a quick news blip.
We're fascinated by the genius and the almost near cover-ups.
Redditor ItzTacoTimee wanted cops to tell us about the masterminds they've taken into custody.
So they asked:
"Police officers of Reddit, who's the smartest criminal you've ever encountered?"
Most of these murderers on these Dateline shows are smart.
Which is what is most scary.
Deposits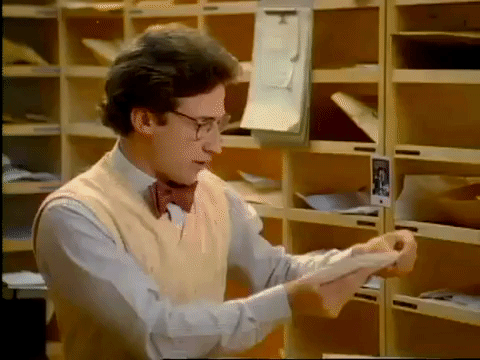 happy work GIF by Soul Train
Giphy
"My favorite was the guy who stole a post office mailbox off the street, repainted it, and then put it next to the night deposit box at a bank. And hung an out-of-order sign on the deposit box. All the businesses came along and dropped off their deposits in the mailbox."
pinewind108
"release to police"
"I worked with this one guy who had a lengthy record. He had a system for getting released if he got caught. After committing a crime, if the police were in pursuit and he knew he was about to be cornered, he would act insane. His girl would play along with it telling the police that he was off his medication."
"The police would arrest him but then send him to a mental ward with papers instructing the ward to release to police once he was cleared. Once he was in the mental ward, he would cause a distraction that would make the person attending the desk with the file cabinet to leave said cabinet. He would then crawl to the file cabinet, look for his 'release to police' papers, and then would literally eat the papers."
"When the psych evaluators decided that he was stable enough to be released, there would be no instructions to send him to the police, and he would be released to the general public. He did this about 10 times until police officers noticed him back on the streets. This stunt forced the state to change their procedure for detaining mentally unstable suspects."
g_baker
When in Walmart...
"A guy I went to high school had been stealing from Walmart in a pretty clever way. He would grab video games, mp3 players, beer etc. and throw them away in a trashcan in the garden section. The workers never checked the trash contents and he would just wait, sometimes 5 hours until they emptied the trash in the back dumpster and hop in to get his items."
"Once he took a cardboard box from a display inside, filled it with video games, a PS3, and extra controllers. He grabbed some tape and pens and drew all over the box and taped it up to make it look used and tossed it. An hour later he had a whole new PS3 and stack of games."
taylorink8
"I walked in with this"
"I heard about one person that pulled a shoplifting scam on a large, popular and well known U.S. retail store. They walked in with some cheap nylon product to get one of those 'I walked in with this' stickers they used to put on returning merchandise. The sticker easily peeled off the product undamaged. They walked to the electronics department, grabbed an expensive box off the shelf and went to Customer Service."
"They placed the sticker on the big box and asked if they could return the item without a receipt. 'Unfortunately, no. Not without the original receipt.' Dang it, and they walk out. Customer service even gave the door man the thumbs up having just interacted with the customer. This took place before widespread inventory controls and cameras absolutely everywhere."
nivenfan
The Follower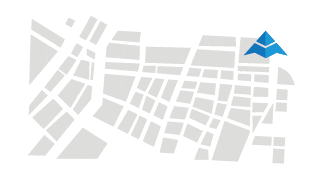 Location Gps GIF by AboutMedia Internetmarketing GmbH
Giphy
"I'm not a cop but I worked crime scene. This guy had attached GPS to the bottom of peoples cars who owned houses, he wanted to rob. He did it to ensure they wouldn't be showing up while he was ransacking the place."
Rachcake93
Enjoy the meal...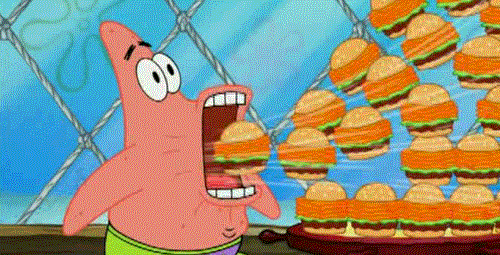 Food Eating GIF by SpongeBob SquarePants
Giphy
"There's a golf course/country club in my town that has a PGA tournament scheduled in the next couple years. They have a guy repeatedly breaking in overnight and just lounging around and eating food, all on camera. The club refuses to report it so they don't hurt their chances of the tournament coming."
somejap
Drugs & Keggers
"This was in the late 90s-early 00s."
"A guy in my dorm came to school solely to deal drugs. He took out student loans, registered for a bunch of 300-person freshman survey courses where he would never be missed, then literally never went to class. All he did was go to raves and concerts and keggers and sell party drugs."
"After the first semester, he was suspended. He wrote the usual 'I was young and dumb and in over my head' sob story, and got put on probation for a semester. So he had a repeat of the fall. At the end of the year, he was kicked out, and didn't care."
"He made something on the order of $150k, in return for about $8k in student loans to cover a year of housing and tuition."
"So far as I know, he was never caught. It may have been a short-sighted maneuver in the long run, but in the short run it seemed fairly genius to effectively use federal loans to start your drug business."
whistleridge
Into the car...
"Working in a home improvement store when younger. This guy came in, went to the snow blowers, took one and went to the return desk. Said he wanted to return it but had no receipt. They told him you need a receipt so he says ok I'll be back and wheels it off to car through the front door. He did this a few times apparently. Couple places even helped him load it 'back' into his car."
ethan-bubblegum-tate
TRANSFORMS
"A french thief who spent 10 years in prison became a comedian when he got out. One of his stories... Finds a building, goes in, chooses a floor and TRANSFORMS the exit door into an extra apartment. Puts the apartment number, fake lock, welcome rug, etc..."
"Puts an iPhone for sale. The person comes to buy it, he opens the door in a shower robe and says give me one second, im just gonna count the money... and poof!"
"He's gone from the exit stairs."
ismango
So Hungry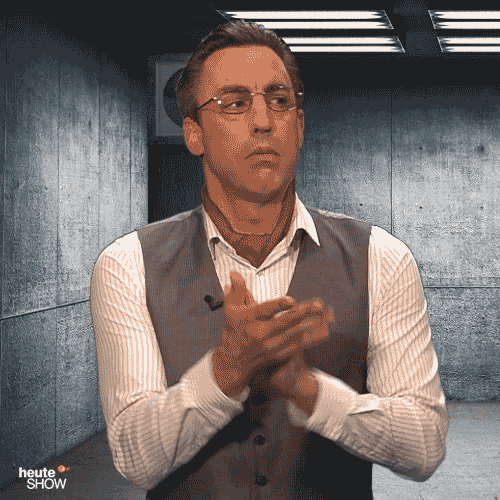 block out no GIF by Heute-Show
Giphy
"Definitely this guy who ate the bank robbery note right off the hood of the police car when they were emptying his pockets. Although I'm fairly sure he was still convicted."
Bonesnapcall
Even with smarts, crime still doesn't sound like it pays.
Who would you add to this list? Let us know in the comments below.
People are killed every single day. Some are murdered in horrific fashion, feeding the insatiable appetites of true crime fanatics but traumatizing the victim's surviving family members.
Many murders happen in cities of course but others happen in small towns, which many people consider idyllic safe havens from urban crime. Of course, you or your loved ones can be the victim of a crime at any time. A sad and scary fact.
People shared some info with us after Redditor RookTheBlindSnake asked the online community,
"What's your small town murder story?"
"They broke in at night..."
"The Stove Top Murder."
In Northern Ontario, in the '40s, four men got it into their heads that an old woman had a bunch of money hidden in her house. They broke in at night and tortured her for the money's location by pushing her face onto a hot stove top. She didn't have any money and died later at the hospital. Three of the men were hanged and one got life in prison."
RookTheBlindSnake
This is horrific. That poor woman.
"No one saw enough of the person..."
"An elderly woman's house was broken into and she was beaten to death inside. Nothing was stolen, she didn't have any living family to suspect, and according to neighbors she was very kind but generally kept to herself.
No one saw enough of the person leaving her house to be much help. The only info the police got was "probably male" and "left in a car or suv no one recognized". No updates or news stories on the case since about a month after it happened."
jupiter-mint
This is incredibly heartbreaking for the victim's family.
"There was an old woman..."
"There was an old woman in a small town just north of Toronto who was decapitated and her house set on fire. They still don't know who did it and this was just a couple months ago."
ToastedMaple
Scary! The killer is likely still out there, barring extraordinary events.
"He was murdered..."
"In the 90s I went to elementary school with Kirsten Hatfield- an 8-year-old girl who was abducted from her bedroom while she slept next to her three-year-old sister. The girls' mom was on drugs and hung out with sketchy people so the community wrongly assumed her mom had something to do with her disappearance."
"In 2015, Kristen's neighbor Anthony Palma was arrested for her abduction and murder after her bloody panties were found buried in his backyard. In 2019, two years after being sentenced to life in prison, Palma was found dead in his cell. He was murdered by another inmate."
CinnyButta
This is awful. That poor child.
"Johnny Cash's great niece..."
"Johnny Cash's great niece was murdered next to my grandma's house. Dude stuffed her body into a box."
Reddit-username-here
And the family is still seeking answers in the murder case.
"My parents..."
"My parents got a good deal on a house because the lady that lived there killed her two kids, sister and herself in a very very small town."
i-love-uwu
That's often how it works. Many people don't want to live in homes where murders occurred.
"In 1988 William Mellin, the man who owned and ran the general store in the very small town of Millican, OR was murdered by a shot to the back of the head."
"Not really a particularly remarkable story except for the fact that Millican was such a very, very small town. So small, in fact, that the official population was "1" - William Mellin. And then, after his demise, the population of Millican was "0."
JuzoItami
Wonder how in the world that happened. How will we ever know?
"I was good friends with..."
"I was good friends with the mayor's son growing up, but after he left office, the former mayor got on heavy drugs and was later murdered by his sex worker's pimp."
CoolJeweledMoon
This was a rollercoaster ride!
"I'm about 15 minutes away..."
"I'm about 15 minutes away from Delphi, IN. The murders of Abby Williams and Liberty German in 2017 are still unsolved and will probably remain that way. Such a sad and scary case."
andronicus_14
This is a remarkably creepy case and it's so disturbing that there haven't been any significant developments.
"I remember helicopters..."
"Poughkeepsie Killer - Kendall Francois was a serial killer from Poughkeepsie, New York, convicted of killing eight women, from 1996 to 1998. I remember helicopters hovering over my neighborhood for days when he was arrested."
Upyours
Terrifying.
Francois died in prison in 2014 of an AIDS-related illness at the Wende Correctional Facility in upstate New York.
Chances are your own town has secrets of its own. It's awful when a town's claim to fame is something so horrific and painful.
Have stories of your own? Feel free to share them with us in the comments below!
CW: Suicide.
Finding a dead body is one of my worst fears.
The only one I've ever found was my grandma's.
She was dying of cancer so it wasn't horrific.
Blood makes me faint, so any horrific scenes will not go well for me.
Redditor Cobbcakezzz wanted everyone to share about the times people have come across some frightening things:
"People who have found human remains, murder scenes or other suspicious scenes, what happened?"
I love true crime but I feel I'll regret this thread.
"Where is she?"
"I was 11 years playing in the woods with my friends. Autumn day, bright, cool… There was four of us, three boys and a girl. We were walking a pretty well known path between two neighborhoods when the girl said, 'Someone left their doll out here…' We walked over to the 'doll' which was dressed in jean coveralls, sneakers and a kids jacket. She was on her side, kinda curled up but her face was towards the ground so we could only just see one eye, one cheek, one ear."
"She had brown shoulder length hair that was a bit curly like a lot of little kids hair is. About 3 or 4 years old. The girl in our group kneeled down once and shook her shoulder and said, 'Hey kid…' Nothing. After that we all kinda looked around at one another and one of us, don't remember who, said we should call 911. There was a payphone on the street at the end of the path in the direction we had been heading so we all just walked away from the kid."
"We kept looking back until she was out of sight. I made the call when we got to the phone. I had to explain it to the person on the line three or four times before they kinda believed me. Told me they were sending out an officer. He pulled up about 5 minutes later, took one look at all our faces then said, 'Where is she?' We pointed down the path and one of the guys said 'you can't miss her.' The cop told us to stay where we were and he walked on down the path."
"Ten minutes later another squad car came screaming down the road with lights and sirens; after that the place was an absolute circus. All four of us kids just kinda walked away. Saw it on the news that night that it was a little girl who'd gone missing the day before from a couple of miles away. It was said she died of exposure. I think about it every now and then and get sad, like now…"
WarExciting
The Cousin
"Back in the pre-cell phone days, I found a body on my way to work. My starting time was 5:00AM and I would occasionally bike to work, weather permitting. It was to be a warm day, so off I go on my bike. No traffic meant I could cruise along pretty good. I was just starting to enter an underpass when I spotted a person laying on the road. I'm thinking a drunk fell off the sidewalk and passed out. As I slowed down I saw a long trail of blood."
"So off the bike I go to see if they were okay. Half opened eyes and brain matter said otherwise. No phone and no traffic, what to do? First car to come along was a taxi. Great, he has a radio and will call the cops. Wrong. He sees me jumping up and down, waving my arms near a downed person. Hits the brakes, pulls a fast U-turn and got the f**k out of there. A couple a minutes later a van comes from the other way. He does the same thing."
"Then a car pulls up, an older dude asks what's up. I tell that's a dead person and someone needs to call the cops. He says he's got to get to work and will probably phone from there and left. About 10 minutes later, I was able to flag down a police car about a block away. An ambulance shows up at the same time. I asked them, the cops and EMTs, if anyone called them. Nope. So I get interviewed, tell my story and am sent on my way."
"Later in the week, an officer calls me to let me know what was happening. Apparently it was a suicide. She, 23 years old, was having a rough spell and was living on the streets. Jumped off the overpass onto the pavement below. Pretty sad situation all around. And as it turned out, I worked with her cousin about a year later. I've never talked about this before and I'm glad I did, even if it was on Reddit."
BBrainPheart57
The Paper Guy
"My buddy and I were out for a trail run in the local state park when we came across a guy who hung himself. Called the cops, we were interviewed, and sent on our way. The guy's car was nearby, filled with newspapers. He was a paper delivery guy!"
MudSouthern1143
El Salvador
"My parents would send me to El Salvador for three months every two years till I was 16. I saw a total of eight dead bodies. Some hanging from freeways, some just dead in the streets because of gangs."
TokyoMule
"Damn dude that place is rough. My parents lived through their civil war and tell me all sorts of f**ked up crap they lived through."
FindingMyPrivates
In the concrete...
"I was a project manager on an irrigation project to line earthen ditches with concrete in NV. It was around 2016 that we were in a sort of remote area of the state. Anyways, the construction crew I hired to excavate a portion of the ditch came across an entire skeleton. The skeletal remains were on one of the side banks of the ditch."
"I mean the entire skull and ribs were visible to everyone. I had to halt all activities and notify local PD and the forensics crew from Reno came and retrieved the remains and performed a sweep of the area. For about a week before we could resume our project."
"To be honest it was a little creepy and unnerving to see that in person. To my knowledge it was a cold case from the 1960s. Reno mobsters from the casinos used to take people out to Indian reservations and 'get rid of people' because lack of law enforcement on reservations in those years."
g6paulson
This why I never look down and ignore my surroundings.
The Mess
"Didn't stumble on the scene or anything but I had to go into my sister's bedroom the day after her husband shot and killed her. It… was a mess. The sheets/pillows were stained from about the headboard to halfway down the bed. There was blood on the wall. It was a really surreal experience."
"I remember there were clothes in the dryer. The dishwasher needed to be ran. There were leftovers covered with tin foil in the fridge. The house was so incredibly quiet. When people say there's a heaviness to a scene like that, it's true. The grief is palpable."
DogsAndKidsHateMe
911
"Found a dead guy on my way to work. NH, middle of a cold winter, maybe early/mid January in Manchester. There's a lot of old mill buildings that are used as offices, stores, pubs etc. I was walking to work, having parked a bit far from the entrance, and I saw what I thought from a distance was two trash bags. As I got closer I realized it was a person, didn't think much about it, moved on."
"About half way to work I realized there was no steam from breathing, I got concerned, walked back, and started loudly speaking at the person, who was non-responsive. I want into work and called 911 because I didn't know what else to do (I didn't own a cell phone at the time, this was early 2ks ). Dispatcher said some people were on the way, I went down to the closest spot and waved in a cop then an ambulance."
"Said I was the person who called, lead them to the guy, asked if I could go, they determined he was dead and I went to work. I'm guessing he froze to death, not sure how he got there. He might have been homeless. I didn't get a great look at him outside of telling you adult male with dark hair. Told the cop where I worked if they needed me and went to work."
RCrumbDeviant
In a pit...
"My dad found a human skull in a gravel pit. Called the cops, they came and got it, never heard anything else. I was a dumb kid at the time. So when he told me about it, I assumed we were going to solve a mystery. Turns out reality is way more boring."
AtelierNictus
Gunk
"When I was 12 I was cycling next to the river in my little village when a fisherman found a suitcase, being a nosey kid I went to have a look as he opened it. It's hard to describe the 'gunk' I saw inside, you certainly wouldn't have known it was a person - but bones were visible."
"The police came and did an investigation, later found out it was the body of a 70 year old man from a neighbouring county who had disappeared a month before. He had been murdered by his Son, chopped up and placed into several suitcases, only the one was found and it was nearly 50 miles away from where they had been dumped. Can't say it affected me at all, probably would now."
wh1terat
1996
"Was in Trinidad in 1996 or so because my dad was doing some work there. I was 13 or 14. One of his friends was giving us a ride to the airport and we stopped to say goodbye to one of his coworkers. They honked and she didn't walk out. They noticed the door was ajar and walked in. I was in the car and I just heard this intense scream."
"They found her dead to a head wound on the floor. My mom stood in the way so I couldn't see. We called the police but the friend who was driving us told us to just get on the plane and go because he didn't trust the police to try and scapegoat the foreigners. My mom followed the case from the US. They never solved the case."
chargeorge
Well that should keep us all up at night.
If you or someone you know is struggling, you can contact the National Suicide Prevention Lifeline at 988.
To find help outside the United States, the International Association for Suicide Prevention has resources available at https://www.iasp.info/resources/Crisis_Centres/
I love true crime shows.
And fake crime shows.
I can't help it, and I know I'm not alone.
My favorite crime-fighting team is of course... "Buffy and her misfit Scooby gang."
But when dealing with more real-life crime and murder, there is one name on the top of my list.
Olivia Benson. First, last, and always!
Redditor PurpleFlower99 wanted everyone to share who from entertainment we would call if we ended up a corpse, because we know they'd find our killer. Or killers.
"Which fictional detective would you trust to solve your murder?"
Oh... I forgot the cast of Criminal Minds. I love you Reed!
Kindness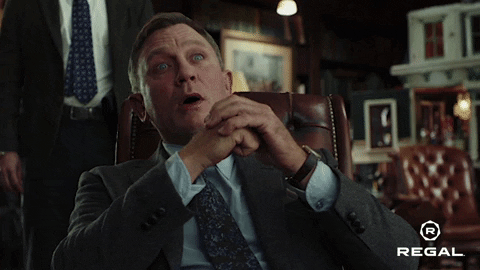 No Way What GIF by Regal
Giphy
"Benoit Blanc."
liberty_knight1776
"Blanc took the time to talk kindly and respectfully to the victim's elderly mother. I would want someone that considerate in the room when my family got questioned."
Aduro95
Hey D!
"Dirk Gently, so the murder can be solved holistically."
anaccountofrain
"So true he'd figure it out in the weirdest way possible which is what I would want."
aroaceautisti

"Read the book. Yeah, the show didn't do much for me either."
anaccountofrain
Perfect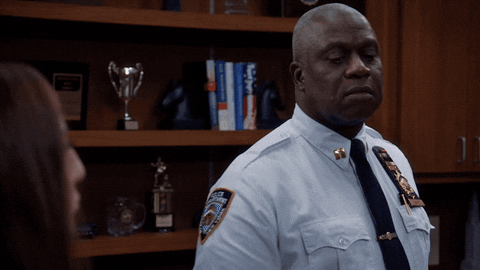 nbc brooklyn 99 GIF by Brooklyn Nine-NineGiphy
"Give my case to the Nine-Nine."
Billbapoker
"You've made a rookie mistake, it's alright. But its actually… NINE-NINE !!"
RefrigeratorOk7249
"BING-POT!"
SatoshiUSA
Him
"Hieronymus 'Harry' Bosch."
Sea_Assistance_3211
"There's really no other answer. I'm convinced that anyone posting anything else simply hasn't seen the show or read the books."
Paddock9652
"Yeah, I am too unimportant for all those other detectives. Bosch would get it done regardless."
happy-gof**ckyourself
"Scrolled too far to see this. Harry Bosch without a doubt."
account-name-here-72
The Only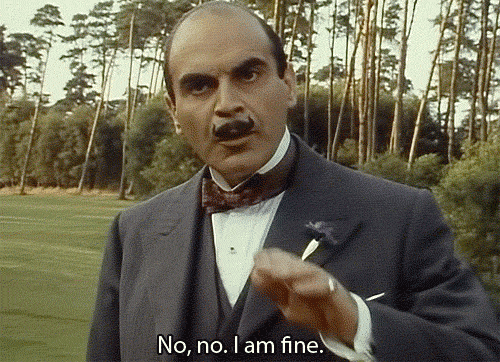 George Hamilton Watch GIF
Giphy
"Hercule Poirot."
Soggy_Future_1461
"The only correct answer."
lightninseed
Peirot Forever! Never a dull moment.
The Classic Gang
"Scooby and those meddling kids."
IBlameItOnTheTetons
"Velma is the only one even attempting to do what they were hired for and even then, she can only ever piece things together after the fact. She's either a dunce or intentionally holding back her findings from the group (maybe moral reasons)."
"Fred is freaking around with stupid crap like 'traps,' Shaggy is blazing it up off screen with his dog and Daphne is basically scamming daddy out of money with her friends on their sham business."
"They're basically a scam service that gets brought in to validate 'paranormal' insurance claims. But somehow, while they coast on free room and board comp'd by the insurer, gets those friendly locals insurance claim denied and charged with fraud."
Orzine
Brilliant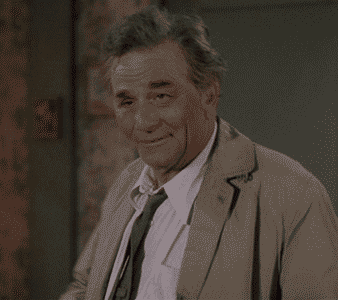 You Got It Ok GIF
Giphy
"Columbo, 100%."
Toepipe_Jackson
"I'd trust Columbo with my life, my death, and my mother's chili recipe."
BeneejSpoor
"'Oh jeez, I shoulda thought of that.'"
Dothwile
The Knight
"Batman."
RedBoi_45
"He'd solve it, and the murderer would get a severe beating, that's a win as far as I'm concerned."
Ramiren
"Hands down, the detective aspect of Batman is excellent when explored properly, like the time they gave us this majestic story: Batman Black & White: Perpetual MourningSpiderman."
anzinho
And so swoonworthy...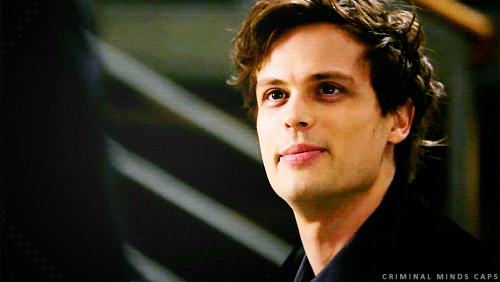 criminal minds smile GIF
Giphy
"Spencer Reid!"
sharkyandro
"Not just Spencer but the entire BAU."
Street-Patience-3814
"Thought I'm the only one who'd thought of this."
nonhuman000
The OG!
"Sherlock Holmes."
theendfckworld
"You know how far I had to scroll to find this? He's the GOAT detective. Superhumanly smart."
Domino_Masks
Now that is quite a list of people I'd trust in my death. Avenge me.