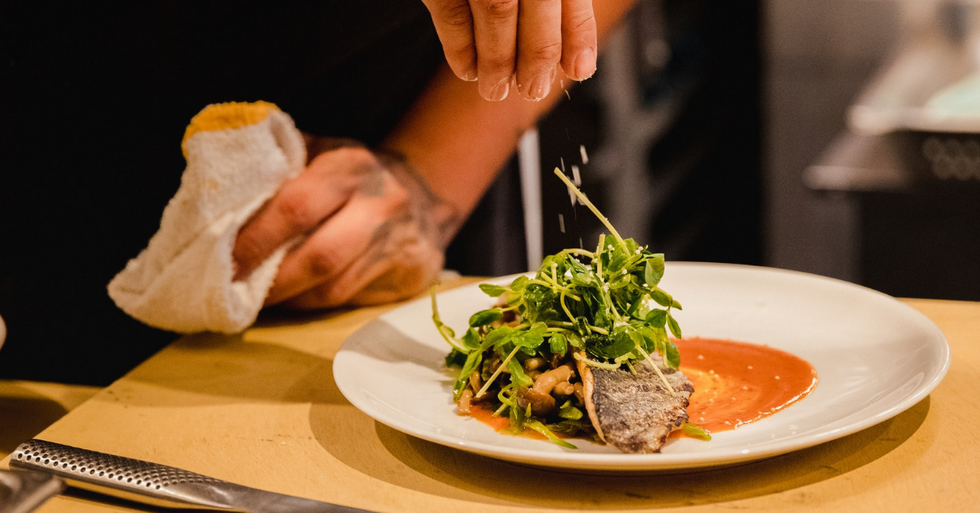 Beliefs can be a tricky thing to navigate. Everyone holts their own set of beliefs, defined by their religion or upbringing or circumstance. Holding space for these beliefs can be difficult, particularly when you aren't made aware of what that belief actually is. That was the issue facing Redditor and ORiginal Poster (OP) DisplacedChef when […]
More
Critics of religion say that religion is outdated, harmful to individuals, and society at large. Others view religion as anti-science. Still others have expressed reservations about many religions' views toward women and members of the LGBTQ+ community.
There are many other reasons of course, but these are several examples of religious practices that have contributed to many peoples' decision to leave religion altogether.
People shared their stories with us after Redditor ItchyPage asked the online community:
"What ruined religion for you?"
"I confronted my youth group..."
"So many things but the final straw for me was my church asking a homeless man to leave and not come back. He would sit and listen to the sermons never bothered anyone and always sat in the very back. I confronted my youth group leader and she defended the preacher."
chasoz2030
I hear stuff like this all the time and it's so infuriating.
"Learning that the Catholic Church..."
"Learning that the Catholic Church ran womens homes where they kidnapped babies, sold the ones that didn't die and used their mothers as forced labour."
Wind_Yer_Neck_In
Ireland has a very sordid history where the Catholic Church is concerned.
"And then I get there."
"A couple of friends of mine "invited" me to a summer camp when I was in middle school. The first warning sign I noticed was the packing list included a Bible, but I brushed it off because the camp brochure had horseback riding, water slides, and a bunch of stuff that seemed cool."
"And then I get there. And one of the first things we had to do was line up and "deposit" our money in a camp account. Why? So during our twice daily church services we could write "donation" slips that would take money out of our account and "give" to the camp."
"You get the idea. It was full on, 100%, a super conservatice religious Christian summer camp that just happened to have fun stuff in between the ridiculous religious nonsense."
Fun stuff like "bands" coming in to sing religious smash hits like "My Daddy Aint a Monkey". No. I'm not lying. That was the name of the song."
"Thank God I was there with another guy who my "friends" convinced to attend camp with us. I eventually confronted them about their lie and they admitted that had done it because they knew I wasn't a believer and did it to "save me.""
"I told them that I didn't care what their reasons were, if they were my friends they wouldn't have lied. And if they believed so strongly about it, would they really lie, etc."
"Left camp bewildered and more than a little betrayed. As the years went on and I continued to see the complete lack of integrity and regard for honesty amongst religious people, I was still disappointed, but not surprised."
ButtholeBanquets
Sadly, there are other, similar camps around the country.
"Even as a young teenager..."
"Being raised in a Mormon (LDS) church and forced to attend every boring meeting and gathering for 18 years."
"Even as a young teenager I somehow saw through the coercion tactics. Giving me assignments because "god wanted me to do it" when really it was the old white men that saw I didn't want to be there and thought giving me an assignment would help."
"Or, at "testimony meetings" every month. You're supposed to speak from your heart about your belief to the congregation. Toddlers would be forced to go up and their mothers would whisper in their ear what to say and they would repeat it. I thought this was insane because obviously they're not speaking their own words."
"I could go on..."
Bezerka413
This is the same religion that believed in the Salamander Letter, sooo...
"How agonizingly long..."
"How agonizingly long and tedious Mass was as a Roman Catholic kid. Stand up - sing. Sit down. Then kneel. Then stand again. Sing again. Sit down. Stand up. Kneel and pray. Then 30 minutes of droning from the robed guy at the front. Then stand up and sing. Sit down. Stand up. WTF please make this end."
miurabucho
I know myself. I would have been so bored. Can't stand it.
"When I was 12..."
"When I was 12 my father pulled me aside and said "Son, you are old enough to decide about religion. I wanted to give you a chance to experience religion. If you want to keep going to Church, you can, but its also Ok if you don't want to go anymore."
"I said "OK I don't want to go anymore."
"My father said "Ok, me too."
"And that was that."
miurabucho
Your dad seemed like an amazing guy. Props to him.
"Really toxic people..."
"Really toxic people at my church growing up. Seeing people only go to church to make connections and gossip rather than actually worship and do good for others."
[deleted]
I knew so many people growing up who called themselves Christian but didn't actually read let alone follow the Bible.
"Seeing how people use religion..."
"Seeing how people use religion as an excuse to be crappy people around the world. So many people just bend their interpretation of a religion to fit what ever they want."
CaptchaSolvingRobot
If I have to boil my experience down to a simple concept it's this. There's much more nuance but overall you're using a book that will give you a passage to justify whatever you want to do.
Ask your friends about their experiences with religion. You might hear some stories that will surprise you.
Have some stories of your own? Feel free to tell us more in the comments below!
Want to "know" more?

Sign up for the Knowable newsletter here.
Never miss another big, odd, funny, or heartbreaking moment again.
Keep reading...
Show less
A member of the Mormon church wrote a strongly worded opinion piece for the Salt Lake Tribune.
Dave Winslow is a self-proclaimed "60-plus, returned missionary, temple married, father of eight, lifelong member of The Church of Jesus Christ of Latter-Day Saints", otherwise known as the Mormon church.
After his daughter came out as a lesbian, he revisited the church's teachings for a new perspective.
After doing so, he wrote an opinion piece for the Salt Lake Tribune, a news outlet for a city with a predominantly Mormon population.
Winslow referenced the teachings of former and current church leaders, like Spencer W Kimball—who was president of the church from 1973 until 1985.
Kimball wrote in 1980:
"[The Mormon church would] excommunicate [gay people] as readily any unrepentant addict."
"The fact that some governments and some churches and numerous corrupted individuals have tried to reduce such behavior from criminal offense to personal privilege does not change the nature nor the seriousness of the practice… This heinous homosexual sin is of the ages. Many cities and civilizations have gone out of existence because of it."
The church—which also had a high profile racist and involuntary polygamist past—is still notoriously anti-LGBTQ, even creating a policy that bars children of same-sex couples from being baptized in 2015.
However, that church law was overturned in 2019 after much protest.
Winslow continued in his letter:
"After a daughter disclosed her homosexuality, I was motivated to study the teachings on homosexuality of church leaders I revered, from President Spencer W. Kimball to Russell M. Nelson."
"The uninspired and ungodly teachings on homosexuality of these leaders were in opposition to what I know about my daughter. She is a beloved daughter of heavenly parents who was born without sin and homosexual. This absolute knowledge created cognitive dissonance and led me to question whether church leaders are truly inspired."
According to Winslow, about three-fourths of millennials born into the Mormon church leave, due to "a lack of trust that church leaders are truthful regarding controversial issues, the inaccurate portrayal of church history and the unfair treatment of the LGBTQ."
Winslow concluded:
"I again implore the leaders of the church to emulate the Savior's love to seek true revelation with empathy, strength and humility regarding God's plan of salvation for the LGBTQ."
Some members of the Mormon church responded negatively, citing the very controversial teachings of the church Winslow denounced.
However, many showed their support, or at least validation, of Winslow's message.
In the end, love should always win.
Keep reading...
Show less
Nathan Ivie, a Republican lawmaker from Utah, recently came out as gay in a video posted to Facebook.
Ivie, a Utah County commissioner, recorded a video posted to his Facebook, dedicated to friends, family and neighbors.
The 40 year-old Mormon lawmaker revealed that he is gay, a secret he has struggled with since he was a child.
In the video, he speaks of growing up confused and unsure of himself, which led to a suicide attempt at age 22. After that, he attempted to "cure" his homosexual feelings, due to the pressure he felt by being a part of the Mormon church.
The religion traditionally opposes gay marriage, but with so many young LGBTQ people committing suicide as of late, Ivie felt the need to take a stand.

"That really makes you re-evaluate your life, and what you're doing as a leader to prevent that kind of stuff," says Ivie in his video, which has now been viewed over 11,000 times.
"I understand the impact that my discoveries have had, and will have on others. Yet, I'm still the same person that I've always been."
He continues, talking about the interactions he's had with gay couples through his love for photography and the outdoors.
Ivie recently had the opportunity to photograph a same-sex wedding, an experience that changed the way he viewed himself.
"The love they shared and the way they looked at each other was the same as any other couple. It helped me realize, 'Maybe I'm not broken.'"
Ivie's story has gone viral on social media, with many commenting on his video. Almost all of the responses have been positive.
Ivie himself responded on Twitter to the internet's reaction.
He thanked his parents for their support.
Ivie continued, leaving Twitter with some very positive and hopeful words.
Ivie's community has shown him nothing but support. Jackie Biskupski, Salt Lake City's first openly gay mayor, echoed other politicians' well wishes.
Despite Ivie and his wife separating, they decided to co-parent their children and still remain close friends.
"One thing's for certain," Ivie concluded. "Tomorrow is a new day."
"The sun will come up again, and we'll all have work and responsibilities, things to do. Who I am, it doesn't change any of that."

Keep reading...
Show less
Matt Easton, Valedictorian of Utah's Brigham Young University's class of 2019, made a very brave choice for his speech—he came out as gay in a speech that acknowledged the achievements of his peers, and himself.
Brigham Young University is owned and operated by the Church of Jesus Christ of Latter-day Saints, which is not known for its acceptance of LGBTQ+ folks.
The school has an honor code that has led to the punishment of LGBTQ+ students in the past, according to the Salt Lake Tribune.
Easton spoke about his personal battles in coming to terms with his identity, and his journey to self-acceptance.
"It was in these quiet moments of pain and confusion that I felt another triumph, that of coming to terms, not with who I thought I should be, but who the Lord has made me."
"As such, I stand before my family, friends and graduating class today to say that I am proud to be a gay son of God."
This personal growth took time, and some serious soul-searching, but it was worth it in the end.
"Four years ago it would have been impossible for me to imagine that I would come out to my entire college."
"It is a phenomenal feeling and it is a victory for me in and of itself."
You can view his full speech below:
BYU 2019 FHSS Valedictorian Speech www.youtube.com
Matt also posted some clips of the speech to Twitter, where he recieved overwhelming support.
Coming out is always a complicated, and often a scary, process. Kudos to Matt for choosing to be his authentic self even when faced with such a possibility of adversity.
Keep reading...
Show less