On the popular subreddit "Am I The A**hole?" Reddit users congregate to see whether their strange behavior is justified morally.
One of this past week's most viral posts was from a user named aWorkProblem0, who explained why she's been dressing "frumpier" at work.
Her post was titled "AITA for following the company's dress code to the letter but looking "ugly" and frumpy on purpose because I'm sick of sexist sh*t?"
"I'm a 23 year old woman at a company with a pretty... Old timey culture. Even though it's a programming job, where we are not customer facing, we have a "business casual" dress code. It's also got a really fucking sexist culture, I've lost patience with off color jokes and a lotttt of comments on my looks."

"I started out trying to dress nice, fitted tailored slacks, fashionable blouses, hair done, nice low heels or flats. I was always modest."
"And I got sooo sick of people saying sh*t about my body, my a**, even just the "you look reaaally nice today" that guys would never say to each other."
"So I started naturally tending towards my frumpier things."
"And when I went shopping I tended towards looser fitting stuff. Slacks with wide square legs that were loose in the butt and would hide my butt and legs. Several sizes above my usual size. Long cardigans that were big and warm but not fitted. Frumpy-ass loafers. I also cut off most of my hair and got some big tortose shell glasses that I've been wearing rather than contacts."
"I'm following the dress code very literally, slacks, cardigans, loafers are all allowed. But yeah all of them together make me look like a very frumpy elderly librarian (no offense to librarians, y'all are awesome!)"
"I basically stopped getting positive comments on my looks. Now it's not like some magic silver bullet, theres still more than enough BS, Enough that I'm quietly starting to job search."
"But my company is having a couple top executives come to the office for a week and my boss told me in a meeting to please 'dress professionally' during the visit"
"I asked him what he meant by that, was there something unprofessional about my day to day outfits?"
"He stumbled over his words for a bit then went 'Fit is a part of clothes looking professional, your items are fine but don't seem... Carefully selected for your size.'"
"I said that I was more comfortable in clothes of my current fit because I was sick and tired of comments on my body."
"He asked if there had been any new comments (I always told him about stuff in the past) and I said that there was nothing egrigious. He said that he or other managers had had a talk about each of those, and he hopes that would be enough to prevent future issues."
"I was thinking, if it's not those six, it'll be someone else, then someone else, then someone else. It's a culture problem, not a personal problem. But I didn't say that, I didn't want to push stuff too far."
"So I said I would select my clothes more carefully for the coming week."
"Now, that week is coming and I was thinking I would wear the same black slacks as always and pick one of my nicest sweaters and one of my nicest cardigans. But honestly I do not think that will solve the issue of fit that the talk was about to start with."
"AITA / WIBTA to keep following the dress code to the letter but look frumpy on purpose?"
lilmissaggie suggested the original poster get out of there.
"NTA but sounds like maybe time to find a new job at a place without a toxic work culture. They will limit your progression for not playing the game and not being 'professional'"
BFoert agreed.
"OP didn't say she was picking oversized clothes, but looser fitting clothes. Wide legged pants and flowy/drapey cardigans in her appropriate size are a style choice. OP states these items are in line with the dress code, which leads me to believe there isn't specific language about tailoring or fit in the dress code."
"I also work for a company with an outdated and fairly sexist dress code where they go so far as to state that 'underwear must be in good taste,' so I understand that frustration."
"If OP is following the dress code and her clothes are her appropriate size regardless of stylized fit, her manager overstepped. Which sounds like a common occurrence and the bigger issue of culture leading to the new job search."
scarletnightingale has been in a similar situation before.
"Honestly, I've been there (still there actually), I'm also looking for new work. It was the same thing. I dressed like a normal person, I got harassed, the company told me to not dress that way, I started dressing frumpy in clothes that were too big but in dress code, then they complained. Sometimes you feel like you can't win, it is an awful feeling and completely lonely since no matter what you do, somehow you are wrong."
toralights thinks OP should go for broke.
"NTA. This is the time to be petty. Find an outfit that is professional but ugly as h*ll, like a dull ugly brown boxy work outfit and just keep following the rules."
justhewayouare knows women have to learn early about sexist nonsense.
"Whats worse is that she likely knows how to dress like this because women start facing this even in Jr High. The dress code is always more strict for women than for men and in many instances highly unbalanced. The only difference is when you're a teenage girl authority figures tell you, 'By dressing this way you're preventing the boys around you from learning and are a distraction,' and then you grow up and your boss tells you this shit. It never ends."
chocopinkie brought out the sad truth: there is no "right" way to dress when the culture is toxic.
"hey i faced the same situation. but i was freshly graduated back then and was just confused. everything i wore was wrong. business blazer was wrong, long sleeve dress shirt was wrong, and eventually one dress my director commented was 'nice'.
after working for some time i realise that dress was NOTHING professional. it was too short, just slightly covering my ass, sheer at the shoulder region, and a skater dress basically. what they wanted wasn't professional. they wanted sexy. i was super creeped out."
Laure2018 suggested OP take things to the next level if necessary.
"If that ever happens again and I mean ever use the term sexual harassment. We use the example in our New Employee Orientation that saying Hey, you look nice today vs. heeeyyy. You look niiice today can be the difference between a compliment and sexual harassment (we also say it's better not to comment on appearance but rather work performance if you want to give a compliment). If you use the term sexual harassment it lets your boss know you know what is going on and that you aren't going to put up with it. Companies would rather not deal with sexual harassment suits. And most states protect against retaliation. I'm sorry you are going through this!"
Keep reading...
Show less
A recent car-buying woman quickly found herself at the dealership watching two dudes discuss cars.
If she wanted that, she could've just stayed home and watched Pimp My Ride.
But as it's 2020, she expected a little less sexism. Not to mention, Pimp My Ride is no longer on television.
Redditor Delicious_Cancel is the proud new owner of an "upper end luxury car," as she informed in a recent post on Reddit's, Am I The A**Hole subreddit.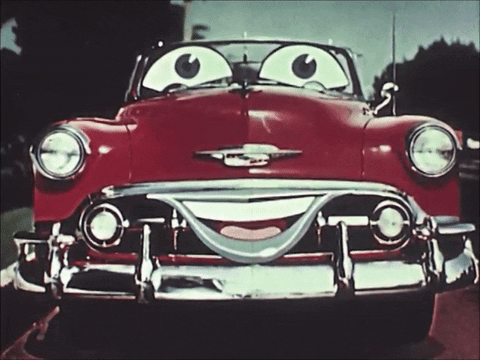 Giphy
But the journey to the driver seat was far from smooth. Along the way she encountered an hour's worth of microaggressions, two trips to the dealership, a subsequent shaming from her friend, and a little guilt.
The guilt ultimately drove her to post the tale and ask Redditors for their moral judgment.
All this came about when u/Delicious_Cancel *finally* decided to pull the trigger and upgrade from her "35-year-old" Volvo.
Obvious question: how has she been driving this thing around since 1985?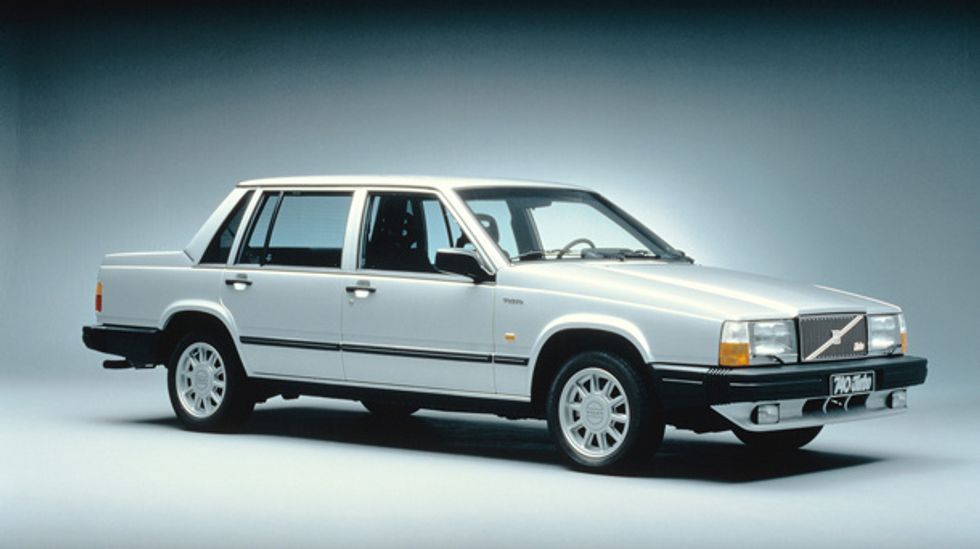 volvocars.com
Only one explanation is possible. That thing was all the rage, then became ugly and u/Delicious_Cancel stuck out the hard years, and then it turned cool all over again with the Normcore fashion movement.
She begins the story with the key variable, betraying some slightly internalized, car-based gender associations.
"I took my boyfriend with me to the dealership as you do as a couple."
Very quickly, even though she was the one paying for the car and would be the one driving it, Delicious_Cancel found herself on the sidelines in a palpable fashion.
"A salesman approached us and the entire time, from the start to finish, kept talking to my boyfriend even though I clearly introduced myself and told him the car was for me and that I would be paying outright for it."
Ms. Delicious could even count on her boyfriend noticing the biased dynamic, and calling attention to it, in his own subtle way.
"My boyfriend was off put by thing and kept referring the salesman to me when he asked my boyfriend a question and even pointedly said at some point " I don't know, it's Delicious_Cancel's car, ask her."
**It's difficult not to laugh at the image of her boyfriend actually calling her that in public but Reddit's rules require anonymity.
The man-to-man activism did not do the job.
"The salesmen would then look at me, I'd answer and then the next question, back to my boyfriend."
"The only question I was asked was around colour preference and leather vs fabric interior."
Ouch. That plays like a cartoon training video you'd watch at work to learn how not to be sexist.
When Delicious_Cancel decided she wanted the car despite the rotten sales experience, the sales guy proposed they begin the paperwork.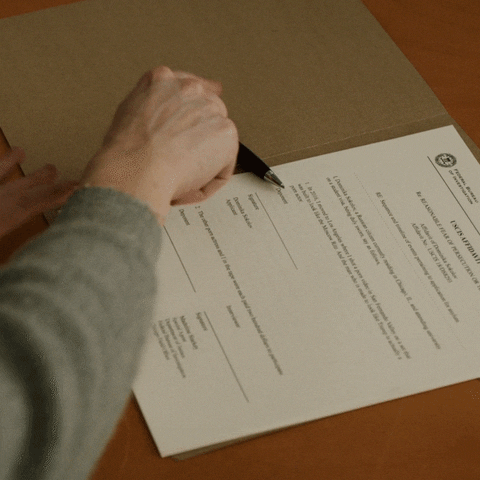 Giphy
She wanted to proceed on her terms.

"I interjected and said I wanted to think about it. I had already decided on the car but I didn't want to commission to go to him."
She was adamant enough to make a second trip to exact some revenge.
"So we left and came back the next morning, a different salesperson greeted us and this one was much better, ridiculously charming."
"I told him we'd driven the car yesterday and decided to buy it and we did, no hassles."
And that, folks, is how you manipulate the income of strangers.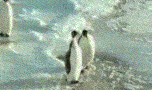 Giphy
Now, though, Delicious_Cancel is having some second thoughts after a friend empathized with the first salesman.

"I was recounting this story to a friend of mine yesterday who is sales (but in IT) told me I was a bit of an a**hole because the previous salesman had done all the work and I gave the sale to someone else when I was wanting to buy the car anyway."
Cue unanimous support from Redditors. Plenty got very real about why she shouldn't feel any guilt at all.
"Typical for car salesmen to ignore the women and talk to the man, but you made it more than clear it was all on you."
"Your money you get to choose how to spend it and who gets it. At the end of the day the dealership still got your cash." u/Netflixandzzz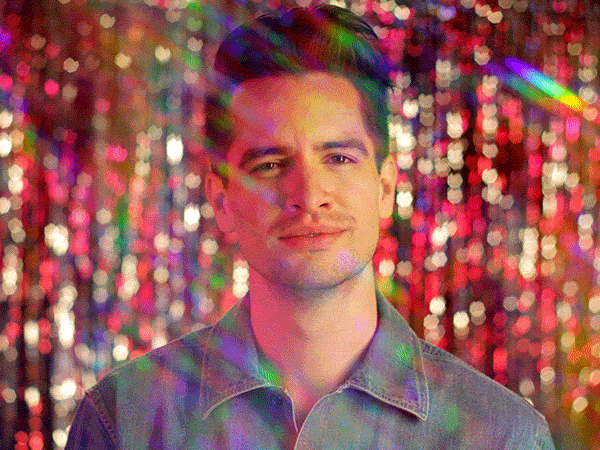 Giphy
"Everyone in commission sales knows "spoils go to the closer". Don't feel guilty, not in the slightest." u/starlabsdropout
"FYI, he most likely got a "half deal". The commission was probably split in half by both salesmen."
"If you are helped by two salesmen, the sale was most likely split because they both did the work." u/creepy_lil_lady
Some gave advice about how to help future women car buyers dealing with the guy.
"Personally I'd make sure to let him or his boss know why he didn't get the sale, maybe then he might reconsider how he treats potential customers." u/Whisky-Toad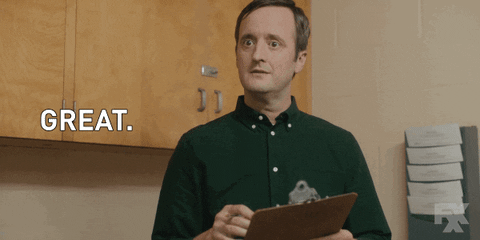 Giphy
"I'd leave a review along the lines of, 'we went and spoke to X sales person but he was really rude, dismissive, and sexist toward me during my visit. So we left but after meeting Y sales person we decided we made the right decision. I would happy work with Y sales person again.'" u/LindaFrmPortia
Others cut through and evaluated the guy on a pure sales technique basis. They still considered him a dingus.
"He doesn't deserve the sale. Any good salesperson knows you get to the one making the decision and deal with them." u/Stup2plending
"He did a crappy job because he did not identify (or choose to) and deal with the one making the actual purchase decision."
One was no stranger to this kind of thing.
"A lot of salespeople have this ingrained misogyny. My wife and I notice it, too."
"We were recently looking at properties with an agent (a woman). The agent would not stop looking at me and asking me questions." u/arbitrage75
Finally, there were those that possessed the wisdom of simplicity.
"You get sales by gasp being a good salesperson! He was not." u/MarrissaCooper
"The previous salesman didn't do all the work... Part of his job is not being an a**hole to clients. He failed to do that." u/godrestsinreason
"I thought sales people are supposed to be good at talking to others." u/Era555
Keep reading...
Show less
This week, another conservative commentator was schooled for their misogynist take on fictional entertainment.
People has had no problem giving him a lesson.

In Netflix's new show, The Witcher, the story is fantasy fiction and focuses on a lone monster hunter and a princess, who find their destinies to be crossed. The season focuses on world-building and how these two distinct characters, as well as many other sub-characters, mature in this environment.
As a guest podcaster on The Daily Wire, crime novelist Andrew Klavan visited and decided to comment on The Witcher after having given it a view. His comments, however, were extremely misogynist, anti-progressive and just historically wrong.
Klavan jumped right into his critique, giving away his position:
"Immediately I was put off by the fact that there's a queen in this who fights like a man. There's a couple of scenes where women fight with swords."
"And I just hate these scenes, because no women can fight with swords. Zero women can fight with a sword."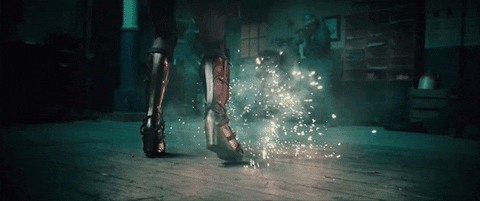 Giphy
Klavan then felt the need to elaborate on what he meant:

"What I mean by that is in a situation where you are fighting men who are used to fighting with swords, you are going to get killed if you are a woman fighting with a sword 100 percent of the time."

"A woman with a sword could kill somebody who doesn't know how to fight with a sword. But in a war situation, where you are swinging this five to ten pound sword again and again and again, against much, much, much stronger men, they are going to kill you."
Klavan then suggested a more realistic take on the fantasy fictional show, since monster-slaying appears to be more realistic than a woman handling a sword.
Klavan suggested:
"They should have made the character a man. She's a man."
"She's gross. She swaggers around and she rips into the meat and tears it with her teeth and curses people."
"It was a feminist statement and I was like 'please, give me a break.' I don't know if that is in the book but this is not the way that any woman behaves."
You can watch his full critique here:
Daily Wire host reviews 'The Witcher': "No woman can fight with a sword. Zero women can fight with a sword" https://t.co/RJuUoujkAG

— Jason Campbell (@Jason Campbell)1578014228.0
Twitter, of course, felt the need to respond.
They gave Klavan a little history lesson in sword-fighting and common fantasy fiction elements.
@JasonSCampbell Um what

— The Guillotine Shouter (@The Guillotine Shouter)1578146660.0
Some started off easy on Klavan, pointing out his inaccurate portrayal of the weapon women apparently can't wield effectively.
@_Milo_De_Venus_ @JasonSCampbell Seriously. A zweihander, one of the heaviest swords ever used in warfare, was only about 5-7 pounds.

— Crustaceans🦀 (@Crustaceans🦀)1578106355.0
Or, ya know, Joan of Arc.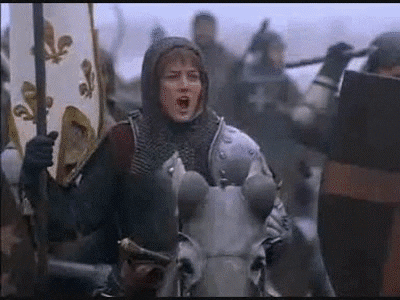 Giphy
Also, while we're talking about wielding, there were multiple comments about how the making of swords is specifically meant for easier handling.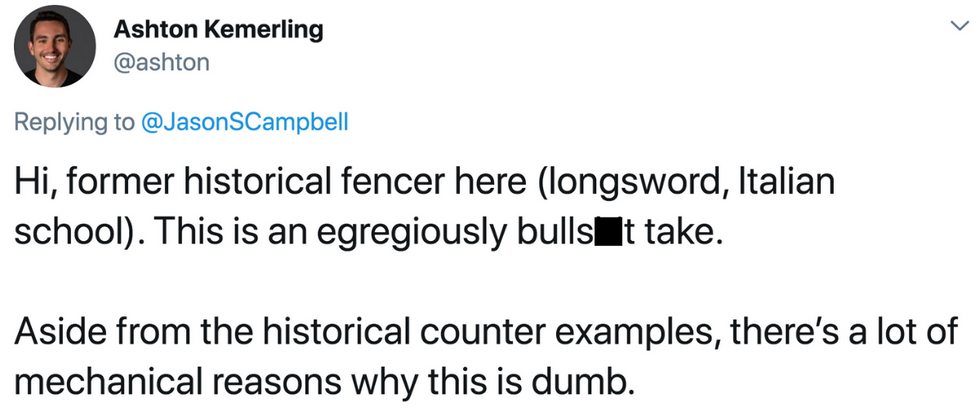 @ashton/Twitter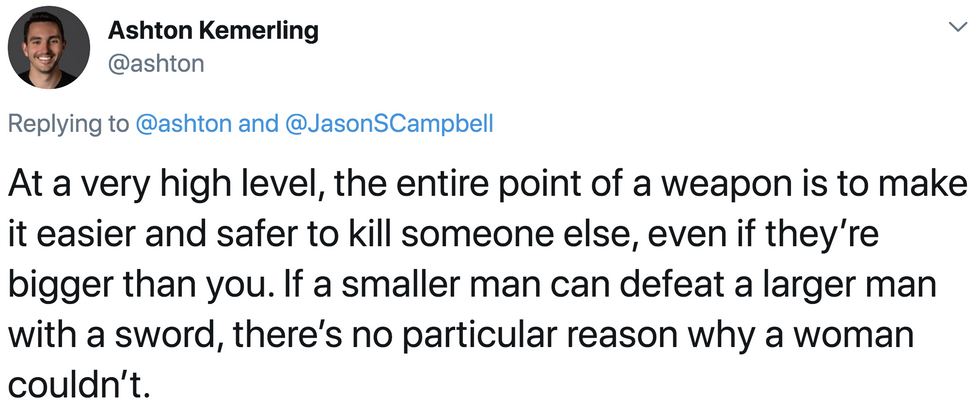 @ashton/Twitter
And never mind the popular female figures who viewed swords as their weapons of choice.

@JasonSCampbell Counterpoint: Julie d'Aubigny, the bisexuals cross dressing opera star and swordsman who famously a… https://t.co/ZWX18Q62HP

— Kim Cavill (@Kim Cavill)1578015539.0
@JasonSCampbell so glad this guy is speaking the truth, i.e., that in a sword fight Ben Shapiro would win against S… https://t.co/6OWLt4099h

— Max Kennerly (@Max Kennerly)1578107148.0
@MikeLamentino @JasonSCampbell There's actually quite a few examples of real life women swordfighters, it all depen… https://t.co/7p4eIowph4

— I am Jack's itchy taint (@I am Jack's itchy taint)1578016039.0
Also, apparently women being proper sword fighters is much less predictable than monsters and monster-slaying.

@JasonSCampbell Guys like this are the ones who need to be ridiculed as snowflakes. He can watch a show with magic,… https://t.co/JBrhbfbTRi

— DarkMatter2525 (@DarkMatter2525)1578126931.0
@JasonSCampbell Every time a woman does anything on screen other than play a one dimensional, passive love interest… https://t.co/g9h1sS0Zaa

— Claudia B (@Claudia B)1578076711.0
Clearly, before Klavan comes forward with another film or TV critique, he should be careful to double-check his historical, and patriarchal, facts before speaking out about the "issues" he's seeing.
He may also, where applicable, want to give the books a gander, too.
You can get The Witcher Boxed Set: Blood of Elves, The Time of Contempt, Baptism of Fire to check out the accuracy of Klavan's rant here.
Keep reading...
Show less
Sexism in the workplace is nothing new.
It's been going on for ages.
There are some situations, though, that you sort of expect that people would just ... be better about.
Like working in the ministry, for example. The North Carolina Conference of the United Methodist Church just released a video proving how wrong you'd be.
The video, which is about 7 and a half minutes long, features male Methodist pastors reading comments that female Methodist pastors have heard. The comments, submitted by the women, covered a range of topics.
Some questioned whether it was appropriate for a woman to preach, some implied (or outright stated) that women were weaker and the amount of sexual comments was just disgusting.
Folks, don't hit on your pastor. Why do we even need to type that out?
The male preachers were not prepped about the comments beforehand - and it shows in some of their facial reactions.
Behold, some of the many faces of "WTF?" Which one are you usually?
We're typically a solid #5 when someone says gross stuff.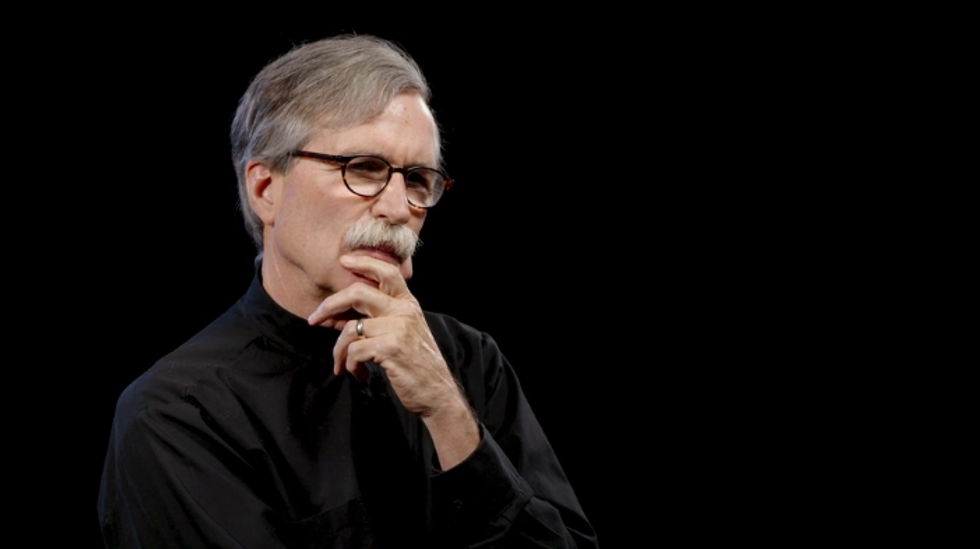 NCCUMC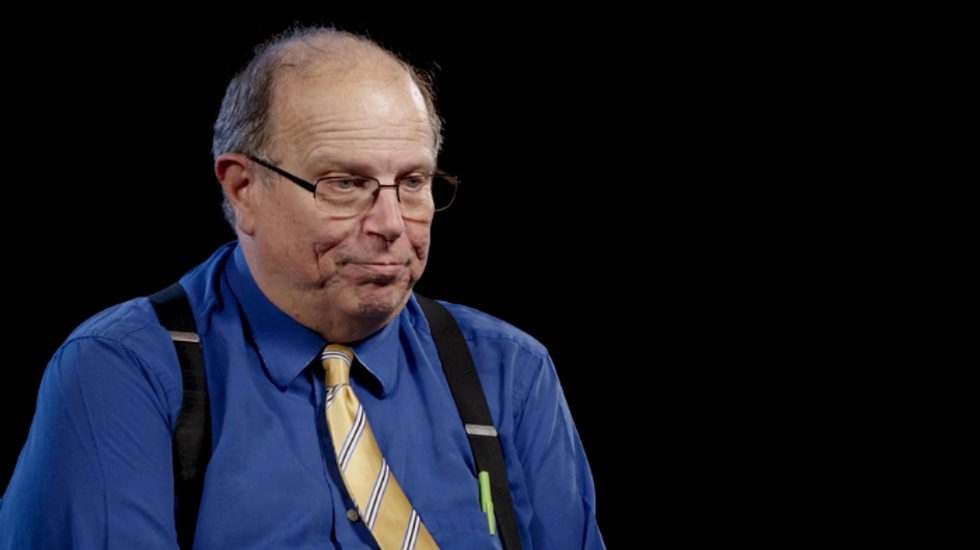 NCCUMC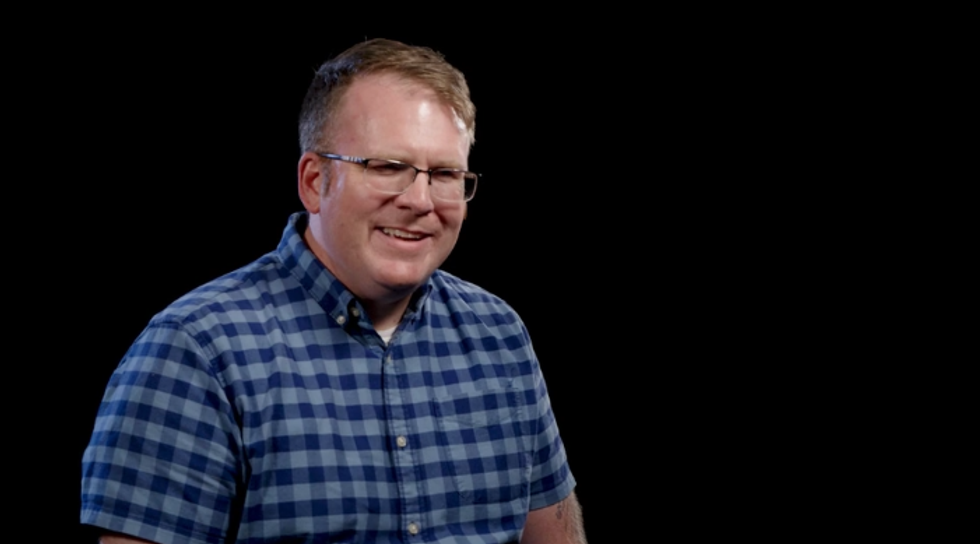 NCCUMC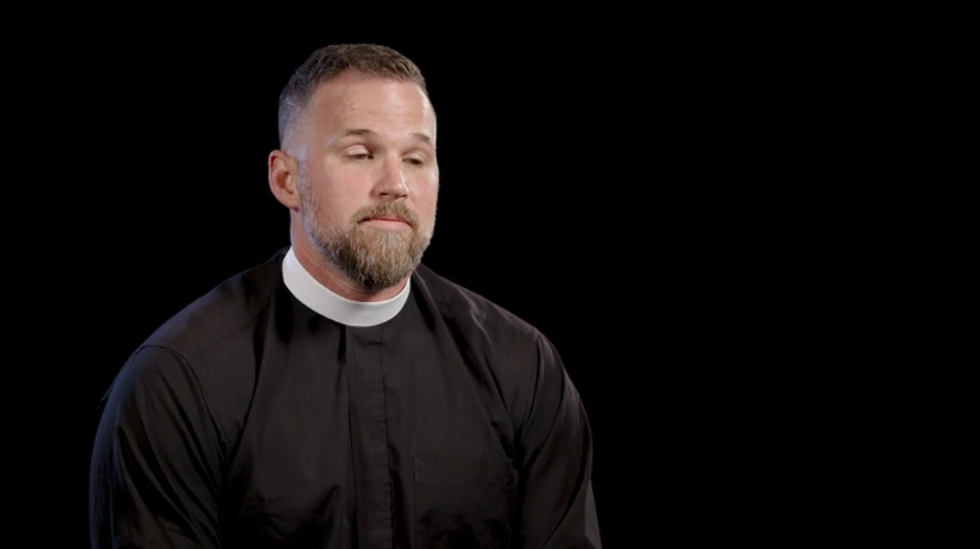 NCCUMC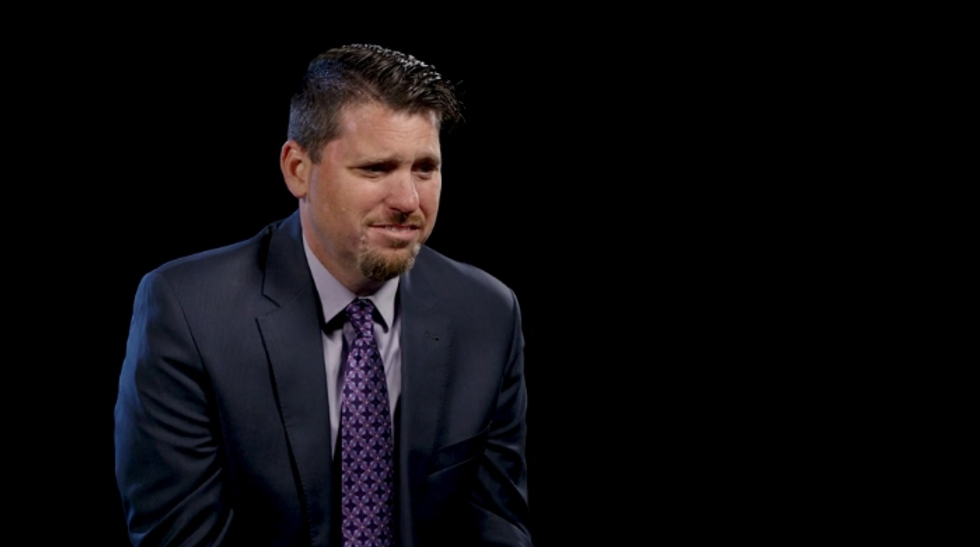 NCCUMC
If you're sensitive to sexist and misogynistic comments, you may want to proceed with caution at this point. The comments made may be disturbing or upsetting to you.

They certainly were to the women who heard them, as well as the men who read them. Here are a few.
"I can't concentrate on your sermon because you're so pretty."
"You do a really good job, but I think scripture is more meaningful if read with a male voice."
"You are looking fat."
"Women shouldn't wear pants."
"You're going to hell, you know. God does not permit women to preach. It's in the bible."
"I keep picturing you naked under your robe."
"During holy communion it's hard for me to concentrate when you say "this is my body, given for you." I keep thinking about your body, not Jesus's body."
"If God can use a donkey, I guess he can use women in ministry. "
"Better be careful eating so much, you don't want to lose that school girl figure. "
"If I were 20 years younger, you wouldn't be able to keep me away from you."
The men in the video reacted with sadness, disgust, and disappointment. They don't really seem too shocked, though - which is pretty telling.

Watch the video for yourself.
The video started making the rounds on Twitter, where people seemed just as horrified as the male pastors.
This video is a much watch. Male United Methodist pastors read comments made to female United Methodist pastors.… https://t.co/gWgZpLUBZ7

— Ryan Burge 📊 (@Ryan Burge 📊)1560517348.0
@WilGafney This makes me so mad!!! But at the same time does not surprise me.

— Tiny (@Tiny)1560613890.0
@therevallison UGH yep.

— Clarity Sabbath (@Clarity Sabbath)1560481066.0
@SarahSpain @JulieDiCaro @JustNotSports This is spot on and "we" as a society and more specifically men have to be… https://t.co/3Epuq96jCM

— Justin Garrison (@Justin Garrison)1560964693.0
I grew up with a strong mother who would never allow a priest to tell her how to live or love. She left the Church… https://t.co/Q8ImobCJQ7

— John Laub 🇺🇸 (@John Laub 🇺🇸)1560944929.0
I wish more church leaders would champion projects like this. Serious introspection isn't a favorite exercise in ma… https://t.co/zksutcB5R3

— Ron Hebshie (@Ron Hebshie)1560952594.0
What sorts of sexist comments and attitudes have you witnessed in the workplace? Can women end such attitudes or is it up to men to police themselves and the men around them?

Jessica Bennett offered the book Feminist Fight Club: An Office Survival Manual for a Sexist Workplace, available here, as a primer for women.
And sometimes, it is as simple as sending a clear message. Like this coffee mug, available here.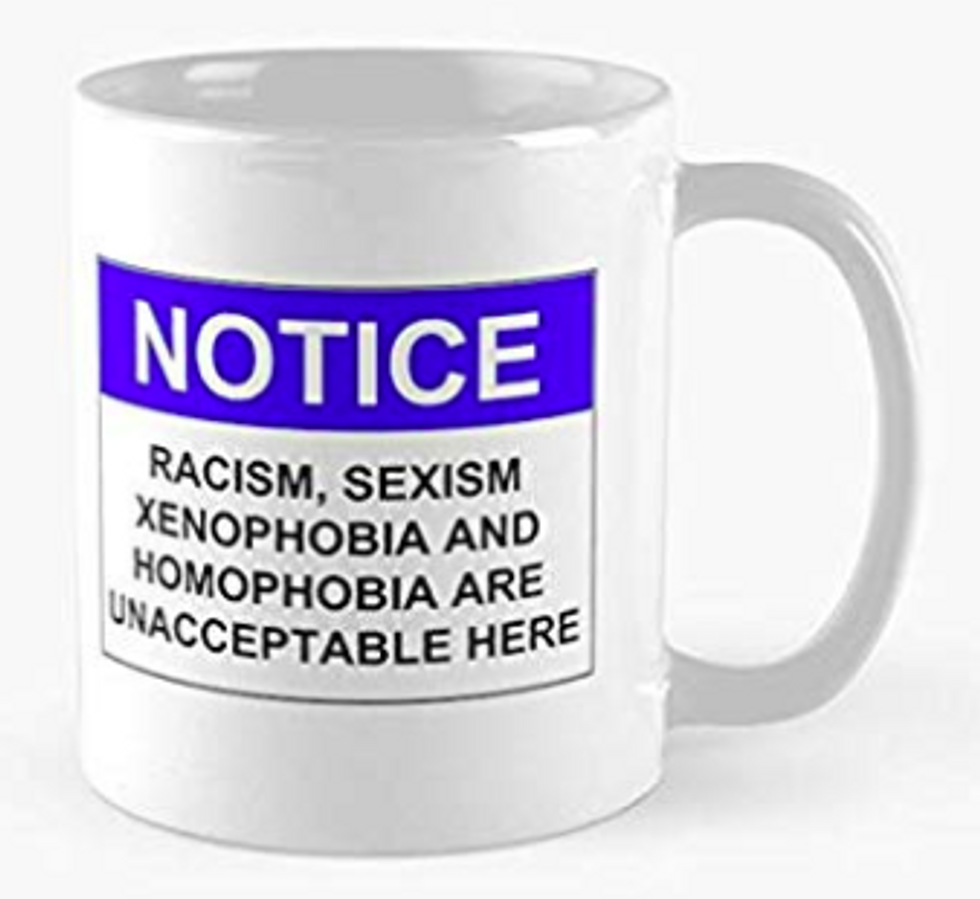 Amazon
Keep reading...
Show less
It can often be hard to believe that, in the 21st century, misogyny can still be so rampant.
But one viral thread recently pointed out just how deeply ingrained and pervasive it truly is in our society.
It all started when Twitter user @sswyers tweeted about a snide comment her boss made after viewing the thumbnail of a woman's profile picture on LinkedIn.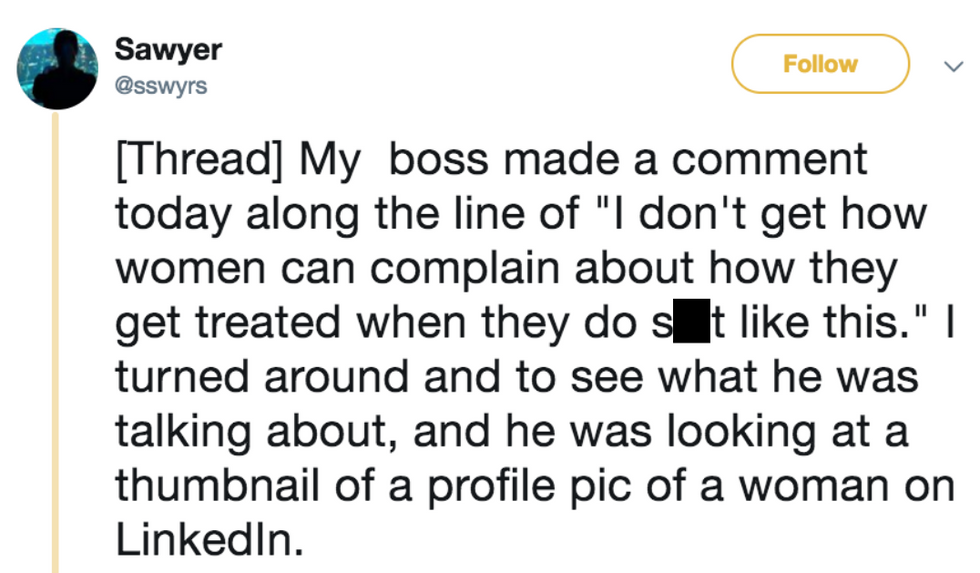 @sswyers/Twitter
After some confusion, @sswyers tried to dig a little deeper into what her boss meant.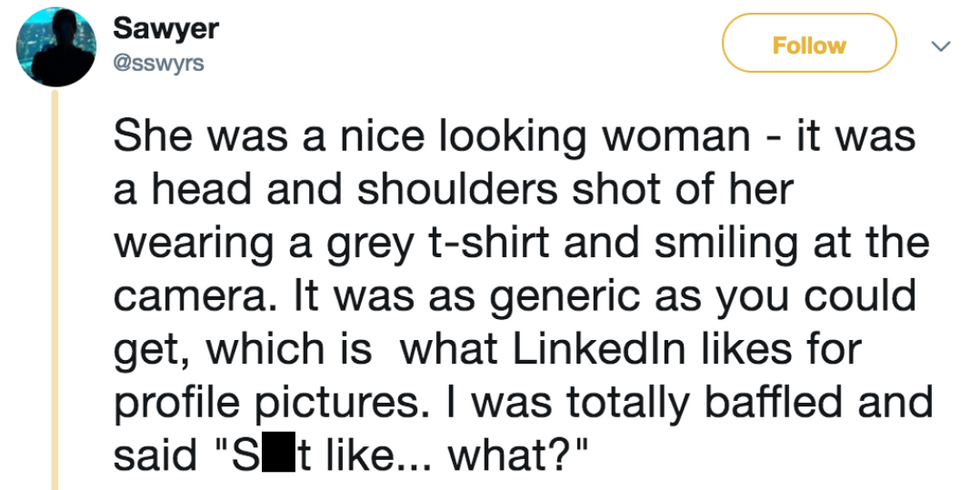 @sswyers/Twitter
The boss finally got down to the matter.
He thought the picture was "slutty."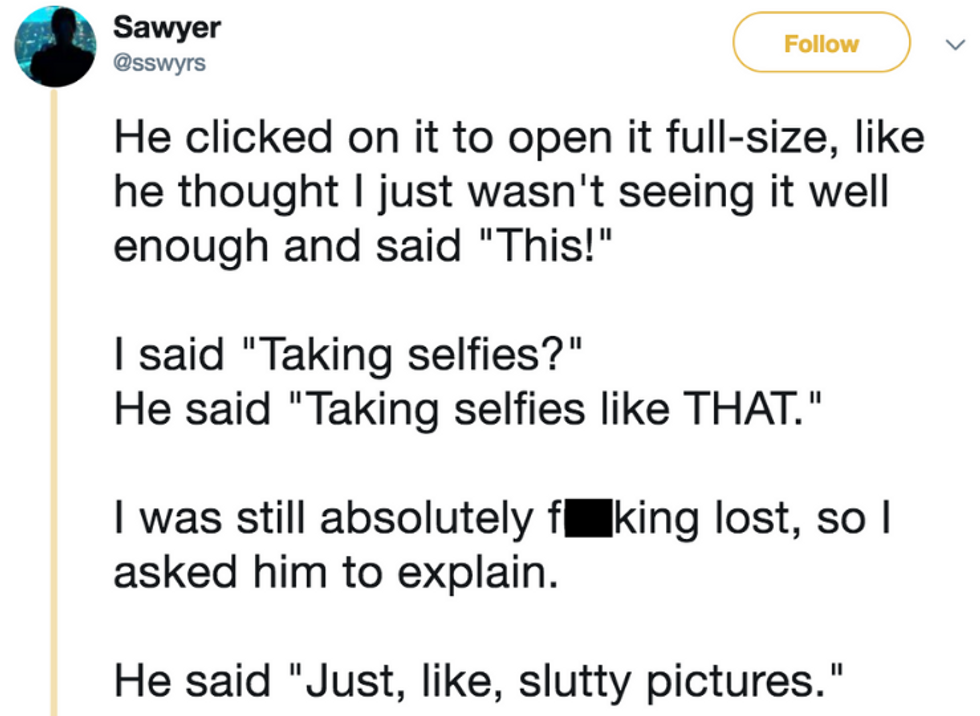 @sswyers/Twitter
@sswyers wasn't having any of it.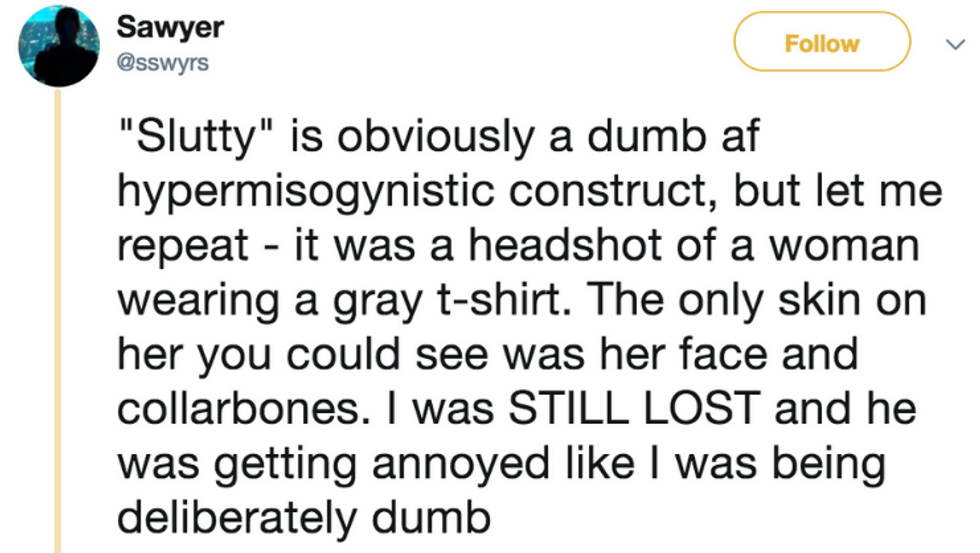 @sswyers/Twitter
I was getting annoyed right back, so I told him to just explain what he meant. He talked for a minute about how if… https://t.co/db9TEfsBze

— Sawyer (@Sawyer)1560550026.0
And then, after some back and forth, @sswyrs finally got down to what it was really about.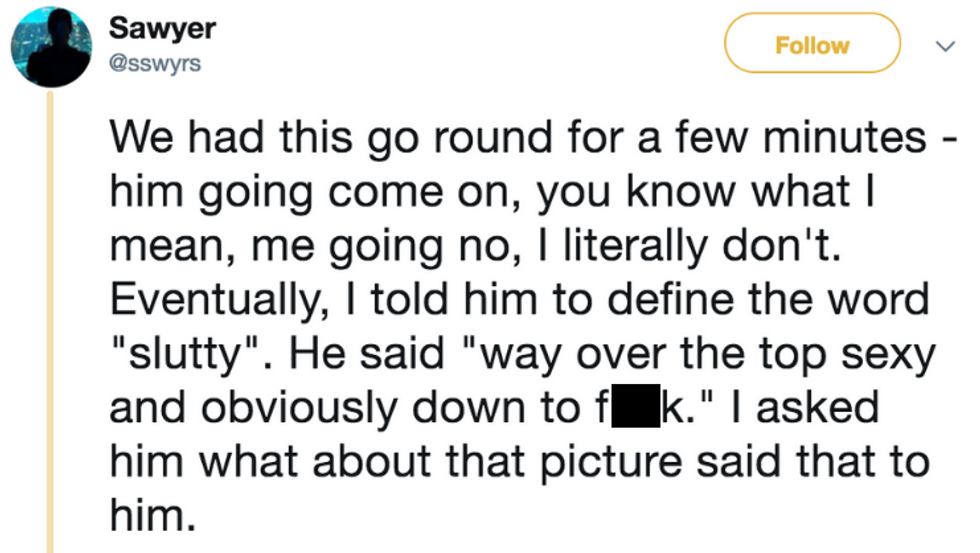 @sswyers/Twitter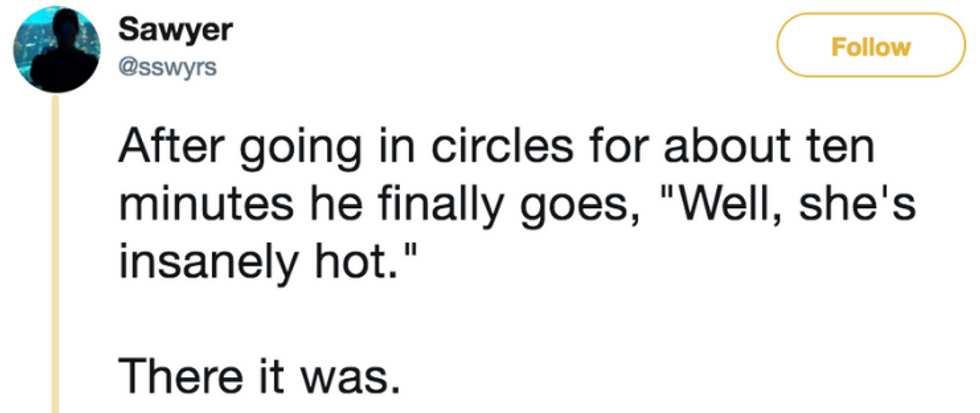 @sswyers/Twitter
Needless to say, @sswyers was appalled, and called out exactly what was happening here.
This man saw a THUMBNAIL of a picture of an attractive woman, and decided that not only was she a "slut", but that… https://t.co/f8FA4SD845

— Sawyer (@Sawyer)1560550545.0
A woman has her smiling face on her profile. A man she has never met sees it and instantly feels rage and disgust.… https://t.co/Oy6lBe77nI

— Sawyer (@Sawyer)1560550955.0
@ men: Don't you ever ask women why they're afraid again.

— Sawyer (@Sawyer)1560550968.0
People were left shaking their heads.
@babenofun @sswyrs SAY IT LOUDER FOR THE PEOPLE IN THE BACK

— ☀️🌻🏳️‍🌈 (@☀️🌻🏳️‍🌈)1560687660.0
@BrettHethering @sswyrs It's too common at that! As in not every man feels/thinks that way, not by a long shot (!)… https://t.co/mTpkf93yy1

— Good Omens Ivy (@Good Omens Ivy)1560631938.0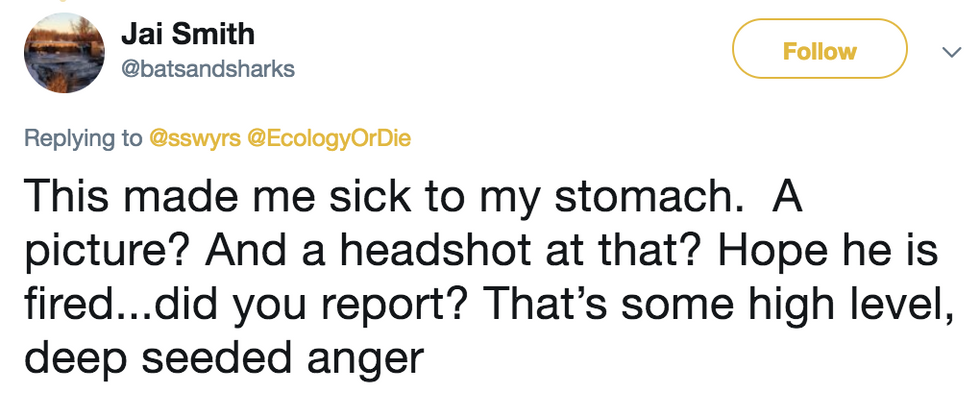 @batsandsharks/Twitter
Other women soon chimed in with their own horror stories of misogyny from both men and women.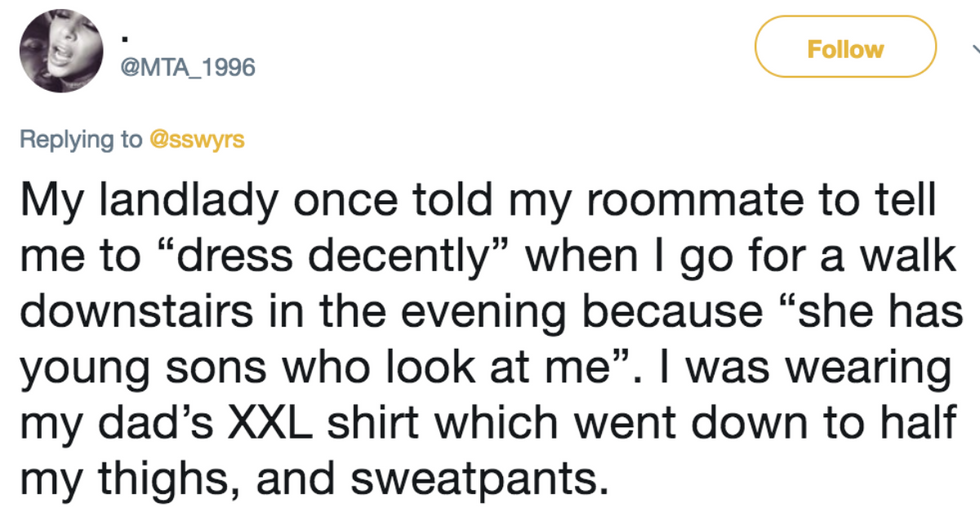 @MTA_1996/Twitter
@MTA_1996 @sswyrs When me and my sister were kids, our neighbor asked my mom to put up curtains in our shared room… https://t.co/3ZwVOsLDws

— Elisabeth (@Elisabeth)1560667226.0
@Elisabeth__E @MTA_1996 @sswyrs Ugh. Reminds me of my highly religious neighbors as a kid. The wife tried to get me… https://t.co/jOxmm7vN1p

— Snap, Crackle, Pop (@Snap, Crackle, Pop)1560668221.0
You've been warned, ladies.

No attractive profile pictures that might make men all hot and bothered.
@Mickey_Marine @sswyrs @battleborngoali To be fair, you're showing a bit of earlobe.

— diecastzinc (@diecastzinc)1560651163.0
@FionaMMarsden @diecastzinc @sswyrs @battleborngoali *Scribbles note* "Must appear dead in the eyes." Got it.

— 💗💜💙Foul-Mouthed Engineer💗💜💙 (@💗💜💙Foul-Mouthed Engineer💗💜💙)1560653789.0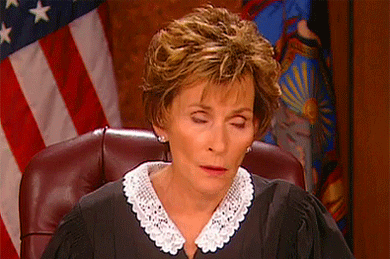 Giphy
If you're dealing with a toxic work environment, there are things you can do to protect yourself. The book The Arsonist in the Office: Fireproofing Your Life Against Toxic Coworkers, Bosses, Employees, and Cultures by Pete Havel, available here, offers suggestions for workplace survival.
The ultimate tribute to office misery, the film Office Space, turned 20 years old in 2019 and issued a 20th anniversary edition, available here.
Keep reading...
Show less