Oh the things we've all eaten.
Sometimes I look back on the day when my stomach was adventurous and I'm stunned at my stupidity.
Or I'm shocked by the adults who were around me.
But even into my 20s things didn't get better.
How we get through life with what we're willing to consume... it's a miracle.

Redditor MawedUpScribble wanted to chat about the questionable menus we've been fed or eaten by choice. They asked:
"What did you eat as a kid that you now realize was really f*cked up?"
Fun Dip! Anyone we remember Fun Dip?! Flavored sugar consumed on a sugar stick. Yeah that sounds smart. LOL. I LOVED IT!
From the Bottle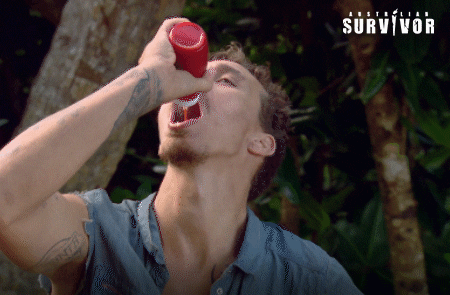 Luke Drinking GIF by Australian Survivor
Giphy
"Not me, but my best friend used to eat bullion cubes and drink worcestershire sauce straight from the bottle. (Haha, every single reply assumed my friend is a man. This was a twelve year old girl.)"
ChatGarou
Green
"When I was a kid, I did anything my dog did, including eating grass. One day I realized the grass I ate was also the spot where he peed."
Wabisabi_girl
"Dog pee on a blade of grass once, versus chewed gum spat onto public sidewalks from the mouths of strangers with God knows what diseases multiple times? I'm not gonna pretend that either is appealing, but I think a single experience with dog piss grass is less awful than multiple wads of stranger gum."
hakamamalo
nibbles...
"Horse biscuits. They were green, rather hard and delicious. There was nothing on the packet to say they were not suitable for human consumption, and all the ingredients sounded innocuous. So my best friend and I had a test nibble whilst feeding our horses. After that I regularly pinched a biscuit. Very yummy. And no ill effects."
CountessCraft
'cook'
"My sister and I when we were too young to be left alone in the kitchen decided to 'cook' and make something. We took grapenuts cereal, sugar, peanut butter and cola and mixed it up. We thought it was the best thing ever. Today clearly i think the idea is disgusting but I can still remember how it tasted. I also remember eating saltine crackers with sliced of 'government cheese' melted in it in the microwave for lunch often because we were poor but I liked it."
Tricky5342
Anything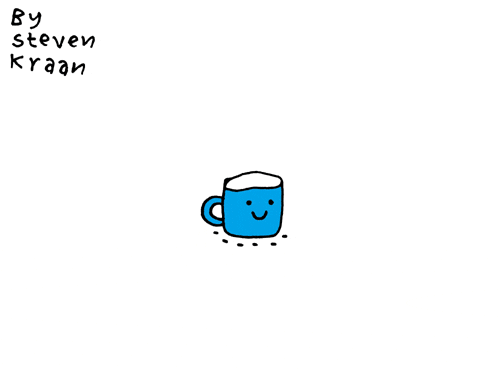 mug sip GIF by Steven Kraan
Giphy
"I remember when my buddy was broke, he'd get a bunch of coffee creamers, ketchup packs and crackers from the condiment bar of a cafeteria and make tomato soup in a mug."
CantTakeMeSeriously
That last one made me ill. I need a minute.
SPOONED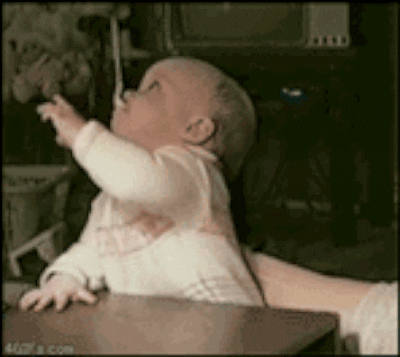 baby fail GIF
Giphy
"I used to eat frozen concentrated orange juice out of the container with a spoon."
justflush*t
Pizza?
"One time my dad made a 'pizza' with unseasoned tomato paste and sliced hotdogs."
Erberderbadoo
"A friend growing up was Korean and his parents would make us 'hot dog soup' which was just hot dogs sliced up into a spicy pepper soup base, maybe gochujang. To be fair, it was pretty tasty, as a young kid."
dcux
The Bell
"Taco Bell hot sauce packets. Not on or with anything, just a straight shot of hot sauce. Like 10-20 of them in a row sometimes."
DelphicProphecy
"There was a guy like a year ago or so, who was snowed in his car for 5 days and he survived on nothing but taco bell sauce packets."
DrDeuceJuice
"My high school job was Taco Bell in Southern Oregon. For a while there was a .39 burrito day. Each time we had this special a 'very large man' would order 20 burritos with red sauce and 20 burritos with green sauce. He would sit and eat all 40 burritos and downed a hot sauce packet with each burrito. RIP that dude, no way he's still alive."
PacoMahogany
White Stuff
"I would routinely grab a handful of fresh, powdery white snow then head to the curb of my street and slop a big glop of slushy, grey, gritty, curb slush right on top and eat it like a cupcake. Tasted nice and salty. I was probably between the ages of 6 and 8 when I did this."
Rokuformula
Straight Up Raw
Awkward Oops GIF by I Can't Believe It's Not Butter
Giphy
"I had two favourite snacks as a kid. Butter straight out of the tub or onions. Raw onion."
Sienna-hart
Make better diet choices. Our bodies are going to seek revenge!
Want to "know" more?
Sign up for the Knowable newsletter here.
Never miss another big, odd, funny or heartbreaking moment again.

Keep reading...
Show less
We make choices, practically thousands within a day.

Sometimes we make choices within choices.
And each choice is a gamble.
We can burn our lives to the ground without a match.
And often destruction is fast and furious.
Redditor NinhaLatina wanted to give out some warnings to everyone on how to keep life on track... they asked:
"What is the quickest way to f**k up your life?"
Excess in anything as always brought me down more dicey roads. So I try to stick with moderation.
Blow it out...
"Forgot you lit a candle and ended up burning your apartment complex down which caused the death of multiple tenants."
Ok_Cryptographer_535
Addiction
"Went to school with a guy who was valedictorian... couple years later found out he overdosed... he was set up to go to Yale or Harvard don't really remember... either way that sucks."
GetoBoii
"Yeah, developing an addiction to drugs or alcohol is a surefire way to screw up your life and it can happen surprisingly quickly. Source: ruined a lot of things for myself because of a drinking problem but luckily managed to turn things around."
Strange-Bee5626
For fast results...
"Drugs and Crime. For fast results. Get naked in public and punch a cop."
ghigoli
"Growing up, my parents didn't shelter me from that crap, they showed me what drugs could do to me. They had a few co workers who were recovering addicts talk to me and tell what they went through because of drugs. As I got older I never wanted to do anything harder than weed, and that was very infrequently. Now I'm 35 yrs old happily married with a beautiful son and I haven't done anything harder than weed."
Mike_Hav

Black Holes
"In high school, I was in all of the AP classes with all of the top 10% of my graduating class and this was actually not too uncommon. I know so many that dropped out of college or never went to college and a few that turned to drugs at least for a little bit. Number 3 in my graduating class dropped out after a semester and started working at Walmart."
"She still does 14 years later and not even a manager or supervisor as if she purposely chooses not to be in a position of power or advance at all. Just something about being considered a child genius and having that constant pressure to always be perfect just messes with so many people."
"I admit that I fell into that same black hole and did nothing for over a year before I woke up and pieced my life back together. Luckily I never had any interest in drugs. I think our school system needs to change or at least provide better support to these students."
Taiyonay
Used People
"Marry or cohabit with someone who doesn't love you but wants to use you."
Genshed
Don't jump on the FOREVER bandwagon without really knowing them first! That's a good one.
15 years ago...
"Get caught on To Catch a Predator. There is still a very active community of fans that watch and discuss episodes from 15 years ago. Every guy from that show has a nickname and a wiki page with all the dirty details whether they did an interview with Chris or just showed up in the background for 5 seconds."
Sleepy_Tortoise
Bad Charge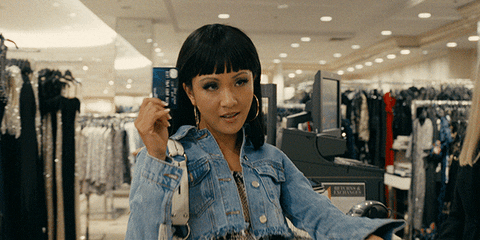 I Got This Credit GIF by Hustlers
Giphy
"Get into massive credit card debt."
toothfixingfiend
Russian Roulette
"So, heard a story about a guy that I went to high school with. He was a big druggy and the kind of guy that always wanted to look like a bada**. SUPPOSEDLY he and some friends were crazy high and decided to play Russian Roulette. The spun the gun and all that, and the first guy wised up and didn't pull the trigger."
"From what I was told he said 'don't be a pu**y' put the gun under his chin and fired. The bullet went up through his jaw and tore off the front of the left side of his face along with his nose and eye socket. Somehow survived. Now he is missing one eye, his face is all messed up and I think he is blind in his other eye because of it. No brain damage though, somehow."
towmader
No parental help...
"A friend was all set up to go to university with a full ride scholarship but ended up knocking his GF up and had to drop out to support them. He now works as a gas station attendant."
Dire-Dog
"If you have parents support pregnancy doesn't have to be the end obviously it makes it harder and no additional support from relatives is really difficult."
"But a lot of people actually have an incentive to do better with kids. Having a parent to look up to growing up who actively pursues higher education and incentives to provide a better life is inspiring. My dad did that for the purpose of qualifying for promotion. No parental help."
queen--c
Death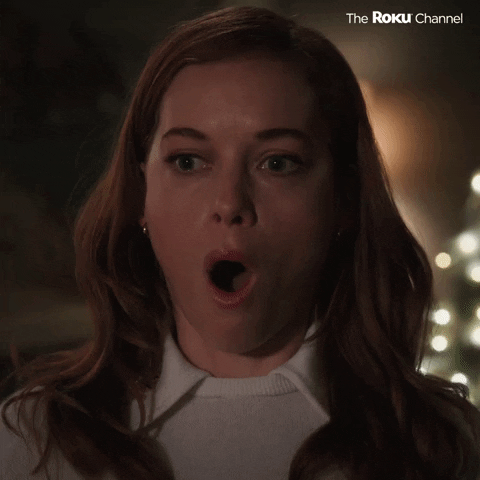 Oh My God Wow GIF by The Roku Channel
Giphy
"Maybe not the quickest, but punching someone who falls, hits their head, and dies. Quick, AND probably unexpected!"
TwoTonMantis
Drugs. Stay away from hard drugs. All of them. Be careful out there.
Want to "know" more?
Sign up for the Knowable newsletter here.
Never miss another big, odd, funny or heartbreaking moment again.

Keep reading...
Show less
Sleepovers are a fun rite of passage that allows kids to have some overnight fun with their besties without their parents around.

And while they are called sleepovers, sleeping is the last thing that ever happens at the overnighter.
Whether they engage in pillow fights or share scary ghost stories, the event is an opportunity to let kids be kids and engage in plenty of opportunities for mischiefs.
But how far can they go with their rambunctious night of fun?

That's what Redditor skep_JoJoFan wanted to know and asked:

"What's the most f'ked up thing you did in a sleepover?"
People recalled some of their NSFW memories at a sleepover.

Making A Dirty Connection
"In the Mid-Late 90's, my brother got really into the anarchists cookbook and learned how to tap into neighbors landlines from a box on the pole using a touch tone phone and some connectors from RadioShack."
"We'd have friends sleep over (we are close in age), and we'd sneak out and He'd hook a phone up so we could call phone sex lines from outside a neighbors house in the bushes."
"I still wonder if they disputed the charges or if the wife just thought the husband was calling 1-900-big-t*ts at 2am."
– MKE_likes_it
You Always Remember Your First Porn
"Raided my friend's dad's Playboy mags. Then my friend showed me a porn video. Full disclosure: this was early 80s."
– nerdmoot
One Traumatized Kid
"I don't remember what we were looking for, but me and another friend went through our buddy's parent's bedroom drawers and found a VHS tape. We were curious and idiotic so we popped the tape in to see what was on it. Our buddy walked in while we were watching his parents have sex. His scream was the most shocking/horrifying thing I have heard to this day."
– AlwaysMooning

The bathroom was where the action was.
Toilet Clogger​
"More embarrassing than f'ked up."
"Accidently clogged the toilet at friend 'X's house. There was no plunger and the toilet was filling rapidly. I panicked and ran to my friend who promptly called for his dad. His dad takes one look and yells from the bathroom, 'Jesus, 'X'! How big of a sh*t did you take?!' It took years before I went back to his house."
– VTMike802

Way Off Target
"visiting a friends house for the first time and i couldn't find the bathroom (i was about 10) during a sleepover. in the middle of the night, dark, confused, i pissed in the closet."
– Syonoq

Sewage Soak
"I clogged the toilet at a friend's house in the middle of the night. It started to overflow and there was no plunger. I woke up my friend, who then woke his parents. Turned out that the water that had overflowed had soaked through the floor and was dripping into the kitchen. His mom started trying to collect the dripping water downstairs while his dad was on clog duty."
"I never saw a plunger that night. What I did see was my friend's dad elbow deep in sh*t water pulling out a wad of sh*t and toilet paper. The floor was covered. We had to get that cleaned up. More sh*t water. By this time his sister was awake and came to investigate."
"I haven't talked to them in over 20 years."
– CaptainDunkaroo

A Crime Scene
"Got a bloody nose... it was dark and I didn't know the house, so I stuck near the walls and went down the hallway and found the bathroom. Got the bleeding to stop, cleaned up, went back to sleep."
"In the morning, the mom came in frantic making sure everyone was alive after she saw smeared, bloody handprints all the way down the hallway..."
– xar42

Hatchet, Incoming!
"In Boy Scouts, I was the morning cook, meaning I woke up before anyone else to chop wood, make fire, and get water boiling. I grab the hatchet and start splitting a log into little splinters for kindling. It was cold and dewy. The hatchet slipped from my hand mid upward-swing and went flying… to the tent circle. It seriously flew 10-15 yard and fell straight down though the roof of a tent, where 4 scouts were sound asleep."
"I'm not sure how long I waited to hear someone start screaming. I probably sat there in terrified anticipation for over a minute. Then I was worried someone might be hurt so I crawled over to that ten where the hatchet landed. I super quietly unzipped the flap, and saw it landed in a bag of clothes very close to some kids head. I snuck in, grabbed the hatchet, left the tent, zipped it back up, and finished breakfast."
"I heard them at breakfast complaining that "the raccoons" has ruined their perfectly nice tent by clawing a hole in it."
– brreckelhoff

Unplanned Tree-Trimming
"Threw up on my cousins Christmas tree in the middle of the night at her house. I still get sh*t for that"
– Person31905
Curious prepubescents don't tend to have a filter.
Show And Tell
"We had a coed church group sleepover at a Vermont farm."
"I was 13 and recently got a fake testicle (I had my other testicle removed due to an accident)."
"I was getting people to feel my balls and take bets on which one was the real one."
– Aol_awaymessage

Now Let Us Observe
"My friend and I were 11 or 12. His sister was about 14. She announced that she'd never seen a penis in person before and wanted to. Basically, it was a show me yours and I'll show you mine thing. Except it was directed at me and my friend. Which makes sense, I guess. If she'd never seen one before, why not try to look at two at once?"
"Ground rules were set. You can look for as long as you want or as close as you want BUT NO TOUCHING."
"After it was over, we never did that again, never spoke of it again or anything else."
– OhYeahThrowItAway

Maybe it's the fact that kids are given the rare opportunity to be away from their parents for a night that leads them to believe they can get away with anything–even though they are most likely under the supervision of other adults.
And while it seems like these Redditors recalled a fun time in their lives, I can only imagine what the parents were going through while cleaning up after the many bathroom disasters left by their young houseguests.

Want to "know" more?
Sign up for the Knowable newsletter here.
Never miss another big, odd, funny, or heartbreaking moment again.
Keep reading...
Show less
We have a skewed view on the treatment of others, thanks to social media, where cancel culture runs prevalent in punishing those who committed a variety of indiscretions.

While there are many acts of kindness not getting the amount of attention they deserve, our society is getting a bad rap because of a lot of negativity portrayed on the news.
Is this indicative of a screwed-up world in which many of us have lost our way?

Curious to hear examples of our seemingly waning humanity, Redditor MJTP4351 asked:
"What's the biggest thing for you that tells you just how f**ked up society is?"
These Redditors were horrified to see the reactions at the scene of an accident.
An Inconvenienced Passerby
"One time I had a lady yell at me to move my ambulance while I did CPR on her teenage neighbor."
– RRuruurrr

Spectators
"My ex and I witnessed a bad accident in front of us at an intersection (truck ran a light and t-boned a car). Without thinking, I jumped from the car and ran over to help free the older couple in the car."
"I was struggling to get the door open as I tried to reassure them that everything was going to be fine. I looked up and saw people standing on the sidewalk, filming us. Nobody bothered to come help me until I pointed at a man and told him to. Gotta get those likes I guess."
– DickChodeBalls

People pointed to the mishandling of children as the worst part of a societal problem.

Foster Care System
"Years ago, I was a police officer in a small Texas town. One day, I got a call about a little kid who was running down the middle of the highway."
"When I found him, I had to chase him on foot and grab him to get him out of the roadway. After speaking with him, he told me which foster home he was leaving, but he would not tell me exactly why."
"Now, this kid was about 8 years old. I contacted the on-duty CPS worker and told him about the issues at the house the child was willing to tell me of."
"I also informed him that I was made aware of an older juvenile who was staying there and had been handled for several sexual assaults of a child... of an eight-year-old child... of an eight-year-old boy - just like this one. Apparently, little boys were his targets."
"'WTF was he doing there in the first place ?' I asked. CPS replied, 'Well, we consider him a low risk for repeat offenses, but we've got him in therapy!' I replied: 'Well - THAT'S a relief! I bet whoever is doing a therapy is also the genius that thought it would be a great idea to put him in the same house with another 8 year old boy!'"
"I asked the CPS worker what they were going to do with the runaway I had recovered, and he said, 'I guess we're just going to put him back in the same house.'"
"I said, 'Are you f****** kidding me? - I don't think so!' It took hours and hours of tracking down that guy's supervisor to tell them that that was pure b*******."
"The kid was placed with another home. Probably a group of convicted cannibals for all I know."
"The system is so far gone."
– Aggressive-Dust-8641

A Horrifying Accident

"Cps failing so many kids here where I live, one lived in a meth lab that blew up and cps was Called many times before (edit) won't forget the day they took their scorched bodies out of the lab, horrible sight burnt into my mind."
– Mysterious_Ask_7895

Lack Of Sufficient Protection
"It's awful of how a children must be extremely abused/neglected before they do something in my country. I think children aren't protected enough worldwide."
– brokebecauseavocado

Where is the respect? Unfortunately, it can't be found here.
What Service Industry People Are Subject To​
"Screaming at people who work in retail."
– lelieep
"And spitting and attacking them... ive started to be excessively polite and nice to wait staff, servers etc. Unless they initiate rudeness then i call them out."
– hastingsnikcox

Lack Of Empathy
"We are going through an empathy crisis. People don't care about others that they don't know anymore unless there is something in it for them."
– themourningdoves

A Basic Principle

"People can't follow the simple 'dont be a dick' rule."
– mckhrt
The Depressing Speech
"Every time I'm working w a new client who is applying for disability, I prep them with a speech about 'everyone gets denied at LEAST the first time, if not several times, before they're approved.' No one believes me because obviously all their medical records prove their disability, right?"
"Nope. The state wants you to beg for it."
– PsychologicalMix2456
Barrage Of Advertisements
"Consumer culture and countless ads everywhere. When you see those people fighting over a TV on Black Friday you realize how f'ked up we are."
– Lord-AG
WTF
"During an official meeting in Karnataka (state in India) a MLA said 'When rape is inevitable lie down and enjoy it.'"
– WildFyreTW
We Are Drones
"The amount of posts i see all over the place with how little jobs care for their employees whether it them being underpaid, overworked, understaffed, or mistreated by their bosses or any combination of this."
– tremors51000
Avarice
"Rich people doing terrible things and just kinda paying their way to avoid the justice."
– ijustwanttoaskaq123
I still believe there are countless individuals who are inherently good people in our society.
They just aren't getting enough of the spotlight because many people would rather seek satisfaction in witnessing wrongdoers in society facing their comeuppance.
But imagine what highlighting our everyday heroes who do selfless acts for the well-being of others can do for our society.
A whole lot of inspirational good, methinks.

Want to "know" more?
Sign up for the Knowable newsletter here.

Never miss another big, odd, funny or heartbreaking moment again.
Keep reading...
Show less
The world can be an exceptionally strange and cruel place. The more we know about it, the more we may lose our faith in humanity.
Some facts we may never learn in a history book or even hear about on the news. We wanted to know what some of the most outrageous and f*cked up facts people have heard.
What better place to go that Ask Reddit, where people from all over the world can comment.
Redditor GreebSetter asked:
"What's a f*cked up fact you just can't believe is true?"
These are unbelievable.
Elephants basically have a second trunk.
"Elephants can control their penis like a second trunk."
- leemurray98
"I saw two elephants get it on in Berlin zoo. The first startling thing was the prehensile penis finding its way in, just like a trunk. The second startling thing was all the other elephants running about and trumpeting in a big celebration of the act. All of them. Kids, adults, like a big party! Wayhey!!!! They're doing it!!!!!!"
- NiceOneCenturion
"There's even a term for it: 'Mating pandemonium.'"
- m_Pony
Bombed with fleas.
"During World War 2, Japan bombed China with fleas infected with the bubonic plague."
- thisisprince
"Japan's crimes in China are mind boggling. They make Josef Mengele look like an amateur. Google 'Unit 731.' Or don't. You probably shouldn't."
- No_Significance4311
"Let's not forget their initial defense plan of 10,000 suicide vehicles of various types. If that didn't work, it was expected that all 100 million of the Japanese people swarm invading forces and give their life for Japan in an attempt to dissuade the American public from continuing the war."
- Halew2
Bee Facts.
"If bees were paid minimum wage for their labor, a jar of honey would cost $182,000."
- Assorted_Education_
"Bumble bees are always 45 minutes from death in the air. They expend so much energy flying, that they need to eat every 45 minutes or die. So, they literally don't give a sh*t about anything other than finding a flower."
- Good-Helicopter-9303
"I take a simple pleasure in seeing bumblebees buzz around my backyard in the summer. I'm not sure how I feel knowing it's a desperate fight for survival. I mean I know sourcing food is kind of like that for any creature, but I would have thought they'd have a greater margin than 45 minutes. Evolution can be cruel."
- Dunnersstunner
Getting murdered on Christmas.
"You're statistically more likely to be murdered by a family member on Christmas Day than murdered by a stranger any other day."
"I don't have a source, it's just something that seems about right tbh. Putting a bunch of people together on a really intense occasion will create some friction and you never know who's at the point of murder."
"Also I can totally see why murders would be more likely, judging by the comments below."
- _Frog_Enthusiast_
"Well congrats anyone reading this, you survived another Christmas…"
- Cobnor2451
There's no data to be found about this but several accounts in the comments make it seem that this could be true. Take this article that someone commented for instance: Estranged Husband Dressed As Santa Blamed for Christmas Day Massacre.
Sharks and trees.
"Sharks have been around longer than trees."
"Yes, Trees."
- RedAllAboutIt7
"One that I personally think is more interesting is that sharks are older than Saturn's rings."
- Dickcheese_McDoogles
"The bacteria that decomposed trees wasn't around for millions of years. That means for millions of years, trees were just dying, falling over, and lying like a bunch of logs stacked around each other."
- BootySmackahah
"And as far as I'm aware, the millions of years of this happening is now what we call fossil fuels and burn as carbon."
- Laxinout
"It contributed a ton of fossil fuel because when there was nothing biological to decompose them, geology would essentially do the job over a much greater length of time. Other organic matter still contributes to fossil fuels but those trees might represent our largest single input in a geologic time period; bogs that trap plant material in anoxic conditions can still create the conditions for fossil fuel production eons later."
- platypottamus
The youngest person to give birth.
"The youngest person to ever give birth was 5 years old."
- kibufox
"They say her biological father was the father of her child."
- Creative_Recover
"Her son Geraldo grew up thinking Lina was his older sister but was told she was actually his mother when he was 10."
- JonBenet_BeanieBaby
Teflon pans.
"In the beginning, Dupont f*cked up their non-stick Teflon pans. They knew high exposure to the stuff was bad but they never did anything about it. As a result, traces of "forever chemicals" can be found in 98% of the American population (and probably beyond)."
- Delta4o
"The movie Dark Waters describes the whole thing very well. At the end of the movie they say traces of PFOA can be found in 'virtually every living creature on the planet, including 99% of humans.'"
- FoxTrotte
Winning the Powerball.
"You're statistically more likely to randomly die during a USA Powerball lottery drawing than win it."
- Shawn_NYC
"My great uncle won the Powerball and died of a heart attack not long after."
- CubanLynx312
"Dang had to look this up. It's true(ish)."
"Chances of dying on the way there if you drive 1 mile: 1/110,000,000"
"Chances of winning the Powerball jackpot: 1/292,000,000"
"That being said if you drive 25mph w/ your seatbelt on, sober, in a modern car with airbags on a neighborhood road up to the gas station, your probability of death probably drops by more than a factor of 10 compared to driving on a high speed rural road or highway."
"While I'm looking up morbid stats, there have been 4781 COVID deaths in the US for the age range of 18-29. That's out of about 50M, so probability of dying of COVID in a given day in 2021 for young adults was ~1/4M. That's 73 times more likely than winning the Powerball."
- Peanut_Many
Some of these facts are absolutely gut wrenching, while others might win you the next trivia night. Take a little trip around Google and you'll find they have truth to them, as unbelievable as they might be.
Hopefully this didn't completely destroy your faith in the world.
Want to "know" more? Never miss another big, odd, funny, or heartbreaking moment again. Sign up for the Knowable newsletter here.
Keep reading...
Show less