"Reddit user Defaultuser9148 asked: 'What is the most f**ked up thing you saw someone do in a public place?'"
When people are out in public, it's sort of implied that we all stay on our best behavior.
But walk down any street on a New York day, and you quickly realize most of the world missed the memo on this matter.
Or they got it and just crumpled it up and tossed it in the garbage.
This makes us all spectators to some serious nonsense.
Oh the things we can never unsee!
Redditor Defaultuser9148 wanted to hear about the most messed up things they've witnessed others do, so they asked:
"What is the most f**ked up thing you saw someone do in a public place?"
I try not to look at people in public too much.
I've already witnessed more than my fair share of crazy.
WHAT THE ACTUAL F??!!!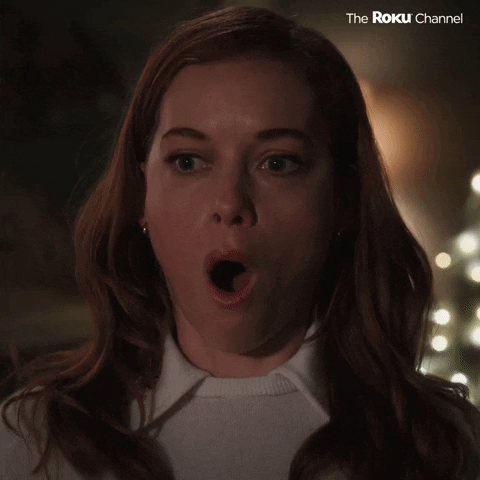 Oh My God Wow GIF by The Roku Channel
Giphy
"Saw a coworker take off his shoe and sock, pull up his foot, and bite his toenails DURING A WORK MEETING AT THE OFFICE."
hyteck9
"Covid is over, they said. Return to the office, they said. The exposure to corporate culture will be good for you, they said."
johnwalkersbeard

Look Away
"I used to deliver janitorial supplies to businesses. Part of my route was in the Kensington section of Philadelphia it's basically zombie land there and the whole neighborhood is filthy, idk how people can even live there. Needless to say, I've seen A LOT. But the one thing I saw that really stuck with me was seeing a naked man covered in his own excrement... He was clearly very disturbed. No one paid him any mind either. It was surreal."
Jawnson765
Rinse and Repeat
"I once saw a homeless man rinse his mouth out with water from the windshield cleaning 'bucket' at a gas station."
theAdvancedBeginner
"Just saw something similar here in San Diego on Friday. Pumping gas and a homeless guy in a trench coat in 90-degree heat asked me about my dog in the car as he dunked his head in the windshield bucket. Asked me for a dollar right after too while dripping."
H3rrPie
Rough
"I was waiting for a bus in the 'rough' part of town when I heard two men having a full-blown argument on the other side of the bus stop… one was being extremely aggressive whilst the other sounded confused at the verbal lashing he was receiving. It went on for a couple of minutes and the meeker one was nearly in tears, so I decided to walk around the other side of the bus stop to take a look at what was going on."
"When I poked my head around the corner the poor guy was crying but his aggressor was nowhere to be seen, I asked if he was okay to which he said 'Yeah, don't worry about him, he's all talk.' I nodded and turned around just as the nastier man re-emerged to berate his victim… only it wasn't another person, it was the same guy shouting at himself with an alternate personality. Until you see these things up close you don't realize how disturbing it must be to suffer from such mental health issues."
BarraDoner
It's heartbreaking to see people like that.
The Disturbed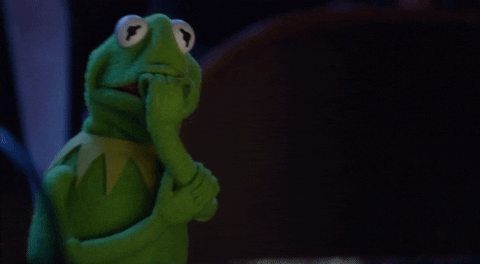 Scared Kermit The Frog GIF
Giphy
"Saw a kid follow around a toad at a state park for a bit, pick it up, and ground it against a tree, eviscerating it in an instant. An adult immediately grabbed them and took them off yelling as the kid didn't look bothered by the interaction at all. It was surreal and disturbing."
Capn_Yoaz
Disgusting
"A scary a** woman was yelling at people in a store. The manager told her to leave. She screamed insults at him as security escorted her out. When I left the store, she was still screaming at him. He was blocking her from going back into the store."
"Then she did something I never thought I'd see in my entire life: She reached into her pants, pulled out a bloody tampon, and threw it at the manager. She missed but it stuck to the glass door. She laughed as she ran off. I wanted to vomit. I never want to see anything like that again."
RiffRandellsBF
All is Well
"21st B-Day at a Festival in FL called Langerado. Was incredibly drunk but I'll never forget this... unfortunately."
"So, we're listening to a band called Umphrey's McGee and everyone is having a good time. All is well. Heaven on Earth. Until I turn around."
"There's a guy, late 30s or early 40s by himself and he was having quite a time."
"He kept shoving his hand [in his pants] and licking his fingers afterward. At some point, he started chasing people and then some poor souls working security had to deal with him. Ewwww."
DylanV1969
In the Bathroom
"A woman at my old retail job I used to work at came in dry heaving to our restroom. It sounded like she was about to give birth. Nope, much worse. She goes into our restroom and shi*s all over the stalls, the floor is coated. It became a complete swamp. This woman proceeds to take off all her clothes and leave them there. She walks out of the store nude, screaming."
AdReady528
Stop It!
"Woman recording a mother and her two children after the mother collapsed and was unresponsive in a Costco. Asked her to stop, but she looked at me and scowled, so I amplified my request which was 'Stop recording, you completely demented, witch!' and the immediate unfavorable attention that got her compelled her to stop. The woman who collapsed, and her small children were terrified, screaming and crying, and it was awful. Can't imagine why you would want footage of such a thing. Just remembering makes me sad and hope that everything turns out alright."
Freechickenpeople
When you gotta go, you gotta go!!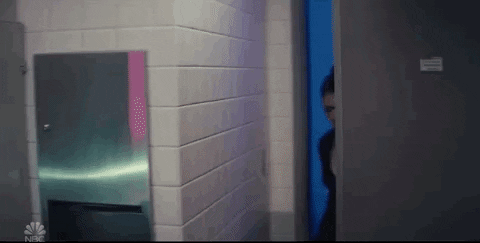 Peeing Ladies Night GIF by Saturday Night Live
Giphy
"In my hometown, I was using the mall food court bathroom which is usually a bad idea... but I had to. While I was taking the worst poop of my life, the people in the stall next to me were getting on the whole time. I can't image someone being that horny next to me in my worst time."
​Breze
Some people will do it anywhere.
I would run to another restroom if I could make it!
Do you have any wild stories for us, let us know in the comments below.
Reddit user Inflatabledartboard4 was curious about others' childhood cinematic trauma and asked: 'What is the most f*cked up kids' movie?'
When we think of children's movies, we may think of harmless fun.
But that doesn't mean there isn't some seriously messed up content in those films.
Like ever notice at least one parent is almost always dead—or dies!—during every Disney animated film?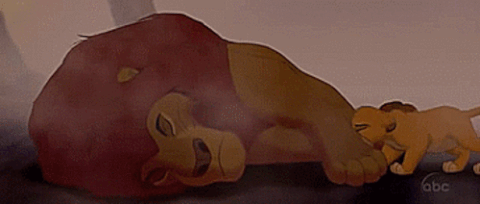 Giphy
Don't even get us started on Old Yeller.
Anyway...
Redditor Inflatabledartboard4 was curious about others' childhood cinematic trauma and asked:
"What is the most f**ked up kids' movie?"
All Dogs Go to Heaven
"Our hero is released from prison, only to be MURDERED by his former boss via vehicular homicide. Then that dog eventually winds up being continuously tortured by demon dogs in Hell."
"The giant demon dog filling the town with blood red smoke at the end is some pretty terrifying imagery."
‐ Diwari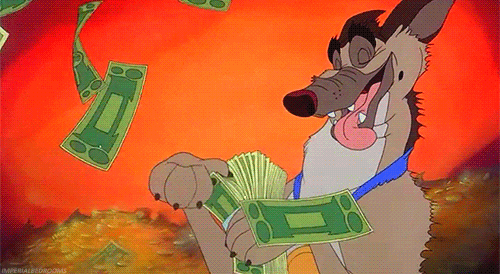 Giphy
Brave Little Toaster
"Suicide and abandonment all around."
- SkuzzleJR
"The air conditioner haunted my nightmares."
- Longjumping_Fold_369
"For some reason the part when the vacuum tried to eat its cord really freaked me out as a kid."
- ThoriatedFlash
"There's a lot of scary stuff in that movie but the flower might be the worst."
"I remember feeling like, despair for the first time as a child seeing that."
- purplefirefly6102
"The blender getting killed onscreen. I first saw Brave Little Toaster when I was around six, but I knew from the atmosphere of that scene what was really going on when you see the shadow of that wire getting cut."
"I was kind of horrified, and the the very next scene is another customer coming in asking for radio tubes and Radio is put on the chopping table but survives at the last second."
- EeSeeZee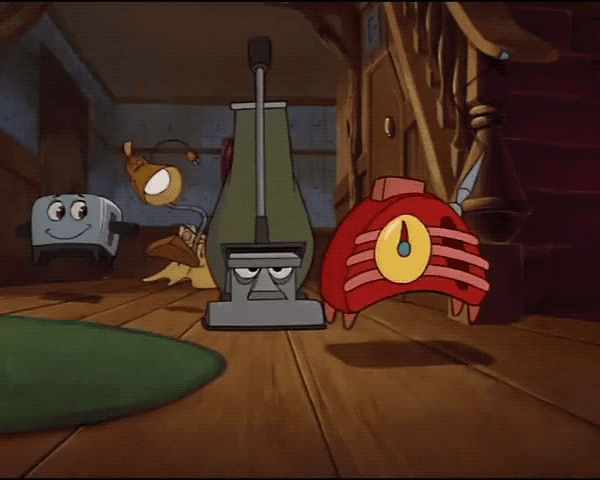 Giphy
Monster House
"The movie is literally about a man living in a house possessed by his dead wife and the house literally eats living creatures so I'd say that's what f**ked me up as a kid."
- Supa_saint
"Not just that, the dead wife was a circus freak and hated kids because they would always taunt her. So they move into this house and she dies."
"The husband who actually loves kids, now has to keep everyone away from the house or his wife will kill them."
"And then at the end the husband has to kill his wife aka the house."
"Too f**ked up for a kids' movie."
- whskid2005
Coraline
"Coraline scares me so much more as an adult than it ever did when I was a kid."
"I still love the movie and watch it several times a year, but somewhere between childhood and adulthood I got way more scared of dolls and puppets and sh*t, and I don't actually know why."
"Like nothing happened to make them scarier."
- Writing_Nearby
"I loved Coraline as a kid. I still do!"
"And the books are actual nightmare fuel, but I highly recommend giving them a read because the lore is really interesting and the story is different."
- SimplyAurallz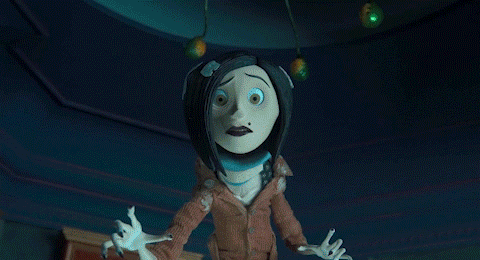 Giphy
Pinocchio - Disney animated version
"I'm surprised I was never traumatisedby Disney's Pinocchio as a child, because watching it as an adult, there are moments that are straight up nightmare fuel."
- neohylanmay
"When the boy who is with Pinocchio turns into a donkey, he cries out for his mother. I can't."
- MLAheading
"Ugh, watched it for the first time with my partner and two kids, during that scene all I could do is look at the two kids and wonder how they were not crying while I was on the brink of tears..."
- NurseJessisStressed
Peter Pan - Disney animated version
"The racism in Disney's animated Peter Pan is pretty f**ked up."
"Princess Tiger Lily and the song 'What Made the Red Man Red?' is just gross if you're an Indigenous kid watching it."
- LakotaGrl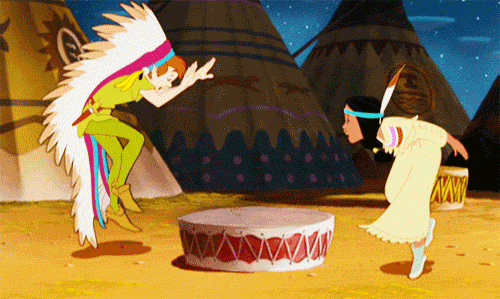 Giphy
The Cat In The Hat
"​The Cat in the Hat is something out of a back rooms nightmare in my opinion."
- hbombgomer12
"I literally just watched this, and I'm still questioning if I actually saw a movie, or just tripped out for 2 hours."
- LaMorak1701
The Last Unicorn
"Is The Last Unicorn even a kids movie? It's super scary."
"BTW I loved it as a kid and I still do. The whole Mommy Fortuna part was really dark, though."
- horschdhorschd
"I watched it in the last couple years. I never understood Molly Grue's meltdown at realizing she was with a unicorn. That scene hit hard as an adult. Missing out on the things you wanted in your youth only for opportunities to come by too late. I cried."
- cats_and_vibrators
"Super scary and way more sexual than I remember from when I was a kid."
- lovemyneighbor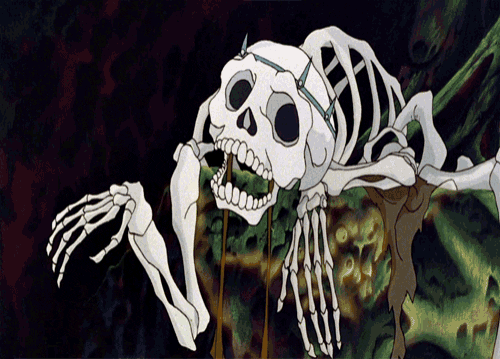 The Last Unicorn Skeleton GIF by Maudit
Giphy
The Fox And The Hound
​"The Fox and the Hound. Still traumatized to this day."
- asayle88
"That move absolutely wrecked me as a child, and I refuse to watch it ever again."
- droopingcactus25
"My best friend and I wept in that movie."
- CraftyRole4567
E.T.
"​E.T. The scene where Elliott watches E.T. die is all kinds of traumatizing. Never mind the Christlike resurrection afterward, the damage is still done."
- Brilliant_Tourist400
"The bit where the kids find him in the ditch looking like a piece of fine Italian deli meat.."
"Also the feds in biohazard suits crashing through the kid's house scared the f**k out of me at 7 years old"
- feeb75
"Having your home invaded is terrifying enough....seeing it through the eyes of the kids and the mother screaming 'This is my home!' Sends chills down my spine."
- LaCroixBoy89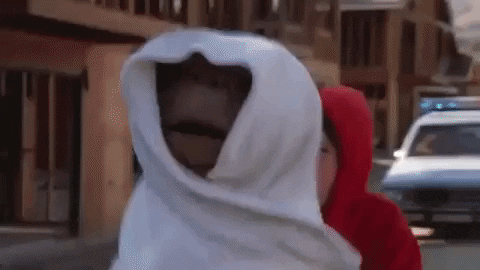 Sci-Fi Movie GIF by MANGOTEETH
Giphy
Where The Red Fern Grows
​"Where the red fern grows. My grade 5 teacher made us read it then watch it. I remember thinking she was an absolute b*tch before the movie. As an adult I'm 100% sure she hated children."
- DesperateFunction179
"My 5th grade teacher made us read the book and watch the movie too. She cried during the end of both."
- BadBackNine
"I read and watched this in 5th grade also. Shudder sobbed through most of it. Added it to my list of things that made me an overly empathetic adult"
- maiden-of-might
Dumbo — Disney animated version
​"Dumbo. The animal abuse, neglect, and let's not forget the 'Elephants on Parade' scene when Dumbo gets drunk. Have not been able to watch this movie as an adult."
- ArtisanalMagi
"I have a friend who made the mistake of showing it to a kid she was babysitting overnight. The moment the Baby Mine scene came up the kid was done. I think the night was unsalvageable."
- lowercase_underscore
"I was a really sheltered kid and never picked up on how awful it was. So then I have a kid and I'm like "oooo let's watch Dumbo!" What in the actual f**k?!? I turned it off. I honestly don't know if my kid ever watched the rest of it."
- littlescreechyowl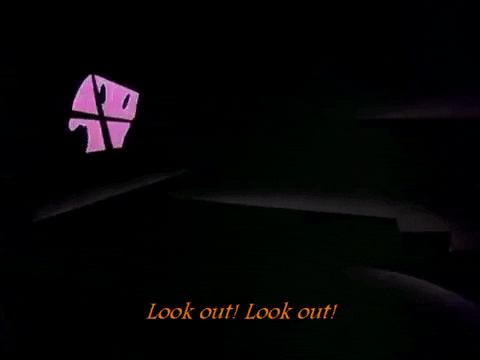 GIF by tomcjbrown
Giphy
Bridge To Terabithia
"One of a few movies that have actually made me cry. I went in expecting some Narnia like thing and I was wrong. I still get mad thinking about that movie"
- KickittoHester
"My mom has still not forgiven me for asking to see it in theatre's as a kid. We all bawled our eyes out. Same damn thing with Marley and me being shown on Christmas Eve, why did we go and why did they think that was an appropriate release to make people cry 😅"
- Troll101Catz
"I was having a terrible depression a few years ago, and decided to put on and watch a kids film to cheer me up. It couldn't have gone any worse tbf."
- BobbOShea
Watership Down
"This god forsaken movie was literally the source of ALL of my childhood nightmares. Deadass. Grandparents brought it over when I was 4. I was not ready."
"I don't blame them though, they didn't know lol"
- Flaminmallow255
"I've always been fascinated by this because I read the book quite young (I think I was seven or eight) and loved it instantly. I don't recall finding it upsetting at all, and it's remained my favourite novel into adulthood through many rereads (I've obviously come to appreciate the themes more as I've gotten older). The movie, alternatively, while pretty faithful to the book, I've always found pretty unsettling, even though I didn't watch it until I was an adult. I don't want to say it's not an appropriate story for kids, but there's just something about that movie..."
- VictoriaBells
"I saw it in the times before my memories form. Just uttering the title gives me chills."
- Sensitive_Ladder2235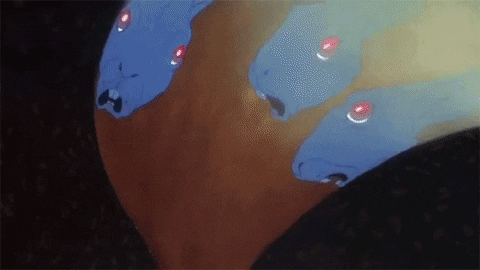 Giphy
While no one was hoping to traumatize kids with these films—we hope!—there were some really messed up moments described here.
So what's your most f*cked up kids' movie?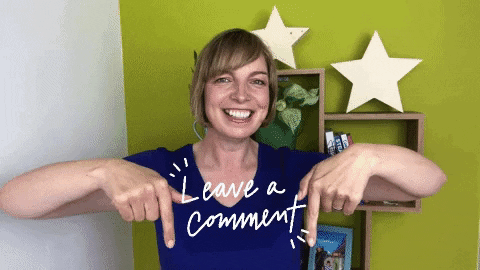 Giphy
CW: violence, fighting, and assault.
We'd like to believe humanity exists with plenty of examples around us of people doing good things for others.
Sadly, the harsh reality is that there are just as many individuals who have no respect for others and wish to cause harm.
People who've had bad encounters with someone they've never met shared their experiences when Redditor Jemuzu8304 asked:

"Whats the most f'ked up thing a complete stranger has done to you?"
Drivers and passengers recall their rude interactions.
The Prank
"One time I was in south Philly and a car pulled up with two guys in it. They called out to me asking for directions so I walked over. As I was explaining where to go the dude in the passenger seat spit in my face and they sped off."
– the_humbL_lion

Willing Victim
"You just reminded me of a similarly gross interaction:"
"Years ago after a doctor's appointment, I got into my car and turned it on, at which point a small child started leaning/sitting on the hood. His heavily pregnant mother stood by doing nothing, apparently distracted by her phone. I rolled down my window, and asked if she would mind getting her child off of my car, as I needed to leave, and was concerned he could get hurt."
"She asked if I had insurance. Confused, I answered '...yes?', to which she said 'Well I hope you DO hit him so I can get some MONEY!' She proceeded to lean in through my passenger window, and started spitting on me. The kid was no longer on my car, and I desperately wanted to get away from her, so I put my car in reverse. She then hurled her pregnant belly into my sideview mirror, and shrieked in such an exaggerated way, as if I had hit her."
"I eventually found a new doctor."
– TheHaydnPorter

Unwanted Car Wash
"Stopped at a red light one time. Someone from a building adjacent to the light threw a bag of ice and water on my car, from a few stories up. Dented the roof and shattered the windshield."
"Wasn't even a nice car, I was driving a Dodge neon sh*tbox."
– IAmPandaKerman
You never know the capabilities of strangers you encounter.
The Violent Thief
"I got held up at gun point 2 weeks ago in philly 10 feet from the door to my friends apartment. They stole both our watches. My watch was given to me by my dead uncle. https://imgur.com/a/V59aebW"
– xcpain93

Hit By A Hard Object

"Reminds me of something. Some a**hole tossed a lock, like the combination type out of a car at me and hit me in the knee. I had trouble walking correctly for damn near a month."
"I always thought if they'd have stopped at a light I'd have hurled that b*tch right back."
"Good thing they didn't. I wasn't in any condition for a fight."
– Ok_Relationship_705

Moving Targets
"I also have a drive-by experience but it was with a f'king paintball gun. My friend and I were in freshmen year, just walking to the park to play some ball and with no warning he suddenly recoils and shouts in pain. I had no clue what happened. He reaches at his back and when he turns around I see a bright red paint splat on his white shirt. I look up and see the car that just passed us turns around, pulls up next to us with the kid in the passenger seat hanging the gun out window saying 'Sorry bro, I'm just so surgical with this thing,' and speeds off. Pretty hilarious story in hindsight within our friend group now, but at the time we were pissed. Luckily we got their plates and the cops showed up at their house and they got in trouble. F'kers."
– zakxk

Wrong Target
"I was about 11 and me and some friends were standing on a small bridge over a lake. All of a sudden I was picked up and thrown over the railing into the lake below. I tried to grab onto anything I could as I fell and scrapped my arms up pretty good. I still have scars 30 years later. So I swim to the side and some older kid comes up to me and just say - sorry, I thought you were someone else."
– discostud1515

Attacks happen when you least expect it.
Random Attack
"Punched me, for no reason. I was standing. Waiting for the community bus. A stranger got out of the car and punched me. I filed the Police report but nothing happen."
– Hallo-Mapskollegen

Hitting The Elderly
"My grandmother was at the movies and a guy walking up the aisle punched her in the side of the head. He told the cops he was mad because he was on a bad blind date."
"Like...great excuse to wallop a 75-year-old woman minding her own business."
– BarracudaImpossible4

​The Ferrari Guys
"Had a similar thing happen when I was in Downtown Los Angeles. I was crossing the street and just came up onto the sidewalk. Some dude in a Ferrari steps out of the car, walks up to me and tries to swing on me in broad daylight. I sidestepped this dude, and he then spun to try to hit me again, calling me a motherf**ker and not to dodge. I caught him with a nut shot with my foot and doubled him over."
"His buddy hops out of the car, and another of his buddies (I assume) gets up from the side of the sidewalk and both are yelling at me, and I'm like, 'ah, f'k, I'm not ready for this.'"
"These absolute legends who had been watching all this sh*t go down just appear out of nowhere and jump these guys for me. Like, six different people from out of the woodwork. Nutshot and Scrub (Ferrari guys) hop in the car and just take off, scraping the car and taking the right side view mirror off. Their (assumedly) other homeboy gets left behind, but he tries to stumblef'k his a** away after having taken a couple of hits to the head. One of the guys who helped me jogs up and punts this dude in the side right after he falls over, doubling him up. Meanwhile, everybody else is checking on me and making sure I'm good."
"Cops show up, detain us, figure out what's going on, let us go, and arrest homie that couldn't get away. Come to find out, these guys have been doing this for weeks, and the people who helped me were local residents who had been on the lookout for Nutshot. Arrested homie later squealed, and all the guys involved got a couple of years for aggravated assault."
– feronen

My bad interactions with strangers were all random but definitely premeditated assaults.
I was mugged twice in New York City while I was typically minding my own business.
Also, while I was in Barcelona, I had a team of youths pick-pocket me and run off with my wallet containing my passport and credit cards. Fortunately, the friend I was with saw what happened and ran off after them. She sucker-punched the young lady who had my wallet, causing her to drop it.
Be careful out there, folks!
We are so innocent as children.
Innocent or gullible?
I think when we're young, we tend only to see only the good.
Because that's what instinctually we gravitate towards.
But it's a sad fact to learn later that the good is darker than we realize.
Not everything in childhood is a happy, innocent memory, no matter how badly our parents want to frame it.
The folks on Reddit can certainly attest to that!
Redditor True_Customer_8913 wanted to hear about all the things we saw in a new light once we grew up, so they asked:
"What's was normal to you as a kid but you later realized how f**ked up it actually was?"
Double Agent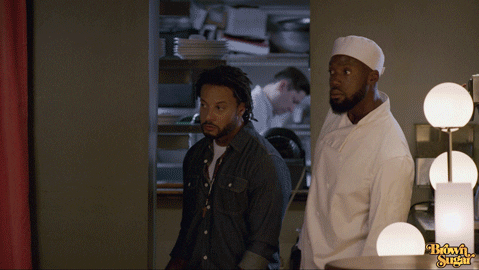 Comedy Say What GIF by BrownSugarApp
Giphy
"During the divorce they would try to get information about each other and say the other one was bad for me."
nasandre
"That happened to me too! Once had a judge tell 11-year-old me that my parents were one of the most immature cases he had dealt with, because they were more focused on making each other's lives difficult than being parents."
TJ_Augustine
In Private
"My father was nice and friendly out in public but was an absolute a**hole to the family at home..."
"Me witnessing my dad being really friendly to everyone in public and then being an absolute raging a**hole at home made me just think 'well I guess everyone is just two-faced and using each other.'"
"All those movies about love are just lies and fantasies, if you're not using someone then what use are they to you? Obviously he doesn't get to use us at home so we aren't useful so we don't get treated well"
"Btw No he wasn't an alcoholic, he wouldn't even allow alcohol in the house because so many people in our family were alcoholics."
MysticalMagicalMilk
Not Funny
"My mom's boyfriend would pick me up by my hair sometimes. It didn't hurt a s**t ton so I never complained, which in turn made him keep doing it. My hair was always in a ponytail so it was easy to grab and do. I told a coworker about it and laughed because it wasn't a terrible memory. But he didn't laugh like I did."
"It was more of a nervous laugh then he says 'that's actually pretty f**ked up.' Then I started to think about all the stuff I actually do remember from my childhood and realized how shi**y it really was. I have two kids and it was never a thought to ever pick them up by their hair."
BUFUByUsF**kYou
Signs
"When I was 7, I came to the realization that if I showed any signs that I was in a good mood around my mother, she would find some reason to yell at me. Even started testing it, would walk into rooms she was in smiling vs not and proved my theory right, so I just stopped smiling, and it didn't take much longer for it to stop being an act."
LegendaryMuffins
In the Garden
"I live in England and my uncle's neighbor had a pet monkey living in a big enclosure in his garden. This was in the early 2000s. I assumed this was totally normal. No idea how he got it. We still know those neighbors and it's just never discussed."
BassEvers
When in England... stay out of trouble.
Be Free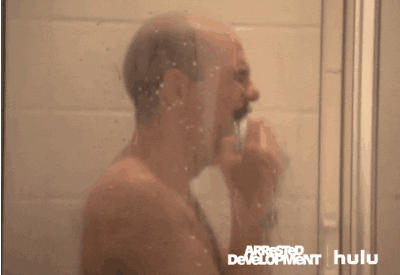 Arrested Development Crying GIF by HULU
Giphy
"Not being allowed to feel or express any type anger or sadness."
Exotic-Counter5112
"Unless someone died it was, 'I don't want to hear it. Go to your room, close the door, and bury your face in a pillow until you're done,' or the worse, 'I'll give you something to cry about' followed by whooping."
BigDamnHead
Bye Mike
"Having no food in the house and little to no adult supervision while random men come and go from my mothers room."
"I'm legit impressed I nor my younger brother ended up taken or worse. It was kind of miserable, in hindsight, because some of these guys would come back with some fast food for us and hang out for a bit talking or playing video games. Magic Mike was super cool and I still miss him. :( "
Donequis
Sorry
"Thought it was normal to constantly apologize over even the slightest little f**k-up so I don't get screamed at. I still have this problem today."
CagedKage
"Not me, but my wife. I used to just reassure her that she didn't have to apologize for everything, but that didn't help her to distinguish when it was appropriate or not. Now, when she says 'sorry,' I ask what she's apologizing for, and it seems to help her a little. That being said, she apologized last night when the dog tripped me."
I_used_to_be_hip
Ouch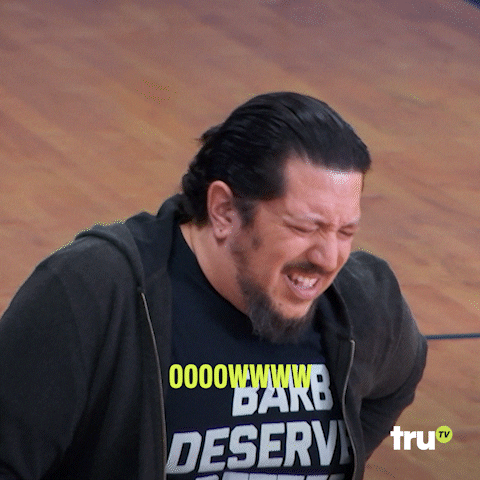 It Hurts Sal Vulcano GIF by truTV's Impractical Jokers
Giphy
"I remember my sister had this fake belly button ring she showed my dad. He immediately ripped it out which was quite painful. I asked if he even knew if it was fake and he didn't. He thought it was real and did that."
Intelligent_Bug6515
Rages
"Parents having blackout rages. Sometimes, I was a brat. Other times, I had done nothing wrong. I just remember being made to feel like a worthless loser, screamed at, and manipulated. Then the next day, they would say 'Sorry sorry sorry' This happened a lot. Eventually, the sorries mean nothing and you begin to feel actually worthless."
DistractedDreaming
Oh how the times do change. We're glad folks made it out of most of these situations!
Do you have anything to get off your chest? Let us know in the comments.
Horror movies aren't for everyone.
The violence and endless sense of anxiety in anticipation of jump scares are both elements of the thrilling cinematic genre that certain demographic of audiences can't get enough of.
But even these adrenaline junkies have their hard limits when it comes to their favorite movie category.

Curious to hear from horror cinephiles who have been pushed to the limit, Redditor GW2RNGR asked:

"What is the most f**ked up movie you've ever seen?"
There was blood. Lots of it.
List Of Gore
"A Serbian film is super gorey but theres this layer of juvenile edgelordiness and bad dialogue that kind of took a lot of the sting off it and I was just straight up laughing at times"
"Men behind the sun is probably the most stomach churning movie ive seen and I wouldnt recommend it to anyone."
"Irreversible and Come and See messed me up the most but are also genuinely incredible films that are so much more than just messed up."
– charles-dickens24
Spotlight On A Serial Killer
"Henry-Portrait of a Serial Killer. I wish I could unsee that movie."
– Anti-Fanny

Kids
"This is the one for me. It's not horror by any stretch of the imagination, but what transpires in the movie is very upsetting."
– Hanyabull

Even dark comedies can be downright disturbing.
How Divine
"Pink Flamingos"
"EDIT - This is a John Waters cult classic from 1972. Based on the responses being of contemporary films, the production value of Pink Flamingos makes the film even more jarring."
– couscous-moose

Not Your Typical John Waters Film
"Went to see this recently for an anniversary reissue thinking 'I've heard this is a cult classic and John Waters made Hairspray which was kinda great in a quirky but fun way so what could possibly go wrong?' and oh my god, even having heard about the final scene, I was not prepared for the level of gleeful depravity I witnessed."
– nastyfriday

Haunting To This Day
"It's been like 20 year since a friend who was a film student made me watch that.... The steak bit still haunts me..."
"And that friend made me watch some weird sh*t. We went to a theater to see puppet porn. And yet, Pink Flamingos was still the thing that crossed the line."
– DoctorCaptainSpacey
Obsessed With A Walrus

"Tusk."
– Odd_Adhesiveness4804
"I can't look at walruses the same after seeing it."
– Ziggy_Stardust567
The Gruesome Experiment
"Human centipede."
– Mbrown0525

Foreign horror films are on another level.
The One With The Piano String
"Audition."
– yrjooe
"Is that the film where the guy holds auditions but is looking for a wife? The one where she says tickytickyticky with the wire?"
– legendweaver

South Korean Masterpiece About Vengeance
"Old Boy."
– frontporchshitter
"Most horrific twist I've ever seen."
– CrypiticBalcony

Funny Games, based on the original Austrian home invasion movie was downright disturbing and most definitely deserved the title for the most effed-up movie.
It wasn't just about the implied violence that was haunting. It was a social commentary on how horror fans like myself are entertained by Hollywood violence.
The unsettling moment comes when one of the attackers breaks the fourth wall and addresses the audience as a nod that they're getting exactly what they came to look for at the movies.
Chilling.
And that is just one moment from a series of nightmare-inducing scenes of the homeowners being relentlessly pursued for absolutely no reason.
So, yeah, check it out.