Secrets, lies, and betrayal. That is often the foundation of a family. We can go through life thinking our families are perfect and everyone loves one another, that's the training that keeps us from searching for the skeletons in the closets.
But our secrets will always find a way to break free. We may not even be alive to see the outcome, which is anti-climactic, but they will be out of the dark eventually. And once we learn what some loved ones are hiding, life as we know it can be obliterated.
Some secrets may best be buried. So be really sure you want to know everything.
Redditor u/mykirto wanted to hear about all the family drama they've been uncovered, by asking:
What is the most f**ked up thing you found about your family?
Want to "know" more? Never miss another big, odd, funny, or heartbreaking moment again. Sign up for the Knowable newsletter here.
Keep reading...
Show less
What in the world are people doing with their spare time? Some of us are not treating our bodies like a temple, we're treating it like a garbage dump. I'm nervous to get my ears re-pierced, I can't imagine shoving, anything, in any place of my body just for kicks.
That's why I am fascinated and horrified when I hear stories out of an ER or surgery. I have many friends in the medical field and the things they have witnessed, even "Grey's Anatomy" writers would be baffled.
Do people really not care about death that much? Because I'm terrified. It's why I won't swallow swords or fire. At the very least. Clearly others feel differently.
Redditor u/TheFatDuck_YT wanted to know about the times medical staff has been left speechless by inner body discoveries, by asking:
Surgeons of Reddit, what is the most f**ked up thing seen in someone's body?
There are just somethings insurance doesn't cover, and it really shouldn't. I mean if you're gonna run around shoving things in all sorts of places or swallowing anything off the streets then that really should be out of pocket. Make you think twice.
For Beauty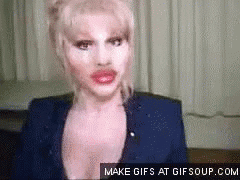 Botox GIF by memecandy
Giphy
"Cement. I work in derma and had a couple of women come with cement injected in their face and didn't know why they couldn't feel their face/ do certain facial expressions. And yes, they wanted a discount dermatologist so they went to Mexico."
On the Cheek
"Neurosurgeon here. Guy came into the hospital with 3 days of headache out of nowhere. Head CT showed a large nail through the anterior skull base (think above the nose, between the forehead). When asked about it he had been using a pneumatic nail gun a couple days before. He remembered a moment when he didn't brace the gun right and it rebounded, hitting him in the face."
"It must have fired a nail when the end hit him in the face and he didn't realize it. He indeed did have a small wound in his cheek that fit with the story. Luckily the nail avoided the large blood vessels and other critical structures in the brain. We had to take him to surgery in order to pull it out. Cutting it out of his brain was weird."
T.M.I
"My dad used to work at a psych ward and a severely schizophrenic man got ahold of a pen and jammed it down his urethra. No one realized until the thing had calcified and he was going into organ failure. My dad doesn't know what happened to him, but I'm sure that must have been one gruesome surgery."
Dr. Psycho
"Obligatory not a surgeon but I read a news article about a surgeon who found someone's initials cauterized into a patients organ. Turns out it was a surgeon who had done a previous surgery and felt the need to leave his mark on a patient. I believe he lost his medical license over it."
Down the Hatch!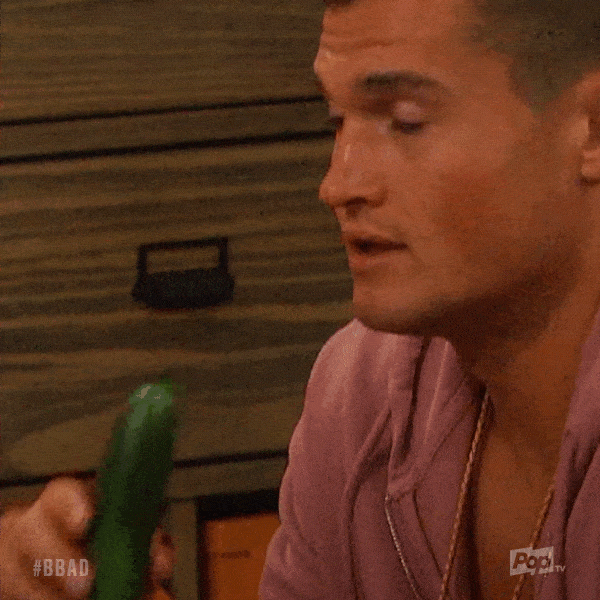 Pop Tv Eating GIF by Big Brother After Dark
Giphy
"Guy had put a cucumber down his throat and it broke off so he couldn't pull it back out. He came in with his wife."
I love cucumbers. Now I may have to avoid them altogether. Although I eat mine in pieces in a salad. I'm a novice I guess. And cauterizing patients? Now that is a Dateline NBC episode we need.
Cough it Up!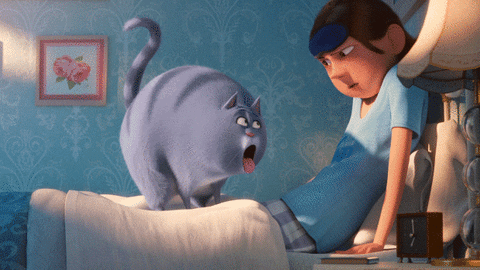 Cat Movie GIF by The Secret Life Of Pets
Giphy
"Bezoar (giant hair ball) in the exact shape of a stomach. Turns out, she worked at a hair salon and was eating OTHER PEOPLE'S HAIR!"
Snooker
"Dentist. We had 2 men come in to reception, one of whom had a snooker ball in his mouth. The man who didn't explained that they'd been at the snooker club down the road and his friend bet someone £50 that he could fit a snooker ball in his mouth. He won the bet then found he couldn't get it out. We had to sedate him and dislocate his jaw to remove it."
Lucky Fool
"Surgeon here. Trauma patient with who fell on steel rebar and it went in one side of the chest and out the other side long ways. Somehow missed his heart, esophagus, major arteries. We removed it with no critical injuries."
"I saw a show where they tested something like that - a guy had slipped and fell on a plant stake that went from the bottom right ribcage, up through the chest and out the left side of his neck."
"I think he even walked into the ER like that, and there was surprisingly little trauma for what looked absolutely horrible."
"The show came to the conclusion that his saving grace was that the stake was dull/not sharp, so it kinda pushed past everything critical without serious damage. Their experiment with a sharpened stake was much more lethal. Definitely one lucky guy."
A+E...
"I used to work in medical sales and one A+E Dr I visited had an 8 ball on his desk (it had a little stand and a glass case). I had to ask - thinking it was a pool competition trophy. It wasn't a pool competition trophy."
- ozzieowl
Don't Tell Me
"My mother in law used to be a scrub nurse and she told us a story about a patient they had in the OR who purposely cut up little bits of a metal coat hanger and barbed them so they couldn't be removed, then proceeded to shove them up his urethra. I can't remember the actual medical term for it but he was one of those people who had a mental health issue and wanted surgeries done so he would constantly do terrible things to himself because they would have to surgically correct them."
Tea or table?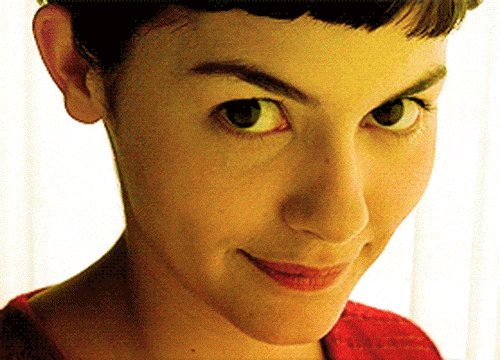 spoon GIF
Giphy
"Not a surgeon. Knew someone who ate spoons. Just swallowed them and had surgery to remove them repeatedly. Batteries too."
Spoons, batteries and hair? Now I've heard it all. And it's more than I needed to know!
Want to "know" more? Never miss another big, odd, funny, or heartbreaking moment again. Sign up for the Knowable newsletter here.
Keep reading...
Show less
As much as we'd all love to believe that we can brush off unkind words, it's simply not true. There are some things that all the confidence and self-esteem in the universe couldn't protect us from.
Of course, mean words and shocking statements hit hardest when they come from someone we're close with: a friend, a parent, a romantic partner.
And not only do they hit hard in the moment, but they sting for years and years.
A recent Reddit thread asked folks to dredge up the worst of the worst.
Redditor IceMountain10 asked:
"What's the most fu**ed up thing someone has ever said to you?"
Many people talked about the wildly upsetting things their parents have said to them. These statements are enough to leave one wondering just how things got to the point they did.
Inverse Role Model
" 'you're adopted, you don't get to have opinions' "
" 'you're going to end up like your real dad' my real dad was an alcoholic and an addict. He fu**ed up his life and never came back."
-- Panginodon
No Shame
" 'is that the only reason you fu**en came home?' "
"Said by my mother in front of my 8th-grade counselor who had brought me home and explained to my mother that my 40-year-old stepbrother had sexually assaulted me twice. I'll never forget my mother's look of disdain or the look of utter horror on my counselor's face."
Scapegoating
"When I was 7 my mother and step father were having relationship issues. After a fight in which she ended up leaving the house, my step father sat me down. He gave me an extremely longwinded speech about why I was a terrible, bastard child."
"I don't remember much of it, but he ended it by saying, 'It's your fault your mom and I are breaking up. You're rotten and I hate you.' I don't think I'll ever forget that."
Cartoonish In It's Meanness
" 'I dont love you, I never did, and I regret not aborting you. You and your father have ruined my life and I hate you both.' " ~My mother when I was 10.
"I do not regret ending my relationship with her at all."
-- maciver6969
Others talked about the people in positions of authority that demoralized them. It stings so much more when it's someone you'd like to respect.
Joke's On Him
"In college I studied journalism but I had to take a required PR class. We had to keep these journals about our thoughts about news events for some reason, and I was trying to be thought-provoking..."
"...and so I wrote about this theory about why college students tend to be apathetic about the news, it had to do with the insular nature of the college campus. It was probably bullsh**, but I was writing about a theory I had."
"The professor ripped it apart and then ended his scribbling with 'I find it hard to believe you will succeed at anything, much less journalism.' "
"I went on to write for ESPN, so he can kick rocks."
How Not to Motivate a Child
"Not me but this one takes it"
"In high school, one of my classmate's dad died at the start of the year. All the teachers knew as he'd talked about it and been absent over it. Fast forward a few months and the kid handed in 'sloppy' homework as the teacher called it. Then, he made a point of, in front of class, saying 'your dad would be embarrassed' "
"Kid just got up, picked up his things and walked out. Pretty sure we all universally hated that teacher after that"
-- AA005555
People Share Dark Secrets From Their Profession The Public Doesn't Know | George Takei's Oh Myyy
Nice Try
"When my mom got diagnosed with stage IV cancer, my boss at the time said she was excited that I was getting to go through this. She meant it in a 'beat an obstacle that life throws at you' kinda way."
"My mom passed away two years later and there was nothing exciting about watching her deteriorate and having to say goodbye. Who the fu** says that?!"
Finally, some people's peers, be it significant others or close friends, were the ones to deliver the verbal blow.
Enough Was Enough
"I've had leukemia a couple of times and my then wife looked at me during an argument and said these words, 'I hope this cancer eats you from the inside out, and that no one is by your side when you die!' I wad so stunned I just turned around and went to the bedroom and went to sleep."
"The next morning she literally said 'I'm sorry I said those things last night, but you know how angry you get me.' I left the next day and never looked back. It was twelve years of hell with her and I stuck through it to be around my kids, but at that moment I knew this had to be it or I'd never get out."
-- Felicitucky
Turning Their Back
" 'I've decided to remove The Problem (you) from my life since it's affecting me too.' "
"my friend said this to me after he found out that I got sexually assaulted. By his friend."
It All Becomes Clear
"My ex finished our relationship after 15yrs. To me it was out of the blue. 5 days later my best friend told me that 'you should be over it by now' as I'm sobbing my heart out to her."
"To her I should have been able to mourn and grieve my 15 year relationship in just 5 days!! Turns out he was cheating on me with her"
-- namchelukla
And as we end this list all feeling a little sympathetic and maybe even upset about our own examples, let's flip it around: when did you say something so nice to someone they were stunned?
Want to "know" more? Never miss another big, odd, funny, or heartbreaking moment again. Sign up for the Knowable newsletter here.
Keep reading...
Show less
A good prank must strike a delicate balance.
On one hand, the person pranked must be made to feel surprised, a little worried, or perhaps entirely confused.
But once that discomfort goes on long enough, the pranker must give back stability and comfort, hopefully getting a laugh out of the return to normalcy.

Some people aren't so good at striking the balance. Instead, they create true pain for the person on the victim end of the prank. When that happens, surprising them with the truth isn't the comforting force it's supposed to be.
It's just frustrating and stupid.
In the hopes of hearing just how bad a prank can get, Redditor Ghost_of_Society asked:
"What's the cruelest 'prank' you've ever seen?"
Many people identified the shocking lengths people will go just to earn some internet clout. The truth, though, is that their unkindness isn't impressing anyone.
Broadcasting Crimes
"There was that youtube 'family' that was like, 'daddy of five' or something, where one of the kids was literally -abused- constantly. They would do HORRIBLE sh** to this boy and then say "it was a prank for the channel" and he would be absolutely -destroyed- and scream he hated youtube..."
"Anything done as a prank for Youtube? Thats almost as bad as Child Abuse Pranking for Youtube"
-- rdewalt
So Much Wrong Here
"I remember when the ALS challenge was popular I read an article about a 'prank' played on a special needs high schooler."
"These kids told him it was just water in the bucket, but it was also pee, cigarette butts, all sorts of disgusting stuff. Then they put the video all over the internet, as though the bucket wasn't enough."
The Peak of Ableism
"The girl who hid her boyfriend's wheelchair on YouTube that sh** wasn't funny" -- NiGaKaT
"Wheelchair user here: oh my god, I'd murder anyone who stole and hid my chair!" -- forest_cat_mum
Zero Sympathy
"I remember seeing a video where they switched the pregnancy test to a fake positive one on their 'friend' struggling with infertility. So messed up." -- lydiethesquidie
"Having family that has had this problem, this one got me the most. What a cruel and insufferable human to do such a thing" -- phileo56
Some people highlighted the times that people lied about death and dying. Not surprisingly, ultimate tragedy has hardly ever been a good foundation for pranking.
Last Call
"I have no idea what radio station this was on as I was only a kid, but they used to do prank phone calls. I have little to no recollection of many of them except this one, as even as a kid I could tell it was just wrong."
"The radio host rang up a woman and advised that he was the manager of her husband's company and he was very sorry to tell her that he had been involved in an accident with some heavy machinery and it had resulted in his death."
"As you would expect the woman was beside herself with being told her husband had just died, she was wailing on the phone and the radio host couldn't really get another word in to explain it was a joke, and then they just cut off the phone call and played a song."
"Even as a kid I knew it was a really stupid and cruel idea, and I'm pretty sure that was the last time they did a 'prank' phone call"
-- kacey_88
Gotta Be Another Way to Test That
"A friend of a friend in high school had her boyfriend pretend that he'd died. He had one of his friends call her saying he had died in a car accident and had someone else calling up pretending to be a doctor from the hospital. She was hysterical."
"Later that day (after she kept asking the fake doctor which hospital it was so she could be there) she found out it was all prank to 'see if she cared.' Horrible. Anyway, they broke up. To this day it's the nastiest prank I've seen in person."
-- BritasticUK
Cruel Kids
"In middle school a girl came up to us on the playground and told this dude to 'go see the principal, he's looking for you - he got a call that your mom died.' "
"Then as soon as the dude ran away she told us all she just made it up."
"It was fu**ing horrible."
-- billbaparker
And others talked about the pranks they knew that took aim at people's social confidence. Some groups apparently just can't help themselves from destroying a self-esteem or two.
Why?
"A group of girls at my high school told a girl that they were hanging out at one of their houses at nine near a train station, but they really just made up a time and place that would make her stranded at the last train stop with no more trains home."
On Cloud Nine For a Day
"Someone asked a guy to be her boyfriend, he said yes and the next day she invited all her friends to tell him that she did it as a joke."
-- NBfoxC137
Even at Work
"Friend of mine had a crush on his coworker, it was sort of an open secret. His manager tried to help him, offered advice, some things to say, small gifts she might be into, etc."
"What no one knew at the time was that said manager and said coworker had recently started dating and hadn't told anyone yet. So he meant it as a 'prank' on his new girlfriend to be put into these awkward situations, but my friend's feelings were really hurt when it all came out."
-- hobo_clown
Here's hoping most people have a little bit more clarity about what makes for a good prank and what makes it turn into simply an act of meanness.
Want to "know" more? Never miss another big, odd, funny, or heartbreaking moment again. Sign up for the Knowable newsletter here.
Keep reading...
Show less
The prevalence of abusive or deeply uncomfortable home environments is a reality that, unfortunately, impacts countless children everywhere.
And alongside that depressing truth is another supplemental tendency that accompanies those hardships: children tend to get used to the horrible environment they've been dealt.
In the moment, that's a coping mechanism that allows a child to press on and grow, as much as possible, despite ruthless surroundings.
But the repressed always returns.
Sometimes months, years, or even decades later, people suddenly realize that their home life was not at all okay.
Curious to find out what that realization looks and feels like, Redditor Shiekhspeare asked:
"At what point did you realise your childhood was messed up?"
Keep reading...
Show less