Working in the medical profession simply builds a whole lot of heartache. Doctors watch, day after day, as some of their patients fall ill, only to never recover.
It's a part of the job to break gentle news both to the patients and to their families that their loved one is most likely not going to make it. Having to tell someone they're dying, and force them to deal with their own mortality, brings up a special kind of hell.
Some people have had to develop coping mechanisms to get through it.
Redditor roblixepic asked:
"Doctors of Reddit, how do you tell a patient that they're dying?"
Here were some of those answers.
Compassion Goes The Distance
"My dad's surgeon discovered what he called 'cement' in his abdomen from cancer that had spread so aggressively that it damaged his colon and required emergency surgery. I asked the doctor while waiting for my dad to wake up if it was terminal."
"The incredible man told me he was not God and could not declare certainties. He said other patients with similar onset had anywhere from a few months to five years. He told me could not tell the future but suggested we discuss care options with my dad."
"I asked his opinion if we should tell my dad right away or give him time to recover from surgery. I'll never forget his response: 'In my experience, patients know when their bodies are giving up. He will know before you or I do.'"
"My dad had almost 3 years after that conversation. When his body was finally giving out, he asked my mom to take him to the hospital, and for the only time ever in his adult life, he left the house without shoes. My mom said he must have realized he wouldn't be walking back into the house."
"That was almost 9 years ago. Cancer sucks. But some of my dad's doctors were incredible and compassionate, and the ICU nurses were amazing."-OlderAndTired
Simple And Direct
"If you're an amazing doctor like my dads doctor was, you say, 'I gave it my last shot, buddy. I gotta turn you over to hospice now but know I don't want to.'"
"And he had a tear in his eye. He'd been my dads doctor for a long time (and a few other relatives, actually. This guy had been our end of life a few times-no fault of his own though!). I'll always remember his compassion in that moment. It was simple, direct and caring."-MonsoonMermaid
Clarity
"ER Doctor: Sit down with the patient and family. Introduce myself. Explain clearly in layman's terms what has been found on the scan/lab/test etc. and the accompanying poor prognosis."
"I then pause because reactions vary considerably here. Some people cry, some people are frozen with shock, many in between."
"After patient/family has had their reaction I ask what (if any) questions they have for me and reassure them I will be in the ER until whatever hour (end of my shift) to help them or provide clarity."-Fancyphones123
These unimaginable situations are a daily occurrence for some people.
It's Important To Find The Pain Source
"I'd had scans and tests done for unknown stomach pain. The doctor came in and told me the results were back and the news was not good. Explained that I had a cancerous tumor on my bowel that had ruptured and spread to other organs."
"That it had spread too much and couldn't be cut out and chemo wouldn't make it fully go away. He told me unfortunately it was terminal and he reassured me that they would do all they could to give me more time and make me comfortable. At this point I began bawling my eyes out and crying 'my children, my poor children.'"
"He was compassionate towards me and gave me time to process it. Then came back later to explain things in greater detail once the shock had worn down a bit. There's no easy way to hear your dying in your 30s but he did an ok job."-SquelchingNoises
Undivided Attention
"There are actually pretty structured and formulaic ways to do it, but each person ultimately has their own style. Step one: hand your pager and cell phone off to someone else or silence it."
"Two: walk in, very clear introduction of your name, role, etc. if meeting them. Sit down, and don't let anyone between you and the door. Ask the name and relation of anyone in the room. Ask if they prefer having someone else in the room (or FaceTime now because of Covid)"
"Three: ask what they know or have heard (I had patients outright say 'I know I am dying.' Or 'Everything is fine right?'). Ask what their understanding of that diagnosis is."

"Three: Warning shot and brief pause. 'Unfortunately, I have bad news.' Or 'I know we were hoping for X, but I'm sorry to have to tell you it isn't what we were hoping for.' Pause. Let the patient panic, then they start listening again.
"Four: Be very clear, very direct when possible, and absolutely honest. Pause. At this point, I usually want to word vomit or backtrack but you cannot do that. The pause is awkward but they are thinking a million things. They will want to cling to, 'but this is curable right?!!'"
"At this point I ask if they want me to explain, give them a moment, call someone, etc. After I've explained, I ask them what their understanding was of what I just told them. Go from there."
"Finish by having clear plan for what happens next (oncology appointment, chaplain, etc.) and how to contact with questions. That's my mental checklist. It's a process."-ConEffe10

It's Not Easier For Vets
"Different perspective here, as I treat animals vs people, and thus I'm not explaining it to the patient itself."
"I usually tell people that we've reached the limit of what is possible and fair as far as curative treatment goes, and outline what they can expect as far as progression of disease and palliative care options."
"And, as I'm treating in a realm where this is a legal option, I also discuss what euthanasia entails and discuss at what point it will be warranted."-Moctor_Drignall
The Places You Have Come To Fear The Most
"We knew my mum was dying and that she didn't have long. It was one of her nurses on the ward, clocking off her shift just before 2 days off. She knew she wouldn't see her again."
"She hugged me, and hugged my mum, and told her that it had been a pleasure to care for her. We stepped outside and cried together and it was in that moment I knew. She passed the next morning, about 12 hours later."-juneradar
And it never gets easier, despite its frequency.
It Becomes The Process
"Not a doctor but a nurse. My last job I was the one you didn't want to come talk to you and I got oddly good at it."
"You tell them straight and make sure they understand exactly what you are saying because denial can be a hell of a thing. You don't joke. You be human and be upset too as that gives them permission to break down too."
"You listen and stay as long as they need but not so long that you annoy them. Answer any questions as best you can but don't give false hope. More than anything, be straightforward and be honest. That goes a long way."-rhett342
What An Awful Moment In Time
"They wouldn't tell my Dad. He took me and his sister in to see a CT scan and it looked like he swallowed golf balls the cancer (pancreatic) was everywhere."
"Dad asked about surgery and chemo and the Doctor just said it wasn't really an option. I spent the last two weeks watching Dad get worse and worse. He couldn't sleep, couldn't eat and couldn't get comfortable."
"We managed to get him into hospice the last few days where his girlfriend wouldn't stay in the room with him so I would only leave to grab food from the vending machine."
"I had to tell her he passed. She thought he was getting better. Wouldn't wish pancreatic cancer on anyone."-Auferstehen78
How To Take Care
"It's never easy. You have to be sincere, make sure you don't give false hope but you have the have the people skill. Trying and say something like 'we have exhausted all resources' or 'we have tried all angles,' because it should be true and coming from the heart."
"Be polite and sensitive, not all the way, but to them and the family. Say you're sorry and that you'll try the best to make their time worth. Allow visits as much as you can, send them home, if allowed."
"Make sure you talk to their families and let them know they fought to the end, even if it's not true. Treat the family as you would like to be treated, as the family. It sucks but it's the least to do."-eat_the_canvas
Being in a profession dealing with people's lives is an upsetting occurrence, and you have difficult things and situations to navigate almost on the daily.
Developing a system might spare you some of the more acute pain of doing the unthinkable.
Want to "know" more?
Sign up for the Knowable newsletter here.
Never miss another big, odd, funny, or heartbreaking moment again.
Keep reading...
Show less
There are basic rules that come with smoking. If you are in someone else's house, you should ask before lighting up. It's just common courtesy. Redditor blue-smoke- encountered this very issue with their sister-in-law. So they turned to the "Am I The A**hole" (AITA) subReddit for moral judgment. They asked: "AITA for kicking my brother-in-law'vwys […]
More
The world has changed significantly in the last twenty years. Back in the day, you could just step out of the house and be gone all day and no one could contact you unless they were back home or used a payphone.
Nowadays, people expect us to be connected all the time, which is super frustrating in its own way. But it's hard to imagine the world as it was before, right? And it's pretty wild that we just accepted it for so long, that is until technology advanced enough!
Society has changed... for better or worse. People shared their observations after Redditor Silkhide asked the online community,
"What was the most f**ked up thing that was generally accepted twenty years ago?"
"I was knocked out cold..."
"No care or concern for concussions in sports. I was knocked out cold for two minutes on the football field, nobody told me, and when I came to we just resumed the game like nothing had happened."
"I didn't even know I was out for those two minutes until a year later when people were telling football stories. I thought I had just gotten knocked down and got back up right away. I thought it was weird everyone was making such a big deal about it."
"My first ever depressive episode started almost immediately after that game."
ElbowStrike
Thankfully, knowledge about chronic traumatic encephalopathy (CTE) is much more widespread.
"That Oxycontin..."
"That Oxycontin wasn't habit forming and it was a miracle drug."
jm6398
Required reading: Empire of Pain: The Secret History of the Sackler Dynasty, in case you want to feel even more enraged about the ongoing opioid crisis.
"My high school..."
"My high school had an area that we were allowed to smoke. A designated smoking area for kids under 18."
Blitz-99
Ha! That would absolutely be met with shock and horror these days.
"Being at home..."
"Being at home at your TV at a certain time to catch a show, and expecting everyone to leave you alone so you could watch it with no interruptions."
"You could be out with friends and you'd look and say, "Oh, it's 7:30 I got to get home to catch my show!" And nobody looked at you like a strange social outcast."
prelegalalien
Ah, those were the days. The way we had to plan for all of these things, actually plan! Remember TVGuide?
"People dying..."
"People dying of Chronic Myloid Leukemia. 20 years ago it was 100% fatal in less than five years. Now it's treated with a once a day pill with no side effects for most people... miracle science right there."
Mandorrisem
Modern medicine is indeed amazing–and changes lives!
"Female celebrities..."
"Female celebrities and actresses with eating disorders such as anorexia and bulimia. It's less prevalent now, but dang was it brutal back then."
spicedshrub
These Actors Were Perfectly Cast In Their Roles | George Takei's Oh Myyy
Sometimes an actor comes along that is able to reach the audience on a deeper level. The actor that immediately comes to mind is Robin Williams. Although it ...

Karen Carpenter, anyone?

Talk about an emotionally devastating story.
"There's still a lot of trouble..."

"25 years ago, I had a gym teacher who did not think asthma was a thing and wouldn't let me have my inhaler at hand in class. I walked every mile because I didn't want to die."
"There's still a lot of trouble for the undiagnosed, but tons of physical and mental health issues that were downplayed or outright ignored at least have some kind of support system or protocol now. It's not perfect, but at least we know they're real and are starting to do something."
Pookajuice
A teacher who would have the nerve to mock a student for their disability or health problems today is in for a real wake-up call.
"Nobody said anything..."
"In middle school a student dressed up like an SS Nazi for halloween. Nobody said anything until my choir teacher told him that some people may find it offensive. Teacher was Jewish."
ExplicitTech
Yeah... that sounds like something that would warrant an immediate expulsion.
"I worked in restaurants back then..."
"Sexual harassment in the workplace. It was just starting to become a topic of conversation around the early 2000s but very little progress had been made."
"I worked in restaurants back then and the amount of harassment I and my other female coworkers endured was unreal by today's standards. We all just learned to laugh it off because no one took it seriously."
dsw1219
Grateful to see the culture change for the better where this is concerned, though there is still so much work to be done.
"People would go to carnivals..."
"People would go in carnivals and shove their face in the same water barrel to grab an apple with their mouth. Completely bonkers in 2021."
iaml3roux
If COVID-19 had a Facebook, it would love, love, LOVE this.
For any of you reading... 2001 was 20 years ago. Take some pills for your back. It might hurt.
Have some observations of your own? Feel free to tell us more in the comments below!
Want to "know" more?
Sign up for the Knowable newsletter here.
Never miss another big, odd, funny, or heartbreaking moment again.
Keep reading...
Show less
Every single minute, the human body sheds more than 30,000 dead skin cells.
That's nearly 9 pounds per year.
The heart beats 100,000 times a day or 35 million times per year.
And the average person produces enough saliva to fill 2 swimming pools in their lifetime.
These facts only scratch the surface of everything the body has to offer.
Reddit user Zenssei asked the question:
"What is a fact about the human body that not many people know about?"
Of course, many find the brain especially fascinating. That little jelly orb is just about the primary reason human civilization is what it is.
Still Kicking
"Your brain continues to try to revive the body long after the heart has stopped. In some cases 30 hours later there has been found brain activity trying to make repairs to bring the body back."
"This is used to indicate time of death in murder victims."
Reptile Response
"Most reflexes never make it to your brain. The sensory aspect travels to the spinal cord and the spinal cord itself sends the muscle movement signals to your limbs."
Completing Pictures
"Your brain likes stimulation, if it doesn't get any it will make some up, some people are more susceptible to it then others..."
"...the colors you see before you fall asleep are a common mild occurrence, there are several classes of these hallucinations, closed-eye visuals, which are caused by leaving your eyes closed for a long time, hypnagogia, which is caused by the onset of sleep, prisoners cinema, which is caused by looking into a dark place for a long time, ganzfeld effect, which is caused by blocking out all external stimuli, and Charles bonnet syndrome, caused by sight loss."
"Most are these are simple phosphenes but some can be whole imagined scenes, or more abstract fractal-like imagery"
Brain 2.0
"Your stomach is surrounded by more brain cells (half a billion neurons) than the brain of a cat contains in total."
"It's your enteric nervous system. It controls digestion, operates autonomously, has its own memory, can handle its own reflexes, it has its own senses even."
"It's thought to have come about because of the blood-brain barrier and the main brain being locked away in the skull, a spinal column and nerves away from the critical action of nutrition."
-- Hattix
Other people were amazed by the human body's tendency to adapt when it needs.
Like Dust Settling
"When doing surgery were the doctors have to take out some organs, when placing them back, they dont have to be put back In the exact position there meant to be..."
"...your body kind of just, moves the organs into the correct position after the surgery"
-- IamaJarJar
How You Need To Be
"People who live in 'extreme' conditions for generations adapt in extreme ways. For example people that live in high elevations often have larger lungs and different blood makeup."
"Or my favorite is the Bajau people that live on the water and spend a lot of their time diving, their spleens have become 50% larger in order to store more blood."
Saving Insurance Costs
"Our bodies have the ability to perform there own bypass procedures. My grandfather went in for a scan and it showed a 100% blockage in one of his major arteries."
"The image also showed a new portion of the artery starting .25" before the blockage and then rejoining the artery .25" after the blockage completely bypassing the obstructed portion. He had never had surgery before this discovery."
And finally, some spoke about lungs and the breath. It's one of the few bodily functions we can do both involuntarily and voluntarily.
There's plenty to talk about there.
No Need to Grow
"When you get conditioned to physical activity, your circulatory system adapts -- more blood, more vessels, more blood cells. But your lungs really don't."
"This is because no matter how much blood your heart is able to deliver to your lungs, the lungs still have no problem oxygenating it. This is why your oxygen saturation doesn't drop during exercise (unless you have a heart defect.)"
-- grenudist
Not What We'd Expect
"The sensation of suffocating isn't caused by the thing that actually kills you. You'll die from a lack of oxygen, but the feeling of suffocation is the result of being unable to exhale carbon dioxide."
"So if you started breathing in pure nitrogen while being able to exhale normally, you would pass out and die without ever feeling like you were suffocating. This also explains why some languages call nitrogen something like 'suffocation gas'."
-- Wurdan
Gimme Some of That Liquid Air Please
"In theory humans could breathe a liquid if it was super saturated with oxygen. It wouldn't be easy because the density of liquid being so much higher than air so after 15 mins or so you would be too fatigued to continue breathing."
"The hardest part is getting all the liquid out of the lungs so the person doesn't get pneumonia"
-- Crackracket
Perhaps now is a good time to take a few minutes and think about all that's going on inside our bodies. But don't think too hard though, it gets pretty weird.
Want to "know" more? Never miss another big, odd, funny, or heartbreaking moment again. Sign up for the Knowable newsletter here.
Keep reading...
Show less
The future is here, people! While we may not have flying cars or the cure for the common cold just yet, we are definitely living in a time where innovations that haven't existed before are now debuting. The 21st century isn't quite what people in previous generations expected it to be, but it's pretty darn cool nonetheless.
Interested in the weird and wonderful things going on in our lifetimes, Reddit user Emeister26 asked:

"What is something that sounds futuristic but is happening now?"
Science has taken us so far in the last few decades. Here are some of the best of the best examples of modern medicine.​
This is revolutionary science.​
"CAR T cell therapy"

"They take the t cells out of a cancer patient. They train the cells to kill the specific type of cancer that the patient has and then they put them back in. This therapy doesn't work 100 % of the time, but when it does, it does miracles."
"(it's also expensive as sh*t for now)"
That's one way to pick up women.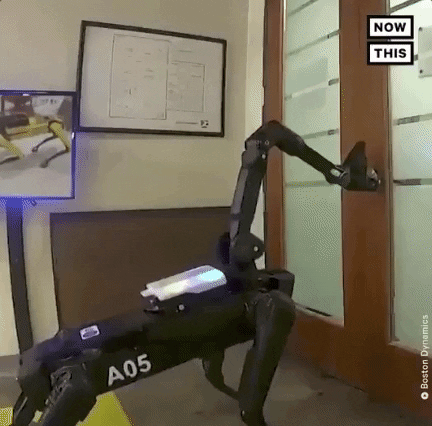 Come In Boston Dynamics GIF by NowThis
Giphy
"Robotic prosthetic limbs. I know a guy who lost his arm from a construction accident. He now has an arm that has a fully articulated hand, and is good enough that he can even write with it, though not very well."
"He said its worth about half a million dollars, and also it has done wonders for his ability to hook up with women. I guess a lot of people are curious and that starts off the conversation."
A fun way to check your blood sugar.
"I've been a type 1 diabetic since 1982. Back when I was first diagnosed I had to pee on a stick and match the color up to colors on the vial to see approximately what my blood sugar was a couple hours ago."
"Now I have an anamatronic fish that tells me what my sugar levels are and I don't even have to prick my finger! We truly are truly living in the future."
​Technology is also working wonders in the modern world. Flying cars will be here soon enough.
​A little spooky, but also neat.
"A program that is able to generate almost any (!!!) photo using short text input. A San Francisco street? Done. Avocado chair? Yes, why not. A photo of buildings of Poland? YES, it can do that.
It can generate almost any stock photo you can imagine, like any any, you can add parameters, lighting, ask to specific picture in the room... It uses 12 billion of pictures and descriptions to do this. There are two downsides of course: the first one is lots of lots of computational power. The second is that the program is losing the track after few parameters. Also it can do only 100x100 pixels at the time but it will change fast.
It's called DALL-E and was premiered this year. It's an AI made by OpenAI. Terrific and amazing at the same time."
Watch out for Carrie.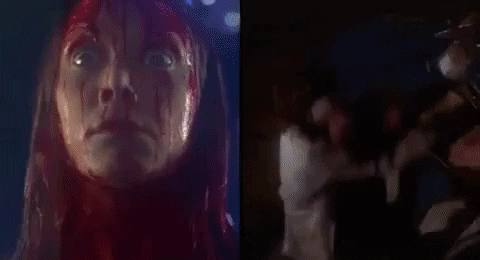 Brian De Palma Horror GIF by filmeditor
Giphy
"Being able to control objects with your brain. I know it's still in its infancy but the fact that we can even attempt do stuff like that is crazy."
The family business.
"I'm fourth generation of an excavating company and some of our surveying techniques now are unbelievable. When we started in the 60's you used a contraption called a theodolite and prism (a fancy level used to measure the distance and elevation change of the prism).
One of the fondest memories I'll ever hold happened two months ago shortly before my Grandpa (the founder) passed away. I showed him how to survey a 30 acre site with a drone in about 45 minutes (all automated), something that would have taken a crew well over a week in his time. I then took the data, had it processed, and showed him the prints of the site right on site with my laptop. He cried."
​Truly incredible.
"There's a drone flying autonomously on Mars."
"Funny how we always hear about the drone, but I was more impressed with the rover splitting carbon dioxide, creating about 10 minutes' worth of breathable oxygen...on Mars."
Some of the new inventions are just plain freaky. Don't let this intelligence become smarter than us. Please.
Beware of the twerking robot dogs.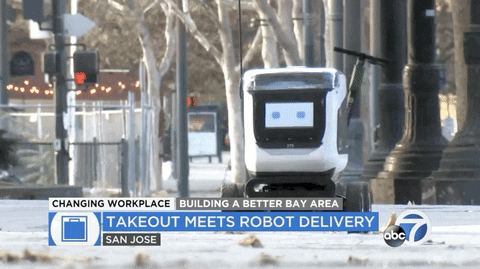 San Francisco Food GIF by Kiwibot
Giphy
"Robots delivering food and packages."
"It's quite phenomenal how much certain industries have developed their robotics. You just don't see it in your everyday life, but places like Amazon and pretty much all mechanical-related businesses are developing robotics at an insane rate.
Also, Boston Dynamics and their twerking robot dogs."
Nanotechnology is the weirdest.
"I was born in the early 80s, so practically everything. I literally own most of the sci-fi gizmos I saw on tv as a kid, or even cooler versions of it.
Virtually all medical news is mind-blowing. CRISPR/Cas9. Research into telomeres and anti-aging, nanotechnology is actually real...
Self driving cars are kinda already around but are getting better all the time.
Edit: swapped alleles for telomeres. One of those genetic words, I tell ya."
It's a great time to be a spy.
"The army's new night vision technology looks like a video game; https://www.independent.co.uk/news/world/americas/army-s-new-night-vision-technology-makes-fighting-in-darkness-look-like-video-game-b1841506.html
Spy technology; spies can listen to conversations from a very long distance using various technologies, such as bouncing a laser off an outside window to pick up on tiny vibrations, or installing a special light bulb that flashes at certain frequencies that only a special receiver can pick up and translate into a conversation.
Credit card sized recording device that can last a whole day, these are used in espionage usually in the form of ID badges given to VIP targets, swapped out for a normal ID badge, they look and function exactly the same as a normal ID badge would work including NFC room access."
I think the craziest technological advance I've seen in my lifetime has been the smartphone. Seriously--as a kid, I always wondered if we'd ever get an MP3 player and a phone in one. Turns out, we got that, and so much more.
Technology and medicine are being revolutionized. It makes you grateful to be living in this time--even if it's still foreign and new.
Keep reading...
Show less