There are those who have come so close to experiencing death, they wind up cherishing every moment of their lives after surviving what could've been a fatal catastrophe.
Then there are others who actually flatlined and miraculously came back to life.
Not very many people know what actually happens to us when we eventually expire, but thanks to these survivors who lived to share their stories, we get an idea.
An anonymous Redditor curious to hear from the luckiest people in the world asked:

"Redditors who have been clinically dead, what did you experience in death, if anything?"
Once you experience the unknown, the fear of it can dissipate.
Peace
"A black void. Then waking up in ER surrounded by people running around like crazy. I was cold af , but in reality, just room temp."
"had to add and say that it was relatively peaceful. Like being wrapped in a big warm blanket."
– barrymendelssohn86
The Smell Of Life
"I was dead for 6 minutes . I was laying on the gurney and I was getting colder . Somewhere my body started warming up and everything became really calm and peaceful . I was not longer in pain . All the noise from ER just went away . Itwas really enjoyable .. I was thinking about my daughter and I was remembering all the things we had done . Slowly it was just black and nothign . There was no knowledge of anything . I explain it as it was like before I was born . Then the worst thing in the world is being revived . I starting hearing loud noises , I felt this massive pain . Then there was the nastiest stench ever . The smell was like every dead animal had crawled in my nose . The smell was so bad I started vommiting . I remember the Dr's turning me on my side and watching my vomit spray on a nurse . Dying was the most pleasant thing I have ever experienced and being revived the worse"
– dorseta40

No More Fear
"Friend of mine described it as deeply relaxing and that she could feel herself drifting away, but was brought back just as she was ready to 'leave.'"
"After that, she embraced life and death. She said she doesn't fear death anymore since it was so relaxing to experience."
– anon

Exhaustion From Staying Alive
"Similar experience here. As you're dying, you start feeling tired in a way you never have before (or will again, until you die). The sheer act of staying alive is exhausting."
"But then it's all blank until I woke up from a coma a couple weeks later. You don't even remember the actual moment of death, and it takes weeks for your mind to remember everything leading up to it."
"I was in a ton of pain before and after because a couple of my organs were perforated, but dying itself wasn't painful."
"I agree that I'm also not afraid of death. Not even just because of the pain factor, but because it feels less unknown to me and there isn't time for regret when it happens."
– dasher11

Comforting Thought
"Awesome, everyone seems to be in agreement that death was awesome and euphoric. That is comforting to hear, thanks everyone."
– anon

These individuals were visited by someone who was strangely familiar.

Grandma Visited
"Not really sure what happened and it still freaks me out to this day. My daughter was 4 and developed pneumonia. Her breathing would stop in her sleep so we took her in to the emergency room. She was there for a total of 5 days. For the first 3 days her health kept deteriorating. And on the 3rd day my girlfriend got a call that her mother had collapsed and was taken to the hospital. She was without oxygen for 20 minutes and was declared brain dead. That night my daughter woke up and asked about grandma. No one had said anything to her or in the room with her. We asked her what did she mean. She told us that grandma came to her in a dream and said it's not your time yet. I'll go for you. Immediately the next day she was almost 100 percent better."
– Mattjaq

Grandpa's Message
"Anaphylaxis, wasn't breathing, I considered all the hallucinations I experienced likely due to hypoxic episode until I told my Mom what I saw. A middle aged man who wasnt in scrubs standing still at the end of my bed while all staff were running around and doing their business. I was having a non-verbal conversation with him and he was telling me to calm down, focus on breathing. He wore a tropical style button down shirt, one of those old school news boys hats and had a very pleasant demeanor. Mom showed me a photo of my grampa that I never had seen before, and it was the guy at the foot of my bed, and he died before I was even born."
– anon

For these people, being revived was like a rude interruption.
Blessing And A Curse
"Overdosed. Flatlined. Didn't see a damn thing. When they hit me with narcon, I woke up really mad ripping IV's out of my arms, cursing out the poor, amazing staff who saved my life. Good times! 6 years ago now with all that sh*t behind me luckily."
– daddydollars74
The Desire To Stay Asleep
"This is my story exactly. Waking up just pissed as f'k. I WANT TO GO BACK TO SLEEP."
"I told the medics to f'k off im going back to sleep and heard the scariest 'DO NOT F'KING GO BACK TO SLEEP,' like he meant it with every fiber of his being. So terrifying"
"I didn't get to go back to sleep..."
– anon

Thin Line Between Sleep & Death
"My girlfriend is anaphylactic, and it is triggered by a chemical called salicylate (found in pretty much every food). When she was in high school she had her first big reaction, and the school nurses refused to administer her epipen (adrenaline shot) until the ambulance got there. Now obviously, having an anaphylactic reaction doesn't give you a lot of 'waiting time', so by the time the ambulance got to her school she was in pretty bad shape and barely conscious. The paramedics immediately administered one of her epipens, called the nurses 'f'kng twats' and loaded her into the ambulance as her mother arrived. She continued to fade, so they gave her a direct injection of adrenaline this time, still nothing."
"They give her a second direct injection of adrenaline and this time it hits her about 30 seconds later all at once, and her heart fails. She stops breathing, no pulse, nothing. Dead to the world. For about 2 minutes and 46 seconds she was clinically dead. And the scariest thing is, she saw nothing. She tells me that when you are losing consciousness you can't tell the difference between waves of drowsiness and when your body actually shuts down. All she saw was the darkness of her eyelids, and it felt like going into an extremely calm sleep where she couldn't hear or feel anything, and she didn't mind it. All despite the fact her mother and the paramedics were screaming at her to keep her eyes open and the ambulance was flying towards the hospital. She miraculously just came back to life almost 3 minutes later as they were giving her chest compressions, and the cardiologist that assessed her later stated that all the adrenaline in her body was enough to not only stop her heart, but to also restart it with the little help from the paramedic pumping it around. But still do this day, she can't differentiate falling asleep after a long day, and dying."
– tisJosh

It's easy to be fearful of something like death because it is something most of us have never experienced before.
And as in life, we are intimidated by new experiences. But once we get a taste of something unfamiliar, it's never as bad as it initially seems is it?
While it's taken me a long time to accept the fact that we're not on this earth forever, it does make me appreciate the time I'm given.
And the saddest part about death is not experiencing it personally, but being left behind by a loved one.
What I'm more fearful of is living with the regret of not seeing a loved one again, not hugging them, and not telling them the things you've wanted to say but couldn't in life.
Life is too short to be fearful.

In a crisis, one is told family will always be there to help. That may not always be true. And often, people need to weigh the heft of the emergency before helping. That can cause some problems. Case in point… Redditor SquarePoint4234 wanted to discuss her experience and get some feedback. So naturally, she came […]
More
Going to the doctor is never fun.
Even if it's just a routine check-up, you still worry.
And when it's bad news, you worry more.
But we should be able to trust good news.
That's why no matter the outcome, second opinions are usually a great idea.
So much can be missed.
Doctors aren't perfect, they're human.
Redditor big-juicy724 wanted to know about the times people needed more medical advice and asked everyone:
"Doctors of reddit, whats your' Thank God they came in for a second opinion' moment?"
I hate to be rude by asking, but when it comes to health... ask for all the help you can get.
Look Closer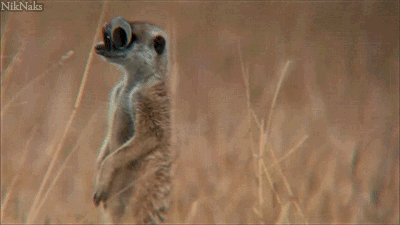 Just For Laughs Reaction GIF
Giphy
"This guy was told he had pink eye."
"He had metal shards in his eye from welding."
Sinai
Gems...
"I've had a couple of gems, but the one that really sticks out in my mind actually happened about a month or so ago."
"A young mother brought in a 6 year old to ER, she was super nice, and apologetic because she thought that she was wasting my time, because she said that her son had started to develop different spots all over his body and she has no idea why."
"My initial first thought was chicken pox, so I had some swords and shields up ready to go for the anti-vaxx debate, but she claimed that she had her son vaccinated at all stages up to that point, and upon closer inspection they were mass of clusters of warts."
"Not uncommon, but because of how rapidly that they were growing, I ordered some blood work to make sure there wasn't an underlying cause as kids immune systems are pretty well equipped to handle that sort of thing. And I'm really glad that she brought him in, because he had a severely low white blood cell count which revealed a primary immune deficiency disease."
RiotResponse
"wooshing"
"This is my second story to post here but a great story no less. Mid 30's man walks into my office with what looks like a black eye and a broken blood vessel in the front of his left eye. He went to his primary and it was simply assumed that he got punched or hit or something, and he was dismissed."
"He was noted to have high blood pressure, but a script for medicine was written and a follow up in a few months. Gentleman comes in to see me to get another opinion on the matter and I look at him and immediately start the line of questions: How long has it been there, do you have a headache, and when you plug your ears with your fingers do you hear a 'wooshing' sound?"
"He had a cavernous sinus fistula (CCF). I sent him directly to the emergency room with his family of 4 in tow and he was in the OR within an hour of arriving. Saved his eye and possibly his life that day."
"The best news: He was a kitchen guy at my local diner which I frequent and they still treat me like royalty there when I come to eat. They all remember the time I saved one of theirs."
OscarDivine
MRI Ordered
"This is a 'I wish I had gotten a second opinion' story. I had a doctor in high school who was unconcerned when I suddenly developed vertical double vision (which was freaking out everyone in emergency, where I had gone initially) and lost 60lbs for no reason."
"It was only a year or two later when I told him that my arm would fall asleep much faster than normal when I raised it to ask a question in class that he thought there might be something wrong with me."
"MRI ordered. Brain tumour found."
Raygun77
It was Fine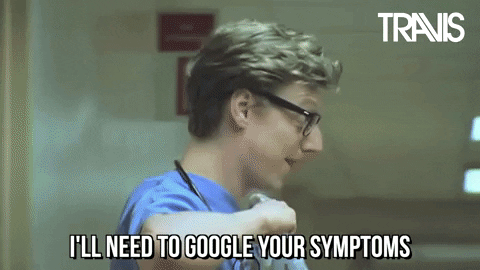 Heart Attack Doctor GIF by Travis
Giphy
"Dermatologist here. I have seen probably 5 instances of 'My other doctor told me it was fine.' That were melanomas."
"A lot of times people don't want a full skin exams. There are lots of perfectly sane reasons for this, time, perceived cost, history of personal trauma. However, I routinely find cancers people don't know they have. Keep this in mind if you see a dermatologist for acne and they recommend you get in a gown."
BoisterousPlay
I always say... exam EVERYTHING!
Hey Nurse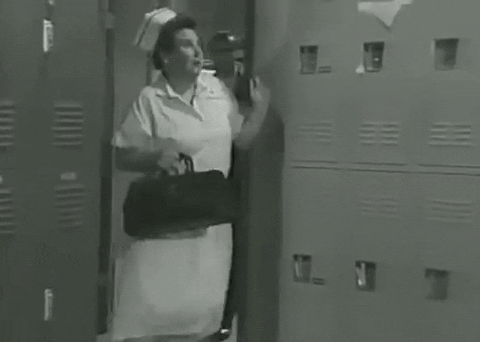 Vintage Nurse GIF
Giphy
"ER nurse here. Had a lady in for simple pneumonia. Her 13 year old son was getting bored, so I showed him some equipment. I connected a simple heart monitor to him and discovered he was in a complete heart block. I printed a strip and showed it to the doc. Hmmm... We suddenly and unexpectedly got a cardiac patient."
markko79
Bad Bacteria
"My grandmother had her hip replaced, but the hip always hurt to her. She waited a year, hoping it would go away but it never did, she asked multiple doctors and did multiple x-rays but doctors said the replaced hip was fine. We finally made her go to a private clinic in my hometown, and the doctor saw that the replaced hip was fine and dandy, but the bone around it looked like it was a tad bit eaten by bacteria."
So the new doc did an operation, and there was so much pus in the leg it was insane. If my grandmother waited any longer, her blood would become infected and she would have died."
"Thank goodness she went to the clinic."
HitlersWeed
Brain Function
"My Dad (a pediatrician specializing in Neuro issues) was seeing one if his patients at the hospital got dragged into the NICU unexpectedly by a nurse who insisted a baby wasn't well. The attending doc insisted the kid was fine and just tired from a difficult vacuum assist delivery. My Dad could tell the baby wasn't okay and managed to talk the parents into a brain scan."
"The NICU doc insisted my dad was nuts to the parents. Dad was right and the kid had a brain bleed and was rushed to surgery. The baby would have died without the nurse bringing my dad in and the parents listening to him. As is, that extra time almost certainly cost brain function."
REDDIT
Finally Healthy
"One of my sisters friends was diagnosed with cancer at age 10. They were advised to pack up their stuff and move across the country to go to a specialist because they would have to stay there for at least a year. They even had to hire a private plane so she wouldn't get sick on the plane from any passengers."
"Well before they left they got a second opinion saying it was pneumonia. Then they got a third that again said it is was pneumonia. Now several years later she is healthy and never got cancer treatment and has been tested for cancer regularly."
REDDIT
Seriously?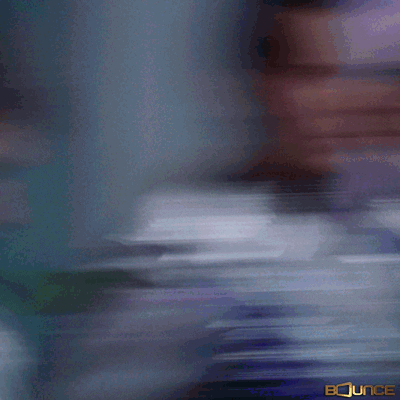 Uh Oh Omg GIF by Bounce
Giphy
"Wife went to ER for pain in her pelvic region. Ultrasound showed a mass, probably an ovarian cyst they said. It will pop in time. Leave it alone."
"Went to the Dr about a week later, had a surgery to pull it out maybe a month later. Did a biopsy on the mass. It was ovarian CANCER. she is now cancer free but wtf."
roger_27
I hate medical issues but consulting a doctor one (and even twice) can help ease the mind or find the proper course of treatment.
Do you have any similar experiences? Let us know in the comments below.
There are instances where doctors literally have our life in their hands.
Trained and seasoned professionals that they are, we'd like to trust them with any diagnosis they give us.
But being mortal, even doctors make mistakes.
With that in mind, we might find ourselves confused that we don't seem to be any better, if anything we might be getting worse, despite our doctors assurances that everything was fine.
Sometimes these mistakes or oversights which result in little to no consequences, other times having deadly consequences.

Redditor Gorgon_the_Dragon was eager to from doctors about the worst oversights and mistakes they've ever discovered from other doctors, leading them to ask:
"Doctors of Reddit, what was the worse thing you've seen for a patient that another Doctor overlooked?"
Doctors Should Probably Assume The Worst...

"Rattlesnake bite."
"On a 2 year old."
"Patient and dad out in the fields near a small town that is several hours away from the nearest big city, where I work."
"Dad takes the child to the ER in the small town with an obvious snake bite."
"Doctor there says 'eh it's ok she probably didn't get envenomated'."
"Doesn't give the patient antivenin, which they had at that hospital, and instead of electing to send the child to us by helicopter, he sent her by ambulance."
"Several hours later patient shows up to our hospital coding, and ended up dying."
"Probably didn't get envenomated?!? "
"What the f*ck kind of stupid a** idea is that."
"If a tiny child gets bitten by a rattlesnake, you assume they've been envenomated and you treat them as though that had been."
"That means antivenin, physiological support, etc."
"Completely absurd."- USMC0317
Not Like Any Kind Of Anxiety I Ever Heard Of

"From the age of about 17 I start getting regular abdominal pain every day and terrible gut problems."

"I can't seem to eat much anymore."
"I get fluctuating diarrhea and constipation."
"Menstruation gets more and more painful."
"I start losing enormous amounts of blood despite being incredibly small, less than 5ft."
"Now you would think any doctor worth her salt could figure out it's a gynecological problem."
"But my doctor, a woman by the way, at the time insists it anxiety and says she 'wouldn't bother testing for or treating a gynecological problem unless I was older and having trouble conceiving."
"Over the next few years, my gut and uterus symptoms slowly deteriorate."
"I get bounced around the system to dozens of different specialists."
"I get told it's just stress, anxiety, are you pregnant?"
"'ARe yOu SuUuUrE yOuRE NoT prEGnAnt?'"
"'Every woman has painful periods, it's just constipation take this over the counter product' etc. Etc."
"Meanwhile my gut function slowly grinds to a halt."
"A functional gut test took 6 hours to pass an egg sandwich when it should have taken 90 minutes."
"I weighed only 40kg."
"It get's so bad I even start losing bowel control."
"No treatment seems to work."
"I was 24 and unable to work because I was literally uncontrollably sh*tting my pants."
"Doctors suggest I should maybe seek therapy and suggest I could be exaggerating."
"Anyway one day I see a new GP for some regular sexual health tests but get an abnormal pap smear."
"Within 2 weeks I go in for an exploratory laparoscopy to rule out cervical cancer only to discover I am absolutely riddled with endometriosis."
"On my bowel."
"On my cervix."
"On my perineum."
"On some ligaments."
"Ovarian cyst the size of a tennis ball."
"It was even in my gall bladder."
"With excisions + treatment I had my gut function back within 3 months."
"I will never be able to have children."
"If that woman when I was 17 had just done her goddamn job I wouldn't have lost 7 years of my life, my gall bladder, my fertility and my mental health."- LilPeaHen
Many Diseases Share Symptoms...

"During my residency we had this lady in her 60s who was getting progressively more forgetful, just overall declining and getting less and less able to take care of herself."
"She had been seeing her pcp who diagnosed her with dementia."
"And she saw a neurologist who agreed."
"She was not really able to provide an accurate history."
"After talking to her family and friends it became apparent that her symptoms were progressing unusually quickly."
"I remember seeing the point where her new hair growth met her bright red dye and also her grown out nails with hot pink polish thinking, wow, it really wasn't too long ago that she was not only taking care of herself but like, going to get her hair and nails done."
"The lady in front of me was so far from that."
"The neurologist I was training with recognized this, had her admitted and did every test including lumbar puncture."
"Workup eventually showed Creutzfeld Jakob disease ('mad cow') which there is unfortunately no treatment for."
"She died a few months later but at least we were able to prepare her family that she would only continue to decline so they could make arrangements."
"Really sad situation."- apoptoticmeow
Malpractice Written All Over It
"He put the pacemaker lead in the subclavian artery, and across the aortic valve into the left ventricle."
"The proper approach is: subclavian vein to right ventricle."
"And then he didn't notice it for over a year."
"I saw the patient, a 25 yo woman who didn't need the pacemaker in the first place, when she was in congestive heart failure because the pacemaker lead had destroyed the valve!"
"A surgeon and I had to do surgery to remove the pacemaker and lead."
"Then replace the aortic valve!"
"Totally inexcusable."
"Well, 50% of doctors are below average, but everybody thinks theirs is in the top 10%"- dofeveg655
Nothing Wrong With A Second Opinion... Or A Third Or Fourth
"I was 26 and found a lump in my breast."

"Planned Parenthood had taught me self checks and so I knew it felt different than a cyst."
"It felt exactly like the tumors I'd been taught to recognize."
"First doctor says 'you're too young for breast cancer'."
"I didn't accept that and went to a second doctor where I got 'it hurts when I mash it right'."
"Uh no."
"'It gets bigger with your period right'."
"Uh no."
"'Sure it does!'."
"Third doctor: 'You'll have an ugly scar if I biopsy it'."
"Fourth doctor I told him to call the police to get my naked topless self off his table because I wasn't leaving without scheduling a biopsy."
"It turned out I had Stage 2 cancer and after surgery, 9 months of chemo, 3 months of radiation, and being told I couldn't have kids."

"I survived!"
"I now have 3 kids and I'm 62 years old."
"If you think the doctor is wrong, get a second, third, whatever opinion."
"Listen to your suspicions."- pillowofcanines
We always want to trust our doctors, and listen to any advice they might give.
But if you think there's something wrong that your doctor somehow might have missed, there's sadly a very good chance that you're right.
Never cut corners when it comes to your health.
"It's barely a scrape."
That's what my grandmother would always say when I fell.
In my mind, my limb was hanging off and I was already in need of a blood transfusion.
It takes time and deep breaths to decipher between a flesh wound and a mortal ending.
That's why it's helpful to have a granny who says...
"Get a band-aid, some vodka, and move on."
The vodka was after college.
Redditor Madameknitsalot wanted to hear about injury and exaggeration.
So they asked:
"What's your, 'Tis but a scratch!' moment?"
I can't stand the sight of blood, so any injury is drama to me.
When I Flew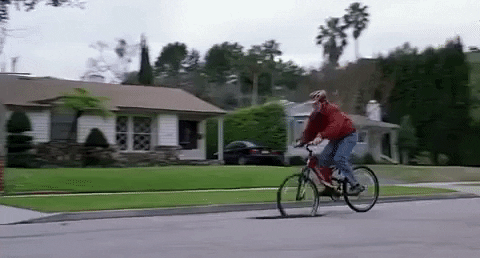 fail 40 year old virgin GIF
Giphy
"I got hit by a car while riding my bicycle, flew through the air, bounced off his windshield breaking his windshield, my helmet and two vertebrae. Then thrown to the ground where my kneecap shattered and bone was sticking out of the skin. And as I lay there in shock (unaware of how badly I was injured) I thought 'I might be able to get back on my bike and ride home.'"
REDDIT
"Why? I'm good."
"I got hit by a car my freshman year of high school. I went flying lost consciousness for a split second when I hit the ground (thank God for helmet). When I came to people were all around me asking if I was ok, and what happened etc. I was like 'Oh yea, I'm good. I'm gonna just get back on my bike and go now." But didn't really move. Then people started asking me to call an ambulance and my mom etc. I was like 'Why? I'm good.'"
"I even told my mom on the phone I was still gonna bike home. But as I was saying that, the people around me had started to move one of my legs and I watched as my foot proceeded to NOT move. I had broken both bones in my leg completely in half and part of ankle."
"Just pure adrenaline and shock. I also vividly remember thinking 'Huh this is what it feels like to get hit by a car.' Also the leg wasn't setting right (probably from movement) and the doctor decided to put me on laughing gas as he tried to crack my bones back into place. Was in a stupor laughing as I felt my bones grind."
Twosteppindepression
A Crack
"Rolled my car. Got out of the car bewildered and in shock, noticing a kink in my neck. As someone who constantly cracks my knuckles/back/neck, my instinct was just 'Ah, I'm not hurt, thank God. Just need to crack my neck and I'll be fine.'"
"Before I finished processing that train of thought I was held down in c-spine by the person behind me who had watched my crash (luckily he was an off-duty firefighter)."
"I had broken 3 vertebrae in my neck, I just couldn't tell it yet from the adrenaline and shock. Required full surgery to fuse together with bone from my hip & plates/screws. Had there not been someone behind me and had I proceeded with my 'tis but a scratch' instincts I'd be paralyzed or dead."
Amaxophobe
"pop"
"I am a bartender in a nightclub. One night while working I was pouring a drink while I reached back with my other hand to open a fridge, and that's when I heard a 'pop' and got a huge pain in my back/shoulder area. the pain was pretty bad, but I was sure it was a pulled muscle and there wouldn't be much point in seeing a doctor other than getting meds."
"So I waited. fought through the pain which was so bad at times it was making it hard to breath. That was a Friday, I called off Saturday and had Sunday, Monday, Tuesday off before I went back to work Wednesday, once I biked into work. In all I waited 9 days total before finally deciding to go to the ER."
"I had a collapsed lung. called a spontaneous pneumothorax. 20 min after getting to the ER I was put into emergency surgery. I was essentially breathing with only one lung. Any major impact To my chest would have collapsed the other and probably killed me."
Jon-Longson
SPITS OUT BLOOD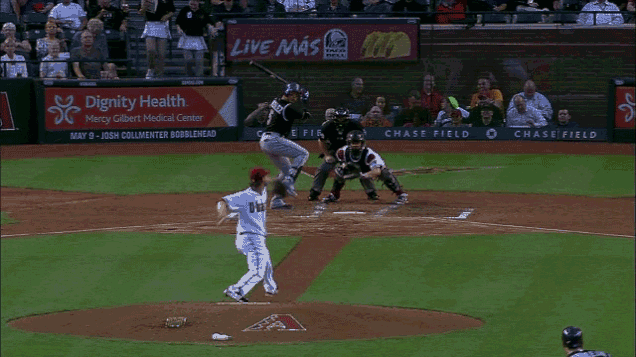 arizona diamondbacks mlb GIF
Giphy
"Back in my baseball days, when I was pitching. I completely lost a pitch, and it beaned a guy in the jaw. He throws his bat down, glares at me with the glariest of glares ever glared, SPITS OUT BLOOD, then calmly runs to first base as though nothing happened. It was terrifyingly badas**."
el_pobbster
That's why I skip sports... the danger.
The Unburned.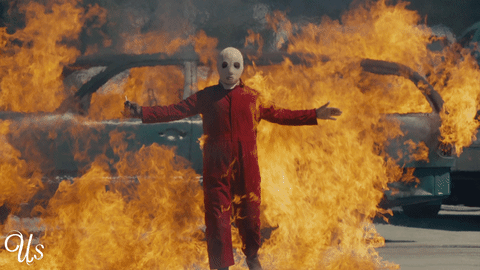 On Fire Burn GIF by Us
Giphy
"Got blackout drunk while camping and fell hands first onto the grate that had been over the fire for hours."
"My wife and friends were all freaking out thinking I definitely had 3rd degree burns. I came out of my blackout in the bathroom with all of them trying to wash my hands in cold water. When all the soot came off... I was somehow completely unharmed. Since then I've been know as The Unburned."
Jointhamurder
The Itching
"A couple weeks ago, I stepped on an ant hill and got a bunch of ant bites on my ankles. 3-4 days later, the itching was unbearable. I wasn't sleeping, my legs were swollen, and no amount of Benadryl or antihistamine cream was helping the itching. I finally went to a clinic to get a shot or whatever, because I clearly having some sort of allergic reaction."
"It was a staph infection that had spread from my ankles up to my knees. I would have died if this 1920 instead of 2020. I was on antibiotics for 10 days, and now several weeks later, the dead skin from the infection is still flaking off."
"Scratched ant bites with unclean hands and gave myself a staph infection. Ignored it for several days because it was just some bug bites."
onzie9
Not to soothe pain but to eat...
"My little sister fell down about 15 steps at our grandma's house when she was a toddler, she got up, giggled and went to go eat some snacks. This other time (still a toddler) she was supposed to be napping, we were in the living room and heard a huge thud. We ran to the room thinking she'd fell out of the bed."
"Nope, she somehow managed to pull the TV down (this was the early 2000s, TVs were heavy af) and it fell on top of her. She was laying there in snow angel position and my mom freaked out. When we got the TV off her, she got up and asked for ice. Not to soothe pain but to eat. My little sister was and still is a champ."
ohgeezyouagain
Drop the Bar
"When I was a teenager I got jumped by a hoodlum trying to mug me. I was just walking along and they snuck up behind me and cracked me in the spine with an iron bar. Somehow the blow, instead of being painful, just went completely numb. So I turned around and said 'What the f**k was that?' - I''ll never forget the look of fear on the guys face - he just dropped the bar and ran. Still get a weird numb spot on my back from time to time."
Urist_Macnme
In the Rink...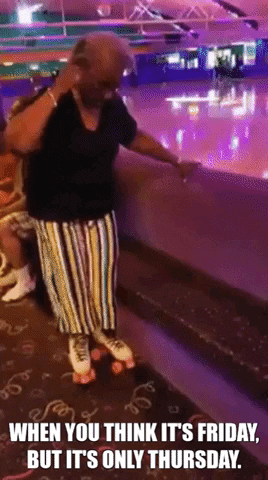 Friday Dancing GIF by Robert E Blackmon
Giphy
"I broke my arm at the skating rink, and skated for an hour before I even left. Then, after I left there, I went to a playground with my bf at the time and hung out. I didn't go to the hospital until the next day."
carleycarleyann
See... we all can survive.
Do you have any interesting injury stories? Let us know in the comments.