As patients, we rely on the expertise of medical professionals to be able to identify whatever ailments we're suffering through.

We brace ourselves if we fear the worst, but oftentimes, we end up being comforted by a minor diagnosis.
But all the medical degrees and years of education can't teach doctors to practice empathetic, yet professional, doctor-to-patient interaction on a basic human level.
That has to come naturally.

Curious to hear from patients who have had disappointing or distressing interactions with their physicians, Redditor TheSpasticSheep asked:

"What's the most out of line thing a doctor has every said to you?"
It's horrifying when even doctors don't have a clue about your condition and, even worse, they gaslight you.
Dismissed Diagnosis
"A gentleman I worked with showed up to work one day looking extremely sick. He was incredibly feverish, had muscle and joint aches, very lethargic and was looking very jaundiced."
"we insisted that he go to the doctor, as he looks like he is on deaths door. He told us that he had been to 2 separate doctors and the ER, letting them know that he has Malaria, and can they please give him some anti malarials. Both doctors and the ER insisted that it 'was impossible to have malaria, as Australia doesn't have malaria,' and that he probably just had the flu, or some other viral infection. And they are correct. We don't have malaria here. But, what they failed to grasp was that this gentleman was an expat who worked in Africa for a number of years, and has had malaria 5 times already. So not only is he an expert in what malaria 'feels' like, but he is also at risk of developing malaria again, even if he hasn't been to Africa in a few years."
"He ended up having to go back to the ER, and basically force them to run a test for Malaria, after which they were like 'oh wow, you do have malaria.' And he was like 'no sh*t, i told you that 2 days ago.'"
– PanzerBiscuit

Not Going Mental
"I had smashed my face on my steering wheel during a bad car accident and was experiencing intense pain. I teared up when he put the scope in my nose and was told I obviously have psychological problems and if I went on medication it might not help my pain, but I wouldn't care as much."
"Finally found a good doctor and surgery removed the chunk of nose bone that was stabbing into a nerve in my face."
– coldbloodedjelydonut

The wrong treatment after a misdiagnosis can be a doctor's serious mistake.
Almost Scalped
"I had a growth on my scalp a few years ago and went to see a skin cancer specialist. Who said it was a malenoma and I was going to need most of my scalp removed. Without even having a biopsy. He starts telling me to prepare myself for this surgery that will disfigure me. I was about 19 at the time with long hair. He started saying ill need to wear a wig and my hair may not grow back and the skin above my eyes will need to be removed."
"I was petrified. Went home in tears and absolutely petrified."
"Then my dad took me to his doctor, who took a biopsy."
"It was just a random skin growth and she cut it off then and there."
"Far out."
– catsandalcohol13
Wrong Medication
"Years ago, one of the sexual health nurses at my work told me she just saw a woman who very clearly had a scabies infestation around her genitals. She said the treatment was simple and that a cream was applied with almost instant relief. She said what upset her about that patient was that almost a year earlier she'd been to a doctor about the infestation, the doctor didn't even inspect her and just prescribed her antidepressants. I was horrified and still am over 7 years later. So much medical gaslighting."
– syberburns

"Too Young" For Cancer
"Not one, but two doctors to my dad- 'you're too young to have prostate cancer, no need for a biopsy, it's just a bladder problem.'"
"He died 15 months later from an aggressive prostate cancer that spread to create tumors all over his body."
– OHManda30
The "Sad" Pill
""While teaching abroad in Vietnam I was struggling with depression. The doc diagnosed me with homesickness and prescribed a box of 160 hydrocodone to take 'when I feel sad.'"
"I was 21 and this was 2007, way before pill use was talked about mainstream. Subsequent boxes were $12 each at a walk up pharmacy, no script needed. I became addicted for 6 years."
"Edit, as I have many people stating that pill use has been discussed forever: I'm talking about the point we got to where most people knew about the dangers of opioids, what the main ones were, the fact that they were being overprescribed etc. Had I heard the word hydrocodone and been exposed to the world and media like I have over the last decade with the spotlight on the opioid crisis, I would never have taken them. That's the main point I was attempting to make."
– dogislove99
It's even more unsettling when someone you entrust your life to crosses a line.
Assessment Or Pick-Up Line?
"Mental health doctor told my daughter, 'You're too pretty to be depressed.'"
– geeleedickert
A NSFW Observation
"Not a doctor, but a dentist. When I was like 13 or 14 he commented on my lack of gag reflex, telling me that I'm going to be 'very popular with the boys.' It took me a few years to realize what he meant by that."
– goldmarigold

Mom To The Rescue
"I was the opposite. My dentist said, 'If you always gag like that, you're never going to find a good husband!'"
"I didn't understand why my mom yanked me out of the dentist's chair, but I'm proud of her for that. I think I was 6 or 7 years old."
– NeedsMoreTuba

The Gynocologist's Love Advice
"Mentioned that my sex drive was abnormally low to my gyno, and she said my husband just needed to be more forceful when initiating and I'd get into it. Immediately switched doctors and never looked back!"
– SpinningBetweenStars
The Gyno Who Jumped To Conclusions
"Mine was the opposite. Moved and went to a new gyno that several women raved about. I expressed concern over my low sex drive (especially since I was only 25). The next thing I know she is giving speeches and pamphlets and trying to give me info on women's shelters. I was so confused."
"She just jumped to the conclusion I must be a battered woman. No matter what I said, she was convinced I was being abused. I tried to reassure her no, my husband was definitely NOT the problem and he was actually quite good in bed and extremely attentive to my needs. It was clearly a physical problem."
"Never went back. She even called several times to 'check' on me. I get that some women may need this, but I mean there was literally no red flags, quite the opposite. It was weird."
– Drachenfuer

Going to the doctor's office for any reason can cause a lot of anxiety.
Patients should never have their stresses exacerbated by an unqualified doctor giving them a false analysis or downplaying their concerns.
Hopefully, you're in good hands with a physician who is professional, as well as compassionate.

Keep reading...
Show less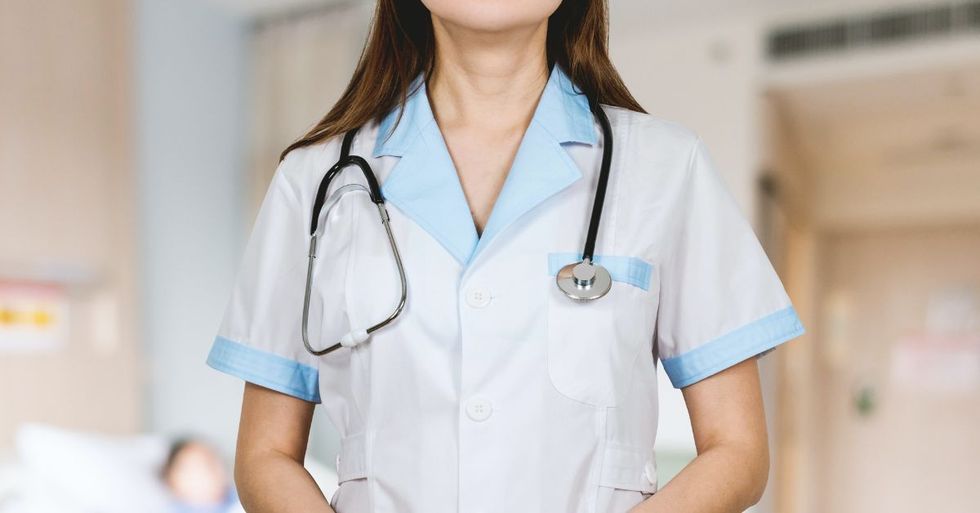 Redditor Tight-Change-3696 and their sister both work in the medical field but in different professions. The sister has a tendency not to be entirely truthful about her job, and this has rubbed our Redditor the wrong way for quite some time. When they both responded to a medical emergency while shopping at a local mall, […]
More
Because we rely on a medical professional's expertise regarding our ailments or concerns, we have no choice but to trust them.

Our vulnerability leads us to accept what they have to tell us.
But what happens when our expectations about doctors are suddenly turned upside down because of something they said.

Strangers shared their off-putting experiences when Redditor MCKlassik asked:
"What's the most unprofessional thing a doctor has ever said to you?"
As if these patients hadn't suffered enough anxiety, their heart rates increased following these rude interactions.

Bullied
'Heart surgery is an out-patient procedure.'
"My insurance companies board certified doctor on justifying why no intensive care or recovery would be authorized."
"In the end, at least on paper my unconscious self, with multiple chest drain plugs and on oxygen had to be wheeled out onto the curb, then wheeled into ER and readmitted on account of being in critical condition after heart surgery."
"Blue Cross really upped the ante on bullying me into dying instead of going though the bother of trying to live without bankrupting myself."
– Foxbatt

Evil Descriptor
"Had a bad head injury when I was a kid (12 or 13) and saw a bunch doctors trying to figure out what was wrong. Got a little snippy with one of them over something I don't even remember. Pulled up the medical record years later and she referred to me as a 'child of the devil' in her report. Had to make some phone calls to get that 'diagnosis' removed from my record."
– DuckSkrol

Nurse Wretched
"Not a doctor but a nurse."
"And it just happened recently."
"I was hospitalized with due to a pretty bad car accident. Unfortunately due to the surgery and general trauma while I could feel the urge to urinate I could get the muscles to relax so I could urinare on my own. For the first day they were just doing in an out catheters whenever I said'"hey I got to piss and I can't please help' it was uncomfortable but I managed till I got to the night nurse."
"Told her at 8:30, hey need help with this, she does a bladder scan says 'not enough urine right now,' 10:30 rolls around and I tell her again and she's like I did the bladder scan you're fine, 12:30 'I did the bladder scan at 10 its not enough urine' so now she lies to me."
"I finally get her to do the catheter at 4 in the morning where she proceeds to take out 1.3 liters of urine out of my bladder"
– jayjude
Abandoned
"It wasn't what was said, but I did have an appointment where the doctor just never showed up. I was in the examination room for about 45 minutes when an MA walked in and asked me what I was doing there. When I said I was waiting for the doctor, 'the doctor already left! We're closing.' Instead of calling the doctor back they made me schedule another appointment. I found a new office instead."
– quafflefalafel

Confidentiality Breach
"Not to me, but about me. I went to see the family doctor over a minor thing. I was an adult at the time, and didn't tell my parents because they freak out about anything medical-related. My mother went to see him a few weeks later and he told her I'd been to see him. I was so angry."
– peon47

Pediatrician's Analysis
"Pediatrician looked at our toddler, standing with a swayback (lordosis) posture, then without considering anything else turned to my wife and said, 'she stands like that because you baby her too much.'"
"That was only our first clue that the doctor was a f'king moron."
– rhesusfecespieces
The Neurologist's Recommendation
"I took my mom to see a neurologist as her PCP suspected she had Parkinson's. After waiting almost an hour, the neuro came into the room, took a look, told us she had Parkinson's, then told us to watch some YouTube videos describing what Parkinson's was, then left the room. The whole encounter was under a minute."
"[Edit This seems to have struck a nerve, so I added some info:"
"Yes, I'm in the US. Bad clinicians can be anywhere, so I don't think this apathy is due to location. He was also private practice."
"We found a much better neurologist who has been treating Mom."
"Yes, they still charged insurance. Mom is on Medicare, so it didn't become crippling debt."
"I did not report the doctor because I just didn't have the bandwidth.]"
– sesamesnapsinhalf

Consultation Fail
"During a consultation told me he refused to consider a surgery on the basis that he has the same condition and can exercise just fine."
"He then proceeded to actually tell me I didn't need to pursue physical wellness as I looked okay, 'Especially compared to the average person from your town, you know?' with a wink. Iike bruh you have me leave work to drive an hour to refuse to help me out and then insult my hometown."
"I disputed the $300 consultation bill on the premise that there was no service given and they dropped it."
– RONINY0JIMBO

These women shared their uncomfortable moments in the examination room.
Unsettling Assessment
'"i went to the doctors' to get my breasts checked (he basically just held and caressed them in a manner he wouldn't have had a chance to feel anything potentially dangerous) and due to them causing me a lot of physical pain i asked him about my options regarding breast reduction surgery. he got visibly angry and told me to never even think about it, and called them 'beautiful and tender.' he was well in his 50s and i was 18-19. i paid like 50 dollars for master roshi to ignore my health issues and make me find another doctor who actually wanted to help people."
– bratsbane

A Little Humor
"Unprofessional, but funny. I had taken my 92 year old mother to a recheck appointment to her PCP."
"An apparently new medical assistant was dutifully getting her history by reading off a checklist. When she asked when Mom's last period was, I looked at Mom a little nervously: she was VERY old school, very dignified and would typically never acknowledge to her sons that she had female parts."
"I saw a rare twinkle in Mom's eyes as she calmly replied, 'well, I can't give you an exact number of months, but I'm pretty sure it was sometime in the late 1960s.' The assistant had the good grace to laugh with us, apologize, then read the next question."
"do you think you might be pregnant?"
– jakobedlam

Some doctors are terrible at trying to make patients feel better.
Doctor Had Questions

"Had a doctor ask me why it took so long to come in for a UTI, I said I just got insurance, haven't had money, taking care of my kids first. She said rather flippantly 'You some kind of martyr? Did you leave your cross outside?'"
– mmsdiscard

Just Fatigue
"You're not depressed, you don't look sad. You must just be tired!"
"Here, take these sleeping pills, but don't take them all at once!"
– Nicxll

Not Onboard The Fitness Journey
"I had a doctor comment on how I've lost weight (fine, I get that), but when I told him I started going to a gym he told me not to try to build muscle because it will just turn to fat someday anyway 😳"
– FkMyWorkLife
Too Much Faith
"I was looking for a surgeon for my gallstone operation and he asked what meds I was on. I mentioned my antidepressants and he started saying I didn't need to take them I just needed to pray. I was pissed and replied 'I guess I'll just pray my gallstones away too then.' Needless to say, I went with a different surgeon."
– maggyta10
Imagined Pain
"When I was 21 I dislocated my shoulder and it continued to hurt for weeks. Went to a specialist, he suggested the pain was all in my head! After an MRI he realized I had a SLAP tear in my shoulder, so I said, looks like it's not all in my head, and he looked at me with such contempt, I never went back to that a**hole."
– feral_philosopher
Lacking Faith
"My mum had some symptoms that resulted in a scan of her brain. It sort of looked like she might have a tumor or water on the brain or something."
"When giving her the results the doctor said, 'Maybe this is God's way of saying it's time.'"
"My Mum, who was in her 50s at the time, went absolutely off on them - God has nothing to do with this etc."
"Turns out she was fine. Symptoms were related to something else, and the ambiguous scan results could have been machine or human error."
– queenirv

Unfounded Claim
"Grown ups can't be autistic."
– LannisterZ94
"What did they think happens when autistic children grow up??"
– imawriterokay

While everyone has varying levels of rapport with a primary care provider, the last thing a patient needs to hear is that they're overreacting when they're genuinely concerned about their health.
A little care in the care profession could go a long way.
Want to "know" more?
Sign up for the Knowable newsletter here.

Never miss another big, odd, funny or heartbreaking moment again.
Keep reading...
Show less
Why do we gamble with our health?
I know the most common answer to that is... "because healthcare costs are a joke!"
But as we get older, or even in youth, we need to be listening to our bodies.
Sometimes a trip to the hospital is just necessary.
Nobody wants to go, but if it's a live-or-die situation?
GO TO THE HOSPITAL!!
Redditor phenomLG wanted compile a list of all the reasons we need to take medical issues seriously right away. They asked:
"Whats a sign you need to immediately go to the hospital?"
I hate hospitals. And I always think I'm dying. So you can only imagine...
Better as Bud Light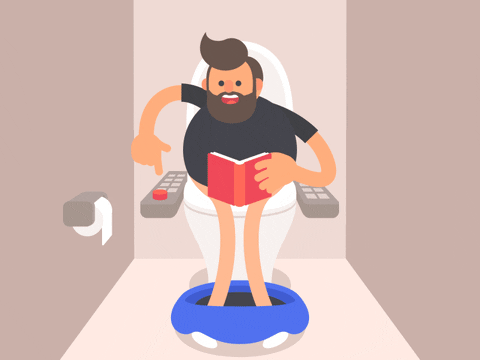 toilet GIF by James Curran
Giphy
"If your pee is so dark that it looks like Guinness, go to the hospital immediately."
Bizarre_Protuberance
You Hear Me?
"Sudden hearing loss. The faster you get to the hospital the better the chances of reversing it (statistically) In my case I left it two weeks and I'm now living with tinnitus."
codeni
The Burst
"Welp my Appendix just exploded inside of me 3 days ago and my tell was that just standing or moving at all became excruciatingly painful, so if normal activities are causing pain, especially severe pain like I was feeling, maybe consider calling 911."
QKsilver58
"My husband had appendicitis and went to a walk in clinic that turned him away, telling him it couldn't be appendicitis (even though he could barely walk and had pain in the exact right spot), so he took a cab to the hospital; he was in surgery 4 hours later."
gbarill
Jab
"If you have pain in your right side of your stomach and someone pokes you and it's incredibly painful, you might have early signs of appendicitis. Source: had same symptoms last week, was uncomfortable but my mum jabbed her finger into my side where I screamed in pain so she packed me off to the hospital where I had an emergency appendectomy that night."
CatchItonmyfoot
Stay Open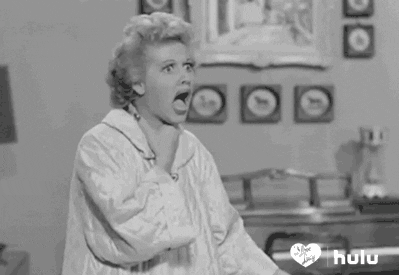 Choking Cbs GIF by HULU
Giphy
"You took a new medicine and your throat is closing up. Anaphylaxis can kill you."
twitch_delta_blues
I knew that closing in the throat was something.
Head Trauma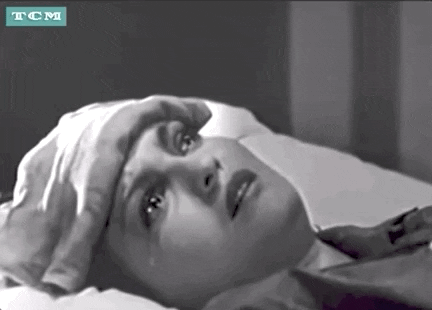 Tired Pre Code GIF by Turner Classic Movies
Giphy
"I had a headache for a week and was getting confused at work. 2 brain tumors and hydrocephalus led to immediate intake."
Dano4600
Thunder
"The worst headache of your life, which came on very quickly. (Also known as a 'Thunderclap headache'). Even with no other symptoms, this needs to be looked at immediately. Could be any range of things, but what they're most concerned with is a ruptured aneurysm."'
lillathrin
Bad Combos
"If you have chest pain and especially if it's combined with sweating, nausea/vomiting, left arm pain, and/or a sense of impending doom. ETA: Yes I know women present differently. Yes I know symptoms can vary by person. I was a paramedic. I definitely didn't expect this simple little post to blow up so I apologize for not including it."
Zoo_In_The_Bathtub
Linda Blair Problems
"Haven't seen this one mentioned yet:"
"If your newborn spits up bright green. Solid sign there is a major intestinal blockage (even without any other symptoms) and there is a small window to get that corrected before death. I have forgotten a lot from my STABLE class, but I do remember that."
pwg2
The Floater
"Wife had a pain in her shoulder and told me about it. Said it was uncomfortable but not a big deal. I told her to send her doctor a message. Went in for an appointment immediately. She had internal bleeding from an ectopic pregnancy and had about 12 oz of blood floating around in her."
coalnation
Rainbow Vision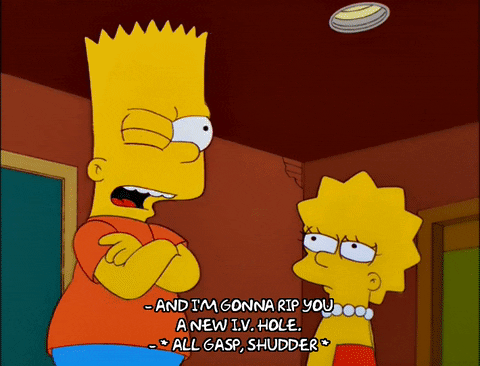 trying bart simpson GIF
Giphy
"Losing the ability to see color in one or more eye, sign of major issue in brain."
aladdyn2
This list made me nervous. I can't take it. I wanna live!

Want to "know" more?
Sign up for the Knowable newsletter here.
Never miss another big, odd, funny or heartbreaking moment again.
Keep reading...
Show less
WARNING: graphic descriptions of illness and injuries

Doctors and caregivers perform miracles and, when things work in favor of patients, are praised for performing miracles.
Sometimes, however, those miracles have nothing to do with the medical professionals tending to a patient who narrowly escaped death.
Curious to hear from those in the medical field who were absolutely gobsmacked, Redditor Jonah_Boy_03 asked:

"Doctors/Nurses, what was the most 'how the f*ck are you not dead' patient you dealt with?"
These patients suffered horrific accidents but survived long enough to stump the doctors taking care of them.
The Fall
"We were the closest hospital so they brought a civilian in (former AF medic). His safety gear failed and this guy fell 128' from a communications tower. It had rained the night before and he fell into a marshy puddle of high grass, flat on his back; concussion and whiplash. No broken bones but the bruises that covered his body from head to heel were something to behold. He spent a week in the hospital before he could move comfortably."
– prpslydistracted

Skewered
"We had a guy who'd lovingly crafted his own gladius sword and thrown himself on it, piercing the sternum and his heart, but he was alive and conscious and every time his heartbeat the handle of the sword vibrated."
– ComprehensiveBox4297

How He Started Working At The Hospital
"We once received a patient that was bitten by a rattle snake TWICE. He only managed to get to the emergency ward 3 hours after being bitten. Then to make things worst, we only managed to get the correct antivenom flown in 1hr after his arrival. He now works at our hospital as an admin clerk and is healthy as ever."
– TBC-XTC

Road Accident Victim
"During my EM rotation,"
"Guy had a road accident, flesh wounds as deep as his intestines were out, around 40% of his face was scraped off, one eye was out of the socket, the right forearm had ripped off muscles and you could see the bone."
"Now the miracle is that the bleeding somehow had stopped and when I came in, I saw his chest moving and him holding his intestines, I was like, yeah wow this guy is alive."
"We helped him, stitched everything back, the face was reconstructed and now he is alive and well."
– Noligeko

Hitting The Slopes
"My ex boyfriend is a ski instructor. He told me that one day, all the slopes were extremely icy and many people were coming in with injuries. He had fallen badly and returned to the ski lodge. He was checked out and said he felt fine. Fortunately, a paramedic happened to be looking at him when his helmet swung open on the side because it was very badly cracked. They took a nine year old girl with a broken femur off a stretcher and put him on it and took him to the hospital immediately, where they found he had broken his neck and needed immediate surgery. Amazingly, he is mostly fine, except for now having acid reflux for some reason."
– Suspicious_Plantain4

His Smashed Pelvis
"While a student did a clinical placement at a major trauma hospital where they kept a collection of X-rays you never usually see because the injury would typically kill the patient instantly. Most interesting one was a smashed pelvis from a jockey in a horse racing accident. That kind of injury would usually also result in rupture of femoral arteries which means you bleed to death very quickly, but somehow this guy survived and made it to hospital and lived long enough to get xrayed. Don't know if he recovered though."
– cfniva

There doesn't seem to be shortage of any medical mysteries in this day and age.

The "Everything Guy"
"As a lab tech, I had one I dubbed 'Everything Guy.'"
"He was complaining of a sore stomach after coming home from overseas, so got the usual 'what were you doing?' questions."
"He was in West Africa."
"Didn't bother to get anti-malarials."
"No vaccines."
"Admitted to eating bushmeat."
"Also said he thought it was undercooked."
"Drank water from a 'local source.'"
"Turns out this was directly from a river."
"Without filtering it."
"River was apparently badly polluted."

"He basically saw everything you shouldn't do on holiday and used it as a checklist."
– Nemisis_the_2nd

The Diabetic
"I had a patient that was already blind from diabetes, lost some toes, part of a foot. I check the blood sugar and it's 45 (this is canada so your normal range is 4 to 7), check it again, 45. This patient had no symptoms of hyperglycemia. He just took his insulin pen, cranked it, and self injected (home care). Had to wait around a bit to see what would happen but eventually we left, he ended up being totally fine. Most home glucometers don't go past 30. I was with my trainer nurse who was dumbfounded."
– mattttherman
Getting The Last Words Out
"My mom was a critical care nurse and said the freakiest thing she ever went through was having a fifteen minute conversation with a little old lady who had no pulse. As I recall said little old lady passed mid-sentence. Just stopped."
– dscottj

Grown Beyond Expectation
"I was born extremely premature. Parents got told i was going to have major health complications, f'ked up lungs and stunted growth and such. 26 now, 6'1" and extremely fit, basically never been sick . Mum always jokes that if i had of gone full term i wouldve been an Olympian"
– slightlyburntsnags

These patients had no idea of the chaos taking inside their bodies. Fortunately, they sought help at the right time.
The Reason For The Back-Up

"I'm not a doctor or nurse, but the doctor who saw my mom said he had no idea how she was alive."
"Years ago, my mom was having gastrointestinal problems. She had incessant stomach aches and was bound up something awful. After 3 days of not being able to poop, she went to the doctor to get checked out. After a thorough examination, the doctor determined that her gall bladder needed to be removed immediately."
"The next day, after the surgery, my mom comes to and sees the doctor standing over... and he wasn't happy."
"'Your gall bladder was dead,' he said. 'Like, dead dead. In fact, it was completely gangrenous. Had you waited another day to see me, you would've died. Had it ruptured during surgery, you would've died. That was the worst, most stress-inducing surgery I ever had to perform in my 20-year career. No offense, but I hope I never see you again.' And he walked out of the room.
– Boon3hams

OMG
"A friend of mine was feeling crappy for days. He'd go to work, feel exhausted, come home, sleep 13 hours, repeat. Finally he got to feeling so bad he decided to go to the ER. He drove himself, around 3 AM."
"He got out of the car and the security guard said 'OH MY GOD' and ran to get him a wheelchair. ER admissions said 'OH MY GOD' and got the ER doc. ER doc noted my friend was quite yellow. They ordered blood work, when it came back the ER doc didn't believe it and had it done again."
"When the second round came back the doc asked my friend for next of kin information. My friend said 'you can't call my mom, it's 4 AM' and the doc said 'Your kidneys have completely failed. We are going to send you upstairs and give you a pint of blood and an hour of dialysis and we need to know who to call if you still don't make it. You should have been dead a month ago.'"
"He got a kidney from his sister and is still doing well today. Apparently the kidney was as close a match as one can get and he should live an essentially normal lifespan."
– NovaRunner

Temperature Of A Corpse
"Had a patient with an internal temp of 75 f. He was drowsy, but fully alert and oriented. He was found in a river embankment in the middle of winter. He had been lying there overnight before he was found by a dog walker. We didn't believe the equipment when it told us 75 degrees, so we repeated with a rectal thermometer, then a different rectal thermometer, and then a rectal probe attached to the bedside and medi-therm system. They were all consistent and after several hours of heating measures we got their internal temp up to 90 degrees before they went to ICU."
"The second 'how the f*ck are you not dead' patient was a person who had a blood sugar of 1,800. They weren't in a coma. Just a woman who walked in to complain about abdominal pain."
– jujapee

The Discovery In The Spine
"18 years ago I went into the ER to get a cyst lanced open. 3 weeks later I felt pain in my back. I went back to the er and they found nothing. Only did xrays. I felt weak leaving so went home and crashed on my couch. I woke hours later and tried to get up and fell. I went down fast. I called an ambulance and went to the hospital. I sat for 6 hours until finally someone came to check me out. I had a 105.0 fever! They immediately rushed me into a MRI and lo and behold I have MRSA inside my spine. I was rushed into surgery and now live from a wheelchair. T5 to T11 im fused. The doctors said if I waited one more day I wouldn't be here. I did 16 weeks of Vancomycin thru IV. 3 hours twice a day! Im truly lucky to be alive today."
– Particular_Clue_4074
Buried Nail
"We had a patient come in after mowing the lawn. Patient said something was kicked up by the lawn mower and hit him in the head. Didn't think much of it, finished cutting the grass. Still had a headache a few hours later so came to the ER. We CAT scanned his head and there is an entire nail embedded in his brain. He had the tiniest abrasion to his forehead and no neuro deficits. He had no idea. Everyone was absolutely dumbfounded."
– luv_pup88
That "Funny Feeling"
"NAD but my potassium dropped to 1.2 which is very critically low. I was 19 and drove myself to the ER and my complaint was that my chest felt 'funny.' Doctor called for a psych consult for my "anxiety" but ran blood work in the meantime. I knew the second the bloodwork came back and was read because my room was swarmed. Spend the next 8 days in the ICU."
– emani_with_a_plan

Even doctors can't come up with an explanation for everything.
This just goes to show you how complex the human body is and how stubborn it can be if it knows it's not your time to leave this crazy world.

Want to "know" more?
Sign up for the Knowable newsletter here.

Never miss another big, odd, funny or heartbreaking moment again.
Keep reading...
Show less