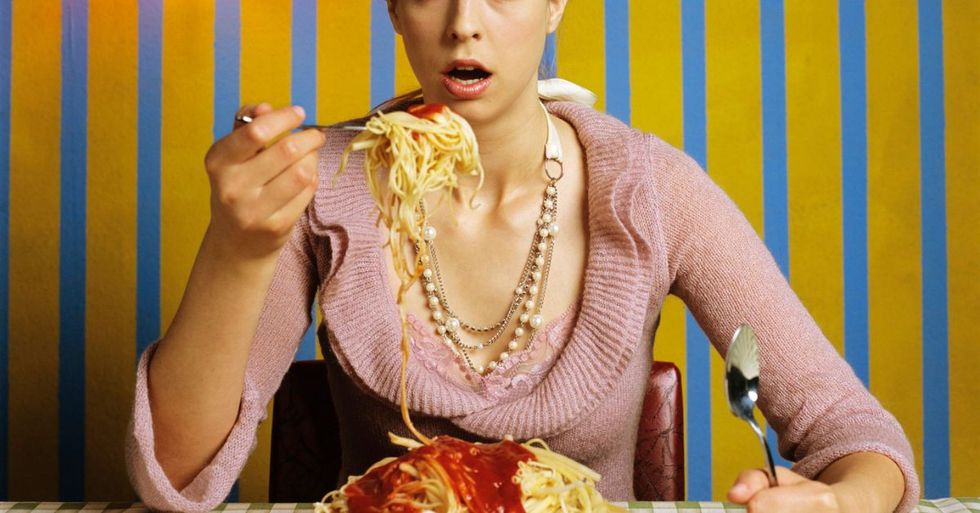 Being vegan and vegetarian is not the burden it once was. We have come a very long way in options. And we have come along way in understanding allergy severity. So why do people still insist on messing around with the topic? Case in point… Redditor purpldingo wanted to discuss her experience and get some […]
More
I've watched people devour things I couldn't fathom swallowing.
Like... "Why are you doing that to your body?"

I love food as much as the next person, but somethings really should just stay on the vine.
So many of the current most popular foods make no sense to me.
Avocado. Just... why? It's green slime.
To each their own.
Redditor mintylye wanted to discuss personal issues with the menu. They asked:
"What food does everyone love to eat, but you don't?"
I am very picky eater. I try not to be, but I can't help it. My list long.
Oink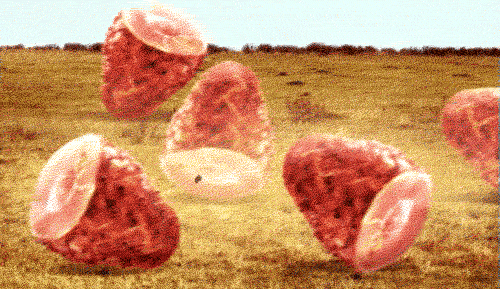 Wild West Lol GIF by Justin Gammon
Giphy
"Ham it's so gross I like other meats but ham is just so disgusting."
AHHHyhu78uj
Fresh Roast
"Not a food, but coffee. The entire planet seems to start their day with a cup and I can't get the taste for it."
boegan
"I actually LOVE the taste of coffee but I rarely drink it. I just try to wake up with a glass of water instead of the caffeine."
"I feel like the point of coffee is to wake you up, so it never made sense to me to drink decaf (even though I like the taste), so I just decide not to drink it. I do have a coffee pot and there are times where I'm feeling frisky, but I'm glad that it's an addiction that I haven't gotten into."
JSto19
Hell NO!
"Steak. Not red meat, just a fat steak. Gristle, fat, texture, and childhood trauma play a key role in why I dislike steak. Trust me, I've had numerous people - including my previous roommate who is a professional chef - try to get me to like it. It ain't happening. I do love a good burger though."
Killarogue
Separate
"Chocolate ice cream I love them separately though."
SuvenPan
"Yes! A lot of chocolate flavored stuff I'd say is more 'cocao' flavored if that makes sense, same with chocolate milk, chocolate pudding, etc."

motion_bum
"I'm the same. I like chocolate, but majority of chocolate flavoured things taste very different and are not enjoyable for me."
Amber-Dragon
bad sweets...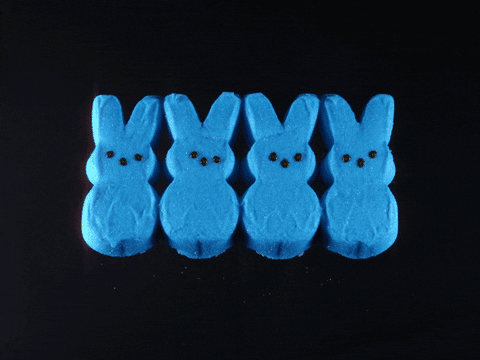 Marshmallow Peeps Candy GIF by Bronwyn Maloney
Giphy
"Marshmallow peeps."
rmdelecuona
"They are overwhelmingly sweet. But I have childhood nostalgia associated with them so I still eat them."
SpaceBass18
Those Peeps are the work of Satan. I said what I said.
I'm ill...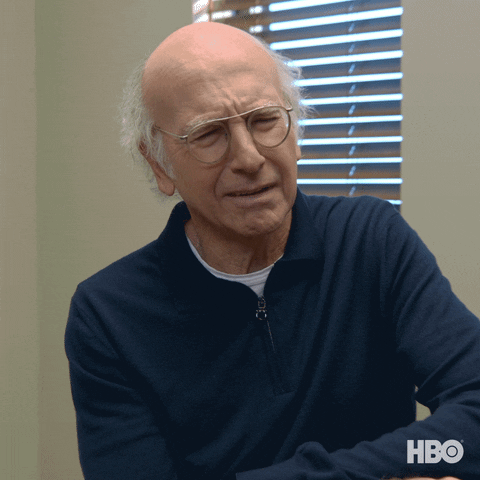 Season 11 Reaction GIF by Curb Your Enthusiasm
Giphy
"Mayo and ranch, but mostly mayo. The sight of a glob of thick ranch or mayo makes my stomach uneasy."
Helicoppter
Clearly the best...
"Sweet potato pie. I can't stand sweet potatoes but to put it in a pie… that's just too much."
WonderlissBliss
"Dog it tastes nothing like actual sweet potatoes. Sweet potato pie is like candy trust me. My mom used to make it for me when I was little."
"But she called it 'butterscotch pie' to trick me into eating it as she knew I'd want nothing to do with it if I found out it contained sweet potatoes. Clearly the best pie. I assume you haven't ever tried it. Big mistake. It's like if someone took a pumpkin pie and was like, 'what if I increase all of its stats by ten points'. Perfect pie."
fly_it_sigh_it
fresh off the boat...
"About the only seafood I'll eat is breaded fish sticks. Which has about as much in common with seafood as Taco Bell does with Mexican food. None at all. The smell, texture and taste of the rest of the seafood world is just nauseating to me. Which some people can't seem to grasp as I live less than a 10 minute drive to the fishing docks and get whatever I want fresh off the boat."
bbpr120
In your mouth...
"Caviar tried it once like pouring salt shaker in your mouth. Venison gamey Beef."
MissGoodbean
"Then you haven't had good caviar. I had it in Moscow and it was super. I don't like sushi or a lot of seafood."
highstreethellcat
Gross Greens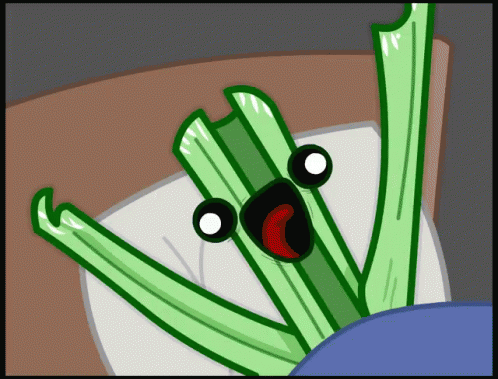 excited shake GIF
Giphy
"Celery. What the f**k, people. Not good."
velthrar
"Crunchy water!"
Cat385CL
I actually love celery. But I'm weird.
Keep reading...
Show less
This article is a love song to all of you out there who still think of those Red Lobster cheddar biscuits as the fanciest, most delicious, bread course you've ever had.
You're not alone.
Honestly, even Beyonce agrees Red Lobster is for special occasions according to the lyrics of "Formation."
Reddit user TactlessLaugher asked:
"What's a meal as child you thought was fancy, or high class but was really the exact opposite?"
Let's get into it, starting with the obvious.

Luxury Lobster
"I thought Red Lobster was classy sh*t as a child."
"As an adult I ordered 6 soggy small shrimp that came in bowl and they called it shrimp scampi and paid way too much for it."
- _Goose_
"My sons (they're almost 14) still think Red Lobster is the top echelon of seafood."
"We even go to the Outer Banks right on the ocean one week every summer where they both eat fresh, tasty seafood. But they think some $35 pile of rubbery Red Lobster meat is prime luxury."
- orangestar17
"I took one of my sons there to celebrate the end of a successful school year."
"I thought for sure he would realize how not-posh it really was."
"Nope, he thought it was amazing and couldn't wait to tell his friends he had finally gone to Red Lobster. I kept my mouth shut and let him enjoy the luxury."
- pixygarden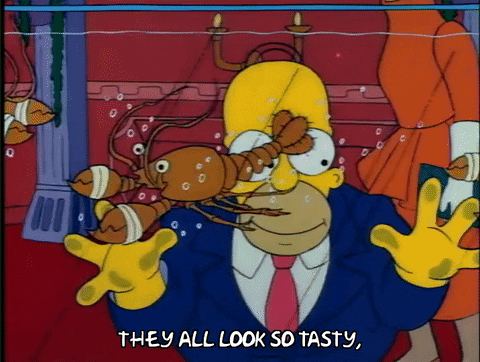 Season 1 Episode 13 GIF by The Simpsons
Giphy
Pizza Hut Used To Be Awesome
"In the 80s, I can't explain how big of a deal it was to go to a Pizza Hut. It was 30 miles away so it was a big treat."
"These days, not so much."
- Shroom4Yoshi
"Playing Pacman at the arcade table and wearing a book-it pin on my Jean jacket, ahhh the 80's"
- beccasam1
"We didn't have much money so didn't eat out much."
"The Book-It program at school gave those coupons for a free personal pan pizza when you read books and it was like Christmas"
- orangestar17
"Pizza Hut back in the day was a step or two above Pizza Hut today- which is barely a storefront."
"The old ones had funky roofs, salad bars, pizza served in skillets, table service..."
"Today? Nothing special."
- sdcinerama
Pasta-Roni
"I used to think my mom made this delicious angel-hair pasta with a creamy sauce all from scratch."
"It was just boxed Pasta Roni."
"But I'm glad it is because she passed when I was 12 years old and it would have sucked that I never got her recipe. Now I can just whip open a box and feel the nostalgia."
- drekia
"I didn't come to this thread to cry over Pasta Roni."
- Basghetti_
"My mom died when I was twelve too. I'm still always trying to recreate recipes from childhood. Certain things I've got but I'm never gonna nail her sweet and sour pork. 😔"
- taipeileviathan
Because The French Are Fancy
"French toast, because it was 'French' "
- dick-nipples
"That's kind of adorable."
- Ascholay
"French toast is delicious though."
- SkeleHoes
"Same with crepes."
- Grjaryau
Fondue
"When I was a kid my folks would have a fondue night every great now and then. They would have a few different kinds of meat like hot dog pieces and some cut up chicken."
"To this day it seems special."
"We didn't have much money growing up but this made me feel otherwise. One of my fondest memories as a kid with my parents."
- 1980pzx
"Woah! This brings back warm memories to fondue night."
"We didn't have much growing up, and fondue night always felt like we had something to celebrate. We even had special fondue plates we bought at a flea market."
"It was just one of those rare nights where dinner didn't feel rushed, with dad usually being tired from working all day or having to leave for a night shift."
"Thanks for bringing back that memory."
- Leilavdm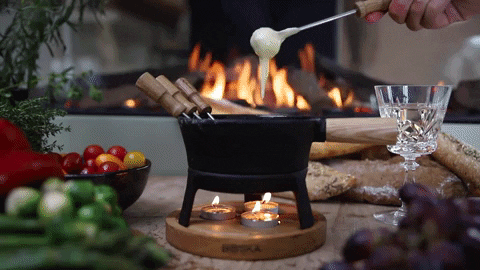 Melting Food Porn GIF by BOSKA
Giphy
Hot Washcloth
"If my parents were going out for the evening, my mom would take us to the grocery store to pick out TV dinners."
"I usually got turkey, with mashed potatoes, stuffing, those miserable peas and carrots, and some kind of cobbler dessert."
"No microwaves then, so the foil trays went in the oven. My mom would put the hot tray on a washcloth on a tv table."
"We got to eat in front of the TV and thought it was fabulous."
- ItsSnowingAgain
"Same down to the washcloth or dish towel!"
"Pre microwave it was a big deal! This was the 70's for me."
- miahsmama
It's Not Butter
"My mother used margarine in (nearly) everything, but she called it butter."
"So whenever we went to a nice restaurant to eat, I thought the real butter they served was something fancy and French."
- mobyhead1
"Same here."
"We've still never had real butter in our house. Even though it said 'margarine' on the tub it took me until I was at least 12 to realize it was different from butter."
"I was so shocked when I went to a restaurant and the butter tasted so good and different."
- katkeransuloinen
"This!"
"I baked a lot as a child and always wondered why my cookies were never very good. My mum raised me to believe that olive spread is butter."
"Turns out it's not."
- Dragon_Sluts
Missing The Point
"Ratatouille because I had completely missed the point while watching the movie"
- maedayborowski
"Totally true! The movie does make it look super fancy but in reality 95% of ratatouille is a mess of mushy vegetables."
"It has a fancy sounding French name though."
- bambooshoot
"And I just now realized the point."
- Rin-Tohsaka-is-hot
"Same dude I was really young when I watched Ratatouille and completely missed the part where they said it was a peasant dish."
- NHK21506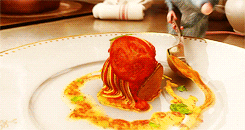 ratatouille GIF
Giphy
Affording Ramen
"My mom told me 'We can't afford to eat ramen all the time.' "
"She meant that it wasn't healthy and that I should eat a vegetable or something. I spent years thinking instant ramen was expensive."
- pm-me-racecars
"SAME but I thought it was expensive just because I loved it so much."
"I got a job at a grocery store when I was in high school, realized how cheap it was, lost my damn mind."
- Remarkable_Squirrel3
"It was expensive for my roommate in college who ate nothing but instant ramen for so long that he felt like crap for weeks. Finally went to the doctor when his gums started bleeding."
"He had scurvy."
"Aaaand we talked to him like pirates for the rest of the year."
- victimless_lime
A Precious Commodity
"I always thought oyster crackers were super expensive and fancy because I only had them at restaurants with my clam chowder. And the waitress would only give me one tiny packet and it was never enough."
"Sometimes I would screw up the courage to ask for one more packet if I was extra brave or hungry but I always felt like maybe that was selfish of me because clearly this is a precious commodity."
- logcabinfarmgirl
"Yes! Lol"
"I remember finding them in the grocery store and being blown away you can just buy a big box of them! Hahaha."
- j33pwrangler
"This cracks me up because whenever I go drinking at a seafood joint I slam those crackers. Pinchers Crab Shack usually has a little basket of them at your table"
- FTMorando
IYKYK
"Golden Corral. If you know you know."
- Kasmanian_devil
"Yes!"
"We would eat there when we went to go visit my grandfather. And I thought it was the coolest thing that I could get 'ice cream' with different toppings."
- elanrach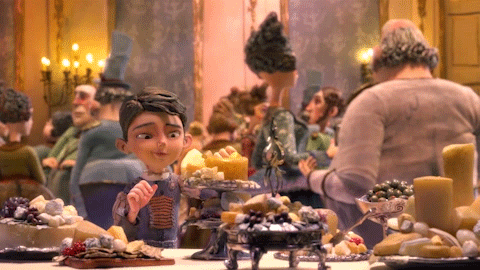 Hungry Nom Nom GIF by LAIKA Studios
Giphy
Still Love
"Chicken and rice!"
"Growing up I loved it and thought my mom cooked it so often because she loved spoiling me. Eventually found out mom cooked it a lot because it was cheap and went a long way."
"Still love it though."
- AbductedMind
Layers Make It Fancy
"Vienettas."
"They were special, because they were sold from the yellow Family Frost trucks and as I try to remember, they were one of the most affordable big package ice creams from there."
"Sometimes I got the money and felt important when I could go buy it from the truck. I still like the memory of thin chocolate plates between the layers. Supermarkets were very scarce back then."
- Ziriath
"That 'Viennetta' frozen ice cream cake. I saw commercials for those all the time as a kid and I thought it was faaaancyyy."
- CPOx
"Those Breyers ice cream cakes... vienetta"
- MichiganMulletia
Moms Tamales
"My mom used to make me tamales every time I visited her on the weekends cause she knew how much I loved them."
"It took me years to discover she did not make them from scratch. They were the frozen ones you can buy at the grocery store."
- msphelps77
Soup For My Family
"I remember when I was about 11 and I stayed with my dad in the winter. To stock up on food he bought like 50 cans of Chunky soup and I thought he was rich when we walked out of the store."
"but it's just soup, lol."
- Awpss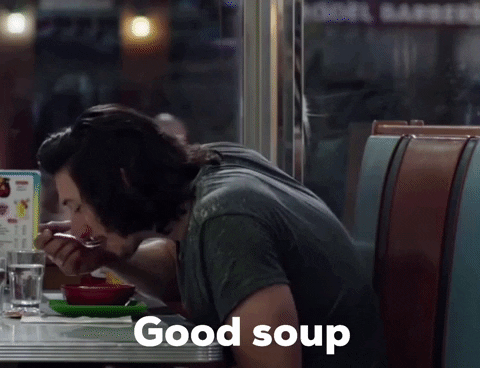 Adam Driver Soup GIF by VON GRAMBUSCH
Giphy
A Gift From God
"Pizza rolls."
"My mom never bought them for me, but the neighbor kid's mom would occasionally make them whenever I was over there and they were like a gift from god."
- Eyjovin
Taco Sh*ts
"Taco Bell."
"Even when we had fast food as a kid, it was rarely Taco Bell. So I always thought it must be more expensive, even though it never felt 'fancy.' "
"Now that I'm older and my guts can't handle all the junk that I used to eat, I can see why my parents never wanted to get Taco Bell."
- FTMorando
3 Minutes
"The first time I had spam was at a Chinese restaurant during our Chinese New Year celebrations."
"I was like maybe 6 years old and my mum gave it to me and I actually thought it was the greatest thing I'd ever eaten."
"Fast forward to a few days later I ask my mum when's the next time I can have spam (called it luncheon meat) and she just took it out from a metal tin, fried some white rice and the spam in 3 mins and gave it to me."
"Mind blown."
- Throws_for_Dayz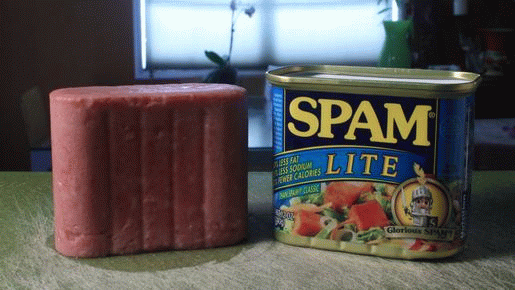 spam GIF
Giphy
"Lunchables."
"Since my mom would never buy them unless there was some special occasion like a field trip, I guess I sort of associated lunchables with the good memories of elementary school field trips."
- ivcy24
It's your turn now, fam. What's your fancy-but-not-really fondest food memory?
Want to "know" more?

Sign up for the Knowable newsletter here.

Never miss another big, odd, funny or heartbreaking moment again.
Keep reading...
Show less
Food is a funny thing. We all need it to live. We eat to live.
But when it's not about survival, many people take food to a level of obsession.
There are just some items that don't belong on a menu.
Be creative as you want to be as a chef, but certain things, like poisonous fish and reptiles?
Maybe just let them keep roaming their habitats.
Why would I pay $150 a plate to maybe die?
What happened to an adventurous fettuccini alfredo?
Redditor trajop wanted hear about which items on the menu are not acceptable, by asking:
"Non-picky eaters, what's a food you just cannot do?"
Snails. Liver. No. No to all of that. Why would you eat a snail? Don't tell me!
Grape Only!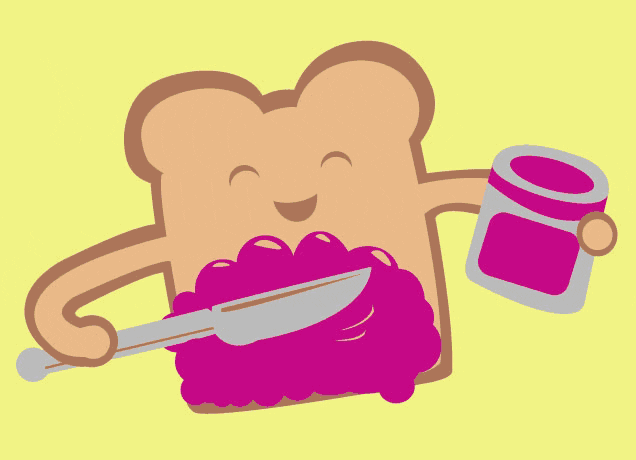 happy bread GIF by Threadless
Giphy
"Non-Fussy Slav here : Aspic or any other form of Meat-tasting Jelly... just... no, thank you." ~ BlimeyChaps
Pu-NO!!
"Silkworm pupae that is boiled or steamed. I tried it once and that's it. I don't like the taste, how it looks, and the smell! I get nauseous whenever I smell it. And they also sell it in a can!! 😭" ~ Casmekju20
"If I ever get a whiff of a street Beondaegi seller, I have to cross the street to the other side. Or just turn back. Forget it, wherever I was going, it was not as important as avoiding that smell. Tried the canned one once, since it had little smell and it was basically a dare. It tastes like it smells." ~ heliumneon
Cut through the Piss...
"Fermented fish." ~ LangMildInteressant
"My mom buys it every time she's in Sweden on her monthly food shopping trip, and will text me when she has some so I know not to come by on visit for 2-3 days until that horrible smell is 100% gone!" ~ RowAcceptable4715
"I'm not Swedish but I once had a tiny tiny amount with some onions and sour cream on a piece of bread and it was honestly great. It kind of tasted like sauerkraut soaked in thai fish sauce with a hint of pee. The onions really cut out the pee taste though." ~ Colonel_Fart-Face
No, just no!!
"For me it's brains. I don't care if they're from a cow, a pig, a sheep or some other unfortunate creature. Doesn't matter if they're baked, poached, breaded then deep-fried. No, just no!! Not to mention that if the animal that supplied them was infected with the kind of prions that causes Mad Cow Disease."
"And other related ailments, brains would probably give a person a super-sized dose of the stuff. Eating brains is an item that I'd never put on my bucket list and if I die without ever having taken a bite of some, I won't have any regrets." ~ NoodlesrTuff1256
Only Deviled or Boiled...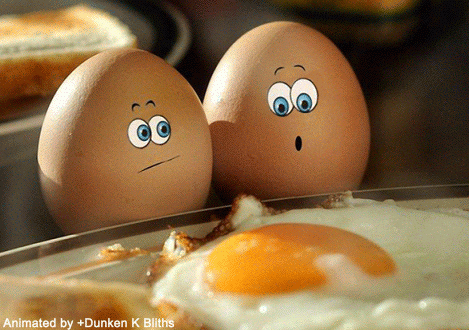 Egg GIF
Giphy
"Balut. Just something about a partially developed chicken egg that I just... can't... do." ~ adamchid
"How nice it is to learn that my egg eating nightmare scenario is an actual food people intentionally make in some parts of the world." ~ Hotshot2k4
I love eggs. I've tried them many ways. First rule no matter what... COOKED!
Look Away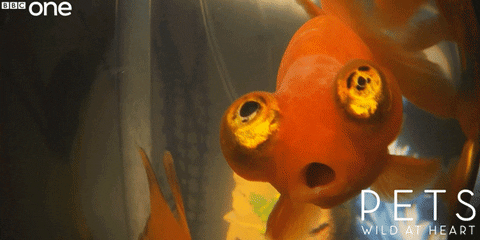 bbc one fish GIF by BBC
Giphy
"I draw the line at fish eyes... one and done thank you." ~ hats4bats22
Flavoring
"Imitation coconut is the one thing I just can't seem to like." ~ Setsuna85
"Somewhat the opposite for me. I'm not super bothered by real coconut, but I'm not a huge fan of the texture (the little strings). I love the flavor though! So if something has coconut flavoring but without the strings, it's a plus for me." ~ MonsiuerGeneral
"Imitation mango. It's the worst." ~ getthatbreadmyfriend
Failure
"I had Natto once. Once. Maybe it's 'healthy' but if your Wikipedia page describes it as an 'acquired taste' due to the odor and texture ... yeah it looks, smells, and tastes like snot goblins. Different culinary history, but also, if you need to ferment seafood in lye, I believe the appropriate words are 'failure to plan for winter' rather than 'delicacy.' ~ InannasPocket
Fishy Issues
"Tuna. When I was pregnant with my twins, I had horrible morning sickness the entire time. But my body just craaaaved Tuna Helper one night. Made a box, ate it all myself. Pretty easy to know where this goes. I threw up so hard and so long that I was throwing up just burning stomach acid when I stopped. I also peed my pants. I can't even look at a can of tuna at the store without feeling sour." ~ orangestar17
Run Away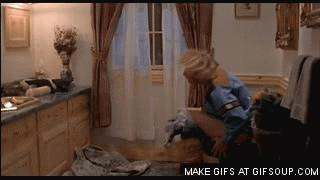 poop GIF
Giphy
"That fake crab that tastes like plastic, and tangerines cause they give me the runs." ~ Hwil33

I thought I might be picky but I see I'm more normal than most. Don't die for food.
Want to "know" more?
Sign up for the Knowable newsletter here.

Never miss another big, odd, funny or heartbreaking moment again.
Keep reading...
Show less
Oysters.
I love them, I freak out in happiness when I see them on a menu and must try them. I have friends who get equally excited. Oysters and champagne? Sign us up.
But I know many people who despise them and never eat them. The complaints they share (They're mushy and slimy!) mean nothing to me. NOTHING. But the people who hate them are very much a passionate camp.
People were keen to share their opinions after Redditor killerkitten115 asked the online community,
"What foods have a near equal amount of people who absolutely love it and people who think it's disgusting?"
"Those sugar cookies..."
"Those sugar cookies with frosting and sprinkles that you find in most super markets!"
QuiteBluish
These taste like flour and nothing. Is nothing a flavor? It might as well be.
"When I finally tried..."
"My parents hated olives and told us that we should decline if someone offered us any because we wouldn't like them."
"When I finally tried olives, I thought, 'These taste disgusting but a really interesting disgusting.' Started eating them and haven't looked back although green ones are only good in limited doses."
temmoku
Some are good and some are just okay in my experience. A stuffed olive, though? Give it to me!
"I love a good homemade..."
"Oatmeal raisin cookies. I love a good homemade chewy oatmeal raisin cookie, but a lot of people act like raisins are evil rabbit turds."
MozarellaFitzgerald
I have tried and I have tried... not really a fan.
"In my family..."
"In my family, there are two strongly divided camps when it comes to Dr. Pepper."
firemoo
I am in the "love it" camp! However, I pretty much stopped drinking soda.
"They taste like..."
"Mushrooms. I love and hate them. Cooked? Excellent addition to stir-fry, quiche, pizza, even good as a main dish. Raw or cooked badly? They taste like fluffy potting soil. And some folks can't stand them in any form."
lizardgal10
Love them! I will defend them for the rest of my days. Give me all kinds of mushrooms–I will remove them from your plate if you wish.
"Why are you so good?"
"Dear Spam, why are you so good? How can you be so nauseating while at the same time being so satisfying? I could eat you by the brick. Please stay away from me I'm not even Hawaiian."
Common-Ostrich-6030
The Strangest Superstitions People Actually Observe | George Takei's Oh Myyy
The world can be a superstitious place. If you've ever knocked on wood or thrown salt over your shoulder then you've run into one or two throughout your life...

Fried with some cheese? Heaven on a plate.
"I love black licorice..."
"I love black licorice but I'd wager there's a vast majority who hate it, and we're strongly in the minority."
smarmymcfadden
Mixed feelings on this but I don't hate it. Taste buds change as you get older, though. I would probably enjoy it now.
"Because of genetic mutations..."
"Brussels sprouts. Because of genetic mutations, approximately half the population finds them unpalatable."
"I'm one of them, never ate a Brussels sprout I didn't want to spit out."
Wahooney
Give me allll the Brussels sprouts! I adore them. I feel sad for all of you who cannot appreciate their deliciousness.
"I am not known..."
"Fruitcake. I am one of those people that love it. I am not known for having a discerning palate if I have full disclosure though. I know some who act like it is awful, and I think it is sweet, tasty, and good."
"Really good warmed up with heavy cream poured on it and whipped cream as well."
JovianCharlie27
Also a fan–and you described the right way to eat it.
"I don't know why."
"Mustard, marmite, and pickles. Some of my favourites, but some people absolutely despise them. I don't know why."
ThemMeme3472
All of these are incredible. Love, love, love.
Okay, it's fair to say I don't really have the most discerning palate. I eat just about anything with few exceptions.
The rest of you though? It's okay–don't feel too bad. You like what you like.
Have some thoughts of your own? Feel free to tell us more in the comments below!
Want to "know" more?
Sign up for the Knowable newsletter here.
Never miss another big, odd, funny, or heartbreaking moment again.
Keep reading...
Show less