Nobody wants to die alone. That is one of life's more basic truths. We all hope there is going to be a familiar hand to hold and a pair of eyes that witnessed our lives looking into us as we drift off to meet our maker. That feels like the basics of marriage. Well that and a permanent booty call.
That's why a lot of people turn to a trusted friend to maybe one day be a love interest. It's always good to have a fail-safe and a back up. And the older you get the more the chase becomes too much run through, so why not make it easy? It's like... "hey so and so... you wanna get hitched by this date, in case?"
BAM! Instant I Do.
Redditor u/shansnewone wanted the betrothed out there to tell us about their relationship successes and fails, by asking:
Couples who got married on the basis: "if we're both not married by (x) years old, we'll marry each other" how did things work out?
I am out of options. Unless all of my prior fail safes current relationships don't pan out, I'm going to the grave alone. I'm too tired to look, or too lazy. Potato/potatoe... let's see who has better luck.
Decades Later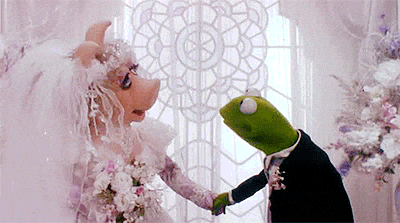 just married love GIF
Giphy
"Yep, worked out pretty well. We've known each other for close to 30 years now and jokingly said something similar years ago. Anyway, we got married almost 6 years ago and pretty happy with the situation."
BFF
"We were best friends for a long time in high school, I was really into her but the feeling wasn't mutual. I told her if we were single 5 years from now I could see us getting together and getting married. I moved across the country and we mostly lost touch for a couple years, but then almost exactly five years after I'd said that, we reconnected and I told here I was miserable where I was."
"She had just moved to a new city, I moved in with her, and we got together pretty quick. In two weeks, that'll have been six years ago. We just bought a house and our daughter's first birthday is next month. It was rocky at first, since we were both escaping miserable situations and living in a studio apartment, but everything worked out and I live with my best friend."
- drmwve
She said yes...
"Funny enough, there was a girl I liked in High School, but I was 17 and she was 15. She asked me out but I said no because I just got a girlfriend, but I was interested in her and I told her. She said if I'm single by the time I'm 25, can we get married? I was like yeah sure. I asked her when she was 25 if she was single. She said yes. Reminded her about our agreement and she said "I'm only really dating girls right now." So yeah."
Jumped the gun a little...
"I made this arrangement with my best friend from college. We spent so much time together, people thought we were dating and it led to some strife in many of my possible relationships because they saw her as a threat. But that wasn't the nature of our relationship. Strictly friends, I had interest in her one time but was quickly friendzoned and didn't try to make any advances. She never held interest in me."
"One night, close to the end of college, we went out and grabbed some beer at a local place and were transparent that we could see ourselves getting married to one another. We made an agreement that if, by the age of 30 pr 35 (I can't remember now), we were both single, we would get married. After college, we went our separate ways—I continued with school, she got a job."
"We talked inconsistently (maybe once every few months?) for about 2 years. I happened to be in her city one day in 2020 and we grabbed coffee. We talked a little more after that, then things REALLY picked up here in the last few months. We're engaged, getting married in March. Jumped the gun a little, but dammit this is the best decision and relationship I've ever been in."
In the End...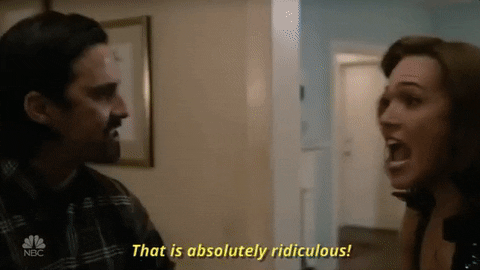 This Is Absolutely Ridiculous Mandy Moore GIF by This Is Us
Giphy
"Couple I knew both thought very highly of themselves and thought they could do better than the other person. They're now together and miserable."
- PCB4lyfe
Well those sound pleasant enough. Well, most of them do. But hey, when you gotta go with what's in front of you, you can't beg. Maybe others had it better.
Cheers to Us...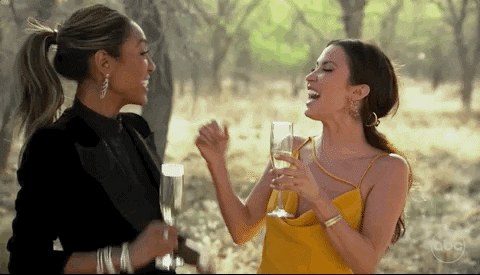 Season 17 Cheers GIF by The Bachelorette
Giphy
"Had an agreement. Both were married far before the date. Did however go out for drinks to celebrate the fact that we were both happily married!"
- Zulias
Finally
"I know a couple who were best friends but dating other people for about 15 years. No one was surprised when they finally started dating and got married, but they didn't have an agreement like you mention. They just finally got over the idea that love had to start with romance rather than friendship."
What happens... happens...
"My best friend dated this chick through high school. They broke up to go to separate colleges, dated other people obviously. Got back in town after graduating, got back together, got married. That was like 19 years and 3 kids ago. He was telling me they never would've lasted a year if they didn't separate for the 4 years of college."
- meh35m
This is a date?!
"My husband and I were friends. I said ,"if you don't have a date on Valentine's Day, why don't you come over and we can drink/ hang out." ( it was senior year of college… this was everyone's past time on non football days or club nights) Valentines came, and we both had nothing to do. He came over with beer AND yellow/red flowers."
"He offered to take me to dinner. I turned around and looked at my roommate like," huh?! Ooohhhhh... This is a date?!" I accepted the flowers and the 6 pack, got changed and 3 days later I just knew he was the one I wanted to annoy for a lifetime. We were swimming in the Jupiter inlet and I said "I think we should get married" he said "Yep. Sounds like a plan."
"That's all it took… friends + valentines + trajectory change = 2 kids, 2 careers, 6 moves, 1 serous illness. We survived together as a team, and It will be 25 years together in February. Man, I got it right and I couldn't even think of anyone better a fit for me. It's been AWESOME!!!"
Let's Party...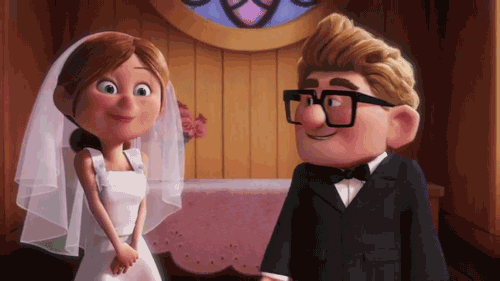 Marriage Love GIF
Giphy
"In my case i had good friend studying together abroad who had boyfriend."
"I told her to call me when she's free. Two years later she came to work to my city she was already free. She called me and we went to a party where after an hour or two we decided to be together and we are for 10 years."
I'm comforted by a lot of this. Maybe I'll meet some new back ups. And then love will overcome. Anybody free for a chat? ;)
Want to "know" more? Never miss another big, odd, funny, or heartbreaking moment again. Sign up for the Knowable newsletter here.
Keep reading...
Show less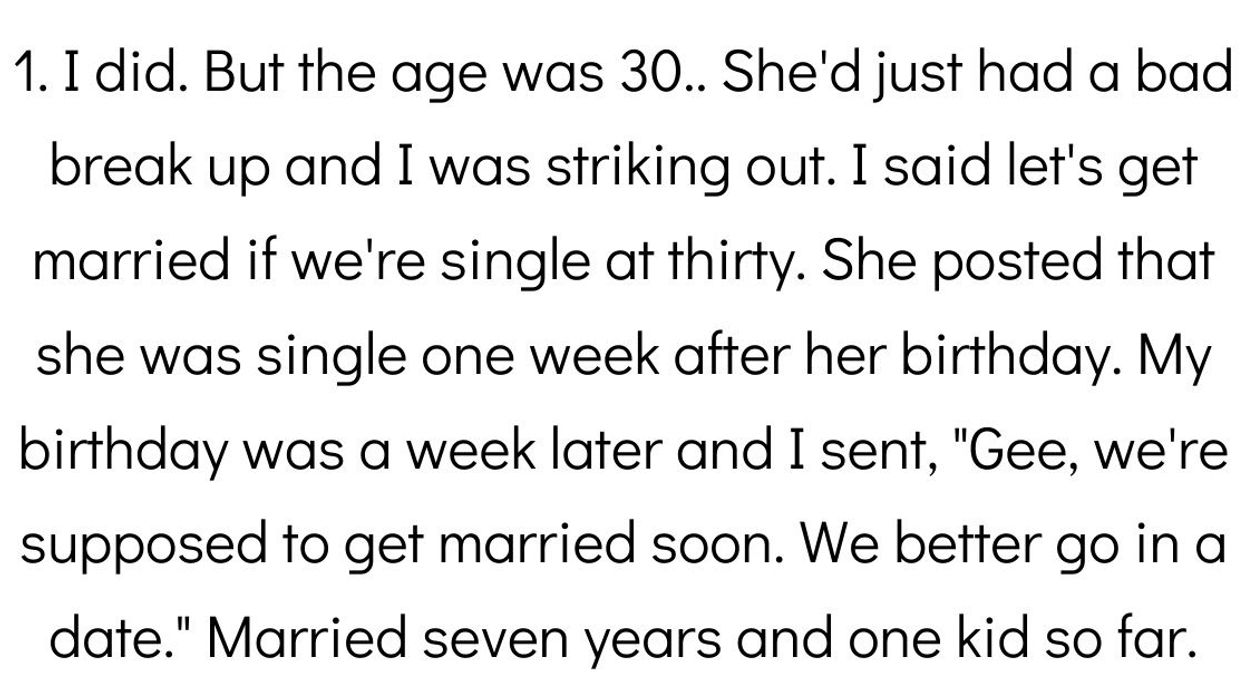 Keep reading...
Show less
Keep reading...
Show less