We live in an era defined, amongst other things, by the unparalleled barrage of content that blasts our eyes and ears throughout every hour of every single day.
Truly, it's exhausting to be alive in the contemporary media landscape.
Generations before had to deal with posters, billboards, and magazine advertisements, then radio commercials after that, and then TV commercials came along.
We thought the consumer seduction reached its peak with those.
But then, lo and behold, social media came about. And now the "information" peddled by brands and advertisers is everywhere. And so so much of it is misleading, or flat out incorrect.
Some Redditors shared the examples that came to mind.
Cameron213 asked, "What is a common misconception that only exists because of clever marketing?"
Many people chose to talk about the marketing efforts used to push health and nutrition products onto consumers.
It's no surprise that there were so many examples to choose from. People in contemporary times are obsessed with health, fitness, diet, and longevity.
So of course, marketers have taken some liberties.
"Zero"
"That things with 'zero sugar' can still have 0.2 grams of sugar per unit which is why tic tacs claim to be zero sugar but can still be dangerous for a diabetic person" -- Whynotgarlicbagel
"Always check the ingredients"
"I found some 'no added sugar' ice cream that had concentrated caramelised sugar syrup as a flavoring"
"Also no added sugar just means they haven't added any sugar. Not that it's zero sugar" -- EmergencyAdvance
The Natural World 
" 'Natural' food isn't your definition of natural." -- Gmax100
"Cyanide is natural" -- Izwe
"Everything is natural, nuclear power plants are as natural as beaver dams" -- Skylake52
The Anti-Fat Movement 
"Low fat is good for you. Well not just clever marketing, also lots of lobbying from the sugar industry" -- UltimateAnswer42
"That's a big one. Fat being the 'bad' macronutrient was something that took me a while to unlearn. I felt my healthiest when I ate a high fat, lower carb (50g or so) diet." -- Cameron213
Give Tators a Chance 
"White potatoes are somehow unhealthy even though they are a very nutritious starchy root VEGETABLE."
"Just because when you smother oil and ranch on it it becomes unhealthy does not mean potatoes themselves are unhealthy."
Leave It Alone 
"Vaginal odor being bad was a thing for a while, and that it could easily be corrected with over the counter treatments such as douching."
"First of all. A vagina is gonna smell like a vagina, not like flowers. If you're concerned about the way your vagina smells you should see a doctor."
"Second of all, the vagina is self-cleaning and doesn't need extra soaps to help keep it 'fresh.' In fact, those soaps and chemicals can cause harm and create real infections."
-- ZeD00m
Other people chose to point out the marketing efforts that have aimed to influence our expectations of culture and the social playing field.
What is "cool" and acceptable is what sells. The question is, who decides what is "cool?"
NOT Required 
"Makeup as a necessary norm." -- b2lose
"Man, FU** makeup! I don't wear it and have yet to have anyone I work with question my professionalism for it. I hate it, it's expensive, and I won't wear it." -- TheRedMaiden
"I love this, and I'll also throw in: shaving as a necessity. I've had so many people tell me it's 'unhygienic' for women to have leg hair." -- buriedclementines
Manufactured Status 
"That teenagers are cool, tbh. Teen culture is 95% manufactured by suits trying to make a buck." -- crookedhope
"When have teenagers ever been cool to anyone but themselves?" -- troomer50
"right? this kills me as an adult. all the cool teenager sh** that 'parents don't understand' was absolutely designed by grown a** dorks just like their parents." -- likearealreptile
Passing the Buck 
"The notion that climate change needs to be combated by individuals making changes in their day to day lives by buying green products. Corporations, global shipping, and factory farms all contribute massive amounts of pollution and greenhouse gasses that can't be offset by using less straws or buying a hybrid car."
"An entire city's worth of individuals couldn't even come close to offsetting the pollution created by a handful of ships used for global shipping, yet advertising would have you think that individuals could replace real systemic change and regulation."
And then there was one total, bald-faced lie. It had to do with an upsettingly common purchase that comes with an arbitrarily high price tag.
Maybe it's time to rethink it.
Pulling the Strings of Supply and Demand
"That diamonds are rare." -- icecreamterror
"That you should spend so much on a diamond and wedding, but can barely scrape by. Sure, let's throw a $30k banquet then go jumpstart the car again to get home." -- Choontz
"Futhermore on this; that 'cognac' diamonds are a desirable colour in a diamond, and are worth more than colourless. Jewellers originally struggled to sell stones of this colour so came up with a marketing concept to make them seem more unique, more special, and just as desirable as, or moreso than, colourless diamonds (which are generally far rarer, particularly if they are classified as flawless with few/imperceptible inclusions)."
"Similar idea with "champagne" diamonds...they were given this name to make them sound more appealing, too, so jewellers could still use them and increase the volume of jewellery they produce and sell." -- teenytinytinkerer
Of course, this list is so far from exhaustive. Pay attention for just the next few hours and I'm sure you'll come up with your own list of at least ten in no time.
Want to "know" more? Never miss another big, odd, funny, or heartbreaking moment again. Sign up for the Knowable newsletter here.
Keep reading...
Show less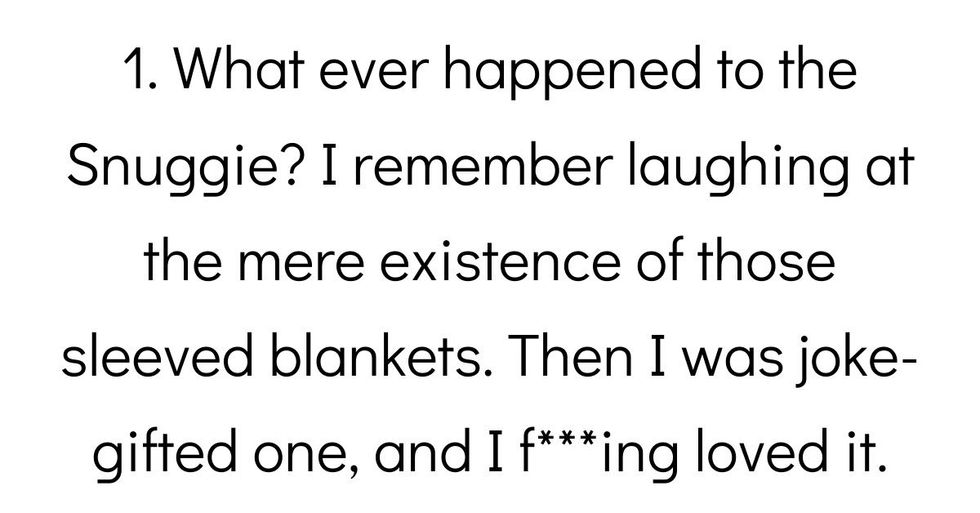 Sometimes the truth hides in plain sight. While we're all wandering around looking in difficult places, assuming all needs to be complex to work, some bozo is sailing to victory because he's thinking one step behind the rest of us.
This, in part, accounts for literally everything in the sky mall catalog you see on airplanes.
Who really needs a phone notification for when the toaster's done? It already physically spits the food out.
But some dingbat was willing to go the distance, and totally won in the process.
u/RapidActionBattalion asked, "What's so stupid it's actually genius?"
Keep reading...
Show less
A construction worker from Austin, Texas shot to viral fame after poking fun at social media influencers by becoming one himself.
Turns out the whole thing was a marketing hoax concocted by a small coffee company called Cuvée Coffee.
Buzzfeed News learned that Cuvée Coffee's owner Mike McKim came up with the idea for the stunt as part of a "creative brainstorming session."
At first glance, "Omar" was just your average Joe who enjoys a cup of joe and posts about it. The blue collar guy outfitted in a construction hat and vest engaging on Instagram appeared as someone who goes against type, adding further appeal and likability.
People went along for the ride.
@justaconstructionguy racked up 407K followers. However, the man who mocked influencers by pouring himself a cup of coffee instead of concrete had nothing to do with managing the account.
McKim explained how he arrived at the marketing idea.
"The whole idea was what we always thought as an influencer, and what we used as an influencer in the past, they don't always fit our brand."
"We need a different type of influencer: a hard-worker, blue-collar guy."
McKim worked with advertising agency Bandolier Media to push his coffee brand and developed the "Omar" persona based on a real-life construction worker in the Austin area.
McKim's stunt additionally benefited from Twitter user @barbzlovescarbs.

Barbara, who uses the Twitter handle under a private account, claimed Omar was her father and created the @justaconstructionguy account to prove to his daughter that anyone could become a social media influencer.
In a since deleted or protected tweet, Barbara said her father:
"asked me what an influencer was, and after I explained, he said 'Pshh, I could do that.' Well...he did."
She added:
"The best part is he works in construction."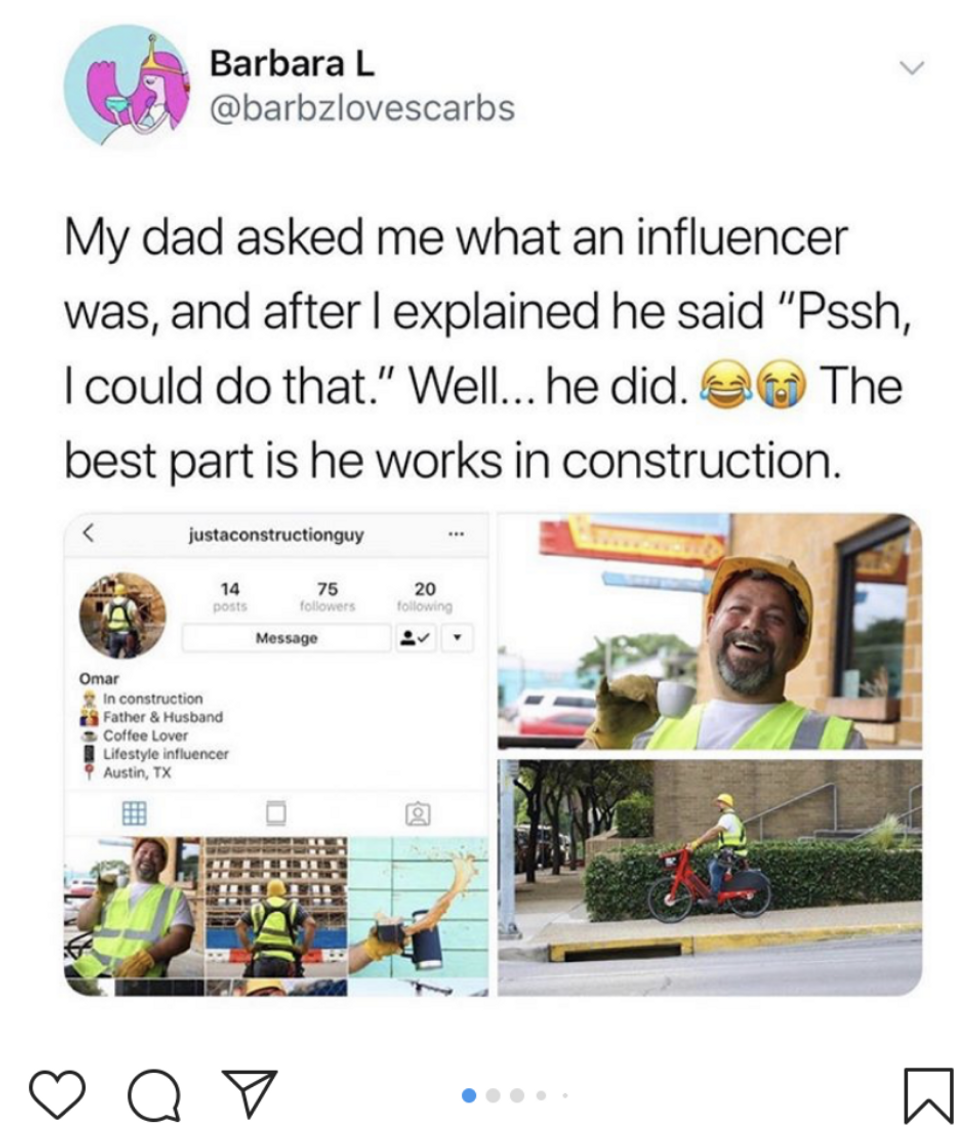 Imgur
Once the seed was planted, the contrived story sprouted across various social media platforms over the course of a few days.
Buzzfeed reported that a popular meme-aggregator "Middle Class Fancy" shared Barabara's tweet and tagged @justaconstructionguys's account.

That post skyrocketed with 146,000 likes and prompted other users to follow Omar's account.

@middleclassfancy/Instagram

@middleclassfancy/Instagram

@middleclassfancy/Instagram

@middleclassfancy/Instagram

@middleclassfancy/Instagram
According to Reddit-user Zazazing7, he found Barbara's tweet shared on another meme-aggregating Instagram account called, "The Funny Introvert."

He shared the post because it brought "a huge smile on [his] face" and thought Omar was "a cool guy."

However, it was only a matter of time until followers became privvy to the hoax.

@middleclassfancy/Instagram

@middleclassfancy/Instagram

@middleclassfancy/Instagram
Eagle-eyed users noticed the posts tagged by @cuveecoffee was a big indicator the page was an advertising ploy.
Cuvée Coffee's IG account responded as users who thought Omar was not a real person discovered the truth.
"Omar is a real guy, and his crew is here all the time. His posts show him doing the things he loves to do. We just [gave] him an influencer crash course and taught him how to use the Gram."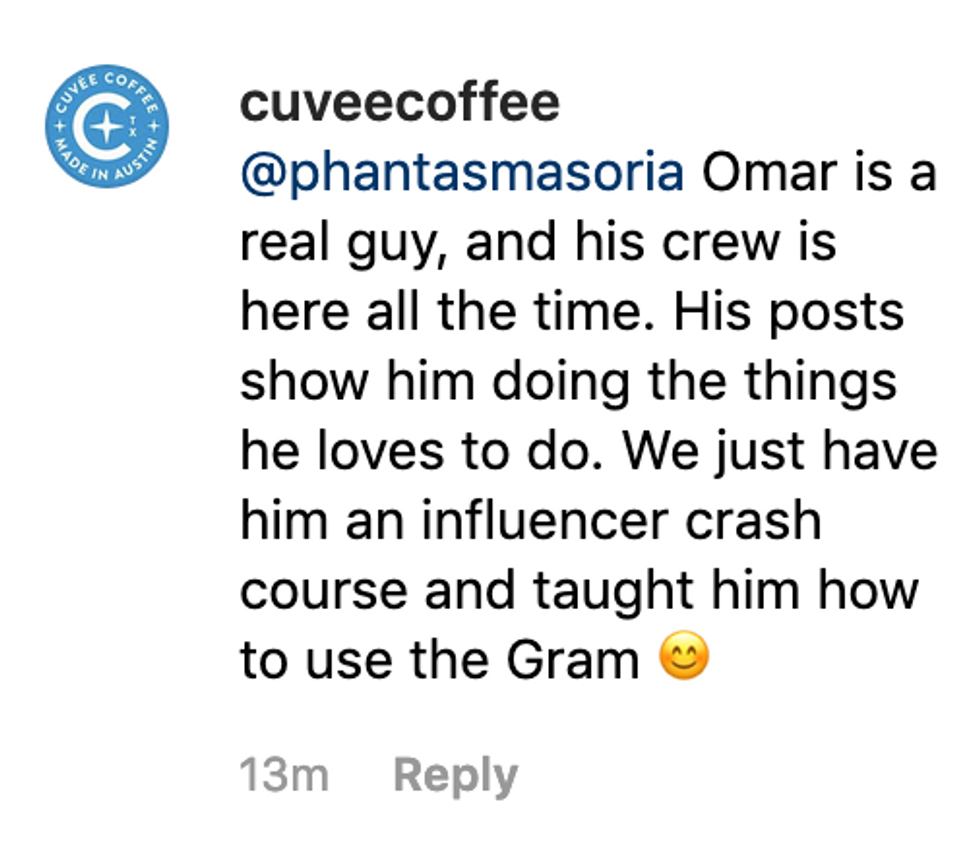 @middleclassfancy/Instagram
McKim added that he was amused by his little coffee shop's location that is "surrounded by construction."
"When we go into the coffee bar in the morning, there's a line of guys in hard hats and vests."
He recalled the initial conversation he had with Omar, whose last name remains undisclosed.

"We started talking about construction guys, and so [Bandolier Media] reached out to Omar and said, 'Do you want to have some fun?' And he said 'What's social media? Instagram? Huh?' He said, 'I don't know how to do it,' so we said, 'Alright we'll help you; let's just have some fun with it.'"
Omar was compensated for his likeness to be spread all over the internet and Bandolier took over all other aspects of running his page.
McKim assured there was no monetizing of the account, but left the option available for Omar should he choose to pursue autonomy and/or ownership of the branded account.

"The intention was let's get an influencer who fits our brand. There has been no payment, $0 exchanged for Omar other than [the photo shoot] payment."
"The whole genesis started with the construction around us, which led to to construction workers being in our coffee shop,. Let's create the influencers — I shouldn't say create...let's find the influencer — that we couldn't find. We pay them to make posts for us. That was the goal."
The strategy paid off, and the account became a success with fans of the caffeinated blue collar worker.
"Sometimes traditional influencers just don't feel genuine," said McKim.
Despite the revelation, @cuveecoffee posted an update indicating that Omar remains as popular as ever.
"In case you haven't heard, our friend Omar (@justaconstructionguy), has picked up a few more followers. And by a few, we mean 369,000. Yep, he's internet famous now, and couldn't be more deserving."
That was a latte take in!

Keep reading...
Show less