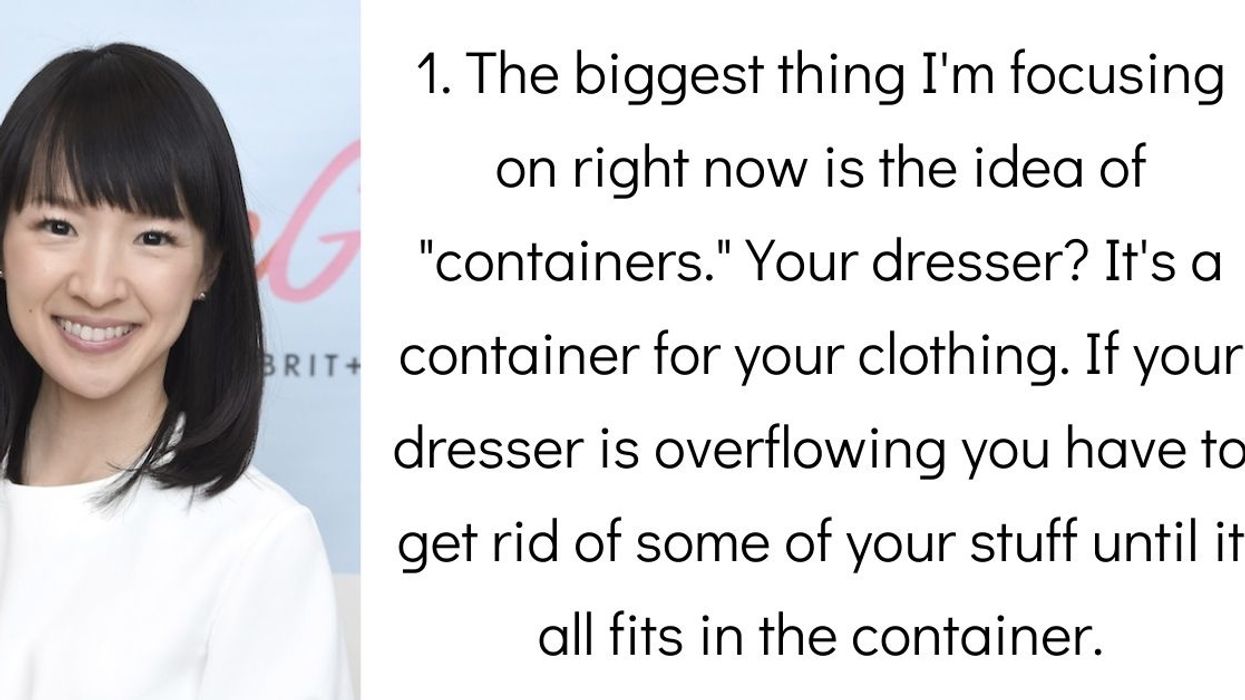 Keep reading...
Show less
If there is one person who is winning at social media, it's Chrissy Teigen.
The model, author, and television personality is very active, giving people insight into her life.
Most recently, Teigen showed off her pantry, promising an "organizational orgasm" in a series of pictures.
And, well, she isn't exactly wrong.

@chrissyteigen / Instagram
"...look how purdy my pantry is!!! neat freaks, swipe for an organizational orgasm. Thank you, @riorganize!!!"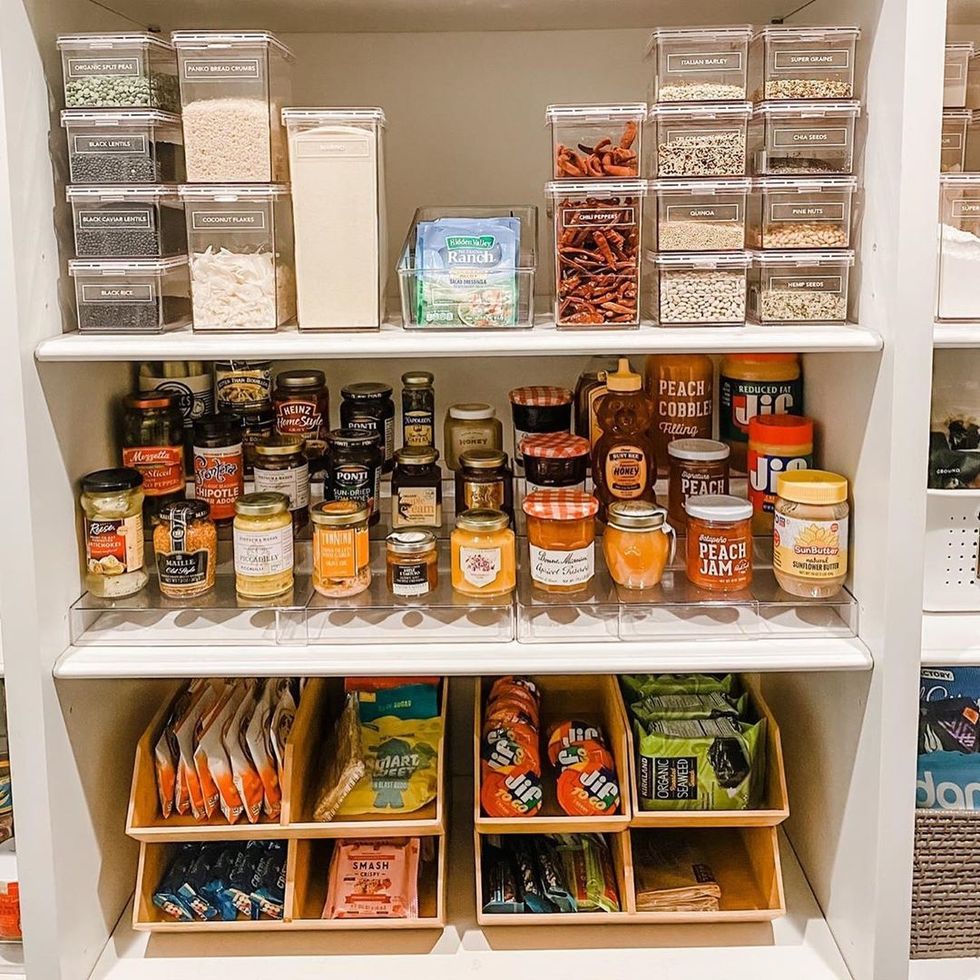 @chrissyteigen / Instagram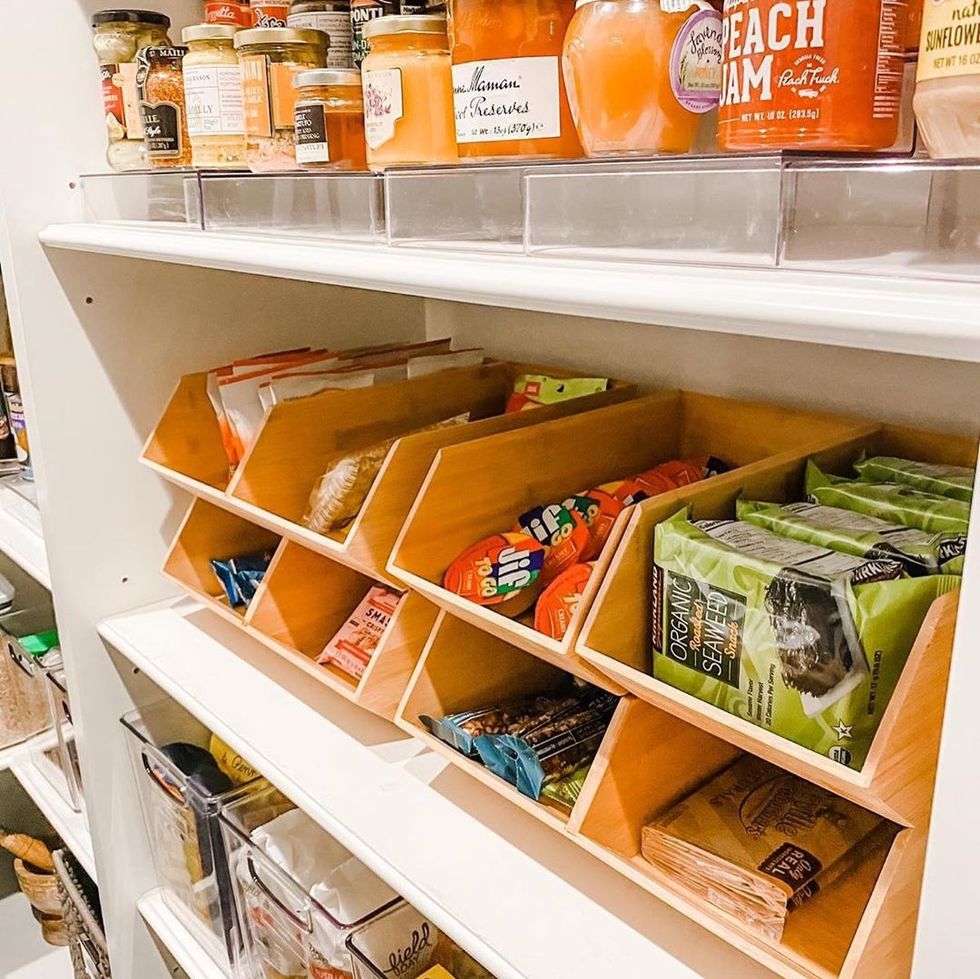 @chrissyteigen / Instagram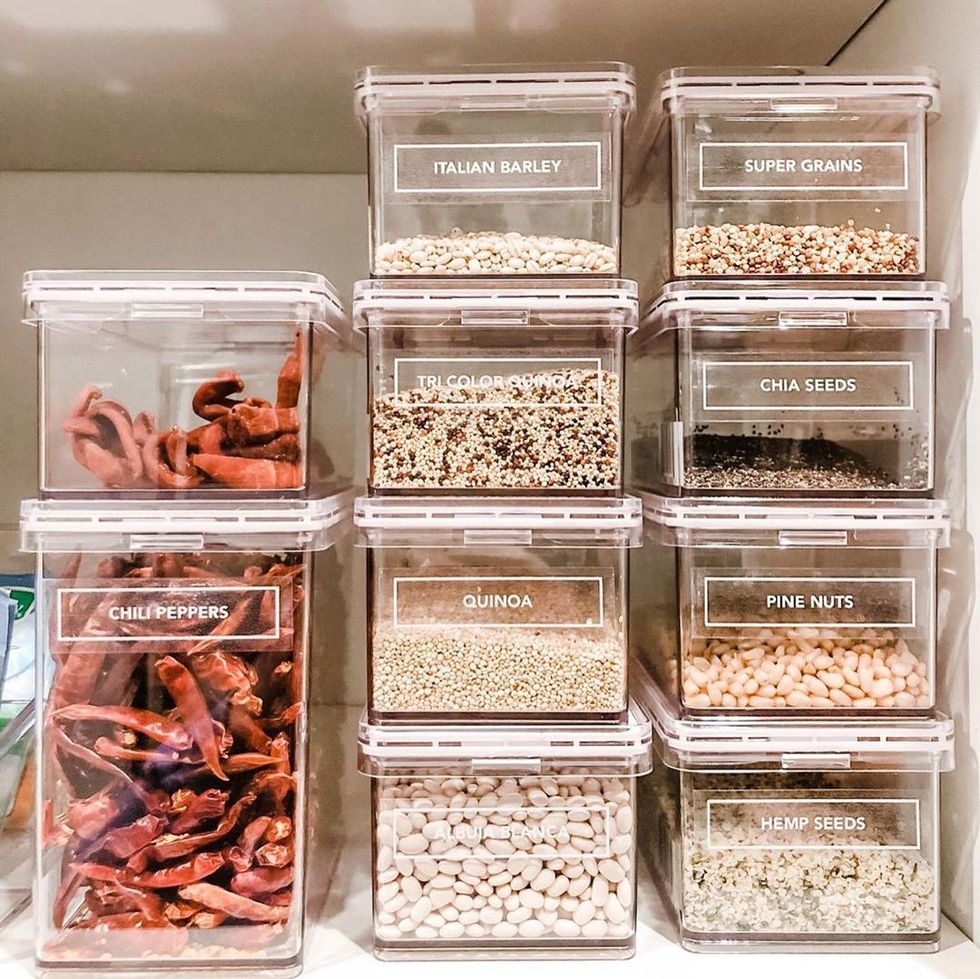 @chrissyteigen / Instagram
This is beyond just organized.
This is a dream pantry.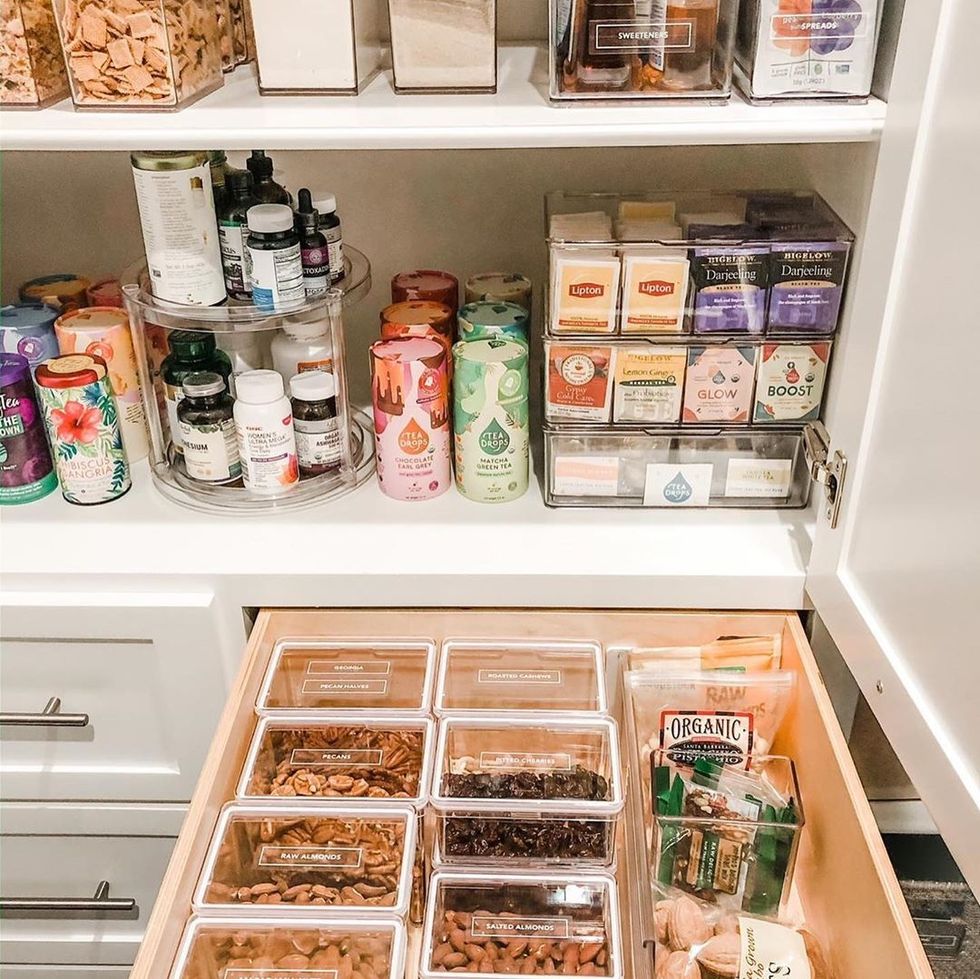 @chrissyteigen / Instagram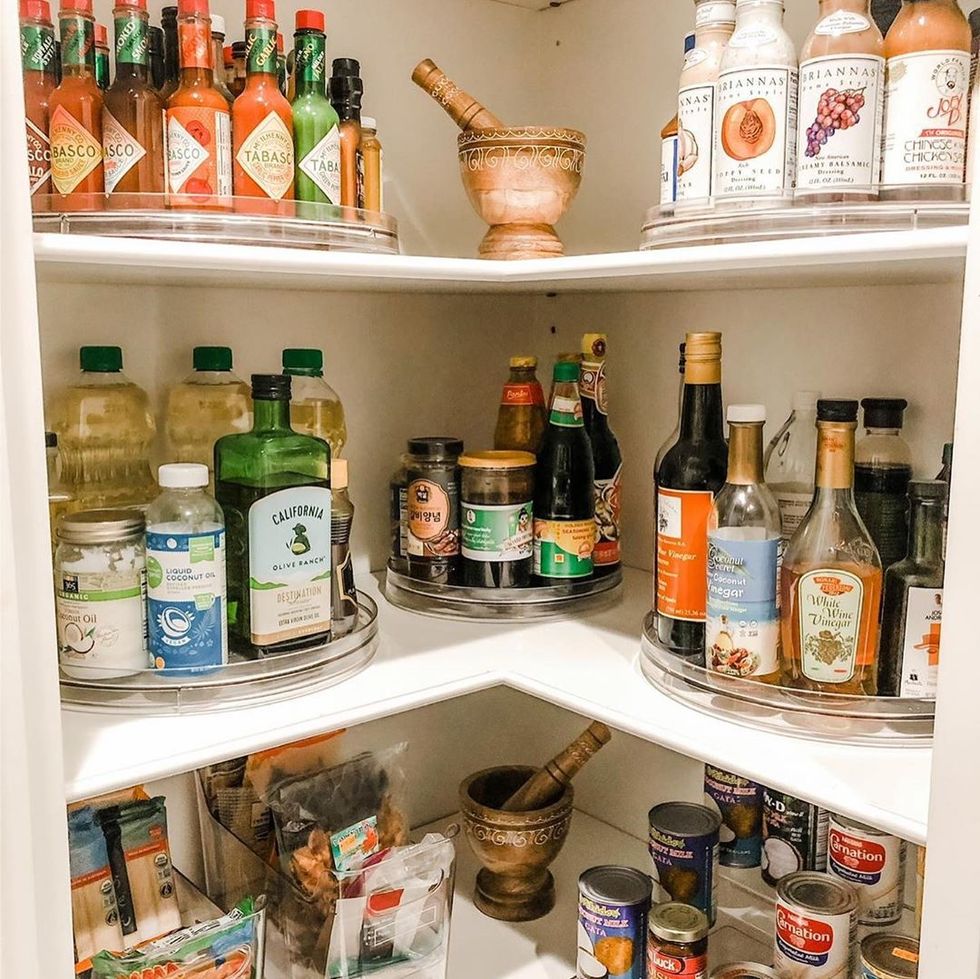 @chrissyteigen / Instagram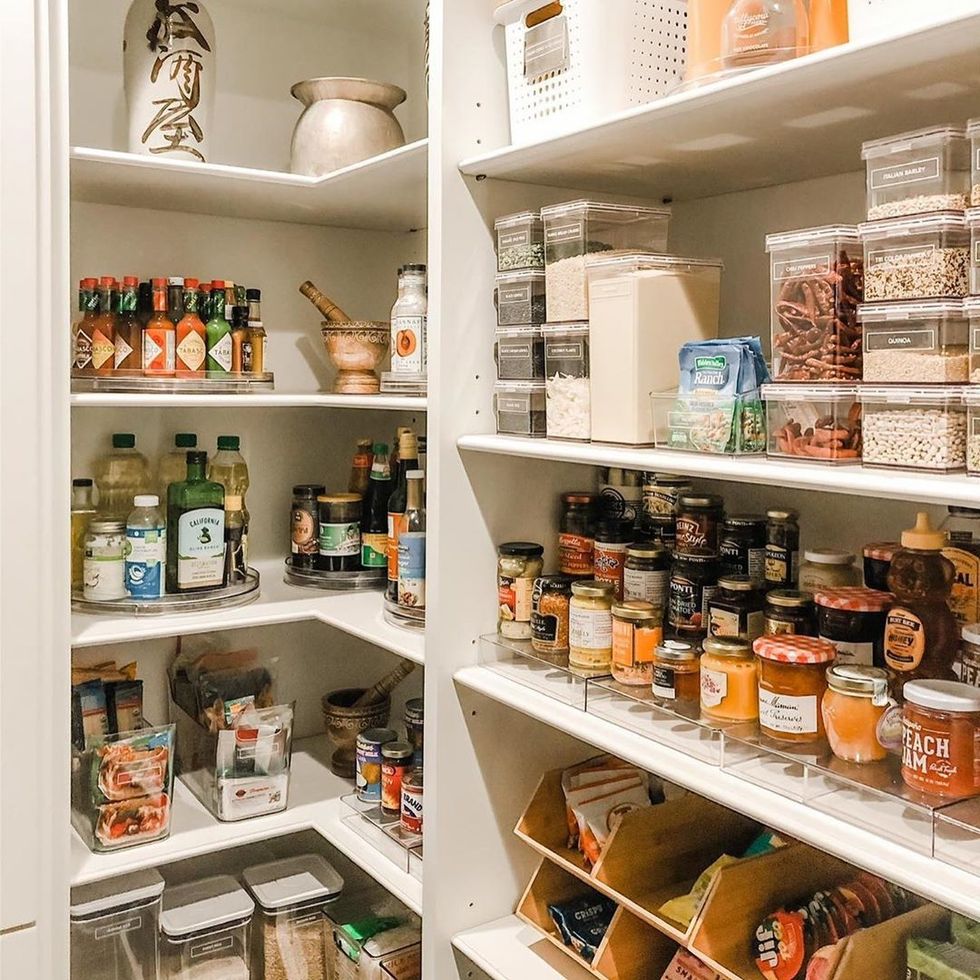 @chrissyteigen / Instagram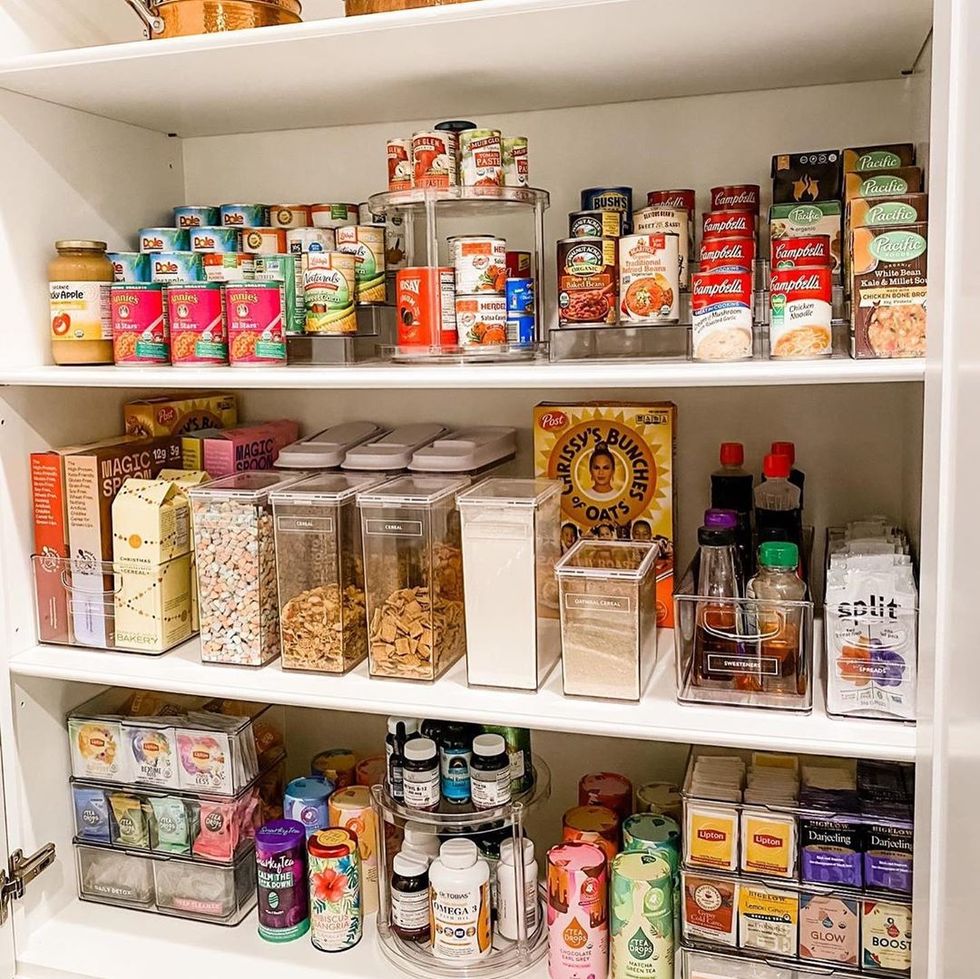 @chrissyteigen / Instagram
As someone who likes to do the cooking for my family, I've often considered reorganizing my pantry, but even those hypothetical plans have never gone this far.

The post went viral with everyone weighing in with praise on the post.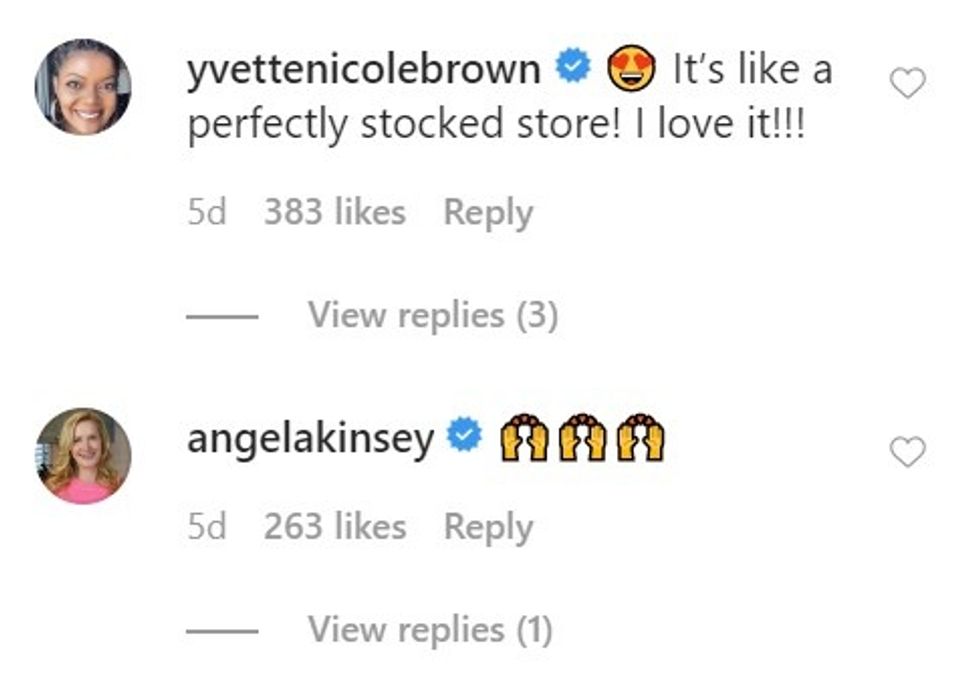 @chrissyteigen / Instagram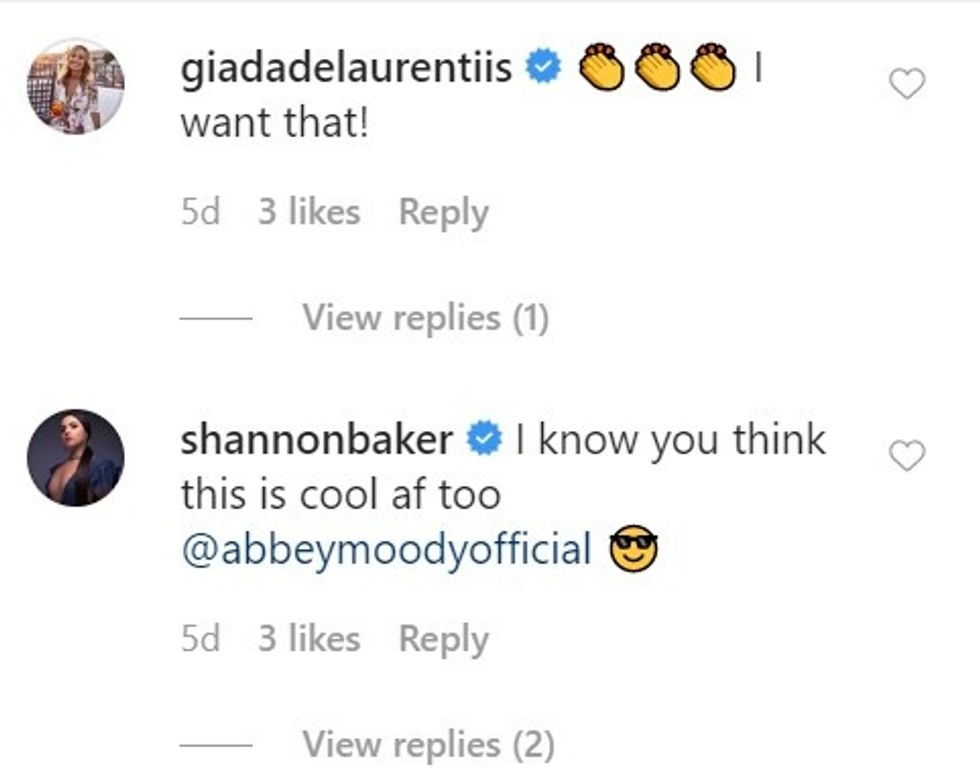 @chrissyteigen / Instagram
However, this also gives us a look into what Teigen keeps in the pantry, and it's amazing.

There's so much jam and peanut butter, snacks for the kids and well-presented spices and sauces for cooking. It's all displayed, with ease of access.
However, how many bottles of Tobasco sauce does someone really need?

@chrissyteigen / Instagram

@chrissyteigen / Instagram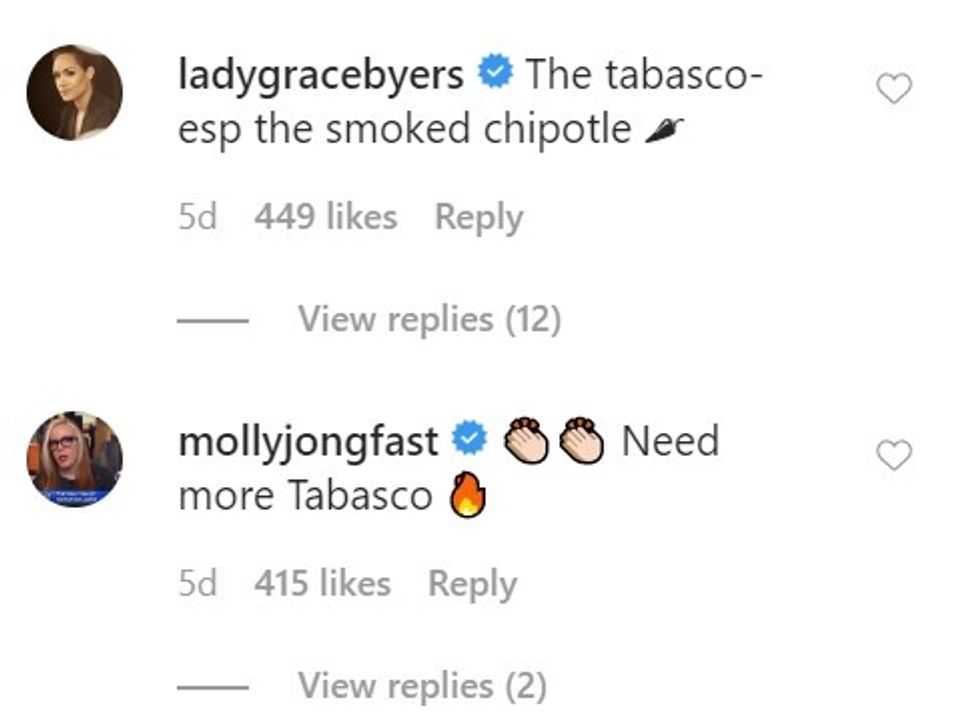 @chrissyteigen / Instagram
Now, this isn't just the case of the rich and famous having more time to do something we plebeians do not. They also have more money to hire someone to do it for them.

In the post, Teigen gave a shout out to RíOrganize, a business that offers "full-service luxury organization."
Ría Safford, the founder of the business shared her excitement to work with Teigen on her own Instagram.
In an interview with People, Safford shared her secrets to make the pantry not just pretty, but functional.

"This project was a partnership with iDesign and is a lot of the products we used are there. There were some additional products that I purchased on my own, but the main products are The Home Edit collection."
Clear and labeled bins, tiered shelves, and Lazy Susans keep things neat but also easily accessible. The whole endeavor is very impressive.
And Safford has every reason to be proud.
In addition to making the rest of us drool over her organizational skills, Teigen's post even had Marie Kondo stop by to praise the work.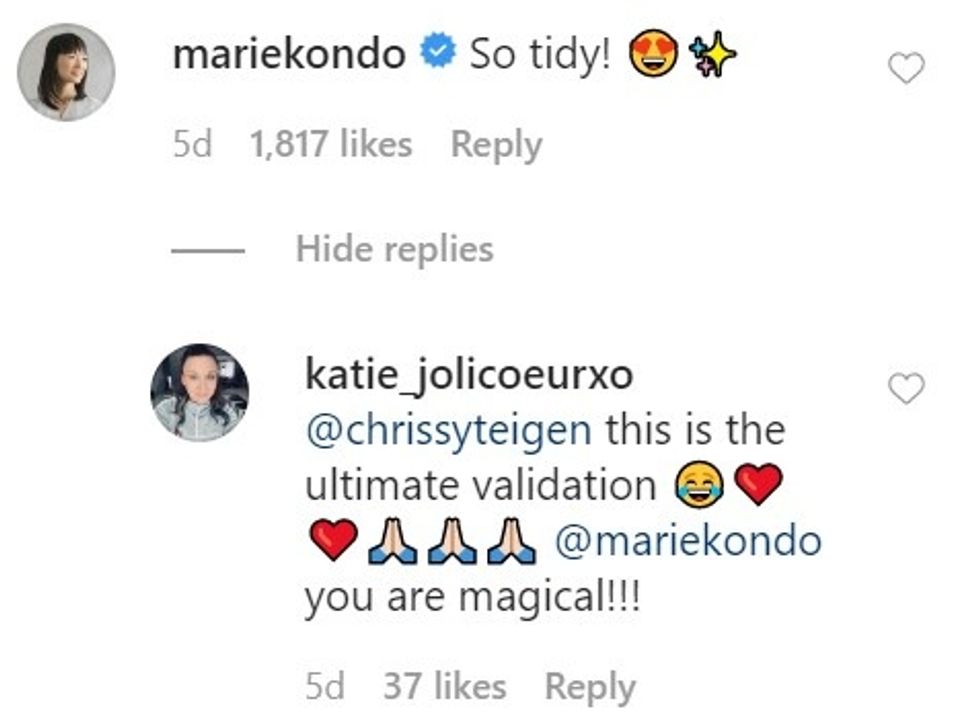 @chrissyteigen / Instagram

@chrissyteigen / Instagram
After seeing this, I might need to make plans for my own kitchen. At the very least, organizing all the tea I have should be a priority.

But after seeing Teigen's pantry, I'm considering stocking up on Goldfish.

@chrissyteigen / Instagram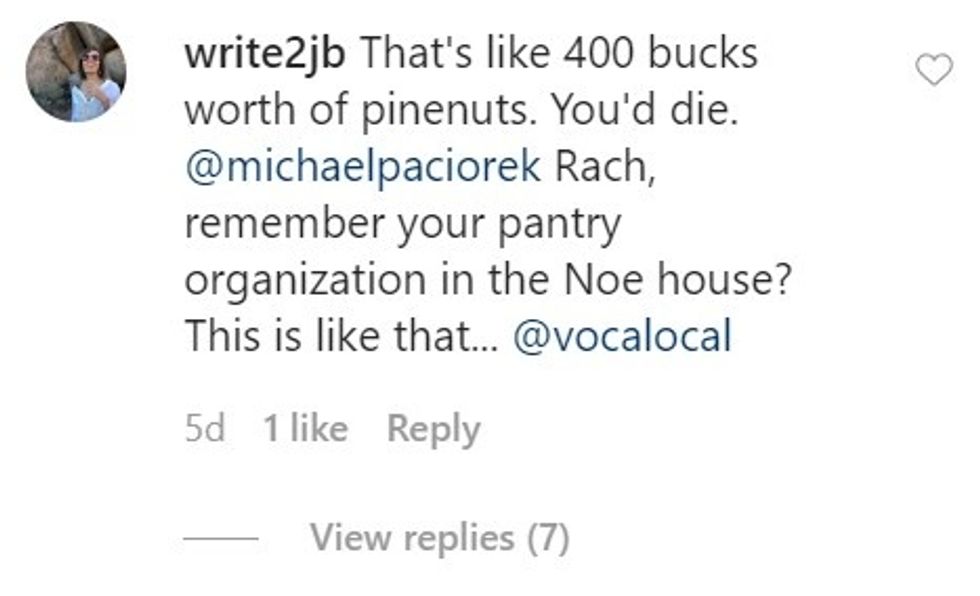 @chrissyteigen / Instagram
**

Keep reading...
Show less
Marie Kondo has been in the news quite a bit recently, with many people debating the usefulness of her method for decreasing clutter.
Kondo's method, KonMari, has resulted in some other unintended side effects, but the effect it had for author Sandy Allen had surprisingly little to do with excess "stuff."
The KonMari Method, according to Marie Kondo's website, is:
"A state of mind – and a way of life – that encourages cherishing the things that spark joy in one's life. Belongings are acknowledged for their service – and thanked before being let go, should they no longer spark joy."
Sandy recently wrote an essay, which was published by them., in which they describe the slow process of how removing the clutter from their life brought about a realization of who they really were.
Allen originally picked up a copy of Kondo's book The Life-Changing Magic of Tidying Up in an attempt to help their boyfriend, Rob.
While he wasn't an overly untidy person, Sandy was very organized and there was one spot that needed tending.
They wrote:
"Our courtship had been a steady reclamation of his less-tidy space by my relentless wave of tidiness. (Whatever's going on in Marie Kondo's brain that makes her say "I love mess!", I have it, too.) His nightstand, though, was The Place He Put Things. A place I ached to clean."
After unsuccessful attempts to get Rob to read the book, Sandy decided to lead by example.
They started with the closet; as they went through all of their clothes and determined whether they brought joy, there was a clear pattern that emerged.
They recalled:
"I didn't take me long to see it, what the discard pile was. It was only the skirts, only the dresses, only the flowers and lace and sparkles. It was everything I'd bought hoping that some colleague might say: Isn't that cute?"
"I burst into tears, shame filling me entirely, and then I laughed about the fact that this book had made me cry, this silly, stupid cleaning book."
Allen described having an internal list of moments that hinted that they weren't satisfied with playing the ultra-feminine role, moments that they couldn't let themself fully acknowledge for fear of what that would mean.
One of these moments was from a work Halloween party.
They explained:
"One Halloween, I'd come as Ace Ventura."
"After lunch they were giving prizes to those who'd really gone above and beyond costume-wise, myself not included. I stood in the crowd next to a colleague who'd come dressed as her boss."
"Earlier her costume had gotten a big reaction, though, because it was her dressing as him: sneakers, jeans, glasses, of course the hoodie. Everyone laughed. Now we were standing around, drinking booze, eating sugar. I told her I liked her costume and she looked embarrassed."
"'I feel so awkward. Don't you feel awkward?' she asked."
"I didn't get what she meant."
"'Dressing like a guy!' she said."
"'Oh,' I said, and without thinking added: 'I always dress like a guy for Halloween, or at least a lot of the time.'"
"'That's funny,' I said to my colleague, 'I haven't noticed that before.'"
Here's a photo they shared of their favorite Halloween costume ever. Sandy is on the left.
It wasn't until they started working from home that things started to become clearer.
They said:
"Now with no office to go to, I rarely dressed, and if I did I wore sweatpants. The days I did go out, for an appointment or a meeting, I might force myself to dress up. Tripping down a cobblestone street one afternoon in heels, I wondered who the hell I was trying to fool."
After running into someone they knew while donating the last of their dresses and heels, Allen had a realization.
"I didn't say to him, nor could I have articulated, that I was throwing out the last of me pretending to be a woman."
"Walking away, I felt joy, an almost ridiculous joy. I also felt terror, like when a cartoon has walked off a cliff and is standing blissfully on air."
Rob was supportive of Sandy through their journey to self-discovery, acknowledging their struggles and providing loving support.
After a clothes shopping trip that was an ordeal in and of itself, the two went on a date.
"That evening, we went on a date. I wore a new button down, trousers, Oxfords. We moved down the street, his hand in mine, which was shaking, so terrified by the question of what we must look like to others."
"Before that night, I realized, I had never before been both 'dressed up' and comfortable."
Allen goes on to describe the various ways that this paradigm shift, which started with the simple act of sorting their wardrobe, has changed their life.
The way others react to them has changed significantly as they present in a more gender neutral fashion.
"Sometimes people think I'm male at first and then realize I'm not, usually when I talk, and sometimes I then see a wild anger in them."
"In those moments, I feel my vulnerability. Though in other senses I feel safer; I am no longer constantly catcalled, as I was before — that drumbeat of male violence, muffled. All the time I feel how arbitrary these categories are. All the time, I know this is all just about power."
"Some who see me now are excited about my apparent difference. In a restaurant, a waitress ran over, grinning, nearly shouting, "'What are you?'"
"The best feelings are the converse of this cisgender othering: the moments of communion, however brief, I share with other queer and trans people out there in the world."
The essay's reception on Twitter was overwhelmingly positive.
Quite a few people have expressed having had a similar experience to Allen's.


madmaxmasure/Instagram
A few Instagram users commented that Allen's essay helped them to articulate their own "gender stuff."


meaghan_betz/Instagram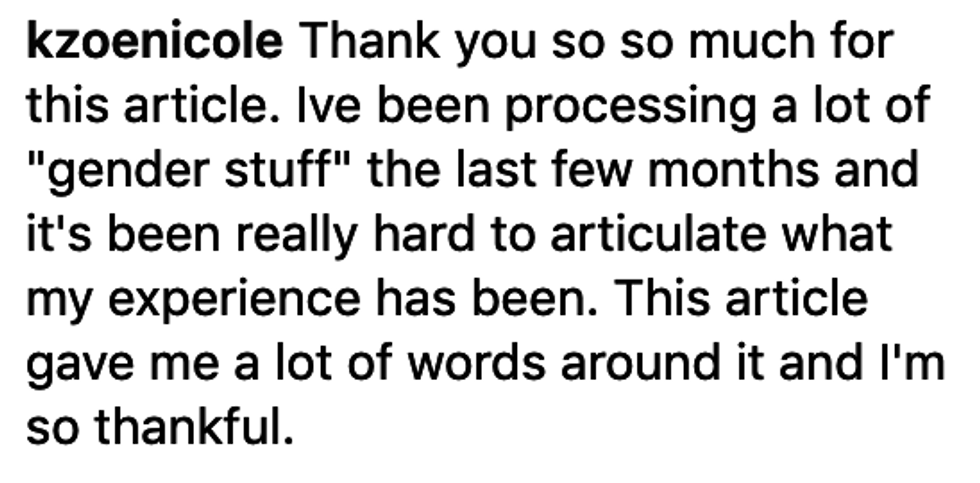 kzoenicole/Instagram
Clothes are an integral part of how people express themselves.
Maybe taking a hard look at what you actually wear and and enjoy and what you hold on to because you think you should, could give excellent insight into who you are as a person.
If you want to learn more about KonMari, Marie Kondo's book, The Life-Changing Magic of Tidying Up, is available here.
Kondo's follow-up, Spark Joy: An Illustrated Master Class on the Art of Organizing and Tidying Up (The Life Changing Magic of Tidying Up) is also available here.
Keep reading...
Show less
If you don't know the name 'Marie Kondo' then you've clearly been living under a rock; or you're just waking from your New Year's Eve liquor coma because honey..... 2019 is all about Marie and how she is going to organize and cleanse our lives.
Netflix's 'Tidying Up' hosted by Marie Kondo is sweeping the nation. Marie is the mother of the KonMari method. What is that you ask? It is the method defining the act of taking all that you possess, materialistically, pulling it together and separating it into different categories. Then... you go one category at a time and begin a 'purge.' The idea is that you continue ownership of only the things that "spark joy!" Once you accept this merriment, you find a place for each item in your life. Whatever remains after i.e, all that is joyless, well that stuff is banished. Give it away, burn it, destroy it, who cares, just get it out of your sight.
Marie's methods have been met with some controversy and blowback for being a bit... extra, but for the most part we've all become obsessed. Mainly because in our heart of hearts we're all hoarders in some way and we are dying on the inside to find productive ideas to change that behavior. So let's learn a few things about Marie, because she is not going anywhere anytime soon. If Netflix is smart they've renewed her for a decade because she is basically on the path to be our Oprah for tidiness.
Keep reading...
Show less
I used to work at a bookstore and I remember when organizing consultant Marie Kondo's The Life Changing Magic of Tidying Up was released. The hullaballoo over her book was unprecedented and for weeks there wasn't a single hour when I wasn't stopped by several customers eager to get their hands on the book––and Kondo's infinite wisdom.
Kondo's Netflix show, Tidying Up, is a hit, too, and its success has had an unexpected side effect: People have taken it upon themselves to live by Kondo's golden rule ("Does it spark joy?") to get organized. Even better, they are donating their unwanted items to libraries, used bookstores, thrift shops, and local Goodwill outlets.
The New Yorker observed of the phenomenon:

The show is "Tidying Up with Marie Kondo," the new reality series from the famed Japanese organizational expert, which was released on Netflix on New Year's Day. A kindly sprite in ballet flats and boxy cardigans, Kondo flutters through the homes of harried Angelenos and, with the help of a translator, advises them on how to declutter. Like a "Great British Bake Off" episode that inspires viewers to attempt their own pavlova, "Tidying Up" has emboldened its audience members to clean. On social media last weekend, visitors to libraries, Goodwill stores, and consignment shops across the country noted a surge in donations that seemed to exceed the usual New Year bump.
Here's one library:
If you're getting rid of old books, Marie Kondo-style or otherwise, consider donating them to your local library! M… https://t.co/AzZ3y7PhYX

— Fairfax Library (@Fairfax Library) 1547159474.0
And a used bookstore:
And a shop supporting victims of domestic violence:
For anyone doing the Marie Kondo #konMari cleanout: A new op shop to support families leaving domestic violence is… https://t.co/xBPdNrm2p8

— kati elizabeth (@kati elizabeth) 1547157912.0
Here's a consignment shop in Melbourne:
#Melbourne For anyone undertaking the Marie Kondo clean out - our op shop will be accepting donations shortly and w… https://t.co/4anlq7c9QQ

— Melb Period Project (@Melb Period Project) 1547157580.0
And an organization which supports children, adults, and families for mental health:
Marie Kondo who? If you're decluttering this January and finding some unwanted Christmas gifts - we'll take them o… https://t.co/z0q7jnvpK8

— The Shaw Mind Foundation (@The Shaw Mind Foundation) 1547452620.0
People are riding the show's wave of popularity and are loving how free they feel without being bogged down by all of their excessive stuff:
After watching one episode of Tidying Up with Marie Kondo on Netflix: https://t.co/Gp1g8EAgXl

— Faizal Rosly (@Faizal Rosly) 1546772454.0
KonMari'd my closet and I've got a whole load of stuff to take to the thrift store!!! https://t.co/t2ygsH6DE2

— mammal (@mammal) 1547310439.0
Marie Kondo causing traffic at a donation center near you #KonMari #declutter #donation https://t.co/csKfw8CR0O

— Tony N (@Tony N) 1547414956.0
Today when I went to drop off my clothing donations at the women's shelter downtown, the security guard almost had… https://t.co/hzn2Mok1QT

— jessica (@jessica) 1547428816.0
It's safe to say this show is a rousing success. It looks like The Great British Bake Off has some stiff competition for the best feel-good show on Netflix.
Now, if you'll excuse me, I'm off to clean my apartment. And if you're looking for some tools to help get organized that I've been using, check out this awesome list here.
Keep reading...
Show less