It can often be hard to believe that, in the 21st century, misogyny can still be so rampant.
But one viral thread recently pointed out just how deeply ingrained and pervasive it truly is in our society.
It all started when Twitter user @sswyers tweeted about a snide comment her boss made after viewing the thumbnail of a woman's profile picture on LinkedIn.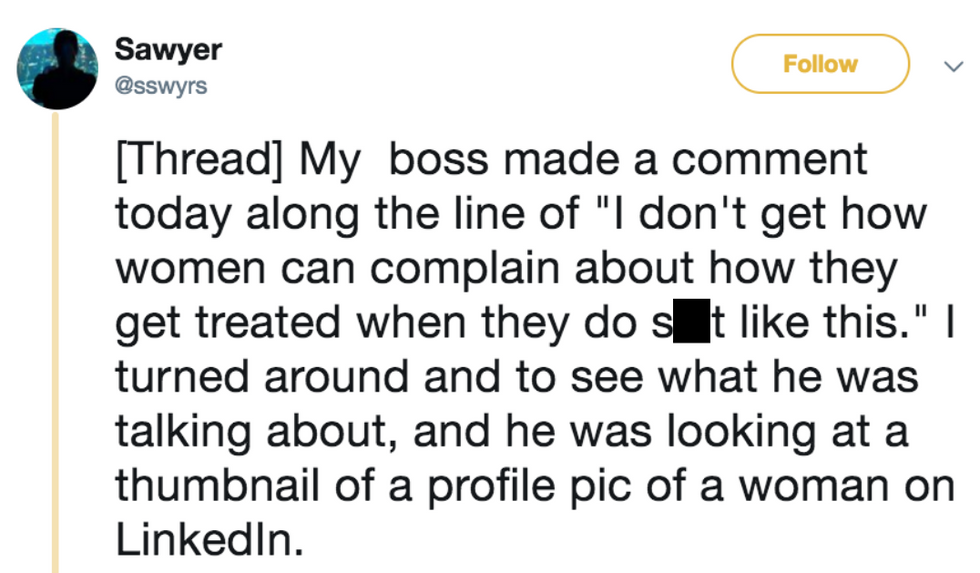 @sswyers/Twitter
After some confusion, @sswyers tried to dig a little deeper into what her boss meant.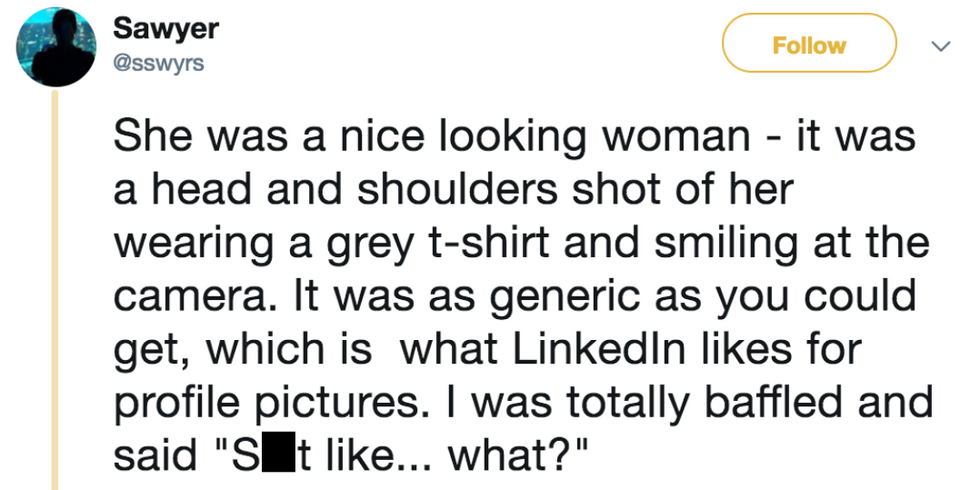 @sswyers/Twitter
The boss finally got down to the matter.
He thought the picture was "slutty."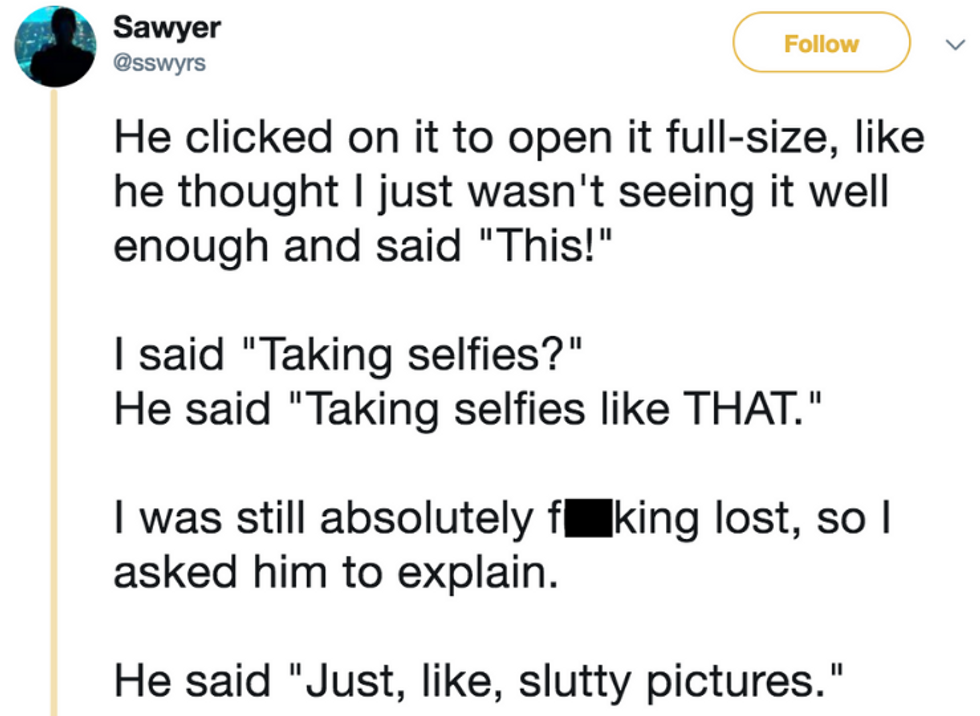 @sswyers/Twitter
@sswyers wasn't having any of it.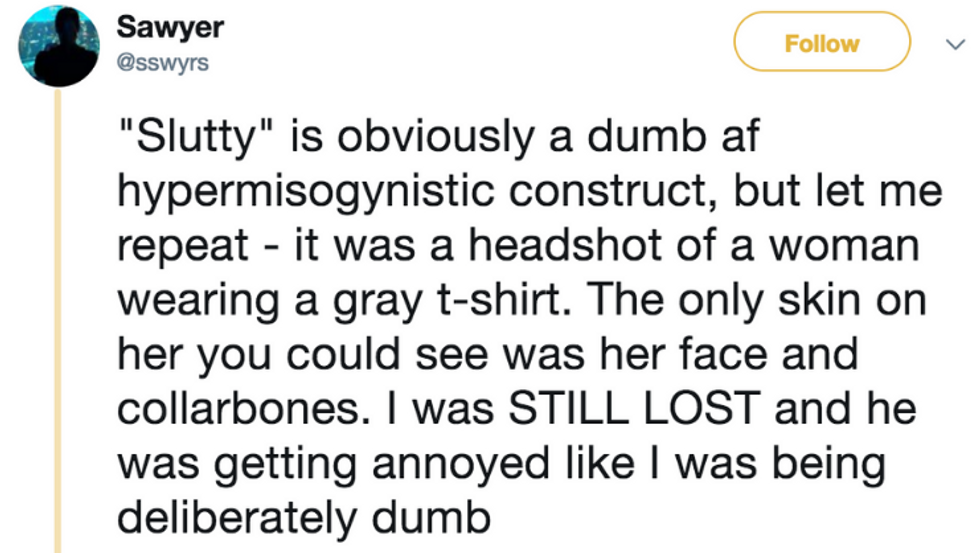 @sswyers/Twitter
I was getting annoyed right back, so I told him to just explain what he meant. He talked for a minute about how if… https://t.co/db9TEfsBze

— Sawyer (@Sawyer) 1560550026.0
And then, after some back and forth, @sswyrs finally got down to what it was really about.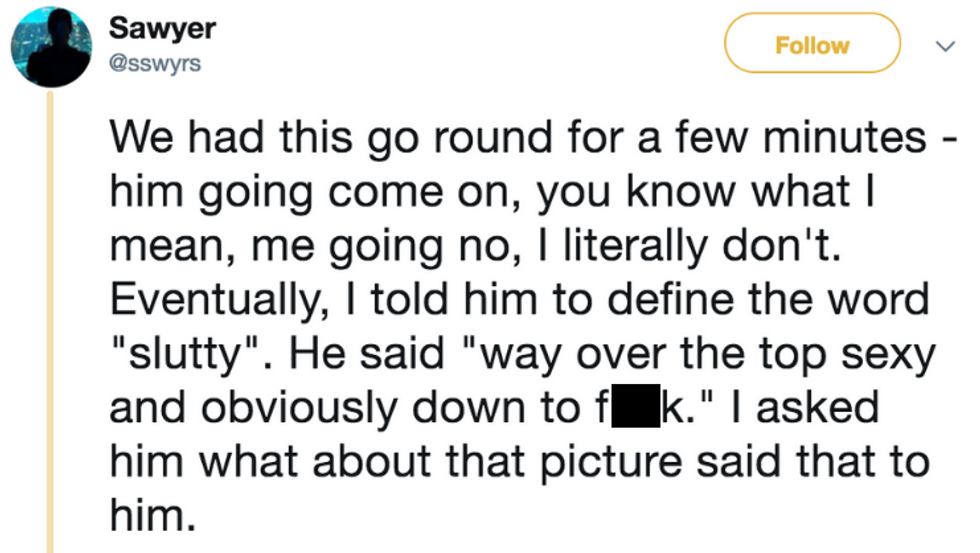 @sswyers/Twitter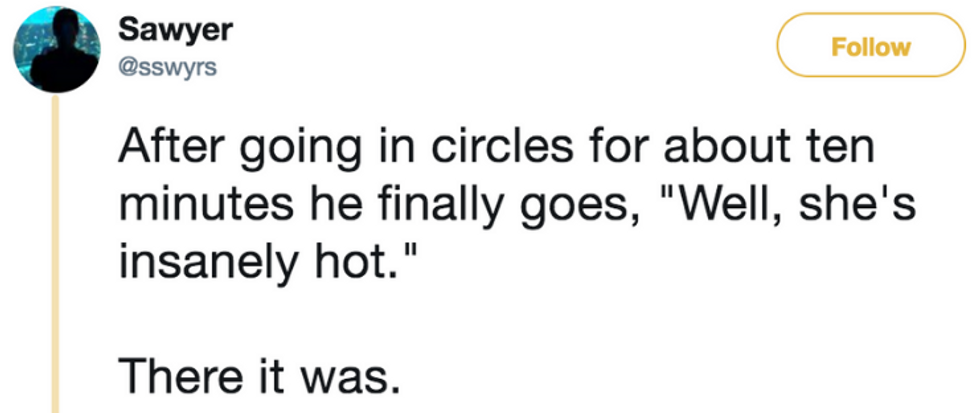 @sswyers/Twitter
Needless to say, @sswyers was appalled, and called out exactly what was happening here.
This man saw a THUMBNAIL of a picture of an attractive woman, and decided that not only was she a "slut", but that… https://t.co/f8FA4SD845

— Sawyer (@Sawyer) 1560550545.0
A woman has her smiling face on her profile. A man she has never met sees it and instantly feels rage and disgust.… https://t.co/Oy6lBe77nI

— Sawyer (@Sawyer) 1560550955.0
@ men: Don't you ever ask women why they're afraid again.

— Sawyer (@Sawyer) 1560550968.0
People were left shaking their heads.
@babenofun @sswyrs SAY IT LOUDER FOR THE PEOPLE IN THE BACK

— ☀️🌻🏳️‍🌈 (@☀️🌻🏳️‍🌈) 1560687660.0
@BrettHethering @sswyrs It's too common at that! As in not every man feels/thinks that way, not by a long shot (!)… https://t.co/mTpkf93yy1

— Good Omens Ivy (@Good Omens Ivy) 1560631938.0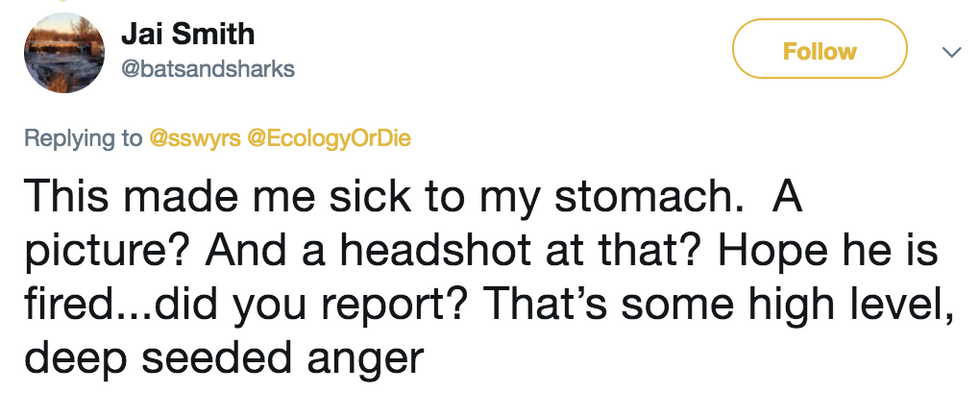 @batsandsharks/Twitter
Other women soon chimed in with their own horror stories of misogyny from both men and women.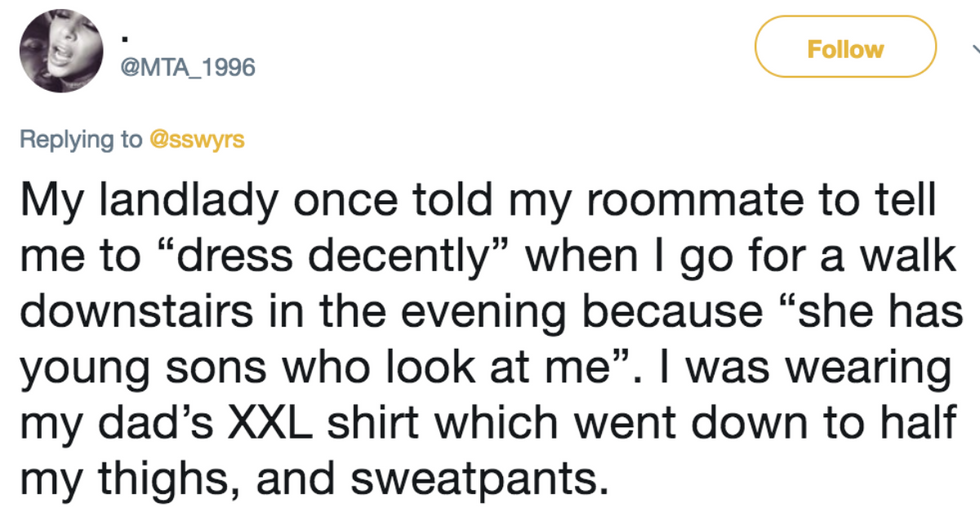 @MTA_1996/Twitter
@MTA_1996 @sswyrs When me and my sister were kids, our neighbor asked my mom to put up curtains in our shared room… https://t.co/3ZwVOsLDws

— Elisabeth (@Elisabeth) 1560667226.0
@Elisabeth__E @MTA_1996 @sswyrs Ugh. Reminds me of my highly religious neighbors as a kid. The wife tried to get me… https://t.co/jOxmm7vN1p

— Snap, Crackle, Pop (@Snap, Crackle, Pop) 1560668221.0
You've been warned, ladies.

No attractive profile pictures that might make men all hot and bothered.
@Mickey_Marine @sswyrs @battleborngoali To be fair, you're showing a bit of earlobe.

— diecastzinc (@diecastzinc) 1560651163.0
@FionaMMarsden @diecastzinc @sswyrs @battleborngoali *Scribbles note* "Must appear dead in the eyes." Got it.

— 💗💜💙Foul-Mouthed Engineer💗💜💙 (@💗💜💙Foul-Mouthed Engineer💗💜💙) 1560653789.0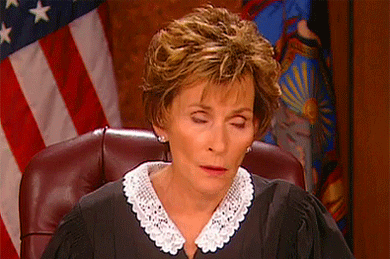 Giphy
If you're dealing with a toxic work environment, there are things you can do to protect yourself. The book The Arsonist in the Office: Fireproofing Your Life Against Toxic Coworkers, Bosses, Employees, and Cultures by Pete Havel, available here, offers suggestions for workplace survival.
The ultimate tribute to office misery, the film Office Space, turned 20 years old in 2019 and issued a 20th anniversary edition, available here.
Keep reading...
Show less