Are you the type of person who breaks their pasta in half before putting it to boil? I hate to be the one to tell you this, but you are a monster. Don't hurt the noodles like that.
The worst part? People like this KNOW that they're doing it wrong. Why do they do it? Sometimes I'm convinced it's just to f*ck with me. But no, people actually do things the wrong way, completely on purpose.
Here are a few examples of such heathens.
U/pennybags404 asked: What thing do you do "the wrong way" that is definitely better?

​First things first, let's start with some light offenses that actually border on genuinely good ideas.
​The best way to eat pancakes.
Not sure if this is considered "wrong", but I always cut my pancakes before applying syrup. I always see syrup applied to uncut pancakes in commercials and get confused - wouldn't the syrup just run right off the pancakes if you add syrup before cutting them? Cutting them first allows the syrup to seep in first.
Thank you for your service.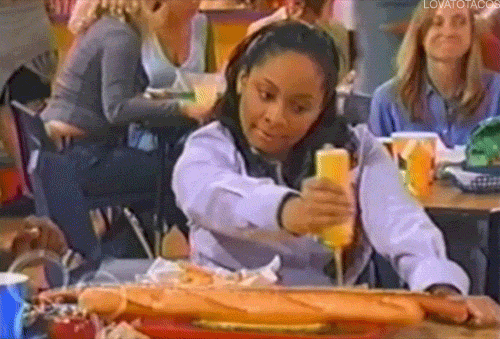 Hungry GIF
Giphy
When I worked at Subway we were supposed to put six of every vegetable on footlongs. This worked great for cucumbers and tomatoes, but that amount of olives or onions was never enough, the customer would always ask for more. So I just started putting more on to start with.
​Ok maybe this is a good idea.
PB&J: the "normal" way is to put peanut butter on one bread slice, and jelly on the other. Yeah that works if you're in a pinch. But if you're making it the night before, the bread with jelly will be soggy by lunch the next day. So the "wrong" way which is definitely better is to put a thin coat of peanut butter on BOTH slices of bread, and then jelly on top of the peanut butter on one of the slices. Tastes the same, but no sogginess.
(Also, fun fact, jam actually spreads easier than jelly)
​Alright, maybe I went into this article with too much cynicism. Maybe there are genuinely some good life hacks coming out of this Reddit thread.
​Now THAT'S what I call a life hack.
I have a toaster that has a diagram showing which way to face the bagels for toasting (even comes with a special "bagel" button). But we've found that facing the bagels opposite from what the guide image says and they come out way better.
I think the reason is that it wants you to direct the toasting heat towards the cut side, but that dries it out too much. When you flip it, then the heat is blunted by the bagel exterior - and it comes out way better (still toasted).
Former Flat Earthers Explain What Finally Made Them Come Around | George Takei's Oh Myyy
Science is science. Fact is fact. Truth is truth and simple is simple. These are things we must now attest to in 2021. Can we please all get onboard with wha...
Give this person a Nobel Peace Prize.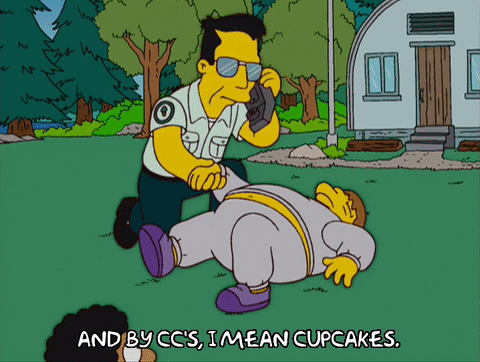 season 15 episode 20 GIF
Giphy
I rip off the bottom of cupcakes and flip the ripped portion place on top, sandwiching the frosting in the middle. Never get frosting on my face and evenly distributes the frosting.
That's the superior way not the wrong way.
Shoelaces are overrated.
​Tying shoes.
I don't even remember the "right way" to do it, but I just make a knot and tuck the laces in. It works, it's easier, I know how, and it looks the part.
I just stopped wearing shoes that require laces at all, lol.. loafers, boat shoes, espadrilles are my jam. I swear I'm just lazy, not incompetent.
On second thought, maybe some of these hacks are, in fact, truly awful. Like, they're completely unhinged.
This is chaos incarnated.
Instead of cutting paper like a normal person, I open my scissors, put my hand around the blade and slice the paper like I'm using a knife. It's much quicker and more accurate (especially when using a ruler to keep the cut straight). You also don't get those annoying jagged edges if you try to cut quickly.
Note: this only works with sharp scissors so go get yourselves a pair.
How dare you disrespect Oreos like that.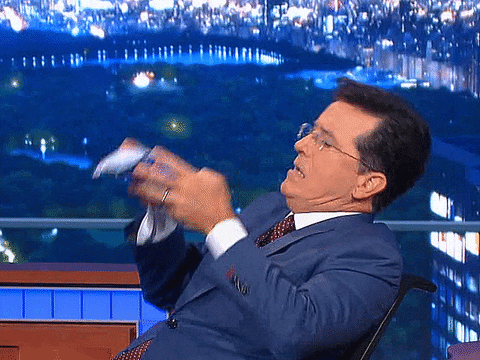 loop dumping GIF
Giphy
I used to put a bunch of oreo cookies into a cup, fill it up with milk and stir and have this disgusting yet addictive milkshake type thing. Best way to to have oreos in my opinion.
I think stirring was my missing piece. I just stack five oreos in the cup and drink after 3 mins. The bottom ones always get stuck and fall on my face.
I'm sorry, you do WHAT?
Eating pies.
I cut off the top crust, eat all the filling, eat the bottom layer then finish with the top crust.
Same. It is just sooo good that way.

Tempted now to make a "pie lasagna" for more tasty crust.
​Gross, but intriguing.
Oh boy here's my time to shine, I microwave both bacon and hot chocolate.
I'm about to fully expose myself and say that I'm that person that bites directly into a Pull-n-Peel Twizzler. I guess I was the heathen all along.
Maybe there is more grey area for some things. Maybe we all learned something here today. Take care of yourselves, and have a good day to everyone except the person who eats pie inside out
Keep reading...
Show less
In the words of every millennial who was once on Tumblr, adulting is hard. I've been a legal adult for nine years now, and I still don't fully understand taxes. I just let TurboTax do its thing and hope for the best. They REALLY need to teach that sh*t in schools.
But I'm not the only adult who still feels like a child! I think a lot of us can relate to that. And to be honest, we can be very unprepared for what life throws at us.
U/cracksandcrevices asked: What is an adult problem that nobody prepared you for?

The worst part is the cruel awakening that we actually have to, you know, do stuff on our own.
Choosing things is hard.
Having to not only make important decisions by myself (I expected that much) but also having to do so in a timely fashion uninhibited by indecision.
Having to make decisions is such a big thing for me. Intellectually, of course I knew I'd have to make decisions. I just want ready too make them without knowing the consequences and at the speed of life.
Errands eat up sooo much time.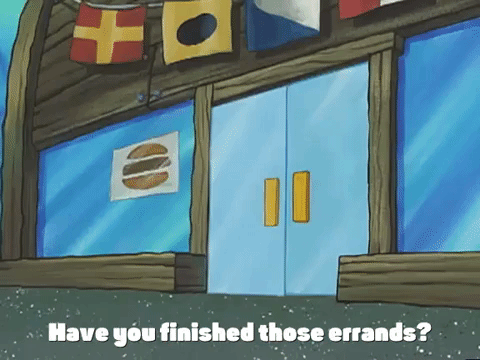 season 2 your shoe's untied GIF by SpongeBob SquarePants
Giphy
How much time you spend just doing stuff.
"Oh need to replace my tire and that's over by the store, so while I replace the tire I can do some errands and I'll save time and be home in no time" three hours later "Okay just one more errand before I head home"
Also how putting off a small task just a couple days in a row can quickly amount to a longer chore/responsibility later. "Eh I can just leave this in the sink, get to it later before bed" x 2 days "Why is this grime caked onto this plate still I've been scrubbing for 10 minutes straight!"
That's what delivery is for.
Being sick and having to care for yourself. Like when you were younger your parents would get the medicine, or the medicine cabinet would just be stocked all the time, etc. But here I am with a cold having to build up the energy to go to the supermarket to buy some asprin and throat lozenges all by myself.
Underwear gnomes are the true pests.
The endless cleaning. I had chores when I was a kid, but I had zero clue how much actual work went into keeping house. I cleaned my house this morning and by midweek it'll be a war zone of pet hair, crumbs, and dust. I don't even have kids wtf it's like the underpants gnomes show up when I'm asleep and mess my house up.
Reddit Users Share Their Best 'It's A Small World After All' Experience
Another sh*tty thing is the crushing loneliness that comes with adulthood. Why didn't they tell us that we would have no friends after the age of 25?
The only thing I miss about school.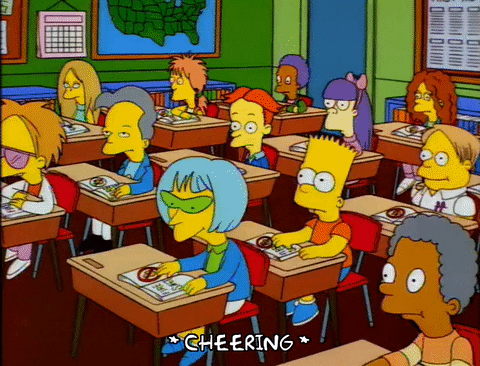 motivating bart simpson GIF
Giphy
A lack of community. Growing up you have your elementary school. Each day you see your friends and participate in activities together. Sometimes they move away and sometimes you do, but it largely stays the same through high school and middle school. Flash forward to adulthood and you're just alone. You want to make friends IRL, but have no idea how to go about doing it without seeming creepy, desperate, or god knows what.
This is really hard when you are not overtly religious so you cannot join a religious community. My friend and I talk about this from time to time, it's arguably the hardest thing to deal with in life. It gets worse the longer you live, as you know you are outliving your generation.
The reason why I have cats.
You can go days on end without having to speak to a single person, at first it's a dream come true, after about 2 months you start talking to your toaster to pad the silence while waiting for your toast.
I literally haven't spoken to someone beyond saying thank you/no when buying groceries in months. At first it felt kind of freeing and now it's just kinda sad.
Ditto on this advice.
The inevitably of your parents dying. My dad just passed away and I'm 25...no one could have prepared me I guess.
I feel you. Mine passed away back in August when I was 28. There's nothing you can do to prepare for it, and I'm afraid I have no magic words to make it better. Just know you're not alone. I'll never say it gets "better," but it eventually starts to suck less and your hard days get a little less frequent. I'm so, so sorry.
​The sad fact is, you have to start fending for yourself with no one to help you. And that's terrifying.
Saving money is hard for this reason alone.
Basic home maintenance: when to change air filters, smoke alarm batteries, timing of lawn care, how often do you clean the gutters, are you supposed to clean under the stove, what is edging, how do you recycle, how to change locks, etc.
Not to mention the random costs that spring up. Trying to save up money? Good for you. Except your sink just sprung a leak so you need to pay a plumber to fix that. Now you can save money agai... Nope, car needs servicing. Okay, your can definitely save money now.... Wait, that leaky sink sprouted mold so now your bathroom needs to be gutted and redone.
We are all Squidward.
Being absolutely exhausted most of the time. I never thought I'd be the 'I hate everyone' guy. But I am and everyone can f*ck off.
We all become Squidward after hitting a certain age.
You either die a SpongeBob or live long enough to become a Squidward.

Me? I'm Patrick. F*ck your rat race.
​You know what's the one thing I wasn't prepared for when I became an adult? Being an adult. This sh*t is overrated.
​This is such a scam.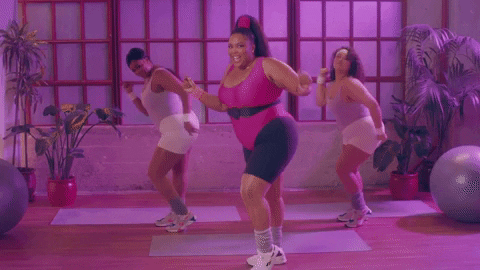 Work Out Exercise GIF by Lizzo
Giphy
You can EASILY eat 1000 calories in ten minutes but it takes 1 hour of vigorous exercise to burn off..
Financial literacy is SO important.
Retirement. Saving and investing over many years. Start as soon as you can. Luckily I have paid off my primary residence and own investment property as well as a diversified portfolio with some good bets as in BTC DOGE and FMCC these last 3 will moon real soon. Good luck and happy travels in your investment career. Start early! Do your own due diligence before investing. Learn as much as you can along the way. Your financial freedom depends on it.
​There really needs to be parenting classes.
Caring for your first baby. If you have experienced relatives or friends who can help, great, but we did not.
A colleague in a similar situation a while later said to me, "12 years of school, 4 years of college, and never once any lessons on the most important responsibility we will ever have!"
Yup.
YUP.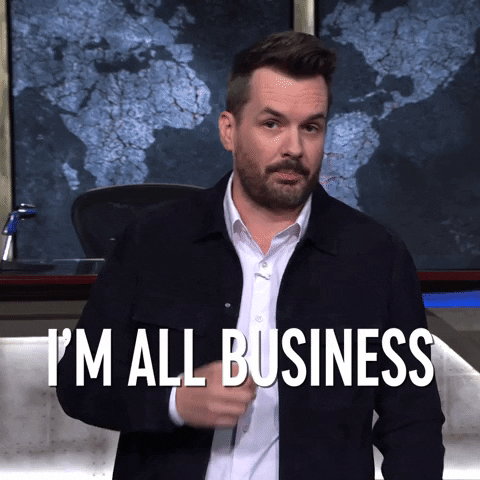 Comedy Central Lol GIF by The Jim Jefferies Show
Giphy
Realizing that so many people in the professional world are totally without scruples - totally dishonest, greedy, immoral and just out for themselves. What's more, they have absolutely no remorse about it.
We all secretly still feel like kids.
I'm 55, and am beginning to have grey hair and lines in my face. I'm amazed at how old I look, and physically, I'm a wreck (!), but inside, I'm still the Goth/Punk young woman of my twenties.
In fact, I'm mostly invisible to everyone in their twenties, which is something I've only recently understood. It's a mixed blessing.
As someone who has lost a parent, I can tell you that sometimes you will never be prepared for certain events in your adult life. Everyone's experience is different, and sometimes adulthood just means figuring it out for yourself.
You got this, grown-ups of the internet. I believe in you
Got the hiccups? Here's a simple solution.
Grab a glass of water and drink from the opposite side of the cup while tilting your head forward.
Try continuously gulping until the glass is empty. By the time you come back up for air, the annoying involuntary spasm should be gone.
Works like a charm, I tell ya.

Wanting to find out about other life hacks, Redditor Smileycircus asked:

"What 'one weird trick' actually works?"
Home Remedy
When you don't have commercial house cleaning products, check your fridge for solutions. No, really.
Other helpful hacks include using lint, gravity, and plain dish soap.

Glass Magnet
"need to pick up small pieces of glass out of a carpet? Use a wet slice of bread. The surface tension 'sticks' to the peices of glass and the bread picking them out of the carpet. Just remember to vacuum afterwards."
Removing Wood Stain
"If you get wood stain in your hands, rub any kind of kitchen oil on it then wash your hands with warm water and dish soap! Works amazingly, otherwise I think I would still have that stuff on me and it's been about three months since then."
"Edit: there seems to be a few confused people not knowing what wood stain is, it's basically just a really sticky/oily substance you put on wood to give it a darker color!"
– MoeK430

Use For Lint
"Save the lint from your dryer and roll in vaseline. My grandpa used these back in the day when we'd go on hunting trips. Hed make them quarter to half dollar size and keep in a metal tin and the vaseline also made them virtually water proof. What we used for our campfires being poor white trash lol."
Let Gravity Be Your Guide
"Dead batteries bounce when dropped on a hard surface. Good batteries don't."
"This is better than my older sister's method back in the day. She used to tell me to put the prongs of the battery on my tongue, and if it shot me with pain, it was still live. I fell for this a couple years in a row; I was not very bright, and longed to hang out with her and her cool friends!"
Don't Sweat The Small Stuff
These harmless cheat systems will make you sleep easier at night – both mentally, and physically.
Read At Your Own Pace
"If you have a Kindle and are renting e-books from the library, put it in airplane mode and when it's due back, the book will still return but the content will still be on your device until you turn off airplane mode."
"I don't usually finish my books before they are due back so this trick works great."
Breathe With Ease
"If your nose is stuffy and congested (or you can try it regardless, it works anyway) press firmly on the bridge of your nose for about 15 seconds. You'll feel your sinuses draining and it helps immensely if you've been crying for a while and it feels like your face hurts."
"There's other pressure points too but that's a good quality of life hack"
When You Can't Contain Yourself
"If you feel like you need to laugh or scream, but you are not in a place where this is appropriate, open your mouth and breathe out an entire lungful like 'haaaa.' It will mitigate the feeling, and it's barely audible."
The Right Head Space
No need to wrack your brain when writing dissertations or when you're trying to comprehend something that just won't sink in.
Because when all else fails, you can use your rubber duck.

It's All In The Font
"Learned this a while back and for some strange reason it's actually helped. When you have an assignment to type out like an essay to write, use the comic sans font and your ideas just flow out of you. As opposed to times new roman or any other official font, you're less worried about the 'correctness' of each sentence and you can just write without being too much in your head. Then of course before submitting have a read through and change it to the official font required."
The Listener
"If you want to make sure you understand something, try to explain it out loud to a rubber duck."
"(Not kidding.)"
"Edit: Y'all, I'm a programmer. I know the origins. But it's useful in learning anything - not just debugging!"
The Right Portion
"Serve your food on a smaller plate. Tricks the brain into thinking its a large portion."
When life gives you lemons, make lemonade OR use the lemon juice to get ride of unwanted highlighter markings.
Just cut a lemon in half, get a cotton swab and soak the tip with the magical citrus elixir and glide it across the unwanted stain and watch it disappear.
All the previously mentioned "tricks" may or may not be 100% effective for you, but what have you got to lose? Lint and bread?
It's a small price to pay, if you ask me.

Keep reading...
Show less
The unique crowd-sourcing capabilities of the internet has changed the game for most of the niches and corners of people's interests that exist.
Cooking techniques are a prime example.
The world of cooking techniques and secret recipes no longer looks like it once did. Just a few decades ago, obtaining a secret recipe was a monumental act.
You had to get in touch with your parents or a relative, look at a 60-year-old index card covered in your great-grandmother's illegible script, and make blind guesses at the measurements--which were noticeably absent.
Then, after two or three attempts, you finally work the dish out perfectly. After all that work, it's a fat chance that you'd ever pass an earned heirloom like that along to even your closest friend.
Now, you click around for about 10 minutes until you find a very well explained recipe on a website that's hidden just enough to ensure not everyone at the upcoming potluck read it. Boom, secret recipe.
One Reddit thread went so far as to quicken the process even more. It's a helpful forum full of techniques and casual recipes. It's as beneficial as it is existentially threatening to the "secret recipe" altogether.
speakthat asked, "What is your personal and unique quick recipe/food hack?"
Little Touches
"If you can afford actually good balsamic vinegar, just a little drizzle can be amazing."
"People have regularly been like, 'Wow, I don't usually like salad but this is awesome' or, 'Damn, you make the best vegetables.' ... It's literally just a bit of pretty decent balsamic (not the insanely expensive stuff, but not off the shelf of your average grocery store), olive oil, and salt."
"Also works to brush on stuff like roasting carrots for a glaze."
Tabula Rasa
"You can throw nearly anything on pancakes and most times it will taste good." -- Red_Distruction
"Pancakes and burgers is the fun, but ugly, cousin to chicken and waffles." -- johnnycakeAK
Thickening Agents
"When making mac and cheese, blend up some (cooked) carrots and cauliflower with some milk/water so you end up with an orange-y liquid, add cheese and then mix in some cooked macaroni. It makes it creamier, healthier and thicker and you barely taste any difference."
Split and Unite
"If you're making an omelette, separate the yolks and the whites before you cook them. Whisk them both up individually (do the whites until they become frothy), mix the two back together and then cook them as normal. It'll make it super wobbly and fluffy as opposed to a patchy dry mess."
Doctoring Up
"Crack an egg and stir (or not) into the boiling soup of any cheap-a** (or not) instant noodle and you've now got some tasty ghetto fabulous broth to enjoy. Use two eggs if you're feeling naughty."
-- SoulSonick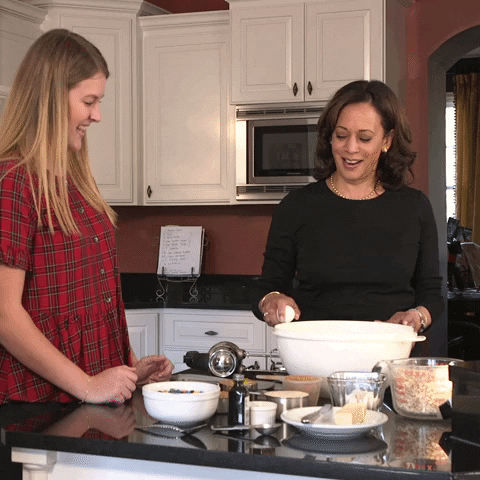 Giphy
For the Warm Weather Coming
"Sliced cucumber with no fat Italian dressing, salt, pepper, paprika. Its healthy, bright, and has a little kick. A nice, cheap summer time snack."
-- ButtersHound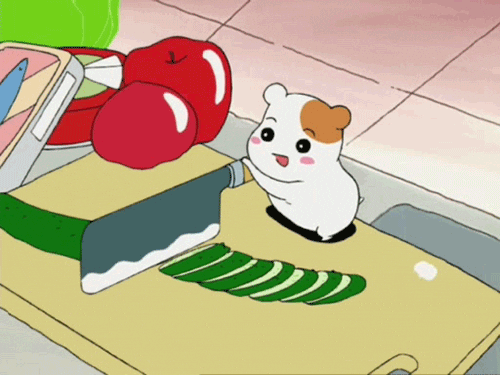 Giphy
Still Thicc
"I substitute unsweetened, plain Greek yogurt for sour cream all the time. On home-made tacos and burritos most often, but even with a bit of ranch seasoning for veggie dip."
"It has more of a bite than the sour cream, which I like, and I feel like I'm getting a better nutrition bang for my buck. I don't like sweetened yogurt, so this has been a nifty way to work it in to my diet still."
A Take on the Flatbread
"Naan bread, any type of sandwich meat, tiny tomatoes, spinach, gouda cheese. Throw in random spices of the day, usually garlic salt, paprika, Italian seasoning, and ground black pepper."
"Throw everything to half a side of the naan bread, fold over bread, throw naan on pan with lid to grill and melt the cheese. Serve with taziki sauce or mayo sriracha. 👌 sounds like a lot of work but it takes me less than 10 minutes to have a easy semi healthy dinner."
The Open-Faced 1970s
"A can of tuna mixed with a can of cream of mushroom soup. Scoop it onto halves of hamburger buns. Sprinkle it with cheddar cheese. Bake open faced in oven at 350 until cheese is melted. My mom learned this in Home-Ec in junior high in the 70's!"
A Premium Extra Layer
"When I bake banana bread, I always butter the loaf pan, then throw in a tbsp or two of sugar to coat all of the butter. Gives the bread a really nice sweet finish on the outside without the use of a glaze."
"I tried this with dark brown sugar once and ended up with a loaf soaked in molasses, which was disgusting so definitely stick with normal granulated sugar for this one lol."
Do you have something to confess to George? Text "Secrets" or "
" to +1 (310) 299-9390 to talk to him about it.
Keep reading...
Show less
What the best part of your day?
Before I go to sleep for the night, I tuck my dogs into their bed and give them some pets and kisses goodnight. It's my most favorite part of the day. I get to be with my cute dogs, and it also signifies that I can finally lay down and relax. I also love when I'm early enough to be alone in the elevator at work.
Redditor u/Penguin_Pingu was curious about the little things that people enjoy, and so asked... "What's something you love about your daily routine?"
Keep reading...
Show less