The internet was suppose to be the way to save humanity. That was the promise. No? Now it feels like it will soon be the downfall of humanity. It feels like what we used to be excited about the technology is now the enemy. How many of us can relate to the internet ruining the plans?
Redditor u/Karm_Me_up wanted to discuss when we all finally gave up on the internet by asking... What was perfect until the internet ruin it?
Nothing is perfect. Perfect doesn't exist. So waiting for the web to destroy that for you seems... delayed. But better safe than sorry. The internet is all about breaking the illusion. So let's crack some walls...
Who Am I?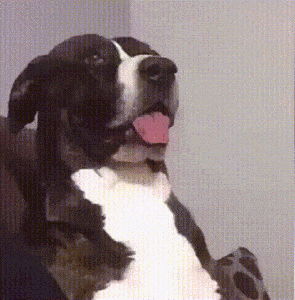 Excuse Me What GIF
Giphy
Anonymity!
No way. For all of human history, practically, we've known EVERYONE we encountered. A new person was like seeing an angel. The industrial revolution changed that with huge cities and then the internet provides even MORE anonymity again. This is the unnatural state. We're supposed to know each other down to the colour of our poop as babies.
Finding the Deal...
Going to thrift stores and yard/garage sales. Before everything was sold online it was a great way to find cool/slightly rare things for a reasonable or cheap amount of money. I'd even say that early EBay was still pretty decent at finding things cheaply. However, now everyone thinks that everything they own is a rare, one of a kind, super valuable item that's worth hundreds of dollars.
I think that shows like American Pickers, Storage Wars, and Antiques Roadshow have also fed into this, even though those shows can be fun to watch.
For example: Back in high school I used to go to this indoor flea market and get vintage vinyl for ridiculously cheap. I got The Beatles white album for literally $6. Cheapest price for the same thing on Ebay is around $50.
Agree to Disagree... and so on...
Not saying it was perfect but disagreements were a lot more civil. You used to have to disagree with people in person, it meant you actually had to be somewhat considerate both of their views and of them as a person, and very few people were convinced they knew everything so they were a bit more humble in argument and you usually went for a pint with the person afterwards.
Now you have a screen between you and the person you disagree with which means people don't see the person in the other side of it. They don't have to consider their point if view because they have some echo chamber they can retreat into and indulge in confirmation bias.
And people think they know a lot more than they do because they have google in their pocket so people aren't as humble as they used to be and are not so willing to consider that they might be wrong on something. You also don't have to be around the person afterwards you can act in really bad faith throughout without paying any price.
Like the Movies...
Liking movies or TV shows based on your own opinion. There have been so many times I've seen a movie and thought, "That was a pretty good movie, I wonder what other people thought about it... and my opinion was apparently wrong and I'm a horrible person".
Retouch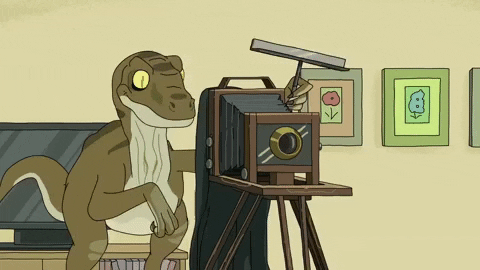 adult swim photo GIF by Rick and Morty
Giphy
Taking photographs - retouching has always existed but good grief, photos are edited to filth, it has become the norm to wear a filter or remove totally normal features to create a glittering perfect shot to post on the internet.
People don't just take photos of things to privately keep as memories, they also take them as a perfect advertisement of their lives. Especially travel photography with the sheer amount of photoshopped monuments and skies, I don't even know what's real anymore.
See there? Trust nothing on the web and also... trust it all. I know, it's a conundrum. You do realize the internet is a host of strangers spewing truth, lies and all of the in between? It's all about relating stories...
Years Later...
High school reunions. No one hardly has any anymore. Everyone can see what everyone is doing, plus it's easier to keep in touch with the people you liked back then.
I keep hearing about classes younger than me (I graduated in 07) that have big fun reunions around Thanksgiving or Christmas.
My 10 year was lame. A lot of people that committed to buying tickets just totally blew off the girl who organized it and she ended up having to pay the difference at the venue. They also blew her off when they volunteered to set things up. Only about 50 people showed up out of the 120 that actually planned on buying tickets. Doubt we'll even have one for our 20th. I thought our class was better than that but I guess not. She was really upset.
"Jennifer's"
Professional photography
I don't think it was ruined because everyone has a great camera in their phones. It was ruined by oversharing.
It was ruined by what are referred to as "Jennifer's" in the photography business. Essentially people who buy an expensive camera, use mostly it's auto functions, and pass themselves off as photographers. They undercharge, produce mediocre/garbage work, and drive actual trained professionals out of business by sheer numbers.
The OG
Having an original thought.
Before the internet, you could come up with a great joke, insight, idea or whatever, and you could go on believing you were the first person to come up with it. Now, almost any such idea that you have turns out to be pedestrian and commonplace as soon as you check with a search engine.
(I want to use a verb other than 'google', since I use DuckDuckGo. It'd be ironic if that was an original idea.).
Don't Doubt Skill...
Video games, but in a very specific way.
Specifically with competitive games. Playing against people is freaking amazing, and testing your skill at the game is something I love more than you could imagine. What got ruined was now for every little thing there's 20 articles about it and 300 youtube guides from pros on how to just META cheese anything.
It's completely unfun facing someone, and 10 seconds in you can tell the EXACT IGN page they ripped off from; and now instead of fighting them, you're fighting the strategy made up by the best player in the game. It's the must unfun, unoriginal experience and the entire time you just wait for it to be over. RTS games used to be tons of fun, but now there's a play-by-play guide for each second of the game. Games like TFT for League of Legends are only fun for the first 2 days before everyone and their mother plays ONLY the very same META OP 100% KILL THEM KOREAN STRAT from Youtube. Even fighting games like Smash brothers suck now.
I remember playing smash 4, and just horsing around with a buddy. He refused to do anything but play Mario, grab D-Throw up-tilt, up-tilt, up-tilt, up-tilt, Up-special true combo, rinse and repeat until 78%, fire ball to 80+, then grab>Pummel>side throw, footstool. Every single game, hours a day, for weeks because that's what the guide said to do.
I'm so bitter about it.
We Love Karen...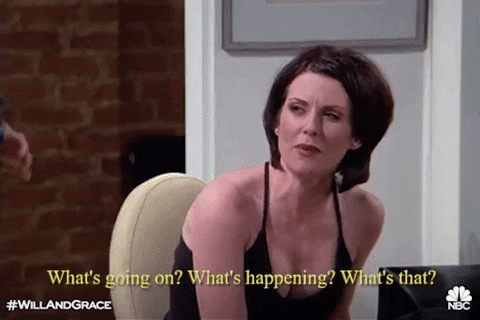 Megan Mullally Nbc GIF by Will & Grace
Giphy
The name Karen. Might not have been "perfect," but boy was it ruined.
Information in general. Truth, maybe... The Internet made it so easy for malicious people to spread false information. The increasing popularity of any opinion makes it easy for people to have a bias regarding its truth. I hate it so much that I have stopped correcting people on the internet.
Ok. The best we can do is the best we can do. The internet can only host so much. So let's just figure out the nonsense together. This way no one is disappointed from what we thought was true.
Want to "know" more? Never miss another big, odd, funny, or heartbreaking moment again. Sign up for the Knowable newsletter here.

Keep reading...
Show less
I used to be super freakin' gullible. It's easy to blindly trust people sometimes, until you learn otherwise. Because there are people out there that lie for fun, for some reason. I don't get it.
There are times it can be kinda sorta funny though! Here are some examples.
U/GregTheGreat657 asked: What is the dumbest lie that was actually believed?
The main culprits of these kinds of fibs are usually family members. Oh, the things they think they can get away with.
Seems legit.
My grandfather told me he got his gold tooth from not putting his tongue in the area he lost his baby tooth from. I'd try to get a gold tooth every time but I'd always cave at like a day or two.
It would be very, very hard not to cave. imagine if you did, and you fought the urge to put your tongue in your empty tooth, and then you didn't get a gold tooth.
Are you trying to poison me?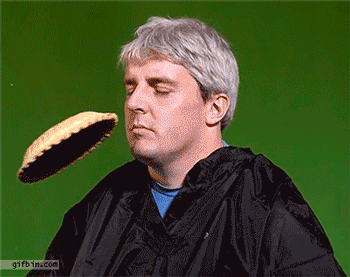 gross pie face GIF
Giphy
Growing up my dad told us kids that eating pie without ice cream was poisonous. My mom thought it was funny until one day, when my dad was working out of town, she tried to feed us pie without ice cream and we all believed she was trying to poison us and would not eat it.
Pickle juice is good for a lot of things...but not that.
That drinking pickle juice will dry your blood up. My mom told me that (we're from the South we believe a lot of stupid stuff). IDK where my mom got it.
When I pointed it out to my High School Home Ec teacher she just looked at me like I was a moron... and I was an honor student.
It's actually good for muscle cramps.
Spotify is evil, but only because of the commercials.
My dad had weird rules to music. For the longest time I believe that Spotify would make me lose my hearing because he told me that the app used a certain frequency that the army used to torment POW.
Turned out he just didn't like the fact I was listen to music he hadn't pre-approved.
​It sucks when the people in authority you're supposed to trust end up making stuff up. It can get extreme sometimes!
This is why I don't work at an office anymore.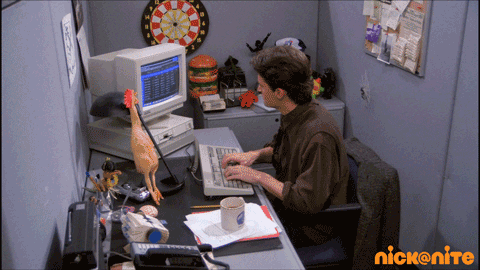 Matthew Perry Cubicle GIF by Nick At Nite
Giphy
I was working for a midsized company. One day we had a company meeting where the CEO gave a speech where someone asked if they were going to put in cubicles. The CEO swore that there would never be cubicles at a company he ran. We all believed him.
Three weeks later workers showed up and started assembling cubicles. Then we had meetings with our mangers where it was explained to us that they were not cubicles. They were 'work stations' and anyone who said the word cubicles would be fired.
That's a very elaborate lie.
I called out from work because I was sleepy and wanted to rest. Problem is, I'd been legit sick the week before. So, nobody would buy that I was sick again.
So, I called the boss and told him I'd stopped off at the bank on the way to work, witnessed an armed robbery there, I was the only person who could identify the perp so I had to go to the police station, fill out a bunch of reports and sh*t and then sit in on a police lineup to make sure they had the right guy.
The boss was usually kind of a d*ck. But he went for it, no questions asked.
Compulsive liars are the worst.
In college it was always a struggle to get home for the breaks. I lived over 3hrs away and my parents never came to pick me up. A guy who was a resident assistant with me in the same dorm said his parents owned a private jet... and offered to fly me home for the upcoming holiday. He talked about it for weeks prior to next break, told me the type plane, all the other people he was taking and other details. I even turned down rides to go home.
Welp. It was all a lie. I was waiting with my bags packed ready at the correct pickup time (early in fact). He never showed up. There I was waiting when another RA saw me and asked when I was leaving for the holiday. After I told him I was waiting and the story he laughed and laughed....then said "Derek? Oh that guy lies."
I had missed all rides and was nearly stranded on campus. Ended up on the Greyhound the next day.
There are times where it's your own d*mn fault for believing it. But you know what they say, ignorance is bliss.
I cannot believe people still fall for this.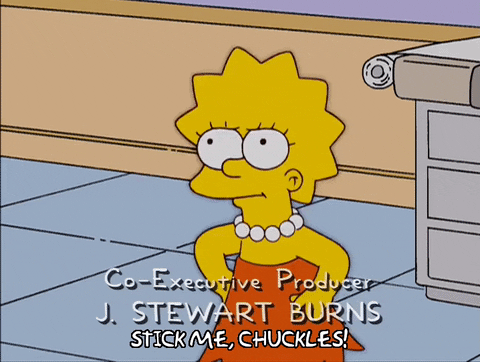 lisa simpson episode 21 GIF
Giphy
That vaccines cause autism. Andrew Wakefield, who published the article claiming this, admitted to making it up, but that fact doesn't matter, because people believe him anyway.
If there was anyone I'd kill with a time machine, it would be him because that has a very specific butterfly effect.
We've all told this lie.
I never fart in front of my husband. It happens once in a blue moon. A few years ago it did happen, he was thrilled but I convinced him that the noise was from the chair I was sitting on. I lived with that lie for about a year until I told him the truth.
How did the collectors fall for this?
In the 1800's, a man named Denis Vrain-Lucas forged tens of thousands of fake letters from historical figures. He made hundreds of thousands of francs from prominent French collectors by selling documents supposedly written by Biblical figures such as Judas, Mary Magdalene, and Pontius Pilate, and got away with it for years. This would all be pretty understandable--except that all the letters were written in modern French, on watermarked paper.
As I'm writing this, my husband told me a story of his own. When he was a kid, his dad told him that salt and pepper were opposites. Meaning that if you used too much of one, you could use the other to even it out. Eventually he learned better, because his cooking is next level good.
Stop falling for dumb sh*t. This isn't just a reminder to you, but also one to me as well. Because lord knows I've fallen for many dumb lies too
Keep reading...
Show less
Lies and secrets, secrets and lies. They always find a way to trickle out. Why we think we can make a big problem go by covering it up is beyond me. Nine times out of ten, the reason the drama is so fraught is because of the cover-up. If we would just attend to issues when they arise with logic, we'd all be a lot better off. But we're humans, we learn nothing.
Redditor
u/Inflatabledartboard4
wanted to see who was willing to openly discuss about the times the "plan"... went completely off the rails by asking...
What is the best example of a major cover-up backfiring?
I can't tell you how many times in school I tried to devise cover ups to cover up cover ups. More often than not the planning and execution was a mess but the the stories themselves got so convoluted you'd think I was living in a film parody of The Matrix. Note to self... never steal you mother's jewelry and then try to pass it off as her new birthday present. SMH. I have no explanation or defense.
Never Gone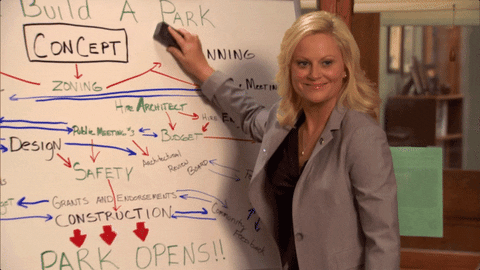 Erase Parks And Recreation GIF by PeacockTV
Giphy
Ex-UC Davis chancellor Linda Katehi paid $175k to have the 2011 pepper spray incident removed from Google search results for the university, which brought the incident back into the public eye and was one of the scandals that eventually led to her resignation.
In the USSR
The soviet union trying to say that Chernobyl wasn't as big a deal as it actually was.
One of my grandparent's neighbors in Poland was a Belorussian guy from one of the closest towns to Chernobyl in Belarus. The Plant is basically on the Ukraine/Belarus border, and a huge amount of fallout happened in Belarus. No one was informed until everyone else was, even though they got almost as much fallout as Prypiat.
The way he describes it, they were across the border, so they didn't want to share. Even when they did, the Belarusian gov maintained the thought process that it wasn't a big deal, like the USSR was claiming. No one was to be relocated. He was a teenager at the time and left for Minsk as soon as he could because of how pissed off the whole thing made him.
His whole family stayed except for him, farming away while he was in the city and then moved to Poland after he met his Polish wife.
Unsurprisingly, a lot of his family died of cancer.
Dark Waters
The water crisis in Flint.
Dr. Mona Hanna-Attisha had been in touch with the Genesee Department of Health for months about Elevated Lead Levels (ELLs), and they went out of their way to obfuscate the data and make it seem like everything was normal. Dr. Hanna-Attisha brings in a research team from Virginia which shows that the ELLs are correlated with zip codes that recently switched water supplies.
They still ignore/deny what's happening. Finally, Dr. Hanna-Attisha says "f**k it", and holds a press conference telling people that their water is unsafe and to stop using it immediately.
A major public health crisis could have been mitigated if the public health officials spent more time doing their job and less time worrying about whether or not it pisses the governor off.
The Papers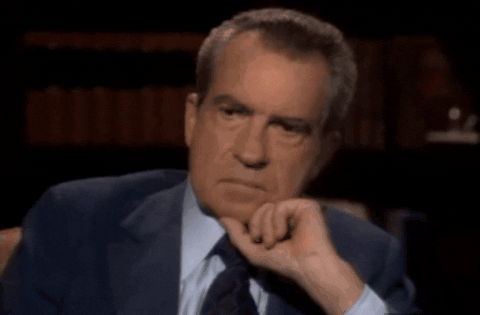 richard nixon president GIF
Giphy
In 1973 the director of the CIA Richard Helms was worried that the watergate congressional investigations would spill over into investigations into the CIA so he ordered the destruction of all documents related to the MKUltra program.
20,000 documents were incorrectly stored with financial records and were not destroyed. They were later uncovered during an FOIA request and turned over to Congress.
Dodgers
Volkswagen and the emission dodging.
What was surreal was seeing thousands of them sitting in the parking lot of the Silverdome, the old Detroit Lion's stadium. I live just south of there and to see VWs mistake next to the derelict stadium was a trip. https://youtu.be/jJeYEnSD9G0.
Nevermind cover ups, those are some high crimes and misdemeanors. And so many plagued by tragic loss. Just so everyone knows... the Flint water is still poison. Let's continue...
The Graves
Katyn Massacre or Chernobyl.
Katyn Massacre: Red Army troops during WWII killed and buried 22,000 Polish officers. The German Army found this mass grave and asked the local SS Commander if it was his graves. The SS Commander said it wasn't his graves. The Red Army though insisted it was the Nazis that did it. Boris Yeltsin later admitted to grave in 1992.
Chernobyl: Basically, Chernobyl powerplant's reactor in the Ukraine in 1986 exploded and almost contaminated the whole of Europe. The USSR tried to cover it up, but Sweden detected the radiation from the fallout. Pripyat became a ghost town and the city of Chernobyl (the city the powerplant was powering) became semi deserted.
Lips Together and Blow...
Basically any case involving a dead about-to-be whistle blower. Killing someone is a good way to shut a person up. Its also a very good way of drawing attention to the person and what they had to say. The best way to cover something up is discredit the whistle blower.
Babs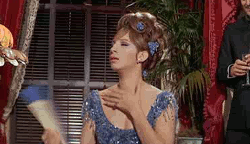 fanning barbra streisand GIF
Giphy
I guess the Streisand effect?
For those who don't know, someone took a photo of Barbara Streisand's Malibu home and posted it online.
The photo didn't get much attention until Barbara Streisand tried to have the photo blocked for the sake of her privacy
Upon hearing that Streisand wanted the photo removed, the image became forbidden fruit and was viewed millions of times across the internet.
If she hadn't tried to cover it up, no one would have looked.
Karen
In 1974, Karen Silkwood was found dead, as a result of a car crash. Silkwood was a chemical technician and labor union activist who was about the reveal the safety hazards. Despite drugs found on the scene, the police and coroner didn't believe the drug claim and went looking for other likely others. After being informed about death threats from her family, the Atomic Energy Commission, and the State Medical Examiner found radioactive contamination in her body.
This prompted an investigation at Kerr-McGee, the company Silkwood was talking about, which reveal the very problems that were about to going to be exposed to the media. Kerr-McGee had to pay up for what was done as they were held liable.
Oh Florida...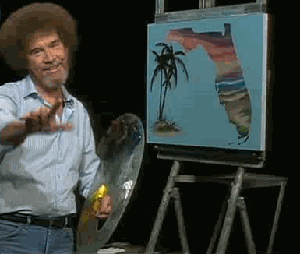 bob ross painting GIF
Giphy
Recent Polk County, Florida deputies losing (stealing) cash evidence, trying to cover it up, and getting fired.
What have we learned? Nothing right? Read again, just lead with the truth. It'll sting but as you can see... the other options will make it all much worse. This is particularly important for any future politicians following along. Don't be these guys.
Want to "know" more? Never miss another big, odd, funny, or heartbreaking moment again. Sign up for the Knowable newsletter here.
Keep reading...
Show less
In so many facets of life, kids are sitting ducks.
They simply lack so much life experience that they have the most minimal grasp on what is happening all around them. Children rely completely on the knowledge of people older than them: parents, teachers, coaches, older siblings, even strangers.
But from the vantage of one of those older people, that total dependency opens the door for some good fun.
Some Redditors recently gathered to share the most absurd lies they ever believed wholeheartedly as children. It's rather surreal to imagine if all these fibs were actually true.
SorryForBadEnflish asked, "What's the stupidest lie you can't believe you fell for as a kid?"
Many of the lies stemmed from diabolical motivations. These were pranks at the expense of the child, through and through.
And those dopey kids walked right into it every time.
Gathering Supplies
"My Boy Scout leader told me the troop next to us had dehydrated water pills and a bacon stretcher. He told me to go ask to borrow then."
"I did and they looked at me like I was an idiot."
-- Ohsoeasy
Well He's Not Wrong 
"My brother told me Eeyore's name in Winnie the Pooh was Jackass."
"Then a few years later in grade 3 someone tried correcting me and I was like, 'Uh no, it's Jackass.' This went over well with my teacher at the time."
-- PamWpg204
It Only Takes a Letter 
"I believed a lot of things my older brother told me but I think the worst was that Venus was pronounced with a P instead of a V."
"I thought I was funny because it had the word 'pee' in it."
Concocting New Science 
"My stepbrother told me that a power plant was a cloud factory to make clouds artificially."
"I believed him because I had heard of the artificial snow machines that ski resorts have, and figured it wasn't unreasonable to believe there was a machine to make artificial clouds as well."
"I was 13 when I said 'the clouds factory is off, no wonder there's no clouds around.' In front of my dad and he laughed about it for like 30 minutes."
"I still get sh** for it today."
Some lies came from more lighthearted agendas. Sure, some were more self-serving than others, but at least the stakes were rather low.
The Car That Ate Beans 
"That the car farts. Whenever we were on road trips, our car would make this sound every now and again and my dad would say it's the car farting. That it just had to release them now and again like we do. This was hysterical to all of us and we would laugh and laugh."
"I was 14 and learning to drive when I found out it was....rumble strips. And my dad was just trying to brighten the atmosphere on long car trips."
-- Rice-Correct
Falling On That Sword 
"My mom would be the official 'poison inspector' and eat a few fries from the bag to make sure it was safe to eat. Such a sacrifice." -- SweetHikari
"My dad did the same ! Everytime I asked him to bring me a bit of bread (that's what we were allowed to eat when we got hungry between meals) he would take a bite of it, say 'all good, not poisoned' and then give me the rest."
"I knew it was a joke, but he did that for years. Always made me laugh." -- Grog_Bear
Driving Numbers Up 
"When I was in elementary school, the orchestra teacher was trying to convince me to join up. He told me that, when I grew up, jobs would ask me what instrument I played and nobody would hire me if I didn't play one."
"So I joined the orchestra and learned to play the violin. So far, no job interview has asked me to play anything. Good thing, too. I was always horrible at it. If my employment as a web developer depended on how well I could play the violin, I'd be permanently unemployed."
-- TechyDad
And some lies seemed to hold almost no functional motivation whatsoever. These were bizarre absurdities seemingly told to sow confusion, add a little subtle chaos into the mix, and get a good laugh.
A Pharmaceutical Breakthrough 
"Woke up on April 1st, walked into the living room where my dad handed me a 'smart pill' and said 'here you go, you'll never have to go to school or do homework again.' " -- stapeliagigantea
Depends Who You Ask 
"My grandfather did not in fact detach my nose." -- greygreenblue
"Said no Voldemort ever" -- Marenyalia
An Involved, Painful Explanation
"That this old man at my Cliftondale after school program died because he was eating Hot Cheetos while pooping at the same time and it burnt his butthole until he bled out. He would haunt kids in the stalls when they poop."
"All the kids called him Old Man Cliftondale(basic). Lol. That afterschool program was scary as hell though, I held my poop in all the time for that reason."
-- SnooOwls4703
So next time you're sitting down with a younger kid--maybe a niece or nephew, maybe a child of your own--just be aware that those lighthearted fibs kick around in that kids brain for years and years.
Want to "know" more? Never miss another big, odd, funny, or heartbreaking moment again. Sign up for the Knowable newsletter here.
Keep reading...
Show less
In a perfect world, each child's parents have the time, energy, and emotional bandwidth to offer their undivided attention whenever it's asked for.
These utopian parents could take an extended time to answer strange questions, more compassionately persuade children to improve behavior, and even give honest, age-appropriate answers about all things birds and bees.
Alas, that is not the world we live in. Parents get busy, they become frustrated after six hours in the hot sun, they have financial stresses that weigh on the tone and tenor of their responses to their kid's questions and behavior.
So there are plenty of convenient lies that parents told us kids. As adults, we can zoom out and understand exactly what the motive was.
But at the time, how confusing and earth-shattering those all seemed.
Xrty9y asked, "What are some of the most absurd lies your parents told you?"
So maybe you're a new parent. Take some notes on these. They just might get you out of a jam one day.
Want to "know" more? Never miss another big, odd, funny, or heartbreaking moment again. Sign up for the Knowable newsletter here.
Keep reading...
Show less