As many of our lives were significantly impacted due to the global health crisis, we learned the limits of our tolerance and impatience.
In self-isolation, with seemingly endless amounts of time contemplating our existence, we learned a lot about our capabilities as well.
We can master new technology when forced to adapt to a new normal by using Zoom. Also, it turns many of us are not that horrible in the kitchen when we're having to save money and make our own meals.

Curious to hear about what the last year and a half has taught us, Redditor thirstylearning asked:

"What's surprised you the most about the pandemic?"
People touched on behaviors brought on by the pandemic.
Stocking Up
"People buying 10 years worth of toilet paper."
– Lucas2099

Reverting
"How easy it is to return to old habits when there's nothing else to do :'("
– BagleFart
Losing All Good Progress
"Before the pandemic, I quit weed after 8 or 7 years of smoking every day. I was pretty proud of myself for not touching it for about 6 months until the pandemic hit and we had to start working from home."
"I was living alone, so I said 'f'k it, might as well get high...'"
– RAmbler-2224

Excuses We Come Up With
"Or how much more free time doesn't actually mean people would be productive with their time. It was very common to hear 'I would love to do X but I just don't have the time'. Covid showed that it wasn't the lack of time preventing people from doing things."
– RealLameUserName

The following are observations of direct impacts of the pandemic.
Working From Home
"WFH or hybrid work arrangements were always a possibility, my agency is just full of a**holes."
– CatLady1018
"Not to mention how f'king quickly they could have been implemented all along. The sheer amount of workplaces that managed to set up WFH in literally a week or less was truly a sight to behold."
– Islander255

Eerie Silence

"How weirdly quiet it was at first. Living in a city of half a million people it was so insanely quiet."
– DracoImortalus313
"Makes you realize how much noise cars really make in aggregate."
– sharksnack3264

Improved Environment
"In general how clean skies and waters got when we stopped polluting as much. It's a shame we couldn't find a way to make that more permanent."
– meekamunz

People talked about their mental health in the midst of the pandemic.
Our Limitations
"No matter how strong you feel, everyone has a breaking point from stress."
– NicoModafinil

​Different Breaking Points For Different People
"How crazy amounts of stress impacts people. I've heard of many people becoming socially anxious, depressed and others gaining a new perspective on life."
"Somehow this whole experience helped me overcome a lot of my issues, seek help, and ultimately I feel like a much stronger person. This sh*t is still absolutely awful though."
– Vladimir_Poontang24
Slammed By Anxiety And Depression
"Man, I thought I was doing ok. I thought I was taking it all in stride and handling it. But the second people started going out in public again and being social again, depression and anxiety hit me like a ton of bricks."
"Staying in lockdown removed any and all frame of reference. I didn't realize I was sinking until I was around people again and suddenly I was not ok."
"EDIT: If you're feeling this way and you don't know what to do, please talk to a therapist. If you're worried about the money talk to them about it. Lots of therapists can and will adjust their price to fit you. It was daunting at first and I didn't want to do it, but it helps. It's not a magic fix that will make you better tomorrow, but for me it felt like I finally stopped sinking."
– LotusFlare

Pushed To The Brink
"I figured out I had a lot of unresolved anger issues that boiled to the surface last year, pushing me to make the first step and seek therapy."
"Yay, Covid I guess?"
– caligaris_cabinet

What surprised me most about the pandemic was how far I was able to go in improving my mental and physical health.
After a period of depression and being sedentary, I forced myself to occupy my time learning how to cook healthier and doing at-home, body-weight-only workouts since gyms were closed.
Both of these were achieved by watching a slew of YouTube videos. Free education, right from my home.
I've never felt more physically and emotionally better. But it took me to almost hit bottom to realize I had to force myself from the doldrums of self-isolation.
Our will is an amazing thing. It can make us pull ourselves up. We just have to want it.

Want to "know" more?
Sign up for the Knowable newsletter here.

Never miss another big, odd, funny or heartbreaking moment again.
Keep reading...
Show less
Being poor is not fun, I can attest. I never went to bed hungry, but times were often tough.
And having friends who had a lot when you have little can be an overwhelming feeling.
However, it did give me a sense of how to appreciate money, when I have it, and appreciate the things I have in general.
Yes, being rich is great and having tons of cash solves a lot, but the poor kids know a thing or two about survival.
And that is priceless.
Redditor Bobtheglob71 wanted to hear from the people who know what it's like to really appreciate a dollar, by asking:
"Redditors who grew up poor, what is something that 'rich kids' will never understand?"
In an interview, Dolly Parton once said... "I've been rich and I've been poor. Rich is better. But, what I do know from being poor is that if it happened again, I'd know how to survive and be happy."
(I'm paraphrasing) I love her.
Mealtime
"When I went to school (in the '70s). At lunch time we had to stand in line in the hall before going into the cafeteria. they made those of us on 'free lunches' stand in the back of the line. It was quite humiliating." ~ BirdGuy64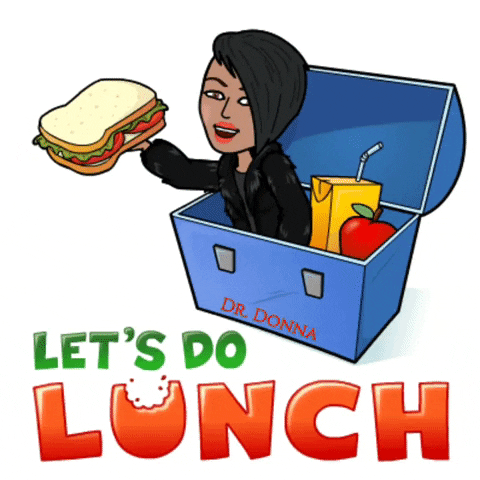 Giphy
Basics...
"What a luxury laundry is. Those kids i went to.school with will never understand I was so poor my family couldn't afford to use the laundry machines in our building, so often times my dad would just get a big cheap bottle of dish soap or some bars of Irish Spring, and that soap was for laundry, dishes and bathing. Also that those tv dinners were a god send. Getting 20 banquet tv dinners for 10 bucks meant eating good for a few days."
Gifts
"All my gifts for Christmas and Birthdays were something I needed or would need and had to be bought anyway. Like clothes, shoes, or school supplies. Never, never anything fun or just because I wanted it. I also had to steal my first real bra because I'd outgrown my training bra. I'd even snipped the elastic all around to provide more stretch but it wasn't working anymore and people were commenting on it." ~ freckledjezebel
Time Away
"Family vacations were nonexistent." ~ personofinterest18
"I remember coming back from summer vacation and dreading going back to school for the mere fact I had nothing interesting to share about the summer. All my classmates would talk about their vacations and I would make something up so I wouldn't sound boring." ~ Scared_Difference_24
Witness
"Watching your mom have to put items back as there is it not enough money to pay for everything." ~ Poenkel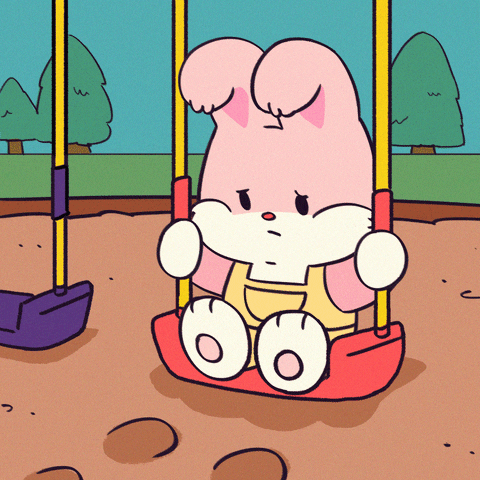 Giphy
Well that all hits close to home.
Nevermind appreciating money, be thankful you can appreciate food.
Eat Please
"Having dinner and knowing that your Mum isn't eating, not because she isn't hungry, but because she's making sure her kids have food first." ~ DragonsLoveBoxes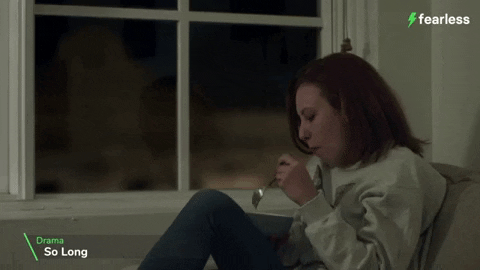 Giphy
Aluminum...
"Collecting aluminum cans." ~ DryMartini_Up
"I used to have a can crusher outside and one of my chores was to crush the cans. We would put them in this industrial plastic barrel that my dad got from work. When it eventually filled up, we took it to the scrap metal yard and sold the cans." ~ WeirdJawn
When to Sleep
"Sleep for dinner." ~ Leeono
"I used to do sleep for lunch. Because I'm high school some days I'd be there from 7:30 to 6:30 and counting leaving the house I actually was away from around 6:00am to 8:00pm." ~ docasj
Living on the Edge
"That it never goes away. I want from homeless growing up to having a very comfy six figure job. I still find myself acting as if I am always living on the edge of homelessness again. Thinking I can't try new foods because it I don't like it then I won't get dinner. That I'm a bad person for throwing out things instead of trying to reuse them. I get serious panic attacks I think I did bad at work because my brain still tells me I'm one paycheck from the street." ~ AsexualAccountant
Too Much Stuff
"A lifetime of clutter because it's so hard to throw anything away even when you're no longer poor." ~ HermitWilson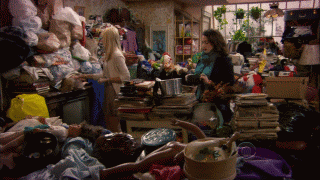 Giphy
Moms rule.
Money helps.
There is no shame in poor.
God bless us all.
Want to "know" more?
Sign up for the Knowable newsletter here.

Never miss another big, odd, funny or heartbreaking moment again
Keep reading...
Show less
How you approach life's many trials and tribulations can say a lot about who you are. However, many of us don't necessarily learn some lessons so easily.
Life is complicated. It's messy. Few, if any things, go according to plan. On top of that, sometimes the way we handle our relationships or our obligations might not be the most healthy one.
You live, you learn... or so the saying goes.
People shared their stories after Redditor ryanblumenow asked the online community,
"What did you learn at great personal cost?"
"I broke three..."
"Never trust a ladder set up by someone else. I broke three of my lumbar vertebrae. Thankfully I recovered fully, but damn was that scary. I also bit through my lower lip. I have a nice scar as a memento."
Wisco1856
This is terrifying. Glad you're still alive–that you healed is miraculous!
"Even if you work your hardest..."
"Even if you work your hardest, do everything right, and are a great employee… you may still be seen as expendable."
clearbluesea
This is true. Your company will never be loyal to you. Don't bend over backwards. Do your job–don't sell your soul.
"That you need to be careful..."
"That you need to be careful what you put up with as it teaches people how to treat you. I lost a lot of 'friends' once I started to set boundaries."
thenakedhurler
This is very true. I can relate: I definitely lost a few so-called "friends" the second I began standing up for myself.
"This goes for all relationships..."
"Don't listen to what people say, but what they do. This goes for all relationships, both professional and personal."
Andromeda321
Amen to that. It's a cliche, but actions absolutely do speak louder than words.
"Family can be just as toxic..."
"Family can be just as toxic for you as anyone else. Sometimes it's best to cut them out."
zeroblackzx
Ain't that the truth.
Are we trading toxic family stories now?
"If someone gets upset..."
"If someone gets upset at you for trying to establish boundaries with them, it's not you being mean or unreasonable, it's them not caring about your happiness."
ZSAD13
This is spot on. Don't trust people who violate your boundaries. Your gut won't lie to you, not about this.
"You can't convince them."
"You cannot, even subtly, force someone to love you. You can't convince them. They either do or they don't, and it's on you to decide what to do with that unchangeable position in mind."
telestrial
I feel like many people go through their 20s without learning this.
Not that I know anything about this... or anything like that.
"Just because you try to be a good friend..."
"That people aren't always your friend. Gaslighting is real. Just because you try to be a good person doesn't mean good things will happen to you."
Ok-recognition5137
Very true. Be very careful about what you put out there. Not everyone has good intentions, though this is not in anyway meant to imply that the world is terrible.
It isn't. Just be judicious.
"You can accomplish..."
"You can accomplish anything you set your mind to. Doesn't mean you should. Everything will cost more than you anticipate in ways you can't imagine."
coldshockhyper
That's a poetic way to put it! Spot on. Everything costs something, even your success.
"Be patient..."
"That you don't have to run off and get married. A marriage that only lasted one year cost me more than $10K. Life is not a race and you don't need to be married by a certain point or at all for that matter."
"Be patient, make yourself available, gravitate to those who understand you the most."
ekimlive
$10K?!
Awful. It sounds like you have peace of mind now, however, which is priceless.
Don't be so hard on yourself, by the way. We all learn at our own pace.
Here's a tip before we go: Your education is never complete. Life always something to teach you, so just accept it, be open to it, and go in grace.
Have some suggestions of your own? Feel free to tell us more in the comments below!
Want to "know" more?
Sign up for the Knowable newsletter here.
Never miss another big, odd, funny, or heartbreaking moment again.
Keep reading...
Show less
It's always best to keep trying new things, or so I'm told. Knowledge is power and we're here to constantly be learning. We're all students of the universe and every second is a new class and blah blah blah.
Ok, yes there is truth a lot of truth there. And I do like to learn new things, but it can become overwhelming. I hate starting something new because I loathe beginning stages. I always want to be great from the start. Some people are geniuses that way, alas, I, am not.
I feel you can always tell when someone is starting something new. And thanks to what we're about to read, I'm right. Everybody is always watching.
Learning requires a lot of patience from several parties. So let's begin...
Redditor u/danielstover wanted to discuss all the ways one often screams "newbie" to everyone, by asking:
What is a sure sign that someone is new to your hobby?
Want to "know" more? Never miss another big, odd, funny, or heartbreaking moment again. Sign up for the Knowable newsletter here.

Keep reading...
Show less
On the whole, human society doesn't seem to be able to figure out how to educated students in a way that is effective, inclusive, and energizing.
Instead, most students leave their 12 years of early, middle, and high school full of complaints and frustrations.
And in many ways, it takes some time for the dust to settle. As people grow up, define their values, and learn more about how they tick, the flaws of their education begin to grow more and more obvious.
Curious to know all the ways the education system has screwed up, Redditor Hplr63 asked:
"Students of Reddit, what's something you hate about the current education system?"
Many discussed that the education system struggles to do exactly that--to educate.
Careful Distinctions
"In every education system I believe there is one major mistake. Students have to learn things instead of understanding and thinking them"
-- Panais69
All About Metrics
"That grades matter more than actually learning the material" -- Shrexygrass
" 'You've taught me nothing other than how to cynically manipulate the system' - Calvin and Hobbes" -- missedtheboat16
Squashing the Spark
"What we learn."
"Yes school teaches us resilience and skills to score in exams but what do we really learn at all?"
"The current system kills curiosity and interest in learning."
-- pisceanm00n
Ruining a Good Thing
"English classes seem hell-bent on making you despise reading."
"They tell you to love reading, then shove a book in your face with mandatory deadlines and assignments, expecting you to memorize pointless info unrelated to the story or message."
"I remember I used to enjoy reading during elementary school, but as of my senior year in high school, that fire's completely extinguished."
Others talked about the ways schools fail the students that have needs beyond learning. Simply put, the human element often appears to be lacking.
Oversimplifying
"the 0 tolerance policy that makes it impossible to protect yourself from bullying without being in the same amount of trouble as them even if they've beaten you badly and all you did was push them away."
-- Tottaly_Sane
Piling It On
"That most schools don't consider that students have a life. Basically they have sh** to do."
"My brother was showing my mom and I a recorded session from online classes, and the teachers said something about putting more homework, the whole class complained and didnt like it since they're already pressured with work. Then the teacher said 'What!??!?! You're students! All you should be doing in life is homework!' and that's where my brother flipped out."
"It's triggering in every way that she said that. My brother is a programmer and even did a Harvard programming course + he has a side hobby of photography."
-- Bilal1963
Back to Back to Back
"The lack of freedom I get outside of school. If each of my teachers think a half hour of homework a night is good for my education, and six of my seven classes each day assign homework, then I have three hours of homework to do. My schedule is literally just wake up at 6, leave for school at 7:15 (I live pretty far away), go home at 3:20, get home at 4, do homework until 7, then I have three hours for myself, not including dinner and stuff like family events."
"My (terrible, don't try at home) solution to this is just not doing homework. I do good on the tests but.the main reason I'm doing bad in school is that I couldn't care less about the homework because of how much of a waste of time it is. Also, I have ADHD, and the executive dysfunction that comes with it makes my homework take much longer than it needs to."
Creating Identities
"I think we 'track' people too early. A lot my friends had major self confidence issues in high school because the system told them they were bad at this or that subject."
"It's fine. People learn things at different paces. The point of education should be to help people to grow, not tell them what they can or can't do."
-- Idkanymore16
Last, people talked about the way schools seem so bogged down by the need to handle large numbers of students and needs that they don't create an open environment.
Nuff Said
"The inability to have a discussion. The teacher will always be right. The students shouldn't argue or disagree even if they provide evidence or supporting info"
They're Just Selective
"There is a lot that I could rant about but I'm going to just focus on one. I hate it when schools say that they can't do anything, when they really can. Like if a student is being bullied, the teachers don't do anything. But the second a bra strap is showing, they act like it's life or death."
Maybe one day we'll figure out how to do the whole school thing right. But for now, students will still be herded through the flawed approach.
Want to "know" more? Never miss another big, odd, funny, or heartbreaking moment again. Sign up for the Knowable newsletter here.
Keep reading...
Show less