A trial can hinge on one simple piece of information.
All it could take for a suspect to walk free or go to jail for the rest of their lives is one single fact.
With this in mind, some lawyers will do their best to make sure that this information is buried, legally and ethically one hopes, and will never be brought up in trial.
However, for this to happen, Lawyers will still need to know this piece of information from their clients, as it otherwise could be brought up by the prosecution, effectively ending the case.
Redditor The-Legendary-Taco was curious to hear from lawyers about times when their clients were not fully transparent with them, which ended up costing them the case, leading them to ask:
"Lawyers of Reddit, what is a detail that your client failed to bring up to you that completely lost you the case?"
The Whole Truth...

"Opposing counsel: 'Isn't it true you hit Victim in the face with a brick?"'
"Client: 'No. Marcus hit him with the brick. I hit him in the back with a piece of wood'."- lizard96golf
Thought She Was Being Clever...

"A buddy of mine case as a public defender."
"A gal was busted on drug charges, and told him she didn't have any drugs on her when they arrested her."
"He thought, ok we'll use that."
"Turns out, she didn't have any drugs on her when they arrested her because she just sold them to an undercover cop."- CheapCigars
Choice Of Clothes Can Make A Difference...
"My house was robbed."
"In addition to all the stuff the thief took, he also stole a bunch of my suits and all of my neck ties."
"I had a big collection, like 100 or so."
"However, the thief left fingerprints on a hard plastic box that I kept spare change in."
"Fast forward 3 months, the thief is caught in the act of robbing another house in the same neighborhood, same detectives on my case and this new theft."
"They fingerprint the guy and the fingerprints match the ones from my house."
"At the thief's arraignment, I see him stroll in wearing my suit and my tie."
"I tell the district attorney, he says there's really no way to prove it."
"However, the tie he chose to wear was a one of kind street map of San Francisco and I still had all the documentation to prove it."
"The district attorney's eyes widen and he informs the judge."
"The judge has the thief placed under arrest again for possession of stolen property."
"The thief's lawyer was dumbfounded."
"It was a nice end to a rough situation!"- West-Operation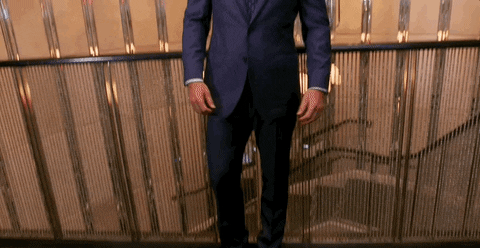 suit and tie johnny bananas GIF by 1st Look
Giphy
Never Depend On Technicalities
"Obligatory not my client."
"Company I worked for at the time was doing due diligence before acquiring a small tech startup."
"The COO of the tech startup was a well-liked guy in the company, friendly and outgoing."
"Though we had heard rumblings that the COO was rather hands-on with the work and with female employees."
"Apparently there was a walk-away package proposed to the COO that would let him keep a sizable portion of his post-acquisition bonus because a young woman who worked in their sales department had filed HR complaints against the COO and obtained counsel."
"I sat in on the meeting with the COO and the company's retained lawyers while they grilled him about his contacts with the young woman."
"The COO denied ever having contact with her within the company without multiple other people present, those people said his behavior toward her in the meetings didn't raise any flag."
"The COO emphatically denied having any contact with her outside of work."
"The lawyers asked the question a half-dozen different ways and each time the COO denied any out of work contact."
"Later we meet with the woman and her lawyer with the COO not present."
"Her lawyer gives us a rather graphic card that came with a bouquet of flowers addressed to her from the COO."
"The guy had an account with a florist linked to his credit card."
"When the company-retained lawyers confronted him he said, 'but I never had contact with her'."
"'It's not like I delivered the flowers myself'."
"COO got terminated for cause so no walk-away package."
"At her request the woman was given PTO until after the acquisition then moved to another one of the companies under our umbrella."- GuiltyLawyer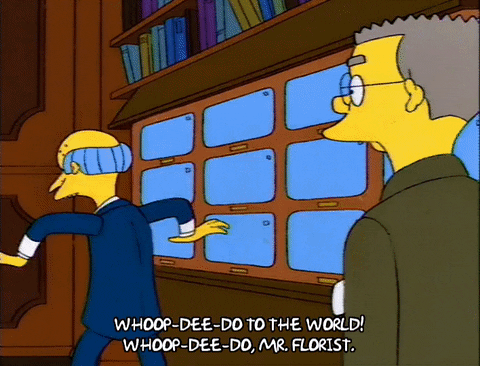 season 5 episode 21 GIF
Giphy
Who Exactly Am I Talking To?
"Employment case."
"We got to the deposition of my client and all set up."
"The first question is 'please state your name'."
"The client looks at me and says 'can we take a break?'"
"We do and she pulls me out in the hall to tell me she's lied to me about her identity."
"She's apparently a serial fraudster and has changed identities 7 times since the 90s."
"She apparently thought the other attorneys had some how figured it out and that's why they asked the question."- Philosopher422
It's The Little Ones That Get You...
"Minor traffic cases can be the worst for this, believe it or not, because they are short and simple and often times the client isn't there, so if you get blindsided by something critical there's often no chance to consult with them to turn things around."
"I had a simple speeding case, 70mph in a 55."
"No big deal, if she does a driving improvement course they court will usually dismiss or reduce those, since her driving record wasn't bad."
"When I showed up for her, I found out that she had been driving 70 up an unplowed snow lane, to get around all the others cars traveling in the lane that had been plowed because they were driving too slow."
"I didn't know it was even possible to drive 70 on fresh snow."
"The officer stated he'd already cut her a break by not writing the ticket for reckless driving, and the judge politely agreed he didn't feel comfortable reducing it under those circumstances."
"When I called her up after court to confirm, she did, claimed she'd just forgotten to mention it."
"Now maybe I've lived too much of my life in the south, but that just boggles my mind as a detail you'd forget when hiring a lawyer for that incident."
"I would have told her in advance that hiring us was a waste of money, not to mention the hassle of taking an 8 hour class, and she should probably just go ahead and pay this one."
"I legitimately do that all the time during consults."
"Give my honest assessment if the case is even worth doing, and so by omitting that detail she harmed herself for no reason."
"At least she took it well and didn't get defensive."- AmberWavesofFlame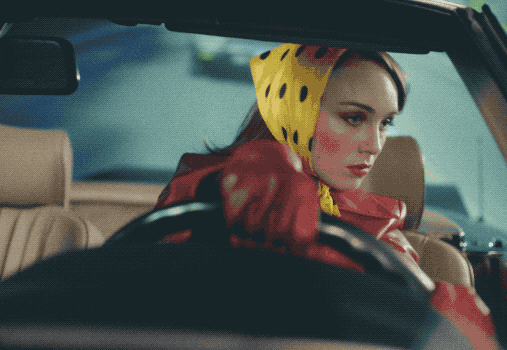 Driving Get Away GIF by Zella Day
Giphy
Despite the longstanding negative connotations which come with them, lawyers are there to help you.
So it's always the best decision to tell them the truth, the whole truth, and nothing but the truth, especially if you're paying for their services.
That, or just obey the law so you won't need one.
Keep reading...
Show less
Disney and Pixar villains wreak havoc on our favorite protagonists and justice ends up being served by severe punishment–ultimately resulting in their demise.
But in the land of not make-believe–where real-life people are litigious without hesitation–what would happen if these evildoers had a proper day in court?
That is something Redditor Lukegamer2 explored by asking strangers online:

"Lawyers of Reddit, what Disney or Pixar villain would you have the easiest time defending?"
Were these villains guilty of just being unpopular?
Ratatouille's Hot-Tempered Sous Chef
"Chef Skinner."
"I'd almost feel guilty charging money defending this case."
– ksozay

Secondary Pirates Antagonist
"I think Cutler Beckett never technically broke the law since he had the governor writing loopholes for him when hunting down the pirates in Pirates 2 and 3 so Cutler Beckett. I wouldn't even need to do anything."
– User Deleted

Brat Story
"Sid. No one is going to charge a kid destroying toys with a crime."
– theassassintherapist
"Sid was genuinely horrified to learn that toys were alive. The boy legitimately did nothing wrong."
– Slant_Juicy

Placement On The Food Chain
"Kaa, Finding Nemo's barracuda, the Lion King's Hyenas, and similar 'villains.' They're just trying to eat. Sorry nature put the protagonist on the menu."
– ccReptilelord

These characters were definitely wicked, but would the judge grant leniency for their indiscretions?
The Master Of Deceit
"Jafar. Separate from the law of Agrabah being super interesting to learn about, his actions tend to be more deceitful than outright illegal, except where he became sultan, and therefore may have had immunity. Magic seems to be not super common, so there may not be any laws regarding coercion by magic. Separate from assaulting Aladdin, who he never actually managed to hit outside the Cave of Wonders, I'm not sure there are a lot of outright laws he broke."
– begoniann
The Super Jealous Uncle
"Scar, the only evidence was a coerced confession while a deadly weapon was held to his throat."
– Anonymous4mysake
The Case For Gaston
"In Beauty and the Beast, Gaston ate four dozen eggs daily when he was a child. That's fourty-eight eggs a day. As an adult he adds another dozen, tallying up to sixty eggs a day. This is nothing short of genocide."
"My theory for why Gaston is beloved by the townsfolk is that some time prior to the start of the movie, France was overrun with poultry. Helpless at the claws of the chickens, the people of France were preparing to abandon their country, when a lone child stepped forward. 'I'll eat the eggs,' a young Gaston bellowed, 'And I will save our homeland.' And so it was, Gaston ate and ate until he was roughly the size of a barge. How the cholesterol didn't kill him can only be attributed to his inhuman fortitude. This is where the story turns tragic."
"What Gaston hadn't accounted for was developing an addiction to the eggs. As he aged, he ate more and more, and with the chicken-crisis over, his addiction began costing him financially. There's a scene during Gaston's song where he motions to a wall full of his hunting trophies. But why are they there? Does he own the bar? No, he sold them for egg money. The fact he never brings up his egg addiction or his prior heroism can be attributed to another one of Gaston's defining character traits: his struggle to be emotionally open, and his modesty. It's not easy being the man who saved France."
"I think the saddest scene is when Belle shows Gaston the book, and he holds it upside down. See, Gaston seems brutish, but remember - his entire childhood was spent eating eggs. He didn't have time for an education; he sacrificed his upbringing for his countrymen. He can't even hold a book correctly. What Gaston wants to say, what he's struggling to articulate, is 'Belle, I'm dying. A life long diet of a quite frankly insane number of eggs has left my body bloated with tumors. Before I shove off this mortal coil, I want children, who might experience a world without the oppression I have suffered.' Belle cruelly mocks him, which goes to make you wonder who the real beast is."
"When Gaston sees the Beast in the mirror, two thoughts run through his head. First, he sees his countrymen in danger once more, and despite being riddled with egg-tumors, wants to lead the masses to one last charge of glory since fighting for France is all he knows. Second, he realizes Beast's head is about a month's worth of egg-money. So he sieges the castle, and in one of Disney's most tragic moments, plummets to his death."
"Another reason Gaston wants to marry Belle is because, as mentioned above, all he knows how to do is to fight for France and its people. Gaston saw Maurice as a genuine danger, and he's not wrong; consider the hellish contraption Maurice created. One look at that war machine and Gaston hatched a plan; marry Belle, and get close enough to Maurice to talk him down. Mind you, he did love Belle, and wanted to be the father of her children, but the danger presented by Maurice forced his plan into action immediately. When that fell through, he had no choice but to throw Maurice in the asylum (something marrying Belle would have fixed, since he would once again be close enough to Maurice to influence him). All in all, the failure was one of articulation."
"Gaston is the protagonist of Beauty and the Beast."
– The_Gutgrinder

It's all about the accomplices here.
Reduced Sentence For Mr. Snoops
"Mr Snoops, from The Rescuers. Definitely guilty of being an accomplice to the kidnapping of a child, but I could get a reduced sentence based on the fact he wanted to end the scheme earlier and cut their losses on other precious gems that Penny had recovered. He also looked out for Penny's safety and prevented her from dying before Medusa came to the scene to force her to recover the Devil's Eye on pain of death."
– res30stupid

Court Comedy
"Yzma if only because that means Kronk would have to testify under oath. And you know he would be a blast to watch in court."
– inksmudgedhands

Time For The Hunt
"What about Clayton from Tarzan? I think at the time it wasn't illegal to catch wild animals in foreign (colonialized) countries. Morally reprehensive, but not illegal."
– raxeira-etterath

Oh, Deer
"Similarly, the hunter from Bambi. Assuming it was deer season, he did nothing illegal."
– Rhania506

Can't Touch Him
"Hades Dudes a god what's a.judge gonna a do."
– Sea_Mechanic5745
It Does Beg The Question
"Do human laws punish non-humans?"
– Pharah_is_my_waIfu

The Answer Is...

"Yes."
"There's actually a couple famous stories of animals - mostly elephants - being put on trial for murdering their abusive handlers. There's also how old laws considered the act of bestiality, with the animal being considered a 'Guilty Party' and executed alongside the human who committed the act. I also think there's a case where a human was exonerated for the crime because he was raped by a bear (he didn't survive, BTW)."
"Also, this has come up in at least one episode of Murder, She Wrote where a dog was going to be put down and disinherited for killing his master after being made the heir to his will, when it appeared the dog had intentionally closed the remote-controlled gates to the estate and killed his owner."
– res30stupid
We don't know how lawyers would actually approach the case if they represented these characters.

But one thing is certain. It would make for a great spin-off of Law & Order–Fairytale Crimes.

Want to "know" more?
Sign up for the Knowable newsletter here.

Never miss another big, odd, funny or heartbreaking moment again.
Keep reading...
Show less
Being a lawyer has got to be such a daunting challenge.
How do you keep your conscience in check?
The things you learn about humanity can be bone-chilling.
It's a special issue when you're a criminal attorney.
Sometimes you learn your client is guilty.
But you still have to do your job, even if what you know leaves you shaking in fear or disgust.
You took an oath after all.
Redditor BrunoDeFarnese wanted to hear about all the stories that still haunt lawyers. They asked:
"Reddit lawyers, what is the scariest thing a client has confessed/said to you?"
I've always wondered about this. It happens in movies. But does it happen in real life?
Unbearable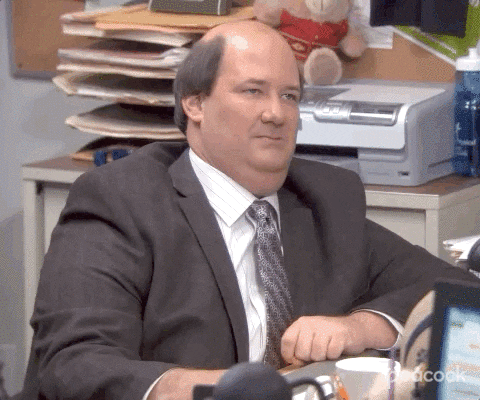 Sad Season 9 GIF by The Office
Giphy
"I once had a client's mental state deteriorate over time. They went from relatively normal to complaining of ghosts in their home and their house being bugged in a matter of months. It was equal parts scary and very sad to watch it happen."
ghostdogtheconquerer
The Worst
"Their murders."
berklythrowaway
"Admission of guilt to your lawyer makes it harder to defend a client, at least where I practice, that takes any defenses off the table where you argue they didn't do it. So now you not only have the trauma of knowing these details, they've also made your job way harder."
Disruptorpistol
Criminal Law
"Had a client who was charged with assault with a deadly weapon against his wife. He had a few past charges that were similar. Fairly typical domestic violence situation. He claimed it was blown out of proportion, yada yada. I got a pretty good plea deal for him and advised him to take it."
"He told me he wanted to go to trial. I told him that when his wife testifies against him, he'd lose pretty fast. He looked me in the eye and told me that his wife would not be attending the trial. I knew better than to ask questions. Sure enough, his wife did not attend the trial. Case dismissed for lack of witness."
"A win for the good guys? I hope he just made up with her and she chose not to appear, but I've always wondered if he did something to make sure of it. He sounded pretty confident when he told me she wouldn't be there. I got out of criminal law in a hurry after that."
LooieKablooie
Grandpa
"I work in patent law, so we don't really get 'scary' per se. Grandfather came in with several inventions... actually the entire family came which was weird. He was very proud of his inventions, and explicitly stated that they needed the money the inventions would make and the money would go to the whole family to support them. His family getting an inheritance basically rested on these inventions."
"The inventions were extremely simple concepts that had been around for probably 30+ years. I politely got all of the information. I then put together a report, and it was honestly scary. How do you write something that shatters this elderly mans (and his families) dreams?"
lordnecro
The Robot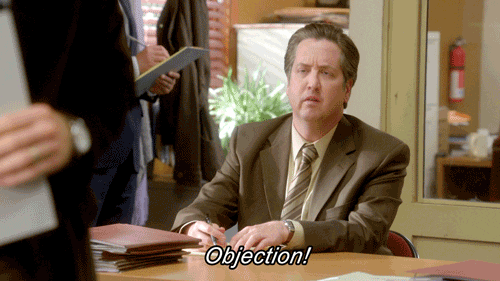 Steve Little Lawyer GIF by The Grinder
Giphy
"His wife was an alien robot and so was the President, and he was going to kill them and all other robots. Straight to the psych ward for paranoid schizophrenia."
It_Could_Be_True
Details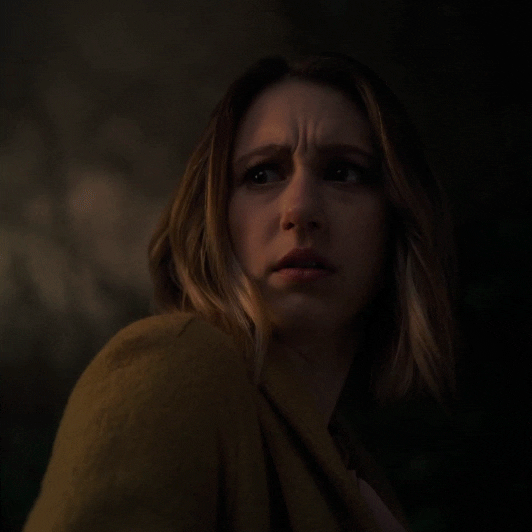 Sad Science Fiction GIF by Paramount+
Giphy
"They killed someone when detailing the case to me."
Huuntergamer45
Intertwined...
"'I am a Mexican cartel member' —US Immigration Attorney."
Odd_Author_76
"In LATAM, organized crime and everyday life intertwine quite often, it is quite common to bump into people with some degree of involvement or who had dealings with them in the past, I live in an upper middle class neighborhood and all of the businesses around my house had yo get an 'ok' to operate."
Much_Committee_9355
Hidden
"My husband was the lawyer not me, but one guy had been hiding in the attic of his small apartment building and when my husband went to talk to him he was so out of it on meth and paranoid that he accused my husband of working for the county whatever that means."
Chutneyonegaishimasu
Panama papers...
"I do corporate structure and wealth management so I don't get much action, but I've had clients admitting over the phone casually to every white collar crime known to man, insider trading, money laundering, tax evasion schemes I would get once a week. I'm pretty ok if what you are doing is fu**ing over either some big corporate or the government."
"But probably the scariest stuff, was during the Panama papers, while I was still an intern, I got a call from my boss off hours and to get to the office ASAP, I just went to the office had no idea what was going on and started shredding clients papers who might or might not have something to do on tax heavens."
Much_Committee_9355
To the Grave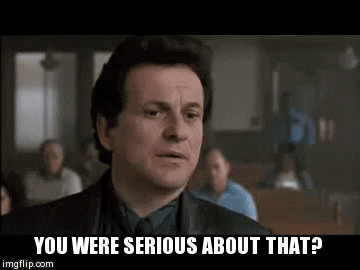 serious joe pesci GIF
Giphy
"I had to surrender my law license last week b/c of an early dementia diagnosis. Although I no longer carry a bar card, the secrets disclosed by clients, over the last 30 years, will die with me."
PraylikeTomAmes
Asking for a friend...
"I was always told you never lie to your lawyer or doctor. If I killed someone would a lawyer want to know the truth to better prepare for a case or do I keep my mouth shut? If I do admit to a heinous crime can the lawyer just refuse to defend me and then testify against me. Asking for a friend."
crusttysack
calibrated...
"I feel like my meter is calibrated differently, I feel like what is scary to some people doesn't phase me and I can't even think of really scary things. Except the time I worked with some mentally ill defendants and when visiting, he pulled a pen inkwell that he had sharpened out of his ass and threatened to harm himself in front of me."
"I was behind glass and safe, but having to talk him down was one of the scariest things I've ever had to do. He probably couldn't have seriously injured himself, but the moment was very scary."
jonesie1988
And Scene!!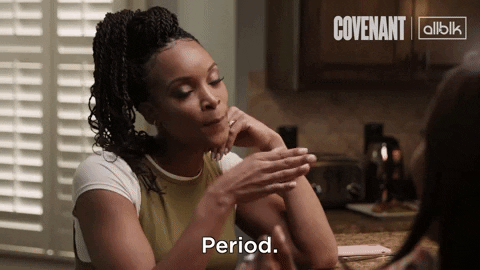 Period GIF by ALLBLK
Giphy
"A lawyer doesn't spill on a client. Period."
Barcelona539
RIP
"I had a client who's employee got drunk, went home and beat his wife to death R.I.P. it was in the paper!"
Thewhitewhale22
Criminal
"Other than a few cases, I didn't mind my criminal clients. I felt bad for the majority of them. They weren't bad people, they were people who were horrible childhoods, didn't finish high school, some kind of addiction problem, etc. They literally did not have the knowledge or ability to make good decisions. And a couple of bad people thrown in there.But Family Law? No thank you."
unabashedlyabashed
Secrets
"I became a lawyer b/c of Brendan Sullivan at Williams & Connelly. I was fortunate enough to also be a law professor (evidence and the law of testamentary privilege). Sullivan once said in an interview that he wanted his epitaph to read 'here lie the secrets'. I want nothing less and if I were to tell secrets, it would rob me of my professional pride and dignity."
PraylikeTomAmes
Godspeed, Esquire...
"My former boss, a lawyer of more than 40 years, passed in 2015. I know some of the secrets with which he was burdened but I know there were much, much worse things he carried alone. When he got sick in 2013 and knew dementia would eventually come for him, he would often joke and say, 'Now, when I lose my mind, don't think you're going to get any secrets out of me.'"
"Although those of us around him didn't feel so confident, he'd made up his mind. And he didn't. He told us he was still married to his long-departed first wife. He had fabulous visits with his mother, who had passed on more than 30 years prior. He lived a lot in his college days."
"Not once, however, did he utter a single clients name. Not the most eccentric family law client nor the most dangerous criminal client. Not a single one was mentioned. I sense you to have made up your mind. I'm sorry for your diagnosis but know you're obviously a hell of a lawyer. Godspeed, Esquire."
Shiftn4ward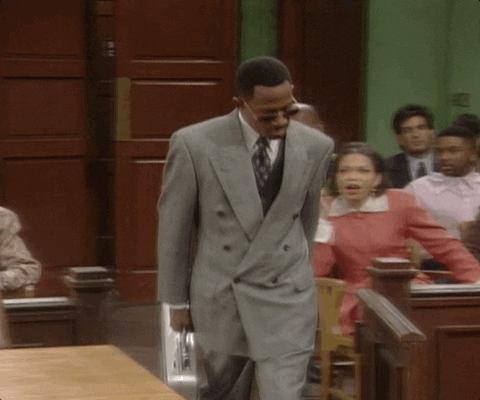 Season 2 Lawyer GIF by Martin
Giphy
The 22...
"Its a catch-22. The real answer is it depends. There are several possible ways to defend such a case. First is to make a strong case that it wasn't you. Second, is to impeach the prosecutions case, and undermine the certainty that it was you such that you get let off on reasonable doubt."
"Third, is some type of justification or mitigation defense: You did it, but it was legally justified, or you did it, but here is why you should get the lesser charge. Knowing the truth will help your lawyer formulate trial strategy, and better advise you during plea negotiation."
"However, when you admit doing it, it becomes hard/impossible to ethically present evidence exonerating you, that your attorney knows to be false. It is generally a bad idea to try to commit fraud on the court, your attorney cannot knowingly help you, but if your situation is desperate enough, it may actually be your best bet, but you can't ask your attorney about it!"
monty845
It's a good thing I'm not a lawyer. I'd be taking out AD space online with these stories.
Want to "know" more?
Sign up for the Knowable newsletter here.

Never miss another big, odd, funny or heartbreaking moment again.
Keep reading...
Show less
What would it be like to defend Thanos from the Avengers series if he were on trial? Probably pretty easy.
Would you really need to do anything since he could easily just snap the prosecution out of existence? That's a slam-dunk case right there.
Attorneys often dream of landing a big, high-profile cases. So what would it be like to defend a supervillain accused of high crimes and misdemeanors?
People were happy to share their thoughts after Redditor pygmypuffonacid asked the online community:
"Attorneys of Reddit, what supervillain would you have the easiest time defending?"
"Good luck proving..."
"Former attorney here: Light from Death Note. Good luck proving that he killed anyone. Writing names on a notebook is not illegal."
JustDeleteSystem22
Touché! Why didn't I think of that?
"Acme declines any responsibility..."
"Acme Corp v Coyote."
"Acme makes a wide variety of good quality products, but Coyote abused their design use far outside their intended parameters."
"For example, strapping an Acme Refrigerator to his back so the Ice Maker could make a snowy path for skiing is clever, perhaps, but far beyond output specs. Further, the Acme Skis he used have no place on asphalt roadways."
"Acme declines any responsibility for the ensuing broken bones, bruises, road rash, and hernia from trying to backpack and ski with a kitchen size refrigerator."
atomicsnarl
This is brilliant. We sort of feel sorry for the Coyote now. On the other hand, this vindicates the Roadrunner, who probably expected this outcome anyway.
"Dude was wrongfully imprisoned..."
"Megamind. Dude was wrongfully imprisoned as a baby then sent from prison into the public school system with no legal guardian, 504 plan, or any form of pre-school engagement or assistance, then they shipped him right them back to wrongful imprisonment. Metro City had it coming."
Annisnotmyname
Metro City sounds like a horrible place. Throw the book at them!
"I feel like any Scooby Doo villain..."
"I feel like any Scooby Doo villain should be a cake walk. All they really did was scare people."
Daredevils9
You don't think some of those decisions to scare people would fall under assault or harassment?
"The moon..."
"Rita Repulsa. The moon is outside the court's jurisdiction."
efficientslacker
Fair. Why is she being tried on Earth? This whole trial is a sham!
"He's basically the Vice President..."
"Darth Vader. He's a member of the government. He's basically the Vice President exercising martial authority on behalf of the lawful ruler. And as far as I can tell, there's no Space Geneva Conventions."
AnInfluentialFigure
That's what you think! We just need an intergalactic diplomatic mission to draft some!
"There are zero witnesses..."
"Lord Baelish. There are zero witnesses to his most hideous crimes, and the rest? He did just by talking."
Simple-life62
Are we going to ignore the fact that Sansa Stark saw him kill Lysa Arrin? Or is this a case of his word against hers?
"I think Lex Luthor..."
"I think Lex Luthor would be fairly easy to work with. He's rich, white, and most of his tomfoolery is business schemes."
AKeeneyedGuy
Okay, this wins. There would barely be a trial!
"Give me Loki!"
"Give me Loki! At least in the United States."
"All sorts of issues regarding personal jurisdiction and separation of church-and-state, and that's before you even get to the trial. Hard thing would be keeping Loki off the stand."
"He seems like the sort who would insist on speaking to the jury and probably wouldn't come across very well."
crimsonlaw
Quite likely. Keep him from blabbing and you've got a slam dunk of a case!
"Magneto has experienced..."
"Magneto has experienced the absolute worst of humanity, and that was when everyone thought him an ordinary human. Hard not to sympathize with his motives."
jah054
Emotional manipulation of the jury? Yes, that sounds like it would work. It typically does.
A lot of these sound like fun cases but they also sound like the kinds of cases that piss off the average person.
As if dissatisfaction with the justice system isn't bad enough, we have to add supervillains getting off to the deal?!
Have some suggestions of your own? Feel free to tell us more in the comments below!
Want to "know" more?
Sign up for the Knowable newsletter here.
Never miss another big, odd, funny, or heartbreaking moment again.
Keep reading...
Show less
There is a reason why the TV show Law & Order has endured for 20 seasons and has spawned various spin-offs. People love court drama.

All aspects dealing with the criminal justice system being played out by actors can make for a compelling watch.

So you could imagine what it must be like for actual lawyers who have years of wild firsthand experiences that is their reality.

"Lawyers of Reddit, what is the most f'ked up case that you have fought or seen?"
The court room is now open. Brace yourselves
Some people should never be parents.
Unfit Mother
"A woman was alone with her baby after her husband got deployed. This was not long after the baby was born. Then the baby passed away, and the body had some strange bruising. The mother insisted the baby crawled out of her sight and fell down the stairs. The case ultimately got reassigned from our office, and the mother was pissed. She told the primary lawyer on the case that she had indeed killed the baby. She basically bragged about it, and she had zero remorse at all. Seeing the infant's autopsy photos was absolutely horrific."
Cruel Punishment
"Dependency case where a single father dipped his toddler in boiling water because he was crying about some silly toddler thing. Kid was severely burned over his whole body. They were trying to re-unify them."
Unwanted
"Worse I've heard was a divorce case where both parties fought to NOT have the kids stay with them. It's so depressive to think about the children in that case."
– maximef1

Punishing A Teen
"IANAL, I work for one."
"We represented a family who tried to ruin a teenage boy's life. They fabricated police reports, falsely claimed he stole expensive electronics from them, and took their claims to the very uninterested school the boy attended. When cops tried to investigate, the family evaded the investigator and lied to him."
"Why do all this? The family's son was crushing on a girl they were hosting in their home. She chose to date the boy in question over the son. All three kids were classmates."
"The boy got a hefty settlement from the family. This case was outside our typical areas of practice, but they came from a friend of the attorney."
These clients were innocent of their wild allegations.
Insult To Injury
"Represented a painter getting sued on a construction defect job. The painter was hired to paint building 2 and 3. He showed up for work, performed the work, and on his way home got into a terrible car accident leaving him paralyzed from the neck down."
"He was sued several years later for water intrusion defects related to buildings 7-9 (Which he didn't work on). Felt terrible for the guy."
– nicbus07

The No-Show
"Client insisted on suing an employee who failed to show up to work which caused a contract to be cancelled."
"The employee didn't show up to work because he died."
Prank Gone Wrong
"Case told to me by another lawyer on one of my cases: two guys decided to give a marijuana laced brownie to their co-worker without telling him it marijuana in it... right before he started his shift... as a crane operator. It went predictably badly, resulted in an accident and even their union agreed the guys should be fired."
These cases involved criminals who have done unspeakable acts of horror.
The Lying Inmate
"In a pro bono program, I was assigned to handle the request of an inmate to be released after serving 2/3rd of his sentence. When I read his file, I discovered that he was convicted for kidnapping a woman, tying her to the right front wheel of his jeep and torturing her to death with some sort of home made flamethrower. When I went to see the guy, he denied everything, and told me he was appealing the verdict (which legally was not possible anymore)."
"It was really weird sitting in a room with this guy, knowing what he was convicted of, and knowing that he'd been denying the conviction for almost 20 years."
"Needless to say, his request to be released early was denied."
"Edit: People have been asking questions about the sentence he got. He got life in prison, which makes you eligible for early release after ten years (first offence) or 14 years (recidive) in Belgium. The death penalty was abolished in 1996."
People Share Their Best 'Whoa, It Worked' Moments | George Takei's Oh Myyy
Mentally Unstable
"A sociopath in a psych ward making suicide pacts with vulnerable people and never following through. Charged with murder, determined he was too out of his mind to be accountable. Gonna be in an asylum for the next two decades unless something major changes within the case."
Animal Cruelty
"Not a lawyer, but used to work in a law firm. One attorney told me about a case he was trying where the defendant was up for animal abuse charges."
"What did he do? Well, he and his wife were going through a nasty divorce and he had moved out and started living with a friend. One weekend, he knew his wife and kids were away, so he got hammered and decided to go f'k up the house. This dude totally trashed it. But the worst part, he took his kids new kitten and placed it in the microwave & turned it on. He left it there for them to find."
"F'king disgusting psycho."
We could use a bit of levity.
The following will provide just that. Not all cases are gloom and doom.

Saving Mermaids
"I'm here to provide comedic relief!"
"My buddy is an attorney and was working on a case against some company that was dumping pollution in a large, local body of water that had a direct opening to the ocean."
"He gets a letter from an incredibly concerned local dude. He wrote this LONG LETTER begging my buddy's team to do all they can to win the case against the polluting company for the sake of the... mermaids that were living in that local body of water."
"He had seen them often guys. He had been trying to befriend them for quite a while now and was concerned for their well-being and for the possibility that they would move out to the ocean to find a cleaner home if the company kept dumping pollution into their area. I wish I could find that pic of part of the letter."
"In case you are as concerned as he was, fear not! My buddy's team won the case and that company is no longer dumping their waste in that body of water"
Wildly Determined
"My uncle lawyer helped a relative with a traffic ticket. Relative was conspiracy nut and wanted to take it to court to 'reveal the lies.' Uncle just paid the fine and told her she won."
Wayward Ice Cream Particle
"Not really f*cked up, but amusing: my dad won a case against Baskin Robins 30 years ago, because his client chipped her tooth on a pistachio shell while eating pistachio ice cream. No warning label. I don't remember the settlement amount, but it was hefty."
While most TV courtroom dramas are fiction, they can be inspired by actual events.
Certain episodes from programs like How To Get Away With Murder, The Good Wife, and all the Law & Order shows can pull from real-life news headlines and be overly dramatized for our entertainment.
However, it is very unfortunate that some of the most horrendous acts carried out by human beings in the real world are not a manifestation of a writer's imagination.

Keep reading...
Show less