Sometimes you just gotta laugh. Laughter is truly the best medicine. A laugh can save you in the darkest of times. Hell I've been a bawling hysteric through 2020 and I'm still here. Ah... the power of a needed chuckle. Some people laugh at moments that may seem uncouth to others, like at deaths and the delivery of bad news but that is often a defense mechanism because it is all too much to bear. Then it gets out of control and you swing back to crying. Laughing is emotional therapy, enjoy it.
Redditor
u/marker_speaks
wanted to know who else has had those moments when the laugh just has to be heard no matter the moment by asking....
What's that "can't stop laughing" moment where you're in a situation you shouldn't be laughing?
When one must toot....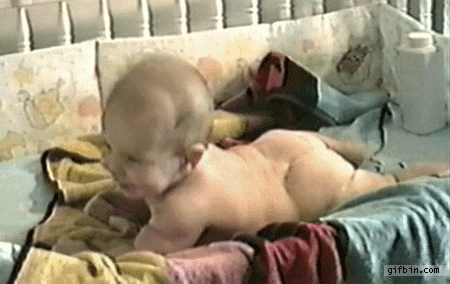 Baby Fart GIF
Giphy
My father's funeral... my daughter was 3 months old and have a lot of belly pain... she farted so loudly that the priest needed to stop talking for us to stop laughing...
He even told us that the church was a serious place, and if we couldn't behave to get out.. I told him the deceased was my father, and I couldn't control my daughter's farts.
Into the Casket
My mother and father went to a funeral of one of mother's aunts that she was not close too, in fact my father had never met her. As they stood at the open casket my father said to my mother " she just doesn't look like herself" again my father had never seen the aunt before. For whatever reason this struck my mother as very funny and she started laughing, she held her hands to her face and ran from the casket. Her sisters saw this and thought she distraught and followed her out to console her. Where my mother had to explain that she was laughing and not crying and why. She was so pissed at my father it was hilarious.
Oh Wanda
Visiting my Grandmothers grave with my grandfather for the first time a few years ago. Expected tears and a solemn day. Instead we passed a grave marked "Wanda" and my grandfather said "Well I wanda what killed her?" none of us could stop laughing, my grandmother would have loved it.
God is Warmth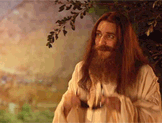 jesus deal with it GIF
Giphy
At a funeral, the pastor kept referring to God as "The Great Comforter" and all I could think of was a tacky bedspread glowing with holy light. Every time he said it my giggles got worse to the point I had to pretend I was crying really hard and left to hide in the bathroom.
Hey Dot
When I was in my early twenties my great aunt, who we weren't close with, passed away. At the wake, my mom and I went up to pay our respects and I said "I haven't seen Aunt Dot in thirty years" which made my mom start laughing which in turn made me start laughing uncontrollably. Thankfully it was a packed funeral parlor and no one seemed to notice.
The Kebab Stand
In High school there was three religion courses you could pick: catholic, evangelic (edit: I'm told it's protestant in English) or neutral. You would have different topics in class and different destinations on the yearly trip. I picked catholic and on the yearly trip we went to a monastery. On the third day one of the exercises was to talk about death, so there's 20 kids in a circle of chairs and everyone's crying because everyone lost a loved one at some point and death is a hard topic.
The teacher starts talking about how she imagines death to be like and begins to tell: "I imagine after dying there to be a long long spiral staircase. And you go down and down until there's a door and behind that door..." The rest I didn't hear because my friend next to me whispers: "A damn kebab-stand" We both sat there giggling for like 20 more minutes until the meeting was over. To this day I feel really bad.
Let me clear my throat....
I had this really nice but really awkward physics teacher in high school. He was a large nerdy man but spoke with a lisp and a very soft voice. Imagine the guy from office space asking for his stapler, that's how he sounded. One day he is giving his lesson and mid sentence he goes from this voice to what sounded like satan himself. "Ok class please (deep hell voice) TAKE OUT YOUR BOOKS, cough cough erm... excuse me must have something in my throat."
Then continued like nothing happened. I could not, for the life of me stop freaking laughing and I was the only freaking one. It was the most bizarre and freaking hilarious thing I had ever seen. I had to walk out of the class to catch my composure. This was at least 15 years ago now and I'll never forget it.
Relish?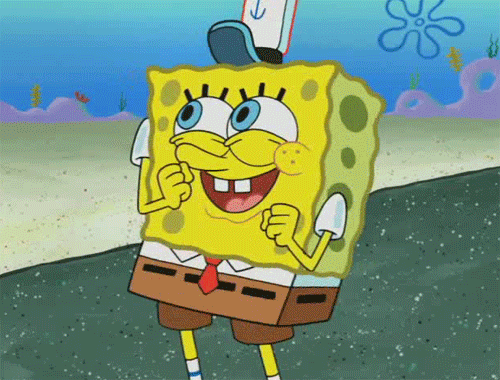 happy dance GIF by SpongeBob SquarePants
Giphy
Not me, but my friend. She was getting fired from her job, and all she could think about was "What'll it be fellas? Mustard, or ketchup?" from the Spongebob Squarepants movie.
God's Curse
In school we did a course on mythology and had a project where we had to write our own mythological stories for the creation of creatures/places/etc.
One kid wrote a story about how a man was abusing his horse, so the Gods cursed him. One day his horse threw him onto spear which went through the back of his head and out of his forehead, and he transformed into the first unicorn.
I couldn't freaking stop laughing for a solid 5 minutes. The teacher berated me for laughing at violence but the kid and I both thought that was funny as hell.
Peace Out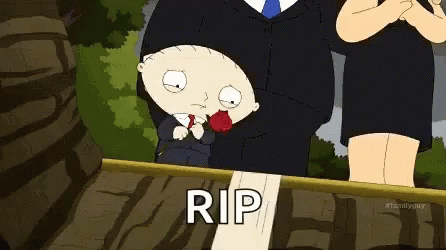 Funeral GIF by memecandy
Giphy
My Grandad had "If you don't know me by now" played as the curtains closed at his funeral.
Shouldn't have laughed. Couldn't help it. Legend.
Want to "know" more? Never miss another big, odd, funny, or heartbreaking moment again. Sign up for the Knowable newsletter here.

Keep reading...
Show less
Junk Food Junkies, we have been blessed with insider info! If you've never worked in fast food it's easy to assume everything on the menu is about the same quality. Apparently, that's not the case. One Reddit user asked:
People who work in fast food: what is one item from your menu you would never order?
Honestly, if there's anyone who would know what to steer clear of, it's the people who make the food, right? So listen, take notes. You'll thank me after your next 1AM drunken fast food binge is helluh upgraded. You're welcome for the glow-up!
H/T: Reddit
Keep reading...
Show less