History is littered with horror and fright.
And much of it is journaled and cataloged for our reading pleasure.
Which sometimes is reading that can leave one a bit on edge.
That's because some of our best long-dead wordsmiths left some serious echoes.
Now we all do love a good speech.
We're especially entranced when the speaker has that certain... "thing."
But once and awhile when you listen and really dig deep, they are less inspirational and more morbid
Redditor KeyWar8755 wanted to compare notes on the words we can't shake. They asked:

"What's a quote from history that gives you chills?"
I always listen to famous serial killers. So I've long been tainted.
To the Sea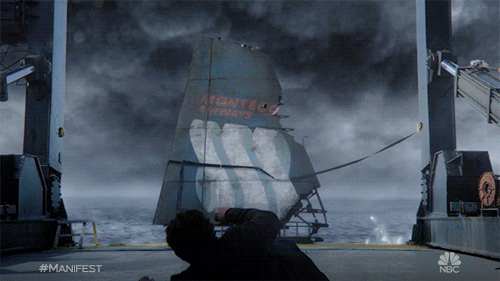 Season 3 Nbc GIF by Manifest
Giphy
"'It is only those who have never heard a shot, never heard the shriek and groans of the wounded and lacerated […] that cry aloud for more blood, more vengeance, more desolation.'"
"General Sherman, from a letter sent in May of 1865 in the midst of his march to the sea."
TTTriplicate
Loss in Life
"'WAR is a racket. It always has been. It is possibly the oldest, easily the most profitable, surely the most vicious. It is the only one international in scope. It is the only one in which the profits are reckoned in dollars and the losses in lives.'― Smedley Butler"
ayayaJAMMER
Shoot
"'Every gun that is made, every warship launched, every rocket fired signifies, in the final sense, a theft from those who hunger and are not fed, those who are cold and are not clothed.' -- Dwight D. Eisenhower"
zyygh
Dirty
"'In Germany, the one who complains about the dirt is considered much more dangerous than the one making something dirty.' -Kurt Tucholsky"
"(Not an exact translation, the original quote is in German)"
EsszettOfficial
I'll Find You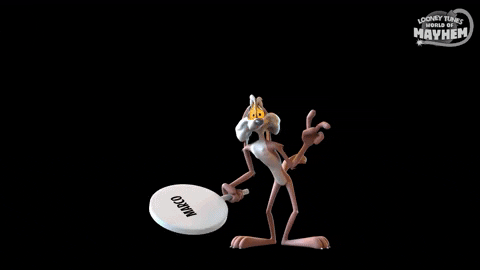 looney tunes marco GIF by Looney Tunes World of Mayhem
Giphy
"Nobody believed Marco Polo's stories about travelling through Asia, and on his deathbed someone asked him to admit he had made it all up. His response was 'I have not told half of what I have seen.' That always got my imagination going. I would have liked to have heard his stories straight from him."
mariam67
I've always wondered about Marco Polo's origins.
Dreams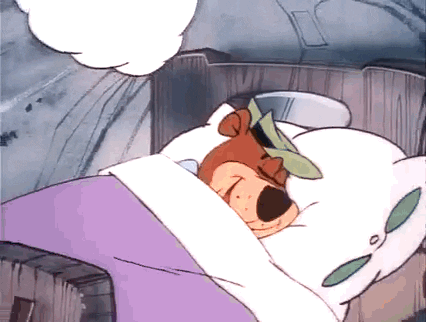 Hungry Hanna Barbera GIF by Warner Archive
Giphy
"'All men dream, but not equally. Those who dream by night in the dusty recesses of their minds, wake in the day to find that it was vanity: but the dreamers of the day are dangerous men, for they may act on their dreams with open eyes, to make them possible.' T. E. Lawrence"
Kravashera
Time to Die
"'I've seen things you people wouldn't believe... Attack ships on fire off the shoulder of Orion... I watched C-beams glitter in the dark near the Tannhäuser Gate. All those moments will be lost in time, like tears in rain... Time to die.' — Rutger Hauer in Blade Runner"
cisforcoffee
Send it All...
"'Stop sending people to kill me. We've already captured five of them, one of them with a bomb and another with a rifle… If you don't stop sending killers, I'll send one to Moscow, and I won't have to send another.' - Said by Josip Broz Tito to Joseph Stalin"
ChangKaiShek2
Death
"'I used to have five brothers, now I'm not even a brother' - Kevin Von Erich"
"His older brother died at the age of 6. His younger brother David died suddenly at 25. His three youngest brothers all killed themselves at 33, 23, and 21. Between 1984 and 1993 he went from having four younger brothers to not being a brother."
ToxicBanana69
Remember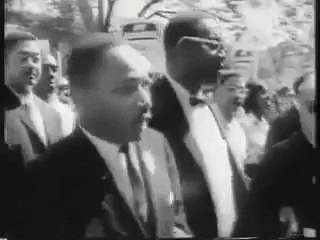 Martin Luther King Jr Mlk GIF by Identity
Giphy
"'We will remember not the words of our enemies, but the silence of our friends.' - Martin Luther King, Jr."
RecalledBurger
Power
"'We have the power to make this the best generation of mankind in the history of the world or make it the last.' - John F. Kennedy"
VerdHorizon
These are some powerful words that have stood the test of time.
Keep reading...
Show less
People have different levels of tolerance when it comes to profanity.
And some people can't stand the sound of rude or vulgar language so much that they can't bring themselves to say these naughty words themselves.
But when anyone reaches a high level of anger or frustration, they still might need a verbal outlet.
And instead find themselves coming up with an alternative word, which helps them release their anger, but won't offend any nearby ears.
Redditor No-Citron5628 was curious to hear people's favorite alternatives to curse words, leading them to ask:
"What is your best swear word alternative?"
Intergalactic profanity!
"Oh neptune."- StrappinYoungZiltoid
The last thing you want to find in your bed!

"Crumbs."- ThatsHisEagerFace44
Instead of rude, be educational!
"'Safety Hazard!'"
"I said this instead of… other words once when I tripped and accidentally taught this to my nephew."
"Now my sister sends me videos of my nephew saying it when things don't go his way."- YellowForest4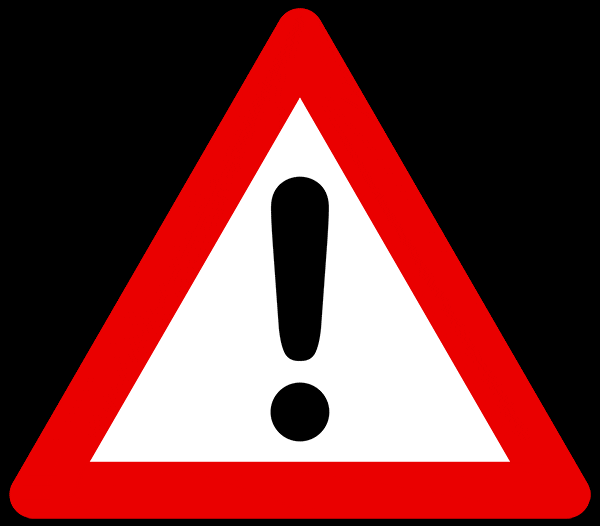 Warning GIF
Giphy
Think of the children!
"Not sure of an actual word, but my bf and I have been trying to limit cursing since my toddler is becoming very verbal."
"He's resorted to making very angry yelling caveman sounds when he wants to curse someone out rather than using the actual words."- Present-Lime-1244
With gravy?
"Biscuits!"- blargney
Onomatopoeia
"I like, 'slug in a ditch'."- spiked_macaroon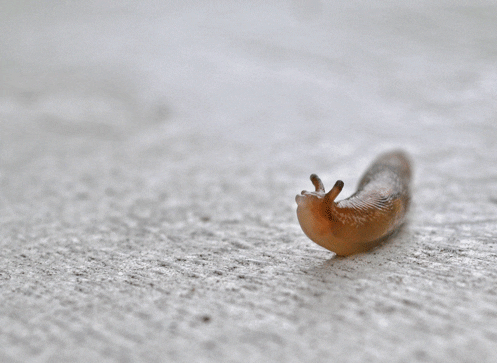 slug GIF
Giphy
We can always learn a thing or two from the kids...
"A child in my class tries to swear but unintentionally says foot instead of f*ck."
"It's probably my favorite alternative."
"Wow, didn't expect this to get so much attention."
"Thank you for the award! "
"For those asking, he is a very tiny child with a deep yorkshire accent who actually picked up the word from another child but hasn't noticed he doesn't have the pronunciation quite right yet."
"Context wise though he's bang on which makes it even funnier."- sophishx
Just one word won't do!

"DO YOU SEE WHAT YOU GET, LARRY?!"
"DO YOU SEE WHAT YOU GET WHEN YOU FIND A STRANGER IN THE ALPS?!"- KevinBillyStinkwater
Be mindful, it could backfire
"When my son was little he started saying bastard so I kept saying custard."
"Until the day he complained that we were having bananas and bastard again."- CheeryShortarse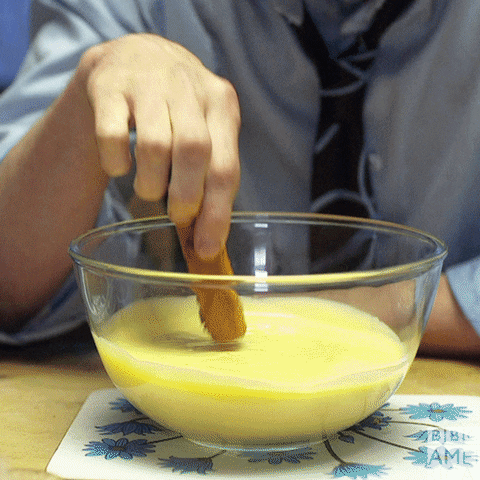 Doctor Who Snack GIF by BBC America
Giphy
Mother knows best.
"My mother always said, 'Curses!'"
"We, the kids, laugh about it all the time."- tenzip10-0
If you feel like you've sufficiently got your anger or frustration out of your system, your choice of words served their purpose.
Whether or not they would have to be bleeped out on network TV.
Keep reading...
Show less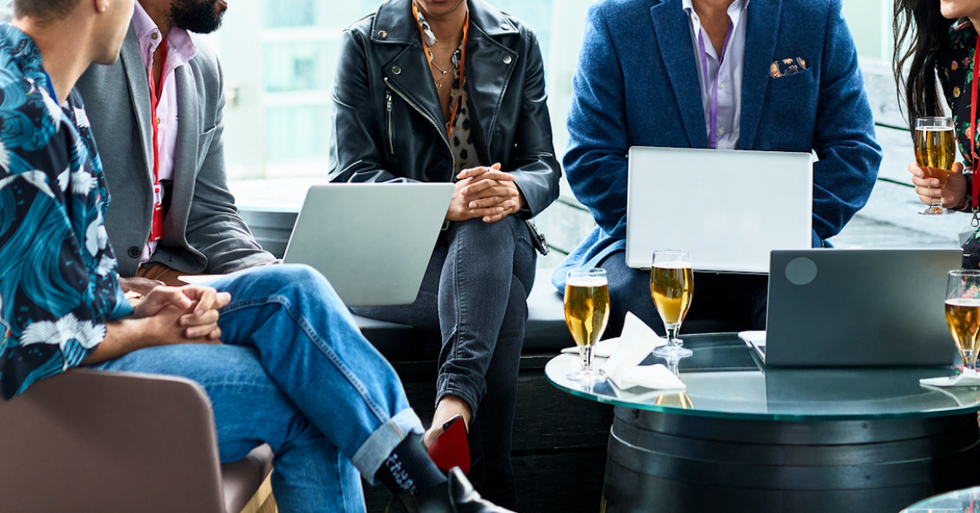 Even when moving to countries with the same language, expatriates still often find some conversations getting lost in translation. Even if the basics and fundamentals of their shared language remain the same, there might be some terms which aren't used in both countries, or might have a different meaning. Americans might be surprised to find […]
More
An almost guaranteed phase of entering adulthood is unintentionally making it clear how much older you are than some present company.
This could be by the way you dress, talking about seeing a movie in its initial release when the person you're talking to wasn't born yet, or more than likely, by the way you talk.
When you say a slang term or phrase which was common place when you were a child, but today would likely be met by looks of confusion, or even disgust, should you use a term which is not only outdated but now considered offensive.
But then, shaking these old fashioned, or just plain old, terms and phrases might be a difficult task, so engrained are they in our vocabulary.
Redditor InfiniteDrafts was curious to hear what phrases people continue to use, despite knowing how quickly it will date them, leading them to ask:
What slang do you use regularly that is totally outdated?
Maybe rethink alternative words for "awesome"...

"I called a taco 'the Shizznit' a few days ago."
"I instantly felt 90 years old."- fattydad075
Not as "radical" as it once was...
"Rad."- AvatarofBro
"Righteous and radical."- king_7__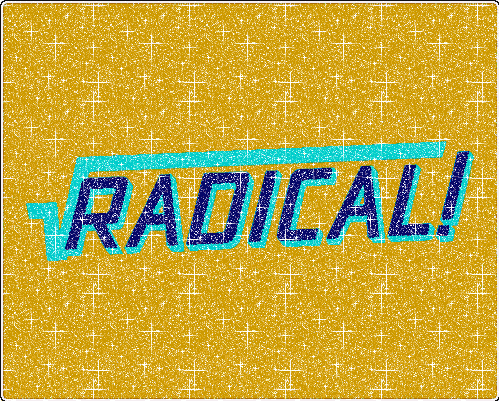 Colors Flashing GIF
Giphy
Language is eternal!
"None of MY slang is outdated, it's today's youth that are wrong!"- hotasphalt
How long have you got?
"I say things are the bees knees on the regular."
"Is 'on the regular' dated?"
"I also call the ocean 'the drink' for whatever reason."
"Picked that up at some point."- Paradigm6790
"This sub is making me extremely paranoid about my words now bc I say pretty much all of these words still."- jjjjjjj30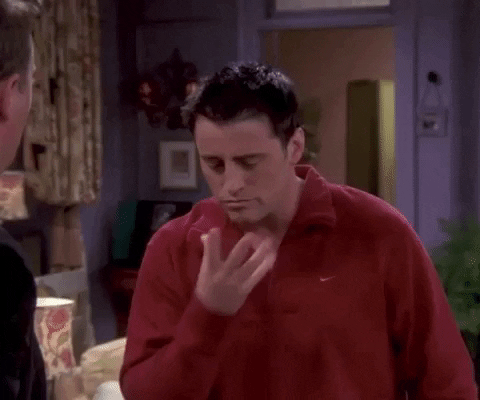 season 10 friends GIF
Giphy
Charming once, vulgar now...
"HAULIN' A**."- f*ck_korean_air
Nah, come closer.
"Far out."- PaulClifford
A bit off

"Right on."- bombaderogato
Does anyone still even eat popsicles?
"When I'm ready to leave I say 'Let's blow this Popsicle stand."
"To be honest I'm not even sure what a posicle stand is."- B-Sdetector69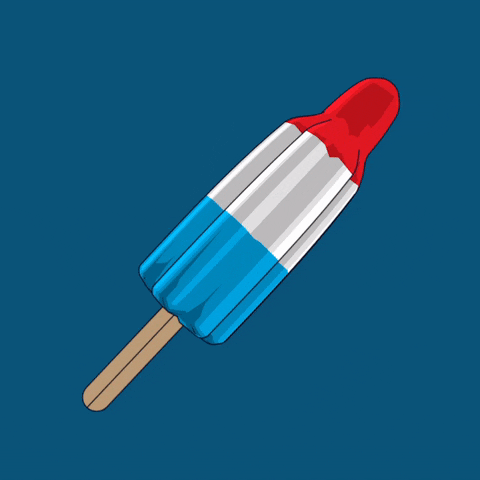 Popsicle Freezer Pop GIF
Giphy
It's hard not to feel self conscious around the younger generations who might laugh at your dated vocabulary.
But one should just remember, in 10 years or so, they'll likely find themselves in the exact same position.
And won't feel as "groovy" as they once did.
Keep reading...
Show less
Who doesn't love some good old fashion nastiness?
I don't mean like evil, mean-spirited craziness, I mean some nice tongue lashings.
Don't you love cursing someone out without having to use one off-colored word?
Redditor Saibotnl1 wanted to get a list together of all the saucy and sassy words that can be naughty and used in mixed company. They asked:
"What's an insult without any swear words?"
I love me some shade. I love throwing it and hearing it. Tell me more...
Ouch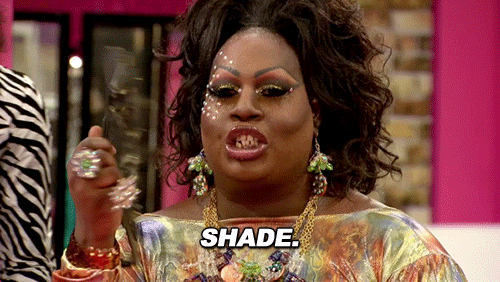 shade GIF by WE tv
Giphy
"'I bet your parents change the subject when their friends ask about you.'"
YourUncleBenny69
Duh
"'You aren't the dumbest person in the world, but you better hope they don't die.'"
needs_grammarly
"This is the most brutal one."
MeasurementAwkward89
"Guess this means I gotta protect you at all costs."
5irJeff
Get it?
"One I use in retail occasionally... I can explain this to you but I can't understand it for you."
TAaccountfor2021
"As a fellow retail manager, I feel that in my bones. I manage a large gun store, so I deal with a lot of idiots (frightening, I know)."
"There are times when people try to argue with me about things that involve federal law, and get mad at me when I won't commit willful violations of said federal law that could cost the store its license to lawfully do business. I usually will end things with, 'I'm sorry you feel that way, because it means that we can no longer do business. I hope you find the answers you're looking for elsewhere.'"
REDDIT
Congrats?
"You are the human equivalent of a participation trophy."
JJISHERE4U
"A participation trophy is a trophy given to someone in a contest who didn't actually win anything but would have been butthurt if they came away empty-handed."
dhaerlkl
Lucky Fools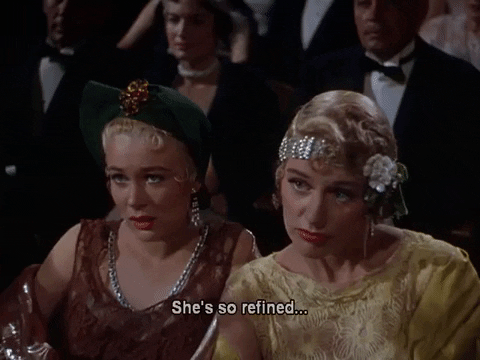 Gene Kelly Envy GIF by filmeditor
Giphy
"I envy those who've never met you."
Kodemar
I am LIVING for all of these!
Need a bag?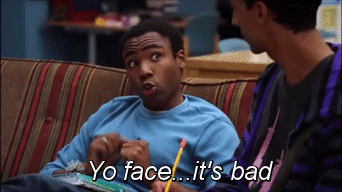 ugly donald glover GIF
Giphy
"'You have a great face for radio.'"
YourUncleBenny69
"And you have a great voice for silence."
Supersaiajinblue
Apologies
"You've got two brain cells, and they're both fighting for third place. Somewhere out there is a tree, tirelessly producing oxygen so you can breathe. I think you owe it an apology. Apparently the second one is a line from House MD. Giving credit where it's due."
FlashpointJ24
"I've always liked 'Intellectually unfortunate.'"
AngriestManinWestTX
So Good
"'I don't care what the others say, I think you're great.'"
sewn_of_a_gun
"'I don't know why so many people don't like you.'"
ABobby077
"I actually saw someone say this to another person at work. It doesn't help that most people at our work really don't like the guy."
LOTRfreak101
Look Away
"'I wouldn't want to be your mirror.'"
lilgreen13789
"'I still wouldn't bother to look at you.'"
Supersaiajinblue
Oh my...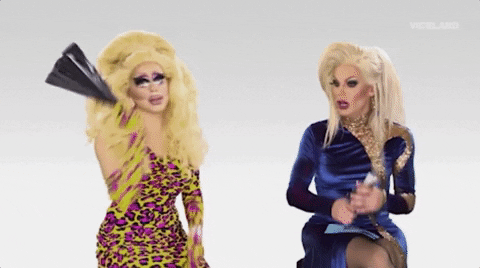 Shade Be Quiet GIF by THE TRIXIE & KATYA SHOW
Giphy
"'You're like the end pieces of a loaf of bread. Everyone touches you, but nobody wants you.'"
sparklingshanaya
My Lord. Y'all people are scandalous.
Keep reading...
Show less