We all do it. Just own up to it. We fib every now and again.
I know the Bible has condemned it, but I feel that is a bit over the top.
I mean a whole Commandment just about lying? I feel there are more sever topics that could be covered.
A lie with good intentions every now and again can save a lot of heartache and spare you a ton of drama.
Let's discuss how we try to keep each other smiling.
Redditor Over_Feedback_544 wanted to discuss the tales we weave just avoid awkwardness, they asked:
"What's an obvious lie you think we all accept to make each other feel good?"
I lie pretty often; it's just easier.
Nobody really wants to hear about ugly clothes and poor dating choices.
Convince me I'm wrong.
Tomorrow?
"My personal favorite lately is 'we'll find a day!' Yeah we could find one out right now but you don't actually want to." ~ cd2220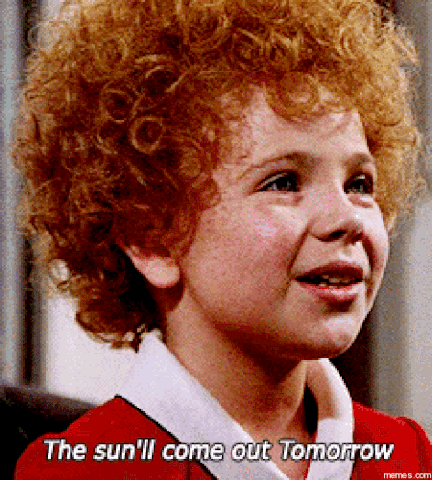 Giphy
In the end...
"Bad people will get theirs in the end." ~ HoosDare
"My grandfather's brother, W recently died and made a will to give everything (house etc) to his sister, S and her son since W never married or had kids. W's best friend is a conman millionaire and forged a will putting everything in his name."
"S and her son are way too poor to fight in court over it. The family keeps on saying stuff like, 'his children will fight over land just like him' (he has 4 houses) or 'he'll get what he deserves in the end' or 'God will punish him.'" ~ uRude
Never say Never
"That someone would never do such a thing." ~ boulomai_mathein
Bingo. If you've thought of it, there's a solid chance someone else already thought of it, and did it. 'There is nothing new under the sun.' It's also not entirely a bad thing."
"It also means that if you're struggling, you're not totally alone. Someone, somewhere, somehow, would also understand, no matter how unlikely or absurd that may seem." ~ jsh97p
WE?
"This is not who we are." ~ drapetomaniac
"God I hate it when people say that. All you are is what you do, you can't just create some idealized version of yourself and say that's the real you deep down." ~ fix-ur-acrostics
"It is useful if it actually helps you create meaningful change. You have one vision of who 'we' should be, others have another idea."
"And which version comes out on top depends on who is more successful at persuading others and making their version the reality. But just saying it, if no action is taken with it, is pretty pointless."
"A way to soothe a guilty conscience at best." ~ Iplaymeinreallife
Feel It
"That most people will have a painless death." ~ MajesticWeasel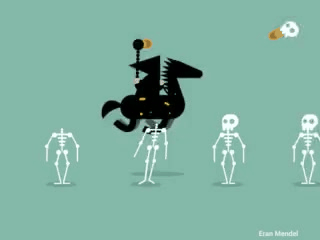 Giphy
Yeah, those are all pretty good.
I lie about death and I would appreciate you continue to lie to me about it.
I'm nervous enough already.
Precious
"What a pretty baby!" ~ essieroxs
"When the baby is ugly, I say 'precious.' Some babies are uglyyyyyy. But they are all precious." ~ absentbusiness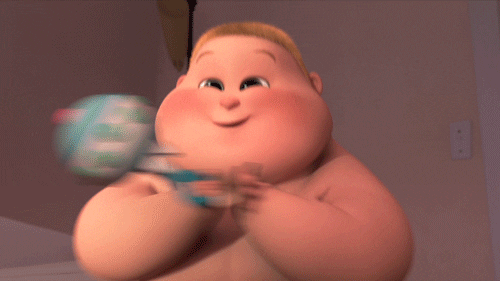 Giphy
Hung Up
"I will call you back." ~ No_Bullfrog5811
"Not for me. If I'm getting off a call I'm just pissing or doing something real quick."
"Then again I talk for fun with my friends and family on the phone often, which a lot of people don't do."
"Though once a friend started making a freaking smoothie while on the phone. Just hang the damn up." ~ BirdsLikeSka
Lie Away
"Someone my husband knows (aquaintances) died recently. The obituary stated he 'died peacefully at home surrounded by family.' Lovely.
"According to my BIL, who was much more familiar with the guy and his family, the truth was he was driven out into the desert by a girlfriend, overdosed on hard drugs, and was left out there to die."
"They found him days later. I can see why they chose to lie." ~ momma_bear_3
Be Honet
"When you say 'how's it going' and I say 'good. How are you?' And you say 'good.' We both know that neither of us are good." ~ rock374
"This is exactly why I answer with at least a little honestly. I'll say I'm OK, alright or that I'm just trying to make it through the day."
"I say enough to let them see that I'm real and not having a great day (when it's true that is) but not enough that they feel they need to ask anymore about it." ~ Mr_Bluebird_VA
Sure...
"You'll find someone eventually." ~ DeathSpiral321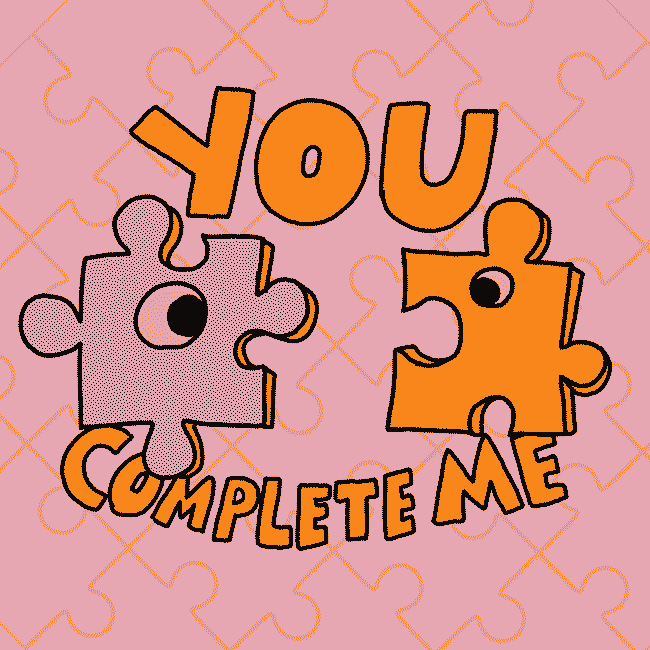 Giphy
Oh that baby one is hard.
Not every kid is perfect.
Sorry to tell you.
These lies are worth the emotional avoidance.
Want to "know" more?
Sign up for the Knowable newsletter here.

Never miss another big, odd, funny or heartbreaking moment again.
Keep reading...
Show less
You never know what kind of day someone is having.
But when that person – who may have drama at home or trouble in the workplace – hears a compliment, it can be enough to turn their day around.

While many of us have undoubtedly been praised for our looks or how well we performed certain tasks, there are some unique compliments that stay with us forever.

Curious to hear from strangers on the internet, Redditor pokemonjk20 asked:

"What is your favorite compliment you ever received?"
Keep reading...
Show less
It can be thankless trying to maintain optimism and kindness in a world so full of hard-nosed individualism. And yet, there are a few people who have examined the circumstances and still find it's worth the bargain.
Because they are relatively few and far between, kind people are full of interesting opinions that we can all learn from--even the kind ones reading here.
A recent Reddit thread asked specifically for the motivations that drive people to remain kind in the face of such a negative world.
Redditor jeev07 asked:
"People who choose to be kind everyday despite not receiving the same kindness back, what motivates you?"
Many were fueled by empathy. They know how common it is to find yourself in a spot where you'd benefit from even the smallest act of kindness.
On the Other Foot
"Because I could be the other person." -- felipebsr
"Today you, tomorrow me." -- scubaguy194
Just One
"Because I know how it feels when you're down and your day/week/month/year just fu**ing sucks, and if there's a chance I can make just one person who feels like that have a better day and feel good for a bit, then it's worth it"
Worth It
"It just never hurts to be nice. You don't know what people go through or how long it's been since someone said something or did nice for someone, so I do my part to reset the clock on that."
"I remember holding the door for a guy one time when he was like 20 feet behind me, and he was so appreciative that someone did something for him that sounded like he was about to tear up."
"You just never know, so why not be a good person?"
-- FryinGosling
Others found that being kind actually ends up benefitting them as a side effect.
Kind to Others, Kind to Self
"I try not to reproduce behaviour I don't like in other people. Makes me like myself more" -- Grand-Ad4739
"When you live consistent to your values and principles, it builds your self confidence, esteem, and just generally you walk lighter. That's more than enough reason."
"If the only reason you're kind to people is to get something back, you will always only ever be disappointed. Do it for yourself." -- misterandosan
A Clear Pattern
"being unkind makes me feel very guilty immediately lol. even if they 'deserved' it, I just feel kind of angry or upset after, never better" -- lillyko_i
"Tbh for me it takes a lot of effort to be an a**" -- OkTower9298
Staying Open
"You catch more flies with honey. Not saying your motivation to be nice should be to get things out of people, but more opportunities present themselves when you're likeable and people want to be around you."
"You sleep well and have diverse social groups to interact with. And being nice does not mean to let people take advantage of you. Clearly communicate your boundaries and have the other person confirm that they've heard and understand you."
-- DrSpaghetti
A Nuanced Life
"Being kind is so much more powerful, if subtle, than unkindness. It's costs me nothing but a bit of mental gymnastics and for a few moments life isn't terrible."
-- gotogarrett
And a few just couldn't imagine not being kind. They didn't have some clear social motivation, but rather they just felt the whole thing was non-negotiable.
Not A Transaction
"I'm kind because I'm kind, not because other people are" -- The1Real1One
"Yup, this one for me. I just literally don't have it in me to be mean or rude. It's not who I am."
"That said, I have gone on a few rants at people who have treated me badly. Alone, in my car." -- amatchmadeinregex
Principled
"Having ideals means you stick to them no matter what. You have no expectation of getting anything in return. Trying to be a good person is done solely because it's the right thing to do. Not because you think people will like you better or you'll be rewarded."
"Even though being a good person has burned me so many time's, I refuse to let it break my ideals."
Stay Free
"I'd rather put positive vibes out into the world. It feels good." -- stick_a_fork_in_it
"It feels good and it's free. Once I realised that it's free being nice, I do it all the time" -- AfricanWarrior96
For those of you out there feeling worn down and succumbing to negativity, hopefully this list served as a little well-needed jolt of encouragement.
Want to "know" more? Never miss another big, odd, funny, or heartbreaking moment again. Sign up for the Knowable newsletter here.
Keep reading...
Show less
We are told, from a young age, not to interact with strangers. And let's be honest, that is sound advice.
With plenty of creeps and weirdos around, it's best for parents to just nip any possibility of abduction in the bud early.
But when we grow into adults, we can take care of ourselves. We develop a keener sense of people: who is approachable, who's not, and when it is or isn't a good time to strike up conversation.
That well-honed sense can open us up to so many amazing interactions that, without being just a little bold, we would never have the chance to experience.
Some Redditors recalled the times they read the moment right and got a very memorable encounter out of it.
Defiant_Cat7301 asked, "What's the most memorable moment you shared with a stranger who you never saw again?"
So next time you're wandering around among plenty of strangers, maybe take a second to deliberately open yourself up. Put on an approachable face, or even make a comment out loud.
You never know the kind of day you might have after it.
Want to "know" more? Never miss another big, odd, funny, or heartbreaking moment again. Sign up for the Knowable newsletter here.
Keep reading...
Show less
The gravity of a kind act is in the beholder.
Despite the constant barrage of horrifying incidents and hateful actions spewed by the media day in and day out, we must remember that there are some really wonderful people out here.
And they are building community with their neighbors all over the place.
Fortunately, for those kind strangers, a small selfless act isn't a big deal. They do it without thinking about it. Truly, they can't not do the morally good deed.
But when we are on the receiving end, that small moment of kindness can feel gigantic. Whether it's the timing or the tone, it really can feel like the most important event that could've happened.
Some Redditors gathered to describe the times they were blown away by a small good deed that came just at the right moment.
astridius asked, "What is the most selfless thing someone is unaware they did for you?"
A list like this is a good inspiration to think upon what we're grateful for. It can be helpful to comb through our past and recall the minor moments that turned out to be pretty huge.
Chances are, we all have a couple people like that.
Want to "know" more? Never miss another big, odd, funny, or heartbreaking moment again. Sign up for the Knowable newsletter here.
Keep reading...
Show less