At some point in our innocent lives, we've had wild imaginations in which we've conjured up companions to play with.

And them we devloped something called cynicism as we got older and forgot about these imaginary friends.

But the following parents haven't forgotten about these so-called playmates for their children.

Curious to hear anecdotes from strangers online, Redditor TheCatAteMyGymsuit asked:

"Parents, what weird or creepy stories do you have about your child's imaginary friend?"
Do You Hear What They Hear?
Some people talk about hearing voices in their head. And some would rather not go down that dark memory lane.

The Secret Mum
"A few years ago, my niece kept telling her Mom about her 'Secret Mommy' who lives in the corner of her bedroom, only comes out at night when no one but her is up, and talks to her. The whole family was terrified until they figured out it was actually an old alarm clock in the room set to a talk radio station that went off at 3 am every night. 😅"
Inner Voices
"I asked my parents and apparently I was in therapy for a handful of weeks because I was 'hearing voices.'"
"Around 5 or 6, kids start to develop their internal monologue."
"It was me, I was hearing my own thoughts..."
"Terrifying."
– ichigoli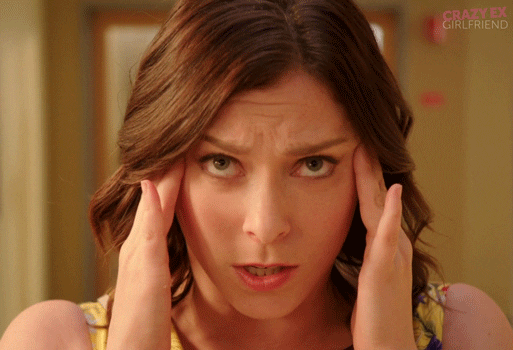 Confused Crazy Ex Girlfriend GIF
Giphy
Visions
You wouldn't want to see what these kids saw.

Being Watched
"Not really an imaginary friend but something still creepy. I don't know if it counts but I want to share. We briefly rented a townhouse while waiting to purchase a house. While living in this townhouse, I had always felt creeped out by my bedroom. It had a wall of windows on one side. Even as a grown woman, I felt uncomfortable being in the room after dark and felt like I was being watched by something in the room. I never mentioned it to my daughter."
"Fast forward to us living in our own house that we bought. My daughter starts having nightmares and is scared to be in her room. One night I asked her about the nightmares. She said it was of a ghost that said that he followed us from the room with all the windows."
What The Daughter Sees
"In the past I have seen things out of the corner of my eye and glance to see nothing there... of course that's just my eyes being weird and I stopped paying attention to those things. Well, my daughter is just a toddler and I had her sitting in my lap reading a book. I see something in the corner of my eye as usual and my daughter quick looks over there. She then stares wide-eyed at nothing and watches it cross through the room. This has happened THREE TIMES. She's not at the point to where she can communicate what she is looking at but we are pretty close. If it happens again I'll ask her what she sees."
– TheW83

Ghost Dog
"Not an imaginary friend but still creepy."
"My older sister had a German Shepherd that had passed away named Harley."
"My daughter was about 2.5 years old at the time and is in bed with my sister watching TV. She points to the end of the bed and says 'that Harley?'. My daughter did not know about the dog and certainly didn't know the name Harley."
– urbjam

They Have Names
Just because they can be identified by name does not always make them less creepy.
Meet Bob
"My daughter started saying 'Bob' before she learned how to say 'mama' or 'dada.' She would say it all the time at random times. One time I was in the nursery rocking her to sleep when she said it and so I asked, 'Who's Bob?' She pointed up at the corner of the ceiling behind me."
"Mr. Sohail"
"This isnt creepy just odd! My 4 year old sons current imaginary friend is Haris Sohail,a Pakistani Cricketer who plays in the national league in Pakistan. He apparantly has the same teddies as my son, cycles alongside him and went on a camping holiday with us last Summer. We are Irish living in Ireland, my husband plays cricket a little during Summer but he cannot for the life of him understand where my son learned about Mr Sohail!"
– Vixen35

Not Just Anybody
"Mr. Nobody."
"He started as the person the kids would blame if one of them forgot to flush the toilet. And then his mythology evolved. For the record, all of this was concieved by 3 of my kids who at the time were 6 5, and 3:"
"Mr Nobody has no eyes, no teeth, no tongue and no nose. He doesn't wear pants and leaves the used toilet paper between his butt cheeks so you can tell where he is by his smell. He doesn't wear a shirt, but has a pocket cut into his skin where he keeps the key to our house. He can be invisible. He had a beard since he was a baby. He bites off his fingernails and then drips blood where he walks."
"A friend of mine drew him at the time: https://imgur.com/D0KX2xp.jpg"
"Thankfully, been a few years since Mr Nobody has been in our house now."
A Concerning Situation
"Out of my four kids, only my eldest son (now 20 years old) had an imaginary friend. It's name was Barsie and it was a giant wolf, but could transform into a boy. Anyway, my wife and I didn't think much about Barsie until we noticed that my son had broken a plastic butter knife and stabbed quite a few of his stuffed animals. He told us that Barsie had told him to do and had even helped. That was when we really got concerned."
"My son had anger issues as a child and the reason for that is that, while I call him my son, he is my step son. His biological father lost custody because of drug related crimes and just abandoned him. My son has always thought of me as his dad, but was still extremely angry about the situation with his biological. Anyway, we took him in to get some counseling after an incident involving a lighter that he found on the ground outside our apartment. He had tried to burn his baby brother's favorite toy."
"While in counseling it came to light that Barsie was planning to eat our family and to pee our blood all over the apartment. This was the beginning of my son's counseling and mild medications. Barsie disappeared over a few months and we were able to take my son off the medication the following year. He remained in counseling for quite a few years, but Barsie was never mentioned again."
Under The Bed
Things that go bump in the night take refuge under your cozy bed. Wanna look?
Nice Monster
"My wife and I were sitting for our nephew. He kept coming downstairs because there was a monster under his bed. So I marched upstairs grabbed the monster from under the bed, dragged it downstairs, opened the door and threw it out into the night."
"Nephew burst into tears and was inconsolable because that was the nice monster and not the nasty monster."
"So 11pm on a dark Saturday night and I am crawling around a damn wet garden looking for an imaginary monster and trying to apologise so my nephew could go to sleep!"
A Bunch Of Croc
"Not really an imaginary friend but I had an imaginary family of alligators that lived under my bed when I was a kid. Often times I'd get so scared I'd sleep in my brothers room bc the Daddy alligator wouldn't come out to scare me if I was with my brother."
I didn't have imaginary friends, but I pretended I was friends was someone I really wanted to be friends with. Does that count?
Probably not.
But I'll leave you with this. My invisible "friends" were more of a sinister type. They wore leather jackets and hats and Ray Bans. They often visited me in my dreams and chased me on their motorbikes.
I think it was from watching an episode of the Twilight Zone that featured a biker gang.
Jealous?

Keep reading...
Show less
Typically, I would write an intro about my own experiences with the weird kids at school, but I WAS the weird kid in school. Not in a bad way, more like a "I had a John Waters phase" when I was 16 and everyone knew it. So like, cool-weird. At least I hope so.
Schools aren't always so lucky to have the cool kinds of weird kids though. The spectrum of weird extends even further than that, and can sometimes end up very disasterous.
U/Imaginary_East5786 asked: What was the weirdest thing the weird kid did at school?

​Let's start with the grossest of the gross. Because why not.
Was it worth it?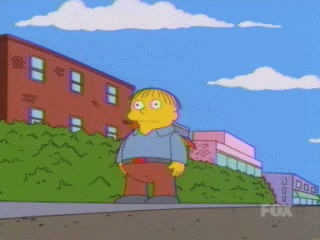 peeing ralph wiggum GIF
Giphy
He heard that you'd automatically get suspended if you peed your pants at school. He wanted to find out if it was true, peed his pants, got suspended.
> Observation: 'I've heard that by peeing your pants you will be suspended'
> Hypothesis: If I pee my pants I will be suspended
> Experiment: I peed my pants and I got suspended
> Conclusion: If I pee my pants I get suspended
Uhhh what was the intention here?
He got mad that he didn't understand how to play a game at lunchtime so he started hitting and punching the nearest person to him, who happened to be me. When I shoved him away and asked him what the hell was he doing, he whipped his unit.out, charged at me and when I shoved him away from me again he started crying and ran away with his member still sticking out.
​Next ones up are the lowkey (or even highkey) disturbing stories. These weird kids can get a little scary.
Boom theret.
At my middle school, someone decided to get a little attention with a good old fashioned bomb threat. Except they thought that a bomb threat meant literally writing "bomb threat" somewhere. Worse yet, they misspelled the f*ck out of it, and wrote "boom theret."
So we had to go on a brief, very awkward lockdown while the police checked the perimeter for booms.
I hope there was no overlap in the columns.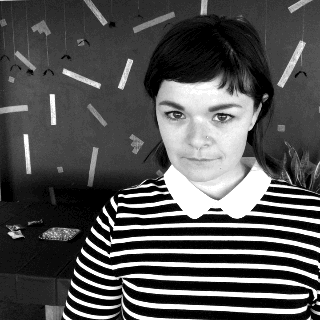 Serial Killer Halloween GIF by GIPHY CAM
Giphy
She wrote a list of all the girls and boys she wanted to kiss and murder and then casually passed it out on the playground.
2 separate lists or just the 1?
Same list 2 columns lol.
Holy crap.
Had the weird kid in high school ask the teacher to use the bathroom. She said no and this dude legit stabbed his hand with a pencil. Went all the way through then asked if he could now...sh*t was wild.
This was Pearl High School in Mississippi. This was the school Luke Woodham shot and killed his girlfriend and her friend at the school. This kid stabbed himself with the pencil about 2 months after that happened. This was late 1997.
​Most of the time, however, the weird kids are pretty d*mn funny.
Ok, but this takes a lot of skill.
Had a kid nicknamed "cheeseburger" in the grade ahead of me in high school. He got his nickname because when it was time for his class to go to lunch, he snuck into the roof and crawled his way into the cafeteria, dropped down and proceeded to steal all the cheeseburger put out for lunch. Unfortunately they caught him in the act and sent him to the principal's office.
A year later he was caught stealing a teacher's computer, and in the process of being arrested he bit the officers hand, getting him sent to juvi never to be heard of again.
Every school had the cat girl.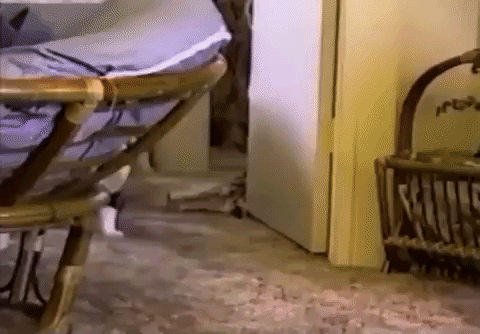 cat dragging GIF
Giphy
The weird kid at my highschool tied a string around his pencil case and pulled out around the halls pretending it was a dog. He still lives in my hometown. I think unemployed.
Oh also weird girl in middle school acted like a cat. She would meow and hiss at people, lick the water fountain and rub her body on the teacher's legs. In 8th grade. I have no idea where she ended up.
Mood.
Weird kid in elementary was a self proclaimed alien. Once, while waiting for the bus, she told me "On my planet we eat people like you" and proceeded to bite me. We later became friends in high school and she used to give me massages during lunch break in the quad. Just realized now she was likely tenderizing me.
I was exactly this kind of weird.
He didn't say much, but if asked, he would go to the front of the class and perform Tip-Toe Through the Tulips with all of the emotion and volume of Tiny Tim, holding nothing back.
The last I heard, he became an energy trader, made a ton of money and married well.
I can definitely relate to that last one. In middle school, my English teacher would let me go to the front of the class and perform monologues or songs from Broadway musicals. Weird, but that's what happens when schools cut funding for the arts and the theatre kids have no outlet.
As long as you're not hurting anyone, I say let your freak flag fly, man
I used to be super freakin' gullible. It's easy to blindly trust people sometimes, until you learn otherwise. Because there are people out there that lie for fun, for some reason. I don't get it.
There are times it can be kinda sorta funny though! Here are some examples.
U/GregTheGreat657 asked: What is the dumbest lie that was actually believed?
The main culprits of these kinds of fibs are usually family members. Oh, the things they think they can get away with.
Seems legit.
My grandfather told me he got his gold tooth from not putting his tongue in the area he lost his baby tooth from. I'd try to get a gold tooth every time but I'd always cave at like a day or two.
It would be very, very hard not to cave. imagine if you did, and you fought the urge to put your tongue in your empty tooth, and then you didn't get a gold tooth.
Are you trying to poison me?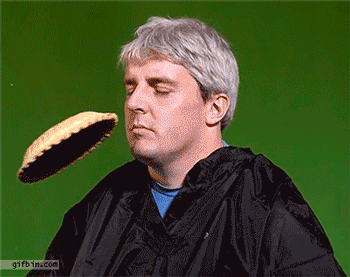 gross pie face GIF
Giphy
Growing up my dad told us kids that eating pie without ice cream was poisonous. My mom thought it was funny until one day, when my dad was working out of town, she tried to feed us pie without ice cream and we all believed she was trying to poison us and would not eat it.
Pickle juice is good for a lot of things...but not that.
That drinking pickle juice will dry your blood up. My mom told me that (we're from the South we believe a lot of stupid stuff). IDK where my mom got it.
When I pointed it out to my High School Home Ec teacher she just looked at me like I was a moron... and I was an honor student.
It's actually good for muscle cramps.
Spotify is evil, but only because of the commercials.
My dad had weird rules to music. For the longest time I believe that Spotify would make me lose my hearing because he told me that the app used a certain frequency that the army used to torment POW.
Turned out he just didn't like the fact I was listen to music he hadn't pre-approved.
​It sucks when the people in authority you're supposed to trust end up making stuff up. It can get extreme sometimes!
This is why I don't work at an office anymore.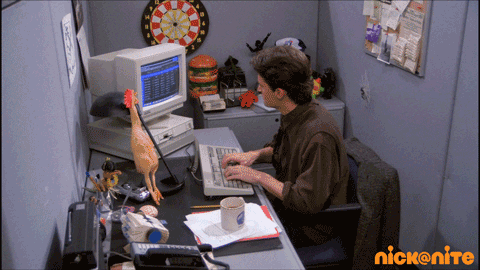 Matthew Perry Cubicle GIF by Nick At Nite
Giphy
I was working for a midsized company. One day we had a company meeting where the CEO gave a speech where someone asked if they were going to put in cubicles. The CEO swore that there would never be cubicles at a company he ran. We all believed him.
Three weeks later workers showed up and started assembling cubicles. Then we had meetings with our mangers where it was explained to us that they were not cubicles. They were 'work stations' and anyone who said the word cubicles would be fired.
That's a very elaborate lie.
I called out from work because I was sleepy and wanted to rest. Problem is, I'd been legit sick the week before. So, nobody would buy that I was sick again.
So, I called the boss and told him I'd stopped off at the bank on the way to work, witnessed an armed robbery there, I was the only person who could identify the perp so I had to go to the police station, fill out a bunch of reports and sh*t and then sit in on a police lineup to make sure they had the right guy.
The boss was usually kind of a d*ck. But he went for it, no questions asked.
Compulsive liars are the worst.
In college it was always a struggle to get home for the breaks. I lived over 3hrs away and my parents never came to pick me up. A guy who was a resident assistant with me in the same dorm said his parents owned a private jet... and offered to fly me home for the upcoming holiday. He talked about it for weeks prior to next break, told me the type plane, all the other people he was taking and other details. I even turned down rides to go home.
Welp. It was all a lie. I was waiting with my bags packed ready at the correct pickup time (early in fact). He never showed up. There I was waiting when another RA saw me and asked when I was leaving for the holiday. After I told him I was waiting and the story he laughed and laughed....then said "Derek? Oh that guy lies."
I had missed all rides and was nearly stranded on campus. Ended up on the Greyhound the next day.
There are times where it's your own d*mn fault for believing it. But you know what they say, ignorance is bliss.
I cannot believe people still fall for this.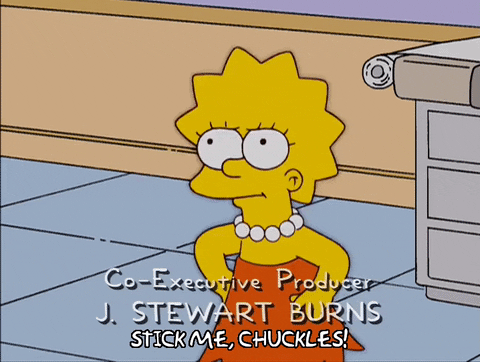 lisa simpson episode 21 GIF
Giphy
That vaccines cause autism. Andrew Wakefield, who published the article claiming this, admitted to making it up, but that fact doesn't matter, because people believe him anyway.
If there was anyone I'd kill with a time machine, it would be him because that has a very specific butterfly effect.
We've all told this lie.
I never fart in front of my husband. It happens once in a blue moon. A few years ago it did happen, he was thrilled but I convinced him that the noise was from the chair I was sitting on. I lived with that lie for about a year until I told him the truth.
How did the collectors fall for this?
In the 1800's, a man named Denis Vrain-Lucas forged tens of thousands of fake letters from historical figures. He made hundreds of thousands of francs from prominent French collectors by selling documents supposedly written by Biblical figures such as Judas, Mary Magdalene, and Pontius Pilate, and got away with it for years. This would all be pretty understandable--except that all the letters were written in modern French, on watermarked paper.
As I'm writing this, my husband told me a story of his own. When he was a kid, his dad told him that salt and pepper were opposites. Meaning that if you used too much of one, you could use the other to even it out. Eventually he learned better, because his cooking is next level good.
Stop falling for dumb sh*t. This isn't just a reminder to you, but also one to me as well. Because lord knows I've fallen for many dumb lies too
Keep reading...
Show less
In so many facets of life, kids are sitting ducks.
They simply lack so much life experience that they have the most minimal grasp on what is happening all around them. Children rely completely on the knowledge of people older than them: parents, teachers, coaches, older siblings, even strangers.
But from the vantage of one of those older people, that total dependency opens the door for some good fun.
Some Redditors recently gathered to share the most absurd lies they ever believed wholeheartedly as children. It's rather surreal to imagine if all these fibs were actually true.
SorryForBadEnflish asked, "What's the stupidest lie you can't believe you fell for as a kid?"
Many of the lies stemmed from diabolical motivations. These were pranks at the expense of the child, through and through.
And those dopey kids walked right into it every time.
Gathering Supplies
"My Boy Scout leader told me the troop next to us had dehydrated water pills and a bacon stretcher. He told me to go ask to borrow then."
"I did and they looked at me like I was an idiot."
-- Ohsoeasy
Well He's Not Wrong 
"My brother told me Eeyore's name in Winnie the Pooh was Jackass."
"Then a few years later in grade 3 someone tried correcting me and I was like, 'Uh no, it's Jackass.' This went over well with my teacher at the time."
-- PamWpg204
It Only Takes a Letter 
"I believed a lot of things my older brother told me but I think the worst was that Venus was pronounced with a P instead of a V."
"I thought I was funny because it had the word 'pee' in it."
Concocting New Science 
"My stepbrother told me that a power plant was a cloud factory to make clouds artificially."
"I believed him because I had heard of the artificial snow machines that ski resorts have, and figured it wasn't unreasonable to believe there was a machine to make artificial clouds as well."
"I was 13 when I said 'the clouds factory is off, no wonder there's no clouds around.' In front of my dad and he laughed about it for like 30 minutes."
"I still get sh** for it today."
Some lies came from more lighthearted agendas. Sure, some were more self-serving than others, but at least the stakes were rather low.
The Car That Ate Beans 
"That the car farts. Whenever we were on road trips, our car would make this sound every now and again and my dad would say it's the car farting. That it just had to release them now and again like we do. This was hysterical to all of us and we would laugh and laugh."
"I was 14 and learning to drive when I found out it was....rumble strips. And my dad was just trying to brighten the atmosphere on long car trips."
-- Rice-Correct
Falling On That Sword 
"My mom would be the official 'poison inspector' and eat a few fries from the bag to make sure it was safe to eat. Such a sacrifice." -- SweetHikari
"My dad did the same ! Everytime I asked him to bring me a bit of bread (that's what we were allowed to eat when we got hungry between meals) he would take a bite of it, say 'all good, not poisoned' and then give me the rest."
"I knew it was a joke, but he did that for years. Always made me laugh." -- Grog_Bear
Driving Numbers Up 
"When I was in elementary school, the orchestra teacher was trying to convince me to join up. He told me that, when I grew up, jobs would ask me what instrument I played and nobody would hire me if I didn't play one."
"So I joined the orchestra and learned to play the violin. So far, no job interview has asked me to play anything. Good thing, too. I was always horrible at it. If my employment as a web developer depended on how well I could play the violin, I'd be permanently unemployed."
-- TechyDad
And some lies seemed to hold almost no functional motivation whatsoever. These were bizarre absurdities seemingly told to sow confusion, add a little subtle chaos into the mix, and get a good laugh.
A Pharmaceutical Breakthrough 
"Woke up on April 1st, walked into the living room where my dad handed me a 'smart pill' and said 'here you go, you'll never have to go to school or do homework again.' " -- stapeliagigantea
Depends Who You Ask 
"My grandfather did not in fact detach my nose." -- greygreenblue
"Said no Voldemort ever" -- Marenyalia
An Involved, Painful Explanation
"That this old man at my Cliftondale after school program died because he was eating Hot Cheetos while pooping at the same time and it burnt his butthole until he bled out. He would haunt kids in the stalls when they poop."
"All the kids called him Old Man Cliftondale(basic). Lol. That afterschool program was scary as hell though, I held my poop in all the time for that reason."
-- SnooOwls4703
So next time you're sitting down with a younger kid--maybe a niece or nephew, maybe a child of your own--just be aware that those lighthearted fibs kick around in that kids brain for years and years.
Want to "know" more? Never miss another big, odd, funny, or heartbreaking moment again. Sign up for the Knowable newsletter here.
Keep reading...
Show less
In a perfect world, each child's parents have the time, energy, and emotional bandwidth to offer their undivided attention whenever it's asked for.
These utopian parents could take an extended time to answer strange questions, more compassionately persuade children to improve behavior, and even give honest, age-appropriate answers about all things birds and bees.
Alas, that is not the world we live in. Parents get busy, they become frustrated after six hours in the hot sun, they have financial stresses that weigh on the tone and tenor of their responses to their kid's questions and behavior.
So there are plenty of convenient lies that parents told us kids. As adults, we can zoom out and understand exactly what the motive was.
But at the time, how confusing and earth-shattering those all seemed.
Xrty9y asked, "What are some of the most absurd lies your parents told you?"
So maybe you're a new parent. Take some notes on these. They just might get you out of a jam one day.
Want to "know" more? Never miss another big, odd, funny, or heartbreaking moment again. Sign up for the Knowable newsletter here.
Keep reading...
Show less