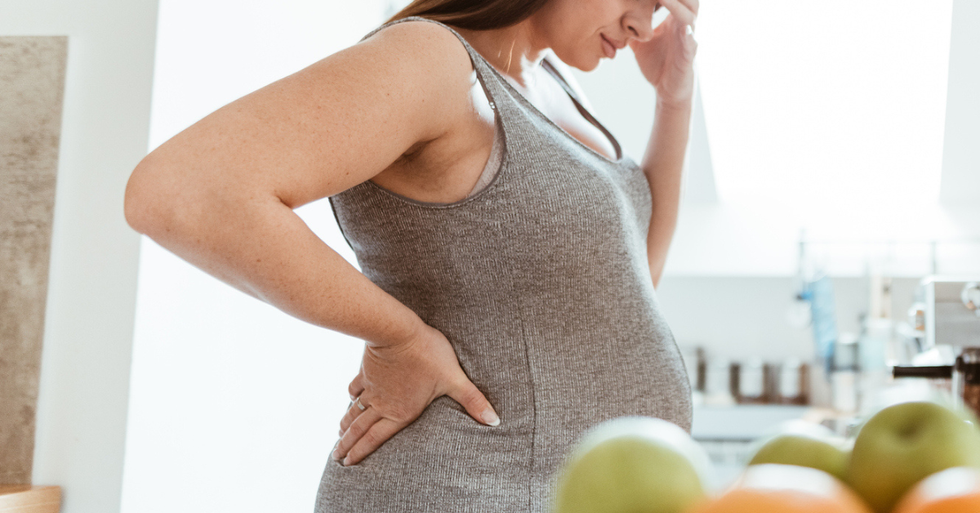 Parents have all kinds of incredible experiences ahead of them when they decide to have a child. Easily one of the very biggest early decisions they will have is the name of their child, agreed the "Am I the A**hole?" (AITA) subReddit. But Redditor LightningStr had concerns about the name her cousin had chosen for her baby. […]
More
Sometimes we get a little lost and in need of help in our daily travel destinations.
That can be especially awkward when you're a customer.
How many of us have stumbled into a place thinking we were somewhere else?
I can't imagine being such a diva that I would stroll into a Burger King, stone-cold sober, and expect a Big Mac.
Or run into a Pizza Hut demanding an egg roll.
But... it happens.
Redditor Vengeful8 wanted to hear from people who have had to deal with customers who were... "lost". So they asked:
"What was you biggest 'Sir this is a Wendy's' moment?"
People really need to pay attention when they enter a building.
Vacay Dispute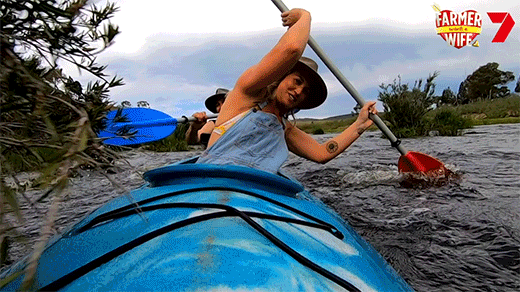 Crash Fail GIF by Channel 7
Giphy
"Had someone call asking for kayak rentals and the best places to kayak despite me saying several times we were a restaurant, ended with being told that I'm ruining their vacation."
djsquidnasty
Into my Room...
"I was working nights at a Motel 6 in college, Guy walks in fall-down drunk. His left his key-card at the bar, wants me to let him into room 123 (or whatever). I check the registration, his name isn't on the room. I tell him no. He says he knows the hotels owner and he'll have me fired (it's a corporate owned chain)."
"I still say no. He screams , 'LET ME INTO MY F**KING ROOM.' Still no. We argue for a few minutes, but I don't budge, he wanders off."
"He comes back 1/2 an hour later and slams a card down on the counter. "HERE'S MY F**KING CARD, LET INTO MY F**KING ROOM YOU F**KING A**HOLE". I slowly slide the card back to him."
"This card is for a Super 8, your hotel is two blocks south of here.'"
Deitaphobia
CVS
"I would like to complain about your cat food selection' (direct quote)..."
"Miss this is the pharmacy."
Kid-OK
"I mean, to be fair the last time I went to CVS, I walked out of there with a razor blade to shave, a Frozen cheeseburger, two energy drinks, a beer, a bag of Christmas candy, some Christmas decorations, some clearance Halloween stuff, some shampoo, a tube of chapstick, and the prescription I walked in for."
Zenketski_2
Royalty
"I worked at Medieval Times for a summer; they do 'knighting ceremonies', where the fake queen actress comes out before the show and performs a formal knighting service, for an outrageous price of course."
"This one guy came in very upset and asked to speak to 'The Queen', because the fake certificate with cartoon horses on it, 'signed by the queen herself', obviously mass printed and fake, did not actually grant him any royalty and he was being denied entry to some crap, because his status wasn't royalty. Like this man thought he was actually being knighted by a royal person or some sh*t."
"I literally had to explain 'Sir, this is a fake show where all the knights and queens are just actors and actresses.'"
"He said, 'You should really put that in the notes, some people think this is real.'"
"No buddy, only you."
honeybutterbuscuit
It's Wendy's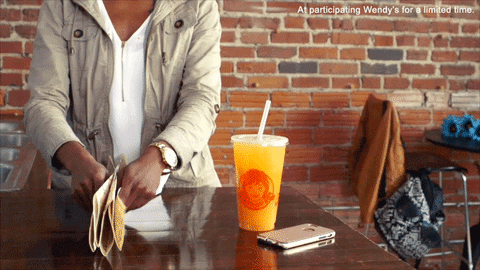 wendy gifs GIF by Wendy's
Giphy
"Used to work at Wendy's in high school, and there was an A&W on the opposite end of the plaza that we were in."
"It happened more often than you would think that someone came through and asked for a teen burger or a momma burger, I think one time some guy asked for a whopper too."
"Ma'am this is literally a Wendy's."
No_Slide_9543
But this looks like BK from afar.
The Elephant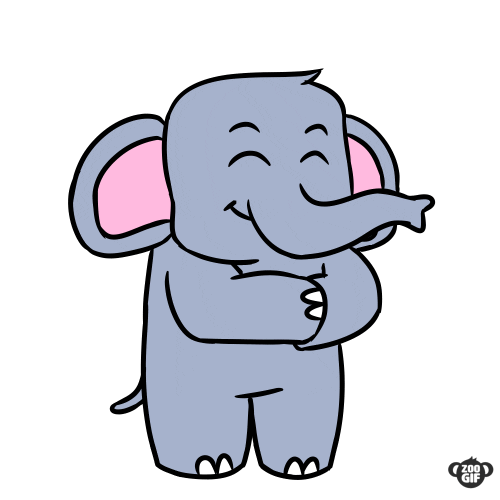 Giphy
"When my wife was interviewing, the interviewer inquired her how she would respond if there was a 'elephant in the room.'"
"Since she was unfamiliar with the expression, she continued by describing in great detail all the options she would think of to help remove the Elephant from the room. She wasn't aware that they had let her continue the interview until she subsequently revealed it to me."
JanieCRameriz
Bitten
"I worked nights at an emergency animal hospital a few years ago. One unnaturally quiet night a sweet looking older woman walked in and took a seat in our lobby without checking in with me at the front desk. After about 5 minutes I walked around and asked if she needed anything, to which she cheerfully told me that her girl friend had been bitten by a dog and she was just waiting to meet her at the hospital."
"I didn't say anything for a moment and watched her eyes slide over to the sign above the desk, which proudly proclaimed us as a 24 hour emergency veterinary hospital. 'Oh.' I offered to get her some directions to the nearest human ER, but she declined and headed out. Still the nicest client I saw that night though."
mbn9890
Bless you Tina...
"It was a Burger King, but a woman came in IRATE with a bag full of Burger King garbage that someone had dumped on the side of the road. "HOW COULD YOU POLLUTE LIKE THIS" - Ma'am, we sold the food. The person who threw it out littered. We did not, and agree that's a bad thing."
"She demanded to know why we didn't encourage better disposal of our food containers, and my manager (Bless you Tina) just slowly rotated the bag without saying a word to show the graphic printed clearly on it that suggested people dispose of their garbage responsibly."
"The woman just was silent for a hot second, before yelling how we should remove 'Home of the Whopper' from our signage and replace it with 'Please dispose of your garbage carefully' and then stormed out.'"
ThrowAwayTheTeaBag
Cookies
"A woman asked me where something in a store was. I stood there awkwardly being a thirteen year-old trying to sell girl scout cookies. I got into an argument with her on whether or not if I worked there. And she brought out the manager who took one look at me and said I didn't and that he had never seen me in his life."
Mousyperson
Dogs Only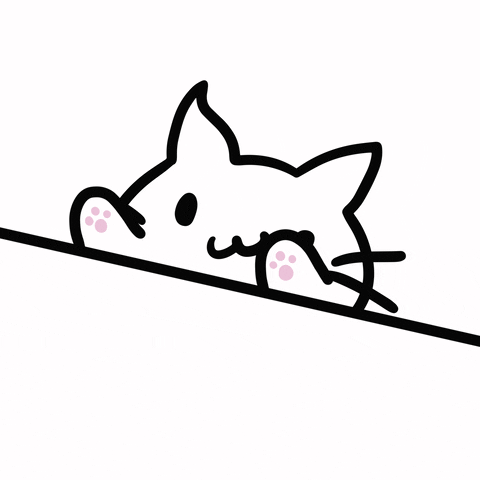 Cat GIF by 9CatNFT
Giphy
"Someone tried to drop off their cat at the child care center I work at. Verbal directions to the cat kennel were unsuccessful, we had to walk them outside and point to the building."
misslostinlife
People are crazy.
Do you have any experiences like this to share? Let us know in the comments below.
Keep reading...
Show less
Parents aren't doing their job if they're not embarrassing their kids. However, there are different levels of embarrassment.
It's bad enough when your parents go around telling humiliating stories about your childhood or insist on hanging out with you and your friends. It's also pretty bad when your parents are overprotective and either won't let you do anything fun or force you to keep in constant contact.
However, one of the most embarrassing things your parents can do is ask to talk to a manager when they're not satisfied with their service.
It's one thing if the experience is actually a bad one, but when your parents or other relatives make a stink about a simple mistake, you tend to wish the ground would open up and swallow you.
I know I did every time my dad yelled at a manager so scarily that they couldn't form coherent sentences anymore!
Curious about people's experience with this, Redditor Em367 asked:

"Children of "I want to talk to your manager" parents, what has been your most embarrassing experience?"
Too Much Effort
"Not my parent but grandparent. When I was around 10 years old my grandmother went out and got us (her, my brother, and me) McDonald's. We got home and we didn't have napkins in the bags. No big deal, right? We have paper towels and napkins in the house, also me and my brother are pretty good with not making any messes while we eat."
"Nope. Grandmother got us in the car, drove back to McDonald's, demanded a manager, and screeched about how upset she was that we didn't get any napkins. I wanted to just melt into the floor and disappear. It's just napkins, Nanny...."
– snopal

"She drove all the way back over napkins...."
"I don't even consider driving back if I get someone else's order entirely. I'd rather just be done with going out, and eat. I do not understand the amount of energy she is willing to dedicate to such pettiness."
– throwaway-person
I Need A New Sausage Roll
"One time my Grandad got a sausage roll at a football match during half time, when he got back to his seat he found it was overdone, the pastry was quite burned. The man was irate. He didn't take it back straight away as the second half was about to start, but he spent much of the second half angrily lamenting his savoury snack letdown. So he takes it home, calls the customer service number on the back (I assume he had a few choice words for the poor soul on the other end but I wasn't present for this), and keeps the remainder of the sausage roll in the freezer for the next couple of weeks."
"Skip ahead to the next match day, my Grandad tells me we're heading out early so he can have his sausage roll replaced. The customer service line told him to go to Kiosk 3 at the front of the ground next to the ticket office. When we arrive, however, the shutters are down at the food place. The old man looks around growling and turning red in the face, stamps right over to window number 3 of the ticket office and slams his frozen burned sausage roll down like a flaky gauntlet. At this point I'm trying to convince him the ticket office was a completely different department to the catering concession but my Grandad was having none of it. The lady working the ticket window continually attempted in vein to convince him the same, they sell match tickets not hot snacks, but this just got him angrier and angrier. Across comes a colleague behind the glass, now there's just two people to rage at. Then a head steward comes to attempt to diffuse the situation and my Grandad begins to wave the burnt sausage roll in this man's face, I was actually surprised he didn't whack him with it. At this point I'm mortified by the whole affair, wishing I'd have stayed back at the house until nearer kick off."
"Eventually, after an hour or so, the shutters come up on the food concession. Fella at the counter goes 'You must be Mr. Alaginge' and calmly resolves the situation, dispatching a freshly baked sausage roll with the steady hands of a surgeon. My Grandad is completely satisfied with the result of his hour of insolent rage. As we're walking away he turns to me and says 'that's how you get these things sorted.'"
– alaginge
"EVERYTIME after they get what they want they just look at you smugly and say "and that's how it's done" lol. Like they're so proud and just taught you some amazing life skill"
– Mussatto
No Room For You
"I was 13 when this happened. My mom had made a reservation at a hotel for a trip, but when she got there the lady said there was some error with the reservation and that my mom's payment didn't go through, so the lady offered us a double bed room for a discount."
"Rather than just taking the room, thanking the lady, and leaving, my mom decided the best course of action would be to scream, in the middle of a hotel lobby, "NOBODY IS GOING ANYWHERE TIL I GET MY ROOM!" She then proceeded to pester the lady, who clearly couldn't do anything about it, until eventually she called the police on my mom for public disturbance. Mortifying."
– Deleted User
And Don't Come Back!
"Ugh, my dad. He can be such a prick if you get his order wrong, it could be fast food or a nice sit down restaurant. He often yells at wait staff if they "undercook" his steak. It has to be well done or he claims to have lost his appetite."
"One time we went to Burger King when I was younger and we sat down to eat. He took one bite of his burger, spit it out and immediately started bitching about it being under cooked. He cut in front of everyone in line to yell at the cashier, then he asked who was the cook. when the cook appeared, he launched his burger hitting the poor kid directly in the face with a lidless burger. He's now banned for life from Burger King"
– cok3noic3
That Poor Driver
"My mom asked me to call her a taxi via an app."
"She ended up calling me multiple times complaining about how the driver didn't use the route she thought was best (she never owned a car and doesn't know how to drive), even though the guy just used the best possible route the navigator suggested."
"She ended up getting out halfway and using subway. The driver proceeded to call me in tears, completely shocked, unsure of what he did so wrong, and apologizing. I felt like total sh*t."
"I never called her a cab again."
– BigDaddy0790
Relationship Ended Before It Began
"I worked at Best Buy. I stopped in with my mom one day because she wanted to buy me the Star Wars DVD box set for my birthday."
"I had a huge, HUGE crush on the girl that was working the customer service counter. Well, the DVD set rang up $10 more than it was priced, and my mom deliberately didn't say anything until after the transaction so she could claim the effing $5 Michigan Scan Law bounty."
"My crush didn't know how to process it and the manager was busy, so my mom tore into her about how it was her job and how she should understand how to do things."
"At my job."
"To a girl I liked."
"My life was misery for a while afterward."
– medullah
Drive-Thru Disaster
"When I was a manager at McDonalds I had a guy do this."
"We had a freak rush on chicken nuggets, like 5 20 pieces in a row. The customer pulls to the window. The cashier let him know it was going to be another 3 minutes for his nuggets and did he want to wait or get something else. He demands to speak with the manager. He says that he has been waiting 5 minutes already and he isn't going to pay or move until his food is ready. I said that I needed him to pay and pull forward in order to clear the drive thru. He refused and said they'll have to wait."
"I went to the back window, put a drawer in and we started cashing and giving the food out there."
"20 minutes later, fuming customer at the front window begins pounding on the window."
"I open it and he screams at me to know where his food was. I told him he wasn't getting any food, he was blocking my drive thru and impeding my business and he needed to leave or I would be calling the police."
"It looked like he would explode with anger, but he just screeched out of there."
"It was the most satisfying interaction with an entitled customer I had while working at McDonald's."
"Years later, I do slightly regret this. I worry I needlessly angered someone to the point where he could have taken it out on someone else (ie. kids or wife)."
– demonwolf106
Not About To Eat Here
"Not me, but my sister in law. Her step dad and mom took the family out to eat at a Red Lobster. They get there and it is super busy. So the step dad walks up to the host and says "Yes, we have a reservation.""
"The problem is, Red Lobster (or at least that one) doesnt take reservations. The host explains this and says it is going to be 20 min wait for seating. Her step dad FLIPPED out and started screaming that he had called 3 hours before hand and made a reservation. The host politely told him this was not possible as they do not take reservations (again)."
"He continues to scream at the guy, and says he wants to talk to a manager. So the manager comes out and she tells him the same thing. They dont take reservations, so its not possible that he had made one. He continues to cause a scene and people started leaving just to get away from this toxic guy. Finally, the manager says, "Fine, we will put you ahead of everyone else that has been patiently waiting their turn". He says "Thank you". They get seated."
"Once they get to the table and the waitress walks away, he slyly winks and says to my brother and the rest of the family "THAT is how you get things done. I wasn't going to wait 20 min.""
"My brother refused to eat or order for fear of getting food that had been spit on."
– sixstringhook
An Ocean View
"Oh man, two months ago I went to Hawaii with my wife. We had requested a room with a king bed. At the checkout kiosk next to us, while we were giving our attendant our info, this lady started going nuts. She had requested (not reserved) an ocean view room with a queen bed and double bed. The woman was with her daughter. I should probably note that it was for a work conference (a big conference and we were there for it too, but didn't know her. And the company putting on the conference had handled all of the reservations.)"
"Anyway, they tell her that they didn't see the request for a two-bed room and she started losing her mind. She was raising her voice and saying that this was a very special trip for her and her daughter (it's an Oceanside 5 star resort in Maui...it's a special trip for 99% of the people there). And that she's not leaving until they find a way to get her an ocean view room with two beds like she had requested. But she was just being a total b*tch."
"The manager pulled out a map of the resort and showed her where they had some 2-bed rooms available in the interior of the hotel, but nothing that would fit what she wanted. It went on for a few minutes before she finally accepted that room. Toward the end of this tirade, we were called up to check in at the next desk over. We give our names and confirmation pages."
"And the clerk tells us thank you for waiting, we do have a garden view king room available in the east wing ( we had just seen that the conference activities were in the west wing and it would save a lot of hassle if we could have a room on that side of the resort) so we asked if there was by chance anything open closer to the conference rooms. She looked for a bit and told us that it's not a king room, but for no extra charge she could move is to an ocean view room that had two queen beds. We looked at each other and then at the still irate woman a few feet away and had to suppress a smile. We took it and just moved the beds together to make one giant bed."
"Great times. Highly recommend the Hyatt Regency in Maui."
– Deleted User
Free Food...But No Free Food
"I grew up in a smaller town right on the cusps of its big growth boom. We knew our town had finally made it when we got an Olive Garden. We used to eat there 2-3 times a month. My mom and I would always split an entree and my dad would get his own. We knew the rule if you're splitting and entree and you get more than one of the family-style bowls of salad than you'll get charged an extra $4 for the extra person. Which is fair, 2 entrees come with 2 unlimited salads. Welllll one day my dad decides he wanted more salad. Only he wants the additional salad, but the waitress said if she refills the bowl, that we will be charged the extra $4. Wellll low and behold my parents threw the biggest tantrum because only HE wanted the additional salad."
They demanded to speak to a manager and the manager explained the rule (which we knew) but offered to comp the extra salad just to get my parents to stop yelling....and they did. When our bill came the manager comped my dads entree and the additional salad fee. Well my mom got up. Interrupted the manager while he was talking to other guests and threw the check in his face and asked "what's this?!?!" She was furious that he comped my dad's meal. He ate the meal therefore we would like to pay for it. She wouldn't stop raising her voice until she was allowed to pay for the meal (but not the salad). The manager was confused but obliged...when they brought the change the manager slipped a few free appetizer coupons. My mom ripped them up and threw them on the ground as she left. Safe to say I didn't eat out with them for at least a month and I still refuse to go to Olive Garden with them."
– hidcid
​Stubborn Is As Stubborn Does
"Scene: Any fast food drive-thru"
"Worker: Ma'am, can you please drive forward a little bit while your food finishes up?"
"Mom: No. *folds arms*"
– milliondollas
Was It Worth It?
"Grocery store had this sign up that said if an item rang up higher than an advertised price it was free. It was the 80s and stores did stupid sh*t like this that I never see in stores today."
"Mom was buying a box of Little Debbie cakes and they rang up for $2.85 instead of the advertised $2.50. So now mom wants her free cakes. Cashier doesn't know what to do, summons a manager. Manager tells her to ring up the sale otherwise and he'll be right back."
"Comes back and hands my mother 35 cents cheerfully and says "There you go!" My mother points out the sign behind him and he says "Oh, the last manager put that up, it doesn't make any sense. I'm the new manager and I just haven't had the sign removed yet" (it was a printed plastic sign that was screwed into the wall)."
"Mom insists they honor their sign, he says nah. Now, up to this point, I as an adult looking back am totally on board with mom's actions."
"Mom gathers her things, decides against taking the Little Debbies on principle, and we get in the car. Mom wordlessly drives downtown to the main store of this 3-5 store chain, knowing the office is next door. We walk into this perfectly 80's wood paneled office where my mother asks the secretary to speak to the owner of the store and is permitted to do so since this is a family owned business and their "corporate office" is smaller than the row of cubicles my staff occupy at work."
"Here my mother unleashes a tirade about how she has lost faith in his brand and how his word is meaningless since they will not honor the sign etc. This guy stands up, profusely apologizes, validates her anger and then pulls out his wallet and hands her a $5 bill along with a promise that he will speak to the manager and the sign will either be honored or removed."
"We get home and find that the ice cream we bought melted in the trunk because summer and ruined the cereal and the bread."
– TheFire_Eagle
The second-hand embarrassment has never been so bad!
Keep reading...
Show less
Some people strongly believe that everyone should be forced to work at least a year in the service industry to teach them patience, self-awareness, and how to properly deal with rude customers.
Think of it like an entitlement-diversion program.
Reddit user ilostmygender_ asked:
"What's the most ridiculous complaint you've ever heard in the service industry?"
Because if there is anything that will ensure we have fewer entitled people being ridiculous, it's making sure everyone gets to deal with those types of people face-to-face.
Check out the ridiculousness Reddit has had to put up with.
Deserve To Party
"Every year, couple of weeks before Christmas, my restaurant closes a couple of hours early (7 instead of 10, and it's usually on a Wednesday, so it's not nearly as busy) so all the employees can get together and have a small holiday party."
"We had a sign up on our door two weeks before the party, letting everyone know we were closing early. As this was the year after covid, and we didn't get to have a party the previous year, we were really excited and ready for it."
"At about 8'oclock, a woman comes to the door, sees it's locked, and goes ballistic. She man-handles the door and starts slamming her fist against it. She ignored all my co-workers who were shaking their heads."
"Finally I go over and unlock the door to talk to her. She just starts screaming about how we're not supposed to be closed, etc, etc and I'm just shaking my head pointing at the sign."
"She finishes with 'you people don't even deserve to have a party'. And with that I just smiled and said 'well now we're definitely not helping you, goodnight.' And closed the door."
"2 days later I get a call from the owner of the restaurant, saying she actually filed a real complaint about it. We had a great laugh"
- Hellvillain
Resturant Manager Or Traffic Officer
"I worked with a manager at a fast food place that got a complaint filed against him with corporate. Lady said she was second in line in the drive thru, the car in front of her gets their food, and goes to drive away, but accidentally put his car in reverse. He stops quickly, goes into the correct gear and leaves."
"Lady comes up and complains that the other customer ALMOST hit her car. Then she later complains that the manager was 'very unhelpful.' Still have no idea what either she or corporate expected him to do."
"Then, we had a customer drive his car up over a curb onto the grass, drive for another 6-8 feet, and hit a large rock in the grass, breaking his radiator."
"Dude wasnt under the influence, absolutely no clue how he didnt see a 3 foot tall rock in front of him, or why he was suddenly compelled to do some offroading in a Lincoln Towncar."
"He immediately comes in and starts yelling about how he's gonna sue the company for damages to his car. Despite the fact that he drove straight into it, over a curb, in broad daylight."
"Like, his car went to that rock like a soldier returning from war runs to the arms of his lover. Without missing a beat, my shift lead tells him that corporate will have much better lawyers than he does, and they'll 'counter sue you for damages to our rock'."
- DisabledBiscuit
"damages to our rock lol"
- rdummy_soup
"Your manager should have offered to ALMOST give her some money to compensate for him ALMOST hitting her car."
- magpac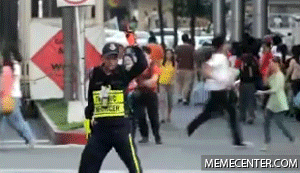 traffic GIF
Giphy
Didn't Ask The Exact Question
"I was serving a couple their meal. I had stopped by after their first few bites and asked them how they were doing. They said great and I moved on to the next table. At the end of the meal, they asked for the manager and complained about my service, that I didn't check in. When I told my manager that I had checked in on them, she said they said 'Well, they came and asked how WE were doing, but not how the food was. WE were doing fine, but we didn't like the food…'."
- Matchmaker4180
"Seems a little petty. To be honest, I've only had waiters ask me some variant of "so how are you enjoying your food? Good?" And then I tell them it's good and they move on to the next table."
"If you don't like the food...you can just tell the waiter. You don't need a prompt."
- geico_fire
Hand-ing Some Drinks
"I was using my hands to hand people their drinks"
"I quit that same day"
- goldenbrushes
"Your bad man. You're supposed to use your feet like that alien pod racer guy in Star Wars the phantom menace"
- nhbd
"Not even using your mind powers, how lazy smh"
- Yab0iFiddlesticks
"I would get mittens, spill half of every drink, charge full price and then tell any angry manager...I just fulfill customers' wishes...."
"Some people should get LITERALY what they wanted....after a short time, they would be cured of their entitlement...."
- applesandoranges990
Changed The Building Layout
"A woman swore up and down that we had an upstairs (we didn't) and then, after twenty minutes of searching, accused us of hiding it from her."
"A whole second story."
- PickanickBasket
"We actually had a similar moment!"
"Customer paid for their washing machine in the till, and was told to go around the corner (of the wall, still in the same building, pointed with the whole hand) to pickup the machine."
"Customer came back 10 minutes later fuming that they couldn't find the second floor to pick up said washing machine."
"Entire building is on ground level. Opening from the tills to the room where they were supposed to pick up the product is as big as the broadside of an elephant. But it's our fault and we scammed him off his money because we didn't want to give him that washing machine."
- Brevlada-00
Severely Allergic
"Someone came back with a breakfast sandwich I made for them saying they wanted to get whoever made it fired because it has bacon instead of sausage."
"They said they're severely allergic to bacon and would end up in the hospital and that the person who made it (me) shouldn't work here if they can't read screens (for what the order says). A trainee was on speaker and punched in a BELT (which is made with bacon) instead of the sausage version which admittedly isn't an easy thing to punch in for a new person on our POS system. So I read the screen correctly."
"HOW can someone be severely allergic to bacon and not sausage which is the same animal and everything ?!? We also use the same tongs for bacon and sausage too, there is definitely tons of cross contamination between them anyways"
"My manager spoke to me privately about it and I said I was prepared for her to fake fire me to humor him lol"
- koopkop
"Reminds me when I worked in a Chinese place and people would be deathly allergic to MSG. When I explained it came in the fried rice we'd make in advance they'd reply 'oh a little won't hurt'."
- Matookie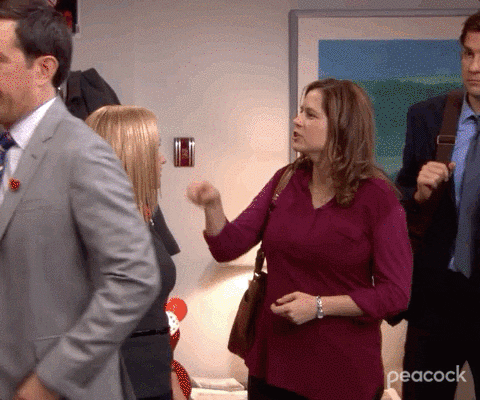 Season 8 Nbc GIF by The Office
Giphy
The People Want Adult Films
"I worked at Blockbuster and some guy got angry at me because we 'no longer' carried adult films. I explained that we had never carried porn but he said 'You have Red Shoes Diaries!' - which isn't porn."
"Then he threw the Rugrats movie on the counter and opened his wallet to get his membership card. After he paid, he shook the Rugrats movie at me and said 'People want PORN! Goddamn you.'"
- BarracudaImpossible4
"I worked at a Blockbuster and we had an older guy throw a tantrum because I wouldn't let him in the 'backroom' to look at the 'adult films' which we 100% didn't have. The manager ended up finding out he was confusing us with Family Video."
- Albino_Wendigo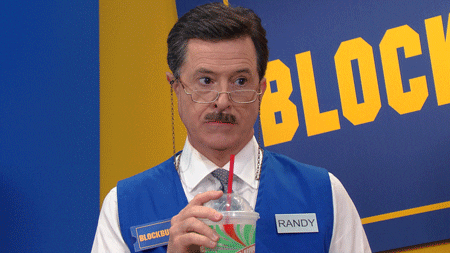 Stephen Colbert Blockbuster GIF by The Late Show With Stephen Colbert
Giphy
Cold Cuts Too Cold
"I worked at Arbys as a teen. At the time we had a new angus cold cut sandwich. This woman came in and ordered it. It was like a $12 meal."
"Gave her her drink cup, a min later she comes back and throws the cup at me because we didnt have any drinks she liked. We had like 10 different sodas, coffee, iced tea, lemonade, water, fruit punch, etc. Not sure what exactly she wanted."
"Anyways, I give her her sandwich and fries, she takes them to the table, takes one bite, comes back and slams the tray on the counter complaining that the sandwich was cold. I informed her that its supposed to be made that way. "Where? Where does it say that its a cold sandwich?" I pointed to the menu and said "in the name. COLD CUT sandwich""
"I ask her if she wants me to heat up her sandwich for her. No she doesnt. Does she want me to make her another one that is hot? No. Does she want something else to eat? Nope. Does she wanted a refund then? No! She just walks out! She spent $12 to take 1 bite of a sandwich and didnt even take the refund."
- stitchmidda2
"Sounds like she got buyer's remorse and expressed it in the most childish way possible. Many such cases"
- akaTim
No Plastic, No Logic
"I worked at a Target at a town in CA that independently enacted a plastic bag ban a year or so before it was a statewide thing, so I got the joy of explaining that new rule to everyone. No plastic bags, paper bags are 10 cents, you can bring your own reusables or buy them for a buck."
"I could sometimes turn the mood by suggesting that they save the dime and carry out their stuff in whatever laundry hamper/bucket/storage tub they also happened to be buying."
"So a lady comes through and buys a cat litter box and a bunch of grocery items, gets in a snit about the bag thing, and when I point to the litter box (basically just a plastic bin) and say she can just take her stuff out in that, she gives me the most DISGUSTED look and declares 'I will NOT put my FOOD in a LITTERBOX'."
"Then she stomped off carrying a wobbly loose pile of groceries in one arm and the box that has never yet seen a cat dangling in her other hand. Good luck in life, girl"
- WankSpanksoff
"Oh god I worked at Macy's in Seattle for two holidays in a row, and Seattle had the plastic bag ban before the rest of the state, so I completely understand what you went through with people just being b**ch about the bag tax. Ours was 5 cents, though. And it has already been a thing for a while before my first season working there, and obviously by the second season working there... I excused the few customers who weren't from the state - in a few cases, they weren't even from the country - from being stupid, but SHEESH."
"Also to be honest when it got busy I'd just give people bags for free. Not worth explaining the whole thing and people going "Well that's OUTRAGEOUS" to me like I have any control over bag-related mandates."
"It was especially stupid when people would be OUTRAGED over the bag thing when they had already come from another store in the mall. Like, okay, even if they didn't charge you for the bag THERE the fact is that you have a bag with you right now from that store that you can just put your purchase in."
- OneGoodRib
Should Smile more
"I was a server at a local Italian/pizza place. I was a waitress and this was a busy Saturday. One table (that seemingly had no issues) asked to talk to my manager. I ask if anything was wrong, they say no, they just want to talk to him. After they leave, i ask what was going on with them. He said they complained that I wasnt friendly enough/smiled enough."
"He asked if the service was poor. No, they said I was very attentive and always had full drinks and everything they needed."
"Was their order messed up? Nope. Food was amazing!"
"What was wrong? She didnt seem happy/friendly/didnt smile"
"Manager tells them that my dad had just died a week ago. Guests suggest that maybe I should take time off of work if I cant smile for customers."
"What. The. F*ck!? Cause like, server dont get paid time off, i HAD to work or I would have lost my apartment etc"
- yosarianmarx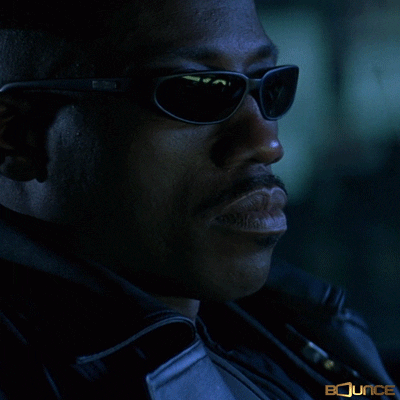 Sarcastic Yeah Right GIF by Bounce
Giphy
We're betting pretty much every one of those people is, at the very least, a polite dining guest and solid tipper when they're at restaurants, not going to tell people they don't deserve celebrations, and doesn't tell servers they shouldn't be allowed to work if they can't smile and be chipper right after their dad died.
Keep reading...
Show less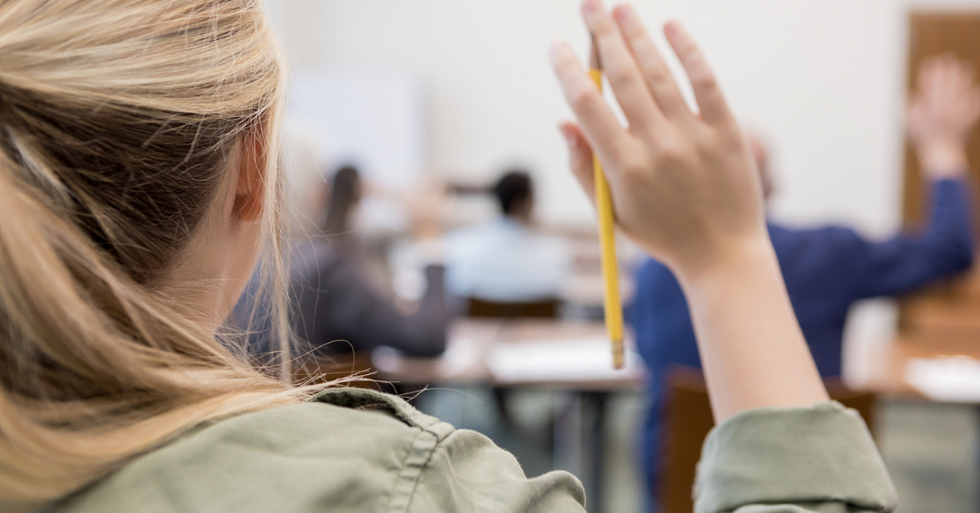 Being a teacher comes with many challenges. So does being a student. It is for this reason that one of a teacher's main duties is to make sure that their classroom is a safe space, where students are protected and can learn in an encouraging environment. For if a teacher makes a student feel unsafe, […]
More