The violent and homophobic attack against Empire actor and LGBTQ activist Jussie Smollett made national headlines, stunning people with its rawness and brutality this week.
The news generated a wave of support for Smollett, who was beaten by two men early Tuesday morning in Chicago.
He's now speaking out.
Smollett released his first public statement via Essence.
He is recovering after what is being investigated as a hate crime.
Smollett told police he was attacked after leaving a Subway restaurant by two men in ski-masks who declared Smollett was in "MAGA Country"––a reference to President Donald Trump's Make America Great Again slogan––hurled racial and homophobic slurs, "poured an unknown liquid" on him and put a noose around his neck.
"Let me start by saying that I'm OK," Smollett said.
"My body is strong but my soul is stronger. More importantly I want to say thank you. The outpouring of love and support from my village has meant more than I will ever be able to truly put into words."
JUST IN: Jussie Smollett releases statement: "I'm ok. My body is strong but my soul is stronger."… https://t.co/n9FBCPtalg

— ABC News (@ABC News) 1549038978
Smollett continued, addressing both the misinformation that had circulated since the assault, and rumors that his story had changed:

"I am working with authorities and have been 100% factual and consistent on every level. Despite my frustrations and deep concern with certain inaccuracies and misrepresentations that have been spread, I still believe that justice will be served."
"As my family stated, these types of cowardly attacks are happening to my sisters, brothers and non-gender conforming siblings daily. I am not and should not be looked upon as an isolated incident."
"We will talk soon and I will address all details of this horrific incident, but I need a moment to process. Most importantly, during times of trauma, grief and pain, there is still a responsibility to lead with love. It's all I know. And that can't be kicked out of me."
"With Love, respect & honor…Jussie."
Smollett's family also posted a statement of their own to Instagram:
"Our family thanks everyone for their prayers and the huge amount of love he has received. We are thankful to our village for your immense support during this trying time."
"We are so grateful that God saw him through this cowardly attack alive. Jussie is a warrior whose light cannot be dimmed."
Support poured in from around the nation.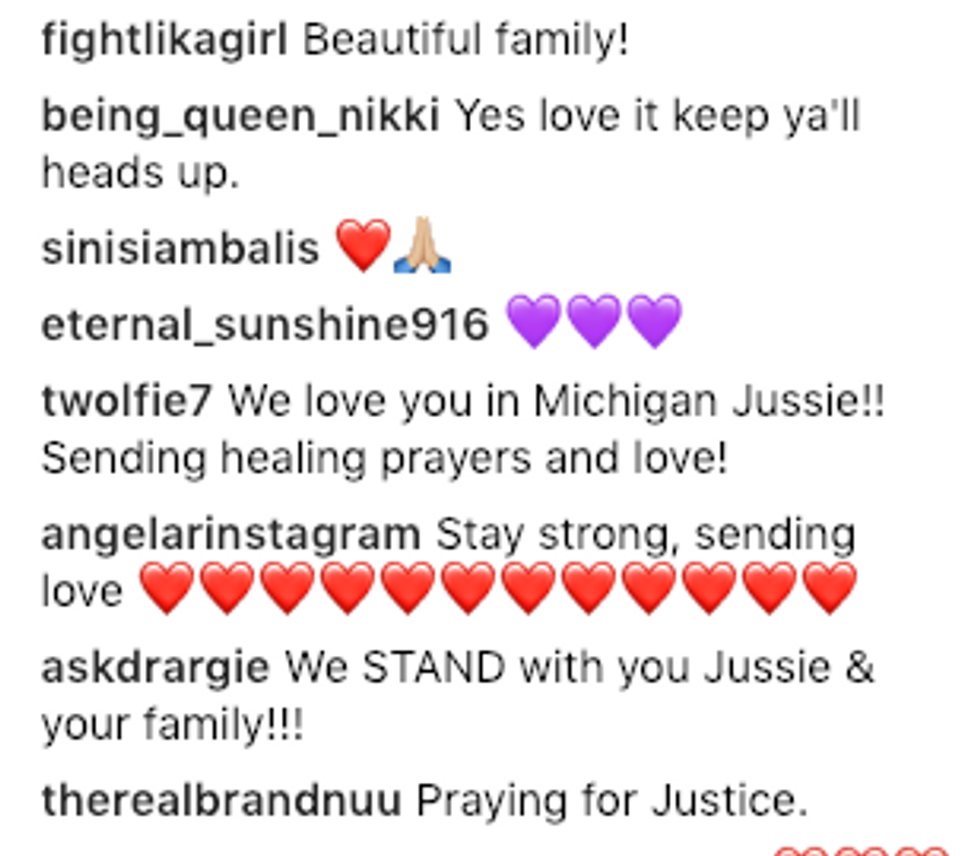 @jurneebell/Instagram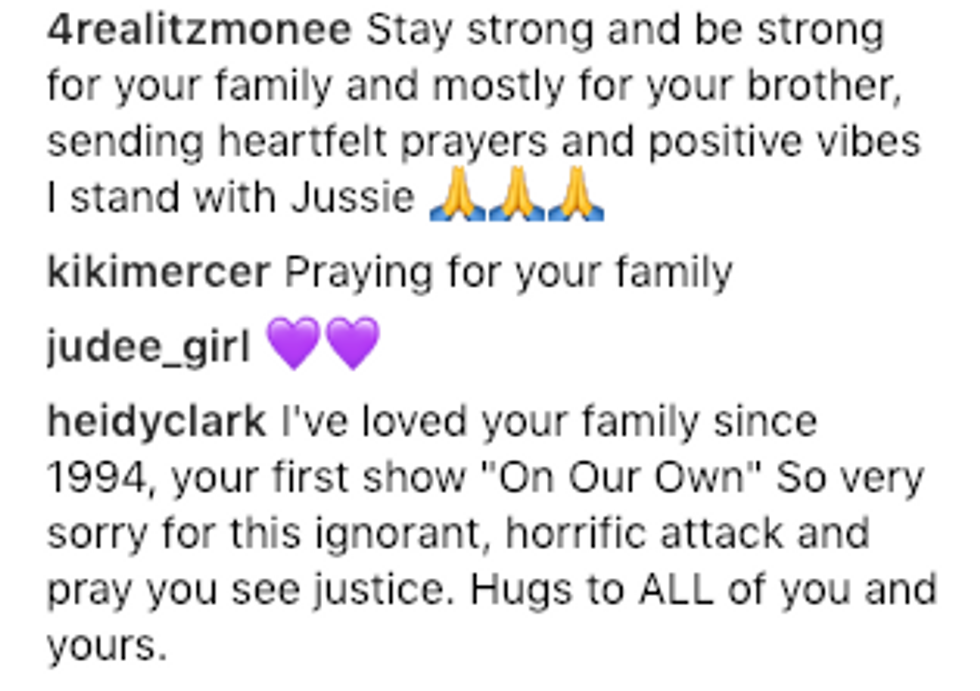 @jurneebell/Instagram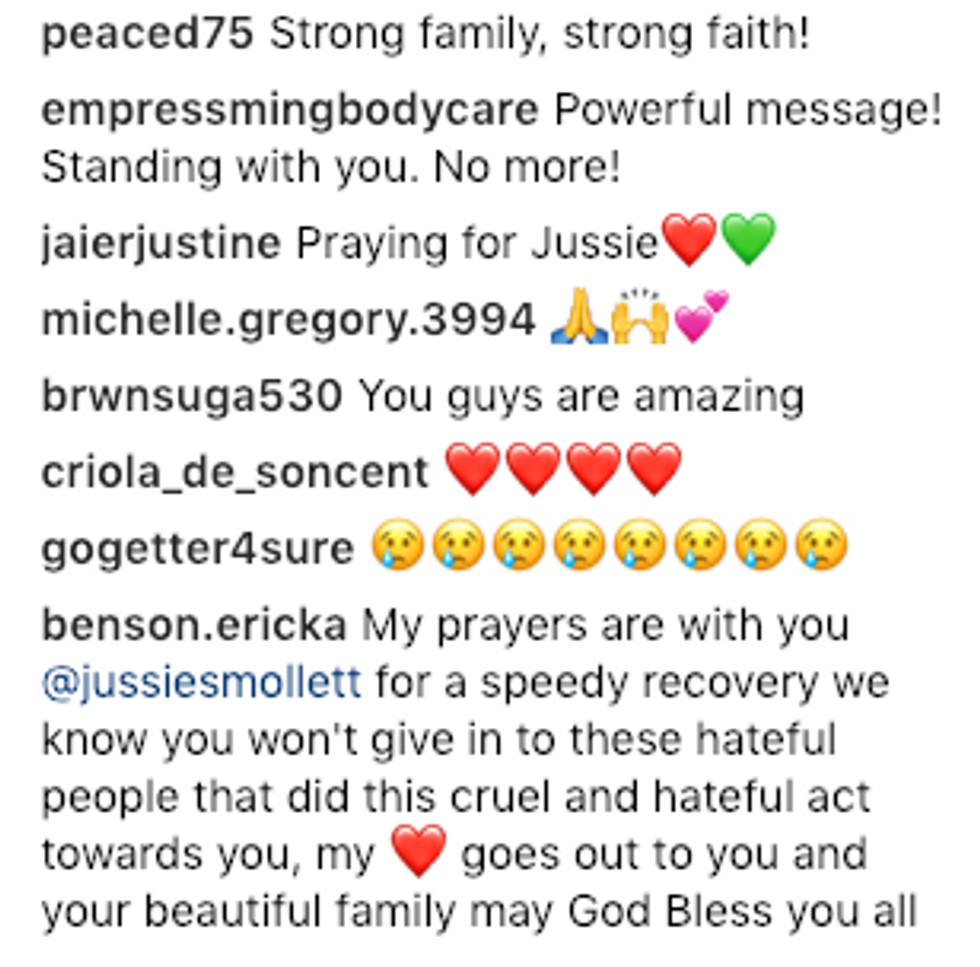 @jurneebell/Instagram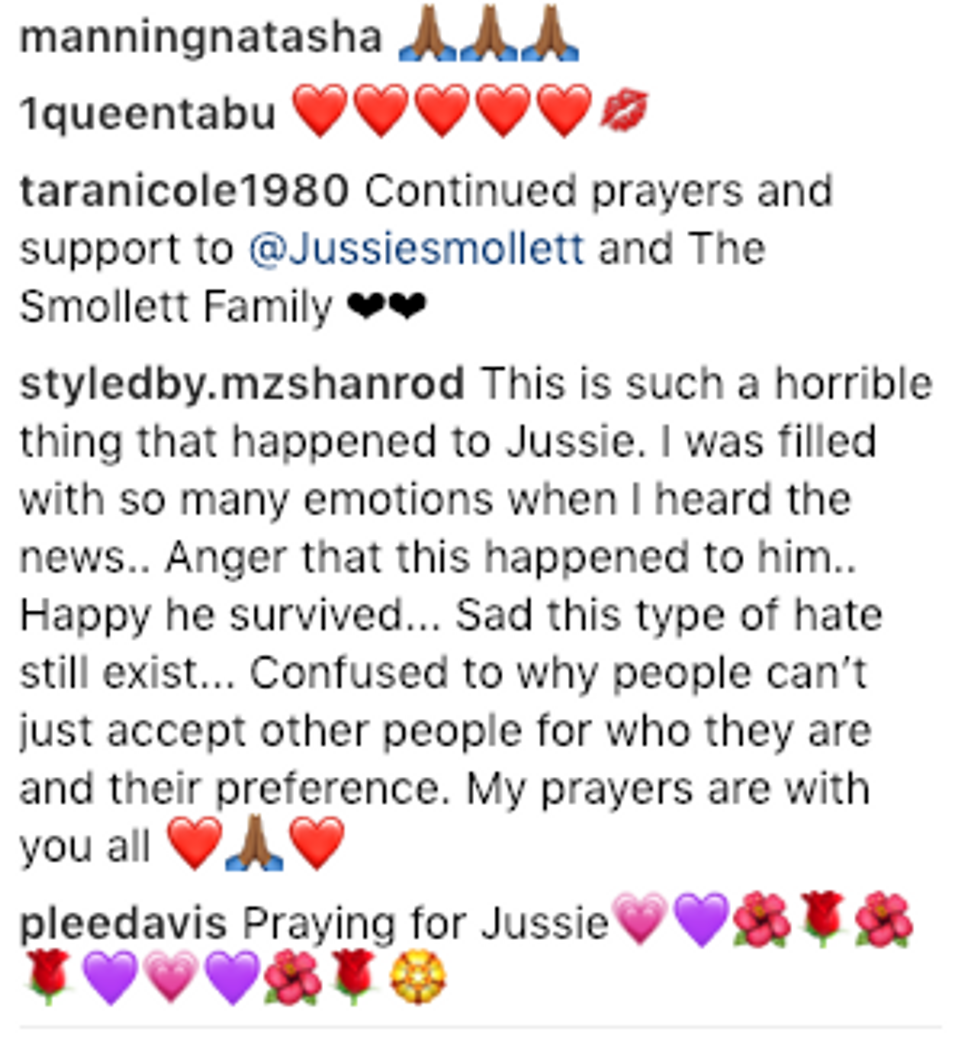 @jurneebell/Instagram
We wish Smollett a speedy recovery.
He has indicated he will still perform solo at the Troubadour in Los Angeles tomorrow evening.
Keep reading...
Show less