As humans, we all make mistakes, and it's important to recognize that and atone for the messes we make.
Wendy Williams is learning that lesson this week after comments she made about Joaquin Phoenix's appearance.
While doing a recap of the Golden Globes on her talk show, The Wendy Williams Show, Williams focused first on Beyonce's decision not to rise for the standing ovation given to Joaquin Phoenix after his win for Joker. At first, in what seemed like a commentary on Beyonce's refusal to rise, Williams asked who Joaquin Phoenix is, but very quickly any point she was trying to make got lost in the weeds.
Instead of focusing on Phoenix's win for Joker, or other ways he's contributed to the acting community, she instead focused on his appearance.
Williams confessed:
"By the way, I think I've shared this with you before: I find him oddly attractive. He played that Johnny Cash. It wasn't Reese [Witherspoon] who kept me. It was him."
While referencing a picture from Joker, Williams said:
"This right here, I don't know anything about this."
Williams then tried to make a point, before the whole commentary turned ugly:
"He knows how to transform. When he shaves [his beard] off... The way he looks at you... he's got that good nose... He's got that, what do you call it? Cleft lip. I find that to be very attractive."
Williams then pulled up her lip in a mocking way and held the gesture for an upwards of ten seconds for the camera.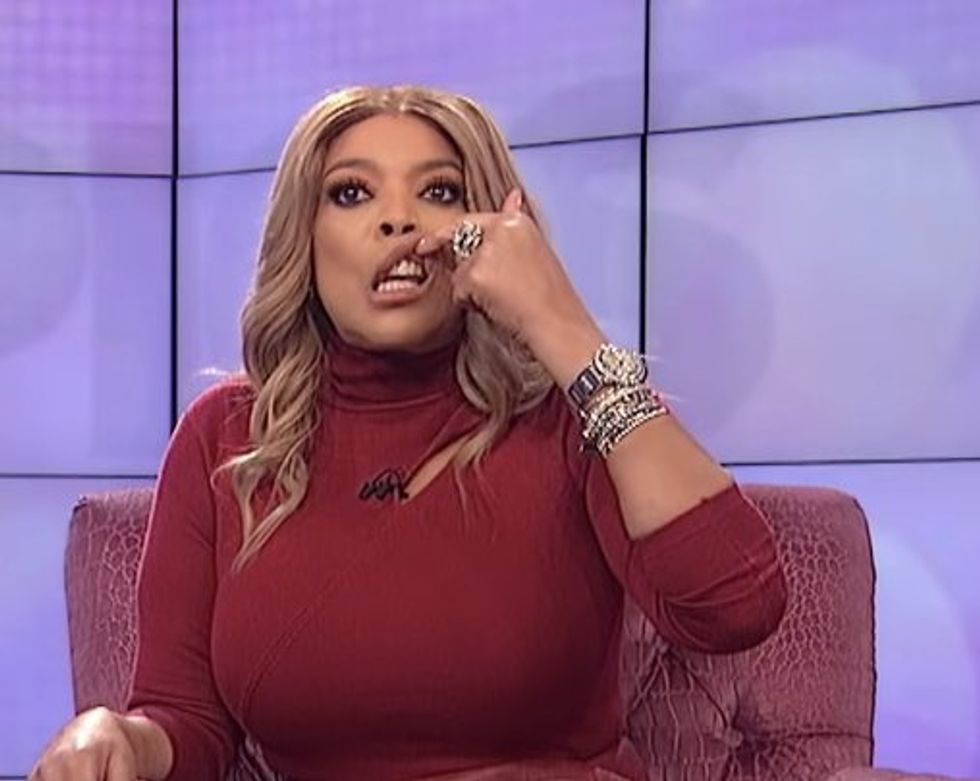 Fox
Comments started pouring in quickly regarding Williams' insensitive actions.
Many said this qualified as bullying against those born with cleft palates or cleft lips and demanded Williams respond and apologize for her behavior.
Day 3 We are still waiting for a @WendyWilliams apology to the cleft community. Outside of that, seeing everyone c… https://t.co/32Xb9aTP1C

— Adam Bighill (@Adam Bighill) 1578871314.0
@WendyWilliams should feel ashamed for being so disrespectful joking about Joaquin Phoenix cleft lip, not only to h… https://t.co/BX9t07f0TK

— brandon (@brandon) 1578507362.0
@WendyWilliams - as the mom of an 11 yr old girl who was born with cleft lip & palate, I was horrified to see you m… https://t.co/04w3zkfCLa

— Julie Snyder 🧢 (@Julie Snyder 🧢) 1578498859.0
One of the most vocal critics was Canadian football player Adam Bighill, whose young son, Beau, had surgery just this week to repair his lip.
Today is Beau's big day. He is getting his lip repaired today in Winnipeg by the fantastic Dr. Ross. Thanks to ever… https://t.co/oXAPoHIj6b

— Adam Bighill (@Adam Bighill) 1579106292.0
He called Williams out for promoting "bullying."
Thank you @FarhanLaljiTSN at the end of the day this is something we can all rally behind, and that's a mission to… https://t.co/MngHJ0eBFu

— Adam Bighill (@Adam Bighill) 1579108235.0
After several days of silence, Williams offered an apology to Bighill and the cleft community while asking her fans to donate to a charity that helps those with facial deformities through free corrective surgical procedures.

. @Bighill44 We're thinking about Beau today as he is in surgery. I want to apologize to the cleft community and in… https://t.co/J4dSywb298

— Wendy Williams (@Wendy Williams) 1579135247.0
Many, however, were unhappy with the brief apology and pointed out that it was more of an ask for donations.

Williams also appears to attempt to buy her way out of her behavior with her show's donations to the two causes.
She also didn't apologize to Phoenix specifically, who was the target of her original comments.
@WendyWilliams @Bighill44 @operationsmile @AmerCleftPalate So it's ok to be a bully if you can pay your way out of it?

— Golden Goose (@Golden Goose) 1579143650.0
@WendyWilliams @Bighill44 @operationsmile @AmerCleftPalate BYE WENDY, BYE! #Shameful #heartless

— Annette Tucci (@Annette Tucci) 1579138796.0
@WendyWilliams @Bighill44 @operationsmile @AmerCleftPalate Your apology doesn't change the meaning you are awful pe… https://t.co/mPz2gX8z5z

— ⭐️✨POSH🌟💫 (@⭐️✨POSH🌟💫) 1579140542.0
@WendyWilliams @Bighill44 @operationsmile @AmerCleftPalate What you did was totally unacceptable. I'm a speech pat… https://t.co/itmZXbvuTK

— Robert Evans (@Robert Evans) 1579144417.0
@kuhnperalta @WendyWilliams @Bighill44 @operationsmile @AmerCleftPalate She's not sorry-only doing it to hang on to… https://t.co/XUlvOvKUuU

— Joan Young (@Joan Young) 1579157343.0
@WendyWilliams @Bighill44 @operationsmile @AmerCleftPalate I have a cleft lip and palate and had multiple correctio… https://t.co/Kx0nbLs5ZK

— a Millennial (@a Millennial) 1579143474.0
@WendyWilliams @Bighill44 @operationsmile @AmerCleftPalate Too little, too late... a grown woman should know better… https://t.co/niypV5aIhS

— Lynda S (@Lynda S) 1579135395.0
@WendyWilliams @Bighill44 @operationsmile @AmerCleftPalate As a person with a cleft lip your so called apology isn'… https://t.co/AvzhWErx1u

— Paul 🏳️‍🌈 (@Paul 🏳️‍🌈) 1579141502.0
@WendyWilliams @Bighill44 @operationsmile @AmerCleftPalate Too little too late. You're always running that big mout… https://t.co/YbpmHwiiMA

— #RIPKevinBacon (@#RIPKevinBacon) 1579137685.0
Whether or not Williams will expand upon her apology and include Joaquin Phoenix this time remains unclear.

But many hope Williams will think before she speaks in the future.
Keep reading...
Show less
Awards season is on everyone's mind as the films of 2019 compete for the prestige and box office money that comes from winning.
Joker is making waves all on its own, with two wins at the Golden Globes this year, including the first solo woman to win Best Original Score.
The movie's excellent award season is bringing those involved into the spotlight, which for Joaquin Phoenix, brings its own controversy. The actor is as well known for his eccentricities as he is for his performances.
After winning the Golden Globe for Best Actor in a Drama, Phoenix was brought backstage to greet the press. After joking he was tricked to come backstage, the questions began.
And the first question immediately started an online debate.
Joaquin Phoenix bristles at journalist's question about how he prepared for #Joker: "I feel like I've talked about… https://t.co/e1xmZdqBD5

— Variety (@Variety) 1578291132.0
In the video above, the first question asked wondered about Phoenix's process to study for and transform into the Joker.

Phoenix's response was very incredulous.
"Isn't this old news? I think I've talked about this for six months."
"I feel like I answered these questions. You want to hear a different version of it? I can try to change it slightly, or what should I do?"
Which to be fair, is true.
Promoting the movie during production and at time of release, Phoenix spoke at length, repeatedly, about his process to prepare for the role. Googling his appearances on talk shows and his interviews about the film finds almost all interviews include the answer to this question.
That fact didn't stop people from seeing Phoenix's response as being very rude.
it's their job to ask you about the movie. and unless they're asking something genuinely rude or intrusive, it's yo… https://t.co/X2x8naPbXL

— holli (@holli) 1578291848.0
y'all can think joaquin phoenix is a good actor and still acknowledge that he was a rude to that reporter, that is something you can do

— amber//goodbye friend (@amber//goodbye friend) 1578399739.0
joaquin phoenix is rude and it's not cute being talented and having anxiety does not give you a pass to be a dick

— olivia (@olivia) 1578355024.0
Others came to his defense, however.

Phoenix has often been characterized as shy, and something of a recluse. He's noted for eschewing the normal Hollywood lifestyle, and having a very limited circle of friends.
Others pointed out his unconventional upbringing as to why he can appear different to other people.
And of course, Joker has been one of the biggest and most successful films of the year. Why would anyone think that question wasn't uncreative, unimaginative and lazy journalism on the reporter's part?
All of this led to debate online as to whether or not he was rude, or if he was, if we can excuse it.
@goodgirlffaith @Variety His job was to act in the movie. That's it. The end

— Écrivain (@Écrivain) 1578291547.0
@JKsGirl75 @Variety He just won the damn award for the film. What else would they ask him? He shouldn't be there at… https://t.co/CQ4VJ5yPEO

— RichardG (@RichardG) 1578291653.0
One person pointed out that Phoenix only asked why he had to answer the same identical question over and over, then he answered the question anyway.
We aren't even gonna comment on that whole Joaquin Phoenix being rude to journalists bc he was questioning why he h… https://t.co/pgpp3Eozgt

— cillian murphy's beard (@cillian murphy's beard) 1578339831.0
On the other hand, it was pointed out that many aren't afforded these same considerations.

Women in particular often get harsher judgements if they are perceived as cold or unsociable. Many have to deal with the same questions, not just on a particular film, but for their careers.
Part of the job of an actor is to promote the movie, and that often means dealing with unoriginal journalists, asking the same question as everyone else. And it's not like Phoenix isn't used to public scrutiny.
Does this mean Phoenix's actions should be condemned? Or should we just give more leeway to other actors frustrated with the press circuit?
*jennifer lawrence is rude to journalists* "she's so rude, she's not funny, she's mean, i can't stand her" *joaqu… https://t.co/Q89vS3111k

— ً (@ً) 1578406106.0
Joaquin Phoenix looks like someone who can't wait to get home because he can't stand people lol #GoldenGlobes https://t.co/f9ZYHfBywq

— diana⛄ (@diana⛄) 1578283836.0
Bill Skarsgård had to answer to the same dumb questions about Pennywise for two years come on now https://t.co/dK7EemodbG

— 𝔫𝔞𝔡𝔦𝔞 ⋆🔪 (@𝔫𝔞𝔡𝔦𝔞 ⋆🔪) 1578333579.0
please kate winslet have been asked if jack couldve fitted in that wood in titanic for two decades and she was neve… https://t.co/qy0GT9MceK

— kat (@kat) 1578336270.0
Joker was released on home media last month, and is among the films that will be available on HBO Max when the service launches later this year.

Keep reading...
Show less