The daily grind in the workplace can be mind-numbingly tedious, but at least there's a sense of familiarity that can be comforting.
But inevitably, there are many factors at work that can contribute to a train wreck.
We all welcome distractions to a certain degree, but there are some dramas better left elsewhere.

Curious to hear from workers who witnessed things heading south in the workplace, Redditor zana-666 asked:
"People of Reddit what's the worst thing that's happened on your job? (serious)"

Warning: some of the comments involve deaths and the descriptions are not for the faint of heart.
People who work in healthcare have witnessed alarming situations like an episode from Grey's Anatomy.
Taking Matters Into Their Own Hands
"I worked at a nursing home years ago and we had a patient with dementia who was ALOT of work - constantly trying to get up, screaming, throwing things, spitting, hitting. We'd rotate staff as a 'one to one' to keep him safe. Well, one shift his sitter got tired of the constant yelling and moving and medicated him from her own stash. Gave him her personal supply of Ativan and Oxycodone to knock him out. It did work (!!) but she was immediately escorted out of the building and lost her CNA license."
Nurse Rage
"Work as a nurse in an ICU. Two of my coworkers found out while on shift that they were 'with' the same guy. Proceeded to physically fight each other in the hallway. Meanwhile there is a patient coding (in cardiac arrest) down the hallway; annnnd I'm not embellishing another patients family set the trashcan on fire in their room during the code. It was a wild wild night shift."
Pervy things went down while these people were on shifts.
Unprompted Art Installation
"I worked at a Barnes & Noble in Florida and some dude came in with a bunch of Polaroids of his junk and hid them in books in the kids area. A kid found one and showed his mom. We had to close down for the rest of the day and leaf through/shake out all the books in the store to find the rest of them."
Your Underwear Or Your Life
"I work at a high school and a student pulled a gun on one of the teachers in the parking lot after school and made her give him the underwear she had on. He was caught later that day and said he did that because she is hot and wanted to use them later"
– mbogan67

Tight spaces are not ideal work environments, but someone has to work in them.
Confined Spaces
"There's sooo many rules about confined spaces where I work. It always seems so harmless but it's very dangerous if you think about it."
"Whether it's an inspection or something that needs fixing in a confined space we need entry permits, oxygen monitors, continues forced air circulation, 1-2 people as intervention if anything goes wrong, safety harness and ropes to pull someone out if anything does go wrong,... All for a seemingly 'harmless' space."
– Haimonek

Arachnid Attack
"I used to work in low volt integration, wiring smart homes. Being the lead pre-wire technician, I was in-charge of all pre-wire installations unless a more experienced tech was on scene. Being just 23-24 at the time of employment, I was the one to usually go into crawlspaces and attics since most of the older guys didn't want to do it."
"Over a year and a half working there, I've been bitten by two brown recluse spiders and one black widow spider. I still have a scar of one of the brown recluse spiders who bit me on my side, luckily it was just my side that got bit and I am a healthy young adult, otherwise I could've lost something. The brown recluse has NO antivenom in the entire United States."
Bad things may happen at work, but witnessing tragedy will put things into perspective.
The Absent Candidate
"It's not as dramatic, but we were interviewing for a position once and the candidate's husband called to say she'd been killed in an accident on her way to the interview. He actually apologised. It was awful."
Sad Intuition
"Colleague was absent from work for a couple days and wasn't answering their phone so manager and I went to their home. The building manager gave us a key to their apartment (totally illegal of them, I know), and we opened it to find the colleague dead. Already at the door, I could smell something sickly sweet and I knew in my heart they were dead. We had to wait for the ambulance service to come declare them dead… turns out they were sick for days and didn't contact a doctor or anyone else. Just slowly wasted away at home. I will never forget that first look into the apartment."
One Incident Too Many
"Had a guy have a massive heart attack between 2 furnaces in remelt department. It cooked him. His skin split like a hotdog on the grill. It was terrible. Also had a guy that had a air pocket in a molten pot. When the air pocket reached the surface it blew out and rained molten metal him. We had to chase him down to get him in the safety shower. Same place had a guy commit suicide in the parking lot because his wife was cheating with someone on her shift."
Gruesome Accident
"Worked in a steel mill many years ago."
"One day a guy was doing something they've been doing for many years, and the molten steel came into contact with water from improperly dried refractory stones."
"Instant metal explosion that rained down a sh*tload of molten metal on him, he died in less than a day. Skin melting off his body and all the gory details."
"Luckily for me, it was my day off, else I would have been a first responder."
A Horrific Frequency
"Air Traffic Control. Didn't happen to me, but I was working that day and heard the replay. Couple takes off in bad weather and get more ice on their wings than they can handle. They dropped like a rock and screamed on frequency the whole way down. The worst part is the other planes may or may not have heard it and you have to keep talking to other planes like nothing happened until someone relieves you."
– megaPOG

Depending on the job, the everyday mundanity of work can take a toll on your psyche.
But based on the examples mentioned above, some of the best work days are the ones that end with no incident.
When I used to work at a certain amusement park, my coworkers and I heard security personnel talking through their portable radio devices about park guests who were bludgeoned to death by a terrible accident caused by one of the park's attractions.
A miscalculation while docking a large watercraft moored too soon to the dock caused a cleat from the ship's hull to dislodge and fly into the faces of a couple who happened to be in the wrong place at the wrong time.
Both victims – who were alleged to be on their honeymoon at the time – died instantly from the impact.
My colleagues and I were dancers in between our performances at the theater inside the park. When we heard what happened in our vicinity, we were sick to our stomachs. But the show eventually had to go on.
Keep reading...
Show less
I hate kids. Ok, that is a strong sentiment, I dislike kids... a lot. I babysat one time in my life and that was more than enough.
The only other times I babysat was when I was forced by my mother to watch after my brother which was never fun. Sorry, bro.
I also just can't handle the responsibility of keeping someone's kid breathing. I kill plants.
And I know what I was like as a kid to keep an eye on, so I speak from experience.
Redditor u/oh_the_struggle wanted to chat with people who have a struggle or two watching over others by asking:
Babysitters, what's the most unsettling thing that's happened while you were babysitting?
I lost track of the amount of times I wondered off. My bestie and I once decided to build a fort in his backyard when we were suppose to be hanging out front. We neglected to tell anyone, cut to two hours later and the whole neighborhood is scouring the block for us. Needless to say getting punished was an understatement. I'll never forget the look of horror and relief on my babysitter's face. Sorry Janeen.
EVIL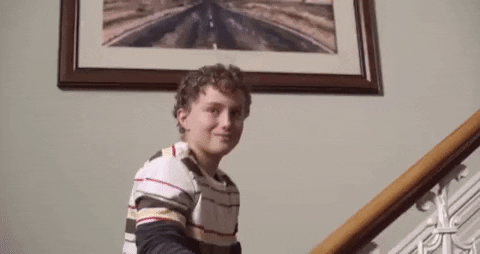 Bad Child GIF by Tones and I
Giphy
"A family from church asked my mom if I could babysit for them, so I had to."
"Soon after the parents left, sitting in their living room watching cartoons with both the kids, a boy and a girl, the little girl asked for some kind of elaborate snack or something and I chuckled and said "no sorry."
"No expression on her face, the little girl stood up, crossed the living room to a crate that their large dog was locked in, released it, and told it to go after me, which it did. I remember that evil little kid cackling while this huge dog chased me in circles around the house. And that was the end of my babysitting career."
- Badddger
PANIC!!
"My sister was babysitting and I got a screaming panicked call from her. She was putting one child down for the night (a girl around 3, I think), and the little boy (around 6) stopped playing, grabbed a chair, unlocked the front door, and left the apartment. She was distraught. I told her to call 911 and I'd come help her with the toddler. When I got there, the police were talking to her and wrapping up."
"Thankfully, even though it was dark, two older women had been out for a walk and found him wandering down the sidewalk of one of the busiest roads in town!The weirdest thing is that the parents were completely unfazed. They apologized for NOT TELLING HER HE HAD DONE IT BEFORE and wanted her to babysit again. My sister never babysat again."
The Filthy Guy
"When I was in high school I used to baby sit for a family that had a glass door off their kitchen and when ever I'd get something out of the fridge for the kids I'd think to myself how scary it would be if someone was just standing there looking in."
"One night it was storming really bad and I went to get one of the kids a glass of milk and lighting flashed and a filthy man I'd never seen was standing there framed in the glass door staring in. I screamed and yelled for the kids to go hide. Of course they didn't listen and ran into the kitchen."
"Turns out it was their uncle stopping by to drop off something he had borrowed. He worked construction and had gotten quite muddy and was just going to leave what ever it was by the door which is when I saw him. So it ended up being a case of nothing, but the terror I felt when the lightning lit him up was pretty intense."
Bad Dad
"The estranged husband showed up, drunk, demanding to see his kids. Tried to break into the house. I called the wife and the police. Never babysat for them again, even though the wife was very nice - just too traumatizing for all. The husband moved away I believe. Wife is remarried and much happier."
Too Thin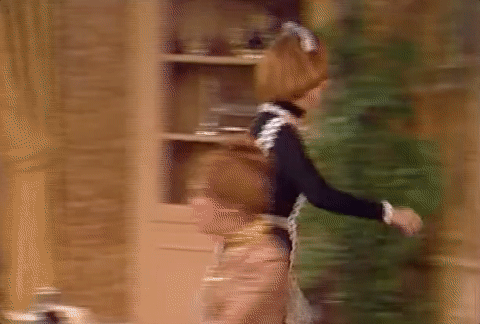 Over It Maid GIF
Giphy
"So I used to babysit for the lady who lived next door to me a few years back."
"Her children's room was the bedroom that shared a wall with me. While putting the kids to bed I heard someone moving around my bedroom (the walls were stupidly thin). One of the children told me that they hear the noise a lot. My parents weren't home. I didn't want to go home."
See, this is why I started a neighborhood dog walking business instead of watching kids. Kids are a mess. And their parents aren't much better.
Shots in the Fall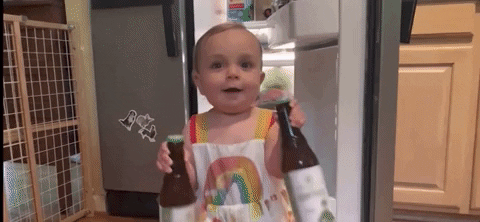 Drunk Happy Hour GIF by Saturday Night Live
Giphy
"1978, fall (October?), Wyo. I was watching my Spanish teacher's kids when I heard a gunshot."
"It actually went through a small shared section of the wall. Scared the crap out of me! I knew a cop, called his house and he came over. Turns out the neighbors were cleaning their hunting rifles… drunk."
Damn Cousins
"Babysitting" my cousins when I was like ~10 and the three of them were less than 5. Babysitting is in quotes because their mom was home but I was in charge of them in the bedroom. She was in the living room with my oldest cousin. I was playing with one of them when the youngest, about 2, started coughing, holding his neck."
"I clearly remember just standing there for 5 seconds, stone cold completely bewildered. I had NO idea what to do. I just froze. Luckily my oldest cousin somehow heard the baby choking and he rushed in. He grabbed the baby and pulled a barbie shoe out of his mouth, while I still stood there, shocked."
"I got an earful from my aunt and mom for nearly letting the baby die. I'll never forget it. I wasn't afraid, I wasn't scared, I didn't feel anything. Just froze. Let this be a lesson to never let 10 year olds watch babies. They're just not equipped to deal with disaster... or at least I wasn't."
Poor Bub!!
"At 8 or 9 I was put in charge of my infant brother for some reason. Got distracted by my lipsmackers collection, and the little booger climbed up the bunk bed (I didn't even know he could do that!), he fell onto the side of a wooden toy box and broke his leg."
"My mom insisted it wasn't broken even though he wouldn't stand, because he barely cried. Poor bub got a big banana yellow cast while I sobbed hysterically, I STILL feel bad about it. He would turn out to just be the injury prone brother. I don't know why that never tipped them off it's a bad idea to put children in charge of children."
- Fimmy
Tragedy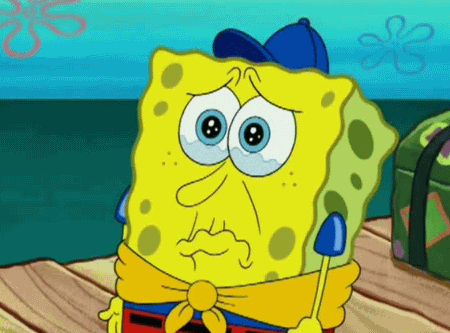 Sad Tears GIF by SpongeBob SquarePants
Giphy
"Nothing spooky, just generally unsettling. Their first baby died of SIDS so I basically sat in silence listening to the baby monitor the whole night, worried in case something happened."
It takes a special kind of heart to look after kids. I don't have it. And kids today need better rearing. So I'm stick with fur babies. I need a Xanax after this thread.
Want to "know" more? Never miss another big, odd, funny, or heartbreaking moment again. Sign up for the Knowable newsletter here.

Keep reading...
Show less
Have you ever worked a job that was super toxic? Like the type where you hated going into work, and the threat of being fired at any second was always looming over your head? I have, and it sucks. I worked for a florist, and I got fired for throwing up at work after a bad reaction from medication. That sucked.
Clearly, I'm not the only one this has happened to. Bad jobs are a universal struggle, and getting fired for dumb reasons happens all the time. Lois_is_whatever asked:
People who got fired for the stupidest reason, what happened?
Retail jobs can be very fickle. That's why these former employees left on unsteady terms.​
​This is so shady.
"Worked at Best Buy in the mid 90s when I was 16. I worked selling computers, and was pretty good at it. We also sold things like memory, and hard drives that were behind lock and key. Part of our job was to take the tagged inventory from the trucks, and put it on the shelves. This included said memory.
So I close one night, put away all the new inventory, lock it up, and hand the keys to the manager. They do their checks of our department and we leave for the night. Next day I'm scheduled, I go in and the loss prevention manager said he has me on video stealing memory. I laughed and said, show me the video. Well I'm somewhat tall, red hair, and white. The video he shows me has an older, very short, white guy with a shaved head. He told me that it was me, and that I was fired, and only showed me the video once, and immediately turned off the monitor.

Being 16, I didn't know any better, said some things on my way out, like f*ck you, f*ck this place, and the like, and I left. Turns out the loss prevention guy, and his son were stealing for years to the tune over $250,000 and the guy on the video he showed me was his son. Anytime problems popped up of missing inventory, they just fired a random person to keep the attention away from themselves. When police arrested them, their house was loaded with televisions, computers, everything from the store.
TL;DR fired for stealing when the video was of the loss prevention manager's son stealing."
When employers can't take responsibility for their own mistakes.​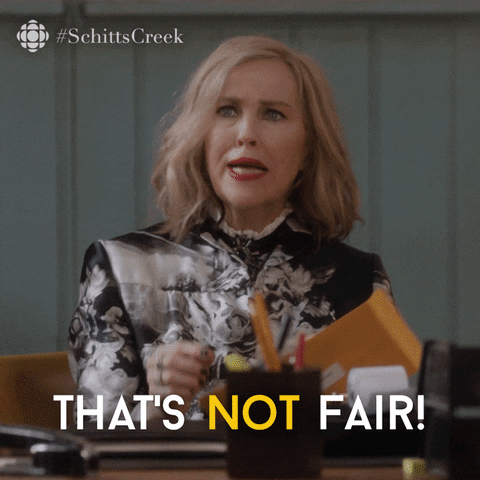 schitts creek comedy GIF by CBC
Giphy
"This would have been one of my first jobs that I didn't even get a chance to start.

I applied to be a deckhand on a local ferry. Went through unpaid training as part of the interview process. First aid, CPR, crisis management, safety policy whatnots. All group interviews. Anyway, I got the job after about a week. I also got my offer in writing with the expected start date. That was going to be a Tuesday two weeks later (and I remember this detail because it went to sh!t.) I accept and sign and take my copy.
I was thrilled. I was going to be on the water and making money for the summer. My friends were hanging out down by the water when I left the interview so I went and told them all about it and the start date, etc. Again, cementing that start date in my mind so I was ready.
The following week, a week before I was supposed to start, I got a call from the office asking where I was. "We expected you to be here an hour ago", and so on.
I asked them to check the offer that I had signed because I was never told that my start date had changed. I mean, I was available and explained that I'd be happy to come down right away but I hadn't known of any changes. They checked, agreed that they had made the mistake, and then told me that, nevertheless, a miscommunication this early on was a bad sign and they would not be hiring me.
So I was 'let go' because someone put down the wrong date."
​That's definitely not what they said.
"During my senior year in high school, I was working at McDonald's, it was right after Christmas and we were really busy. I'd been there 4 hours, had 2 to go, was supposed to get a 30 minute break, since we'd slowed down I asked if I could have a break. The shift manager said no one was getting breaks. I said "thanks a lot', she told the assistant manager (pretty sure they were sleeping together) that I told her to f*ck off. He fired me on the spot. Wouldn't even let me give my side of the story.
A week later I was working at Jack in the Box. Was a shift manager in 6 months, did that through a couple years of college, dropped out (never wanted to go anyway) and moved up to assistant manager and then a couple years later, general manager. I remembered how I was treated at McDonald's and made sure I treated my employees well. Had the 3rd lowest turnover rate in a 95 restaurant region, had the second highest average hourly pay...and #2 in profit improvement. Take care of your people and they'll do the same for you."
​It's almost as if some jobs want 100% loyalty, despite the fact that their employees have a life of their own.
"Job before family"? Really?
"I was driving cars for a shady dealer. (Under the table while I was laid off from my real job) Got a call that my uncle had attempted suicide and was in a psychiatric ward in a local hospital and wouldn't talk to anybody else but me.
Told boss I had to roll. He said something like; "Your job comes before family. If you leave, don't come back."
I left. The next morning he called and asked me why I wasn't at work. I hung up on him."
​School comes first.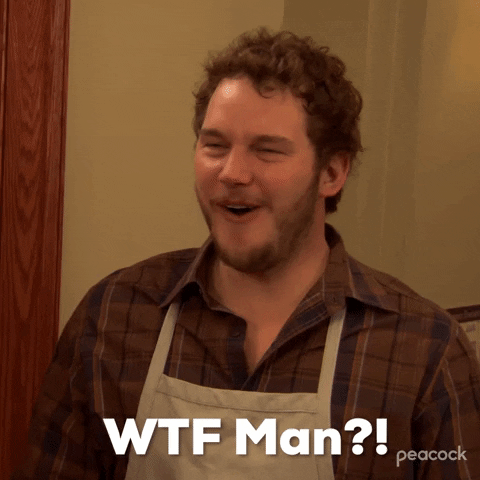 Season 2 Wtf GIF by Parks and Recreation
Giphy
"I took a job with a movie theater in high school, only accepted the job because they promised me a set schedule. Me and another coworker worked it out where one of us was always on shift. About a month after I started, they handed me a new schedule starting at 2pm. I was in class until 3. Told them no. Got fired for my lack of commitment to the theater."
People Describe The Worst Adult Tantrum They've Ever Witnessed | George Takei's Oh Myyy
God forbid they drink water.​
"My wife got fired once for giving a high level donor (she worked for an art gallery) a bottle of water at a big dinner and art auction. Her boss had insisted that there be no water at the event, but when the donor asked for water, my wife went and found some d*mn water. Boss found out and fired her the next day for insubordination."
​It's important to remember that if you get fired for a dumb reason, you probably wouldn't want to work there anyway.
​Thanks a lot, mom.
"My first job ever was as a dish washer. I was so proud. I was 18. Of course, my parents didn't believe me so my mom called them and asked them if it was true.
They fired me that night because they felt I was unreliable. I have yet to let my folks live that one down..."
​Weird rule but ok.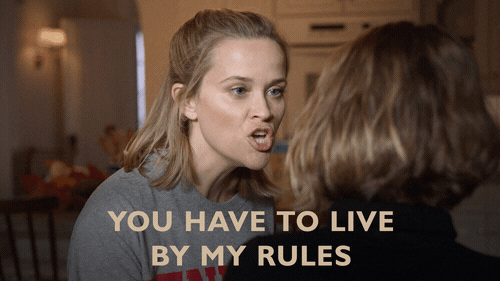 Reese Witherspoon Mom GIF by HULU
Giphy
"Got fired from a public library for taking TWO carts to collect books from the outside Dropbox instead of ONE. The past few times I emptied the dropbox on a Monday it required two trips, So I brought two carts instead.
It turns out the matter of how many carts were used in emptying the dropbox was a matter of a library board vote and I was in violation of a town ordinance.
Mind you, I wasn't fired. I was placed on paid administrative leave pending a library board inquiry at which I was welcome to call witnesses. I couldn't keep a straight face, so I resigned."
​What happens on break, stays on break.
"I was fired for playing solitaire on my 15 min break when I was working as a receptionist. The doctor who owned the clinic was dumb enough to put that as the reason in my termination letter. I collected unemployment after he tried to appeal it. They explained in great detail how stupid of a reason this was for termination."
Let the man retire.​
"Guy preparing to retire, who had been training me to take over his job for the past 7 months, felt I was ready to take over completely.
Boss was afraid to lose 30+ years of experience and fired me to keep the old guy for a little longer.
From what I understand there was a pretty big fight. Old guy was a wonderful reference for me with the new job I obtained, with a 20k+ pay raise, and begrudgingly agreed to stay on for another year."
​Like I said, jobs that pull this kind of stuff are not jobs you want to work for. Good jobs are out there- you just gotta find them.
And to the bosses listed in this article- maybe stop being so shady? Just a suggestion.
Keep reading...
Show less
It seems that it's far more common to hear somebody complain about their job than to hear them give a glowing review of their line of work.
But before you think that everyone out here is miserable, there are some people who do like their work.
These beloved jobs come in all different shapes and sizes. And they're enjoyed for just as many various reasons: the lack of stress, the excitement of the work, the hours, or even the co-workers may all be good reasons to have a decent enough time at work.
Perhaps curious about the decent jobs out there, Redditor KM5550 asked:
"People who actually love their jobs: how and why?"
Many discussed the jobs that allow them to work outside, rather than sitting at a desk in an office all day long.
We All Know That Guy
"I'm the guy who gets to wave glow sticks at the airport and help parallel park airplanes. The only downside is that I have to stay outside at all times"
Furry Friends All Day Long
"Dog walker here. I love being outside all day, little to no contact with humans, and spending everyday with all kinds of fun and adorable dogs, there is virtually no downside."
"They are so happy to see me and even happier to walk. It's seriously criminal that I get paid to do this lol"
Close to Earth
"I own and run a farm. We do a lot of gourmet mushrooms, garlic, specialty fruits, etc. I have always loved to cook. Cooking with fresh local ingredients is awesome."
"Basing your life around producing those ingredients, cooking with them, and sharing with your community is amazing. I would never have a normal 'job' again."
"It really is true that with some persistence and a bit of luck you can find a job that doesn't feel like work."
-- ThePhwner
Others enjoy their work for all the time they get to spend with children. There is never a dull moment with those zany, tiny children.
Blowing (Up) Minds
"I'm a science teacher. I love working with kids, I love that I don't have administrative responsibilities. All I have to do is make lesson plans, and teach those plans, and I can refine them through the day as needed. If a lesson goes great, I can save it for the next year, and there is no shortage of good ideas online."
"It is infinitely more rewarding helping kids understand difficult concepts and seeing those 'aha!' moments, much better than my previous soul-crushing desk job."
"Also, every now and then I get to blow sh** up with a bunch of kids."
Legos Is a Nice Perk
"Pediatric registered nurse. When I'm done my assessments, medication administration, and charting, I spend my downtime building Legos and playing video games with my patients."
"Pretty sweet gig."
-- Lord_Chud
Crazy Historical Events That Sound Fake But Are 100% True | George Takei's Oh Myyy
Concocting Behind Closed Doors
"I'm an art teacher. I shut my door, interpret the curriculum how I see fit, and have a blast making amazing projects with my kids."
"Since it's art, nobody really gives a crap about what I'm doing, as long as my kids are working. It gives me a lot of freedom to teach what I think is appropriate."
Others highlighted their work in manual labor or service industry positions. Those these often get a bad rap, these jobs are apparently rather enjoyable.
A Pragmatic Skill
"I love working in manufacturing/welding. There's a lot of satisfaction in creating something out of something else. I take pride that my work meets specs and the money is ok."
"It's not necessarily a rare skill set, but not everyone can do it. I've struggled with ADD and depression, so being successful at my trade is very important to me."
Some Peace of Mind
"Worked retail for 10 years. Took a pay cut to go to a different, small grocery store. It's kind of like a David's if anyone knows that chain. Bit bigger, it's in a rich a** development. Old white folk (nice tips sometimes randomly just for pointing out the bananas or something)"
"So I'm the only one in the produce department, aka I run this, zero supervision. It's pretty nice. I can take breaks whenever I want, free lunch from the deli, don't have to deal with customers aside from the occasional "where is X". Pretty sweet gig."
"But I've already gotten a raise to match my previous salary. And the usual promises of more. We'll see about that, but I'm happy for now, they're happy with me. All is well, and I'm not pi**ed off all day anymore."
"Only complaint would be that because the way the trucks are scheduled I don't get two days in a row off anymore. But oh well. I can deal."
Proportional Needs
"I left my career and the big hustle of the city (LA, and before that Toronto), and moved to a tiny town in the mountains where I took a job as a baker. It's like living in a Hallmark movie; there isn't a stop light around for like 30 miles and everything is all alpine village-y and."
"I make half the money I did at my old desk job but my expenses are half what they were, and I have ZERO stress - our customers are always happy because pie."
-- bergam0t
Just a Fine Job
"I'm a member of the International Union of Elevator Constructors. I install elevators for a living. The benefits and pay are incredible. The work is very satisfying and I actually enjoy coming into work every day."
"It can get stressful and some days are way harder than others but generally it's a pretty fun job building sh** and using tools all day."
So if you're looking to make a massive career change to feel less stress, perhaps these jobs are worthy of some thought.
Want to "know" more? Never miss another big, odd, funny, or heartbreaking moment again. Sign up for the Knowable newsletter here.
Keep reading...
Show less
Few can say they are passionate about their jobs. Happy employees work hard because they enjoy what a company stands for, offer competitive benefits, and creates a nurturing work environment that also challenges the people who work for them.
And then there are those who are just miserable in their jobs but choose to remain on the payroll. These people also leave it up to their bosses to terminate them from the job.
So what makes them get to this point?

Redditor 12345burrito wanted to know and asked strangers:

"What was your 'go ahead and fire me I don't even care' moment at your job?
Keep reading...
Show less