When it comes to job interviews, it's easy not to be discerning because we all want a consistent paycheck.

But beware of potental employers who brag about the company you're interviewing for.
Sometimes the job description and what is expected of employees is very telling of the company that may not be compatible for you.
Curious to hear from people who were turned off by job interviews, Redditor u/Baker_1-2 asked:

"What is the worst thing a potential employer has bragged about the job you were interviewing for during a interview?"
That's Dedication
These Redditors were appalled by how much time employees were expected to put in during their work week.
Putting In The Hours
"'We pay such a high base salary because we expect a 70-hour work week.' That's all I needed to hear."
The Loophole
"They bragged about a 'loophole' they were exploiting to not pay overtime, which amounted to a one-page NDA promising not to discuss payment, compensation, or labor practices with anyone, including government officials."
"First of all, the mere existence of that document is two federal crimes: the Fair Labor Standards Act prohibits employers from even hinting that employees shouldn't discuss compensation and trying to get someone to sign an NDA to cover up a crime is coercion."
"I reported them to the Texas Workforce Comission."
Red Flags
The following warnings indicated these were not the jobs applicants expected.
Constant Turnover
"'We are a fast paced company. We routinely evaluate everyone's performance to remove the poor performers. It's why we are always hiring new people. Those who stay get great perks like fruits and biscuits and team lunches.'"
"Like wtf. Such a red flag. I withdrew my application straight soon as I got home."
Questionable Shifts
"Hiring manager talked about how the work ethic in the office is to show up before your boss and go home after the boss leaves."
"Hiring manager once showed up at 4am and the hiring manager's boss was already there, so the hiring manager stayed a few extra hours that night."
"And they were saying all of that like it was a fun and exciting game."
– CPOx

On-Call Position
"'When you work for us, you'll be available 24/7, if we call when you're on your honeymoon, you answer the phone'. Not to mention the IT manager was a massive jerk to the nth degree anyway... Needless to say, I didn't start at that company."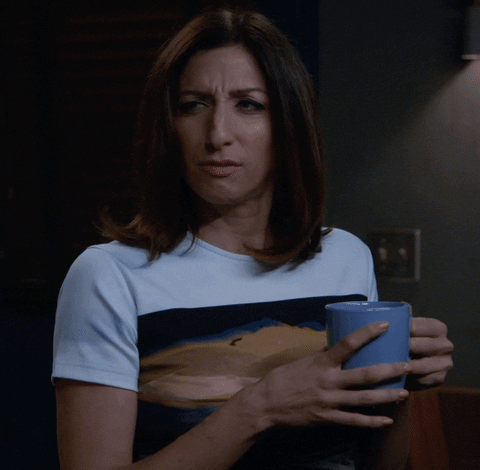 chelsea peretti no GIF by Brooklyn Nine-Nine
Giphy
Bad Examples
The egregious behavior of these employers indicated the company was one to avoid.
The GM
"At the time I was a drug addict and considered it a good thing but now years later in recovery I realized a GM that provided me with free drugs all of the time to get through long shifts without days off was actually a scumbag."
– wo0kie

Punctuality
"I showed up to a interview 10 minutes early. Interview didn't get started for at least another half hour. At the end of interview and tour, the owner went on a big rant about how important punctuality is and being late is his biggest pet peeve. I was like hold up, you just made me sit around for a half hour and you want to preach to me about being late."
"Same employer was highly impressed with my previous experience in that career field, said it was hard to find people with a passion and knowledge to do the job. Then he balked at my pay request and wanted to start me out at the bottom end of the pay range. Entry level wages for over 10 years experience, no thanks!"
Manipulation
"I accidentally became part of a group interview with a life insurance company where the main guy said 'It's amazing what you can talk the elderly into'. I asked out loud 'How do you manage to sleep at night?' and he isolated me from the group to quietly get me to leave, which felt great."
We all do our best to bring our A-game to job interviews. It's an opportunity to present the best part of ourselves to persuade the interviewer you're the person for the job.
But while you can't afford to be too picky, remember to never sell yourself short, and listen to your gut if something during the interview seems a bit off.
Also, be wary of companies that are too eager to hire you with a hard sell.
There's nothing wrong with asking plenty of questions. Because it is as much your interview as it is theirs.

Keep reading...
Show less
Whenever people meet for the first time, a commonly asked question is what they do for a living.
Learning about the different jobs people have is a great conversation starter and can reveal a lot about who they are.
People outside of the entertainment industry are always fascinated about my performing career, and it is a great opportunity to clarify any misconceptions about my career in the theater being just a "nice summer job."
Likewise, it is always just as interesting to hear about the specifics of the work other people do. And most impotantly, it's a connection – one that may come in handy somday.

Curious about the lives of strangers on the internet, Redditor nottheonefosho asked:

"What is your job and what does your day in the life look like?"
Hats Off To These Workers
These jobs may not be career goals for some, but we should be thankful there are those who enjoy taking care of the things we may not be so inclined to do.
Risky Business
"I'm an armed security guard for a night club. I get paid by shift, but if you do the math I make about $35 an hour. I get to work at 9pm and usually leave around 4am. I spend 92% of my nights checking ID's, playing on my phone and searching people for weapons. 8% of my nights breaking up fights or arguments. But I spend 100% of my nights hoping I don't get jumped, hit with a glass bottle, or shot."
Unsung Hero
"I'm an undertaker and depending on the day, I bring deceased into my care from hospital mortuaries or sometimes during the day I will get called out to a private address or care home/hospice. Majority of most days I will be out on funerals, driving the hearse/limousine and bearing the coffin into the crematorium or lowering into a grave.
I will prepare and dress the deceased ready for funerals and viewings. I will also line and fit coffins and engrave nameplates among general cleaning of the funeral home and vehicles. It can be pretty full on physically as well as emotionally, but I really appreciate my job and the comfort I can help bring to some families."
Lots Of Pools To Clean
"I service swimming pools in Florida. I do 20 a day. 100 a week. I balance chemicals and make these pools pretty for my homeowners. Even after 20 years at the same company I still love my job."
Literary Rewards
Books seem to be a passion for these Redditors, who work in jobs that involve editing or handling a variety of tomes.
The Editor
"I'm a bookeditor! Some days usually start with random check-ins and meetings, most are just checking emails and working. 90% of the time I'm editing spellings, making sure stories are coherent, checking if the plot makes sense and/or editing and adding pictures to books!"
Like Christmas Every Day
"I work books in a thrift store. My day is like Christmas morning and a round of Russian roulette all at once since I never know what's going to be inside a box. 200 Harlequin romance novels? Hardcover hand painted books from the 1700s? A newspaper from the day Kennedy was shot? Human teeth? Grandma's bank paranoia cash stash? Literal cat poop? Porn mags? Who knows, not me!"
Training And Skillsets
These jobs require skill but as one Redditor said, learning new skills and getting a job in those fields can open up opportunities that can change your life for the better.

Surveying And Digging
"I'm an archaeologist. A lot of archaeologists like me work in the construction industry, rather than for a university or a museum."
"Basically, anytime someone wants to build something, the land has to get surveyed for anything that could be archaeologically significant. My company gets hired to survey the site. If we find stuff, we often get hired to dig it up. Most days are spent walking through woods and farmer fields. We check for evidence of sites, dig small test pits and make lots of maps. Sometimes we find a cool site and get to spend a few weeks fully excavating it."
Wine Cellar Designer
"I design high end wine cellars for a living. I work in a 3d modeling program all day. Most days are drawing 'small' wine cellars to hold 250-1000 bottles of wine, but every few weeks we get a request for a design to hold 10,000 bottles. We design, manufacture, and ship all over the world. They're incredibly expensive but the quality is unmatched. 10,000 bottle cellar would cost somewhere in the neighborhood of $300,000 installed. Maybe more. The job has its drawbacks like any other, but for the most part I love what I do. Before this I worked in landscaping for 10 years, started using sketchup to design my hardscape projects to help me lay it all out and accurately figure material costs. Don't be afraid to learn a new skill, it changed my life."
Things You Ride
One job requires operating a train, while the other requires maintaining a horse, of course.
Staying On Track
"Train driver."
"I arrive and pick up my schedule card for the day, I read through it and see if there are any safety notices relevant for the day. I make my way to my train either departing from the station or depot, following the schedule for stopping pattern on that trip. Breaks are put as part of the schedule, occasionally there are moments to snag a coffee here and there. There may be requirements to travel as a passenger depending on the work. Finishing up may be taking a train back to home station and stabling there/being relieved by a driver or shunting into the depot."
Animal Care
"I work in horse breeding, and it is horrible."
"I lost my job as a waitress during the pandemic and was looking for work, and thought 'hey, I rode horses for a while in high school, let's apply for this.' And the salary was better than a waitress..."
"But the work is just plain gross. Spending all day around stinky, horny-as-f'k stallions who want to f'k anything that moves (particularly if it smells like a mare), cleaning smegma out of horse penises...ugh. No fun. I'm not sure how I'm still here, except the money's good."
– nogus2

The Final Word
Every job has its drawbacks. But in challenging times, any job is better than no job – even if it entails "cleaning smegma."
Keep reading...
Show less
Between Hollywood movies, the encouragement of some early teachers, and real-life sports heroes, it's tough to grow up without an internalized belief that you're supposed to "follow your dreams."
You push on into the teenage years and then into young adulthood during college or the first years of work. For many, those years bring a confusing tension.
Want to "know" more? Never miss another big, odd, funny, or heartbreaking moment again. Sign up for the Knowable newsletter here.
Keep reading...
Show less
Under our noses there is the constant humming of a sprawling workforce that keeps everything tied together.
We rarely take notice, much less express gratitude for these countless workers, on the backs of whom we owe our daily comforts and all the necessities we take for granted.
Men and women are out there right now hauling cargo, providing the food we eat, and focusing on the granular level to maintain our safety and health.
A recent Reddit thread acknowledged all of those people we could not live without.
mrmoocow303 asked, "What job is commonly forgot about but is essential for society?"
Want to "know" more? Never miss another big, odd, funny, or heartbreaking moment again. Sign up for the Knowable newsletter here.
Keep reading...
Show less
In any line of work, we all have made our share of minor mistakes that were acknowledged with a slap on the wrist.
Work mistakes are one thing. Intentionally committing a transgression while on the clock is another.
I had a performer friend who was in high-demand and seized every opportunity to book more work, even though she was under contract with me in a show.
It was during the holiday season when there was a high volume of one-off gigs. She called in sick for the weekend and used her sick hours so as not to miss out on a full paycheck.
Lo-and-behold, the stage managers discovered during our matinee that she was not sick at all. But it appeared she had given birth.
To Jesus Christ.

There, on live television in the stage management office, was my friend dressed as Mary – the mother of Jesus – in a televised live nativity scene.
Although her dishonesty was a cardinal sin in the theater world, she was not terminated because our company was short of performers who were already on approved vacations or were legitimately ill.
Redditor pieter2501 wondered if people have ever pulled a fast one at work and got away with it.
They asked:

"What thing did you do that should have gotten you fired, but didn't?"
Idiot Foreman
"I called my general foreman a f'king idiot for doing something. I don't remember what it was but the safety foreman called me and apparently I was right to call him out because what he did was an osha violation or something."
On The Company's Dime
"For my last buisness trip, I booked myself not into the usual mediocre 2star-bed-'n'-breakfast our company wants us to book, but into a nice 5star-Wellness-Resort with daily 5-course dinners, free access to a large spa, and a complimentary 45-minute massage."
"I payed with our company credit card, fully expecting to get into trouble (although I actually didn't expect to get fired). When billing called to have me explain what I was thinking, I explained that, due to the fact that dinner was included in the rate, we were able to save on additional expenses. The guy literally said 'Oh, well, that's fair, I guess!' and hung up on me. I haven't heard anyting from them (nor from my boss) since, so I guess everything's fine...."
Close Call
"I constantly clocked in late, took 1-2 hour lunch breaks, and left early."
"My boss finally caught on and told me to come into his office later that afternoon to presumably reprimand me and/or fire me."
"But before he got the chance to, his boss came into his office and fired him."
"Funny Looking Backpack"
"My company once helped provide technical support for a local high school's back to school event. I left a piece of equipment roughly the size of a football that comes in it's own portable backpack on the athletic field. That piece of equipment costs $45,000. We didn't know it was missing until we drove the hour back to headquarters and all had dinner. I drove back down at about 10 PM to look for it with the help of police and couldn't find anything. I cried myself to sleep after getting back around 2 AM."
"At 8 AM our company got a call from an older lady who said she 'found a funny looking backpack' with our logo on the football field and took it home since no one was there and asked what time would work best to drop it off at our facility."
"I think the fact that it was found is the only reason I remained employed."
– MDVAME

Dirty Drawing
"To protect each other from cooties, my office installed plexi glass around our desks. I found out that you can use dry erase markers on them and wrote little notes to my colleague, which erased just fine. I joked, 'Watch, I'll write a dumb note and it won't erase.'"
"At the end of a long day, I was foolin around and drew a naked lady fully expecting to be able to erase it. It did not."
"I made sure the marker was indeed dry erase, it was the same plexi glass I had marked on before. For some reason this one just didn't come off. I was panicking and NOTHING worked. How could I even explain this to my boss?"
"Eventually, I remembered that Mr.Clean's Magic Eraser took off the 5 year old permanent marker drawing that I put on my mom's cabinets as a kid. That finally got the scandalous drawing off. I swear I would've been fired."
Toddlers And Pink Eye
"I worked in daycare. If your child had pink eye they were sent home and not allowed back for a couple days or until it went away. This really bothered some parents."
"We sent one child home with pink eye and his mother was pretty pissed at us. Whatever rules are rules."
"Next day at drop off, she has this kid wearing a damn eye patch. Tells me I'm not allowed to touch it. It was pretty flimsy and if you know toddlers you know it wasn't going to last. So as soon as she hands me her kid I lift up his eye patch and bam, pink eye."
"She's livid and starts yelling at me. My supervisor gets involved, I'm pretty sure I was going to get fired. But I didn't somehow. Just got chewed out pretty bad."
"There were numerous steps I should've taken instead of lifting up his eye patch right infront of his mother. But when you're getting minimum wage to change dirty diapers and keep little suicide machines alive you just don't care."
The Day After
"I've definitely turned up to work bagged up after a few too many on Friday night turning up twitching like a bird and sh*t."
"In college, I once went to work not realizing I was still drunk from the night before. Back when I was young and desperately wanted to appear cool, I had a party trick of doing rows of flaming 151 shots, guaranteed to impress and give you alcohol poisoning."
"At work, I started to open up the store around 7am, tripped over a box, and apparently just passed out and stayed in that exact spot until my next coworker came in to find me laying there around 8am. This was a cool coworker who just laughed about it and helped me finish opening up real quick before the boss man came."
Singing Cockroaches
"I was doing programming for kids at the library and the summer theme was bug-related. Remembering a charming movie that involved bugs, I gathered all the kids together and put on the movie... Joe's Apartment. (If you've never heard of it, it's a fairly innocuous rom-com plot with a ton of swearing. One of the running jokes is that a character is in a band called "SH*T.")"
"The library was in a super conservative neighborhood and if even one child had told their parents I could have been in a world of trouble. However they all thought it was hilarious and didn't rat me out."
Free Popcorn!
"I worked at a movie theater and would give free stuff to people who i randomly liked everyday on the cash register. Probably tens of thousands in lost profit because of me."
Better Drunk
"When I work for an auto parts store I would drink on the job daily. The manager even knew but wouldn't fire me because me drunk was better than half the people there."
"Please Don't Stay With Us"
"I worked at a reservation center for a large hotel chain."
"A lady called to stay in a small town. As it happens, it was my hometown. She wanted to book the suite at the hotel for her honeymoon."
"I told her not to. That it was nice, but not for an occasion like that. That they would be disappointed. I recommended a much better, locally ran, hotel that was way better for a honeymoon."
"If my boss had heard that call, me recommending another hotel... I'd have been gone that day."
"THEN..."
"About two weeks later, she called back and asked to speak to me. Which wasn't that uncommon. Usually it was to thank you. This time too. She was so happy. The hotel I had sent her to was exactly what she had hoped for. She said her and her husband looked at the suite at the chain's hotel that I talked them out of and she agreed that they would have been pissed."
"I'm lucky that my boss never heard any part of either of those calls, lol"
Dealing With A Boozy Patron
"When I was a server there was this lady that came in on the busiest day of the week, that was intolerably impatient. When I went to run her tables food, the cook told me they had dropped her entire plate and were making another one. When I went to tell her this she got all in a huff so I asked her if she wanted me to scrape the food off the floor and give it to her instead. She lost it, demanded to talk to my manager, didn't tip etc. My manager said she reeked of booze at 8am so I just got a slap on the wrist for being rude to the customer."
– carch20

Never Mess With A Nerd
"I was a pizza delivery driver right out of high school. Our pizza place had a contract to deliver pizza to the school cafeterias. So I delivered to the local Middle School and a group of cool kids were out front talking sh*t. On the way back out the little bastards kept talking sh*t. So I lunged at one of them with my fist raised up and he screamed and jumped back. I walked away laughing, got in my car, flipped them off and drove away. When I got back to the store my manager was waiting for me, I denied everything, blamed the kids, and kept my job. As a real adult I know I should have done nothing, but I was so sick of stupid sh**ty pre teens thinking they were big tough guys and I had seen them bullying nerd folk before, nerds are my people."
The Big Bang Incident
"Made a dry ice bomb that exploded in my coworkers hand."
"I work with icecream at a theme park and we use dry ice for a lot of the carts. It was close to closing and there was a crate full of the stuff next to our table in the little warehouse we work out of and pretty much everybody was working just outside or in the office. So we decide we're going to put dry ice in a bottle and seal it up and throw it into our giant walk-in cooler."
"I took a bottle of water, he drank half of it and I scooped out some of the dry ice with a paper cup and whacked it against the table to try and break it up because it likes to stick together. Start pouring it in until we have a pretty decent bottle of smoke going and he seals it up. I slide open the door of the cooler and he starts shaking the bottle."
"Suddenly there's a BANG and me and this dude are staring at eachother with everything in a 2 meter radius covered in a fine mist of water. We bust out laughing, he looks at his hand and points to it bleeding and we laugh harder. Uncontrollable, jovial laughter. People start walking in from outside to investigate the bang, and then the managers came out of the office from the opposite side of the building. So it's me, this other guy everything is slightly wet and we're still laughing like idiots. The manager on duty asked what happened and we couldn't even answer her. We just start trying to put words together but we're still losing our sh*t too much to make any sense."
"She pulls me into the office and makes me write a statement on the situation while they bandaged his hand up and I wrote that we were working and I heard an explosion and we were covered in water and that I had no idea what was going on. They swapped us out and he said the bottle must have fallen in because his water bottle was missing from the table and he had no clue how the explosion happened, but his hand was on the same side as the dry ice. We walked free, no discipline. She knew we were full of sh*t, but HR said the story made sense. I still am not sure how they let us get away with it."
Keep reading...
Show less