In the age of the internet, sometimes it can be very cool to hate on things just because other people do. Bandwagons can be fun, right? But honestly, not all of the things hated on actually deserve it. Save your hate for things that actually call for it.
Wanna jump off the bandwagon? Then keep reading!
U/lit3rallyuseless asked: What doesn't deserve the hate it gets?

​Film and media are probably the biggest contender for being hated on randomly. It may seem harmless, but not always deserved.
Actors are people too!
Actors who played characters that people didn't like.
Really if you hated the character then the actor did a good job (assuming that was the role).
The best cartoons.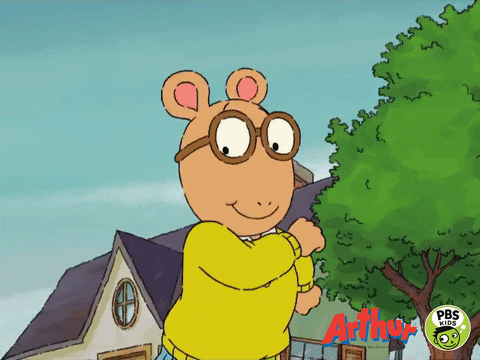 nice day summer GIF by PBS KIDS
Giphy
Child cartoons. Some are actually really good, even as an adult.
I feel like watching cartoons aimed at generally a younger audience allows for you to be reminded of some life lessons, I know I forget some things, or didn't realise others, or it at least partially renews my awareness of something I should still like or appreciate

This doesn't deserve awards, it's just my opinion that is apparently shared by many.
This man did nothing wrong.
Guy Fieri, he literally is the nicest person in the world but since he looks like he was electrocuted by mountain dew people want to saw his head off.
Even before that, I was witness to his other charitable work. A few years back, Santa Rosa was hit by some terrible fires and he showed up at a few shelters and personally cooked up and served some killer buffet food. No cameras, no massive team of PR, just a dude with an assistant to keep him on schedule to hit up other shelters in the area. Guy Fieri legit earned a lot of respect in my book for that.

You know who DEFINITELY doesn't deserve hate? Animals. They're just living their best lives, and need to be left alone.​
The best cats.
Black cats.
We got a black cat for the first time last year. I've since formulated the theory that black cats might get some of their reputation from the fact that people can't see them well in the dark and so they seemingly appear out of nowhere and they might be instinctually cautious because they know people have a tendency to kick them while walking in the dark. Our black cat is the sweetest cat I've ever known.
They get a bad rep.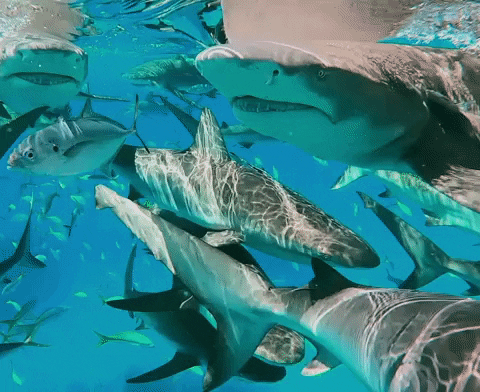 Discovery Sharks GIF by Shark Week
Giphy
Sharks. They are beautiful, complex creatures, deserving of respect and, like any wild animal should be left alone in their natural habitat, but they get this reputation as vicious bloodthirsty monsters. This is only because every shark attack is news, and only then because they are so rare. More people are killed EVERY DAY by mosquitoes than sharks kill in a year.
Any apex predator that has remained evolutionarily unchanged for hundreds of millions of years, whose existance predates TREES, is deserving or our respect and admiration. Shine on, you crazy cartlaginous fish, shine on.
So cute too!
Opossums. They're neat little critters. They eat tons of ticks that carry Lyme disease, (mostly) don't carry rabies because their body temp is too low, and they're the only marsupial native to North America! They get a bad rap because their first defense is to hiss and bare teeth, but failing that, they just play dead.
If you don't have the predisposition to hate them, you'll find they're pretty cute too.
E: this is about /opossums/, the north American species.
Kiwis, I feel for you, but this comment isn't about your possums.
​Hating on other people for just living their lives also seems to be a big contender for things that don't deserve to be hated on.
This is so true.
Unemployed people. A lot of people genuinely are looking for work and did not want to lose their last job/it was beyond their control (like a layoff) but they get so much hate and called lazy by most people. I know too many unemployed people that are actually really trying hard. They definitely aren't lazy. (Not saying lazy unemployed people don't exist, but to be fair, so do lazy employed people too lol)
Leave the weather man alone!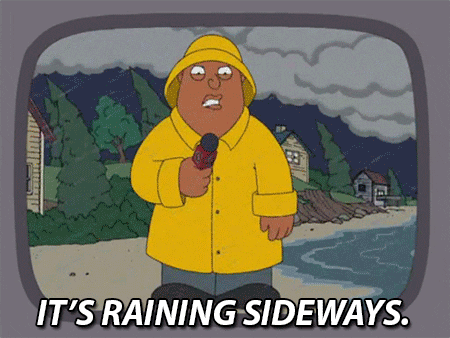 Fox Raining GIF by Family Guy
Giphy
Meteorologists. They try their best to predict the weather based on patterns, models, and data. They're not perfect because predicting the weather is insanely difficult. When they get it wrong, I think we should go easy on them. It was probably an outlier result almost no one could have foreseen.
I've seen people get angry over the meteorologists for getting it right. Like they control the weather - it is their fault we are having rain, that kind of BS. Never made sense to me, but hey, I have plenty of relatives I clashed with growing up.
Please stop being d*cks to these people.
Customer service associates.
I hate when customers think that I, the minimum wage person forced to sit there and listen to them yell, am personally responsible for every policy they disagree with. Like, ma'am, if I had that much power and influence, I wouldn't be sitting here on a Saturday evening serving you.
Wholesome and necessary.
People don't deserve hate they give themselves when they are not doing too good at the moment.
I'm in a weird place and I didn't know I needed to read this. Thanks buddy.

If you haven't heard it from anyone else today, I'm proud of you.
It seems like people hate on things simply because they think they're meant to hate them. But you can always be the change and make an effort to stop being an a**hole about certain things.
No matter what though, sometimes haters gonna hate
Keep reading...
Show less
The internet was suppose to be the way to save humanity. That was the promise. No? Now it feels like it will soon be the downfall of humanity. It feels like what we used to be excited about the technology is now the enemy. How many of us can relate to the internet ruining the plans?
Redditor u/Karm_Me_up wanted to discuss when we all finally gave up on the internet by asking... What was perfect until the internet ruin it?
Nothing is perfect. Perfect doesn't exist. So waiting for the web to destroy that for you seems... delayed. But better safe than sorry. The internet is all about breaking the illusion. So let's crack some walls...
Who Am I?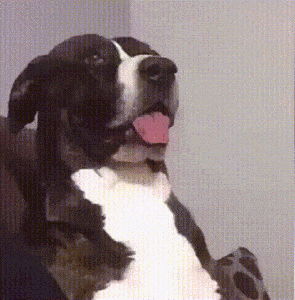 Excuse Me What GIF
Giphy
Anonymity!
No way. For all of human history, practically, we've known EVERYONE we encountered. A new person was like seeing an angel. The industrial revolution changed that with huge cities and then the internet provides even MORE anonymity again. This is the unnatural state. We're supposed to know each other down to the colour of our poop as babies.
Finding the Deal...
Going to thrift stores and yard/garage sales. Before everything was sold online it was a great way to find cool/slightly rare things for a reasonable or cheap amount of money. I'd even say that early EBay was still pretty decent at finding things cheaply. However, now everyone thinks that everything they own is a rare, one of a kind, super valuable item that's worth hundreds of dollars.
I think that shows like American Pickers, Storage Wars, and Antiques Roadshow have also fed into this, even though those shows can be fun to watch.
For example: Back in high school I used to go to this indoor flea market and get vintage vinyl for ridiculously cheap. I got The Beatles white album for literally $6. Cheapest price for the same thing on Ebay is around $50.
Agree to Disagree... and so on...
Not saying it was perfect but disagreements were a lot more civil. You used to have to disagree with people in person, it meant you actually had to be somewhat considerate both of their views and of them as a person, and very few people were convinced they knew everything so they were a bit more humble in argument and you usually went for a pint with the person afterwards.
Now you have a screen between you and the person you disagree with which means people don't see the person in the other side of it. They don't have to consider their point if view because they have some echo chamber they can retreat into and indulge in confirmation bias.
And people think they know a lot more than they do because they have google in their pocket so people aren't as humble as they used to be and are not so willing to consider that they might be wrong on something. You also don't have to be around the person afterwards you can act in really bad faith throughout without paying any price.
Like the Movies...
Liking movies or TV shows based on your own opinion. There have been so many times I've seen a movie and thought, "That was a pretty good movie, I wonder what other people thought about it... and my opinion was apparently wrong and I'm a horrible person".
Retouch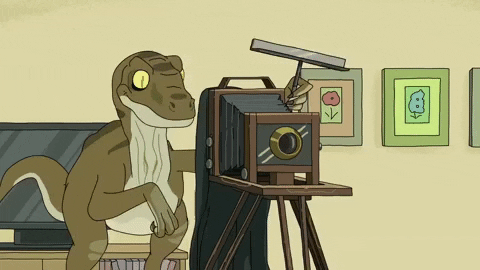 adult swim photo GIF by Rick and Morty
Giphy
Taking photographs - retouching has always existed but good grief, photos are edited to filth, it has become the norm to wear a filter or remove totally normal features to create a glittering perfect shot to post on the internet.
People don't just take photos of things to privately keep as memories, they also take them as a perfect advertisement of their lives. Especially travel photography with the sheer amount of photoshopped monuments and skies, I don't even know what's real anymore.
See there? Trust nothing on the web and also... trust it all. I know, it's a conundrum. You do realize the internet is a host of strangers spewing truth, lies and all of the in between? It's all about relating stories...
Years Later...
High school reunions. No one hardly has any anymore. Everyone can see what everyone is doing, plus it's easier to keep in touch with the people you liked back then.
I keep hearing about classes younger than me (I graduated in 07) that have big fun reunions around Thanksgiving or Christmas.
My 10 year was lame. A lot of people that committed to buying tickets just totally blew off the girl who organized it and she ended up having to pay the difference at the venue. They also blew her off when they volunteered to set things up. Only about 50 people showed up out of the 120 that actually planned on buying tickets. Doubt we'll even have one for our 20th. I thought our class was better than that but I guess not. She was really upset.
"Jennifer's"
Professional photography
I don't think it was ruined because everyone has a great camera in their phones. It was ruined by oversharing.
It was ruined by what are referred to as "Jennifer's" in the photography business. Essentially people who buy an expensive camera, use mostly it's auto functions, and pass themselves off as photographers. They undercharge, produce mediocre/garbage work, and drive actual trained professionals out of business by sheer numbers.
The OG
Having an original thought.
Before the internet, you could come up with a great joke, insight, idea or whatever, and you could go on believing you were the first person to come up with it. Now, almost any such idea that you have turns out to be pedestrian and commonplace as soon as you check with a search engine.
(I want to use a verb other than 'google', since I use DuckDuckGo. It'd be ironic if that was an original idea.).
Don't Doubt Skill...
Video games, but in a very specific way.
Specifically with competitive games. Playing against people is freaking amazing, and testing your skill at the game is something I love more than you could imagine. What got ruined was now for every little thing there's 20 articles about it and 300 youtube guides from pros on how to just META cheese anything.
It's completely unfun facing someone, and 10 seconds in you can tell the EXACT IGN page they ripped off from; and now instead of fighting them, you're fighting the strategy made up by the best player in the game. It's the must unfun, unoriginal experience and the entire time you just wait for it to be over. RTS games used to be tons of fun, but now there's a play-by-play guide for each second of the game. Games like TFT for League of Legends are only fun for the first 2 days before everyone and their mother plays ONLY the very same META OP 100% KILL THEM KOREAN STRAT from Youtube. Even fighting games like Smash brothers suck now.
I remember playing smash 4, and just horsing around with a buddy. He refused to do anything but play Mario, grab D-Throw up-tilt, up-tilt, up-tilt, up-tilt, Up-special true combo, rinse and repeat until 78%, fire ball to 80+, then grab>Pummel>side throw, footstool. Every single game, hours a day, for weeks because that's what the guide said to do.
I'm so bitter about it.
We Love Karen...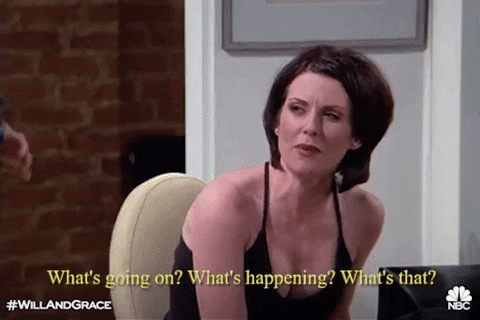 Megan Mullally Nbc GIF by Will & Grace
Giphy
The name Karen. Might not have been "perfect," but boy was it ruined.
Information in general. Truth, maybe... The Internet made it so easy for malicious people to spread false information. The increasing popularity of any opinion makes it easy for people to have a bias regarding its truth. I hate it so much that I have stopped correcting people on the internet.
Ok. The best we can do is the best we can do. The internet can only host so much. So let's just figure out the nonsense together. This way no one is disappointed from what we thought was true.
Want to "know" more? Never miss another big, odd, funny, or heartbreaking moment again. Sign up for the Knowable newsletter here.

Keep reading...
Show less
We live in a strange time. The internet is king, and unfortunately, that means dumb ideas spread and become trends. And some of them are absolutely cringey, that you can't help but roll your eyes every time you see it on your feed.
Here are a few of the most hated trends. Let's see if you relate.
GreiviousPanda asked: What "trends" do you f*cking hate?

First up, why are people so desperate to get likes on the internet? It can lead to doing some really stupid things.
Retail workers aren't paid enough.
"Pranks" at the expense of retail and food service workers for likes on social media.
Work is already hard enough without morons making it worse. They don't even compensate you, or give you any money.
Please stop doing this.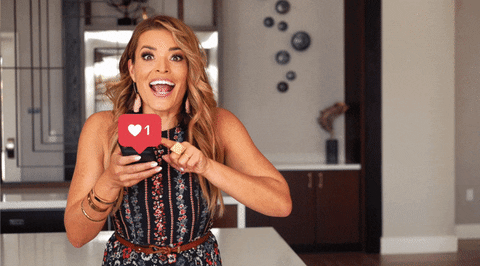 Double Tap Smile GIF by Jasmine Star
Giphy
Causing chaos in public for likes.
Like those kids who would "trip" and destroy jugs of milk.

Like. It's such a waste of milk, and some poor minimum wage employee is going to have to mop that sh*t up.
Get validation in another way, please.
I'm beyond annoyed with the "no one will share" memes on Facebook. Really? Why do people feel if their stupid sh*t isn't liked or shared their existence means nothing?
It's propaganda, no I'm serious.

They use that stuff and whatnot to spread their agenda, and some of those pages get money for their likes and views, they effectively farm money and likes from people with a guilty conscience.
​I don't know why, but some trends have a bit of a pretentious vibe. Is it just me?
I can assure you, my bananas are fine.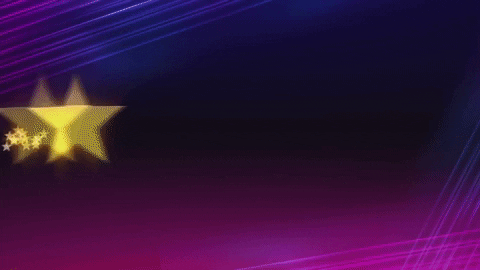 hacking hack my life GIF by truTV
Giphy
The "you've been using blank wrong".
I agree. I can open a banana how I like. There is no correct way of doing it.
No but see you can put your finger through the gross black bit at the end you normally wouldn't interact with at all AND the stem is a handle because we all know how difficult holding a banana is.

Upside-down banana thing drives me crazy, especially because 25% of the time eating a banana in public results in some "helpful" person sharing this "amazing" life hack.
The answer is usually no.
"Am I the only one (Something everyone does)."
Am I the only one who drinks water???
I've always doubted these products.
The period where everyone is using charcoal products. It's really horrible for your teeth and I really don't know about the other products that are supposed to "improve" anything.
Also, let's stop putting activated charcoal in food. There's been more than a few cases where people didn't realize that activated charcoal will cancel out whatever medication you're on.

A lot of trends, however, are just plain annoying.
The literal worst.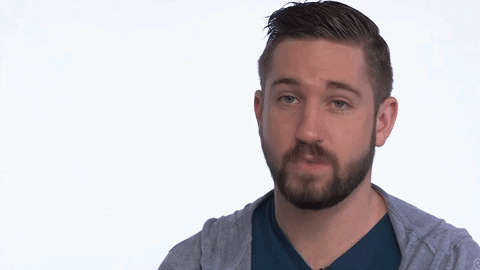 Oh Yeah App GIF by Kinda Funny
Giphy
Those stupid f*cking ads with those puzzles that are nowhere in the game. You know those ones where it shows you gotta pull these bars to do it and not being in the game at all.
I think my new favorite fake ad is the one where there's a hot female "youtuber" in the corner and she's "playing" a mobile game that that is 100% touchscreen... with an Xbox controller. Literally just a paid actor watching an advertisement pretending she's playing it.
Blame TikTok for that.
The "oh no" song circulating everywhere on social media, even in videos that have nothing bad in them. That song has been overplayed, and wasn't even that good in the beginning. (IMO)
For me, the "oh no" song is slowly being replaced by that stupid Eminem sound where people shake their head at the camera. I want to chuck my phone across rhe room.
Stop toxic hustle culture!
Gig work and the push to be hustling all the time.
Being an artist sucks for this. I know a lot of other artists who monetize everything, and I just can't do that. I don't have the mind for it.

Most of what I do is just for me to enjoy the process, and I have no idea how to make it sellable, and while I'll do commissions and if someone asks I might be able to quote a price for something, I just can't be like 'check out my work everyone! it's only $[insert price here] so buy it now!!!!' I am just not in any sense a salesman or businessman.
Especially when people say things like 'you should sell that, it's so good!' it's like, how about instead of saying I should sell it, offer to buy it instead. if everyone who thought I should sell "my art" actually bought any, I might be more inclined to try selling more.
Really, I just like drawing.
Just because something is trendy, doesn't mean you should do it. It's like lemmings- soon we'll all be hurling ourselves off cliffs to our impending doom, just because the person in front of us did. Messed up metaphor, but accurate.
Be you, y'all! Don't feel pressured to do something because it's trendy. A lot of times, it's just plain silly
Keep reading...
Show less
On the internet, people tend to say things they likely would not in the real world. The anonymity of a forum or comment section--composed only of verbal contributions beneath made up names--compels us to socialize with less inhibition; we take more risks with the peers we can't see in the flesh.

Unfortunately, that most often ends in ugliness. People use anonymity to bully, hurl slurs or insults, and troll with little repercussions.
But there are shining moments when anonymity gives people the slight boost of confidence needed to make good things happen. People, covered by the internet cloak, might be more forward about lavishing praise--or asking for it.
And the result is an exchange of positive, communal interactions. Evidently, it sometimes takes letting the guard down for connection to feel more within reach.
One recent Reddit thread offered a prime example of anonymity used for good.
starspixie asked, "What's a small achievement you would like a pat on the back for?"
A few Redditors couldn't help but feel very proud of themselves for their deft handling of all that came with adulthood. The needs and navigations of daily life--often touted as either boring or merely a sign that one is getting older--can feel like a feather in the cap.
These folks had no shame in winning mundane life.
THANK YOU
"Maybe not small. But my job is sort of essential. I support software that is used by many hospitals and medical facilities."
"I've pretty much worked every day and made sure our sh** didn't blow up whole covid wrecked shop. I get no mention. I get no praise but damnit I'm happy to keep helping fight the fight."
-- shartnado3
Making All the Right Moves 
"Trimming 7 years (so far!) off our mortgage through minor payment tweaks and tax return lump sum payments."
"It takes planning and discipline, but means we'll both be able to retire without house-debt. Planning to surprise SO with this next year once I get it down a little further."
-- flitterbug78
The Leap 
"I finally got the courage to apply to, interview for, and accept another job, and quit the job I've had for a decade." -- whatisgoinghappen
"Good job. I change as well last September. After 14 years it was stressful. Especially with a wife, a mortgage and a kid depending on my income." -- Angio343
33.83 Years of Training
"I successfully plunged a toilet today! For the first time in my 33.83 years of existence! I'm just relieved I don't have to call the guest house manager."
"That'll teach me not to flush toilet paper in India smh."
-- fvckyes
Some people took a more pragmatic approach when reflecting on their recent achievements.
They thought of their health, and what strides they've made in taking care of the one and only body we each get.
Keep It Going, Keep It Going 
"Running 45 minutes to one hour most days for the last four weeks." -- InbhirNis
"That's brilliant!! Geesh if you can keep that up, even if it becomes just a few times a week you are adding YEARS to you lifespan, as well as LIFE!" -- BlueLunarStar
Pristine Extremities 
"I been biting my nails all of my life and have finally stopped. I always feel a little silly to show my friends and be like, look, I have nails!" -- mobiuthuselah
"Hey that's awesome! I've been biting my nails for like 20 years, it is a HARD habit to break. 👏👏" -- takethehiddenpaths
Others took a moment to share that success at things that ought not be taken for granted. Often, a lifelong struggle with mental health was a major factor in the difficulties up until now.
But every dog has their day, hopefully plenty of more days to come.
1, 2, 3
"I did three loads of laundry today. Folded and put away too!" -- rockbiter81
"Is..is that humanly possible? I mean put away and everything?" -- AtheneSchmidt
"Several years ago, when I was majorly depressed, laundry was the hardest thing to do. It felt never ending. To this day, keeping on top of laundry is like saying 'I'm doing ok' for me."
"Doing three loads, folding AND putting away is amazing from my perspective! Congrats! Good job!!" -- Smartass_Narrator
Step One, Check 
"I've been making a point to try and shower every day."
"It doesn't seem like much, but when I'm going through a rough bout of depression - it's the biggest accomplishment I can muster and I'm very proud of myself and my current level of stinky-ness"
"(current stink level: not stinky!! Yay)"
Upswinging 
"Drug addict for the last 10 years, tomorrow marks 2 months clean. May not sound like a long time but it's longest I've gone ever" -- yo_Slick
"Been an alcoholic for 9 years. 2 weeks sober tomorrow" -- IscreamwhenIsh**
Here's to You Making It 
"today is my 26th birthday and I'm still around for it" -- b4byd0t
"I've been depressed for decades. I just turned 49 four days ago and I never thought I'd get here. It's been rough for most of those years, but I'm still here and I think of all the people I've helped that wouldn't have happened and it gives me a purpose. Do the same."
"Think about anything you've done, even if it's just giving directions to a stranger. You helped that person get to where they needed to be. If you weren't there, they might still be lost now." -- eddyathome
It's a thread that reminds us we're never far away from deserving praise. Sure, we may not all be out here reinventing the wheel or saving the world ever day.
But life can be toilsome, and it's nice to know there's a corner of the internet sitting in your corner.
Want to "know" more? Never miss another big, odd, funny, or heartbreaking moment again. Sign up for the Knowable newsletter here.
Keep reading...
Show less
The internet is a weird and haunted place full of moments that make you go

"What was that all about?"
Or worse
"Oh god I hope that's fake."
One Reddit user asked:
What is the creepiest unexplained thing you have ever come across on the internet?
And listen, I'm gonna level with you, I wrote this article at 11 at night sitting in a dark room. I've read some things, I'm a lil bit traumatized, my faith in humanity is currently ... strained. So strained.
Strained like Thanksgiving-pants-button kind of strained.
But I filtered out the truly awful and I sincerely hope you all do not read that thread for yourself if you have anxiety or ... like ... wanna sleep again ever.
I gotta go cover all the cameras on all my devices now.
They Don't Know
As a teenager I stumbled across a website which looked like one of those live cam sites, but then I noticed most of the people weren't engaging with the audience, and they were all kinds of people. Old people, kids, people of all different ages, ethnicities and whatnot.
I clicked on a random livestream of some oblivious teenager doing her homework and the people in the comments were saying stuff that made me realize she didn't know she was being livestreamed, nor did anyone else on the site.
It seemed to be some weird website of hacked webcams or security cameras where the people had no idea about it. It was creepy and I've never kept my webcam pointed at me when not in use since.
Who Answered?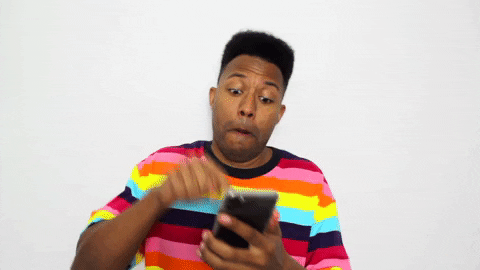 Delete Call Me GIF by Black Prez
Giphy
I rang my Mum on WhatsApp to do a Video call. When she answered, it wasn't her. It was a man with his shirt off, middle aged (50's) with glasses on sitting on a couch. It sort of looked like a hotel room.
He had a foreign accent and said
"Yes ? Hello? Who is this?"
I hung up immediately and rang my Mum again. She picked up and she was on camera walking around near a pond.
It was absolutely bizarre and has never happened again. I'd love to know what happened.
I was just a bit frightened, I guess, because I didn't dial her number. I hit "Mum" as it's stored in the phone, so it's not like I could have misdialed.
South 32
So I decided to just type in something like mmmmmmmmmmmmm.com or something like it. Coca Cola used to (or still does) own a url like that. But just the same letter maybe 13-15 times. It came to a choppy video of a movie called South 32. It was cryptic and edited to just say "South 32" over and over again, for 4 hours.
So I tried a different letter. Same thing. And another letter. Same thing. The same website popped up for maybe 20 different urls in that type of sequence.

I tried submitting it to the internet mysteries subreddit but it didn't gain any traction and I don't believe it works anymore. This must've been 4 years ago now.
The short movie and a mining company were the only things I was ever able to find.
It is very strange, but I don't know if it's strange for a purpose or just for its own sake. It almost feels like something a paranoid schizophrenic would put together if asked to make a movie.
South 32 is a company made by a website squatter. They take the names of websites for big companies, then make gross/scary stuff on the websites until the actual company pays them for the domain name, in this case it's them trying to take money from the south 32 mining company. The movie south 32 was made with no budget in a short amount of time to make it look like they aren't domain squatters to legal courts when they really are.
South 32 was a debunked "online mystery" that amounted to one dude who made a living on cybersquatting on various websites and seemed to be trying to fleece an Australian mining company for a domain with their name attached.
- Xenton
Animal Abuse As Revenge
A lady on gaiaonline got mad at me in chatterbox. So she went on my profile and spammed it with gifs of someone beating a dog.
I remember seeing the first one and crying a lot because at the time I was like 11 or 12. She sent like 10 before I got her blocked and later banned.
I had to manually delete each comment from my public profile. Each gif was from a different point in the same video. It was really sad and I didn't go back onto my pc for a long time.
That's Not Me
My girlfriend at the time texted me a link to a local news article involving a trial taking place that day. At the top of the article was a picture of my girlfriend sitting in the court room with a group of others.
I expressed surprise since she hadn't mentioned going to court.
I was shocked because I thought she definitely would have told me. Then we would have had a conversation in preparation for that day since I'm in the legal field. This is literally what I do.
She responded, "That's not me."
We never did find out who it was.
Cereal Is Watching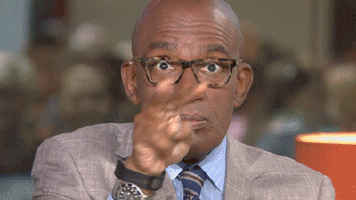 Watching I See You GIF
Giphy
When I was a kid, I had some cereal that had website to visit to enter to win some prize or something, I don't remember the specifics. Anyway, when I entered that site into my computer, it didn't take me to some kid friendly site or anything, it took me to a blank white page with just the text:
"We have been watching you."
Cover Your Cams
I didn't come across it, but once when I was around 15 someone hacked into my computer. This is 100% true and i tell it as a cautionary tale often. I had a ftp file server at the time because I was in a long distance relationship and we would send stuff to each other via the file server.
One day I noticed someone had downloaded all of my photos from the server. I called my boyfriend and asked him why he was downloading stuff he already had. He swore it wasn't him.
I ignored it until several days later a screen opened on my desk top that was a window for my webcam and was on with me on the screen, and a chat window opened.

The person told me that if I didn't take all my clothes off they would use my mom and dads credit cards to buy all sorts of things. Luckily my parents were super cautious of using their credit cards on the internet (this was like 2002) so I knew he didn't have their card #'s.
He had used the ftp server to upload this chat/video program, and who knows how long they had been watching me.
I freaked out. I unplugged my computer and unplugged it from the internet and didn't turn it back on until I was prepared with fancy firewalls and security for the ftp server.
I tried calling to police and my internet provider but no one could help me. And that's how I learned hundreds of ip addresses and what they were, I watched my firewall like a hawk.
I never heard from the hacker again, but it sure scared the sh*t out of me. Now I cover my webcams.
Very Very Frightening
One time I was listening to my music play list on Spotify and the song stopped and I heard a staticy woman voice go:
"If anyone can hear this please respond, we don't have much time, they're.."
and it cut off and my music started playing again, I don't have ads and it wasn't in between songs it was in the middle of Bohemian Rhapsody when I was playing Rocketleague.
The Dog Survived?!
I was just scrolling through Facebook and came upon a video of a dog sleeping outside. It looked like the security camera of someone's front door. Few pairs of shoes beside the door. Door mat in front of the door. Set of stairs leading up to the door, then another leading up to the next level.
A few seconds later, a freaking leopard comes up the stairs and stops dead in its tracks when it sees the dog. I think...where the fk do leopards roam?? Leopards are something I could only see in a zoo, so I was intrigued.

And I was honestly expecting the door to open and some dude sh*t his pants because a freaking leopard is right outside his door. I'm waiting for the funny thing to happen.
It doesn't.
The video was just the leopard inching closer and closer to the dog, hunting.
I heard that somehow the dog survived, but f*ck whoever posted that video, it will haunt me forever.
Want to "know" more? Never miss another big, odd, funny, or heartbreaking moment again. Sign up for the Knowable newsletter here.
Keep reading...
Show less