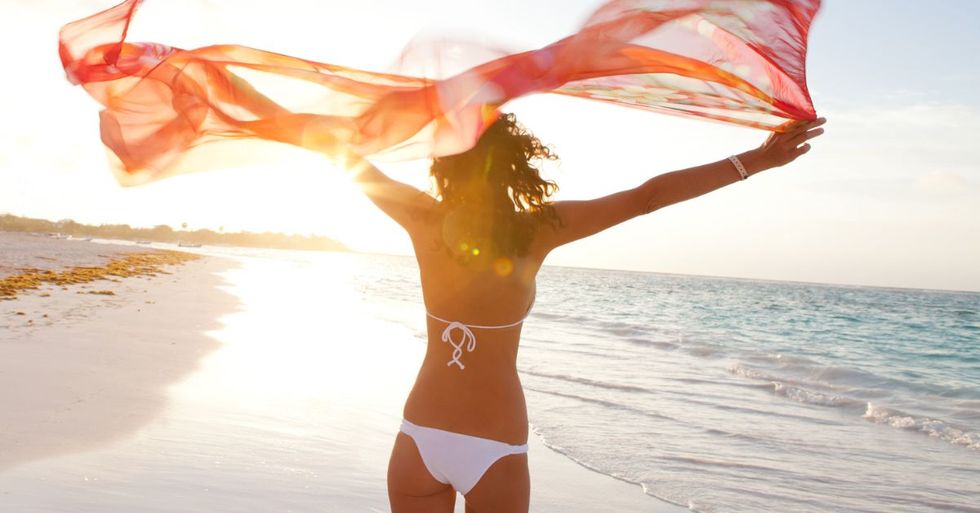 What does one wear to a bridal shower? Who is to say really? People's clothes are their own self expression. To commenting on them can be dicey. Case in point… Redditor Complex-Cup7367 wanted to discuss his story for some feedback. So naturally he came to visit the "Am I The A**hole" (AITA) subReddit. He asked: […]
More
Who doesn't love some good old fashion nastiness?
I don't mean like evil, mean-spirited craziness, I mean some nice tongue lashings.
Don't you love cursing someone out without having to use one off-colored word?
Redditor Saibotnl1 wanted to get a list together of all the saucy and sassy words that can be naughty and used in mixed company. They asked:
"What's an insult without any swear words?"
I love me some shade. I love throwing it and hearing it. Tell me more...
Ouch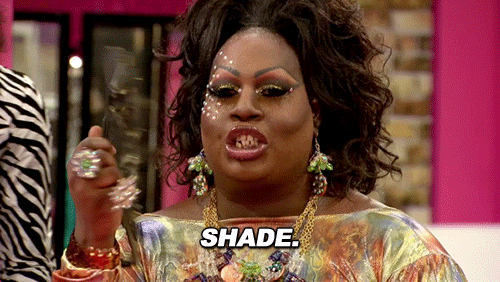 shade GIF by WE tv
Giphy
"'I bet your parents change the subject when their friends ask about you.'"
YourUncleBenny69
Duh
"'You aren't the dumbest person in the world, but you better hope they don't die.'"
needs_grammarly
"This is the most brutal one."
MeasurementAwkward89
"Guess this means I gotta protect you at all costs."
5irJeff
Get it?
"One I use in retail occasionally... I can explain this to you but I can't understand it for you."
TAaccountfor2021
"As a fellow retail manager, I feel that in my bones. I manage a large gun store, so I deal with a lot of idiots (frightening, I know)."
"There are times when people try to argue with me about things that involve federal law, and get mad at me when I won't commit willful violations of said federal law that could cost the store its license to lawfully do business. I usually will end things with, 'I'm sorry you feel that way, because it means that we can no longer do business. I hope you find the answers you're looking for elsewhere.'"
REDDIT
Congrats?
"You are the human equivalent of a participation trophy."
JJISHERE4U
"A participation trophy is a trophy given to someone in a contest who didn't actually win anything but would have been butthurt if they came away empty-handed."
dhaerlkl
Lucky Fools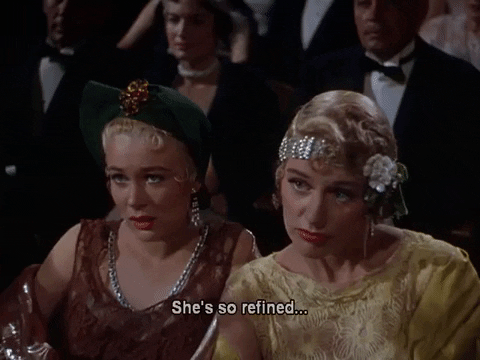 Gene Kelly Envy GIF by filmeditor
Giphy
"I envy those who've never met you."
Kodemar
I am LIVING for all of these!
Need a bag?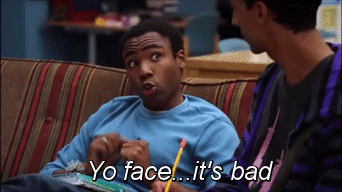 ugly donald glover GIF
Giphy
"'You have a great face for radio.'"
YourUncleBenny69
"And you have a great voice for silence."
Supersaiajinblue
Apologies
"You've got two brain cells, and they're both fighting for third place. Somewhere out there is a tree, tirelessly producing oxygen so you can breathe. I think you owe it an apology. Apparently the second one is a line from House MD. Giving credit where it's due."
FlashpointJ24
"I've always liked 'Intellectually unfortunate.'"
AngriestManinWestTX
So Good
"'I don't care what the others say, I think you're great.'"
sewn_of_a_gun
"'I don't know why so many people don't like you.'"
ABobby077
"I actually saw someone say this to another person at work. It doesn't help that most people at our work really don't like the guy."
LOTRfreak101
Look Away
"'I wouldn't want to be your mirror.'"
lilgreen13789
"'I still wouldn't bother to look at you.'"
Supersaiajinblue
Oh my...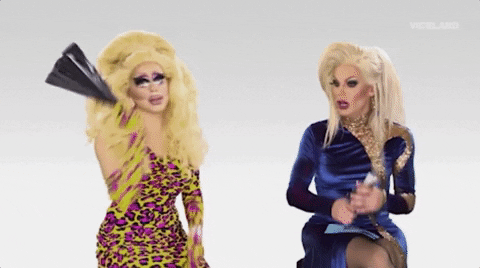 Shade Be Quiet GIF by THE TRIXIE & KATYA SHOW
Giphy
"'You're like the end pieces of a loaf of bread. Everyone touches you, but nobody wants you.'"
sparklingshanaya
My Lord. Y'all people are scandalous.
Keep reading...
Show less
It's a fact of life that people can be brutal. Whether it's because a person is downright cruel or because he or she is drunk or angry, they can say some awful things.
My Indian aunt once mistakenly thought a cousin of mine was my daughter and told me American teenagers were trashy and stupid. I don't talk to that aunt anymore...
There is never an excuse to be that cruel, but that doesn't stop people from behaving that way.
Curious about this, Redditor Brilliant-End9428 asked:
"What is the most f*cked up thing someone said to you?"
No Excuse For Cruelty
"Mum's (59) boyfriend got mega drunk a few weeks back, told her that he was "only with her because he pitied her""
"Drunk or not, she wasn't having that. Back to being single."
– astrielx
Worst SIL Ever
"My sister-in-law was joking about how there aren't any male children that will "carry on the family name" when she knows full well that I lost my son at birth."
– otherm0ther
Wrong Reason To Have A Child
""You were our last attempt to save the marriage""
"Thanks, mom. Glad to know I was a failure straight out of the gate."
– Papa_Smurf87
Their Loss
""You're too ugly to buy ice cream from." - Some b**ch to me @ 15"
– Dividebynegativezero
Undeserving Of Being A Father
"When I was 11 my father (who I hadn't seen in 5 years b/c of divorce) showed up at a family Christmas and calmly asked me to not call him 'dad' b/c his new kids didn't know I existed."
– marshfield00
Grandmas Shouldn't Have Favorites
"I was 7 or 8 and I told my grandmother I wanted to be a doctor when I grew up. She told me I would never be smart enough and that I'd be lucky to one day be my cousin's house cleaner."
"My cousin was her favorite grandchild."
"I'm 32 and I still remember it so vividly."
– Jackie_13
ATM
"I hope you realize I'm only using you for your money"
--warlordwinters
No Good Reason For Saying This
"My grandmother and grandfather told 7yr old me if my mom kills herself and my dad dies in Afghanistan they would rather see me rot on the streets than taking me in"
– sugarhornyicetea
That's Not How It Works
"Just dont be depressed. Like bro..."
– SpeakablePerson
No matter who it was that said something that cruel to you, know that you deserve better (and that it might be time to cut someone out of your life).
Keep reading...
Show less
Communication isn't always easy. Sometimes, you say something you didn't mean to say, whether it's because a joke you made fell flat, or someone overheard something they weren't supposed to hear. And some people are just plain careless.
However, mean comments they make can be explained away and are usually followed by an apology.
Of course, some people are just plain nasty and want to deliver an insult that will shake you to your very core. The things people say to you can be mean, hurtful, and sometimes even soul-crushing.
Redditor Embarrassed-Host-949 was curious about the most soul-crushing thing Reddit users have ever heard someone say, and asked:
"What was the most soul crushing thing someone told you or you heard?"
One Daughter Over Another
"My dad and step mom adopted a baby girl, and my step sister overheard my dad talking about how excited he is to adopt a girl because he's never had a daughter"
"Absolutely crushed my step sister, she thought of my dad like her own father. He's been all she's known."
– DieselSwapEverything
Poor Kid
"My husband and I took our teenage son and his friend (I'll call him Alex) to an amusement park recently."
"My husband is a really funny guy and was making both boys laugh on the car ride home."
"Alex told my husband, "You're really funny, Mr. D! You remind me of my Dad, except your jokes aren't hurtful.""
"My heart"
– NancyDrew1932
Abandonned
""My family just gave up on me.""
"-A 10-year-old that just got the news they had been unadopted by their family of the last 5 years."
– internetpointswoot
Amnesia
""How can she be my wife? I have no idea who she is. " said my husband of 8 years after a bad car wreck and 4 weeks in a coma. He lost about 12 years of memories. Including our whole relationship. We got divorced 2 years after as his memory never returned."
– jenmrsx
Maybe This Mother Shouldn't Have Been A Mother
"My mum once told me "You wouldn't be a very good mother, your sister would be much better". I always loved and worked with children, my sister is more of an animal person. It crushed me because I always dreamed of being a mother and I still think about that comment made years ago when my boyfriend brings up the children topic."
– Everything-is_good
All Work And No Play
"I saw a documentary.... I don't even recall what it was about, but they were focusing on this family in a rural part of eastern Europe or southern Asia. There was a little girl in this family and all she did was work. She couldn't go to school, and she just assisted her mother in doing all the necessary drudgery around the house."
"One of the film makers asked the girl what her secret dream was."
"She said, "To play.""
– Adddicus
The Wrong Response To A Loss
"My (now ex) wife and I had just lost our unborn daughter at 22 weeks and my (now ex) best-friend offered her thoughts: "You wouldn't want a baby that obviously had issues to begin with. God doesn't make mistakes.""
"I'll leave it at that."
– van_ebasion
Conditional Love
"When my grandpa told me I wasn't good enough. I was always never a girly girl but not quite a tomboy. I was really close to him but he was old school. As I grew up he started to realize that I wasn't changing in the right way. He kept telling me to use my lady voice, to sit ladylike, eat lady like, and do ladylike things. He had enough when he saw me with my animals being not gentle when they were stubborn and getting dirty and liking it. He got mad and yelled at me after when no one was around. It hurt because always thought he would love me no matter what then I found out that there were conditions to his love."
– Indianagirl25
Love All Your Kids Equally
""Mom and Dad have been telling people they only have two kids" from my sister. They have three kids. All because I didn't go to the religious college they wanted me to go to"
– Zeophyle
"My dad is a pastor and he's always treated me differently. He used to say from the pulpit while preaching, "I have 2 kids I'm proud of...""
"He has 3 children, but he wasn't lying."
– roundaboutrich
Shattered At Prom
"Pretty tame here, but I had been invited to two proms for my senior year. I went dressed in the same outfit for both of them because I didn't have a lot of time to prepare. I went with my girlfriend to both of them and spent the better half of an hour putting makeup on (which is insane because I've never had the confidence to do so) and getting all nice for her because I couldn't believe she was mine. I've been bullied my whole life and due to that I lack confidence and self esteem but those two nights I genuinely (and finally) felt pretty and good in my own skin. Fast forward a couple weeks and she tells me that my makeup was ugly and she should've done it for me. She said the colors and style was ugly and a bad choice overall."
"I broke. I cried for days and it still makes my eyes sting just thinking about it. I played it off though and told her it just looked weird because I can only use certain products since I have really sensitive skin. It may sound dramatic, but I honestly don't ever think I'll be able to fully recover from that and I always worry she'll call me ugly again whenever she looks at me. She's very sweet and kind, but it made my chest implode when she confessed that to me."
– ArticleElectronic341
Pretty Sure SHE Was At Fault!
"That my ex was letting a guy put hickeys on her thighs a month before our anniversary,then she had the audacity to break up with ME because I was upset about it!"
– Whyeverme
The Drink Shouldn't Be An Excuse
"i'm late but my mom came into my room really drunk at 2am when i was 15, and started crying and saying how she feels she failed as a mother when she looks at me, and that i'm a horrible sister to my siblings. i just stared at her, im used to her saying this type of stuff when she's drunk, but hearing that really crushed me for some reason."
– elegantfraud
Forever Friendzoned
"I liked (and still like) this girl that I am in high school with (let's call her Amy). I have multiple classes with her and we hang out a bit. Mainly through badminton practice. I was developing a crush on her, I loved her voice, she's smart, athletic, amazing personality. Then I saw her face and it was the icing on the cake. I naturally told some friends about this girl that I had a crush on. And them being high school friends, they told her. I was given a chuckle followed by a flat out no."
"We are just friends now, and I am highly convinced that is all it will ever be."
– takoyaki_depressants
Teacher's Pet...Or Not
""I don't like you so stop trying to suck up to me" for context the person who said this was my 3rd grade teacher, I had a very bubbly personality back then and he clearly didn't like that, or me for that matter.it completely crushed my ego and never got to fully recover from everything he put me through. I was only 3rd Grade."
– Let_Me_Use_This_App
The Loss Will Never Be Okay
"I came home from training to find one of my friends had gone missing. I spent hours over my home hoping news would come in about them. Eventually I decided to go for a shower to distract myself slightly. As I was getting out I had 3 missed calls from my best friend. "He's just been found dead.""
– Ok-Main-7362
Life Is Too Short
"For me it was the vet saying "There's nothing else to do". My beloved dog had suffered with epilepsy the last 4 years, and despite all the medicin and operations, she still lost the battle. Broke me down completely."
– Lost-Psychology
What Is The Truth?
"I remember when I was really young, probably about 7, I overheard my mom on the phone with my aunt. They were talking about money and how having a family got expensive really quickly. My mom then told my aunt that if she had the money, she would've divorced my dad years ago."
"My parents were fairly good parents, they never really seemed to have any serious fights, they never really argued and they appeared to love each other."
"It's been years since then and whenever I see my parents (who are still married) I always find myself dissecting their behaviours and trying to see something I might have missed as a kid. I just wonder if it was something my mom meant of if it was just some weird way of reassuring my aunt (who is now split from her husband)."
– 23_emma_13
This Breaks My Heart
"Someone told me once that any bad thing you can possibly imagine someone doing to an animal, is being done somewhere in the world."
"Broke my fucking spirit right then and there."
"Hate this species."
– shilmista_
Not A True Friend
"When I was ten years old, one of my friends at School, told me If I died he wouldn't go to my funeral. That still hurts 20 years later."
– Suspicious-Roll2908
People can be cruel, and sometimes you will have to hear the worst of insults. The important thing is how you react.
Remember that few people are evil enough to bluntly say the negative thoughts that roam around in their head, and people who are that cruel don't deserve the time of day.
Keep reading...
Show less
We as a people have been throwing shade for generations.

And it's only getting better.
An insult lands better with finesse and wit.

Let's get creative.
Redditor futuresbloodline wanted to hear all the best shade we have to throw. So they asked:
"What is the most creative insult you've been told that you couldn't even get mad at it?"
I still love a good, subtle... "Bless Your Heart!"
Drive On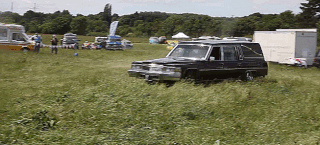 sick way GIF
Giphy
"During heavy fog, I was driving extra cautiously. My passenger looked at me and said:"
"'There's a funeral home out there somewhere looking for you to be their hearse driver.'"
Back2Bach
Roll Down
"Student asked me, during sex Ed, about the bar code that printed near the base of every condom. I said I didn't know that condoms had barcodes like that. He smiled and said, 'Oh, you don't gotta roll yours down that far, huh.' I laughed and told him that was one of the funniest things a student ever said."
this_name_is_banned
Scrambled
"My step-sister can be kind of an airhead. On Christmas one year, her dad gave her something that required her to set the day and time. She asked him what day it was. Her dad just laughed and said 'oh honey, you could hide your own easter eggs.'"
Celesticle
"Sounds like a burn on people with ADHD. My apartment is filled with surprises I accidentally hide from my as elf."
Flyingwheelbarrow
God Draws
"Overheard 'I might be fat but you look like something God drew with his left hand.' I still giggle when I think about it."
forevertwoc
"Speaking as a lefty that can't really draw and isn't really artistic, this kinda stings."
PitBullFan
"Well there's the whole 'The Right Hand of God' thing. So I guess some have taken that literally"
shewy92
LOL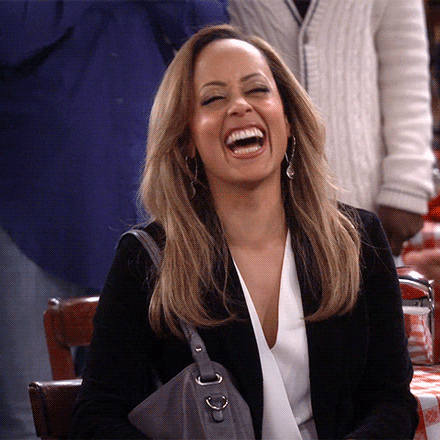 Season 1 Lol GIF by NBC
Giphy
"I don't know why but my friend called me a dense liquid once and it was hilarious to me."
maybe_spoopy
Some of you are savage AF. And I am living....
Let it Dry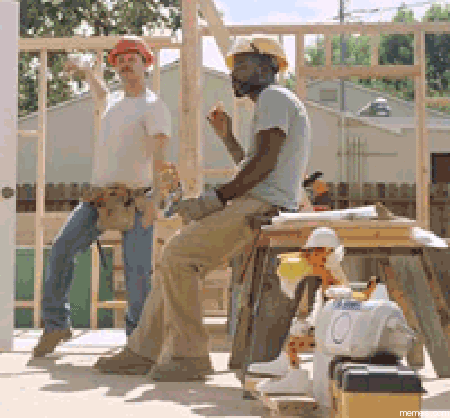 construction GIF
Giphy
"It was a rainy day, I was at a construction site for labor work, I had nothing to do so I was just standing there next looking at the dirt mounds around the site. Some fella walks pass me and says 'what's your job, watching dirt dry?' Cheeky."
Ike_The_Sir
I See You
"'You look like someone who enjoys pro wrestling.' At the time, they were absolutely right."
sanibelle98
"It's one of those things where yes, a lot of it is stupid bullsh*t, but one can appreciate the better stories they've told (Undertaker being a good example), and the olympic skill it takes to be 7' and 300lbs while managing to do acrobatic flips and NOT hurt anyone. It's genuinely impressive."
Bacxaber
"As someone in the pro wrestling business, never be ashamed of being a pro wrestling fan."
MaskMan193
So Pretty
"My great grandma used to say you can't be pretty and smart on the same day. When one of us would do something dumb, she would pat us on the shoulder and say 'you look so pretty today' and usually the person would take it as a compliment from Gran and not realize until later."
SneezyMcBeezy
Shout
"My mom 'shouted' at my brother in the kitchen to go get his laundry cause it was sitting in the dryer getting wrinkled and he replied without hesitation 'yeah well you're sitting on the couch getting wrinkled so.' It didn't go well lmao."
DarkWing2274
"Nah, unlike my father my mom isn't violent. she just said 'this is why amber left you.'"
"Amber was my brother's girlfriend of 5 years, and on the night he was gonna propose he found out she'd been cheating on him for 3 years with like 8 different people. amber sucked anyway, i didn't like her, so i'm kinda glad but he's still depressed about it."
DarkWing2274
Cheap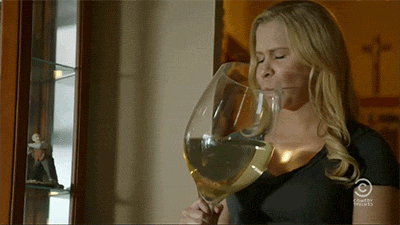 Drunk Happy Hour GIF
Giphy
I asked a bartender 'What's cheap and has a lot of alcohol in it?' And he said 'You.'"
NickyAndretina
The Triangle
"When my son was three, I made him really angry by making him put away his toys and get ready for bed. He WANTED to cuss me, but he lacked the vocabulary, so he dug down deep into his pissed off wee soul, looked me dead in the eye and came out with 'Mommy, you NOT nice! YOU A TRIANGLE!'"
"I have no idea how triangles came to represent all that was not nice in his world. I have no idea if he meant some other word. I just know that his meaning and intent were crystal clear and that if he had known the word 'heifer' or 'witch,' that is what he would have said! He's 19 now, and I've asked him about it, but he has no recollection of the TRIANGLE incident."
geekchicdemdownsouth
Hooked
"Last time I seen a mouth like that it had a hook in it. I laughed my a** off at that one and we became friends afterwards. In his defense, I was drunk and running my mouth. Lesson learned."
Thephilosopherkmh
"Oh gosh, this was my brothers favorite insult."
Illustrious-Fly9586
Flush It
"Your gene pool could use a little more chlorine."
Brileyt764
"'Am I overthinking this or is that really dark?'"
"In a similar vein: I had a flatmate who walked past and said he heard my mum wishes she aborted me in the 2nd trimester."
SuspiciousNoisySubs
That Girl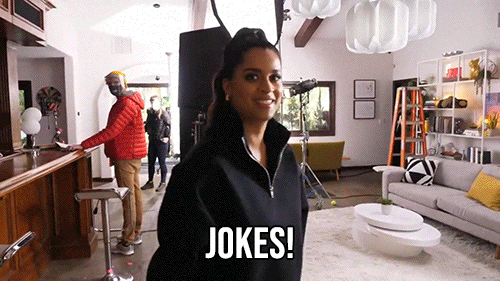 Fun Yes GIF by Lilly Singh
Giphy
"Girl at work after telling me a story about her weekend said 'I hope you don't think any less of me.' My response 'How could I think any less of you?' I mean, how can you pass up a straight line like that! She missed it as an insult, so she didn't get mad."
OrangeJueleus
Weirdo
"At my old job, someone said to me, 'Oh, you aren't being weird on purpose.' It came after a few times of her ragging on me for reasons I hadn't understood prior to this. This comment wasn't the insult but it explained several of the previous things she'd said that bothered me."
DaddyOhMy
Slowdown
"'You eat like we have free health insurance.'"
Spadeuni
Fool
"'You aren't the dumbest person in the world but you better hope they don't die.'"
waitwhatnow4
"'Well then I wish you good health.'"
Blastspark01
What Size?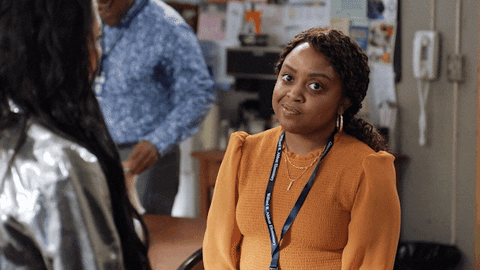 Okaay What GIF by ABC Network
Giphy
"As a very small-chested woman, I was working the door at a gay club in the late nineties. I was checking a drag queen's ID and was told, 'Girl, you gotta buy yourself some boobies.' Didn't have an answer for that, lol."
Kurapica147
Heavy Comedy
"I was 9 months pregnant with my first child and felt super heavy and uncomfortable. We went to the movies with friends and I had to go to the restroom before the movie started. When I got back to the theater, I couldn't find my husband and friends (didn't know where they were sitting yet)"
"So I waddled down to the front of the theater in my quest to find them and stood in front of the screen for a couple minutes while I was trying to get my bearings. When I finally approached them, my male friend said, 'Wow, for a second there, I thought we were watching. Alfred Hitchcock presents!'"
"Normally a fat joke while pregnant would've pissed me off, but it was hilarious!! I still laugh when thinking about it."
NancyDrew1932
I have a whole new list of shade to share. Thank you.
Keep reading...
Show less