Sleep is hard. Even folks who don't consistently deal with insomnia have the occasional sleepless night. Whether it's from excitement, anxiety, or your brain just refusing to shut off, sleepless nights usually suck.
Reddit user tropicalzhu asked:
"What keeps you up at night?"
Mood
"The dread of tomorrow"
-Theoretical_Girls
Not A Thing
"Nothing I sleep like a rock"
-WarMad940
"That's awesome. I'm happy for you!"
-tropicalzhu
"The secret is to only think about sleeping and breathing if you go off track think about sleeping and breathing again and you will fall asleep which is basically meditation I had several people tell me it don't work every single person I may do it was out within 15 minutes"
-WarMad940
Can't Catch A Break
"Anxiety, depression, and school. Because can't never catch a break"
-kristinaaaa_928
My Brain Is A Jerk
"My stupid brain. Can't stop overthinking."
-Papab85
"That's about all I have, too. I don't have any big worries in my life but my mind won't slow down. It makes no sense."
-bdbr
Won't Somebody Think Of The Avocados?
"It's hard to fall asleep knowing that, at some time during the night, the avocados in my kitchen will instantly turn from bright green to moldy mush and I'll have missed the opportunity to eat them."
-on-the-h
So Many Mistakes
"Past mistakes....present mistakes...future mistakes...."
-mahalomoimoi
There's Just So Much Cringe
"Jokes aside, I think every single night my brain forces me to relive every single embarrassing, cringey, traumatizing, or upsetting moment in my life over again."
"Sometimes I'll literally be thinking about something that happened to me 5 years ago. Why do I do this?"
-ham_alamadingdong
People Explain Activities They've Added To Their Post-Pandemic Bucket List | George Takei's Oh Myyy
While we've all been cooped up for the better part of two years, many of us have been dreaming up exciting plans for the future. Maybe it's finally time to s...
A Little Bit Of Everything
"Migraines, loneliness, dysphoria and the anxiety keeping me from saying how much I love my friends to them."
-Bengale0825
Brain Won't Turn Off
"My mind races and I can't relax. It starts to think about work, personal TODO list, problems I can do nothing about, sh*t I should've handled already…"
-qt-uwu
Darn Technology
"Most of the time it's my phone. But when no one is asleep or in bed it's just my pc that keeps me awake."
-NikiMC69
There's a pretty strong theme of anxiety here, but that's not the only thing that can keep people up. Sleepless nights aren't always a bad thing, but sleep is important.
If you're consistently not sleeping well, it might be time to talk to a doctor about it.
Want to "know" more?
Sign up for the Knowable newsletter here.
Never miss another big, odd, funny, or heartbreaking moment again.
Keep reading...
Show less
Ok, so I may be good at some things (namely reciting Toni Collette's monologue from Hereditary at any chance I get), but one thing I'm definitely terrible at is sleeping. Not only do I have trouble falling asleep, causing me to not sleep until 4am, but I also have hypersomnia. So when I am asleep, I'm deceased for ten hours. It sucks.
So today I'm delving into the jungle that is Reddit to learn all about how to sleep better. Come along for the ride, it'll be eye-opening (or closing, if you wanna be literal). U/monkeyswingin asked:
People who fall asleep within few minutes, how do you it?
Keep reading...
Show less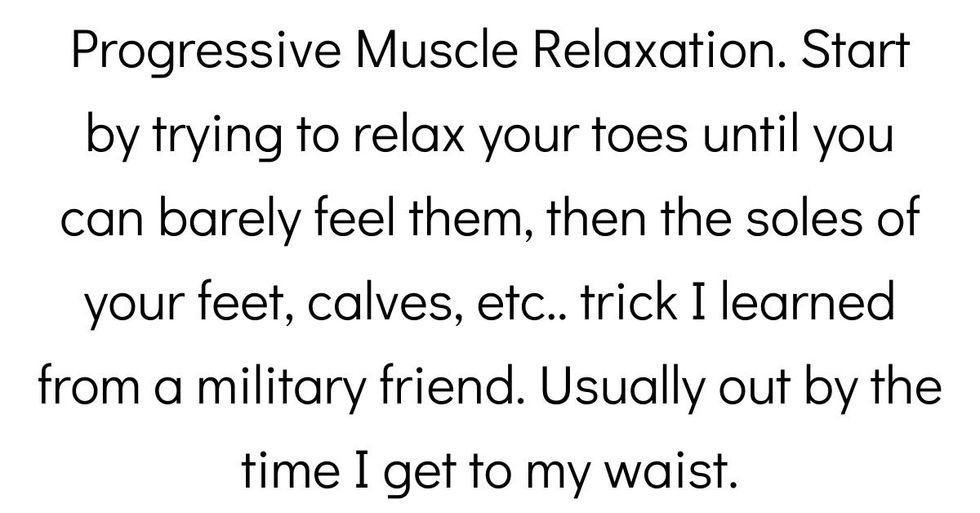 Falling asleep and insomnia have been hot topics in the media for more than a decade. Is the reason you can't sleep because of your bad sleep habits—inconsistent bedtime, hitting snooze every morning, drinking alcohol before bed, etc.—or is it that evil blue light we've all been warned emanates from our beloved electronic devices?
Different tricks work for different people, so if you're struggling to get a few good hours of shuteyw, take a look at some of these ways that fellow insomniacs relax and drift off to see if any of them work for you.
Reddit user u/20shepherd01 asked:
"Insomniacs of Reddit, what helps you sleep?"
Keep reading...
Show less
We've all done something like this before.
You're in that state somewhere between being asleep and actually being awake and aware, and yet you still have to try to function, when you grab a bowl of cereal.
You pour your cereal into the bowl and somehow magically follow it with milk, but it all falls apart when you go to put stuff away. The cereal goes in the fridge and the milk goes into the cupboard.
Hopefully you discover your error quickly, or you're going to be trying to get the smell of spoiled milk out of your cupboards for days.
Mental autopilot is useful sometimes, but every once in a while there's a little hiccup and things go (hilariously) wrong.
Reddit user ItsaHelen asked:
What's something weird/funny/embarrassing you've done on Auto Pilot?
Keep reading...
Show less