There are several inconveniences which come with an illness or injury.
Being bedridden at home, missing work, having to cancel plans which were long in the making.
But the worst thing which often comes hand in hand with illness or injury, is physical pain.
While some pains can be taken care of with an ibuprofen or other medicines, others are so unbearable that almost nothing can ease it.
Redditor Dassag-Kababi-07 was curious to learn of the worst pain members of the Reddit community had to endure, leading them to ask:
"Users for Reddit, What is the most physical pain you have experienced? And how did it happen?"
The memory was almost equally painful.
"I was mauled by a dog while in the Caribbean."
"We went around the island trying to find the one doctor, kept missing him, in the age before cell phones, and finally went to the airport."
"We climbed on the plane barefoot and without any ID, it was the 1980s, a totally different time, and ended up in Miami, and went straight to the hospital."
"There they had mere minutes to save my nose so they strapped me to a surgical table and did surgery without anesthetic."
"I was four."
"It was to this day the most painful experience of my life and I still feel the pain in my whole body as I write this."
"What a horrible memory."
"The nose turned out great though."- LeskoLesko
Not one, but two!
"I've had two hernias, the first one was so bad that my insides essentially were 'spilling into' my sack."
"You could push it back in, but sometimes it would rest on my testicle and I would almost pass out from the pain."- izthistaken
"Didn't poo for a week."
"One massive turd."- Onetrillionpounds
Among the most invasive procedures you can get.

"Bone marrow biopsy."
"Trust me, you don't want to go through that."
"Also after that I found that I had Leukemia, so then there's that."
"But fully recovered, cured."- tombandicoot
"Bone marrow biopsy."
"They cannot numb bone."
"They just jam a needle in and suck out the marrow."
"It was worse than the craniotomy or mucositis."- stolliolli
Unbelievable
"Ruptured my patella tendon, stepped into a manhole in a dark room and all my weight hit the concrete edge , opened my leg up and caused a 'fishtail' rupture on the tendon going under my knee, also the skin split showing my knee and shin bone."
"I got driven to hospital, I lay on my back and watched the consultant lift the skin to look at my kneecap, he then told me that this would be quite painful, and he could only give limited anaesthetic, then pushed the tip of his fingers under my kneecap to raise it to check the tendon."
"I wanted to f*cking die, I had surgery that night and was in physio for months after the cast came off."- ThrobberMcThrob
Um... okay...
"Being on fire really sucked."
"The first time was worse though."- Jam-18
Seatbelts save lives

"Crashed into a mound of dirt at about 60mph and ended up with a burst fracture in my lumbar spine."
"Hands down the most excruciating pain I've ever experienced."
"The worst part was, I was in a rural area so I couldn't get to a hospital for several hours and had no pain relief until the ambulance got to a safe place for the helicopter to land for me to be airlifted to a city."- ihatemyselfalot-lol
Let's hope this was a one time occurrence

"My period."
"I went to the doctor for a physical and when I got there my cramps were so bad that I physically passed out."
"When I woke up I was in an ambulance."
"Apparently the pain made my blood pressure sky rocket and when the pain stopped it made my blood pressure drop so fast I past out."
"I'm also a diabetic so they assumed it was a low blood sugar and were shoving an apple juice down my throat when I came to."- blubberwinx
Don't forget to floss

"Nothing beats the highest level of tooth pain for me."
"If you break a tooth or lose a filling, don't wait to get it taken care of. Dental insurance on its own is fairly inexpensive and one of the better investments you can do for yourself. And if you really can't afford that, there are usually low income clinics that will help you in times of emergency. Don't suffer!
Take good care of your teeth folks.
Whether inevitable or completely avoidable, unbearable, long lasting pain is something no one deserves to endure.
Keep reading...
Show less
Getting older is inevitable.
Like everything else on the planet, over time the human body suffers the effects of wear and tear.
Joints, muscles, ligaments, tendons, teeth, etc... are put through the ringer and eventually it begins to show.
Things we used to do with ease suddenly aren't so simple.
Redditor iamalsopizza asked:

"What did your body tell you that you had to absolutely stop doing?"
That 24/7 Life
"Pulling all nighters for any reason. My body will not tolerate it anymore."
- Eccentric_Mermaid
"I used to do it every weekend as a teenager, with help from Monster, my PC, and some of the fine programming on Adult Swim."
"Last time I tried as an early 20s adult, I passed out sitting straight up. I'm pretty sure now Monster just puts me to sleep."
"Last successful all-nighter I survived until 6 AM. I still woke up at 8:00 on the dot, on my day off. Thanks work."
- EvilDarkCow
"Oh my sweet, honey-glazed christ...I turned 40 last year and I swear it was like someone flipped a light switch."
"I used to pull all-nighters and get 4 hours sleep and be ready to go like a wild hog the next morning."
"Now I get 8 hours of sleep and I could frankly use a nap. Aging sucks."
- Cats-Steal-Things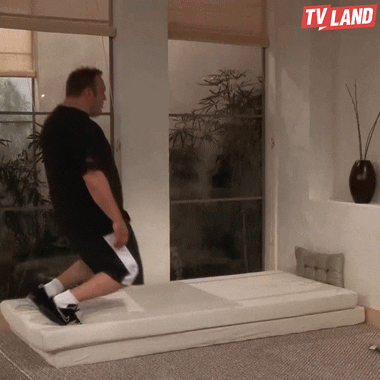 Giphy
No More
"Got seizures from drinking more or less a liter of vodka a day."
"Took a few years, but I'm now standing at 648 days alcohol free."
- FroggiJoy87
"Currently in the hospital. Came off a hangover caused by 14 shots of Altos and my body was like 'you know what? We're gonna figure all this shit out'."
"I had diarrhea so bad, I was almost in starvation mode when I got to the ER. Turns out, there's a tiny hole in my something and it was leaking waste into my body which gave me an infection."
"Been here 5 days, now. I have a straw in my belly which is draining the infection so the antibiotics can work better."
"Every time I look at it, I'm grossed out and wanna slap myself. I'm never touching a drink again in my life. F'k that."
"I just liked to have a good time and binge drink."
"Well, I'm gonna have to get some new hobbies or something because this sh*t here, ain't it."
- IreallEwannasay
"I use to take pills all the time to get high when I was going through some sh*t in my early 20's that I didn't really know how to handle at the time."
"Well one day while doing the pills, my body just said 'no more' and I projectile vomited everywhere in my room and bathroom. It got on the walls and floor. I was living with my parents at the time and blamed it on food poisoning or something like that."
"I tried again every day for like a week and each time I just threw them back up."
"And that's how I got clean off these pills. Drug free to this day!"
- Necrodotexe
Your Pancreas Says "No!"
"I just checked my blood sugar today and it is outrageous, so it looks like my food shenanigans are over."
"I made homemade bread last night and my blood sugar was 195 this morning. F'k my life."
- KayBeaux
"Yeah. When eating a piece of French bread becomes food shenanigans you know you're effed. Stuff most folks consider fine is now off limits."
"It's not like pork rinds or similar junk food, either. Potatoes, French fries, chips, etc... are absolutely not happening. OJ, cider, milk....all gone."
- jpr_jpr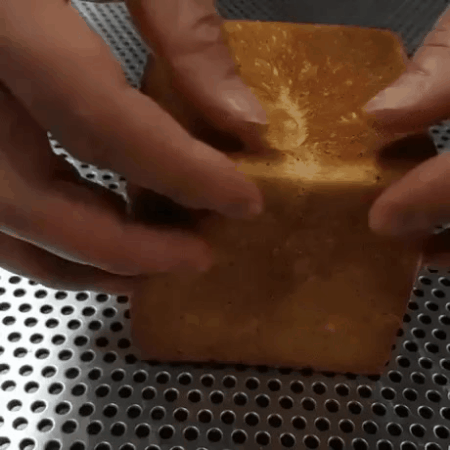 Giphy
Energy With A Side Of Palpitations
"Drinking Bang energy drinks, last one I had turned me into a panicking rage monster, whole time I thought I was going to die my heart was beating so fast and irregular."
- CaptnRiggen
"I used to work a day job till 6p M-F then work security at bars Thur-Sat from 10p-3am."
"One night I drank two of those 4-Hour Energy drinks. The second one was more of a 'Wonder what would happen?' more than I needed it."
"Holy f'k was that a bad idea. My heart was going so fast."
"I never touched that stuff again. That was before I really looked closely at the nutrition labels. Now I always look at them."
‐ lipp79
"I had this with Redbull—my first time drinking it and I never touched it again."
"Coca Cola also gives me heart palpitations so I rarely drink it but not to the 'omg, I'm going to die' level of Red Bull."
- QuendaQuoll
"I used to work overnights at a store that sold 4-Hour Energy at the counter. My coworkers and I would guzzle them to get through the night shift."
"I always felt that same sensation of irregular heartbeat for hours and the crash afterward was unbelievable."
- jellyrat24
Calm Down
"Being stressed."
"I'm at the age now where I realize that controlling my stress level is an actual physical health issue."
"I started getting bald patches on my facial hair, and terrible neck pain, and elevated heart rate. I'm definitely more mindful.
"I used to think stress was just about what I was feeling emotionally in a given moment, but no it's very physical."
- mjzim9022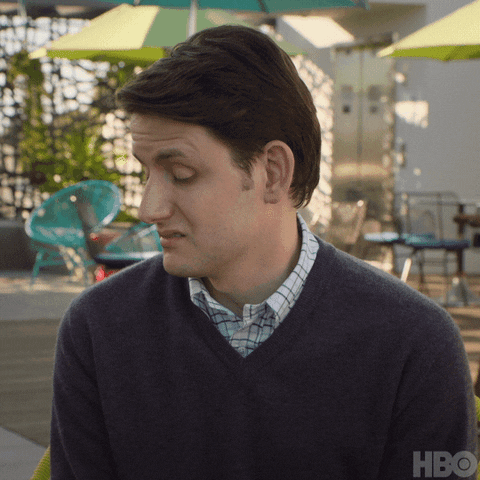 Giphy
"Yep this one right here! During the summer of 2020 I realize that if I didn't start working on calming down, I was gonna drop dead of a heart attack or something."
"About six months later I noticed that I had six months growth worth of pure white hairs on the top of my head. I didn't even have gray hairs before Covid."
"I'm pretty sure that if I hadn't have started calming myself down, I really would've had a heart attack."
- Drealjas
Sleeping Wrong Is A Thing
"Camping without an air mattress. The last time I did it using only a pallet of blankets I PAID for it the next morning."
"My entire body hurt. Getting old sucks."
- 2gecko1983
"Went to visit my grandmother 3 years ago and the air mattress had a hole in it, so I just said 'Ah its fine I'll sleep ona pallet on the floor'."
"I woke up the next morning with my left shoulder sore and stiff. It hurt all day, and every day after that."
"I finally broke down and went to the Dr about it this year. He said, 'You take anything for that?' I said, no. He said 'You probably should'."
"I was hoping maybe he was gonna fix me. Refer me to a joint specialist. Possibly see about surgery."
"Apparently after a certain age they dont really do that anymore and I now see why Aleve commercials are mostly targeted toward older people. Cause some disinterested Dr said 'You should probably start taking something for that'."
- IGotNoStringsOnMe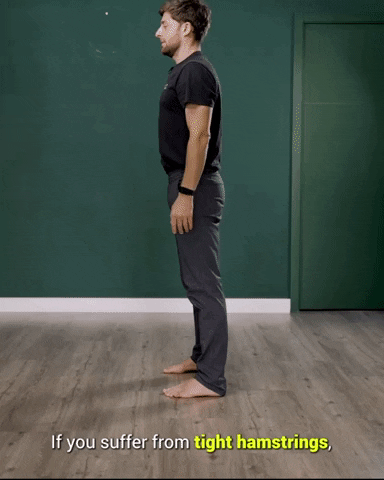 Giphy
What activities has your body put a stop to?
Want to "know" more?

Sign up for the Knowable newsletter here.
Never miss another big, odd, funny or heartbreaking moment again.
Keep reading...
Show less
Healthcare shouldn't be this complicated.
You feel sick? Go to the hospital. Have someone take care of you. Add on the complexities of insurance, the lack of good-faith instilled in doctors on hour 40 of their shift, and suddenly you have a stay that turns into a nightmare you can't escape from.
They only get worse from here.

Reddit user, emeraldthemnstr, wanted to hear your healing horror stories when they asked:
What's the worst hospital experience you've ever had?
A visit to the ER shouldn't be like rolling the dice to decide how you're going to be, but sometimes it's like placing your health in the hands of fate.
Except fate is a jerk.

You Never Know How Your Body Is Going To React
"The day after I graduated from college I began having intense stomach pains that kept me awake for almost three days straight. Went to my doctor and they sent me over the ER to get a CT scan immediately. Found out I had a pretty significant intestinal blockage."
"Anyway my first night in the hospital I was finally able to get kind of comfortable but the nurses were insistent that I take Ambien to sleep. I told them that I hadn't slept in 3 days and that I was going to pass out any minute. Well they kept pushing, and like an idiot, I took the pill. Fast forward to the next morning where I wake up with dried blood all over my arm and I generally hurt all over. It turns out I got really messed up on the Ambien. I stripped naked, ripped out all my IVs, and ran down to the nurse station while babbling nonsense."
"To this day I've never seen my mom as mad as she was when she found out what happened."
Tcraw487
One Diagnosis Is Not Like The Other
"I fell over on a night out, not drunk, and hit my head. Only 6 months before I'd had brain surgery for a tumour."
"Scooped up by an ambulance, dumped in A&E, treated like a drunk student. My friends kept telling them that I wasn't drunk, I'd had surgery etc. but they left me in a corridor and ignored me."
"After 3 or 4 hours on a bed in a corridor with no attention, I decided I was fine and checked myself out. It was ridiculous. I felt a bit woozy but recovered fully the next day."
"They should have taken me a bit more seriously, not treated me like a drunk, just because it happened on a Saturday night."
shinyhappycat
There's nothing worse than telling a doctor what you know for sure in your heart is wrong and they don't listen to you.
Makes You Wonder Who's A Professional And Who Isn't

"I was 16 and I had horrible stomach pains for about a week and just chalked it up to the flu going around school but it didnt go away it continued for another week and I lost about 12 pounds and started throwing up after almost every meal my dad was sufficiently freaked and took me to the ER and the doctor was convinced I was pregnant."
"She kept badgering me about even though I repeatedly said there was absolutely no way I could be pregnant unless I was the second coming of the virgin mary, I was on the verge of tears when she went so far as to tell my dad to leave the room so I could "admit the truth" she finally made me pee in a cup and SURPRISE! no baby."
"Then after just pushing really hard on my stomach and asking me if it hurt she said it must be my kidneys and wanted to start me on meds but warned that if it wasnt actually my kidneys that the medication could cause serious damage."
"It was at this point my usually very calm and reasonable dad completely lost his mind and asked the woman if she had actually gone to med school and pulled me out of there."
"We went to another hospital where I found out I needed an appendectomy immediately. Screw that dumb doctor not every teen girl with stomach pains is pregnant."
Cactusjacks22
It Is What We Thought It Was
"I got a call from my mother that my sister had been taken out of her apartment in an ambulance because she was in so much pain she couldn't walk- I lived about 40 minutes away but I was the closest so I went running."
"She's in crazy pain but they're basically ignoring her. Not appendicitis based on the initial exam, but in that general area. They're giving her the good drugs and asking her constantly if she's on her period or pregnant but do nothing else to actually check on her. Eventually (hours later) we're taken into an exam room (that fully isn't cleaned, they put a puppy pad over some blood on the step up to the chair) and they do an internal sonogram on her and say "Honey you need to pee, there's something in the way" she does and they still say "well something is in the way but it's so big that we know it couldn't be torsion which is what we're worried about- take some drugs and go home it's probably just cramps or a cyst that burst. Nothing to do."
"She goes to her gyno in the morning and is then rushed into surgery at a different (better) hospital. She had a grapefruit sized dermoid on her ovary, that did in fact cause ovarian torsion, and she lost her ovary as a result."
curlsandcollege
Strap Yourselves In, People
"I was in a car accident, and T-boned by someone going 65 MPH. My hand was caught in-between the collapsing car and the steering wheel."
"When I popped my hand out, I felt the bone break and it hurt like hell."
"Amazingly enough, I had no other injuries. But the EMT's were taking no chances, and thinking I was in shock, they strapped me onto a backboard and hauled me off to the ER. While in the ER, I was asked several times if I was injured anywhere, and I repeatedly said "My hand is broken, it hurts real bad. BTW - this backboard is hurting the hell out of the back of my head, can I get off of it, please? Also, can you please call my mother?" (FYI - I was 19)"
"2 hours later, I was still on the backboard, and I had lost count of how many people had asked me where my injuries were and me repeating "my left hand is broken...." but that was when I was finally taken down to the X-ray dept. There, they X-ray'd every bone in my body..... but my left hand."
"I am wheeled back to the ER, still on that goddamn backboard. By this time, I have a horrendous headache from where my head is resting on that 2x4, and I sit for another couple of hours. During that time I was able to talk a nurse into bringing me a bedpan so I could relieve myself, and that is when the cop came in, opened the curtains so everyone could see me, and give me a ticket."
"Finally, after having been in the ER for 6 hours, I've FINALLY talked someone into calling my mother to come pick me up, the doctor had FINALLY said I could get off of the backboard and when my mom got there (I'm not sure how many traffic laws she broke to get there as fast as she did), he let me know I had no injuries."
"Yes, I do. My hand is broken."
"Young lady, I'm the doctor, I tell you when your hand is broken."
"That was when I grabbed my ring finger on my left hand and pulled it out, and the break became visible through the skin."
"My hand is f-cking broken."
"Mom, being an attorney, just looked at the doctor and said "Does the word 'malpractice' mean anything to you?""
"Back down to the X-ray dept I went, and lo & behold, my damn hand was broken, but the Doctor was all how it was well hidden and that's why they missed it the first time (no, you missed it the first time because NO ONE X-RAY'D IT)."
"A couple of days later when I went to an ortho doctor to get my hand rebroken and the bone set (OWOWOWOWOWOWOWOW) I pulled out the X-ray to take a look to see the break and how "hidden" it really was."
"Goddamn if you couldn't see that break right there in the middle of the bone plain as day."
"It's 20+ years later, the bone never did set correctly, and I'm starting to get arthritis in it. I can tell you when the weather is going to change based on how badly my hand is hurting."
bored-now
Both of my stories are with the same doctors, at the same hospital, having two different c sections. Fool me once and all that right?
For my first son, I was enduced and in labor for over 24 hours. My epidural had worn off. All of a sudden 4 doctors and 2 nurses rush into the room. 3 of the doctors just stick their hands in me at the same time and are frantic. One nurse is by the monitor. Finally she tells me that I'm having a 6 minute contraction and my son isn't breathing.
She gives me a shot to stop the contraction and my son starts breathing again. I am having a panic attack, and she tells me to calm down, and it's a side effect of the shot. Never mind that I'm freaking out because I'm worried about my son.
Good Lord...
"They say I need an emergency c section, though they don't take me back for another hour. My doctor was eating dinner. So even though it was an emergency, we had to wait."
"Also, the nurse never told my doctor that my son had swallowed his poop, so he was never properly cleaned out when he was born. He ended up having to stay a week because he got a lung infection from it."
"For my second son, I had a scheduled c section."
"The anesthesiologist had an intern with him, and said she will be putting in the epidural (I believe that's still what it is when you have a c section)."
"Those of you who don't know, they have to put this needle in your spine, and God help you if you move too much or they make a mistake."
"This girl put the needle in, and was moving it around. She couldn't find the right spot. It was beyond painful, and so hard to keep still. I could still feel my upper abdomen, which I don't think is normal, but since they were cutting my lower abdomen, I didn't say much."
"The doctor had 2 nurses lay their full body weight on both of my ribs to try to push the baby down. I told my anesthesiologist that they are hurting me and to make them stop. After a few minutes they did and my son was out."
"As soon as he was out, I felt EVERYTHING. I was breathing heavily, trying not to scream. The anesthesiologist gave me about 5 more doses over about 7 minutes before he told me he couldn't do any more. It didn't work. I could feel things ripping inside of me."
"It sounded and felt kind of like when you are ripping the guts out of a pumpkin with your bear hands."
"The doctor asked why I was breathing so heavily. The anesthesiologist told her I was in pain and could feel what she was doing. Her exact words: "well tell her to stop, I need to get her uterus back in."
"She didn't care how much pain I was in, and she acted like I couldn't hear her."
"Afterwards, the anesthesiologist was very apologetic. He said they have to go by certain guidelines. I was more understanding because the medicine finally kicked in, I was holding my son, and just happy it was over."
"I ended up opening my scar during my stay because the next 2 days, I felt absolutely no pain. My son was choking on throw up and the nurse left him at the foot of my bed, so I jumped across my bed to help him."
"I'm glad I no longer go to that doctor.'
jennyv753
Maybe just sleep it off the next time you're feeling under the weather?
Serious Bad Luck
"I went in to a minor surgery to remove a lip cyst and woke up 8 days later with my right leg amputated above the knee. Bad reaction to anesthesia caused heart failure. I was 23 at the time and 24 now. I'm one of those people with chronic bad luck."
F-ckmerit
It's Just A Spinal Tap
"More the doctor's office that screwed up than the hospital, but the resulting hospital visit wasn't fun."
"Went to college health center with classic mono symptoms (didn't find out it was mono until 8 months of symptoms later). They had me take a nap, then woke me up suddenly, in a dark room, half an hour after they closed, to inform me that I was being quarantined for meningitis and had to go to the hospital. I didn't want to take a $1000 ambulance ride, but they refused to let me drive myself or have a friend drive, so my options were "either take an ambulance or stay here all night."
"After three hours in the ER, the doc showed up and got all ready with his gloves, mask, etc. since I was "contagious." Then he took one look, ripped the mask off, and said "you look way too healthy to have meningitis, but since they brought it up I have to do a spinal tap anyway." Then he proceeded to stick a needle in my spinal cord while muttering angrily about how foolish of a diagnosis it was."
"tldr - paid a lot of money and got a needle in my spine because college docs insisted i had meningitis instead of mono"
jmacey72
Never forget, if you don't feel safe, just leave. No law saying you have to stay and receive treatment from people who you feel don't have your own interests at heart.
Keep reading...
Show less
Doctors see things on the job that might make the average person's stomach churn. You have to have a strong constitution for this job, especially if you're working in the emergency unit, where anything can happen at any given moment.
Some years ago, I met a doctor who told me about all the things he had to fish out of people's butts because they'd... get things stuck up there. Needless to say, this is burnt into my brain.
We heard more stories after Redditor Naypotato asked the online community,
"Doctors of Reddit, what is the weirdest thing you've seen while at work?"
"But all was well."
"Baby was born in a small village with all her bowels and stomach outside of her body (gastroschisis). Mum wrapped the baby up in a swaddle and mum, dad, and baby walked 8 hours to the nearest hospital."
"Caused quite a ruckus in the emergency department triage counter as they couldn't speak the local language and had to open the swaddle to show the triage nurse what they meant."
"But all was well. Baby survived and went home well."
ConferenceCreative89
Walking eight hours immediately after giving birth? The woman must have been strong as hell.
"I resorted to..."
"450-pound woman bleeding from the belly button, which was obviously a very deep innie. I resorted to a large speculum to visualize then cauterized the bleeding vessel."
DrLaZone
Anyone else ever randomly get worried about your belly button just opening up?
"That night..."
"Mexican doctor here. Got a call from a patient who wanted me to check on his wife since she had been laying in bed all morning. When I arrived I could smell rotten eggs and humidity in the room."
"Open the door and a body lays there, decomposed (probably 2-3 weeks), and the stench was strong because the mattress was all soggy due to the body liquids draining all over flesh. I took the poor old man outside and perform quick exploration, finding his left eye is moving uncontrollably and non-respondent to light."
"We call his family and I give them the news. Turns out he had been an epileptic his whole life but rarely took his treatment accordingly. Most probably he suffered a seizure that made him motor functional, but mentally challenged. One of the saddest cases I've encountered."
"That night I took a long shower, called my parents to tell them I love them. Had to take the dog in bed just for comfort. 3 months passed before I decided to do house visits again. Now I carry a hazmat mask in the car at any moment."
[deleted]
This is such a sad story. No wonder you took the time you needed to recover.
"Medic here. Went to a rural hospital for a clinical day (as opposed to my usual inner city trauma center I work in, which is a different brand of crazy) and we had to get an eyeball out of a woman's vagina."
"Apparently she was getting ready for a fight, and needed to keep her prosthetic eye safe. So obviously the best way to do that is to pop it out and stick it up in nature's pocket. Well it turns out that both the object and its container had enough lube to make it very difficult for her to remove."
Officer_Hotpants
Really never knew what the next sentence was going to be with this one.
"A homeless guy..."
"A homeless guy came in complaining of foot pain. He hadn't taken his boots off for 18 months. Doctor took one off, turned it upside down and a toe fell out."
discostud1515
This is absolutely tragic. There are no words.
"Part of me thinks..."
"Anesthesiologist here."
"Part of me thinks I went into medicine because I'm inherently nosy. Anyway, in my last year of residency, we had this young patient and her husband. She thought she was pregnant, as her periods had stopped and her belly was getting bigger. I don't know why she didn't go and see an OB but....anyway."
"She was at home at a point where she thought she was "8 or 9 months pregnant," felt "something pop" and a sharp pain and thought she was going into labor. Then, her legs went numb and she could no longer walk -she and her husband didn't think that was normal so they checked into our ED."
"She had a huge yolk sac tumor with mets to the spine, liver, and other places and had to go for an emergent spinal decompression given her neurological symptoms. I wasn't the anesthesia resident for that case, but I was the one for her 2nd surgery when they wanted to remove the primary tumor, and resect some of the liver mets."
"Primary tumor was about the size of a basketball. I felt so bad for that young couple, but I still wonder to this day why they didn't get some sort of ultrasound or see an OB."
Biphasal
There's a movement/subculture of "solo/unassisted pregnancy and births." This theory that births and pregnancy are natural and medical intervention is unnecessary. There have, obviously, been some very tragic outcomes.
"Ultimately..."
"Surgery rotation in third year med school: stat call from ER about a guy who had lost a vibrator in his rectum. Physical exam: NAD; palpable vibration noted LLQ abdomen. The vibrator was still on."
"Patient stated the vibrator had been fully charged prior to "use" and would last for hours.Ultimately the attending surgeon wanted to avoid surgery due to the still-on vibrator leading to potential complications."
"The residents made the surgical intern manually pull it out to avoid surgery. Intern ended up getting it out along with a couple of hotel-sized shampoo bottles."
"Patient discharged home from ER in stable and improved condition."
zee4600
That's why adult toys should have a flared base.
"During my internship..."
"During my internship, a person casually shared that he had been drinking sanitizer for past 3 months."
wafflepopup
Sadly, chronic alcoholics are famous for this.
"This is a story..."
"This is a story from my mom who was an RN for decades as a hospice nurse but worked in a small country hospital for several years when she was just starting out. While this story has a little gore in it, the weird thing is at the end."
"One day a farmer came in from the field."
"He was working on a disc tiller and one of the large metal discs fell off onto his head and sliced it open so the grey matter was visible. After he arrived at the ER, they got the guy onto a bed and he was fully conscious and talking. They were waiting for the helicopter to come take him to the "big" hospital that was probably an hour away by ambulance."
"When the chopper arrived, the farmer sat up in bed so they could transfer him to the stretcher and a small piece of brain tissue fell onto the pillow. My mom pointed it out and the doc just picked it up and threw it in the trash can."
"Because it was a small hospital and was rural, the same doctor did all the follow-up for the guy after he got home."
"For the rest of his life he could remember up to New Year's eve 1961 and then New Years day in 1963. All of 1962 was completely erased from his mind as though it had never happened."
"My mom always wondered if 1962 was in that small piece of brain the doctor threw in the can."
jedimasterlenny
"Well, there goes 1962."
Your mother wins this round.
Doctors have to deal with so, so much. Be kind to them. And if you ever enter the field, make sure you have a strong stomach.
Have some stories of your own? Feel free to tell us more in the comments below!
Want to "know" more?

Sign up for the Knowable newsletter here.
Never miss another big, odd, funny, or heartbreaking moment again.
Keep reading...
Show less
Some years ago I met a man who had a scar running down his face, one clean line that had long since healed but that was still rather noticeable. He explained to those in his company that he'd been scarred defending a woman during a bar fight.
Considering how badly those can go, he's lucky he's alive. That could have gone so much worse than it did. He's accepted the scar and hey, it did make for a good story.
All scars have stories behind them. Some people shared their stories with us after Redditor JigglezPlayz asked the online community,
"How did you get your scar?"
"I fell in the shower..."
"I fell in the shower while dancing. Now I have a titanium plate."
Sighfaint
That's pretty metal, just saying.
Too soon?
"My sister..."
"My sister blindfolded me and led me into a desk corner."
Qwertythecoolone
Ouch! This is why I always prefer to be aware of all of my surroundings.
"My brother..."
"My brother blindfolded me and made me touch a hot iron."
GlassCrow123
Ouch! What is up with all of your siblings?!
"I was cutting wood..."
"I was cutting wood with a chainsaw and it touched my leg. I wasn't wearing safety chaps."
[deleted]
It sounds like you've learned your lesson. Ouch. Hope you're feeling better.
"They cut..."
"They cut a mole out. Oops, that one's cancerous, better go deeper!"
[deleted]
Ouch! Hopefully you're cancer free!
"Sliced through..."
"Cut my index finger with a brand new Leatherman. Sliced right through the skin and into the bone."
homevp
I cringed so horribly reading this.
"I was wrong..."
"My ex girlfriend accidentally stabbed me in my arm. I was wrong to jumpscare the hell out of her while she was cutting onions."
Last-Level5126
She sounds like the person you want by your side for the zombie apocalypse, though!
"Got my thyroid removed..."
"Got my thyroid removed... looks like someone tried to slit my throat, unfortunately."
Neph88
I've seen some gnarly thyroid removal scars. Glad you're still with us.
"I got shot..."
"I got shot in the abdomen."
[deleted]
Scary! Glad you've since recovered. Gunshot wounds are no joke.
"I tried to..."
"I tried to run elegantly headfirst through a glass door."
MyShrinkWentBananas
People think it'll be like the movies and... they're so wrong. You don't just walk away from that.
It's been said that scars are just tattoos with better stories but to be honest, given the choice, I think I'd stick with tattoos.
Have some stories of your own? Feel free to tell us more in the comments below!
Want to "know" more?

Sign up for the Knowable newsletter here.
Never miss another big, odd, funny, or heartbreaking moment again.
Keep reading...
Show less