Kids truly have no filter. They will say anything and everything to their teachers. They don't understand what's appropriate or inappropriate to say.
Plus, we tend to use innocent words that mean something else given the right context. Put the word "adult" in front of something and suddenly it's definitely not for kids. Fore example, "adult" beverage or "adult" movie.
It isn't until the age of seven when kids start to have their sense of internalized consciousness, reason, and morals. Tons of things are happening in the brain around this time that are incredibly important for development.
So when you put a bunch of five and six year olds in a room together who have no filter and lack a sense of morals, you're bound to get a few good stories. Redditors shared their best stories of kids saying inappropriate things in kindergarten.
Redditor XxClxudyxX asked:
"Kindergarten teachers, what is the most hilariously inappropriate thing a kid you were teaching has asked/told you?"
This will have you rolling!
Getting into the Christmas spirit.
"I was doing story time in the library. It was the first week of December. Kids were sitting on the floor in front of me and a number of parents were standing back behind them. We had some time to kill so I started talking with kids about what they wanted for Christmas. Just trying to feed info to parents."
"A little girl said she wanted a remote control butterfly. Another kid said, 'There's no such thing.'"
"The first girl said, "Sure there is. They're purple. But I want a pink one." Mom, in the back, looked exasperated and turned her head."
"Well, I thought it was exasperation. Turns out, probably not. Found out, later, that purple butterfly is a sex toy."
"I'm dying but think about it."
"Did the child touch it?"
"100% yes. Kids touch everything. Especially if it was cool enough to want one of their own for Christmas."
Show and tell.
"In kindergarten I once took my mom's tampon for show and tell and told the class it was dynamite. I can only imagine the conversation that occurred."
"Do you want to specify that it was a fresh unused one?"
"Sticks of dynamite are typically red."
Don't believe everything you hear.
"Went to a Parent Night for my first grader. All these grown-ups trying to squeeze into these little chairs and tables. Mrs. Wagner smiling at all of us...."
"First thing she says is, 'I promise not to believe half the stuff I hear about you from your children, if you promise not to believe half the stuff you hear about me.'"
- cicalino
"Oh, man. I totally would have said, 'Which half?' had I been there."
The "S" word.
"I'm not a kindergarten teacher but I know someone who is, and she told me the funniest story about a boy and girl in her class. Keep in mind these kids are 5-6 years old."
"Girl comes up to teacher, crying saying the boy called her 'the s word.'"
"Teacher is taken aback, asks girl, 'What is the s word?'"
"Little girl begins crying harder, appears horrified and yells 'I CANT SAY THAT WORD!!!'"
"Teacher calmly explains that she needs to know what the boy said and promises the girl she will not be in trouble for saying it this one time."
"Little girl (still crying hysterically) exclaims 'IM NOT SAYING IT BUT IT RHYMES WITH F*CK!'"
Teachers Describe The One Student That They'll Never Forget | George Takei's Oh Myyy
"I remember when my daughter was 5, I was venting to her dad about work or something and said, 'I'm not f*cking stupid.' Daughter looked me dead in the eyes and said, 'Mama, we do NOT say stupid.'"
"My kids are allowed to say 'stupid coronavirus', nothing else is stupid."
- Magsi_n
"My friend is an elementary school teacher. A little girl came over crying saying a boy called her the 'F' word. Friend asked what that was, thinking it had to do with Fart, and the girl responded, 'He called me a fat a**.' Boy's father swore he had no idea where his son learned the term."
The book store project.
"Not a teacher, but when I was in 2nd grade (about 7 years old) we were creating little towns with a few different stores in them. In my town, I had a 'kids bookstore' and an 'adult bookstore.' The teacher came by and looked over my assignment as I was showing it off and she was like, 'Hmm, let's change that to "grown-up bookstore."' I asked why and she was like, 'Oh, I don't know, it just sounds kind of weird.'"
"My (foreign) parents used to say they watched 'adult movies' meaning PG 13 and R rated."
"When I was in 2nd grade, for Father's Day we had to create newspapers all about our dads, their occupations and what we loved about them, etc. My best friend's dad was a volunteer firefighter and also drove a tow truck, which I thought was the coolest - and it was also much less abstract to a 7 year old than my father's occupation - a lawyer."
"I kept asking my mom, 'What does dad do?' but she couldn't explain it in terms that a 7 year old would understand. Finally I said, 'What does he sell to people?' and she said, 'Well, he sells...services, I guess?'"
"And so, my newspaper got printed proudly stating that my dad 'sells services.' Good lord."
The coolest thing ever.
"I said something cheekily that was like, 'Aren't I the coolest thing ever?' and a student piped up and said 'No, the coolest things ever are face tattoos.'"
"Not that inappropriate but really unexpected."
BootySniffer26
"Tinkle T."
"K-6 PE teacher here. I have too many of these stories, but I'll never forget 'Tinkle T' who I met during my masters internship. He peed. Often. One day he comes into class after recess covered in something wet. I thought he jumped in a puddle at recess. He said, 'Teacher, I got something nasty on me.' I asked what happened, and he said, 'I went to the bathroom and my dingy didn't work right.' He was literally soaked. Like, hair dripping wet into his eyes. Turns out he tried to pee with a tiny boner, looked right into it, and sprayed his whole body."
AlanaMcEvoy
"This is the best and worst thing I've ever heard."
Image_Inevitable
Kids really do say the darnedest things!
Want to "know" more? Never miss another big, odd, funny, or heartbreaking moment again. Sign up for the Knowable newsletter here.
Keep reading...
Show less
Comedians are always pushing the envelope when delivering what they think is hilarious on paper.
But depending on the night or the crowd, not everything lands once they get behind a mic.
Certain forms of comedy like roasts, dark humor, and one-liners for the sake of having shock value are all risky, but if the jokes are clever to start and delivered smartly, comedians can really knock it out of the park.
Or they could really have a negative impact on audiences.
Curious to find out about the boundaries within the world of standup, Redditor thebosomofthePacific asked:

"What should be off-limits in comedy?"
Pranks are a popular comedy tactic, but the result isn't always a laughing matter.
Unwilling Participants
"Pranks on people who don't want to be involved, especially ones that physically or psychologically hurt people."
"Agreed, all those 'prank' channels where they say and do horrible things to their children and then go 'it's just a prank, you little baby!' while their kid is sobbing… that sh*t makes me sick."
Pranksters
"Physically involving people who didn't want to be involved (e.g. YouTube / TikTok pranksters)"
"ANYTHING should be allowed on pure standup comedy though."
The Golden Rule
"I had a practical joke book when I was a kid and on the first page and the back it had in big letters: 'The golden rule of pranks: A prank is supposed to make people happy and laugh' If you pull a prank on someone and they don't laugh or find it funny, no matter what: YOUR PRANK WASNT FUNNY! STOP, APOLOGISE IMMEDIATELY, EXPLAIN YOURSELF AND APOLOGISE MORE. If you don't do this, you're not a prankster you're just an a**hole!""
"At the end of every joke it had 'Remember the Golden Rule' It kinda stuck with me 20 years later."
– Cprich22
Dark humor is perfectly acceptable, but even those can have hard limits.

Rule Of Thumb
"Nothing should be off limits, but Chris Rock gave a good rule of thumb on Talking Funny that you should joke about what people DO, not what they ARE."
Frankie Boyle
"Frankie Boyle is possibly my least favourite comedian because, while some of his lines are funny (albeit dark and uncomfrotable) he usually goes for the darkest and most controversial thing he can say in a given scenario even if it is not really relevant or funny. His dark jokes are fine but they're ruined for me by the fact he clearly tries to make everything as dark and controversial as he can, and sometimes they end up being funny, rather than being as funny as possible and sometimes they're dark and controversial."

A Study In Contrasts
"Listen, dark jokes are fine. Nothing is off limits. But there's a difference between being funny and just saying disgusting sh*t."
"Bias Comedy"
"Shock comedy, and what I'll call 'bias comedy.'"
"If the punchline itself is just the fact that you said a racial slur, or made fun of somebody with cerebral palsy, that's pretty lame."
"Also, if the only reason anyone is laughing is just because you made a political statement and they agree with you, that's pretty lame as well."
Reading the room was mentioned as a key factor to successfully landing a joke.

Gauge The Audience
"Comedy is subjective, there should be no limits. However it is still a good idea to keep in mind who the audience is."
The Right Structure

"depends on the structure of the Joke."
"you can laugh: about it , or with it , or at it."
"if you laugh at someone or something on the other hand , you reeeaally gotta know your audience."
Expectations
"I think it's a mutual trust thing, both the comedian should know the audience and the audience should know the comedian. I will not sympathize with someone who is offended at jokes Bill Burr makes and then simultaneously goes to a Bill Burr performance a few weeks later."
Racist jokes are tricky. I understand some of them are rooted in truth, but if delivered poorly, they can be downright offensive.
Being Asian, I'm indifferent to a comedian's dig at a minority group if it's based on a tired stereotype like, "Asians make terrible drivers"—which is absolutely not true.
To deliver hackneyed jokes like that is a mark of laziness in my opinion.
But even more unforgivable is when racial epithets are used. I cringe whenever a comic of any ethnicity uses a racist slur targeting themselves as if to demonstrate they have permission to denigrate their own community.

And it's not about being "too sensitive." The opposition stems from the need to prevent microaggressions from potentially evolving into bigger forms of hatred many ethnic groups constantly face in their everyday lives.
But that's just my take.
Keep reading...
Show less
People grieve in various ways after losing a loved one, and no one can tell them how to cope as they process their emotions.
However, there are certain behaviors that are inappropriate at a funeral.
Redditor Bankrupt-R-Us asked,
"What is the worst thing you've ever seen someone do at a funeral?"
The people of Reddit had some interesting things to share – including an incident involving a gun-toting nun, and an angry grandson unleashing his vengeance over the deceased with an act of vandalism.

Read on to find out more about some absurd and inappropriate things that have happened during a funeral service.
The aftermath of death in the family caused the following drama.

Open Forum
"The gentleman had a large family and all of his siblings got up and made it all about themselves, dredged up old family drama, made it clear that they resented his wife, etc. It was so painfully awkward."
Too Much For A Son To Take
"I had a fit of hysterical laugh at my father's funeral just about the time people started to gather at the mortuary."
"In my defense, my mother had a nervous breakdown (my father died 4 days after we found out he had lung cancer), there was a lot of sh**ty stuff surrounding the funeral organization, my mom just flipped, my siblings were 15 and lost so I was at 23 left to handle it all."
"I kinda lost it."
So, Here's A Question
"At my father's funeral, one of my aunts asked my mom when would she get out of the house."
Grief Competition
"My nan told my dad at his own father's funeral that her pain was much greater because she had lost a husband, while he had only lost his dad. As if grief is a competition."
"She is a sh**ty person anyway, and not even blood related to us so we just kinda don't associate anymore."
– lanidvah

There are just some acts that are totally unnecessary when the grief is already enough.
Bedroom Legacy
"Her ex told us about all the great things she did in bed and what a loss for mankind that is. In present of her boyfriend."
Seizing An Opportunity
"He handed out his business cards at his stepdaughter's funeral. There was very nearly a fistfight!"
Act Of Vandalism

"My uncle was pissed about something in my grandmother's Will. So during the funeral, he went out to the parking lot and keyed everyone's car. It should be noted, he has severe brain injury from a motorcycle accident that causes him to be constantly angry and paranoid. Still..."
Parents Explain Why They Regret The Name They Gave Their Child | George Takei's Oh Myyy
Angry Debt Collector
"My brother in law is a mortician. Boy does he have stories...."
"One of the best- A guy disguised himself as a nun, shows up at the funeral, pulls a gun from under his habit and tries to shoot the deceased's son. Luckily the gun malfunctioned and didn't fire. The son then decks the nun and knocks him out, kicks him in the head a few times, and is pulled off by other family. Police are called, yada yada yada... turns out the deceased owed the nun quite a lot of money and the son had refused to honor the debt."
– 02K30C1

Go Fund Me – I Mean – HER
"My grandpa died. His son (my uncle) went around asking for money to give to his now widowed mother. He collected around $500 USD worth of donations from family, friends etc. he pocketed it, and my grandma didn't receive sh*t."
– VCF1127

Unacceptable Comment
"My uncle died and at his funeral my cousin (his son) was crying. Some old timer uncle came up to him and said 'stop crying you're a man you're embarrassing us'. I never wanted to slap someone at a funeral more than at that moment."
Kids barely understand the concept of death. But when they start to have a firm grasp, it is terrifying for them.
These incidents didn't help.
Cruelty Towards A Child
"A few years back, when the uncle of my mother died my young cousin (8) cried a lot at the funeral. It took some time but eventually he calmed down and his parents went for a little walk with him for some distraction."
"But then he noticed that his first name was written on one of the tombstones. He mentions it loudly and one of the bystanders said: ''Yeah its already reserved for you'."
"He immediately started crying again..."
– firedexo

A Father Moves On
"One of my students' mother died. I went to the funeral with the principal and the student's integration aide. After the funeral her father walked up to her and her grandmother and said 'I want her out of the house by tomorrow morning.' She was 11 years old."
The Guilty Sister
"My sister murdered her father(my stepfather...at the time we didn't know she was guilty)"
"BTW Just so you know she did this purely for financial gain."
"During the viewing she dragged her little boy to the casket and because he didn't cry enough to suit her she pinched him on the upper arm until he was sobbing then took him around to everyone saying he was really crying because he loved his Gramps so much."
Although there is never a time and place for the irrational behaviors mentioned above, maintaining proper decorum at a funeral out of respect for those who've passed on should be common sense.
Whatever unresolved grudges you hold against the departed, it's better to either leave them in the past or resolve your conflict with them in the afterlife.

Keep reading...
Show less
Why don't people think before they speak? It's really not difficult to use your words wisely or carefully. There are just somethings the general public doesn't need to know; like intimate issues about a life. Half the time it feels like we're stuck in a Barbara Walters special. Aww... remember her? She had good questions though.

Redditor
u/puggernault
wanted everyone to listen up and take note about what is appropriate conversation by asking...
What question do you hate being asked?
When are you gonna lose weight? When are you gonna be happy? When are you gonna find love? All questions I'd love an answer to and questions that are none of your damn business. If I knew the answers... I'd be happy! Now leave me be.
What About 2?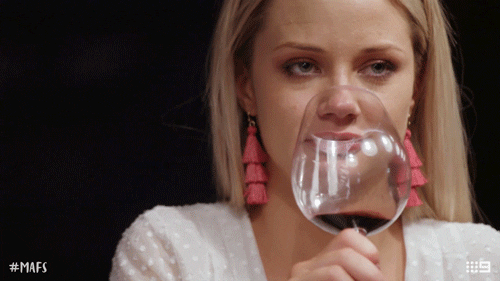 Sassy Red Wine GIF by Married At First Sight
Giphy
The "Where do you see yourself in 5 Years? " in interviews. I get why it is asked, but crap happens.
A Job Interview...
"So what do you do?"
My wife is very successful and we mostly hang out with her very successful friends and acquaintances. (To be clear, I am not complaining about either of these things. I love my wife and her awesome friends.) But, alas, I am merely a lowly government employee. I dread this question. I have done so many other awesome things in life, but I just never prioritized my career.
One More?
I have two little girls and all I get asked is if we're having another child to try to have a boy 🙄.
I have 3 girls. I think they look similar but apparently strangers think it's ok to ask if they have the same dad.
My girls are older now and I still get the you didn't keep trying for a boy.
So Loud!
"Why are you so quiet?"
Because you're talking about a bunch of stuff I don't know about, things like some reality TV show I have zero intention of watching.
Also, one of you has a habit of interrupting constantly and I'm fed up of never being able to say anything without having that person just jumping in half way through, so it's easier not saying anything.
Or I don't know you well enough to know if I say something you don't like you might hate me forever and get your friends to hate me forever, and I don't know what you do or don't like.
Or I've known you for a while, and know you start shouting at me if I say the wrong thing, and it's easier to not say what you think is the wrong thing if I just don't say anything.
Or maybe we know you're all wrong about something, but I don't know how to point that out without you getting verbally aggressive.
And You?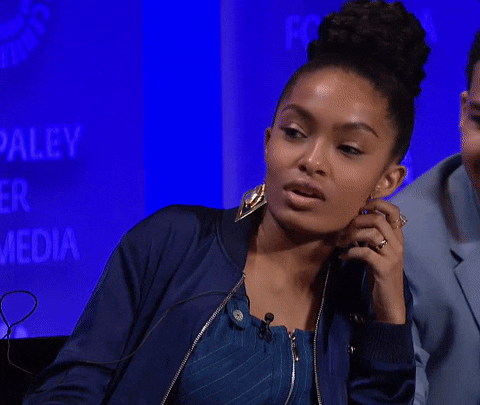 Paley Center No GIF by The Paley Center for Media
Giphy
"Tell me about yourself"
See that? So much time spent asking about nonsense. We can do better people. If you're wondering what an inappropriate question might be, just ask yourself first. How does that feel? Now go...
You're Off...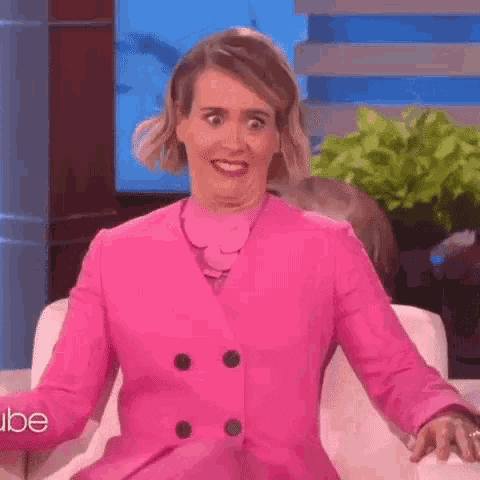 Smile GIF by MOODMAN
Giphy
"Why are you so weird?"
Oh, I'm weird because I don't fit into your narrow spectrum that you deem to be normal? Screw off.
Height Issues
"Wow you're so tall! You play football/basketball/(any related sport here)?"
No. No I do not. I enjoy gaming/computers, cooking, and drawing.
My sister is very tall, always gets this question, and hates it. Usually it's basketball. She responds that she plays soccer (fútbol for everyone else) and often gets the response of "oh, what a waste". Uh, no? Super tall means big feet too, idiot. But also, anything she enjoys is not a waste.
Why are you alone?
"Why don't you have a boyfriend?" I don't know. Because I'm a loser nobody wants? How the heck do you answer that question?
My answer is always: "my parents in law couldn't have children". Most of the time they will laugh and shrug of the question.
CHOOSE!!
What parent do I prefer. I like them both a lot.
When I was a child and they had me write a paper about a parent or get them to be an emergency contact for a trip I always chose both because I would feel bad choosing. I still do it actually.
Details...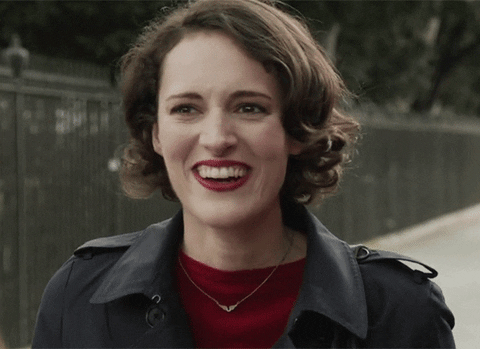 Get Out Ugh GIF
Giphy
"So... what have you been up to?" You either have to come up with one significant thing that's happened lately, or be responsible for derailing the whole conversation if you say "oh, the usual."
What have we learned? Think before we speak! And maybe it's time to be less concerned about the intricacies in the lives of others. Also job interviews need to be easier. It's a job, not a philosophy test.
Want to "know" more? Never miss another big, odd, funny, or heartbreaking moment again. Sign up for the Knowable newsletter here.

Keep reading...
Show less
Hilarious moments are blind to timing. They seem to strike at the absolute worst times, when laughing would be completely inappropriate.
But when hilarity strikes--maybe because someone misspoke or some Three Stooges-esque physical comedy erupted out of nowhere--us humans are defenseless.
We cackle and guffaw with the same sudden impulse of a sneeze or blinking.
Only after that initial chuckle do we have the wherewithal to suppress it under a covered mouth, rocking shoulders, and even tears.
rockosmodernbuttpug asked, "What's the funniest thing you've seen someone do that you weren't allowed to laugh at?"
Want to "know" more? Never miss another big, odd, funny, or heartbreaking moment again. Sign up for the Knowable newsletter here.
Keep reading...
Show less