People are oblivious, heck we're all oblivious on a day to day basis, we can miss things so simply.
Who hasn't searched and searched for their glasses only to realize.... you're wearing them?!!
We all believe we are astute creatures that relish detail but weeks can go by before you realize the obvious.
Redditor Riryiskool wanted everyone to divulge a few interesting tales about times people seemed shockingly oblivious by asking:
"What was your 'How didn't they notice?' moment?"
Penis Accident.
"I am a high school teacher in California and while explaining something, I accidentally drew a huge penis on my board. Confirmed not one kid noticed." ~ driveaforklift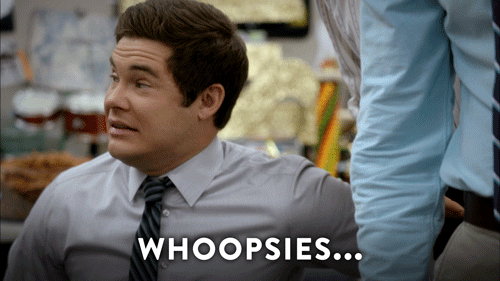 Giphy
Just Crap. 
"I used to do customer service for a video game (can't give details; don't wanna get sued) wherein I responded to email tickets. Before sending a ticket, you were required to create an internal note wherein you documented their response and what your response was going to be, plus any additional necessary info to help conduct a search."
"Once, I wrote in the internal describing their message saying, "Customer sent me a bunch of useless crap" Because, well, they had. After repeated clear instructions, they failed to send me the correct info. So I typed it to unleash the rage, thought I deleted it, then the next day I come in and see I have a response, and I go to start a new internal note, and realize I had, in fact, left that line fully in the previous internal note (which can't be deleted or edited)."
"Meaning that if anyone from the company or my workplace saw it, well, I'd be in a lot of crap. Thankfully, I did this around the holidays and we were swamped with other issues, so no one did any audits of tickets that week. Needless to say, I never played around with that again." ~ blizzaga1988
No one else saw!
"I was buying weed a few years ago. I pulled up to an apartment complex and was waiting for the weed dude when a window in the apartment in front of me opened. A second later a little girl(maybe 10-12) crawled out. I was 21 so and buying weed so my thought was, do I yell up, no she could fall, catch her nope there's bushes under there."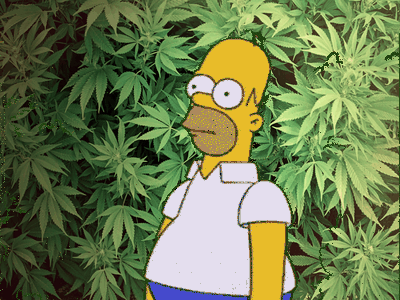 Giphy
"Then she jumped to the balcony next to the window, climbs over the railing, and tries to open the door, but she's locked out. She knocked and some irresponsible/seemingly confused parent opens it and lets her in! No one else saw!" ~ 843OG
Hot Damn! 
"I was in class of 25 students and spilled tea on my new laptop. I said "DAMN!!!" decently loudly and ran my laptop to the bathroom. No one remembered seeing me spill the tea, hearing me say damn, or seeing me leave the class." ~ litttlebits
In the Navy... 
"Went through an entire enlistment (in the navy) in a way where people thought I was dumb and I didn't bother to correct them. I let them think I was not able to fix things because they only assumed shit instead of actually asking me. I made E5 on the 2nd try and damn near the entire command was confused as hell."
"I was an ET and the entire exam was on specifics about equipment maintenance and repair. To this day I get to talk to old crew members and they bring up how I've fooled everyone into thinking I knew nothing so that they wouldn't bother me or wake me up from sleep to fix some stuff." ~ alexromo
Oh Granny.... 
"I used to have long hair and my granny hated it. The day after I cut my hair (lost about 8 inches) I went to lunch with her and not only did she not notice but when I pointed it out to her she didn't believe me until I showed her a photo of me from a week prior." __ace_p
The Girlfriend.
"My boyfriend and I initially started dating in high school. Our friend group was me and a bunch of guys, and I was relatively new to the group, and worried I'd become "his girlfriend" if we went public too quickly, so we kept it quiet. We later stopped caring, but it was too far in to make an announcement without seeming weird, so we decided to just admit everything if anyone ever asked, but not bring it up ourselves."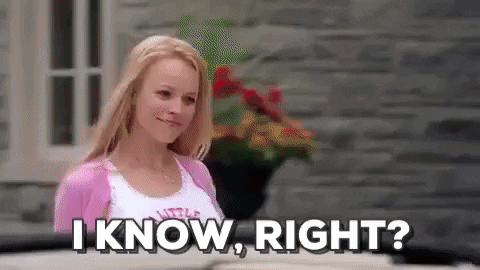 Giphy
"Well, we weren't the couple that was all over each other in public, but we were fairly affectionate, always sitting next to each other, talking somewhat privately, playfully poking and all that. We would also hold hands on our way out of school, when we didn't see anyone around. That last one is what nearly caused problems the most."
"Regularly someone would come up behind us and say hi, and we'd quickly drop our hands. They never seemed to notice, shockingly (Our friends were really oblivious). We figured that they were probably noticing, but not saying anything."
"Until one day. Somehow a conversation arose about how some people are closer in our group than others. Both of our names are mentioned, and they all say that we seem like close friends. Somehow they all noticed we were close but never put two and two together. I know this because of the shock they experienced when they finally properly found out. We're still together, by the way." ~ Thunderflamequeen
he Comics Way.... 
"I straight up stole like, 40 comic book treasuries from a box in a locked attic space by my parents bedroom and kept them in my closet for years without getting caught. (Dad decided that Calvin and Hobbes was a bad influence and banned all comics from the house for two years.)"
"My parents caught me literally every other time I disobeyed them. In college I lied about which train I took and got yelled at because the times I was texting didn't match up to when the train was predicted to arrive at certain stops. (Mom thought I'd get rape-murdered if I took the CTA to Chinatown. She wanted me to make my friends wait at their apartment while I took the Metra down to them, and then take the CTA with the group up to Chinatown. I was 21 and it was the middle of the afternoon.)"
"But they didn't notice I'd taken the comics. And I know they weren't just letting me get away with that one because a couple of years ago my mom tried to claim the ban did help me behave better at school, and was not happy when I informed her that couldn't be true; I stole back the comics almost immediately. (Specifically, I stole the books right after being told that my attempt to earn them back with good behavior proved they were influencing me and therefore I wouldn't get them back for a year.)" ~ _Green_Kyanite_
3 teenagers who can't even walk straight
"A few years ago, my friends and I were drunk as heck stumbling down the street to a McDonalds. My best friend pulls out his penis and starts peeing and walking at the same time. While this is happening, a cop passes by and gets stuck at the light about 10 yards away from us."
"Literally all he had to do was look to his left and he would have seen 3 teenagers who can't even walk straight laughing their butts off because one is walking and peeing. Very grateful he didn't look. My life would be a LOT different if he had caught us." 69mi
DESTROYED!!!
"I absolutely DESTROYED this thing at an old job of mine. I nervously looked around because my co-workers were all over the place and it was LOUD. But no one looked. I managed to compose myself, clean it all up and make it seem like nothing had happened, then finished the rest of my day. A week passed before they casually brought up that everyone knew and saw what happened but didn't want to help me." TommF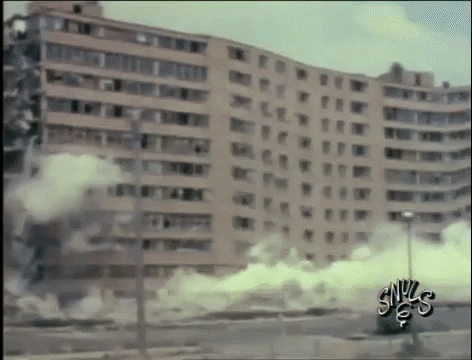 Giphy
Be Warned. 
"In high school I got pulled over for doing just a whole bunch of stuff (mostly related to trying to get away from the cop). He asked me why I did it and I said I was trying to get home by curfew at 1:00. Then I looked at the clock and realized it was already like 3:00 so I changed my story. Just got a warning!" ~ redditaccounts2020
By Yourself!
"One day my sister mentioned in front of my dad that she'd been helping me rearrange furniture at my house. Mentions my boyfriend. My dad is all surprised: 'you and your boyfriend sleep in the same room?!'"
"...by that point, we'd been living together for six years. It was my bf's house. My parents had been over DOZENS of times. Where did they think I slept?"
"'Oh, we assumed you slept in the guest room. By yourself.'"
"EDIT: My family is Asian."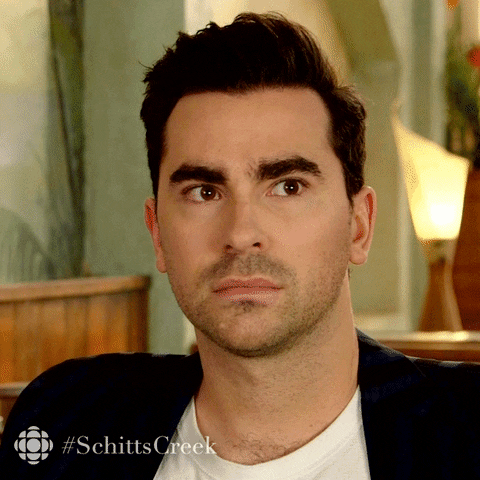 Giphy
The Test is Positive. 
"I went for a job interview when I was six months pregnant. I wore a fitted pencil skirt and a fitted short blazer over the top. To my eyes the pregnancy was obvious, I was very slim and I had a belly that poked out at the front, well defined by the fitted outfit I wore. They didn't ask anything about it during the interview so I assumed they were okay with it and didn't volunteer it."
"Got the job and on the first day, at orientation, I got introduced to two other women who had been hired the same day for other roles in the admin office I was in (one was accounting assistant, one was admin co-ordinator, and I was admin assistant/receptionist)."
"The two other women were also pregnant (one looked enormously so) and as it turned out we were all due within the same week. The woman who hired us said to me happily that they were very excited to have us all start, and I would be getting trained by the new admin co-ordinator so I could take over some of her responsibilities when she went on maternity leave."
"I had to tell them that I was also very pregnant as well and would be needing to go on leave at the same time as the other two girls. The organization was stunned and didn't know what on they were going to do when we all went on leave. Fortunately they were very comfortable with me coming back to work and bring my baby with me after two months off. It worked out great and I stayed working there for around eight years. Incidentally all three of us gave birth within a day of each other hahaha." ~ Trin20k
Hide & Seek is Hard. 
"I was playing hide and seek at a friend's with her younger nieces. I was a teenager and not super committed to playing games with a couple of eight year olds, and as a joke I put myself in a corner between a wall and a bookshelf, picked up a pillow off the bed, and held it in front of my face. I was immediately visible once you cleared the doorway - I'm not a small person, and from the chest down I was just a person standing, completely unobstructed."
"The kids came through, looked right at me, and kept searching with growing confusion. The friend, my age, came in behind them thinking I'd gotten somewhere in the closet, and I had to actually wave to catch her attention. Her dad even came through to join the hunt, and I had to actually clear my throat to get him to notice me. Nobody was able to spot me on their own. I was just standing in plain sight holding a pillow in front of my face, but nobody noticed."
"Once everybody figured it out they were in hysterics - no one believed I'd been just standing there the entire time, they were certain that I had been hiding elsewhere in the house and then got caught after I'd moved. Nope. Y'all just can't see!" ~ healthycopingmech
Painted On. 
"When I was about 13 I shaved my little brother's eyebrow off. I don't know why. I panicked and drew it back on with a marker with little hope that I would get away with it and avoid my mom's anger. Somehow I got through the first day, then the first week, every day getting ready for school and re-drawing his eyebrow on with a marker to hide it from my mom. After a couple weeks it had largely grown back and I realized that by some miracle I got away with it. Years later I came clean to my mom and she still refuses to believe that she didn't notice." ~ tj_w
I felt like a ninja.
"Cue me and the boys playing Hide n' Seek Senior Year. It's nighttime. Dark. It had previously rained. The only light is from streetlights and my friend's garage. Friend A counts to 20 in the garage, we all scatter around the outside of his house and a bit further to some other houses."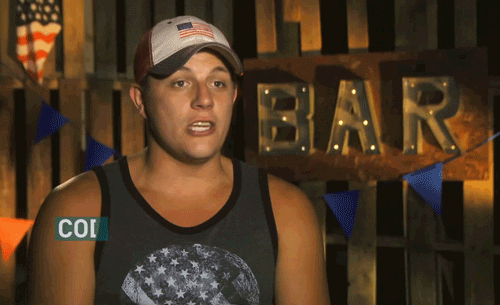 Giphy
"I decide to hide not ten feet away, in the shadow of an AC unit right outside the garage. I was wearing full black, and I pulled my hood down to cover my entire face. I was in a crouched fetal position."
"I heard Friend A walk past me about five times, from both directions. I peaked once and he even glanced directly my way. I was in plain sight. I felt like a ninja." ~ CheesyfaceChase
Lost Hair.
"My hair used to be extremely long. Like all the way down my back.On a whim, I decided to cut off most of it, and rock a rather short haircut. I walked around my parents place for over an hour before they actually noticed." ~ P0ster_Nutbag
​I was the one who didn't notice.
"I was the one who didn't notice. My now-husband, way back in the early days of our dating, replaced our giant, bulky, old CRT TV with a nice, new flat screen with his Christmas bonus. He did not tell me any of this. I came home from work one day, wandered past the tv and him playing video games, into the bedroom, back past the tv, then the kitchen."
'Took me a good 45 minutes before I went " wait something is different and I don't know what." He still had to point out to me that what was different was the old TV was missing!" ~ sunshineandcloudyday
SHUT UP!!!!
"In boot camp when it was lights out, many of the other recruits wouldn't sleep and would try to monologue to us about whatever. I wanted to sleep (since we always wake up at 5am) and they kept us awake 'til midnight with their debates... At the top of my damn lungs I yelled bloody murder "SHUT THE HECK UP!!!"... This went on for a while."
"Then I started doing it earlier and earlier and towards the end I didn't even wait for lights out. No one besides my rack mates knew it was me, no one else ever figured out my voice or where it was coming from. My rack makes got a huge kick from it and well they kept it real because we needed our 4 to 6 hours of sleep." ~ alexromo
Seeing Things. 
"My friend came to work wearing new glasses one day and when she was showing them off to me I mentioned that I was surprised because I had no idea she needed glasses. She had been wearing glasses most days (on and off) for a YEAR since we started working together. Multiple people confirmed this when I didn't quite believe her. Maybe I need glasses." ~ Reddit
Sign Off.
"Photoshopping notes of doctors for high school to excuse myself for hundreds of missed hours." ~ MarkusPhi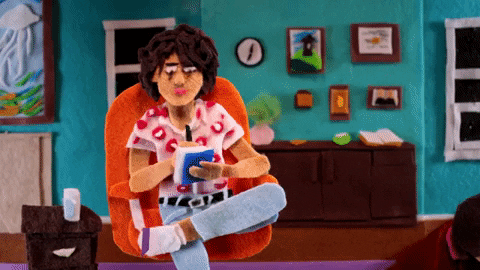 Giphy
Want to "know" more?
Sign up for the Knowable newsletter here.
Never miss another big, odd, funny or heartbreaking moment again.

Keep reading...
Show less