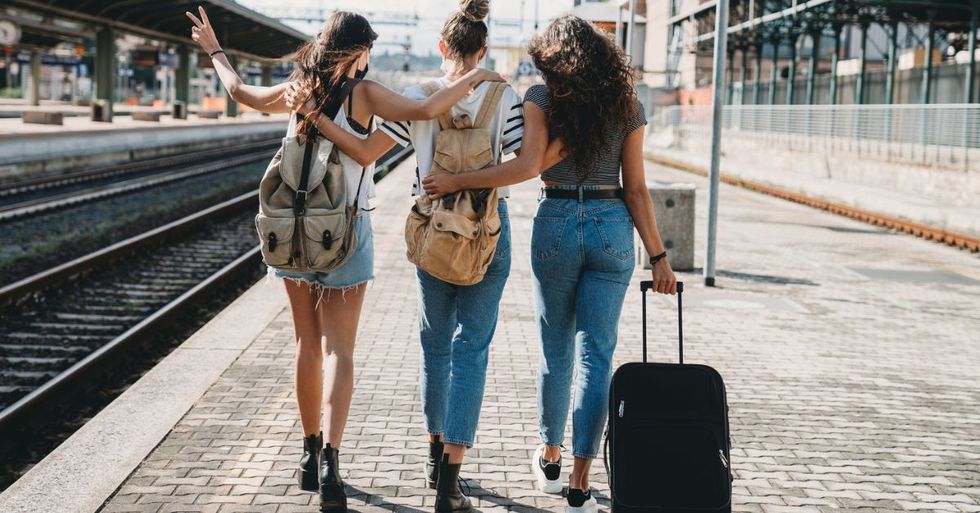 When traveling with others, it's best to be able to rely on each other. Plans are made with a purpose. It's especially important to communicate clearly because surprises rarely go over well. Now there is nothing wrong with spontaneity, but veering wildly from the plan, without warning can be an issue for some. Case in […]
More
People who work in hotels see all kinds of people.
As people from all over the world go in and out of their revolving doors on an almost daily basis.
Though it might be the housekeeping staff who see more than anyone else, and frankly more than they would care to see themselves.
Unlike most of the staff, they have the unique position of going into the guest's rooms.
Of course, they tend to knock to make sure no one's there before entering.
But every now and again, the guests don't hear the knock or put on the "please makeup room" sign on their door instead of "do not disturb."
Leaving the poor cleaning staff with a memories they would likely do anything to forget.
Redditor KingSlayer1287 was eager to hear the most shocking and scandalous things hotel staff members have ever witnessed while at work, leading them to ask:
"Hotel staff of Reddit, what's the most NSFW moment you witnessed at your hotel?"
Thrills On Ice

"I worked at a hotel in a resort town in Europe."
"One of the maids called me to a room for help because it has been the location of an extremely messy sex party from the touring ice show."
"There were used condoms thrown everywhere, and half the furniture was busted."
"The poor maid was in tears, thinking she'd have to clean it."
"The hotel management called in a professional cleaning company who wore disposable suits, respirators, and eye protection."
"They got rid of most of the stuff in the room and charged a fortune to the ice show."- Abba_Fiskbullar
Get A Room! Oh, Yeah...
"I work overnights in a relatively small hotel, and at least 6/7 days a week, I hear people banging loud as hell in their rooms."
"Half the rooms have a balcony that overlooks the lobby, and those doors aren't soundproof at all."
"We had a man sleepwalk out of his room to the lobby, bucka** nude."
"We had a woman show up in the lobby in her underwear."-
Now That Takes Effort

"Night Auditor here, I've seen a LOT."
"Multiple times I've had guests come to my desk completely naked because somehow they locked themselves out.... naked... this one always confuses me."
"But probably the most NSFW was a guest who had gotten violently ill."
"We're talking projectile vomit on EVERY surface of the room, blood all over, feces, pee... everything was just destroyed..."
"Obvious call to paramedics, but I can never unsee it."- thefuzzmuffin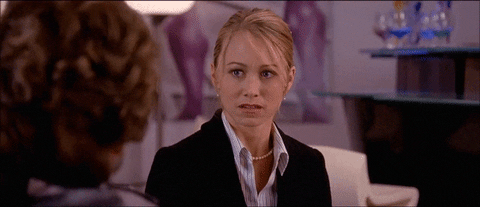 Vomit Reaction GIF by MOODMAN
Giphy
Amazing He Wasn't Hurt...
"I was a night shift security guard for a motel right next to the biggest casino in my state."
"It was common for addicts to hang out around the property."
"One time, this guy staying in a room did a lil too much and had a freak out."
"He was running around the walkways naked."
"I had to ward him away from peoples rooms so they wouldn't be disturbed."
"He ended up jumping off the second story balcony and splatting on the pavement."
"He scampered up and hauled a** across the street into a car dealership."
"Not my problem anymore."- Carniverousphinctr
Will Someone Think Of The Children?!?!
"Sex party in the hot tub while children were playing in the indoor pool steps away."
"I had to break that up and throw them out."
"And deal with the numerous lengthy yet justified complaints about it."- mbgal1977
When Wigs And Disguises Won't Cut It...
"Many years ago worked at a very nice casino resort as a valet."
"Regular pulled up in his nice BMW and went to help."
"Wrote up his ticket got his keys and offered to help load up his luggage on a bell cart while we waited for a bellman."
"Opened the trunk and went to lift the suitcase and I about threw my back out."
"I wasn't prepared for it to be so heavy."
"Gave it another go and heaved it onto the bell cart and heard a sound."
"'Mr, did your suitcase just make an oof sound…?'"
"Long story short a sex worker who was banned from the property was stowed away in there to get up to his room."- thatryanguy1
Why Stop When The Getting Is Good?
"When I was young and worked at a hotel, I was delivering a room service meal and when I got there, the door was closed but had been left just shy of being latched."
'I knocked and the guest yelled 'come in'."
"I pushed it open with the cart, walked in and he was standing there with a big grin on his face watching my reaction as I wheeled in the cart, butt naked with a woman, also naked."
"He smiled and reached out and handed me a $20 he had in his hand and said to just leave it there and close the door on the way out."
"I guess part of their kink was to show off and see my reaction."
"I was shocked, but never said anything to anyone at work."- TXjoedog
NSFW? More Like Safety Hazard!
"The most NSFW thing that I recall was the manager getting on a cleaning kick and accidentally mixing the wrong chemicals in the pool area."
"A toxic gas started to form and the whole hotel had to be evacuated at like 5 AM."- DtotheJtotheH
What Haven't They Seen?
"I did security for a hotel for a number of years."
"I've seen naked guests locked out of their rooms, wedding parties break into the pool area and jump in fully clothed."
"Had a drunk woman climb out her 3rd-floor window and chill on the roof just below."- silverwarbler
Storefront?

"Best friend was GM I was manager."
"He found over the years 4 guns, 5 lbs of weed (at once)."
"The amount of guns is what surprises me."
"Only one out of the four guns found over the years was reported stolen."- Drewpacabra
So Many Questions...
"I wasn't working at this hotel and was just a guest, but I wish I had asked the staff for the backstory."
"I'm checking into my hotel in Los Angeles and was given my keycard."
"Head to the room, open the door, and there's a naked buff dude standing next to the bed just staring at me."
"He says nothing."
"I apologize and quickly leave, assuming somehow I'd gotten the wrong room."
"I go back to the front desk and say, 'I'm sorry, but I think you gave me the wrong room. There's a naked man already in there'."
"The worker at the front desk says, 'Sh*t, not again'."
"He pulls out his walkie talkie and says, 'Security? He's back again'."
"They assigned me to a different room and I was on my way."- telarium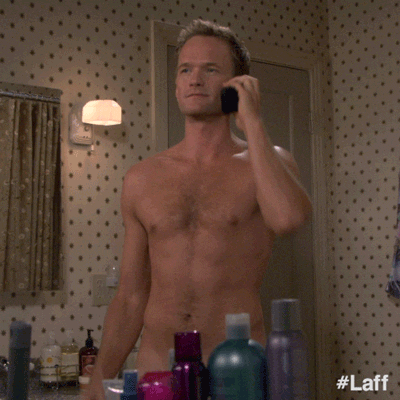 How I Met Your Mother Comedy GIF by Laff
Giphy
What hotel guests do within the privacy of their own room is their business and no one else's.
Even so, it couldn't hurt for them to remember to lock their doors.
People are gross. That's something you learn very quickly whenever you work a public-facing job, especially in the hospitality industry.
I recently stayed in a low-end hotel with lovely staff. I was comfortable and slept well. I made friends with the manager and I hung out in the lobby while she told me stories about some of the nasty people with nasty habits who'd come and go. Safe to say she'd seen a lot of gross things in hotel rooms in her day.
People shared their stories after Redditor ThorBjorn asked the online community,
"What's the worst thing you've seen in a room after someone has checked out?"
"A blonde wig..."
"A blond wig filled with poo, hidden on the top of the wardrobe."
TheDoctorYouDeserve
I was wondering where I left that, sorry!
"I was
"I was on a business trip to Lansing, MI several years ago, maybe back in 2005 or so. I walked into my hotel room and a dark splotch on the wall caught my attention. It turned out to be black mold that crept into the bathroom ceiling. I stood under it for a moment stunned by it. When I turned and looked at the bed, the comforter was covered in blood."
"The blood was dried and set in on the comforter. It looked like nobody had been in the hotel room since someone was murdered on the bed - this is what it looked like. I have no idea. Looking closer, there was dried blood on the carpet and splattered on the wall."
"I took my things and went back to the check in desk and told them there was something very wrong, told them about the mold and the dried blood everywhere. They told me they didn't have any other rooms and didn't seem concerned about the dried blood."
"Roomless, I was sitting there in their lobby at 10PM not sure what to do since I had nowhere to stay. But that was a lot of blood. The longer I sat there the longer I realized something was seriously very f**ked up. So I called the cops and reported it. The police showed up in minutes."
"They got access to the room. The desk staff glared at me as if I had committed some sort of terrible affront to decency the entire time. I was asked to give a statement, which I did."
"Having done my part, I was outside trying to find other hotels to call to check for availability. Call after call, booked hotel after booked hotel. A woman eventually walked over to me and started chatting me up. The short of it is that she was a sex worker and offered to take me in and show me "a good time until the sun rises."
"I wound up going back to the airport and flying home after all of that."
FluidWarthog1613
This story took me on a journey.
An actual journey.
"There was a larger lady..."
"There was a larger lady in the room. When she checked out she told the front desk she made a mess in the room and she apologized, I was the housekeeping manager. When we went into the room I've never seen so much s*it in my life."
"It was on the bed, all over the floor, on the bathroom counter, all over the toilet, on the walls, and everywhere in the shower. Me and the housekeeper both start gagging so bad. She told me I could write her up if I wanted to but she wasn't cleaning it."
"Ended up having to call one of those biohazard companies in."
samiam871
When the biohazard unit gets involved, you know it's serious.
"This one guy had checked out super suddenly and it baffled us as he had paid for a week or so. The housekeeper went up there and immediately called me to come up to the room. We found several POUNDS of shrooms and whippet cannisters."
"But more interesting was that this man had taken EVERYTHING in the room and crafted a pyramid in the center of it straight to the roof. The only thing holding it together was pure tension. Anything that wasn't bolted down was in there. Pretty impressive honestly."
[deleted]
Sounds like he was on quite the trip and then frightened himself!
"He was on the last little..."
"A dead guy. He was on the last little bit of life he had left. Turns out he had some horrible blood cancer or something and he decided to go on vacation."
Arrowtica
This is so sad. Sorry you had to witness that.
"Tore..."
"Tore the flimsy towel rack apart and made a pipe out of it by stuffing wool or something."
Black38
I feel like we have to respect the ingenuity at least... but cleaning that up does not sound fun.
"Feces floor to ceiling..."
"Feces floor to ceiling and a number of $10,000 bill bands. I still don't know how to make heads or tails of it."
TheMrBurke
You lost me at "feces floor to ceiling."
I don't ever want to see that.
"Room perfectly ok..."
"Room perfectly ok except for a condom stuffed with s*it on the bed. Why? And how?"
Really_McNamington
Do you really want to know the answer to that question?
"One of our night maintenance guys got called up to a room to find he was supposed to help a guy who had got a Perrier bottle stuck on his penis. He did not help."
Really_McNamington
Don't want to know how they did that. Noooope. Sounds painful.
If these stories put you off of working in hotels forever, we understand. The hospitality industry in general? Yeah, we get that, too. It's not easy.
Have some stories of your own? Tell us more in the comments below!
Want to "know" more?

Sign up for the Knowable newsletter here.
Never miss another big, odd, funny, or heartbreaking moment again.
People turn shameless when they're on vacation.
Hotel guests can be careless about their personal possessions and strange behaviors. Besides, they may figure that they'll never run into any of the other guests or hotel staff, and so the impressions they make don't really matter. But the impressions some guests make are, frankly, unforgettable. When gross belongings and strange habits are discovered by hotel workers, best believe that the story will be shared forever.
Redditor u/LucasSkudy asked hotel workers, "What was the strangest thing you've found in someone's room?" And it proved that hotel staff remember everything.
Do you have something to confess to George? Text "Secrets" or "
" to +1 (310) 299-9390 to talk to him about it.