Not asking for this to happen to anyone lucky enough to read these stories, but you would hope if you had to make a trip to the emergency room it would be for a worthwhile reason. Maybe you damaged your clavicle bravely fighting off some purse snatchers or injured your fibula rescuing your family from a sinking ship.
Not sticking something up your butt and getting it stuck there.
On purpose. Which happens a lot more than you might think.
Warning, some of these tales from the E.R. are NSFW.

Reddit user, SnooSuggestions5585, wanted to hear about the craziest things happening in hospitals when they asked:
"Redditors who work at the ER, what's the funniest/absurd reason someone was brought in?"
You would expect most of the injuries obtained in the E.R. to come from kids, right?
Sigh, Teenagers Gonna Teenager
"Over the course of an evening 9 teenagers were brought in by their parents for hallucinations."
"None of them were able to tell us what was going on and they trickled in over about 4 hours."
"The drug screens were negative but they were all pretty badly out of it."
"Finally one of the siblings was able to tell us they had all been at the same party."
"One of the teens had talked the others into trying mushrooms except they were mildly poisonous ones instead of the ones you take for 'shrooms'."
"They were all tripping like crazy for the night and they had to stay in the ER until they were sobering up."
"It was amusing for the staff but the parents were quite irate."- Liz4984
Revenge!

"I'm a cop and was posted at the ER on night shift once and a woman came in because she got bit by a snake in her yard."
"She was panicking because of it."
"Her hand was really swollen."
"One of the nurses asked if she saw what kind of snake it was and she said no."
"A couple of minutes later, these two boys, maybe 12-13, came running in holding a decapitated snake in pieces inside of a ziploc bag."
"They had rode their bikes from their house to the hospital to show the doctors the snake that bit this lady."
"Like these kids heard about what happened and went on her yard to kill the snake just to do this."
"It was funny and oddly heartwarming." - Amy-Paradise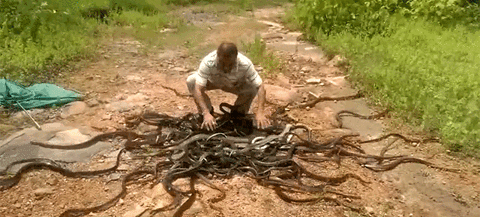 bag snakes GIF
Giphy
​You really need to question the sanity of some of these people before they visited the hospital. Ask questions like, "Why weren't you brought in sooner for just being alive?"
Seemed Like The Right Call To Make At The Time
"When asking what brought him in today he said he was arguing with his sister about the car and how much this costs and carrying on, had to stop and ask him again why is he here."
"His reasoning was he was tired of arguing with his sister and would rather be admitted to the hospital."- Lil-one
Wait Until All Of It Is Good And Out
"A woman came in after she cut her hand pretty bad making dinner."
"Instead of putting any pressure on the cut to stop the bleeding, she was just letting herself bleed into a large kitchen bowl."- Virtual-Cupcake-1510
With Friends Like These?
"Had a guy come in after smoking weed with his friends and then he also did PCP."
"His friends got very paranoid and he became aggressive towards them, so naturally they attacked him… with a samurai sword."- Current_Recording_64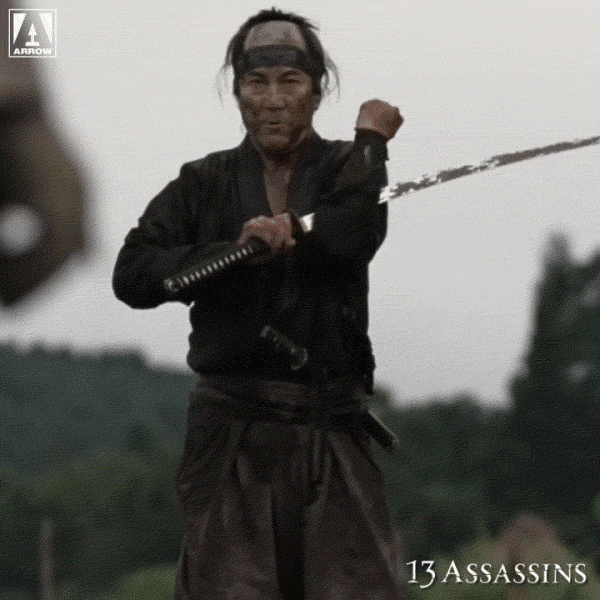 Mean Lets Go GIF by Arrow Video
Giphy
And then there's these.
The ones you were all waiting for with delightful, Schadenfreudian glee.
The sex ones.
Wait, This Happens So Often There's A Nickname For It???
"As a kid, my Mom's EMT stories seemed hilarious, but as an adult I don't think I'd have the patience to tolerate so many people's bullsh-t."
"That being said, here goes the story."
"They get a call that a guy has a sever nosebleed, is already feeling dizzy, losing a lot of blood and can't stop it."
"Needless to say they floor it, thinking the guy might bleed out, get there in very short time."
"They ring the doorbell, a guy answers."
"They ask him to take them to the victim, he says they're talking to him."
"Not one drop of blood on the guy's face or clothes or anywhere, cheeks all rosy, doesn't look like he's lost a lot of blood so they ask what the deal is."
"He says it's hard to explain but he was worried they wouldn't send him an ambulance if he was honest about his symptoms and he's in a lot of pain."
"My mom tells him to sit down and tell them about the symptoms while they take his blood pressure."
"Guy says he'll do all of that, except for the sitting down part."
"Now, I bet you all know where this is going."
"Turns out he'd been trying to convince his girlfriend to experiment sexually with him."
"She wasn't into it, was afraid it would hurt."
"So the guy says 'if I show you on myself, will you do it?'".
"She reluctantly said yes."
"So the guy lubes up a thin aluminum flashlight, 2 cm thick, 15 cm long, bends over and jams it up where the sun don't shine"
"So they put him on a stretcher and the driver says into the radio 'ambulance 98 returning, 28 year-old male with severe constipation and foreign object in his rectum'."
"'Uhm... it's a flashlight, in case it matters'."
"'So, uhm... Yup, you heard that right: we're bringin' you a firefly, stand by'."- Corvus_Manufaktura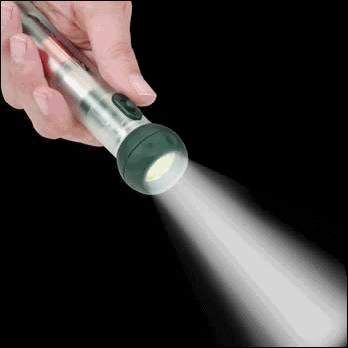 flashlight GIF
Giphy
Don't Pick Him Up And Shake Him!
"My Mom worked in the OR and said there were soo many guys who ended up there because of things they 'slipped and fell' on."
"The craziest one for her was the guy who 'slipped and fell" on a snow globe'."- craponapoopstick
He'll Follow You Until The Afterlife Fades Away

"I got admitted to the ED after a heavy leather bound photo album fell off the top of a free standing wardrobe during sex and hit me on the head."
"I ended up with 12 stitches and a multi layer closure and luckily missed out on a skull fracture."
"The album in question? The woman's wedding day with her dead husband."
"We joked later that it was his ghost disapproving of our random horny moments."- W2ttsy
Wait For The Twist Ending...
"Girl came in saying she had a lump in her vagina."
"Very worried about it."
"Examination revealed nil abnormalities."
"On further questioning her new boyfriend said he felt it during sex'."
"It was her cervix."- craycraxy
A visit to the ER shouldn't be a laughing matter.
Unless it's the only possible treatment for the scenario.
I've got a burning desire... or I'm just burning...
"Last night a guy came in with a fever."
"CORRECTION: His PENIS had a fever."
"Yeah, you read that right, his Penis, only, was warmer than usual, and it freaked him out."- Dont-Lick-the-Cat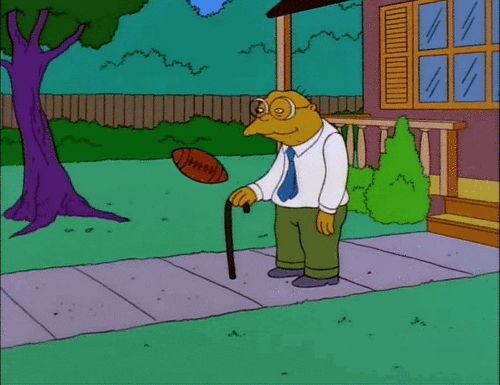 Giphy
She's a woman now
"I'm not an ER nurse, but my dad used to be and I'll always remember this story."
"This mom brings her 13 year old daughter in and swears up and down that her daughter was bit by a bug and has a nasty infection."
"She says the daughter was bit by mosquitoes while they were outside, and her chest was swelling abnormally because of it."
"So they do some kind of physical exam, and my dad had to explain that the daughter wasn't bit by mosquitoes, she just hit puberty and was developing breasts."- katelikesmilk
What are you trying to hide?
"One I was working at the ER a young guy 18-19 years old, who was at a party, came piss drunk and unconcious."
"In order to get a urine tox screening we decided to take a urine sample through a catheter."
"When the nurse pulled down his pants we discovered that he had put a thick white sports sock in his underwear."
"After the test was taken we decided to put the sock back where we found it so he wouldn't die of shame when he woke up!"- alexfrommalmoe
"I've decided that if I ever have a sex-toy-related injury that requires medical care, I'm just going to own it."
"In fact I'll go one better."
" if I have an innocuous boring injury that sends me to the ER, I'm going to claim it was an athletic sex injury instead."-triggur
The Lengths some people will go to

"I don't work in the ER, but did my preceptorship in the ER my final semester of nursing school."
"Had a lady come in via EMS because her partner 'threw a red solo cup at my back and I'm having terrible pain now!'"
"It was the most dramatic show I've ever witnessed watching that poor EMS crew roll her into a tiny room as she's flailing and fake-sobbing."
"ER doctor looked at me, the student, and said 'take her this script for Ibuprofen'."
"She's discharged'."
"He spent maybe 2 minutes in her room."
"I took the script in, gave her the discharge paperwork, and she threw it in my face and told me to 'get f*cked'."
"No joke, she came back 2 hours later, walked into the ER herself, with a bloody towel wrapped around her hand."
"She told me to hold out my hand."
"I already had gloves on."
" She placed her thumb in my hand and said 'can I get some pain medicine now?'"
"'Calm as could be and very manipulative-like."
"This lady legit went home and cut her thumb off to get pain meds."
"She didn't get any pain meds, she got an immediate air lift to a major hospital to have emergency hand surgery."-deadheadramblinrose
Read the instructions carefully

"Directly from a family member who's an ICU rn."
"Patient was brought in to the ER after making a homemade dart gun with a needle and straw but blowing IN, instead of out."
"He swallowed both."
"Thought he could just poop out both but ended up with massive GI bleeds and losing most of his blood."
"Needed surgery and a ton of blood product transfusions."- Responsible_Rent7970
It goes both ways

"I don't work there, but I personally went to ER and asked them to fake a report for me so I can skip a test I had the following day."
"They agreed."- MarwanMero
Maybe we rely a but too much on technology

"A woman came into the ED recently because she couldn't find her pulse on her apple watch so she was worried that her pulse was gone."
""The doctor taught her how to find her pulse via jugular and sent her home."
"lmao."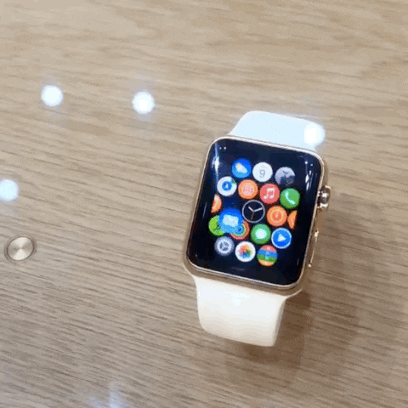 apple watch connecting GIF
Giphy
You don't outgrow fun... or do you?
"Friend of mine in college thought it would be fun to swing in one of those rubber tire bucket like baby swings in the park."
"So she managed to put her feet through the leg holes and climb in."
"Only to get completely stuck in the swing."
"Her circulation was getting cut off by the swing and her legs were swelling like crazy."
"We tried to pull her out but no luck."
"We had to call 911."
"She ended up going to the ER with the swing still on her to get cut out of it."- RainbowUnicorn0228·
Maybe ease up on the self gratification.

"I volunteered at a hospital in HS, and my only time in the ER, a gentleman came in complaining of severe pain in his groin area."
"Come to learn he was a chronic masterbater, and had rubbed considerable patches of skin OFF."
"Not only that, you could hear him yelp randomly, and it was because he was doing it then too!"- notnotasock
As always, all of the salutes and respect to the people we pay to heal us. The things they have to outright not laugh in our faces for must be a mountain impossibly high.
Want to "know" more?
Sign up for the Knowable newsletter here.
Never miss another big, odd, funny, or heartbreaking moment again.
Keep reading...
Show less
Healthcare shouldn't be this complicated.
You feel sick? Go to the hospital. Have someone take care of you. Add on the complexities of insurance, the lack of good-faith instilled in doctors on hour 40 of their shift, and suddenly you have a stay that turns into a nightmare you can't escape from.
They only get worse from here.

Reddit user, emeraldthemnstr, wanted to hear your healing horror stories when they asked:
What's the worst hospital experience you've ever had?
A visit to the ER shouldn't be like rolling the dice to decide how you're going to be, but sometimes it's like placing your health in the hands of fate.
Except fate is a jerk.

You Never Know How Your Body Is Going To React
"The day after I graduated from college I began having intense stomach pains that kept me awake for almost three days straight. Went to my doctor and they sent me over the ER to get a CT scan immediately. Found out I had a pretty significant intestinal blockage."
"Anyway my first night in the hospital I was finally able to get kind of comfortable but the nurses were insistent that I take Ambien to sleep. I told them that I hadn't slept in 3 days and that I was going to pass out any minute. Well they kept pushing, and like an idiot, I took the pill. Fast forward to the next morning where I wake up with dried blood all over my arm and I generally hurt all over. It turns out I got really messed up on the Ambien. I stripped naked, ripped out all my IVs, and ran down to the nurse station while babbling nonsense."
"To this day I've never seen my mom as mad as she was when she found out what happened."
Tcraw487
One Diagnosis Is Not Like The Other
"I fell over on a night out, not drunk, and hit my head. Only 6 months before I'd had brain surgery for a tumour."
"Scooped up by an ambulance, dumped in A&E, treated like a drunk student. My friends kept telling them that I wasn't drunk, I'd had surgery etc. but they left me in a corridor and ignored me."
"After 3 or 4 hours on a bed in a corridor with no attention, I decided I was fine and checked myself out. It was ridiculous. I felt a bit woozy but recovered fully the next day."
"They should have taken me a bit more seriously, not treated me like a drunk, just because it happened on a Saturday night."
shinyhappycat
There's nothing worse than telling a doctor what you know for sure in your heart is wrong and they don't listen to you.
Makes You Wonder Who's A Professional And Who Isn't

"I was 16 and I had horrible stomach pains for about a week and just chalked it up to the flu going around school but it didnt go away it continued for another week and I lost about 12 pounds and started throwing up after almost every meal my dad was sufficiently freaked and took me to the ER and the doctor was convinced I was pregnant."
"She kept badgering me about even though I repeatedly said there was absolutely no way I could be pregnant unless I was the second coming of the virgin mary, I was on the verge of tears when she went so far as to tell my dad to leave the room so I could "admit the truth" she finally made me pee in a cup and SURPRISE! no baby."
"Then after just pushing really hard on my stomach and asking me if it hurt she said it must be my kidneys and wanted to start me on meds but warned that if it wasnt actually my kidneys that the medication could cause serious damage."
"It was at this point my usually very calm and reasonable dad completely lost his mind and asked the woman if she had actually gone to med school and pulled me out of there."
"We went to another hospital where I found out I needed an appendectomy immediately. Screw that dumb doctor not every teen girl with stomach pains is pregnant."
Cactusjacks22
It Is What We Thought It Was
"I got a call from my mother that my sister had been taken out of her apartment in an ambulance because she was in so much pain she couldn't walk- I lived about 40 minutes away but I was the closest so I went running."
"She's in crazy pain but they're basically ignoring her. Not appendicitis based on the initial exam, but in that general area. They're giving her the good drugs and asking her constantly if she's on her period or pregnant but do nothing else to actually check on her. Eventually (hours later) we're taken into an exam room (that fully isn't cleaned, they put a puppy pad over some blood on the step up to the chair) and they do an internal sonogram on her and say "Honey you need to pee, there's something in the way" she does and they still say "well something is in the way but it's so big that we know it couldn't be torsion which is what we're worried about- take some drugs and go home it's probably just cramps or a cyst that burst. Nothing to do."
"She goes to her gyno in the morning and is then rushed into surgery at a different (better) hospital. She had a grapefruit sized dermoid on her ovary, that did in fact cause ovarian torsion, and she lost her ovary as a result."
curlsandcollege
Strap Yourselves In, People
"I was in a car accident, and T-boned by someone going 65 MPH. My hand was caught in-between the collapsing car and the steering wheel."
"When I popped my hand out, I felt the bone break and it hurt like hell."
"Amazingly enough, I had no other injuries. But the EMT's were taking no chances, and thinking I was in shock, they strapped me onto a backboard and hauled me off to the ER. While in the ER, I was asked several times if I was injured anywhere, and I repeatedly said "My hand is broken, it hurts real bad. BTW - this backboard is hurting the hell out of the back of my head, can I get off of it, please? Also, can you please call my mother?" (FYI - I was 19)"
"2 hours later, I was still on the backboard, and I had lost count of how many people had asked me where my injuries were and me repeating "my left hand is broken...." but that was when I was finally taken down to the X-ray dept. There, they X-ray'd every bone in my body..... but my left hand."
"I am wheeled back to the ER, still on that goddamn backboard. By this time, I have a horrendous headache from where my head is resting on that 2x4, and I sit for another couple of hours. During that time I was able to talk a nurse into bringing me a bedpan so I could relieve myself, and that is when the cop came in, opened the curtains so everyone could see me, and give me a ticket."
"Finally, after having been in the ER for 6 hours, I've FINALLY talked someone into calling my mother to come pick me up, the doctor had FINALLY said I could get off of the backboard and when my mom got there (I'm not sure how many traffic laws she broke to get there as fast as she did), he let me know I had no injuries."
"Yes, I do. My hand is broken."
"Young lady, I'm the doctor, I tell you when your hand is broken."
"That was when I grabbed my ring finger on my left hand and pulled it out, and the break became visible through the skin."
"My hand is f-cking broken."
"Mom, being an attorney, just looked at the doctor and said "Does the word 'malpractice' mean anything to you?""
"Back down to the X-ray dept I went, and lo & behold, my damn hand was broken, but the Doctor was all how it was well hidden and that's why they missed it the first time (no, you missed it the first time because NO ONE X-RAY'D IT)."
"A couple of days later when I went to an ortho doctor to get my hand rebroken and the bone set (OWOWOWOWOWOWOWOW) I pulled out the X-ray to take a look to see the break and how "hidden" it really was."
"Goddamn if you couldn't see that break right there in the middle of the bone plain as day."
"It's 20+ years later, the bone never did set correctly, and I'm starting to get arthritis in it. I can tell you when the weather is going to change based on how badly my hand is hurting."
bored-now
Both of my stories are with the same doctors, at the same hospital, having two different c sections. Fool me once and all that right?
For my first son, I was enduced and in labor for over 24 hours. My epidural had worn off. All of a sudden 4 doctors and 2 nurses rush into the room. 3 of the doctors just stick their hands in me at the same time and are frantic. One nurse is by the monitor. Finally she tells me that I'm having a 6 minute contraction and my son isn't breathing.
She gives me a shot to stop the contraction and my son starts breathing again. I am having a panic attack, and she tells me to calm down, and it's a side effect of the shot. Never mind that I'm freaking out because I'm worried about my son.
Good Lord...
"They say I need an emergency c section, though they don't take me back for another hour. My doctor was eating dinner. So even though it was an emergency, we had to wait."
"Also, the nurse never told my doctor that my son had swallowed his poop, so he was never properly cleaned out when he was born. He ended up having to stay a week because he got a lung infection from it."
"For my second son, I had a scheduled c section."
"The anesthesiologist had an intern with him, and said she will be putting in the epidural (I believe that's still what it is when you have a c section)."
"Those of you who don't know, they have to put this needle in your spine, and God help you if you move too much or they make a mistake."
"This girl put the needle in, and was moving it around. She couldn't find the right spot. It was beyond painful, and so hard to keep still. I could still feel my upper abdomen, which I don't think is normal, but since they were cutting my lower abdomen, I didn't say much."
"The doctor had 2 nurses lay their full body weight on both of my ribs to try to push the baby down. I told my anesthesiologist that they are hurting me and to make them stop. After a few minutes they did and my son was out."
"As soon as he was out, I felt EVERYTHING. I was breathing heavily, trying not to scream. The anesthesiologist gave me about 5 more doses over about 7 minutes before he told me he couldn't do any more. It didn't work. I could feel things ripping inside of me."
"It sounded and felt kind of like when you are ripping the guts out of a pumpkin with your bear hands."
"The doctor asked why I was breathing so heavily. The anesthesiologist told her I was in pain and could feel what she was doing. Her exact words: "well tell her to stop, I need to get her uterus back in."
"She didn't care how much pain I was in, and she acted like I couldn't hear her."
"Afterwards, the anesthesiologist was very apologetic. He said they have to go by certain guidelines. I was more understanding because the medicine finally kicked in, I was holding my son, and just happy it was over."
"I ended up opening my scar during my stay because the next 2 days, I felt absolutely no pain. My son was choking on throw up and the nurse left him at the foot of my bed, so I jumped across my bed to help him."
"I'm glad I no longer go to that doctor.'
jennyv753
Maybe just sleep it off the next time you're feeling under the weather?
Serious Bad Luck
"I went in to a minor surgery to remove a lip cyst and woke up 8 days later with my right leg amputated above the knee. Bad reaction to anesthesia caused heart failure. I was 23 at the time and 24 now. I'm one of those people with chronic bad luck."
F-ckmerit
It's Just A Spinal Tap
"More the doctor's office that screwed up than the hospital, but the resulting hospital visit wasn't fun."
"Went to college health center with classic mono symptoms (didn't find out it was mono until 8 months of symptoms later). They had me take a nap, then woke me up suddenly, in a dark room, half an hour after they closed, to inform me that I was being quarantined for meningitis and had to go to the hospital. I didn't want to take a $1000 ambulance ride, but they refused to let me drive myself or have a friend drive, so my options were "either take an ambulance or stay here all night."
"After three hours in the ER, the doc showed up and got all ready with his gloves, mask, etc. since I was "contagious." Then he took one look, ripped the mask off, and said "you look way too healthy to have meningitis, but since they brought it up I have to do a spinal tap anyway." Then he proceeded to stick a needle in my spinal cord while muttering angrily about how foolish of a diagnosis it was."
"tldr - paid a lot of money and got a needle in my spine because college docs insisted i had meningitis instead of mono"
jmacey72
Never forget, if you don't feel safe, just leave. No law saying you have to stay and receive treatment from people who you feel don't have your own interests at heart.
Keep reading...
Show less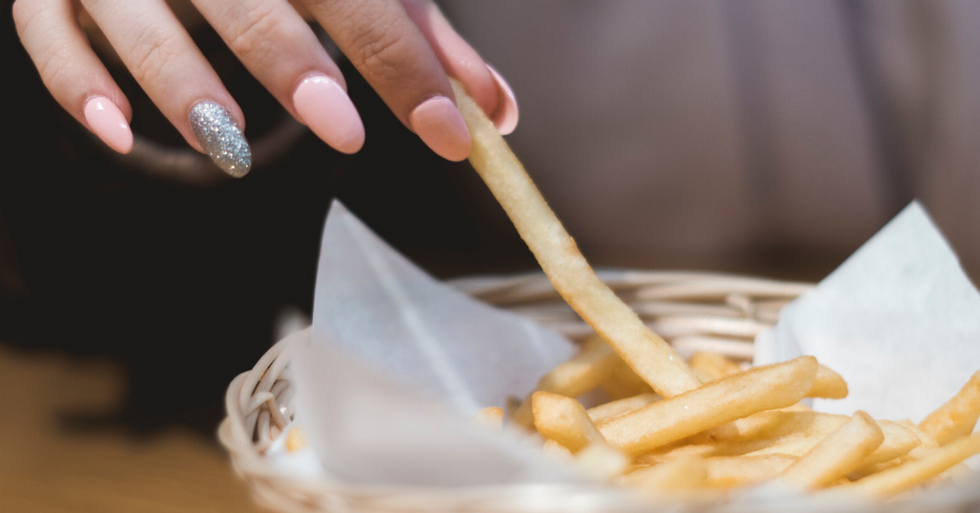 When medical conditions result in the need for a loved one to make significant lifestyle changes, one wants to stand in solidarity with them. But having to make these changes doesn't come easy. Particularly if it means having to stop eating your favorite foods. Redditor throwawaycrohnhusba made an effort to join her husband when he […]
More
Why do we gamble with our health?
I know the most common answer to that is... "because healthcare costs are a joke!"
But as we get older, or even in youth, we need to be listening to our bodies.
Sometimes a trip to the hospital is just necessary.
Nobody wants to go, but if it's a live-or-die situation?
GO TO THE HOSPITAL!!
Redditor phenomLG wanted compile a list of all the reasons we need to take medical issues seriously right away. They asked:
"Whats a sign you need to immediately go to the hospital?"
I hate hospitals. And I always think I'm dying. So you can only imagine...
Better as Bud Light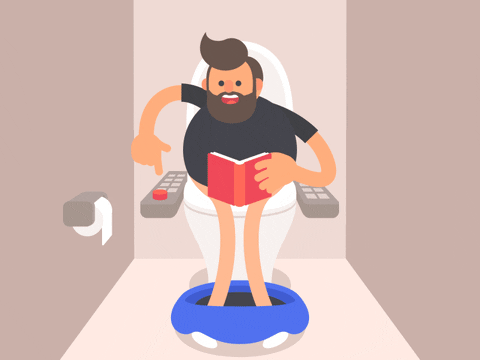 toilet GIF by James Curran
Giphy
"If your pee is so dark that it looks like Guinness, go to the hospital immediately."
Bizarre_Protuberance
You Hear Me?
"Sudden hearing loss. The faster you get to the hospital the better the chances of reversing it (statistically) In my case I left it two weeks and I'm now living with tinnitus."
codeni
The Burst
"Welp my Appendix just exploded inside of me 3 days ago and my tell was that just standing or moving at all became excruciatingly painful, so if normal activities are causing pain, especially severe pain like I was feeling, maybe consider calling 911."
QKsilver58
"My husband had appendicitis and went to a walk in clinic that turned him away, telling him it couldn't be appendicitis (even though he could barely walk and had pain in the exact right spot), so he took a cab to the hospital; he was in surgery 4 hours later."
gbarill
Jab
"If you have pain in your right side of your stomach and someone pokes you and it's incredibly painful, you might have early signs of appendicitis. Source: had same symptoms last week, was uncomfortable but my mum jabbed her finger into my side where I screamed in pain so she packed me off to the hospital where I had an emergency appendectomy that night."
CatchItonmyfoot
Stay Open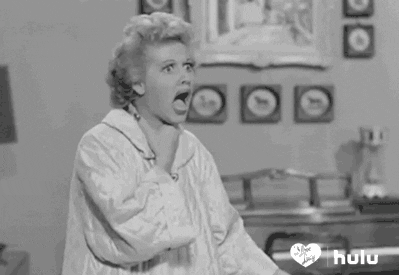 Choking Cbs GIF by HULU
Giphy
"You took a new medicine and your throat is closing up. Anaphylaxis can kill you."
twitch_delta_blues
I knew that closing in the throat was something.
Head Trauma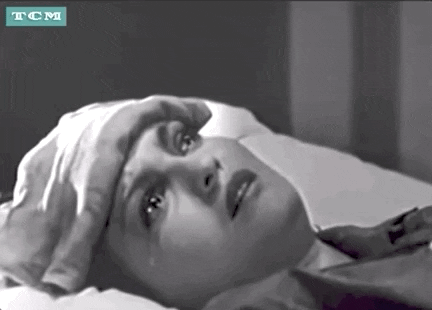 Tired Pre Code GIF by Turner Classic Movies
Giphy
"I had a headache for a week and was getting confused at work. 2 brain tumors and hydrocephalus led to immediate intake."
Dano4600
Thunder
"The worst headache of your life, which came on very quickly. (Also known as a 'Thunderclap headache'). Even with no other symptoms, this needs to be looked at immediately. Could be any range of things, but what they're most concerned with is a ruptured aneurysm."'
lillathrin
Bad Combos
"If you have chest pain and especially if it's combined with sweating, nausea/vomiting, left arm pain, and/or a sense of impending doom. ETA: Yes I know women present differently. Yes I know symptoms can vary by person. I was a paramedic. I definitely didn't expect this simple little post to blow up so I apologize for not including it."
Zoo_In_The_Bathtub
Linda Blair Problems
"Haven't seen this one mentioned yet:"
"If your newborn spits up bright green. Solid sign there is a major intestinal blockage (even without any other symptoms) and there is a small window to get that corrected before death. I have forgotten a lot from my STABLE class, but I do remember that."
pwg2
The Floater
"Wife had a pain in her shoulder and told me about it. Said it was uncomfortable but not a big deal. I told her to send her doctor a message. Went in for an appointment immediately. She had internal bleeding from an ectopic pregnancy and had about 12 oz of blood floating around in her."
coalnation
Rainbow Vision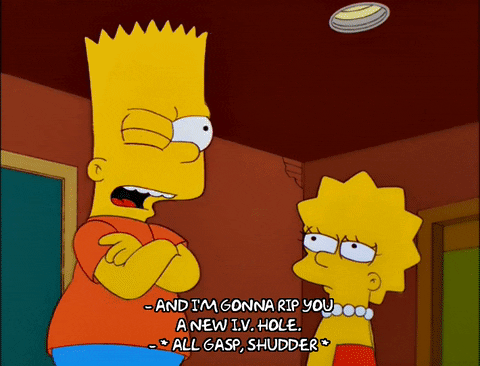 trying bart simpson GIF
Giphy
"Losing the ability to see color in one or more eye, sign of major issue in brain."
aladdyn2
This list made me nervous. I can't take it. I wanna live!

Want to "know" more?
Sign up for the Knowable newsletter here.
Never miss another big, odd, funny or heartbreaking moment again.
Keep reading...
Show less
*The following article contains discussion of suicide/self-harm.
Traumatic scenes depicted in movies–as convincing as they seem–will never compare to witnessing real-life horrors.

Curious to hear from strangers who wish they could unsee the tragic situations in life they happened upon, Redditor RoyalAd1555 asked:

"What is the scariest thing you witnessed with your own eyes?"
These deaths will haunt the following Redditors for a very long time.
Dying Mother
"Finding my mom unresponsive 6 months ago and subsequently watching her die as a result. Neither cellphone or landline would connect to 911 so she was dead by the time we got through to anyone. It was 20 minutes but it felt like a lifetime and now 6 month later I get the grief and the trauma with no mom to comfort me."
– Practical-Implement3
Helping A Bereaved Woman
"Helped a woman move out of her apartment maybe 90 minutes after the murder-suicide of her husband and son. Police were done, but the room had not been cleaned."
"A very sad and harrowing experience for me."
– HoarsePJ
The Site Of Tragedy
"When my son drowned in my in-laws pool, they had put that yellow crime scene investigation tape all around the pool. While planning his funeral, my mom and i had to make a trip out to my in-laws to get his favorite animal for him (It was at their house because I was working that day and they were watching him). My mom pulled all the way up into the driveway not even realizing what she had done and I had a clear vision of the pool with the tape. when I saw that, I immediately felt nauseous and had to vomit."
"It's been almost 1 1/2 years and I still can't bring myself to go out back. The rest of the family still gets in the pool when they have get togethers but I have no desire to get in that pool. I just hang out inside the house and people will come in and talk with me but when I see their pool, it's like I get hit with a semi truck-i feel like my breath is knocked out of me as the image of my baby going down the pool slide and then laying in a hospital bed fighting for his life take over my brain and I can't make it stop."
– NecessaryCod

Watching A Friend Flatline
"Was there in the emergency room with someone close to me who had just died from a completely random brain aneurysm/seizure episode. Being there overlooking someone you know well, and had just spoken to hours earlier, with a flat line on the heart monitor is pretty terrifying. Especially when we had talked about death (as an idea/concept) not long before."
– Mathgoat123
Many horrific sights can be seen while driving.
A Malicious Plan

"When I was around 6, we were going to my grandparents' house. On the interstate, a woman seemed to fall out of a car in front of us. My dad had to swerve to avoid hitting her. That's all I saw with my own eyes."
"It turned out the woman's husband was trying to murder her and make it look like a suicide. The intention was for my dad to have run her over, but he had time to swerve. The husband had an accomplice behind us, but he couldn't hit her because of how my dad swerved."
"Some other good Samaritan stopped and gave the woman a ride to the hospital. The guy who gave her a ride and my dad were both called as witnesses at the trial. The husband and the accomplice were both convicted for conspiracy for attempted murder."
– Awdayshus

The Roadside Conflagration
"Car ablaze on side of road with passengers crawling out very slowly and on fire."
– BillyBobbaFett

"Driving home from work one night. Tons of traffic. I am sitting second at a red light turning left and this truck stops in the opposite lane to leave an opening so the car in front of me can turn(it was a traffic jam so he would have stopped in the intersection if he didn't). Car turns, out of nowhere this semi is driving super fast along the side of the road (not in a lane). One second the turning car is there, the next second it is blown to pieces. I was turning right behind them. Maybe was 10 feet away from it. Felt almost surreal how close I was."
– Korbindallas912

These Redditors talked about people taking their own lives.
The Graphic Scene

"Driving up to an Amusement Park, King's Island, there is this longer exit as it gets off the highway. My friends mom just started getting on the exit lane and me and my buddy, probably around 10 watch this person jump in front of a semi. It was like the whole world just kinda stopped for those few moments. As we drove passed the body I fully remember the jeans around their ankle and the body just twitching."
"I really don't think I will ever forget the image."
– Sarnick18

The Siblings Who Didn't See It
"My mom tried to kill herself Infront of me, watching my siblings hide away from what was going on was the only reason I stayed remotely sane. I'm glad they didn't see any of it."
– user deleted

The Passenger Inside
"Well it wasn't me but my friend noticed a vehicle in the parking lot at his work had been there a few days in the same spot. He walked up to it and found a man who blew his head off with a shotgun. Suicide note was on the dashboard."
"His work offered him counseling with a professional if he needed it but he declined."
"He did tell me though months later he had a nightmare about it, but that was it, and he never really thought much about it after that."
– Trickery1688
No One Should Ever See This
"Step dad hanged himself in front of my mum and me. I feel you."
– RinaPug

Handling Death Claims
"Working property insurance I see death claims occasionally. Usually when someone tries to or successfully commits suicide. I had one where a mother and daughter were murdered by the daughter's ex boyfriend. You could see the trails of blood in the hallway of the mom trying to drag herself to get help and where he caught her and shot her in the head. It was awful. I cried and ended up having to have the claim transferred to a more seasoned adjuster."
– Moxson82

These Redditors thought they were about to witness shootings.
Threatening The Dog
"When I was a kid, I witnessed my drunk step father wielding a loaded shotgun with the safety off. It was pointed inches from the face of my dog, and he threatened to blow her head off right then and there. Fortunately, he didn't shoot her in front of me. Bad news is that she 'ran away' (leaving her collar and tags behind) a few days later."
– VeloxFox
In The Face Of Death
"Guy pointed a revolver at my face and pulled the trigger, thought for sure in that split second I was going to die."
– bigsam63
These are examples of the unpredictability of animals.
A Kid And A Horse

"I was standing 6 feet way and watched a full size horse kick some kid in the face.. The kid is now considered mentally challenged."
– IllprobpissUoff

Happy To Be Alive
"Happened to my friend a few months back. She owns several horses and this happened with the last horse she would've ever expected. The wound on the right side of her head, was 6 inches long, down to the skull. I wanted to faint when I saw the pictures. After several months of complications with swelling and infection, she's finally healed up, but she now suffers with all that comes with TBI and PTSD. She said she's just glad to be alive. It's crazy how your whole world is changed just like that."
– Abject_Presentation8

One incident I will never forget is a house party gone wrong, where the apartment's occupant had her brother and his friends over. They were high and one of them carried a firearm while another guy had a knife.
A brawl broke out in the living room, and all I remember is jumping off the second-floor balcony with a handful of my friends and running to the car as we were being pursued.
Six of us managed to pile into the car as the guy pounded the rear window of the vehicle with his fists.
Cops eventually showed up.
Nobody was killed, but some of my friends were taken to the hospital to have their wounds treated. It was the most terrifying thing I've ever experienced and made me never go to another party in a long while.

If you or someone you know is struggling, you can contact the National Suicide Prevention Lifeline at 1-800-273-TALK (8255).
To find help outside the United States, the International Association for Suicide Prevention has resources available at https://www.iasp.info/resources/Crisis_Centres/
Sign up for the Knowable newsletter here.

Never miss another big, odd, funny or heartbreaking moment again.
Keep reading...
Show less