The best part about being a homeowner (or renter) is getting to decorate. Since I live with two nerdy men, 90% of our interior design are lightsabers mounted on the walls. It's cool! But I also treasure the parts of the house I do get to decorate.
I like to think my taste is cool. Unfortunately, some home design trends just aren't. Here are some of Reddit's most hated interior decorating trends.
U/eatjamtoast asked: What is a home design trend that you hate?

Let's start with the basic sh*t. Because when you see one "Live, Laugh, Love" sign, you see 'em all.​
Too much to read.
I hate words in my house, in basically any form, hate the live laugh love signs. I hate it even more when people do it like my mom and plaster everything in a combination of bible quotes, motivational quotes, and the worst of all the names of our family members.
Also hate anything that is clearly supposed to have a practical use that is only around for decoration, pillows, chairs, tables, if it's something that anyone has to be told not to use because their first instinct is to treat it like any other thing of it's kind then it's stupid and I hate it.
Just in case you didn't know what that was.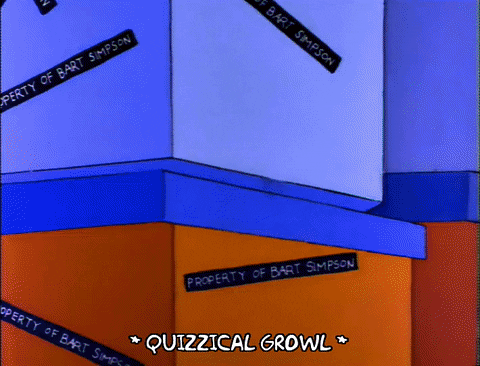 Season 3 Episode 13 GIF by The Simpsons
Giphy
The weird names on things kitchen stuff. I think that Rae Dunn brand is stupid. I don't need a butter dish that says "SPREAD" or a tortilla dish that says "TORTILLAS".
This is a pet hate of mine. Finding something like a bread bin that doesn't say "Bread" on it is becoming increasingly difficult.

Yes I know the bread bin contains bread - that's literally it's sole purpose. Labeling it makes me look like I need help remembering what it is.
Only good if you live on a farm.
My fiancé and I are house hunting right now and I swear every other house has those sliding barn doors!
I don't mind them on office or living room spaces. But they are hella trendy. What I really hate is that I have stayed in two hotels that have them as bathroom doors. The barn door does not seal closed so you'd better be okay with all the sounds and smells being leaked.
The future is here, but in some homes, it overstays its welcome.
Technology isn't always the answer.
I love smart tech in a home, but most of it is horribly implemented and just bad. You shouldn't need touch screens everywhere to control your lights, or have to pull out your phone.
Pulling out your phone to change the colour of your lights isn't "smart" that's just making your lights dependent on your phone. Having your lights auto dim when you start a movie; that's smart.
Also; my refrigerator doesn't need to connect to the internet, ever.
The WORST Sims game.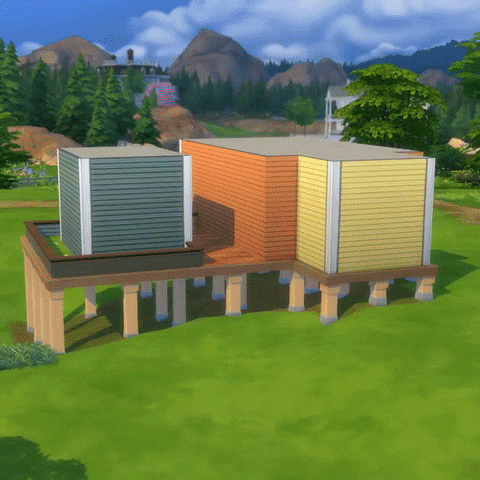 Tiny House GIF by The Sims
Giphy
I live in an older subdivision in a suburb that is seeing a ton of development. Mostly McMansion type subdivisions are going up everywhere. There's two things about these areas that drive me nuts.
First off, why do these developers hate straight roads so damn much? Trying to navigate through a newer subdivision is the biggest pain in because roads always seem to turn back on themselves. That sh*t is dumb.
Second: why cut down every single goddamn tree you see and then plop down a bunch of big, ugly-a** houses with zero personality and THEN plant a bunch of little baby trees? Why would anyone want to live in a house with no trees anywhere? If they spent any amount of time planning what they're actually trying to build they could very easily leave large trees and patches of nature in yards or between houses. Instead they treat the development like a kid playing The Sims.
I effing hate new housing developments. They all look horrible and since most of them have HOAs it's probably a bigger pain in the a** to live in one.
No one needs a window by the bathtub.
Full open concept - especially when people take all the walls down in an older home with a traditional layout. I like separation of space and defined rooms. I can handle partial open concept but that's about it. We actually extended a wall in one of our house to create a more defined den and living room
Floor to ceiling windows in the private rooms of the home like bedrooms and bathrooms. Or giant window at the bath tub. If you in the middle of no where and have no neighbours I guess, but in a subdivision or city the curtains or build have to be closed most of the time.
Not the popcorn ceilings.
I've been an interior designer part time for multiple years and I could go on for hours about all the design choices many people make that just deserve to be kissed by a sledgehammer.
But if I had to narrow it down, I'd say these three things:
Tile Countertops. The look is massively dated and it's impractical. You'd have to scrub the cracks a lot to get water stains and other substances that will be trapped inside. And when the tiles get damaged and loose your counter will be a pain in the a**.
Popcorn ceilings. I was working with a crew to renovate a house and the ducking bathrooms had popcorn ceilings. The steam from the shower was making it fall to the floor. Ridiculously tacky. Avoid popcorn ceilings and just paint it.
All white interiors. Just writing that irritated me. An entire white room psychologically bothers me. No color whatsoever. Unappealing to the eye and mind as well as near impossible to maintain from stains. All white is only good for rooms you never use which will never happen.
Take it from any interior designer- color is EVERYTHING. It can make or break a comfy home.​
Actually colorful houses are great tho.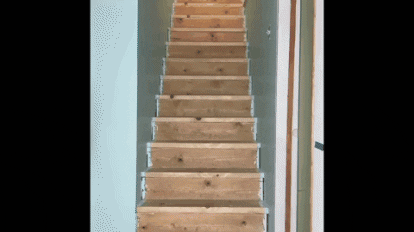 Time Lapse Rainbow GIF
Giphy
"Super Colorful!" homes that are just blank white walls and taupe furniture but they put up 1 painting and have a bright teal cushion in there somewhere. I f*cking hate interior design magazines now.
Edit: Honorable mention: I work in a fabric store and I've had too many people tell me the incredibly boring beige upholstery fabric from the wall might be "too wild" in their house because it's a slightly darker beige than the fabric they brought to match (that we don't sell and can't possibly match).
"Well, what other colors do you have in the room" "Oh, this and white walls."
Too much white means a lot of dust.
All white everything. I have so many friends (20-25ish) doing the all white furniture in an already white room with white or silver accents and I just don't get it. Any little bit of dust shows up and it's so stark that it's borderline painful to look at if the room is sunny.
It's totally personal, though. My partner and I do all black everything in white rooms. A lot of people absolutely hate it.
Talk about tacky.
I hate it when the front facade of a house has like nice siding, expensive stonework or brick, good quality windows with nice trim, windows and door sizes and arrangement are aesthetically pleasing, etc., but then the sides and back of the house are cheap vinyl siding with different, cheaper, uglier windows and trim, and the fenestration layout is hideous chaos. Like...you know people can see your house from angles other than directly in front, right?
Decoration is key for a happy home. Because if your environment is one that makes you feel happy, then it'll boost your mood tenfold. I'm a big fan of natural light, plants, and colors- that's where I thrive.
But again, it is all a matter of personal taste. Your house is your house- have fun with it!
For those looking to live within a Homeowner's Association's jurisdiction – whether it's a house in a community, or a unit in a condominium – specific rules imposed by the HOA can be downright ridiculous.

Potential buyers who become aware of demanding HOA rules like maintaining manicured lawns "twice a week" can easily elicit a hard "no" response.
Basically, if the neighborhood you're considering to live in looks like Wisteria Lane from Desperate Housewives, do a 180. Otherwise, you'll have your work cut out for you.

Curious to hear from homeowners on the internet, Redditor imback91 asked:

"People in HOAs: what's the dumbest rule in your Home Owners Association agreement?"
Keep reading...
Show less