It's very popular to create rumors about certain historical figures to which there is no concrete evidence.
Such as the sexual orientation of Abraham Lincoln or the alleged illicit behavior of Lewis Carroll and Hans Christian Andersen.
Understandably, these mostly baseless, though not necessarily false, theories are left out of history books.
However, there are facts about legends of history which have, indeed, been proven true, but are also left out of history books.
Namely, because it's not the sort of information many would consider in polite conversation, let alone be talked about in schools.
Even if it is no less fascinating than anything else we might learn.
Redditor waxlrose was curious to learn about all the juicy, overlooked details of historical figures guaranteed to make others blush, leading them to ask:
"What's a NSFW detail about a historical figure that's normally left out of the history books?"
Dubious Contributions To The War Effort...
"During WW1, sex workers in Britain were more expensive if they had STD's."
"This was because if a soldier hired them and got infected, the soldier could be honorably discharged, and not have to fight in war."- KaleBrew
Talk About A Huge Relief...
"Ancient Egyptians believed the god Atum created the universe by pleasuring himself to ejaculation, and that the ebb and flow of the Nile corresponded to how much."
"To honor this, the pharaohs ceremonially pleasured themselves into the river."- -weef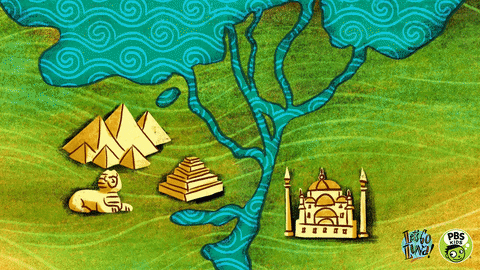 lets go luna fun GIF by PBS KIDS
Giphy
The Downside Of Their Journey...
"Lewis and Clark described the screaming sh*ts that they got from eating unfamiliar food (camas) in detail in their journals."- ayriana
Shameful Thanks For A Hero
"After Alan Turing cracked the enigma code, essentially ending WW2 years earlier than expected and saving countless lives, he was thanked by the British government in the form of chemical castration."
"All because he was a gay man."- Dangerjayne
Talk About Man About Town...

"Probably said here elsewhere, but Victor Hugo, author of The Hunchback of Notre Dame among other tales, was a notorious philanderer who had affairs on top of affairs with sex workers throughout his life."
"When he died, ALL of the brothels in Paris had to close because so many attended his funeral."- JLWilco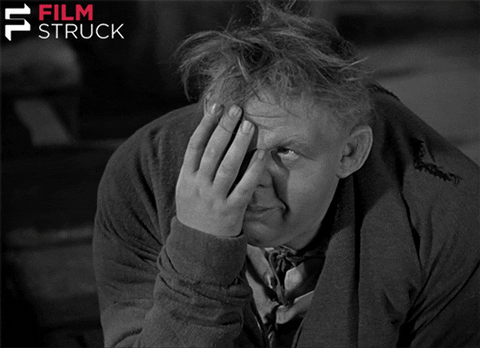 classic film vintage GIF by FilmStruck
Giphy
None Of Our Business What They Got Up To In Private...
"Pyotr Tchaikovsky was a submissive bottom."
"In one note, never before published in Russian or English, Tchaikovsky wrote of a young servant 'with whom I am more in love than ever', adding: 'My God, what an angelic creature and how I long to be his slave, his plaything, his property!'". Reddit
The Secret Lives Of The Founding Fathers

"Patrick Henry, the American founding father better known for his quote, 'give me liberty or give me death', kept his wife imprisoned in a cellar because of her frequent outbursts due to postpartum depression."
"His wife had eventually died in that cellar, and he had buried her in an unmarked grave."
"10/10 quote but the wife killing part always seems to get left out of history texts."- sortatoxic
"Ben Franklin was a notorious flirt, and hit on and/or ploughed just about every woman he ever met."
"Single women, married women, young women, old women, women of title, women of the royal line."
"Protestant women, Catholic women."
"All of them."- TheLastIronMan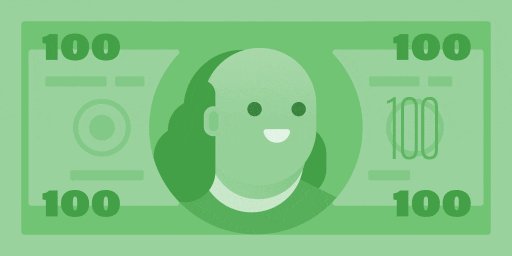 Giphy
Taken To Heaven... Just Not Back...
"French President Félix Faure died during oral sex"- Wiesterfeler
His Bubble Was Bound To Burst Eventually...
"It's said that Henry VIII 'exploded' in his coffin."
"Dogs then licked up the Henry juice."- B1LMAN
It's understandable why most of this information is left out of history books.
Particularly those used in schools.
Even if it might make students' attention might be a bit more attentive...
Keep reading...
Show less
Elementary school teachers are liars! Or, at least, they omit the truth.
When we were young, we learned about historical figures such as explorers, inventors, politicians, artists, and more who were touted as great people.
However, if we look past their great discoveries or triumphs, the people are not all that great. Christopher Columbus is a prime example.
Some people, like the late, great Steve Irwin, indisputably earned the title of good guys. But as we all know thanks to people like Coco Chanel or Bill Cosby, those who paint themselves as good guys are actually bad guys.
Curious to find out more, Redditor CongressPotatoKenobi asked:

"Which one of histories 'good guys' was actually a horrible person?"
The Pitfalls Of Jealousy
"Tinkerbell. Everybody thinks she was so cute and such a good friend to Peter, but she was a jealous psychopath and tried to murder Wendy several times."
– Wishyouamerry
"But in the books Peter Pan is also basically a psychopath. There are multiple references to the Lost Boys being worried he'd kill them."
"One of the main points of the book is that children don't know right from wrong unless they have parents to teach them."
– Xypharan
"Just watched Peter Pan (the cartoon) the other day, and yeah she was a psycho. I would love to see Aubrey Plaza play her in the inevitable live action remake cause damn, Tink was cold blooded."
– ILeftMyBurnerOn
The Great Inventors Of Yore
"Alexander Graham Bell!"

"This man did not invent the telephone. Several people were working on similar technology at the same time. Antonio Meucci invented it first, but there was a court case over who got the patent rights. Meucci died before the case was settled, and Graham Bell won the glory he didn't deserve."
– Im_Bill_Pardy
"Alexander Graham Bell was also a eugenicist who sought to end sign language in schools and wanted to ban deaf people from marrying each other. He was a staunch Oralist and the repercussions of his actions are still being felt in society today through such Audist institutions like the Bell Institute."
– Gilsworth
"Thomas Edison. Biggest monopolist ever and took credit for other people's work. He didn't invent the lightbulb but bought the rights and advanced it. He monopolized the film-projector + most films at the time and it took a very long lawsuit to get that fixed. He took many creations from his employees and put his name on it. This wasn't illegal because of the contracts employees signed at the time but it's not exactly a sign of goodwill. I don't hate the guy but his character is often completely exaggerated."
– Deleted User
"Thomas Edison and Henry Ford's winter homes are in my city. As soon as students are in 3rd grade, all the schools would bring us to their homes, and really try to make you believe both of them were good people."
– floridas_lostboy
The Great Inventors Of Now
"Steve Jobs was a bit of an ass"
– RetroEnthusiasm
"Bit was an understatement. The guy was a massive credit hog, abused his employees and normalized a lot of sh*t business practices that are now used by several other companies."
– KingOfCook
"Elon musk"
"he generally treats his employees like sh*t, overworking them and making them work in unsafe conditions"
– Noist_Mugget
"He recently cut wages of all his workers after tesla stock went up"
– Deleted User
"There are higher injuries and safety violations in his factories compared to other car manufacturers, and there are emails about disregarding safety protocols in order to push more production."
"Workers could lose limbs, be permanently injured or die."
– B3taWats0n
Those Writers Though
"Rudyard Kipling, author of 'the jungle book.' Paraphrasing, "the only way to keep the yellow man out is to bring the white man in.""
– GelicateDenius
"Also got his son killed by using his influence to get him into the army despite his sons piss poor eyesight. Bit of a d*ck move if you ask me."
– InspectorGoole
"Dr. Seuss was a total POS who cheated on his first wife with her friend, His first wife, Helen, had Guillain-Barré syndrome, and knowledge of her husband's affair drove her to eventual suicide. He then remarried her friend."
"Her suicide note; "I am too old and enmeshed in everything you do and are, that I cannot conceive of life without you," read her suicide note. "My going will leave quite a rumor, but you can say I was overworked and overwrought. Your reputation with your friends and fans will not be harmed.""
"also, this does not make him terrible, but he had an "adult" nudie book called the seven lady godivas. It's weird yall."
– Apatheticforcredit
"HP Lovecraft. Maybe not one of the "Good Guys," because he didn't pioneer any social movements or anything like that, but he's one of the most influential writers of the 20th century."
"He was also insanely racists. And not just your typical "white man from 1920s America" racist, but passionately, unapologetically racist. The kind of racist that made other racist 1920s American white guys say "Dude, chill out with the racism.""
– Goliath89
The Music Sounds Different Now
"In some aspects to the 60's and 70's when the Beatles were icons, (I'm talking about John Lennon) people who use his image and face for "peace" sometimes forget important details."
"-He abused women"
"-He was a cheater"
"-Total hypocrite on the "no possessions" when he lived one of the most lavish lifestyles of his time"
"-compulsive liar"
"-almost killed a few people (look up Bob Wooler, he was almost punched to death by John. There were others but their stories have either been disputed or unclaimed.)"
"So whenever I see a bunch of people sing imagine I just shake my head in shame cause so many people don't even know how bad he was but act like he was a saint."
– Chefshipwreck5897
"Elvis Presley. He never wrote a song in his life, but his record label made any song writers hand over half of their writing fees, before Elvis would record their songs. He's credited as a co-writer on the majority of his songs."
– Biker27
Talks Too Much
"Ellen"
– rlyllsn
"You can see it in her TV persona. Basically, all those little off-handed put downs she does that pass for jokes are the real Ellen. She doesn't seem to be trying to make them funny either. People just take it that way because it is Ellen."
"She is the kind of person that is always talking shi=*t about everybody else and if she gets called out of in, "It was just a joke". But you know it really wasn't."
– olderaccount
Those Political Leaders
"Gandhi was a racist, sexist and actively encourage Casteism in India. The inspiring story you hear about his protest in South Africa is a myth."
– paradoxperumal
"Thomas Jefferson was all kinds of hypocritical. On one hand he claimed slavery was bad, and on the other kept over 200 slaves."
– Notmiefault
"JFK"
"Getting shot and being handsome allowed people to overlook the Bay of Pigs, his womanizing and mafia connections as well as his numerous destructive political policies."
– NotwiththeCIA
Should've Known
"Mother Teresa."
– W_I_Water
"An old co worker worked with her. She was a former nun who said mother Teresa was ruthless and cruel to all of the nuns who worked alongside her."
– OnemoreSavBlanc
"She believed in salvation through suffering so her aims were not to heal people but to "park" them and let them suffer without painkillers before dying."
"Also she used her celebrity to amass charity money and use it to other goals like missionary work and line the pockets of the Vatican."
– inckalt
"As well as having her nuns baptise those of different faiths without their knowledge or consent. They would ask the patients if they wanted to be saved (paraphrasing), and without any further details being asked, her nuns would baptise them on their death beds."
– comrade_batman
Absolutely Evil
"I'm not seeing John Muir in here. Yes, the Father of the National parks made absolute certain indigenous people were NOT included in any of this process as he wiped them out and they're practices. Yosemite would most likely be much more lush and fertile had he let the native people take care of it."
– yes_dinner
Saving The Wrong Person
"John Smith from Pocahontas, that motherf*cker deserves to rot"
– Agent-Orange666
"Saw a good art about 'What if Pocahontas was a dude'"
"It ends with him shooting Pocahontas in their first meeting."
– Deleted User
Even The Scientists Aren't All Good
"Issac newton, while arguably the greatest physicist ever, was a pretty big POS."
"He was very closed-minded and didn't like criticism. After quickly becoming famous for his incredible works, he frequently abused his powers to bury works intended to contradict his own."
– lawrence1998
My, How Despressing
"A shorter list would be "Which of history's good guys were truly good guys and not later found out to be complete a$holes.""
– Sngglbnny
Is anyone a good guy?
Do you have anyone you'd add to this list? Let us know in the comments below.
Keep reading...
Show less
Fame is one of those things people tend to want until they have it - or that people shy away from entirely because they understand how sideways it tends to go.
But what about people who end up famous after their deaths? Or who managed to get more famous from the afterlife?
Reddit user GCanuck asked:

"Which historically famous person do you think would be most surprised to learn they are famous?"
If your mind immediately went to that Vincent Van Gogh scene from Dr. Who then 1. you're a nerd (me too!) and 2. you're not alone.
Here's what Reddit had to say.
​The Little Painter Fellow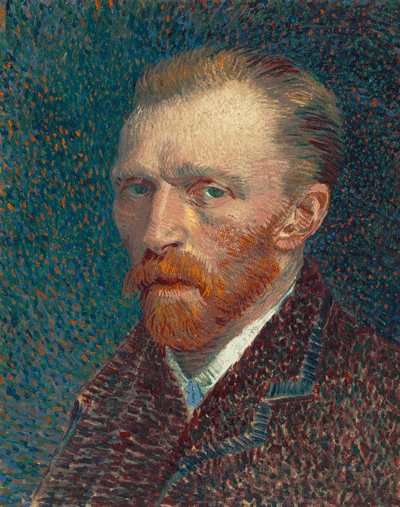 Van Gogh Reaction GIF by GIF IT UP
Giphy
"Vincent van Gogh."
"His paintings made billions of dollars for rich people, but couldn't trade a painting for a meal during his lifetime. Had to be supported by his brother."
- strangedigital
"It's amazing how many pieces he created in such a short time considering how unsuccessful he was in selling them while alive. He kept banging them out despite his 'failure'."

- Fthewigg
"He was encouraged to paint as part of his therapy/rehabilitation. He was a pretty disturbed guy, and not in a romantic way."

- redkat85
"Have you ever seen the Doctor Who episode about him?"
- LucyVialli
"This is what actually prompted this question for me."

- GCanuck
A Diary
"Anne Frank"
- 222sick
"Most of the world has read your diary."
"Wait...All of my diary?"
- SuperstitiousPigeon5
"Her Father censored some of it because she talks about her body and other things, I can't really blame him for that. Modern prints are uncensored."
- zerbey
"She'd have been thrilled, but I don't think surprised is the right word. She dreamed of being a published author. She knew that she was creating something valuable and important with her diary, and she wanted it to be published."
- shhhhquiet
"I wonder what she'd think of her diary being turned into a stage play including a Broadway run and thousands of young girls doing their best to recreate all the different facets both good and bad of how she acted during her time in the Annex."
- Lil_Jazzy
Herman The Whale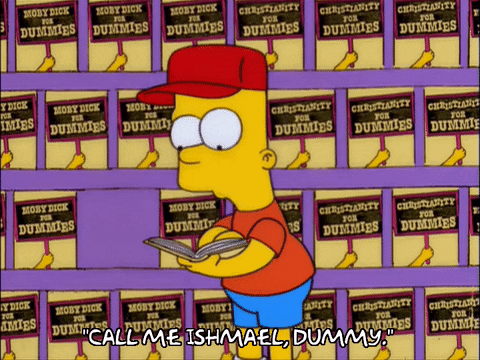 bart simpson episode 3 GIF
Giphy
"Herman Melville."
"He had a few early successes with seafaring books, but Moby-Dick was a total flop that got bad reviews, and he spent the final decades of his life working in the customs department."
"He would be shocked to hear he wrote the Great American Novel."
- centaurquestions
"My boyfriend is from New Bedford, MA. Apparently the local high schools there had big murals depicting scenes from Moby Dick." "
*That* would have amazed Melville."

- DoctorWatchamacallit
"Dude, that's the best part. You never know what's coming next. It's like:"
"45 pages of unintentionally hilarious interactions between Ishmael and Queequeg."
"30 pages of incredible, brooding drama written in stage play format for some reason."
"100 page essay about some minor technical details about whaling and how some village built their chieftain's hall out of a whale's ribcage."
"Another 20 pages of Ahab chewing the scenery and embodying mankind's self-destructive obsessions"
"Then Queequeg speaking his last words but then deciding he doesn't want to die yet and miraculously springing back to life."
"Like the ocean itself, you have to accept that Moby Dick moves at its own pace lol"
- jesushitlerchrist
We, In Fact, Did Not Forget
"Hegelochus, an actor who mispronounced a word in a play in the year 408 BC and was mocked so thoroughly for it, his mistake has made it into the collective ledger of things historians know about and generally agree upon having happened… and we're still aware of it over 2,400 years later."
"Imagine making a meme today with a word misspelled, and others found that misspelling so egregiously mockable that you are still known for it in the year 4422."
- film_composer
" 'Oh come on get over it. No one will remember about that by tomorrow' -Hehelochus' mom probably"
- Kehl21
"He must have went to sleep running the moment in his head over and over again, but he probably tried to comfort himself by thinking, 'well, at least it's not like some space-age hyper-futuristic society is going to be discussing this thousands of years from now on their magic boxes powered by lightning in some language that doesn't even exist yet'."

- film_composer
"This is the worst nightmare of everyone that has been told to stop worrying because no one will pay as much attention to what you're doing as you."
"Counter point: Hegelochus."
- LectureAfter8638
Kafkaesque
"Kafka. Rarely published in his lifetime, and when he did it was in obscure magazines which nobody read."
"Explicitly asked that his works be destroyed after his death. It's only because his executor disregarded his wishes and published his unfinished works (which comprise the majority of his oeuvre) that he is famous today."

- IllustriousSquirrel9
"Kafka is a good example of how much can anxiety ruin a person's life"
- Sergey32321
"Kafka wrote his stories to be shared with a group of friends like story-telling at a campfire"
- Responsible_Put_2960
Gospel Legend
"Blind Willie Johnson."
"He passed away blind, poor and sick, lying in the ruins of his house after it was burnt down."
"And his song 'Dark was the Night, Cold was the Ground' left our solar system not too long ago aboard the Voyager to be listened to by life among the stars."
- dntExit
"I really like to think one day-thousands and thousands of years in the future, an alien race will find that golden disk and hear his voice."
"I think the fact he had such a poor life but could one day live eternally amongst the stars is so beautiful."
- gonzomullz
"Found out about him through a VSauce video."
"I listened to a couple songs and really liked them, he had a great voice and had a great talent for playing guitar despite being blind. Such a humbling and inspiring story he had"

- HRPr03
"I remember learning about this in a Vsauce video and crying profusely afterwards, but not only from sadness, also from hope, and some other emotions I can't possibly describe."
"The fact that he died at the lowest of lows, blind, sick, poor, and alone, yet he very well could be the man that teaches the stars about the very essence of humanity… there's just something so intrinsically beautiful about that."
"Humanity, flawed as it is, is as intrinsically kind and beautiful as it is evil. The world forgets that sometimes."
- cmoneybouncehouse
Other Madonna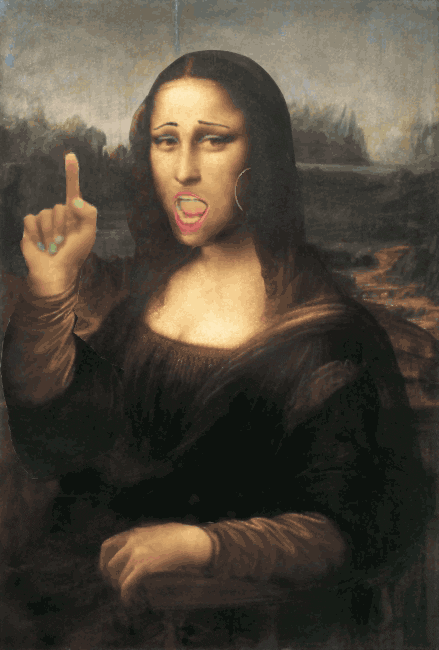 mona lisa oh no you didnt GIF
Giphy
"Lisa Gherardini, the Mona Lisa model."
"She was just some unremarkable random wife. Fast forward a few hundred years and she ended up as one of the most recognizable faces in history."
- finsareluminous
"HER NAMES NOT EVEN MONA LISA?!"
- Jaded-Associate6891
" 'Monna' was a shortening of the Italian word 'madonna', which was the equivalent of the English 'Madam'."
- Koifish_Coyote
Honor Well Pass Death
"Glyndwr Michael"
"This is the dead body they used in Operation Mincemeat."
"The man basically consumed rat poison to commit suicide."
"His corpse was then used for a British secret operation to carry fake documents for the Nazis to find in order to make them think they were invading Greece and not Sicily."
"This man died in a alleyway and went on the become a dedicated Major in the British military buried with full military rites - under his fake name, but still him in physical form."
- TheBabyLeg123
"He was originally buried under his covert identity (in Spain where his body washed ashore after being deposited in the sea nearby by a Royal Navy submarine), Major William Martin of the Royal Marines."
"In 2009 or thereabouts his real name (Glyndwr Michael) was added to his gravestone."
- BravoBanter
"I thought he died of tuberculosis so it'd be more convincing he was a British serviceman who drowned? Or maybe that was the guy used to make the Nazis think the Allies were invading Calais instead of Normandy."
- UnconstrictedEmu
"It was rat poison but it's not clear if it was a suicide."
"The poison was in the form of a paste that would be smeared on pieces of bread; rodents eat the bread, rodents die. Or in this case; poor Welshman eats the bread, poor Welshman dies."
"It's not clear whether he knew the paste was poison, or whether he was just hungry and thought he genuinely found some bread lying around."
"Where the confusion comes in is that the guy in charge of Mincemeat claimed the body was that of a young man who died of pneumonia, and that the parents had given permission for his body to be used as it was."
- ConstableBlimeyChips
A Real Hero
"Henrietta Lacks"
- LucyVialli
"A literal hero of humanity who in some ways is still alive."
"Her family deserved so much better though."
- AzureBluet
"Can I get a short version? I don't think I've heard of her before"

- Fyrrys
"Her contribution to science is and continues to be gigantic"

- Available-Age2884
Laws Of Inheritance
"Gregor Mendel, the monk and scientist who experimented with pea plant traits to describe what we today literally call Mendelian inheritance."
"The significance of Mendel's findings, which he published in 1866, went almost completely unrecognized during his life and after his death. His work was only rediscovered in the early 1900s when modern ideas about inheritance and selection started taking hold."
- ThadisJones
"I can differ there. When he first stated his theory, he was sure it was correct (as it was) but was rejected. I can imagine him not being surprised at the fact that his work was re recognised as right later down the line"

- Brother_Not_Shook
"It's entirely possible you're correct and Mendel suspected that someday he'd be proved right. At the same time, however, he spent decades after his discovery trying and failing to elicit interest from the academic public or individual biologists, and retired from science to become a monastery administrator, which looks a lot like 'giving up'."

- ThadisJones
Okay, so we learned some interesting history today. How about you?
Keep reading...
Show less
The historical record is vast and changes as we make new discoveries. Our understanding of many historical events is far more different now, even stronger, than it was years ago.
But there are still so many things we do not know and barring some crazy new discovery or admission from players with the right knowledge, it's likely that certain answers might be lost to history altogether.
People shared their thoughts with us after Redditor ottosoven asked the online community:
"You get to know the absolute truth about one historical event. What are you choosing?"
"The beginning of everything. Strap yourself for the first 10 seconds, it's going to be a wild ride."
ZZani
Damn it, I blinked, I missed the formation of every atom and star in the universe!
"The truth about..."
"The truth about Jack the Ripper and the Whitechapel murders."
CountessCraft
I think it was probably nobody of note, just a guy, or it was multiple people with no connection to each other.
"The disappearance..."
"The disappearance of Brian Shaffer."
Qwerty207
As a true crime buff, there are dozens of disappearances I would love to have resolutions for.
"I want to know..."
"I want to know the real story of Jesus, the man, like I have a pretty good idea but still want to know, theology aside he is a pretty interesting historical figure."
akuzin
Even as a non-believer I'm extremely curious about the life of that man or men or what the true story behind all of that is.
"Not historical per se..."
"Not historical per se but I need to know what actually happened to Madeleine Mccann."
PossibleMagazine917
Don't most people believe it was the parents?
"How the Trojan War..."
"How the Trojan War really looked like or played out."
imead52
Sadly, it was probably a just a trade dispute, which is a lot less exciting than you might have expected.
"How Elizabeth Short..."
"How Elizabeth Short actually died, and who the murderer was."
gracefutilme
Ah, yes, the Black Dahlia murder. At this rate, it's unlikely we'll ever be sure.
"What did Pope Leo..."
"What did Pope Leo say to Attila the Hun to convince him to back off from his invasion of Rome?"
[deleted]
He probably just asked nicely, and Attila ended up appreciating how nice and brave the dude was.
"The murder..."
"The murder of the Swedish Prime minister Olof Palme in 1986. One of the most expensive murder investigations ever and they still never found the guy. Look it up!"
eddieluxe1
Swedish prosecutors named Stig Engstrom as the murderer in 2020. Though doesn't seem like the evidence is concrete.
"Not just the events..."
"The Branch Dravidian seige at Waco. Not just the events leading to and during the seige, but what was life like inside the compound? I've read reports from surviving members, but I'd love to know the truth."
Hellfire2026
What a crazy time that was! You might want to ask the Waco Kid.
History is fascinating–think of how much we don't know due to twists of fate or simple poor record keeping. The possibilities are endless.
Have some suggestions of your own? Feel free to tell us more in the comments below!
Want to "know" more?

Sign up for the Knowable newsletter here.
Never miss another big, odd, funny, or heartbreaking moment again.
Keep reading...
Show less
The number of people killed during World War II is staggering... about 70 million for those of you who don't know.
For comparison there are only 19 countries today whose current population is bigger than amount of people that died in six years of war.
Crazy, huh? Don't underestimate the impact of this event! History is fascinating.
People shared more information after Redditor alfawolfvii asked the online community,
"What are some crazy WWII facts you know?"
"Albert would actually use the fact..."
"The story of the Göring brothers is mind blowing. I can't believe Hollywood hasn't made a movie about it."
"Hermann Göring was a high ranking Nazi party member. He was head of the Luftwaffe and he was designated to be Hitler's successor after the world was conquered and Hitler eventually died."
"His brother was Albert Göring. Albert was staunchly Anti-Nazi. Albert saw the regime for what it was, brutal, horrible, murdering racists. He especially objected to the treatment of the Jewish people."
"Albert would actually use the fact of who his brother was to get out of trouble for helping Jews escape. He would do things like drive a transport truck to the camps or ghettos where they were held, and demand to be given multiple people for work, or whatever excuse he would give."
"When he got resistance, he would drag out "Do you know who my brother is? NOW BRING THEM TO ME!" He would then drive them to safety and release them."
"He once saw a bunch of Jewish women being forced to scrub a street, so he hopped down on his knees and joined them. When the Nazi officer realized who he was, the scrubbing stopped."
"He did many things like this. Saving Jews from almost certain death. Defying the party. Defying his brother. Again, using his brothers political clout to derail Nazi objectives."
It's wild."
"AND THEN..."
"He gets captured, at the end of the war, and is going to be killed with the other captives, because OF COURSE Göring's brother must be Nazi scum. By sheer dumb luck, a person in charge of processing his termination paperwork was a Jew he saved! That person spoke up, and many others did, and he was set free."
OregonMrBear
This is quite the story! Yes, Hollywood, get on this! What are you waiting for?
"Not only..."
"Jumping Joe Beyrle of the 101st Airborne."
"Not only was he enough of a bad@ss to earn that nickname among people who jump out of planes for a living, but he also escaped a POW camp to the Soviet line and became the only known person to fight for both the USA and Red Army in the war."
jah05r
This is the guy at the bar with the wild and crazy life that you don't want to stop listening to. How could you?
"He then returned to his job..."
"Tsutomu Yamaguchi was on a work trip to Hiroshima when the atom bomb went off. He then returned to his job/home in Nagasaki and was describing the blast to his unbelieving boss when the Nagasaki bomb went off. He survived both atom bombs."
[deleted]
He has been dubbed as one of the most unlucky people in history. But he survived, sooo...
"He got demoted..."
"A Belgian pilot flying for the RAF found out the Nazis had executed his father in occupied Belgium. So after an escort mission he took a side trip and did a solo attack on the Gestapo headquarters in Brussels, dropping down to ground level in front of the building and machine-gunning the f*ck out of it."
"He killed the local Gestapo commander along with some SS officer and the AA crew on the roof. Then he did a victory lap tossing little Belgian flags out the window. Oh, and he swung by his niece's place and dropped a big flag."
"Then he went home. He got demoted for violating his orders and a medal for what he did while he was violating his orders."
dieinafirenazi
Now that's a true legend. I need to brush up on more of my World War 2 history because there are so many cool stories like this.
"The rest..."
"Only about 4% of Londoners used the Tube stations for bomb shelters in the Blitz. About 40% used Anderson shelters under their back gardens or cage-like shelters in their homes. The rest stayed in their usual bedrooms and hoped for the best."
ThisQuietLife
Very British. "We'll deal with it, stiff upper lift and all."
"I read somewhere..."
"I read somewhere that Russia's losses were so great in the war that the population declines of the 60s and 90s were a direct result of the dead soldiers because their children that were meant to be born during these periods never were."
ButtonJensen
80% of Russian men born in 1923 did not live to see the end of WWII. About 40% died during the war, the rest died before it due to infant mortality and starvation.
"The United States..."
"The United States produced 150% more planes in 1944 alone than Japan did in the whole war."
sonofabutch
The Japanese hand built their Zeros in a factory that was 50 miles from the nearest runway and used OXEN to carry them one by one to the runway for takeoff!
"Operation Aphrodite..."
"Joseph Kennedy, Jr, the eldest brother of President John Kennedy was killed in WW2 as part of Operation Aphrodite. Operation Aphrodite involved flying unmanned bombers into targets. Kennedy was killed after arming the explosives in an unmanned bomber but before the crew bailed out."
"Joe Kennedy, Jr died working on the precursor to the modern day drone."
slider728
And Joe Jr. was the son that Joe Sr. wanted to be President. Apparently he was the favorite son, and John was seen as rebellious and sickly.
"Winston Churchill had an oxygen mask for flying in airplanes specially made for him that would allow him to smoke cigars while he had the mask on."
ProbablyaDrugDealer
Ummm... I can't imagine that was safe.
Doesn't this make you want to pick up a history book and find out more? You should! With everyone worrying about the possibility of a third world war on the horizon, it is absolutely worth learning about the past and taking notes.
Know some more cool facts? Feel free to tell us more in the comments below!
Want to "know" more?

Sign up for the Knowable newsletter here.
Never miss another big, odd, funny, or heartbreaking moment again.
Keep reading...
Show less