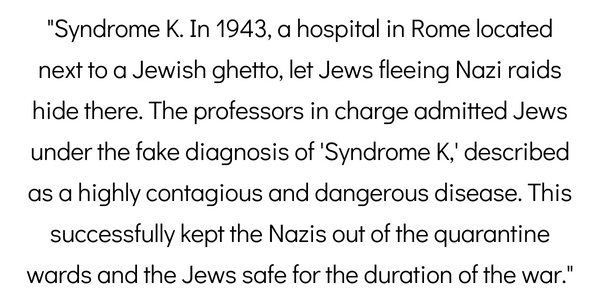 Why is Hollywood doing so many remakes and reboots?
There are so many stories to tell and produce.
History is at our fingertips.
Wars, death, great love, betrayal, science...

I would see all of that.
Redditor lowtack wanted to know what parts of the past need to be captured in cinematic glory.
What historical event has not, but should be, made into a movie?"
I don't know much about history. So teach me...
Capsules
"The Goianas incident, dad stole a radiotherapy capsule from an abandoned hospital, didn't know what it was and opened it."
Shep9882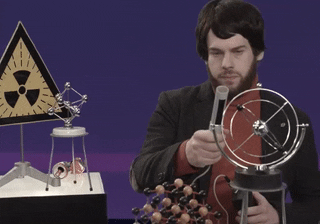 chemistry atom GIF by funk
Giphy
Apollo 8
"Apollo 8. Basically the mission was originally only supposed to be a test of the lunar module in earth orbit, but rumours were circulating that the Soviet Union were going to attempt to send a man into lunar orbit (spoiler: this was not happening). As a result Apollo 8 was switched to being the first mission to the moon, not to land but to orbit."
"And this decision was made only 6 months before the scheduled launch date, so it was a race to get everything ready before the flight. It's a historic mission that is almost never talked about, compared with Apollo 11 which is much more well known."
Therailfan
"The Long Way Home"
"The story of the Pan Am flight that got caught in New Zealand at the start of WWII and couldn't fly back home by going east because it was too dangerous. So instead they took their flying boat and flew west on routes they had to figure out from maps pulled from borrowed encyclopedias, dodging the Japanese, and trying to find enough fuel to keep the plane going."
"The whole thing took months culminating in taking off from a river in the Congo and having to skim along through a canyon to build up speed since they were too heavy in order to even have a chance of crossing the Atlantic. The whole thing is tailor made for TV or a Film. There's a fantastic book written about the whole story called 'The Long Way Home' and was written with the Captain of the flight."
bigred49342
Enemy Within...
"The Niihau Incident. During the attack on Pearl Harbor, a Japanese Zero was damaged by anti-aircraft fire and crash landed on the remote Hawaiian island of Niihau. The Hawaiians, initially unaware of the attack on Pearl Harbor, treated the pilot with generosity and respect."
"After news of the attack came out, the pilot was placed under guard. With the help of some sympathetic locals, the pilot broke out and took two hostages: Ben Kanahele and his wife Ella. Later that night, Ben and Ella decided to fight their way out. Ben was shot three times, but still had enough strength to lift the pilot over his head and throw him into a brick wall."
"Ella, thinking her husband had been mortally wounded, killed the pilot by bashing his head in with a rock. Both Ben and Ella survived the incident and Ben was awarded two medals for his actions. Ella, who actually killed the enemy combatant, received no formal recognition. Oops: This was made into a movie: Enemy Within 2019."
DangleAteMyBaby
How have we never heard these stories?
Aloha
"It's been batted around a few times in Hollywood but the history of how the ancient Hawaiian Islands were united under one man to form the Hawaiian kingdom is epic."
shaka_sulu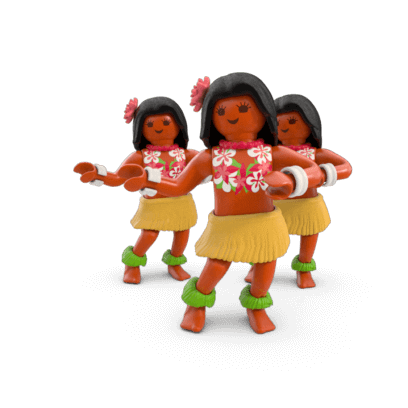 Happy Dance GIF by PLAYMOBIL
Giphy
1943
"Syndrome K. In 1943, a hospital in Rome located next to a Jewish ghetto, let Jews fleeing Nazi raids hide there. The professors in charge admitted Jews under the fake diagnosis of 'Syndrome K,' described as a highly contagious and dangerous disease. This successfully kept the Nazis out of the quarantine wards and the Jews safe for the duration of the war."
Grey_Gryphon
Invasion
"The Spanish Invasion of The Aztec Empire by Cortés. There are so many unbelievable events that led up to the fall of Tenonchtitlan and Monteczuma II reign."
neildegraciadyson
"A really good one is Hernán, it has a great production value and portrays it quite accurately from many perspectives, from the Spanish, Aztec, Malinche and from the Tlaxcaltec - I highly recommend it. https://m.imdb.com/title/tt9645942"
throwiesthro
Hey Girl
"Unless it's been done already, the life story of Ching Shih. She was a Chinese prostitute that was also deadliest pirate of all time. At the height of her power, she commanded over 800 large ships, 1000 smaller vessels, and over 70,000 pirate crew, comprised of both men and women."
randomguy987654321
"She was referenced in Pirates of the Caribbean: At Worlds End. She's in the cast list as Mistress Ching... it would be so cool to see this."
mistymountaintimes
shenanigans...
"The time John Adams and Benjamin Franklin were in France trying to gather support for the revolution and all the shenanigans they got up to."
marble8888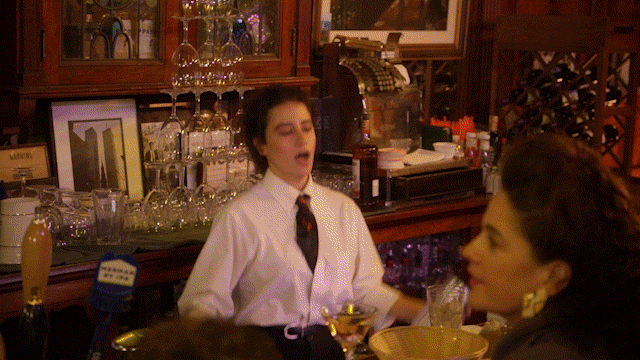 Season 5 Drinking GIF by Broad City
Giphy
Go Vin
"A biopic on Hannibal would be really good. The visuals of crossing the Alps with elephants would be stunning."
Mattiebfc
"Vin Diesel has been trying to make a movie about this for years. It's his passion project. Whether or not he could do justice to the story is another matter."
ihaveashrinkray
"The Battle of Cannae and its aftermath would be insane to see on screen."
gentlybeepingheart
Hey Smalls
"I tell my students every year when we do my Robert Smalls lesson that there needs to be a Robert Smalls movie. Born into slavery, sent to Charleston at the age of 12 to work, gets a job on a boat, when the Civil War starts he steals the boat and snuggles his family and the family of the other slaves past Fort Sumter and out to the north blockade, becomes a folk hero and meets with Lincoln and Edward Stanton to convince them to allow blacks to join the army."
"He personally recruits thousands of blacks to fight, becomes the first captain of a ship in the navy, wins numerous engagements during his service, wins a seat in the SC house and then the US house, fights against racist groups like the Red Shirts, overcomes false accusations and earns his seat back.... Dude is amazing"
USCplaya
12 Days
"Unless it's covered in the various movies about Lincoln, John Wilkes Booth's 12 days on the run are really damn interesting in my opinion."
bermuda__
"Apple is making a limited series. No kidding."
Laura9624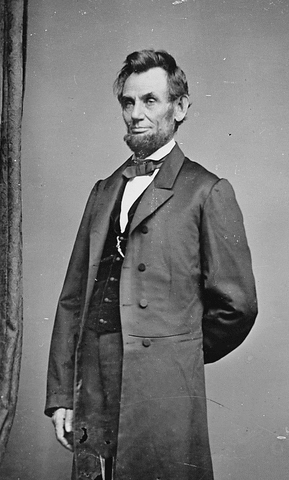 abraham lincoln vintage GIF by US National Archives
Giphy
The Massive Battle
"Battle of Jutland could use a modern movie depiction. Massive battle, day and night, high drama, tension, massive explosions. What more could you ask for?"
notquiteright2
"I've tried to imagine the truly awesome sight it would be of seeing a cinematic rendering of the Grand Fleet crossing the T of the High Seas Fleet, there is a painting of it and references it as the single largest concentration of naval gunfire in history. Hundreds of battleship-grade guns slugging it out on the heaving North Sea."
ArguingPizza
Wild Times
"Besides the Napoleonic era, I feel 19th century France has a lot of potential for historical movies, due to how much stuff happens during that time period. If I had to pick one event in particular, it'd be between the birth of the 2nd republic to the 2nd empire."
Luxray209
"Even better: the Haitian Revolution. I'm particular Touusaint And it's tied directly to the various revolutionary and counter-revolutionary politics in France. Some of it wild."
seeasea
The Great Student
"Xenophon. He was a student of Socrates that was commander of a Greek mercenary company under Cyrus that nearly captured Babylon then had to retreat to Greece. Philosopher, historian, and military commander. Peloponnese War would be awesome too with Alcibiades and Pericles."
BrodyTuck
"While we wait for a historically accurate movie we can watch 'The Warriors', which is based on the retreat to Greece."
oily_fish
Best of History
"The battle of Castle Itter. One of the final battles of WWII which involves a US tank division teaming up with Austrian resistance fighters, a German Army Major and a high ranking member of the SS to protect an free high ranking French prisoners from loyal Nazis in a medieval Austrian Castle. Seriously it sounds like a random alt history DLC from a Call of Duty game but it actually happened. I know we have like 8 million WW2 movies but how this hasn't been made yet still boggles my mind."
Ven18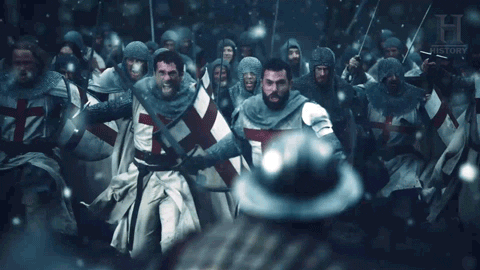 war battle GIF by HISTORY UK
Giphy
Are you listening Hollywood? There is money here.
Keep reading...
Show less
The historical record is vast and changes as we make new discoveries. Our understanding of many historical events is far more different now, even stronger, than it was years ago.
But there are still so many things we do not know and barring some crazy new discovery or admission from players with the right knowledge, it's likely that certain answers might be lost to history altogether.
People shared their thoughts with us after Redditor ottosoven asked the online community:
"You get to know the absolute truth about one historical event. What are you choosing?"
"The beginning of everything. Strap yourself for the first 10 seconds, it's going to be a wild ride."
ZZani
Damn it, I blinked, I missed the formation of every atom and star in the universe!
"The truth about..."
"The truth about Jack the Ripper and the Whitechapel murders."
CountessCraft
I think it was probably nobody of note, just a guy, or it was multiple people with no connection to each other.
"The disappearance..."
"The disappearance of Brian Shaffer."
Qwerty207
As a true crime buff, there are dozens of disappearances I would love to have resolutions for.
"I want to know..."
"I want to know the real story of Jesus, the man, like I have a pretty good idea but still want to know, theology aside he is a pretty interesting historical figure."
akuzin
Even as a non-believer I'm extremely curious about the life of that man or men or what the true story behind all of that is.
"Not historical per se..."
"Not historical per se but I need to know what actually happened to Madeleine Mccann."
PossibleMagazine917
Don't most people believe it was the parents?
"How the Trojan War..."
"How the Trojan War really looked like or played out."
imead52
Sadly, it was probably a just a trade dispute, which is a lot less exciting than you might have expected.
"How Elizabeth Short..."
"How Elizabeth Short actually died, and who the murderer was."
gracefutilme
Ah, yes, the Black Dahlia murder. At this rate, it's unlikely we'll ever be sure.
"What did Pope Leo..."
"What did Pope Leo say to Attila the Hun to convince him to back off from his invasion of Rome?"
[deleted]
He probably just asked nicely, and Attila ended up appreciating how nice and brave the dude was.
"The murder..."
"The murder of the Swedish Prime minister Olof Palme in 1986. One of the most expensive murder investigations ever and they still never found the guy. Look it up!"
eddieluxe1
Swedish prosecutors named Stig Engstrom as the murderer in 2020. Though doesn't seem like the evidence is concrete.
"Not just the events..."
"The Branch Dravidian seige at Waco. Not just the events leading to and during the seige, but what was life like inside the compound? I've read reports from surviving members, but I'd love to know the truth."
Hellfire2026
What a crazy time that was! You might want to ask the Waco Kid.
History is fascinating–think of how much we don't know due to twists of fate or simple poor record keeping. The possibilities are endless.
Have some suggestions of your own? Feel free to tell us more in the comments below!
Want to "know" more?

Sign up for the Knowable newsletter here.
Never miss another big, odd, funny, or heartbreaking moment again.
Keep reading...
Show less
The number of people killed during World War II is staggering... about 70 million for those of you who don't know.
For comparison there are only 19 countries today whose current population is bigger than amount of people that died in six years of war.
Crazy, huh? Don't underestimate the impact of this event! History is fascinating.
People shared more information after Redditor alfawolfvii asked the online community,
"What are some crazy WWII facts you know?"
"Albert would actually use the fact..."
"The story of the Göring brothers is mind blowing. I can't believe Hollywood hasn't made a movie about it."
"Hermann Göring was a high ranking Nazi party member. He was head of the Luftwaffe and he was designated to be Hitler's successor after the world was conquered and Hitler eventually died."
"His brother was Albert Göring. Albert was staunchly Anti-Nazi. Albert saw the regime for what it was, brutal, horrible, murdering racists. He especially objected to the treatment of the Jewish people."
"Albert would actually use the fact of who his brother was to get out of trouble for helping Jews escape. He would do things like drive a transport truck to the camps or ghettos where they were held, and demand to be given multiple people for work, or whatever excuse he would give."
"When he got resistance, he would drag out "Do you know who my brother is? NOW BRING THEM TO ME!" He would then drive them to safety and release them."
"He once saw a bunch of Jewish women being forced to scrub a street, so he hopped down on his knees and joined them. When the Nazi officer realized who he was, the scrubbing stopped."
"He did many things like this. Saving Jews from almost certain death. Defying the party. Defying his brother. Again, using his brothers political clout to derail Nazi objectives."
It's wild."
"AND THEN..."
"He gets captured, at the end of the war, and is going to be killed with the other captives, because OF COURSE Göring's brother must be Nazi scum. By sheer dumb luck, a person in charge of processing his termination paperwork was a Jew he saved! That person spoke up, and many others did, and he was set free."
OregonMrBear
This is quite the story! Yes, Hollywood, get on this! What are you waiting for?
"Not only..."
"Jumping Joe Beyrle of the 101st Airborne."
"Not only was he enough of a bad@ss to earn that nickname among people who jump out of planes for a living, but he also escaped a POW camp to the Soviet line and became the only known person to fight for both the USA and Red Army in the war."
jah05r
This is the guy at the bar with the wild and crazy life that you don't want to stop listening to. How could you?
"He then returned to his job..."
"Tsutomu Yamaguchi was on a work trip to Hiroshima when the atom bomb went off. He then returned to his job/home in Nagasaki and was describing the blast to his unbelieving boss when the Nagasaki bomb went off. He survived both atom bombs."
[deleted]
He has been dubbed as one of the most unlucky people in history. But he survived, sooo...
"He got demoted..."
"A Belgian pilot flying for the RAF found out the Nazis had executed his father in occupied Belgium. So after an escort mission he took a side trip and did a solo attack on the Gestapo headquarters in Brussels, dropping down to ground level in front of the building and machine-gunning the f*ck out of it."
"He killed the local Gestapo commander along with some SS officer and the AA crew on the roof. Then he did a victory lap tossing little Belgian flags out the window. Oh, and he swung by his niece's place and dropped a big flag."
"Then he went home. He got demoted for violating his orders and a medal for what he did while he was violating his orders."
dieinafirenazi
Now that's a true legend. I need to brush up on more of my World War 2 history because there are so many cool stories like this.
"The rest..."
"Only about 4% of Londoners used the Tube stations for bomb shelters in the Blitz. About 40% used Anderson shelters under their back gardens or cage-like shelters in their homes. The rest stayed in their usual bedrooms and hoped for the best."
ThisQuietLife
Very British. "We'll deal with it, stiff upper lift and all."
"I read somewhere..."
"I read somewhere that Russia's losses were so great in the war that the population declines of the 60s and 90s were a direct result of the dead soldiers because their children that were meant to be born during these periods never were."
ButtonJensen
80% of Russian men born in 1923 did not live to see the end of WWII. About 40% died during the war, the rest died before it due to infant mortality and starvation.
"The United States..."
"The United States produced 150% more planes in 1944 alone than Japan did in the whole war."
sonofabutch
The Japanese hand built their Zeros in a factory that was 50 miles from the nearest runway and used OXEN to carry them one by one to the runway for takeoff!
"Operation Aphrodite..."
"Joseph Kennedy, Jr, the eldest brother of President John Kennedy was killed in WW2 as part of Operation Aphrodite. Operation Aphrodite involved flying unmanned bombers into targets. Kennedy was killed after arming the explosives in an unmanned bomber but before the crew bailed out."
"Joe Kennedy, Jr died working on the precursor to the modern day drone."
slider728
And Joe Jr. was the son that Joe Sr. wanted to be President. Apparently he was the favorite son, and John was seen as rebellious and sickly.
"Winston Churchill had an oxygen mask for flying in airplanes specially made for him that would allow him to smoke cigars while he had the mask on."
ProbablyaDrugDealer
Ummm... I can't imagine that was safe.
Doesn't this make you want to pick up a history book and find out more? You should! With everyone worrying about the possibility of a third world war on the horizon, it is absolutely worth learning about the past and taking notes.
Know some more cool facts? Feel free to tell us more in the comments below!
Want to "know" more?

Sign up for the Knowable newsletter here.
Never miss another big, odd, funny, or heartbreaking moment again.
Keep reading...
Show less
One thing is for certain—there was life before 2020 and life after 2020.
Between political polarization and the ongoing COVID-19 pandemic, it's safe to say that humanity is tired.
We're all tired. And you know what, reality just doesn't seem like it makes sense anymore.
So what could happen now?
It's 2022 and the world seems crazier than ever. There are so many possibilities.
People shared their thoughts with us after Redditor Novaresident asked the online community:
"With the 2020s going down the history as 'the roaring what the f*cks' what event wouldn't surprise you if it were to happen now?"
"Contact with aliens..."
"Contact with aliens, except it's not from above but from the oceans like a B-movie."
SatynMalaphany
Oh, that'll be the day. The ghost of Michael Crichton would be so pleased.
"That we are currently..."
"That we are currently in The Bad Place."
[deleted]
Jason figuted it out? JASON? That hurts.
"The Hunger Games..."
"The Hunger Games become reality."
monkeyworld_M
I volunteer you for tribute! You just appear so much braver than the rest of us, you know?
"Influencers..."
"Influencers going to Ukraine to film themselves on the battlefield. I don't know why but I see it coming."
CylverLOL
I'd be surprised if that isn't happening already. Humanity annoys me.
"Aliens apologizing..."
"Aliens apologizing for throwing rocks at earth."
CatzyCat
The dinosaurs weren't too happy about that one.
"Celebrities..."
"Celebrities could start giving their babies plastic surgery and I wouldn't be surprised."
GothTwinkie
Funny... didn't we all just assume this is already happening?
"I'm not a conspiracy theorist..."
"I'm not a conspiracy theorist, but on multiple occasions I've thought that if I were trying to prepare humanity to accept intelligent alien life visiting us, I'd probably bombard the human race with every f*cking crazy BS scenario that exists so they that they'd be so exhausted they wouldn't care."
"6 years ago my brain would have melted seeing aliens, but at this point if aliens showed up I'd probably shrug and turn the news off."
Bosticles
Many people would probably switch the channel to see what else is on TV.
"The Winds of Winter..."
"The Winds of Winter actually being published."
jjc157
Hey, hey!
At least try to stay within the realm of theoretical possibility.
"Scientology collapses..."
"Scientology collapses and everyone in it goes to Scientology rehab to get over the trauma."

HenriDuPont
Leah Remini would have a field day.
"We all find out..
"We all find out that we are just some alien kid's 7th grade science project."
[deleted]
Honestly, this sounds like the ending for Under the Dome, and Stephen King really pissed off everyone with that ending.
Hey, at least we can laugh at ourselves.
Were you expecting super serious answers?
Don't depress us further.
Have some suggestions of your own? Feel free to tell us more in the comments below!
Want to "know" more?

Sign up for the Knowable newsletter here.
Never miss another big, odd, funny, or heartbreaking moment again.
Keep reading...
Show less
The Black Death is notable for wiping out much of the population of continental Europe. It was a terrible, devastating, and protracted event that was no doubt traumatic for those who managed to survive it.
But did you know that it led directly to the average person having a say in how they are ruled? With a shortage of workers, peasants found themselves with considerably more bargaining power. Migration patterns changed and different towns and cities grew out of the wreckage.
It's wild to think about: If the plague had not happened, would we all still be serfs?
But the Black Death isn't the only historical event with a macabre silver lining. People shared their thoughts with us after Redditor follopie asked the online community,
"What are some of the 'necessary evils' of history?"
"Allowing some attacks..."
"Allowing some attacks to take place even after Hitler's Enigma encryption device was cracked by the English and they knew when and where the attacks would occur. They could only act on the intelligence to thwart attacks if they could quickly come up with an alternate way to find out which the Germans would find believable."
wanted-to-upvote
To which this person replied:
"Neal Stephenson's book Cryptonomicon really does a great job of explaining this concept. Bounces back and forth between WWII and current day (well, ten or so years ago) drawing parallels between cryptography at the beginning of computers and encryption now."
countryhacker
"The only ways schools could get human bodies legally..."
"Body snatching in the 19th century."
"Medical schools would illegally buy human bodies that were dug up from graves in order to study anatomy and teach medical students in secret, because at the time it was illegal and not acceptable to use human bodies for Science or education purposes."
"The only way schools could get human bodies legally was from death-sentenced people who also had been condemned to dissection on top of that by the courts, which was very rare and couldn't supply enough bodies for medical schools."
"So there was a literal black market of dead bodies and the body snatchers would risk death penalty themselves to make profit from digging up bodies that were freshly buried. The bodies of young adult people were particularly sought after and expensive."
"But it also allowed scientists and students to learn about anatomy and improve surgery techniques, which allowed medicine as a whole to make a lot of progress and saved many lives in the end."
cocOtte
To which this person replied:
"This reminds me of the ethics dilemma around the use of data acquired from Nazi human experimentation. Or data acquired from 'testing' at Unit 731."
"Do we keep the data? Or toss it because we acquired it in a really f**ked up way?"
TheRockObama
"They have been instrumental..."
"One of the necessary evils through history has to be the experimentation on animals, specifically mice. They have been instrumental in our understanding of diseases."
Killdozah
To which this person replied:
"There's a pretty cool statue in Russia, honoring lab mice."
Zombiehacker595
"There's a school of thought..."
"Possibly the Agricultural Revolution."
"There's a school of thought that argues that it led to a diminished diet and poorer health for everyone, greater social inequality between classes and gender, and greater instances of warfare between and within sedentary and nomadic societies. So life really sucked for countless generations of humans for thousands of years."
"And yet it created the conditions for a population boom and the division of labour needed for humans to get really, really good at more specialized trades, skills, and learning, and here we are."
SodarnHinsane
To which this person replied:
"I feel like all you really need to do to negate the negative effects of modern society etc. is restructure cities to allow more natural things around us."
accomplishedpilot2
"All the people..."
"All the people that died trying berries, mushrooms, and other foods to see if they were poisonous. Somebody had to do it."
OneTyler2Many
To which this person replied:
"It truly sucked to be them."
[deleted]
"World War II..."
"World War II is controversial but it was the main factor why there has never been a major war since."
Starlight3020
To which this person replied:
"That and more importantly nuclear weapons. Even if Hiroshima and Nagasaki weren't the main reason Japan surrendered, the fear of nuclear warfare has all but eliminated conflict between major powers in the 80+ years of relative peace."
YoungPacofgbm
"Starting a world war..."
"Starting a world war over the invasion of Poland. Sanctions against Libya. The killing of Osama bin Laden."
Rudaur
To which this person replied:
"Fair. Absolutely fair."
[deleted]
"Most wars..."
"Most wars lead to technological and medical advancements that likely never would have occurred without war."
llcuff80
To which this person replied:
"There is a concept called opportunity cost in economics. In a world of limited resources, it means that resources invested in one thing are resources not invested in something else. Whatever you do, there's always a tradeoff."
"War doesn't cause technological advancements to occur, it just directs those advancements towards certain goals."
Ellakastekat
"Dinosaurs..."
"Dinosaurs had to go for mammals to rise up as the dominant order on Earth."
Drakisright
To which this person replied:
"Earth would have been better if the dinosaurs continued being the dominant species."
CyclonsInaPoliceBox
"It broke the back..."
"Sherman's March. It broke the back of the Confederacy. Scorched Earth but at quite the cost."
Krd167
To which this person replied:
"In his own words: 'War is cruelty. There is no use trying to reform it. The crueler it is, the sooner it will be over.'"
Whiteshark49
The world is not black and white. It exists, in fact, in certain shades of gray. Something to think about as we continue to reap the benefits of modern-day living.
Have some observations of your own? Feel free to tell us more in the comments below!
Want to "know" more?

Sign up for the Knowable newsletter here.
Never miss another big, odd, funny, or heartbreaking moment again.
Keep reading...
Show less