It's easy to be annoyed over petty things. We just have no time for nonsense when untoward actions get in the way of us trying to go about our day.

But everyone has that one gripe about something or someone that can potential ignite fury, and those are the buttons that one would be better off avoiding to push.
Curious to hear about the things that can set off a person, Redditor DoctorLove01 asked:
"What is something you hate with a passion?"
Are some of these relatable?
It's best to avoid people with certain proclivities that leave a lot to be desired.
A Cowardly Role
"People who always are the victim no matter what they have done."
Ditching Responsibility
"People that cannot admit fault."
"People will respect you if you come out and say you messed up and you're sorry."
Manipulative Wretches
"People who make subtle rude comments in such a way that if you call them out they can make you look like the a**hole."
Below are example's of the actions of people ranging from annoying to absolutely unforgivable.

Space Deniers
"People who block doorways. It just happened to me over the weekend, walking in and a family of 4 entering before me all blocked the way for myself and the guy behind me."
"I know I'm not running and I don't need to maintain a pace, but have some spatial awareness for gods sake."
Disrespectful Of Public Places
"Littering. How can anyone be that lazy and disgusting? Do they not use bins in their own homes?"
Epitome Of Irresponsibility
"Drunk drivers."
We may be guilty of some of the following we're too ashamed to admit.
Superficial Idolatry
"How aggressively and passionately people follow influencers and put them on a pedestal."
Unintelligent Arrogance
"Confident idiots"
"It's so bizarre how apparent it is that someone has never been surrounded by smarter people. You'd listen more and be less confident if you know that you have much more things to learn and that you, too, can be wrong."
– cvtedvck

Not Relationship Material
"People who hold a conversation and then just stop texting back in the middle of said conversation, being left on read and people who cheat."
Prone To Judge
"People who judge a people by their appearance. I work a blue collar job and the looks I get when I'm off work at like a gas station makes me mad. I'm sorry I'm covered in grease and bs but I want a coke and need gas."
I have a very low tolerance for people who don't understand the concept of being punctual.
There are many variables causing a person to be late, whether it's for a date, work, or a friend with whom you've planned a coffee date to catch up.
Even though I'm a procrastinator in other situations, that is not the case when someone else is involved. I always allow myself plenty of time to get to where I need to be with some wiggle room for subway delays or traffic.
A 10-15 minute late window is perfectly fine. However, I've waited 30 minutes to an hour before for people, and they never had a valid excuse except for the fact that they are terrible at time management.

It's enough to get me fuming, but maybe that's on me for expecting everyone else to share the same mentality that people's time is precious.
Keep reading...
Show less
Every single day, we are forced to deal with all sorts of things that we'd prefer to never see, hear, touch, or experience for the rest of our lives.
And yet, we understand that plenty of those moments are completely out of our control. We deal with the annoyances and get on with our day.
But most of us have a breaking point. There are some things out there that we truly hate. So much, in fact, that we cannot even focus when they come along.
The worst part of it all? Sometimes the thing we hate is loved by others, so it's all around us all the time.
Redditor Nighthawk2288 asked:
"What is something/someone extremely popular that you utterly despise?"
Many Redditors are most turned off by the latest changes to culture thanks to the internet.
Pulling You In
"These posts on all social media sites that are like 'your second friend has to do X' that are just prompting you to tag people who don't want to be tagged, to drive up engagement on whatever the page put the post out."
"In the same vein: obvious scam posts about giving away a house (no one fu**ing does that) and sh** like 'how old will you be in 2060/your mothers maiden name and the first letter of your birth month are your stripper name!' That people somehow fall for."
-- ReaverRogue
Unfortunately, It's Probably Not Going Anywhere
"The term 'life hack' " -- Believeland-OH
"I know.I hate that too. You can't hack life! This isn't the matrix!" -- Afraid-Baby8276\
"Life hack! Plant seeds from your vegetables for free food!" -- Suyujin
Others had a bigger problem with celebrities and the other famous individuals that we can't seem to ignore. And again, the internet had a lot to do with it.
Always Less Than
"I dislike the worship of celebrities.I think it can create toxic fanbases where people lives can become totally consumed by that person and attack others who dislike that person.Very unhealthy."
Famous For...?
"Any of those Kardashian people, they all look very tacky and artificial. But are a pretty good reflection of our society. I can see why our society loves them"
And others offered up some odd ball choices.
Little Rhyme and Reason
"Bananas. The combination of the taste and texture sets something off in me, and is even overpowering when blended into a smoothie. Nothing really against them, I just hate eating them personally."
"Banana bread is alright though. I don't know either."
-- MasonP2002
Everywhere They Turn
"Felt. You'd be surprised how frequently it's used in many things. It's texture makes me want to hurl."
Hot Take
"ORCA FU**ING WHALES. THEY ARE BLACK AND WHITE PANDA-@SS OF THE SEA AND I DO NOT CONDONE THEM."
"THIS MESSAGE WAS BROUGHT TO YOU BY THE SPERM WHALE GANG"
They Are Pretty Squishy
"Bubble tea honestly. It looks like someone stuck Orbeez in a drink and called it a day. They are disgusting too."
-- DesertOps4
Surely these are not the only despised popular trends out there. But whatever yours is, know that you're not alone in freaking out when nobody else is.
Want to "know" more? Never miss another big, odd, funny, or heartbreaking moment again. Sign up for the Knowable newsletter here.
Keep reading...
Show less
There are two types of people at the dinner table. Those who are and aren't picky eaters.

But it's not as simple as that.
Nowadays, there are people with dietary restrictions that need to be addressed before a person goes to a restaurant or confirms a dinner party invitation. It could literally be a matter of life or death.
Preparing a menu has never been so easy. But if diners aren't allergic to a specific food item, and they just don't like it, catering to their palates can be a headache.
We all have that one thing we would like to avoid eating at all costs – even if we don't break out into hives or go into anaphylaxis.

Curious to hear about food others find unpalatable, Redditor Suffeign asked:

"What's one food everyone seems to love but you find repulsive?"
These gummy edibles are not necessarily a delight for everyone.
It's Jiggly
"Jello. I've hated it since i was a kid. My aunt won't let me forget that i once threw her fruity jello concoction out the window when i was 8."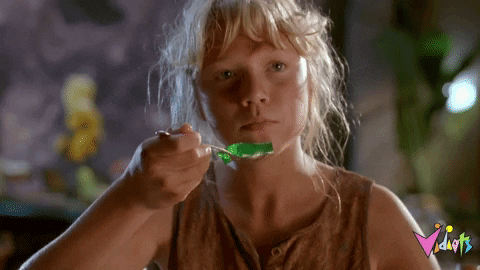 Scared Jurassic Park GIF by Vidiots
Giphy
It's Tapioca Balls
"I'm so sorry but I can't eat boba😬 my friends really like it but I can't seem to bring my self to like it or to tell them I don't like it."
– icarusun

It's Food For Thought
"The mere thought of sucking the brains out of a crayfish makes me want to puke."
They are cultivated for consumption, but these plant-based foods may never grow on some people.
It Stalks
"Celery."
"Never in my life have I been eating something and thought to myself 'what this could really use is crunchy, stringy water.'"
– Hrekires

It's Wormy
"Bean sprouts. When I was a teen my mother got on a kick and they were in EVERYTHING for years. She heard they were healthful so we'd find them in omelets, burgers, salads, breads, etc. They tasted like dirt worms. To this day I can't eat them."
It's Tropical
"Papaya."
"It smells live vomit to me, and I have no clue why."
Whether it comes in a bottle or oozes from packets, these properties just don't go down easy.
It's Evil
"My husband calls Mayo 'the devil's sperm.'"
"There was a time if I accidentally ate Mayo I'd involuntarily puke."
It's Fermented
"Kombucha. Yes please, I'd like a glass of over fermented vinegar, how refreshing."
It's Infused
"Flavored water(s)- tastes like it's made in the same room as the flavor but nothing else. Plain water is so much better."
"I always think of it like a fruit sneezed in the same room as water and didn't cover it's mouth."
It's For Brunch
"Bloody Marys... who wakes up and thinks, mmm can't wait to have a tall glass of iced ketchup today!?"
So, for the longest time, I was repulsed by the smell of Nattō.
Nattō is a traditional Japanese breakfast dish consisting of fermented soybeans that have been compared to old Brie cheese. It smells awful.
But after reading up on how it is rich in protein, vitamins, and minerals, I forced myself to acquire a taste for Nattō. It took a while.
But now, I actually enjoy eating it. Two to three times a week, I whip up the slimy beans into a stringy frenzy – as instructed – and empty it from the styrofoam container onto a small bowl of rice and use the spicy mustard packet that comes with it.
And I feel energized and healthy from eating it.
I never thought I would call Nattō "delicious" but here we are.

Keep reading...
Show less
Neighbors, they can be wonderful if you have good ones. However, when things go sideways they can really get crazy. The craziest neighbors this writer has seen are right next to my sister. They bought their home with the one next door still for sale. The realtor, who we went to school with, promised to find her "the best neighbors ever"...PSYCH.
I'll set the stage: it's a small, very rural, farming town. *cue banjos* The neighbors that moved in next door were nice but a bit...different. They are a slightly older couple who decided to start their own home-based church, often meeting at the house. Fine, whatever right? Well, they also enjoy sharing conspiracy theories, and apparently, just a home and plain fence were too normal.
Keep reading...
Show less
Some of our possessions are no-brainer, have to have them, best things in the universe. Others are total beaters, through and through liabilities, that should have been trashed years ago.
But what about those possessions that fall right in between?
These are the things we love as much as we hate. Like some people or places in our lives, these objects and us have a love/hate relationship--and, surprisingly, almost as much baggage as the human version includes.
Some Redditors sat down and shared their best examples of these kinds of possessions.
lliorca336 asked, "What do you have a love / hate relationship with?"
Some set their sights on the elephant in the room. They described their excitement as well as all the issues that come with the expansive, unbelievably powerful internet.
The Whole Dang Thing 
"The internet." -- LM1120
"Yup. On one side, it can really help people who feel alone. However, it can also breed toxicity." -- RHCube
"Back down it was as simple as don't use it but thats not really possible anymore" -- Derpsterio29

Even More Whole 
"Technology in general."
"On the one hand, it's nice that I was able to deposit a check just now while sitting down on my bedroom. On the other, screw anyone who has the audacity to call me and greet me with a robot."
Horrifyingly Convenient
"I have it with none other than 'Google.' "
"I hate it when Google tracks my every move. I even feel scared sometimes. Like just the other day, I was watching 'Padmavat' on Amazon Prime. It wasn't even my account, but my husband's. We had to stop in the middle due to something."
"And as soon as I opened my Gmail next, the very first email on the top was a 'Spam' email asking me if I missed out on watching 'Padmawat?' Really Scary!"
"And then, I love it when it takes me down the memory lane. Like just today, my Google Photos app asked me if I would like to see where I was on this day in 2010? I thought why not. Turns out, I was at my friend's wedding. Which reminded me, 'Oh! It's her anniversary today!' "
"I simply sent one of her gorgeous pics wishing her happy anniversary. We had a long chat, after which I sent over all of the pics from that day. She was really happy to re-visit them and tagged them as the best anniversary gift!"
-- toxasagt
Others chose to discuss those necessities of day-to-day life that they've actually come to love completing over and over.
But that doesn't mean they don't get annoying all the time too.
Procrastinating 
"Showers."
"That weird thing where I'll waste time before entering the shower because it feels like such a chore that takes a long time, I'm gonna need 5 h to dry my hair afterwards etc., but then when I'm in the shower i never wanna get out."
-- Victoria749
Cruising, Until Your Not 
"Driving is my biggest love/ hate relationship. I absolutely love the feel of driving when there's a small amount/ no traffic and the feel of being able to go wherever you want in your country is so freeing. Start/stop traffic, car maintenance costs, insurance, monthly payments, terrible roads, the possibility of an accident, driving through new places without clear signage etc..."
"Man, driving at its best is one of my favourite things in life but at its worst I wonder why I ever got my license and look toward busses with jealousy."
-- LTPfiredemon
It Will Never End 
"Cooking. I hate the necessity of having to prepare food and the process itself, but I usually like the result, and if I cook for other people, I get many compliments for how it's good."
"You know, when I hate to do that, then at least it gotta be tasty."
-- Ziriath
Others spoke about the luxuries in life. It almost feels absurd to complain about such wonderful, unnecessary possessions.
And yet, they are luxuries with a slight catch.
The Nut Barrier 
"Chocolate."
"Probably my biggest trigger to ruin my diet. Doesn't even have to be good chocolate. Doesn't even have to be mediocre chocolate (by American standards). I'm talking about, like Palmer's Double Crisp super-cheap, probably-not-even-actually-chocolate Chocolate."
"My only saving grace is that I'm allergic to peanuts, and a lot of the really really cheap chocolate has peanuts/peanut butter in it, so it's no longer a temptation."
More and More 
"Having a home gym:"
"Love: Not having to go far and not having to deal with other ppl and their bs."
"Hate: Everything you want is much more expensive than you expect... and you keep wanting more"
Another Take on Tech
"Modern technology. For every way it makes our lives easier, there's at least five ways it makes things harder."
"But overall, it's generally worth it... if you can get the stuff to finally work, which might take you all day."
-- Arekai4098
So the next time you find yourself out of wits in frustration, only to come back to that same object or task the very next day, don't feel so alone.
Everyone out here is emotionally confused about their inanimate objects and abstract concepts.
Want to "know" more? Never miss another big, odd, funny, or heartbreaking moment again. Sign up for the Knowable newsletter here.
Keep reading...
Show less