Some of our possessions are no-brainer, have to have them, best things in the universe. Others are total beaters, through and through liabilities, that should have been trashed years ago.
But what about those possessions that fall right in between?
These are the things we love as much as we hate. Like some people or places in our lives, these objects and us have a love/hate relationship--and, surprisingly, almost as much baggage as the human version includes.
Some Redditors sat down and shared their best examples of these kinds of possessions.
lliorca336 asked, "What do you have a love / hate relationship with?"
Some set their sights on the elephant in the room. They described their excitement as well as all the issues that come with the expansive, unbelievably powerful internet.
The Whole Dang Thing 
"The internet." -- LM1120
"Yup. On one side, it can really help people who feel alone. However, it can also breed toxicity." -- RHCube
"Back down it was as simple as don't use it but thats not really possible anymore" -- Derpsterio29

Even More Whole 
"Technology in general."
"On the one hand, it's nice that I was able to deposit a check just now while sitting down on my bedroom. On the other, screw anyone who has the audacity to call me and greet me with a robot."
Horrifyingly Convenient
"I have it with none other than 'Google.' "
"I hate it when Google tracks my every move. I even feel scared sometimes. Like just the other day, I was watching 'Padmavat' on Amazon Prime. It wasn't even my account, but my husband's. We had to stop in the middle due to something."
"And as soon as I opened my Gmail next, the very first email on the top was a 'Spam' email asking me if I missed out on watching 'Padmawat?' Really Scary!"
"And then, I love it when it takes me down the memory lane. Like just today, my Google Photos app asked me if I would like to see where I was on this day in 2010? I thought why not. Turns out, I was at my friend's wedding. Which reminded me, 'Oh! It's her anniversary today!' "
"I simply sent one of her gorgeous pics wishing her happy anniversary. We had a long chat, after which I sent over all of the pics from that day. She was really happy to re-visit them and tagged them as the best anniversary gift!"
-- toxasagt
Others chose to discuss those necessities of day-to-day life that they've actually come to love completing over and over.
But that doesn't mean they don't get annoying all the time too.
Procrastinating 
"Showers."
"That weird thing where I'll waste time before entering the shower because it feels like such a chore that takes a long time, I'm gonna need 5 h to dry my hair afterwards etc., but then when I'm in the shower i never wanna get out."
-- Victoria749
Cruising, Until Your Not 
"Driving is my biggest love/ hate relationship. I absolutely love the feel of driving when there's a small amount/ no traffic and the feel of being able to go wherever you want in your country is so freeing. Start/stop traffic, car maintenance costs, insurance, monthly payments, terrible roads, the possibility of an accident, driving through new places without clear signage etc..."
"Man, driving at its best is one of my favourite things in life but at its worst I wonder why I ever got my license and look toward busses with jealousy."
-- LTPfiredemon
It Will Never End 
"Cooking. I hate the necessity of having to prepare food and the process itself, but I usually like the result, and if I cook for other people, I get many compliments for how it's good."
"You know, when I hate to do that, then at least it gotta be tasty."
-- Ziriath
Others spoke about the luxuries in life. It almost feels absurd to complain about such wonderful, unnecessary possessions.
And yet, they are luxuries with a slight catch.
The Nut Barrier 
"Chocolate."
"Probably my biggest trigger to ruin my diet. Doesn't even have to be good chocolate. Doesn't even have to be mediocre chocolate (by American standards). I'm talking about, like Palmer's Double Crisp super-cheap, probably-not-even-actually-chocolate Chocolate."
"My only saving grace is that I'm allergic to peanuts, and a lot of the really really cheap chocolate has peanuts/peanut butter in it, so it's no longer a temptation."
More and More 
"Having a home gym:"
"Love: Not having to go far and not having to deal with other ppl and their bs."
"Hate: Everything you want is much more expensive than you expect... and you keep wanting more"
Another Take on Tech
"Modern technology. For every way it makes our lives easier, there's at least five ways it makes things harder."
"But overall, it's generally worth it... if you can get the stuff to finally work, which might take you all day."
-- Arekai4098
So the next time you find yourself out of wits in frustration, only to come back to that same object or task the very next day, don't feel so alone.
Everyone out here is emotionally confused about their inanimate objects and abstract concepts.
Want to "know" more? Never miss another big, odd, funny, or heartbreaking moment again. Sign up for the Knowable newsletter here.
Keep reading...
Show less
In the age of the internet, sometimes it can be very cool to hate on things just because other people do. Bandwagons can be fun, right? But honestly, not all of the things hated on actually deserve it. Save your hate for things that actually call for it.
Wanna jump off the bandwagon? Then keep reading!
U/lit3rallyuseless asked: What doesn't deserve the hate it gets?

​Film and media are probably the biggest contender for being hated on randomly. It may seem harmless, but not always deserved.
Actors are people too!
Actors who played characters that people didn't like.
Really if you hated the character then the actor did a good job (assuming that was the role).
The best cartoons.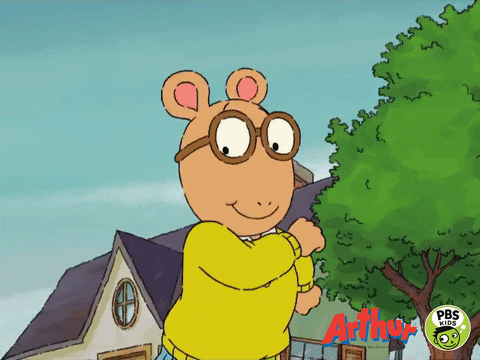 nice day summer GIF by PBS KIDS
Giphy
Child cartoons. Some are actually really good, even as an adult.
I feel like watching cartoons aimed at generally a younger audience allows for you to be reminded of some life lessons, I know I forget some things, or didn't realise others, or it at least partially renews my awareness of something I should still like or appreciate

This doesn't deserve awards, it's just my opinion that is apparently shared by many.
This man did nothing wrong.
Guy Fieri, he literally is the nicest person in the world but since he looks like he was electrocuted by mountain dew people want to saw his head off.
Even before that, I was witness to his other charitable work. A few years back, Santa Rosa was hit by some terrible fires and he showed up at a few shelters and personally cooked up and served some killer buffet food. No cameras, no massive team of PR, just a dude with an assistant to keep him on schedule to hit up other shelters in the area. Guy Fieri legit earned a lot of respect in my book for that.

You know who DEFINITELY doesn't deserve hate? Animals. They're just living their best lives, and need to be left alone.​
The best cats.
Black cats.
We got a black cat for the first time last year. I've since formulated the theory that black cats might get some of their reputation from the fact that people can't see them well in the dark and so they seemingly appear out of nowhere and they might be instinctually cautious because they know people have a tendency to kick them while walking in the dark. Our black cat is the sweetest cat I've ever known.
They get a bad rep.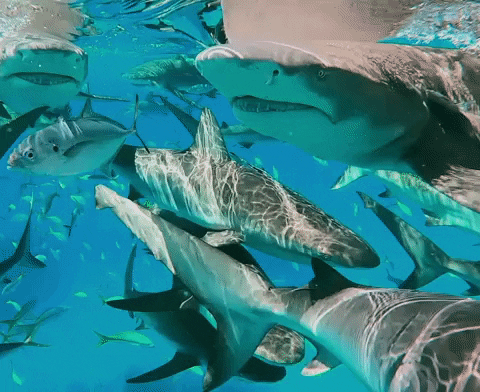 Discovery Sharks GIF by Shark Week
Giphy
Sharks. They are beautiful, complex creatures, deserving of respect and, like any wild animal should be left alone in their natural habitat, but they get this reputation as vicious bloodthirsty monsters. This is only because every shark attack is news, and only then because they are so rare. More people are killed EVERY DAY by mosquitoes than sharks kill in a year.
Any apex predator that has remained evolutionarily unchanged for hundreds of millions of years, whose existance predates TREES, is deserving or our respect and admiration. Shine on, you crazy cartlaginous fish, shine on.
So cute too!
Opossums. They're neat little critters. They eat tons of ticks that carry Lyme disease, (mostly) don't carry rabies because their body temp is too low, and they're the only marsupial native to North America! They get a bad rap because their first defense is to hiss and bare teeth, but failing that, they just play dead.
If you don't have the predisposition to hate them, you'll find they're pretty cute too.
E: this is about /opossums/, the north American species.
Kiwis, I feel for you, but this comment isn't about your possums.
​Hating on other people for just living their lives also seems to be a big contender for things that don't deserve to be hated on.
This is so true.
Unemployed people. A lot of people genuinely are looking for work and did not want to lose their last job/it was beyond their control (like a layoff) but they get so much hate and called lazy by most people. I know too many unemployed people that are actually really trying hard. They definitely aren't lazy. (Not saying lazy unemployed people don't exist, but to be fair, so do lazy employed people too lol)
Leave the weather man alone!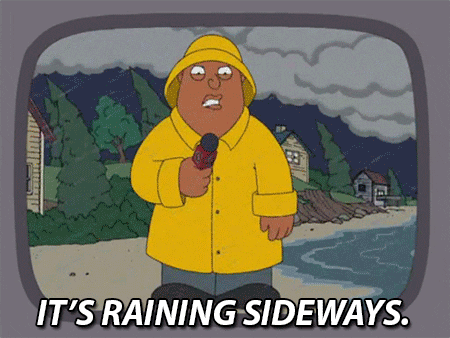 Fox Raining GIF by Family Guy
Giphy
Meteorologists. They try their best to predict the weather based on patterns, models, and data. They're not perfect because predicting the weather is insanely difficult. When they get it wrong, I think we should go easy on them. It was probably an outlier result almost no one could have foreseen.
I've seen people get angry over the meteorologists for getting it right. Like they control the weather - it is their fault we are having rain, that kind of BS. Never made sense to me, but hey, I have plenty of relatives I clashed with growing up.
Please stop being d*cks to these people.
Customer service associates.
I hate when customers think that I, the minimum wage person forced to sit there and listen to them yell, am personally responsible for every policy they disagree with. Like, ma'am, if I had that much power and influence, I wouldn't be sitting here on a Saturday evening serving you.
Wholesome and necessary.
People don't deserve hate they give themselves when they are not doing too good at the moment.
I'm in a weird place and I didn't know I needed to read this. Thanks buddy.

If you haven't heard it from anyone else today, I'm proud of you.
It seems like people hate on things simply because they think they're meant to hate them. But you can always be the change and make an effort to stop being an a**hole about certain things.
No matter what though, sometimes haters gonna hate
Keep reading...
Show less
It can be easy to presume that parents and their children get along automatically.
But unfortunately, that is so far from the truth. There are SO many fraught, toxic, and already-destroyed relationships between children and their parents.
Of course, no parent sets off hoping it gets to that point. But sometimes the external circumstances, the other adults in the child's life, or the internal tendencies of that person--who is an autonomous individual--simply drive a wedge that, for parents, is impossible to surmount.
Some Redditors who are involved in a toxic parent-child relationship shared how it got there.
TheHeyHeyMan asked, "Parents who dislike their own children; why?"
There's no question about it, this was a very depressing list to read through. But hopefully there are some lessons we can glean from these posts.
Maybe you surmised a way to make sure you don't do the same thing if you already have or plan to have kids.
Want to "know" more? Never miss another big, odd, funny, or heartbreaking moment again. Sign up for the Knowable newsletter here.
Food is an essential part of life. We need it to survive. But there are some foods that I'd rather drop dead than have to consume. Now I get that there are otherworldly concoctions that can give the palette an orgasmic shock but if the ingredients contain a few certain things--like cow tongue--I'll stay food celibate.
Redditor u/Dependent-Recover353 wanted to know what menu items gets your stomach turning by asking... What food do you just completely despise and why?
I'm not a foodie, so for me a meal is just a meal, not a religious experience. I don't need to sample wonderous delicacies. And apparently I'm not alone. Everyone does have that line were food just goes a little too far. Like, why would anyone eat a chicken gizzard? This is a thing? I have no words. Thankfully others do.
Death Greens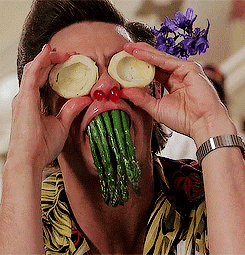 jim carrey asparagus GIF
Giphy
Asparagus. It tastes good but my dad choked on it when i was a kid and it was so scary that i've never eaten it since then.
A Hard Chew
I absolutely hate chewing on tendon... whether it be from beef, or chicken.. God dammit, anything with meat and a rubbery chewy feeling just makes me gag. The sensation is god awful for me, and is the best I can explain.
I also dislike papaya because the smell is off putting. The smell coming from that specific fruit triggers memories when I was a kid and tried it and gagged from it. I can handle other fragrant fruits, but papaya - no.
The Bone
I can't eat bone-in meats because of tendons. Not only do you have that feeling of it in-between your teeth, but scraping the bone has a really cringy feeling similar to scratching a chalkboard.
I'm the weirdo that will get every bit that I can off the bone, but only at home. I know to refrain when in public. But it hurts my soul. I knew my husband was my person when he offered me the chicken wing bones on his plate lol.
Soy you Say...
Soy anything, I am deathly allergic to it and they put that crap in everything in America. It's the wax we shine our fruit with, the oils we make everything with from soup to coffee creamers. They inject the isolated protein, my allergen, into random meats and products. Forget soy.
Scrub a dub spice...
I've got that thing where cilantro tastes like soap, so there's that.
I always figured cilantro was some regional American spice but I've only just learned it's coriander lol.
Does this gene make the seeds taste like soap as well?
Some spices, sauces and meats are meant to be left OUT of a recipe. Food is really a "to each their own" type of situation. The people who spoke up enjoy embracing "their own." I remember the one time I tried goose liver pâté... the nightmares still reverberate. The next group of people clearly have some edible PTSD.
gross...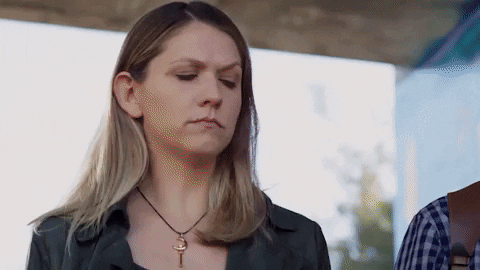 gross gag GIF by Anime Crimes Division
Giphy
Water chestnuts, its the texture.
An Ill Slaw
Sauerkraut, I am from south Germany and a total disgrace to my culture and family for this but man forget that dish.
Finally! I'm not alone!
There's plenty of foods that I don't really care for, but there's only one that I literally can't eat without getting physically ill (hell, I have to leave the room if someone is eating that crap).
Seafood Roulette
Oysters, clams, etc. The texture, smell, flavor. A massive no from me.
Eating raw oysters from the Gulf of Mexico is like Russian roulette with better odds. It is not often considering how much get eaten, but every year a few people get viral meningitis from eating them raw.
Bad Oils...
Truffle, it's definitely a love it or hate it kind of thing but it just tastes like feet to me.
The first time I tried truffle was in a macaroni and ammonia was all I could taste or smell
I decided to try it again now that I knew what to expect and I found it MUCH tamer the second go aroun
I tried it again and now I love it, well, at least how a little truffle oil tastes in an extremely cheesy macaroni. I even made my own at home one day with black truffle oil and it was awesome. I then used a small amount on my plate to dip my pizza in and that was also really good. I mainly dipped my crust into it.
With a nice Chianti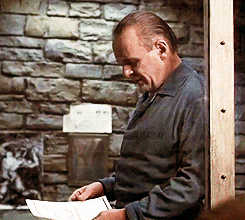 hannibal and clarice GIF
Giphy
Liver.
Whenever my mom makes something with liver I can smell it throughout the entire house, it's so disgusting. It's a weird kinda sweet smell/taste that just reminds me of decay.
Bodies process food differently. Things aren't going to taste the same for everyone. So good luck in life tastings. There are two truths with menus we all must accept... eating is always a game of roulette and pineapple IS good on pizza. The End.
Want to "know" more? Never miss another big, odd, funny, or heartbreaking moment again. Sign up for the Knowable newsletter here.

Keep reading...
Show less
They say there are no dumb questions. Well, that's debatable.

Being inquisitive and seeking information through research is commendable.
And there's nothing wrong with asking where you can find the cereal aisle in a grocery store you've never been in -- with the understanding you're not making the inquiry while standing in the said aisle.
Curious to hear from the experiences of strangers on the internet, Redditor nonlinearcharm asked:

"What's a question you absolutely hate being asked?"
Keep reading...
Show less