No two people share exactly the same likes and interests.
But on occasion, one might find themselves being among the few, if not the sole members of a certain fan club.
Indeed, while Cats earned a place on the list of the worst movies of all time, its 19% score on Rotten Tomatoes suggests that there are a handful of people who actually liked it.
Or while many people dread having to clean their homes, some simply can't wait to get started, and will look for any and every opportunity to do so.
Redditor StardustNova_ was curious to hear where members of the Reddit community found themselves in a distinct minority of appreciation, leading them to ask:
"What's something you like that the vast majority people hate?"
You've got me all tied up in knots!
"I love untangling things."
"Your Christmas lights end up in a ball and there's no telling where it starts or ends?"
"Give."
"Got a necklace that got rolled up into a total mess?"
"I'm your de-tangler."
"Headphones come out of your pocket looking like a Tangela? "
"No problem!"
"Total zen for me."
"Wish I could make a few bucks with it tho."- Not_Jo_Mama
I'm all ears!
"People that talk a lot so I don't need to."
"I like listening to them & I find their energy refreshing."- krasavetsa
Jet setter!
"Everything about the airport."
"Idk why but it's so fascinating."
"Honestly I like it more than the trip sometimes lol."- abigailgwhitney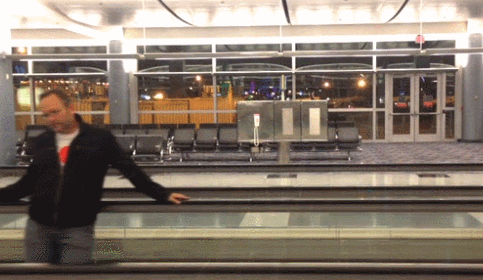 airport GIF
Giphy
"The cold never bothered me anyway"

"A Winnipeg winter day where there's not a cloud in the sky or a breath of wind, but it's so f*cking cold out your nose hairs freeze together every time you breathe."- FakeLordFarquaad
When life gives you lemons...

"Apparently a lot of people don't like the lemon/yellow starburst candy, and that's the one I prefer."- mermaid_with_pants
Sudsy, soapy dreams...
"Doing the dishes."
"I find it so calming."- shakensunshine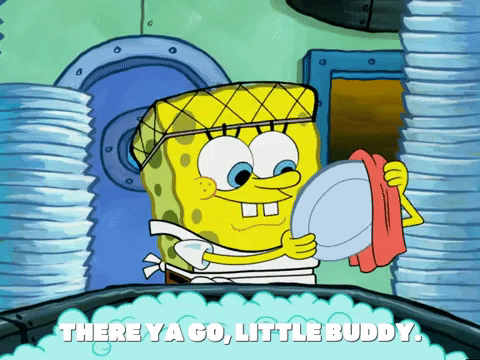 Season 5 Episode 10 GIF by SpongeBob SquarePants
Giphy
The gift that keeps on giving.
"Wrapping presents!"
"It's super therapeutic and relaxing to me."
"I'll wrap everyone's presents in the house, even the ones they have to give to other people!"- happygoose2022
Sweeet and sparkly!
"Fruit flavored sparkling water."- suitcaseinherhand
"It's raining, it's pouring..."

"Gloomy and rainy days."- eggtart_prince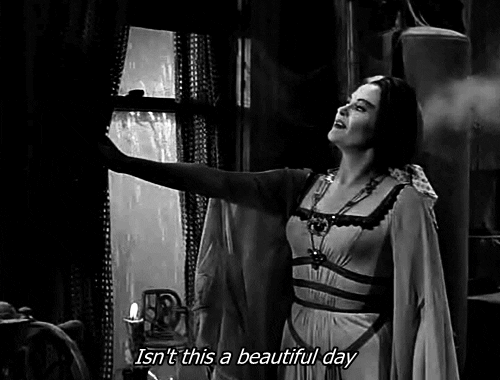 rainy day GIF
Giphy
Can't dive too deep!

"Writing essays."
"I got addicted to research when I was in college and something about putting everything together to present a coherent argument is just exciting for me."- ILoveFoodALotMore
It's always interesting to hear the thing which would make some people groan with misery that would make others cheer with glee.
Nor should always look down on someone for loving something you absolutely hate, as they could help you wrap those presents you've been putting off because you hate it so much.
And who knows, maybe Cats wasn't as bad as you remembered...
Keep reading...
Show less
Insects play a vital role in Earth's ecosystem.
Without insects, some plants would die and some animals would starve creating a domino effect of global famine.
That being said, June Bugs can crawl back into the pits of Hell from whence they came.
I know I'm not alone in that opinion.
Redditor aconnor105 asked:
"What insect can go straight to Hell?"
...but there seem to be a lot more we mostly hate.

Did your insect nemesis make the list?
Keep reading...
Show less
How did these scam calls become such a problem.
They're an epidemic.
If I get one more robocall today, I may through a phone through a window.
I've go to start scaring these people off.
Would that even work?
Redditor vmcards17 wanted to hear about how we can get creative with those non-stop phone calls that are driving us mad!
They asked:
"What's the funniest way to answer a scammer's call?"
My first thought is... "LEAVE ME ALONE!!"
Blood
"Don't say 'hello' just pick up the phone and say 'it's done, but there's blood everywhere. I'll need your help cleaning it up. Bring bleach, trash bags and that large saw from the garage.' and then just hang up."
FinnbarMcBride
Pretend
"Pretend to be elderly and confused. You'll hook them immediately and can then proceed with wasting the most of their time."
Bananaman1229
"This is my go to, my record is 8min of slowing asking them to repeat it and ask about my benefits or what the package includes. If it's the solar guys I ask about the panel type and what crew they will use. Sometime I tell them I just moved or ask about the weather."
brapo68
language by language...
"I gave the phone to my neighbor who talked to them in Pennsylvania German. My neighbor is Amish. Then the person on the phone tried to use regular German, but all they knew was 'Sprechen Sie Deutsch.' When my Amish neighbor said yeah and then rattled off in a mix of German and dutch the scammer hung up."
"Then they called back not 20 minutes later. So I spoke to them in Chinese. But they kept telling me to speak in English. They hung up after about two minutes."
elanrach
Hold Please
"In a forum online, a girl answered a call with a Caller ID that came up as fraud. She answered breathlessly, 'Can you hold on? I'm having sex.' She clicked on porn and set the phone next to the computer's speaker. The guy listened for half an hour."
SciFi_Author
HOW?!?!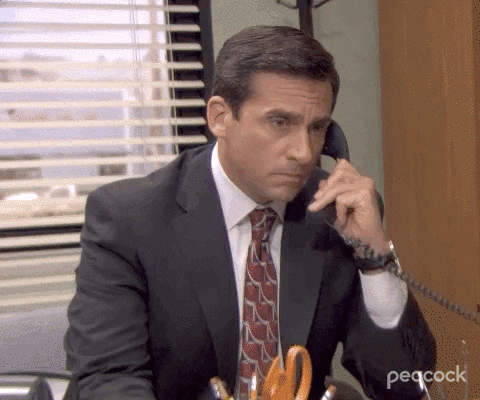 Season 6 Nbc GIF by The Office
Giphy
"HOW DID YOU GET THIS NUMBER?!?"
"Answer every phone call that way."
RogueNine
Why did I not think of some of these sooner?
Hey Bob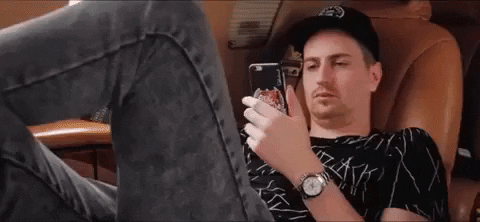 Phone Staring GIF by Robin Schulz
Giphy
"Bob's orphanage, you make 'em we take 'em."
Spicy_French-Fry
Gotcha!
"Wasting time of scammers? One of the most fun activities to do. Have wasted the time of one guy who wanted to scam me with steam cards and such.. I impersonated a local I know and talked like him, acted like him and mocked the scammer in subtle ways. Was really funny, I streamed that entire sh**show to my friends."
"Me mocking a scammer and giving them useless steam-gift codes, even telling them that they are like any other guy out there trying to scam me and such. It's really hilarious when you think about that me telling to that guy that he is like any other guy who wants to scam me made them trying even harder instead of acknowledging that he was completely played by me the entire time."
"We had five hours pure fun together, the scammer lost five hours of lifetime."
ShadowLemon313
Tricks and Treats
"I once worked for a legitimate call centre where we called people who ticked boxes, on forms and stuff, saying they'd be interested in X product or service. It was a crap job and I got out of it ASAP, but it paid by the hour (not commission). People would hang up, pretend it was the wrong number, pretend not to speak English, and all kinds of stuff (even though I'd be happy to just remove their info if they asked, and I always offered)."
"But when people pulled the whole 'Just wait a minute' trick, and left the phone down, it was a welcome break. I could just doodle pictures, browse the internet, and generally relax, because the system had me down as on a call. And I was still getting paid the same."
"I once spent an hour and a half like that, before the woman picked the phone up, realized I was sill there, asked me what the hell was wrong with me, and hung up. This may well have been a similar thing."
BadgerSituation
You Win!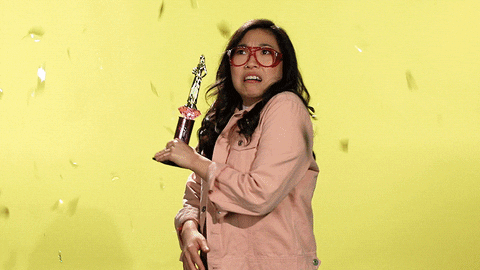 Winner Celebrate GIF by Awkwafina
Giphy
"In your best Announcer's Voice:"
"You've reached KSCM 99.3 The River, you're on the air and you are the seventh caller! Are you excited? ARE YOU EXCITED???"
Hysterical_Realist
I'm trying all of these. And also... "LEAVE ME ALONE!!!!"
Want to "know" more?
Sign up for the Knowable newsletter here.
Never miss another big, odd, funny or heartbreaking moment again.
Keep reading...
Show less
Hate is never a good thing.
But everyone once and a while we can't help ourselves.
There are just some things in life that deserve no love.
We don't want to hate because it's unhealthy for us personally to carry it around.
But giving it to something worthy can be freeing.
Like airplane ticket fees. Okay, I'm angry now.
Redditor IssaHunna wanted everyone to discuss all the things being shown justifiable rage. They asked:
"What's gets a lot of hate, but deserves every bit of it?"
Also... hurricanes. I hate hurricanes. I've survived too many.
Liars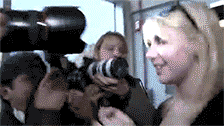 Taylor Paparazzi GIF
Giphy
"Tabloids. I'm amazed that they're still allowed to exist considering how much bullcrap they publish."
RonskyGorzama
Rip Off
"Scammers that rip off old and poor people."
By_Testing
"I've been going through my grandparent's mail (grandma went through a mail hoarding phase at the end) and the sheer amount and types of old people scammers is mind-blowing - people are f**king shameless!! I can't just chuck it all out either because there are random blank checks, insurance info, etc interspersed with everything - like grandma was signing checks left and right for anything and everything."
josefinanegra
Wasted Seconds
"Non-skippable video ads."
REDDIT
"That freaking five-second warning is the bane of my existence. Way to snap me out of my flow state. They should just get the ad playing immediately, so I can waste 5 seconds of my time instead of 10, 5 on the ad, 5 on feeling pissed that there's an ad about to come."
sacrivice
"Don't forget unmutable, non-skippable video ads. It's what ruined angry birds since I cant safely play it in the crapper at work now."
NotPoliticallyCorect
We Hate U!
"Cancer."
D-Rez
"I'm 34 and I have stage 3 brain cancer and stage 3 breast cancer. Chemo literally feels like drinking bleach and suffering the side effects for days afterwards. I'll probably not be able to have kids anymore either because I found out I could pass it along and I would never wish this on anyone."
NewCityNewTrends
"Took my godfather. Liver and testicular. He didn't smoke or drink. 10 years on I still think about him every day. It's not fair."
Funk5oulBrother
2X a day...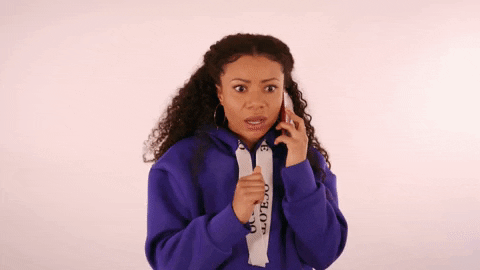 are you there what GIF by Shalita Grant
Giphy
"Robocalls."
hex_1101
"Hey, hey Scam Likely is my best friend and calls me at least twice a day no one can live up to that dedication."
jait2603
If these Robocalls don't stop. I may go to jail.
Bad Loops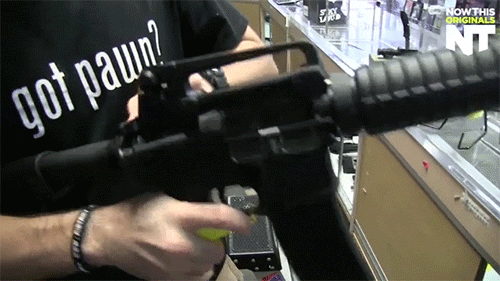 president obama news GIF by NowThis
Giphy
"Balance billing, preexisting conditions, and other insurance industry loopholes."
Poorly-Drawn-Beagle
Crazies
"Scientology."
bassistheplace246
"Off the top of my head: They organize their members to tear down anyone who insults the faith and do horrible things to people who leave the cult."
"Leah Remini had a hell of a time getting out and a worse time after she left. A real religion doesn't destroy you when you leave. They HATE therapists and mental health professionals. Stated reason is that we're too manipulative and profit off suffering- personally I think that's projection, they're mad that we actually help people suffering instead of just fleecing them."
rooftopfilth
Haters!
"The Westboro Baptist Church."
JustinChristoph
"So, interesting thing about Westboro, being from and living in Kansas, not too far from Wichita, we heard about Westboro ALL THE TIME a decade or so ago. They'd protest funerals, pride parades, birthday parties, basically anything they could find. And then something amazing happened. Westboro started getting bullied HARD by people in Kansas, like viciously and mercilessly bullied."
"They would protest, and there would always be a counter protest, and people would just bully the crap out of them the entire time Westboro was protesting. It got so bad that they had to scale back both the amount of protests they were doing and how many people were going, and no longer brought their kids with them. Eventually they just faded into obscurity."
maggotshero
Evil
"Animal abuse."
elkresurgence
"And that goes for all animals. Obviously recognizing the abuse that animals like dogs and cats face is important, but people tend to ignore and even laugh off the rampant abuse of fish, amphibians, and reptiles."
GoldH2O
"Fish abuse deserves more hate, it feels like every man and his dog crams a billion different types of fish into a chlorinated, un cycled hellhole and it's considered normal, but some ribs showing on your dog and every middle aged white woman will yell at you for hours."
Ill_Writer8430
Shut Up!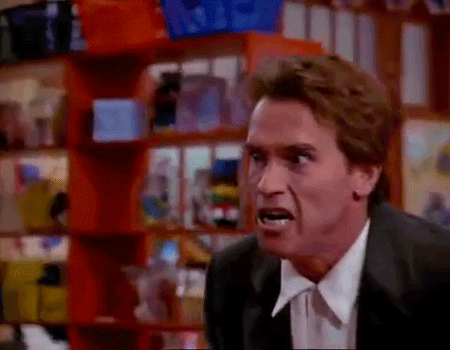 Arnold Schwarzenegger Shut Up GIF
Giphy
"People who talk at the theatre."
menlindorn
"The last two theater-based comedy shows I went to nearly made me homicidal. It's crazy how many people think it's ok to just talk through the whole thing or get drunk as hell beforehand and make a bunch of noise the entire time. Why the hell did you even come?!"
dcbluestar
Why are people so rude in the theater? Why are you paying to talk in public instead of at home.
Want to "know" more?
Sign up for the Knowable newsletter here.
Never miss another big, odd, funny or heartbreaking moment again.
Keep reading...
Show less
Love is a gamble.
That is just fact.
Even if they seem perfect that can often change.
That's why a lot people have taken a chance on the "not obvious" person.
Why not try with this guy? See what happens.
Have y'all seen "Fatal Attraction?"
THAT is what happens.
Creepy is creepy for a reason.
Be careful ladies.
Redditor HorizontalInterrupt wanted to hear from all the ladies out there about the times they decided to go ahead and see what happened with a guy. So they asked:
"Women who gave the creep a chance, how did it go?"
I give no creepy people a chance. I barely give anybody a chance.
"hi, I miss you"
"Guy had serious untreated mental health problems, which resulted in him spending four years stalking me and making me resent giving that one chance. I made multiple calls to police and paramedics because he would call me up threatening suicide unless I would help him. He still finds me on social medias and random gaming apps to say 'hi, I miss you' but I now live more than 1000km away."
WittyMathematician1
"good guy"
"I had a bad vibe but my friend told me he was a 'good guy.' So we went on a date and he asked to drive my car. He curbed my rims and talked about how he was fired unfairly from his job. The next weekend I avoided his calls and instead went out to dinner with friends. While I was gone, he broke into my apartment. My neighbors and the cops were waiting outside when I got home."
"I spent the night at my moms, he showed up at 0300 when the my let him out and was trying to get in a window. Wonderful officer spent the rest of the night in the driveway. Fast forward a couple weeks and he shows up at my work, mopes over to me and hands me folded papers."
"It was 8-10 handwritten front and back notebook papers where he alternated between telling me I was the love of his life to why he hated me and wished I would die. I was terrified, security escorted him away. Never saw him again but found out later he did the same thing to some girl in Spokane but he was able to actually get in, beat her and landed her in the hospital."
"The friend was dating my best-friend and the 'good guy' was his cousin. I think he really wanted us to hit it off so the 4 of us could all hang out together or something?? He was shocked by the actions of his cousin but did tell me later that he had 'thought he changed.' They're not longer dating and haven't talked to him in years and years! This happened 20 years ago in the PNW."
TuesdayWednesdayMe
"check in"
"Met him when I worked as a cashier in a small downtown shop. Wasn't my type and seemed a little off, but I was young and had zero real dating experience. Agreed to grab coffee as a friend and made it clear I didn't have a romantic interest. He became convinced he was Gatsby and I was his Daisy (the Great Gatsby film had just come out that year). Started stalking me and endlessly sending letters and gifts to me at work describing how we were fated to be together."
"When I confronted him to stop, he started having his friends follow me at work or drop by to 'check in' on me. Prowled outside on nights I had to close shop alone. I ended up quitting that job and things fizzled. Seven months later I got a call from a number I didn't recognize."
"It was the same dude -- he just got released from a short prison sentence and was letting me know he thought of me every day and was going to find me so we could finally be together. I made up a story that I was travelling abroad for college and would be gone indefinitely. Changed my number and luckily haven't heard from him again!"
justascrolling
Maybe just shy?
"Back in High School several of my female friends and I (also female) had an off period before lunch, so we were all sitting around a table chatting. One of the female security guards came up to us and told me that there was a new exchange student from Amsterdam that thought I was cute, but he was too nervous to come over and introduce himself."
"I have zero interest in men, but I figured there wasn't any harm in letting the guy come sit with us and helping him feel more comfortable at our school. So he comes over, sits down with us, and chats a bit. He seemed rather shy, and he had about a dozen piercings going up each arm that he kept fiddling with (and a bunch of facial piercings). Then class lets out and people, including a bunch of my male friends, start showing up for lunch."
"First male friend sits down and introduces himself. New guy doesn't not respond AT ALL, doesn't even look at friend. Weird. Maybe just shy? Second male friend comes and sits down. Same thing. Slightly unsettling now. We kept trying to include him over lunch but he would ONLY respond to the women."
"Wouldn't even acknowledge the other guys at the table. I never talked to him again after that lunch period and two weeks later he got expelled for slamming a girl against a locker and choking her to the point she nearly passed out."
Katy-L-Wood
Sorry Bud
"Did one video chat with him during which he asked if he could (video) call me again later in the day. When I told him 'no I'll be busy.' I started getting random text messages throughout my day that said 'are you okay? Just let me know you're okay.'"
"The first I responded to, I said 'hey — yeah, I'm fine. I just hung up with you 30 minutes ago bud.' He took that as a sign that I wanted to talk more so he attempted another video call. When I didn't respond, he started again with the texts. Didn't even bother responding to the rest. Up to 20 unread messages later before I was able to block him while leaving him on read."
Wazoo53
This is nonsense. Why can't people just be a little sane?
Different People
"Knew he was weird before the first date. I was sad and thought maybe he'd be different in person. Showed up to the date and he walked with a crazy limp, wouldn't pay for dinner, tried to kiss me 3 times. When I got home that night he sent me a full body nude completely out of the blue. I never saw him again. He texted me 3 months later to tell me I was the worst human and most selfish person he's ever met. And then he blocked me."
pamshmam
That Guy
"Reading this I realized I actually have something to contribute lol. I gave him a chance in high school I was 15 he was 18. Ended with him sticking his tongue down my throat several times quite aggressively, joking about stabbing me as he lunged a knife at me and laughed about it while carving pumpkins got suspended and no one ever saw him again. Update: My friends and I found out he's now in the military."
powerhouseofthiscell
"broke his heart"
"He stalked me. He made videos of himself crying because I 'broke his heart' after him knowing me for a month. He told everyone I was just a fat wh*re who used men (I didn't take anything from him or have sex with him.) I gave him a whole month and every time I would hang out he would keep me up until 3am crying that I didn't love him. It was bad."
ayyoowhatevr
In the Dark
"I bought him a coffee one time and we chatted about our music tastes. Three days later, I was sitting in my dorm and I got a text from him that was just a selfie. I sent one back and the conversation got really boring so I sent him a snap of a black screen. He responded, 'are you in a dark place?' And I said 'yeah lol.'"
"His response was 'well you'll have to leave soon because you have class in (insert building with insert professor) at 6:00.' I literally never told him anything about my classes so he just freaking stalked me until he learned my entire schedule. It turns out he was a serial creep preying on freshman girls."
Crazybish123
Colors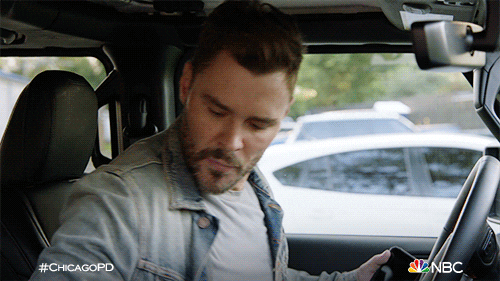 Watching Chicago Pd GIF by One Chicago
Giphy
"On our first date, he told me he loved me and that he would let me pick out the color of our house. The rest of the evening was super awkward. I never talked to him again."
willingtoeatsushi
Guys are crazy. Stay single. That is all.
Want to "know" more?
Sign up for the Knowable newsletter here.
Never miss another big, odd, funny or heartbreaking moment again.
Keep reading...
Show less