Religion is a funny thing. I get having faith, and Lord knows I need all the help and prayer y'all want to muster for me, but some people really just go overboard with what they believe God is going to be peeved at.
There are just some things people take issue with that make them sound like they should be medicated in order to be amongst the sane people.
I promise you cartoons are not evil. Let's discuss...
Redditor u/Yaoi_MakesMe wants to discuss religion and some of its guffaws, by asking:
What is the stupidest thing you've ever seen a religious person call "satanic/demonic"?
I am a lifelong Madonna fan. So I have been hearing about her Godlessness for decades. I mean you roll around on one VMAS floor with a crucifix and people get all hot and bothered. Geesh.
In Lubbock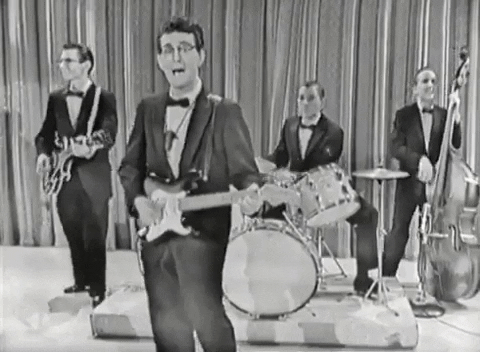 Buddy Holly Crickets GIF by The Ed Sullivan Show
Giphy
"Buddy Holly was said to make "the devil's music" by his own home church in Lubbock that he regularly tithed to still, even after making it big."
Wash Away
"An elderly woman I know was doing her laundry in her apartment building's shared laundry room when two other women who also lived there called her "demonic" and said she "had to have Satan in her" because she was doing her laundry on a Sunday."
Isn't there literally a parable in the Bible where Jesus yells at ppl for taking the whole "can't do anything on Sunday because it's the sabbath!" too literally and points out how archaic, and dumb ppl are for blowing it out of proportion. It's like these ppl don't even read the Bible."
Prince of Lies...
"Well when Pokemon first came out when I was a kid they were hating on it because evolution. Then it was Harry Potter because magic. Both equally idiotic."
"The funny thing is, Christians who studied theology would agree with you. Most churches hold (and in cases such as the Roman Catholic Church, have always held) that miracles can only come from God. Satan is the Prince of Lies explicitly because he holds no power; he can promise you the world but can never deliver. So those claiming that Harry Potter features "real spells" are in fact heretics for claiming that Satan can perform miracles and that God is not all-powerful."
- zoor90
Dragons... oh my!
"Adorable dragons that my Christian brother in law painted and sold at convention, called it devil worship and were concerned for his well being. My sister just pointed them three vendors down and said "by the way, there's an actual witch you can go talk to, please leave."
"Yet some of the best dragons and gargoyles are carved on cathedrals. St. John the Devine in New York City is one of the best."
It's a Bad World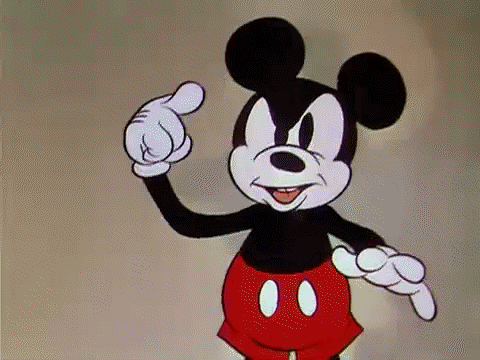 Mickey Mouse Disney GIF
Giphy
"I knew a family who wouldn't let their kids watch Disney movies because they had magic in them, talking animals (witchcraft), etc."
Well, Disney I can see. They have some issues we could break into and chat with our therapists about for centuries. And I'll do my laundry whenever I wish.
Bloodletting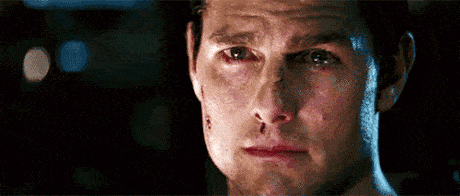 tom cruise crying GIF
Giphy
"Donating plasma, use to donate plasma in college for extra money and some of my friends did it as well but then two of them stopped because their mom said it was being used for satanic rituals."
- JP1426
Damn Frodo
"Lord of the Rings."
"My mom knew someone who claimed they were a "satanism expert" who "worked with the police" who saw me writing myself messages using the elf script in the back, and insisted they were runes and it was occult. For some reason she wanted to keep my message I wrote to myself."
Glorifying Evil
"My mom insisted Buffy the Vampire Slayer was a satanic show that would let demons in the house because it "glorified them" so I wasn't allowed to watch it. This wouldn't have been run-of-the-mill religious nonsense if The Witches of Eastwick wasn't one of her favorite movies. For those of you who haven't seen it, the plot of this movie is basically Jack Nicholson as the devil seducing some witches. We owned it on VHS and she's watched it every few months."
She Bad
"Dora the explorer."
"LOL this is like the most innocent thing of all and they STILL found a way to call it "witchcraft". I watched this show all the time as a kid, I wonder how obnoxiously afraid of everything these parents are that Dora getting magical princess powers and talking to animals is offensive to them XD."
I Agree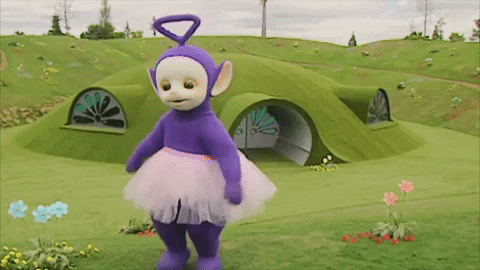 Drag Queen Love GIF by Teletubbies
Giphy
"Teletubbies. Harry Potter. Like literally any scary movie. Monster Energy drinks. Starbucks. I have heard a lot!"
You're "Right"
"Writing with your left hand. I naturally started writing with my left hand as a young child and my mom made me fix it. Whenever she saw me writing, she would put the pencil in my right hand until I could no longer use the left one. It wasn't until I was older that I realized she was doing it because she thought left-handedness was associated with the devil. Now I have sh*tty handwriting."
Teletubbies are minions of the Devil. End of story. The rest... some of you really need to get a grip. I promise you God probably enjoys a good game of D & D now and again.
Want to "know" more? Never miss another big, odd, funny, or heartbreaking moment again. Sign up for the Knowable newsletter here.

Keep reading...
Show less
Can you see Harry Potter at a football game in the Midwest? Chowing on a corn dog, throwing back some good ole Pepsi-Cola? Or can you picture the Harry universe living and loving in the great U. S of A? What would casting look like against the backdrop of the great harvest plains? I have so many thoughts and ideas. The first thought, the change would never work. Keep the story alive on British soil.
But, for fun, let's chat about the idea.
Redditor u/Cuish wanted all the Potter heads out there to share what American tweeks would occur in the Potterverse within America, by asking:
If Harry Potter was set in the United States, how would the story change?
I just can't see anyone else saying those words other than the people who did. And it's not that America can't do great fantasy, look at Buffy. Which also benefitted from the Brits. Coincidence?
Pay Up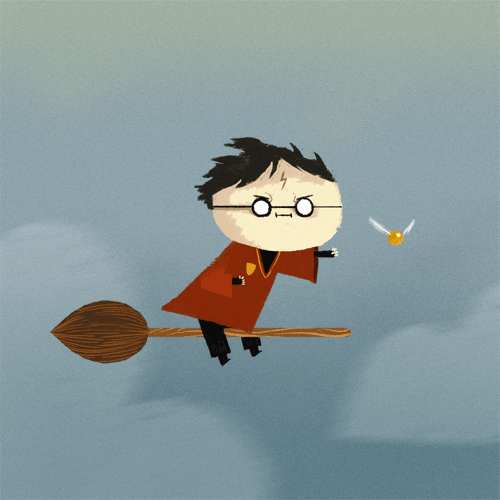 harry potter art GIF
Giphy
"Quidditch coach is the highest paid "professor" at the school."
In NJ
"Harry would probably live in New Jersey. Ron would probably live in Kentucky or Tennessee, and Hermione would probably be from California. They would go to ileverany (I spelled it wrong it's the North American wizard in school), which is in Massachusetts. There would be a train but only for people in Boston-New York-Philly-DC corridor. Everyone else would use flying cars. Outside of that it is a typical American boarding school."
- Yevin523
Travel
"Airport terminal 9 and 3 quarters."
"The kids run through a magic wall and still have to go through wizard TSA."
"Ron Weasley has to use the greyhound because he's poor but everyone else just flies."
Instead of...
"Eagles instead of Owls. Sasquatch instead of Centaurs."
"We have owls though? Eagles would be more of a flex but like, owls would still work better as they fly night and day. OK. Eagles would be an option. The useless 1 miles per gallon of gas muscle car of the owl world. Americans are super obnoxious. We suck. I get it. Sorry. Lmao."
"Too conventional. Leave it to the Wizarding World to adopt the mythical Ben Franklin's turkey idea instead. Idk how the heck that'd work as a delivery service, mind you, but still."
Relics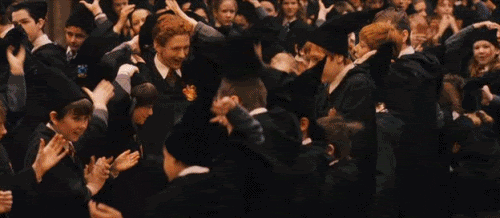 Happy Harry Potter GIF
Giphy
"The school would be a defunct military base because we don't have any incredibly old buildings, and the uniforms would be military style instead of robes. 'Murica."
Well those sound like some solid choices. Who doesn't love taco Tuesday? And why are sports always the first go to change?
Happy 5th!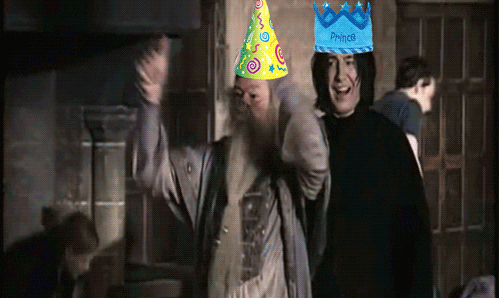 Happy Birthday Dancing GIF
Giphy
"Taco Tuesdays at the Great Hall."
"And a freaking epic (but pointless) Cinco De Mayo party. For non Americans, it's mostly an excuse for Americans to drink on a Mexican holiday. It gets cringey. But hey, on other hand, tacos and margaritas."
Casting
"Nathan Fillion would've been cast as Guilderoy Lockhart."
"Samuel L Jackson as Mad Eye Mooney... "CONSTANT VIGILANCE, MOTHERF***ER! DO YOU KNOW IT?"
"I vote Morgan Freeman as Dumbledore."
Title Cards
"They would change 'philosopher's stone' to 'sorcerer's stone'."
"The editors wanted Rowling to change the name to "Sorcerers Stone" so that the readers would know the book is about magic, and not some philosopher with a theory about a stone and sends a random guy on a mission to find it. Most people that are not American underestimates an American's brain capacity. I'm American. We are not as stupid as you think."
- Snakem69
The Drop Off
"No train ride to Hogwarts. Instead, parents will be dropping them off by car. A huge parking lot just outside Hogwarts, and instead of Diagon Alley, a large Wal-Mart exists surrounded by nothing more than another parking lot."
- cgyguy81
"It's hidden by being inside a Walmart parking lot. But when you reach the edge, almost to the building, muggles get all turned around and suddenly notice the Walmart was at the other side of the parking lot. This can repeat until the muggles either get inside a real Walmart, or go away."
- jak3rich
Commercial Gain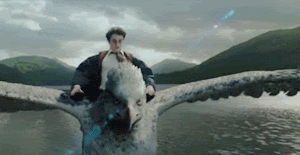 Flying Harry Potter GIF
Giphy
"This quidditch match is brought to you today on ESPN by Swiffer, the official broom of the Quidditch Cup."
"Quidditch in the old South West Conference was crazy… I remember when Texas A&M offered Eric Dickerson that gold Swiffer and he took it and rode it up to Dallas to sign his letter of intent with SMU."
- BigDrisk
Nothing here really seems necessary. It was fun to dabble in the thoughts though. Keep perfect as is.
Want to "know" more? Never miss another big, odd, funny, or heartbreaking moment again. Sign up for the Knowable newsletter here.
Keep reading...
Show less
As the Senate impeachment trial of President Trump reaches its final phase, many Americans feel Republicans have intentionally tried to hide evidence to protect Donald Trump from the constitutionally mandated consequences for his actions.
After Republicans voted to make this the first impeachment trial in history that will feature no new witnesses or evidence, all that's left before a vote on whether or not to acquit is each sides' closing arguments.
Having laid out an overwhelming case against the President, all that was left for many Democrats to do was to appeal to their Republican colleagues' sense of justice or honor. While on the Senate floor, House Manager Rep. Jason Crow (D - Colorado), even quoted Albus Dumbledore.
"It's in that spirit that hanging in my son's room is a quote from Harry Potter. The quote is from Professor Dumble… https://t.co/s2ddNOSGZk

— Jennifer Shelton (@Jennifer Shelton)1580758144.0
Harry Potter's Dumbledore, cited by Rep. Jason Crow: "It is our choices that show who we truly are, far more than our abilities."

— Jeremy Herb (@Jeremy Herb)1580757854.0
Twitter was in disbelief at the strange government/fantasy crossover.
DRINK! Democrat Rep. Jason Crow just cited Harry Potter on the floor of the Senate.

— Steve Guest (@Steve Guest)1580757657.0
@SteveGuest @nani_booboo https://t.co/LKWTuOTSWw

— Georgia (@Georgia)1580758579.0
@KFILE @SteveGuest It is our choices that define us.....

— Eileen🗽🌉🌐⚓🌊 (@Eileen🗽🌉🌐⚓🌊)1580758018.0
You can find Harry Potter fans everywhere, even in Congress.
@justinbaragona Well at least SOMEONE is reading

— Liddle' Take Her Out Kincheloe (@Liddle' Take Her Out Kincheloe)1580759447.0
@DailyCaller Under section 7890 d. Of the Constitution, if you quote Dumbledore on the Senate floor, the POTUS is a… https://t.co/3O5V1bSOav

— rebel millennial (@rebel millennial)1580758840.0
@DailyCaller Denver Law School teaches sorcery I guess

— Castle Ballymalis ⭐️⭐️⭐️ (@Castle Ballymalis ⭐️⭐️⭐️)1580758883.0
Though convincing Republicans to do what is morally right but politically difficult may be a lost cause, Crow took his best shot.
@DailyCaller Find someone who loves you as much as the left loves Harry Potter.

— 🪕 (@🪕)1580758836.0
At what point in time did Jason Crow decide this was it - this would be the quote that does it https://t.co/SB9FN68Cog

— Eryn Michael (@Eryn Michael)1580829095.0
Conservatives online seized upon Crow's use of the quote and dragged him for it.
@DailyCaller It seems reasonable given that this ENTIRE IMPEACHMENT has been that of PURE FICTION.

— All American Mom (@All American Mom)1580759475.0
Democrat Rep. Jason Crow citing the fictional literary work of Harry Potter and Albus Dumbledore on the floor of th… https://t.co/rhZd5I5yHe

— Steve Guest (@Steve Guest)1580758252.0
Meanwhile, most liberals understood where he was coming from.
@DailyCaller Why is this a thing? He put it in context. Why not quote popular and culturally significant art?

— D. Equitz 🌒 (@D. Equitz 🌒)1580760211.0
Fortunately, quoting Dumbledore wasn't the only memorable moment from Crow's remarks.
"The facts will continue to come out, whether you subpoena them or not." --House Impeachment Manager and US Army ve… https://t.co/owgTT11KQB

— Julie Cohen (@Julie Cohen)1580346392.0
Rep. Jason Crow reads a note he wrote to his children during closing arguments in impeachment trial: "Our system… https://t.co/B7zWxU2b23

— CBS News (@CBS News)1580759285.0
Though it seems likely that Donald Trump will be acquitted by the Senate without that body hearing from a singe witness, history will remember what passed for "justice" and those who were willing to fight for it.
Keep reading...
Show less
Warning: This article contains character death spoilers for books, films, and television shows.

We're all victims of good writing; characters so developed and thought out that we become invested in their fictional lives. It doesn't matter if we know them for the length of a novel or for a couple of hours of a movie or show. Nor does it matter that we'll never meet them outside of our imaginations. A well written character can be as dear to our hearts as a living being can be.
But then, some creators like to rip our new found friends away from us. With just a moment on the screen or the turn of the page, creators crush fans' hearts by killing off beloved characters all of the time.
Redditor u/BeansAreNotCorn opened up some old wounds when they asked... "Which fictional character's death hit you the hardest?"
**spoilers ahead**
Keep reading...
Show less
No story is ever perfect. Every movie, tv series, book and sometimes a song will leave some questions unanswered. Often it's a clever point of the art to not tie up every loose end but, sometimes it's odd, or even poor storytelling by forgetting an arc or character and not leave emptiness that could be answered. J.K is pretty brills so let's assume she knows every unanswered point.
Redditor u/GreendayG11 wanted to hear from the Potterheads out there to about some story points that don't always add up by asking.... What just doesn't make sense about the Harry Potter universe?
Triwizard.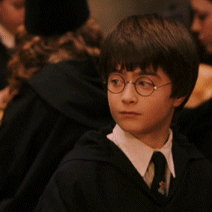 Giphy
I know I'm late to the thread, but I've never understood something about the Triwizard tournament. For the spectators, two of the three tasks must be super boring.
Here, watch these people jump in a lake. Now wait.
Now, watch these people disappear into a hedge maze. Now wait.
Whee. Sounds like fun to me.
edgarpickle
Not even Malfoy.
That none of the kids in Harry's first year knew about the sorting hat.
Literally not one. Not even Malfoy. Not even Ron with his 5 brothers going before him as well as his parents.
Yet in the end of the last book, Harry is openly discussing the event with his son.
GoshDarnMamaHubbard
The Dentist. 
At Slughorn's Slug Club meetings, Hermione brings up her father being a dentist, which gets confused stares from the students and Slughorn. Yet, in the Chamber of Secrets a clock in the Weasley house can be seen, each hand with a family member's face, and many indications of where they might be at any given moment.
One of those places is dentist.
pretend_shower
Accio....
Also, Accio being a fourth-year spell.
You can tell that this is only because JKR didn't think of it 'til GoF, because this incredibly simple yet useful spell appears exactly zero times in previous books.
an-kitten
Or just the way magic is introduced into new books as a device to advance the plot, then promptly forgotten about. Also, these plot devices will never be considered for any use other than to advance the plot, no matter how logical and basic.
isotopes_ftw
The 3rd floor corridor....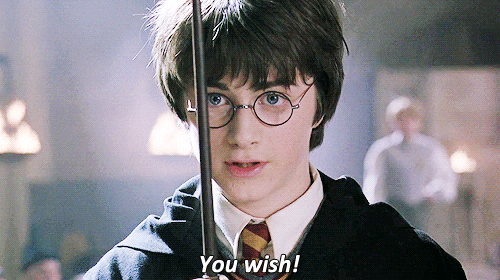 Giphy
Locking the 3rd floor corridor when anyone that knows alohomora can get in.
Earthmang
Law Student here! Adds criminal intent to the act of proceeding into the corridor, and it secured Fluffy against potential attractive nuisance liability issues. I'm sure the resident Hogwarts lawyer advised it.
TheWildWhistlepig
Muggle Music. 
They don't listen to any muggle music. Some of them grew up with muggles, so they should be into it. Same goes for TV shows.
Marise20
I wonder if any muggle borns keep in touch with old friends, and the friends think that they're essentially retarded because they have the education level of a 10 year old and know basically nothing about what's going on in the world.
queendead2march19
Not so Safe. 
That Hogwarts was supposedly one of the safest places in the world.
drdoom
And supposedly only for the best of the best.
I can assure you if my kid is at Eton or Phillips Exeter and there's the ghost of wizard Hitler living in the back of a teacher's head one year, and then kids being petrified and a possessed girl finding a snake dungeon in the girl's bathroom the next, and then a supposed murderer hanging around campus the next year, I'm going to have to evaluate whether or not my kid stays at that school.
RuleBrifranzia
I Need Answers! 
Where do the pure blood kids go before Hogwarts/secondary school? Do they have a wizarding primary school? Are they homeschooled? They don't go to muggle schools because they know jack about the muggle world I need answers.
yllekahtram
Have a word...
I don't understand why Dumbledore tolerated the way the Dursleys treated Harry so poorly. Even if he didn't want Harry to know that he was a wizard-world rock star, he might have had Hagrid drop by one day when Harry wasn't around to have a word with Vernon.
BaronVonWazoo
​Dumbledore was a great man.....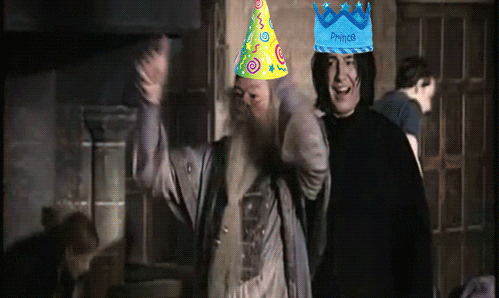 Giphy
Dumbledore was a great man. I got massive respect for the dude. But when it comes to his role as a headmaster I would say he is a pretty incompetent one. He had no control over administration and had no idea what's going on around here.
sleepdaddy
Keep reading...
Show less