When talking to a friend who brings up one of our favorite books, celebrities, or tv shows, we often find ourselves saying we're "obsessed".
Our excitement is often met with a sneer from our friend, but we don't give it much thought.
Owing to the fact that even if they're better at containing their excitement than we are, deep down everyone has an obsession of some sort.
Naturally, it's not particularly healthy to be "obsessed" with anything, as nothing should take up the majority of our time.
Even so, if one were to take a very close look at society as a whole, we might find that just about everyone has an unhealthy obsession they just can't break.
Redditor Zdvj was curious to hear which unhealthy obsessions were most common, leading them to ask:
"What's an unhealthy obsession people have?"
Schadenfreude Much?
"Love to hate."- Odd_Adhesiveness4804
Never Settle!

"Being in a relationship no matter the cost."- hibbletyjibblety
"Pointless relationships."
"Settling for less just because you think you can't be alone is not healthy."- shutyourmouf03
Aging Gracefully Always Pays Off
"People are obsessed with youth and some people will do anything to maintain its appearance."- Mad-farmer
There's So Much More Beyond Your TV Screen
"24 hour news cycles."- SuvenPan
Slow And Steady Wins The Race
"Having to be first."
"It's okay if you beat me to the pump, or if you beat me to the grocery checkout line."
"It's okay if you get to the freeway exit before me, or pull in front of me on the highway."
"I'm patient, and it's a virtue."
"Have to credit my father who taught me this."
"He was an airline captain for over 30 years who is a very patient man."
"Thanks Dad."- Look-At-The-Aliens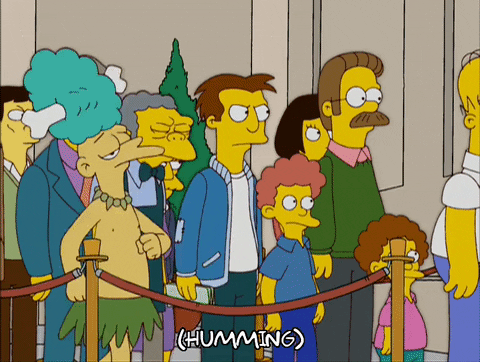 Humming Season 17 GIF by The Simpsons
Giphy
There Are So Many Better Ways To Be Social

"Obsession with their social media image."- knovit
Has No One Seen All About Eve?
"An obsession with everything celebrities are doing."- Streak_Free_Shine
There's A Reason Paid Vacation Days Exist!
"Work/productivity."
"Everybody needs a break, not just every once in a while, but often."- RoKe3028
To Each Their Own
"An obsession with each others lives."
"Seriously just let people live as long as they're not hurting anyone just leave people the f*ck alone."- MiseinToxicity
"Other people's sex lives."- huiscloslaqueue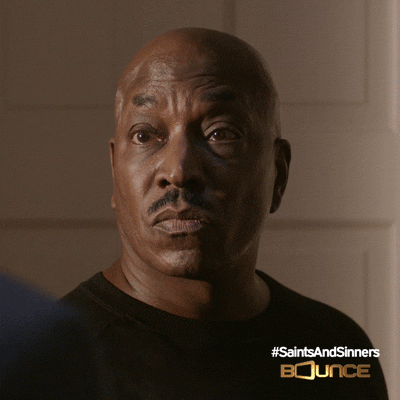 Worry About Yourself Saints And Sinners GIF by Bounce
Giphy
Ironically, Making Calls Is One The Last Things They're Used For Now...
"Their phones."
"It's one thing to keep yourself busy, it's another to never let yourself be bored."
"Being bored is important sometimes, it makes you think/helps clear your head.'
"Phones make it ridiculously easy to never let yourself get bored, to the point where it ain't healthy."- Crestego
"Being on their phone all the time, especially while driving."
"I see this literally every day, despite laws against it."
"I constantly have to honk at people sitting at green lights, because they can't possibly be inconvenienced with their own thoughts for 2 minutes sitting at a red light."- dallased25
Mistakes Are How People Learn...

"Being right all the time."- lee24k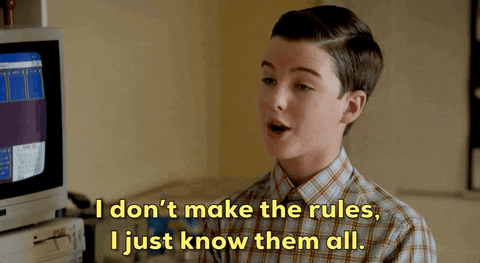 Sheldon Cooper Rules GIF by CBS
Giphy
It's very easy to scold or ridicule someone for being inordinately fond of someone or something.
However, before passing judgment, always a good idea to take a step back and examine our own behavior.
As we may be no different at all.
We've all found ourselves annoyed by the ticks or habits of others.
Some of these are fairly common, such as chewing with your mouth open, cracking your knuckles, or whether or not they pronounce the "T" in often.
Some habits are a bit more unusual, though.
Only the people guilty of possessing these habits might not realize that they're unusual until they are told by someone else that practically no one, or literally no one, else does them.
It's an eye-opening, sometimes humiliating discovery.
Redditor SixPathsOfDeath was curious to hear the habits people discovered that they shared with no one else, leading them to ask:

"What made you realize that something you always did wasn't normal?"
Undiagnosed Medical Condition

"'You know that high pitch sound everyone always hears? Wait... you don't?'"
"Apparently, I have tinnitus."- FarAmphibian4236
Hard To Imagine It Never Occurred To Them...
"When I was very young I thought it was normal to have blood on the toilet paper after pooping."
"Turns out it was hemorrhoids, apparently I have always had them."
"Yay!"- SuperevenDuper
And, Exhale...
"My mom is a yawn-yeller."
"When she yawns, you can hear it from anywhere in the house."
"One time my sister had a friend over, and we were in the basement'."
"My mom yawned upstairs, and my sister's friend asked 'was that a coyote?'"- ViolaWPeyton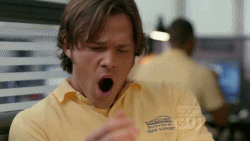 sam winchester yawn GIF
Giphy
Sweet Or Disturbing?
"When I first started dating my now husband, ever time we kissed he made a 'muah' kiss sound with his voice."
"Like he literally said 'muah' every time we kissed."
"I asked him why and he said he thought everyone did that because his mom did it growing up."- thti87
Unusual, But Pretty Cool...
"As a kid I would read a street sign as we drove past and I would then make as many possible words out of the letters in that sign."
"Stop, top, tops, sop, pot, pots, to, so, post, etc."
"I told my sister one day that I couldn't come up with any more words to make with some sign and she made fun of me the rest of the way home."
'I quit after that. I'm still a pretty mean Boggle player though."- Limited_turkey
Whatever Helps You Sleep...
"Pre Bedtime cereal, I had a sleepover when I was a kid and was confused when we skipped bedtime cereal."- Mre64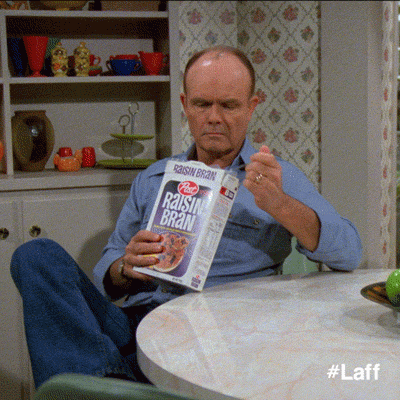 Old Man Reaction GIF by Laff
Giphy
There Are Worse Offenses
"I thought eating cereal without milk was normal until I went to summer camp and everyone stared at me like I killed the camp counselor."- spoilerdudegetrekt
It's Only Polite

"For me it was something I never did. In my twenties, I realized you're meant to make eye-contact when talking to people (I was feral)."- wys15wyg
Who Hasn't At Least Once...

"I got stopped by a cop once because I was talking to myself."
'I literally thought everyone just mumbled out their thoughts out loud."- azuresegugio
Talk Talking To Yourself GIF by The Challenge
Giphy
Unlikely Source of Inspiration
'I'm an artist."
"I got asked one time why I draw hands looking 'like that' with all the fingers bent backwards.'
So I held up my hand in the same position as the one I just drew and it looked the same.'
"And that's how I found out I had EDS."- koinadian
The Bradys Can Certainly Relate
'Grew up in a house where seven people all shared one bathroom."
"Thought it was normal to get in the shower without waiting for the water to warm up."
"Everyone go fast before the water gets cold."
"Always wanted to try and be one of the first in line for the shower."- littleflower0929
Gesundheit!
"I was diagnosed with Arnold Chiari Malformation, which I like to say means my brain is too big."
"My wife says I have a misshapen skull...whatever...the bottom line is that my brain stem is excessively squeezed where it exits the skull through the hole on the bottom."
"I have a very minor case, but it causes randomly occurring neurologic issues."
"Upon learning of this diagnosis, my wife was reading up on the symptoms...many of which I knew were abnormalities."
"I was worried I had ALS because that is neurological."
"After reading a bit, she says, 'Do you have problems sneezing?'"
"I say, 'No, I sneeze all the time'."
"I mean, about every 4th or 5th sneeze, my vision goes white and I get dizzy and lose my balance, but I catch myself before I fall'."
"Sometimes I feel like I'm going to pass out, but I never have'."
"The look on her face was one of pure shock - wide eyes and mouth open'."
"Then I said, 'Now that I say that out loud, that probably isn't normal, is it?'"
"She responded with an emphatic, 'No it's not normal!'"
"It was normal for me because it has been that way for my entire life, so I never thought to mention it.."
"And no one had ever asked me what it felt like when I sneezed."
"And why would they?"
"Everybody sneezes, so everybody knows what it feels like."- TroubledWaterBridge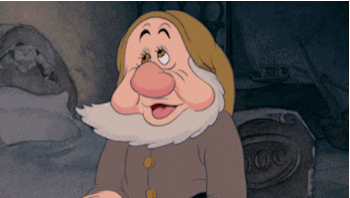 snow white and the seven dwarfs sneezing GIF by Disney
Giphy
Heartbreaking
"The first time I was staying at a friends house when I was in middle school I kept waiting for his parents to start fighting."
"His dad came home, food wasn't done yet, I was waiting for that fight."
'The Youngest brother didn't do his chores."
"I kept waiting for the screaming to start, I had braced myself for it, and it never happened."
"That's when I started realizing that parents aren't supposed to fight every night and drag their kids into it."
"Every day I got off the bus and would have to mentally brace myself before walking through the front door."
"Hoping my mom wouldn't find some random reason to shout at me for 3 hours."
"FYI I'm pretty good now."
"Moved out immediately when I was 18 and lived with a different friend."
"It's been 10ish years now."- Wesley_Otsdarva
If the worst thing you might be doing is getting on someone else's nerves, it doesn't really matter whether or not what you're doing is "normal."
But if you're worried something might not be normal about your health, probably best to call your doctor immediately.
Every generation has its own trends.
As a millennial, I'll be the first to admit we had our fair share of silly or stupid trends.
Remember the cinnamon challenge? Or all the Harlem Shake videos? We were not the brightest crayons in the box.
Girls wore only skinny jeans, boys adopted Justin Beiber's side-swept haircut, and we spent more time on YouTube than any other social media site.
Those who belong to Generation Z think we were pretty stupid too, but everyone else thinks Gen Z have their fair share of weird trends. Tide pods, anyone?
If we turn to Reddit, those Gen Z trends can be easily identified.
Curious to find out more, Redditor Distinct_Bee_4580 asked:

"What's a trend among Gen Zs you find weird?"
Pictorial Evidence
"Documenting themselves committing crimes then posting them to social media."
– Shaveyourbread
"was at a (car) accident reconstruction engineering office this summer and a 20 ish yo guy drove of the edge of the road and died and his snap story from the night was a video of his speedometer at 100+ in the dark in the rain and he was bragging that he was going fast (and also drunk)"
– Puzzled_Passenger_34
Look How Stupid I Am!
"They film EVERYTHING"
– AnOkFella
"I went out drinking with a mixed age group. We got silly drunk, and had a good time. A few months later, one of the younger girls posted a "hilarous" video of me blackout drunk and acting stupid. Nothing illegal, just embarrassing. It was horrifying. Like, why would you video someone that vulnerable, and then put it out in public? Like, what other videos did they take? She took it down, but didn't understand at all why I was so angry at her - because "she posted dumber sh*t of herself all the time!""
"Never again. I'll just stick with my older friends who know not to film anyone doing stupid sh*t."
– Lexi_Banner
"this. gen z getting themselves fired from work over tiktoks is such a common occurrence."
– sane_fear
Be Sensitive
"Gen Z here. Romanticization of mental illness or crime."
– Justatroubledgirl
"fr it's embarrassing because they treat it like it's a competition or something quirky like… no it's not? stop making your mental illnesses your only personality traits"
– yeehee087
Evolution Of Hair
"Brocoli haircut. Will definitely age like milk"
– ehjtarretetoutdsuite
"Ahh the "Meet me at mcdonald's haircut", no seriously that's it name, you can google it"
– ElOliLoco
Like e.e. cummings
"Finally I can ask this. Why do a large amount of gen Z's not use capital letters? Is capitalization going the way of cursive writing?"
– Themanwhofarts
"It's probably because of texting. Over time, texting with capitalized letters became seen as too formal, and people began to intentionally remove capitalization to seem more laid-back and informal."
– SignificanceBulky162
"Millennial here and a lot of people my age used to not use capital letters either in our early twenties. Might be regional, might just be a general "trying hard to appear chill" kind of thing"
– LatelyTea
Use A Dictionary
"Saying gaslighting every f*cking day with no comprehension of the word."
– joshjamon
"I know what it means stop gaslighting me"
– Technical_Watch2137
Here's My Life Story
"Oversharing personal struggles, overdramatizing common anxieties/struggles, and flaunting "going to therapy" to the point where it's clearly a means of seeking attention and staying relevant."
"On a related note, since I see it on dating apps all the time, when every other bio puts "going to therapy" as a green flag. Like yeah, that should be normalized, but mental health practices are turning into a new form of virtue signaling."
– WrongSperm95
Not Funny
"Bothering people just trying to go about their day in the name of "pranking.""
"I've seen one that regularly goes into a store like Home Depot and pretends to be an employee and then films the real employees who seem to be going a little overboard in their reactions; but I'm just like this poor guy is just trying to get through his workday without this bullsh*t."
"I just saw a man was getting charges pressed against him for attacking a kid that was "pretending to steal his luggage as a prank." The 'prankee' grabbed the kid by the hair and probably did go a little overboard but the number of comments I saw defending the kid amazed me. JUST LEAVE PEOPLE ALONE!!"
– steelbydesign
Feel The Beat
"Stupid Tik tok dances"
– greenok12
"At least they're getting some exercise"
– ImNotTheBlitz
Times Change
"Trying to "cancel" singers/rappers/actors for things they said 30 years ago when social norms were different"
– WhosMurphyJenkinss
"Gen z is the most pretentious moralistic and puritanical gen since maybe the lost gen"
– muldervinscully
The Capacity To Care
"For me it's the insinuation that I'm supposed to care about every problem/issue in the world. It's not realistic- we as humans don't have the emotional bandwidth to care or even keep track of all the issues in todays world. Social media is constantly bombarding these kids with the most recent catastrophe and everyone is expected to be an activist for it until the news cycle breaks. Pick an issue you're passionate about and do something, but letting every atrocity in the world affect your emotional state is counter-productive and makes you feel like the boot is against your neck at all times"
"My opinion is that this contributes to the rise of mental health issues like depression-"
– br0therbert
Let People Be Who They Are
"Queer discourse. Not in general, but the way I see now. People fighting each other over Pronouns, attacking each other because they don't believe someone else should go by the label they use."
"It feels like the LGBTQ community is running around in circles, nibbling at its tail and not realising its bleeding to death."
– confused-as-f-boi
Cause And Effect
"For me it's claiming everything as abuse..."
"*got punished for doing or not doing something they were told/asked to do or not do a thousand times... gets punished... that's abuse... wtf... actions and inaction have consequences... Don't want the consequence then don't do or do what I asked/ told you to do or not do... It was that simple when I was growing up..."
– SecretaryKey3923
The Internet Can't Help You
"As a gen-z myself, I'm also confused on why everything has to be posted on social media:"
""OMG I'm gonna die 😭😭😭""
""He made it into my house 😭😒🥺🥺""
""Idk what I should do now 😔😔😟😭😓""
"So you decided to post about it on social media rather then calling the police or ANYONE ELSE FOR HELP?"
– DaGamingTurtleB
Invited In
"Or the other way around"
""Look what a fun life I have, I'm here on the mountains with my entire family" nobody is home for 2 weeks pls come rob me"
– QBekka
"They are really the first generation with the capability to do that easily. They're like the oldest siblings who makes all the mistakes so the younger ones can learn from it. I salute their sacrifice."
– littlegreenb18
Fascinating…or questionable.
Do you have any trends to add? Let us know in the comments below!
People who were chain smokers back in the day probably didn't think too much about the harmful effects that would eventually take a toll on their bodies.
It didn't help that smoking was associated with glamour as Hollywood elites were typically seen lighting up and lounging on a chaise with a dirty martini in one hand and a cigarette in the other.
Nowadays, smoking is prohibited in many public places and is often scoffed at by a generation who knows better than to engage in a toxic pastime.

Wanting to know about more trends that are underestimated now for their health concerns, Redditor Spiritual-Ad-8523 asked:

"What's something most people think is healthy today that future people will shake their heads at?"
We currently live with a go, go, go mentality.
But it might be a matter of time we see evidence that we've been going nowhere fast.
Hustle And Bustle
"The hustle culture. Not everything you do needs to make money. You should be able to have hobbies that stay just that: hobbies."
– Marley9391

At One With Mother Nature
"Lack of access/time in nature."
– Telefone_529

Social media. It's a love/hate relationship.

Online Engagement
"Social media. I'm being super hypocritical, but we're gonna look back on social media today the same way our parents looked back on the time they smoked and said 'yeah, everybody smoked back then, it really wasn't a big deal. Yeah, we knew it wasn't good for you, but we still did it anyway. No, we didn't think of it as some sort of addiction; we just did it because that's what people did back then.'"
– ei283
Psychotic Breakdown
"I already believe that the majority of fitness influencers would benefit from counselling rather than advising followers on Instagram, so that's undoubtedly the case."
– DeboraCMartinez

"Healthy" Tip For Ya
"The majority of fitness influencers have eating disordered habits and are sharing them with their 'fans' by acting like what they do is 'healthy.' my AN recovered a** cries when i see fitness accounts glorifying actually unhealthy habits that they claim are healthy."
"people do NOT realize the damage of fitness/health social media. those people aren't professionals. and bodies aren't one size fits all."
– hautbois42069

Ping
"Constant notifications and other distractions."
"Edit: and yes I appreciate the irony of people responding to this has resulted in a deluge of notifications for me..."
– ExaBrain

Oversharing
"The amount of our lives we share with strangers online thinking we're anonymous."
– rachsmith

Don't believe everything the food industry tells you. Most of them are delicious lies–or so, Redditors say.

It's A Rip-Off
"Slimming drinks and supplements."
– palpitatingspnach54

"Absolute Garbage"

"From a doctor's perspective, half of the US health food industry is absolute garbage."
"Supplements. What's in them? They aren't regulated, so anything could be! Many studies have found a lack of actual advertised product at best, harmless filler such as saw dust commonly, and heavy metal and other toxin contamination such as lead and arsenic at worst. All for the cheap price of $$$ and your health. Is it possible that some could be helpful for specific things? Yup! But are most things on the shelf going to fit in that category? Absolutely not, no."
"Most 'diet' plans/snacks/products. Low in fat but high in sugar? Serving size of 1/4 of what is sold? Contains some mysterious fruit 'scientifically shown' to combat the laws of physics? A laxative in disguise? Most of these plans are just like get rich quick schemes. They are sold to provide a quick path to a healthier and better life. But diet isn't a quick fix. It's a slow combination of everyday habits. Diet culture is a toxic scam and their advertisements are sickening both for the lies commonly told and the mental health toll on the targeted audience. Hell, most of the 'good choice' food items at the grocery could be considered unhealthy processed garbage."
3. "Fruit juice. Despite what Steve Jobs believed, fruit juices are pure sugar in a glass. Calories with limited nutrient content and a high glycemic load."
4. "The way we teach physical activity. We use sports as a competition and filter kids out, only supporting the best of the best financially and through school programs. But the reality is that team and club sports can keep people active and engaged in their communities for life. This is healthy. If we can foster low-level skill sports for everyone we will have healthier and happier communities. Except for maybe American football. That sh*t will give you brain injuries."
"Edit: that preworkout your friend swears by? It's probably caffeine and some protein powder. Some of them may contain amphetamine analogues and other stimulants. The special formulations and vitamins they say they have (if actually present) are usually ineffective amounts or mischaracterizations of studies anyway. Drink an Americano and eat a diet full of vegetables, nuts, and beans, and you'll be good to go."
I always thought microwaves were shady.
The fact that it can "cook" meals and re-heat food our food is magical and convenient as heck. But because it's not a "natural" cooking process, what kind of effects will the radioactively zapped food have in our bodies?
I ponder this as I wait for my food by standing in front of the microwave and marvel at its powers while the emanating glow gives me a slow-burn facial.
Ding!

"That's a deal breaker, ladies!"
A line memorably uttered by Jenna Maroney during a sketch written by Liz Lemon on the fictional sketch comedy show TGS on the legendary sitcom 30 Rock.
The "deal breakers" in question were red flags women noticed in men which made them unsuitable to be romantic partners.
Heightened and extreme as the sketch was, it wasn't so far fetched from reality, as just about everyone has a deal breaker when finding their soulmate.
Be it smoking, excessive gambling, obsessions with sports and/or shopping, people often look out for things they don't want to deal with, or compete with, in a relationship.
Redditor madamtiddies was curious to hear everyone's biggest romantic "deal breakers", leading them to ask:
"What's the biggest dealbreaker in a relationship in your opinion?"
Ultimatums
"When she/he makes you choose between them and your family."- Sheriff_Disko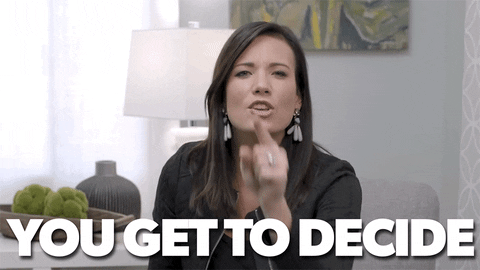 rachel cruze whatever GIF by Ramsey Solutions
Giphy
Kindness. Shouldn't Be So Hard...

"Not being nice to animals."- _Picklesandpotatoes_
"Abuse of any kind."- TeamGodzilla
No Monogamy? No Deal!
"Abuse of any kind and infidelity."- Knighthawk235
"Cheating."
"Emotional, physical .. any kind."
"This is only if both parties have agreed to be exclusive and monogamous."
"If they're poly and have communicated it beforehand, that's perfectly alright though."
"I OBVIOUSLY don't mean cheating is ok if you're poly, just that the rules are different."- Zeph-11
"If they are married is a biggie for me."- HouseDog2020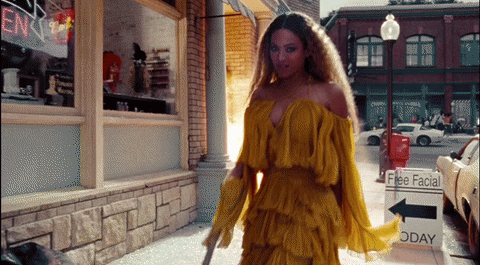 Music Video Beyonce GIF
Giphy
Nothing But The Truth
"Pathological lying."- Frosty033
Failure To Launch...
"Their parents make decisions for them."- kiwilemonbee
Lack Of Investment

"That the other person doesn't really want to be in the relationship."
"It takes two people working together to keep a relationship going, but once one of them decides they don't want to be there, it's either effective or actually over."
"You can try all you want, but the relationship will never reach liftoff."
"This seems obvious, but in my experience, it's pretty common for people to just coast in neutral in their relationships."
"The other person does all the work until they decide they can't take it anymore and THEY have to do the breaking up."
"When the Mr./Ms. Neutral Gear either checked out long before or never even checked in."- zazzlekdazzle
Uneven Playing Field

"When one feels to compromise a lot more than the other(s) to keep the relationship going."- Lambda_Settings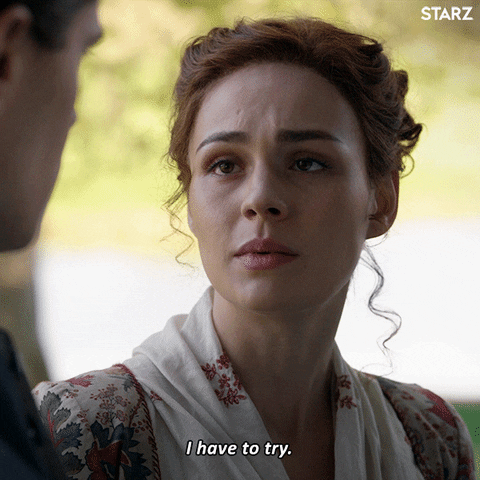 trying season 4 GIF by Outlander
Giphy
Everyone should be adaptable and open to evolving.
Even so, everyone has things in their life that they simply can't tolerate, or even shouldn't have to tolerate.
Few would argue that it's better to avoid a problematic relationship early, rather than endure months, or years, of unhappiness.