We have a problem with guns.
Not just America, but humans in general.
Too many lives have been lost.
That's why it's so scary to think about a moment when one is directly pointing at you.
And you lived to tell the tale.
Redditor Vegere wanted to hear from everyone who has come face to face with weaponry and feels like sharing.
So they asked:
"Redditors who had a gun pointed at you, how are you still alive?"
Thankfully I have yet to face a real gun. I pray that continues.
Stop That!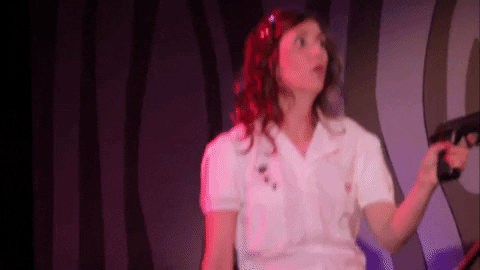 season 2 gun GIF by Portlandia
Giphy
"Friend was given a .22 handgun for his 8th-grade graduation. He started waving it around, I said stop that. He said it isn't loaded and pulled the trigger. The bullet went through my hair right above my right ear. Never spoke to that dumba** again."
Bigfoots44
Out of There...
"I was living in a rough neighborhood a couple of years ago. One evening I was walking to the local grocery store when I suddenly walked into this huge dude (195cm and 90kg so I'm not a small person myself). Before I knew it i was surrounded and dragged into an alley and had a gun pointed at me. One of the guys asked me to show an ID."
"At that point I thought they were under cover cops, but them all wearing balaclavas made me doubt that. I showed the my ID and they patted my shoulder, shook my hand and said they're sorry for getting the wrong guy. Then they left. Gangs were basically running that neighborhood and they were most likely looking for someone who owed them money."
"And I must've looked just like that guy. It could've been very traumatic but the fact that they apologized afterward actually made me feel safe lol, and I just shrugged it off. Still glad I'm not living there anymore though."
SnooRobots2119
"Have a nice day"
"Some parts of my country are just chaos. My dad was fixing this telecom tower like usual and I would go with him every once in a while. But this time is different, it was like 11pm and the area we went to is... you could say 'above the law' so the tower is in a mansion and we couldn't find anyone to tell them we're here but you could access the tower so my dad did anyway. After an hour, my dad was done and drove away, it was fine until he noticed 3 cars following us."
"He parks and a bunch of guys with guns walk out of their cars. My dad was chill trying to give them the car key, it's the company car anyways. Then they saw the company's logo on the car and they went 'oh' It was a misunderstanding and they were like 'have a nice day.'"
Utaha_Senpai
No Booze Please
"The person was playing around and thought the gun was unloaded. He pointed it at my head and was about to pull the trigger when my husband, who had been raised to learn that you never, ever point a gun at anyone grabbed it away from him. It turned out the gun was loaded. The person was an alcoholic and forgot that he had loaded the gun last time he got drunk."
Snoo_20029
Sheer Luck
"First time, armed robbery while at work years ago. He just wanted the money from the register so no big deal there. Second time… I didn't even know a gun was pointed at me. Random shooting, I took a bullet to the back of the head while driving. Alive due to sheer luck."
Floptopus
Guns and people... what a mix.
Not Me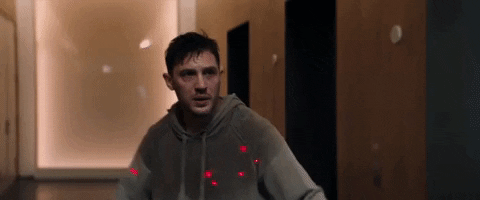 i give up GIF by Venom Movie
Giphy
"My vehicle fit the suspect description, but I didn't."
insertcaffeine
just missed...
"My dad was screwing around with a rifle pointing it at his sister and to his surprise it went off. It missed her but put a hole through the wall. My dad knew he'd be in trouble when his parents came home so he decided to go to bed early."
"His dad was a scrap iron recycler and was lifting heavy things all day. He could easily do one handed push ups."
"My dad said the next day his dad woke him up and without saying a word, motioned for him to go outside. His dad pointed to a tree. To this day, my dad has no idea how his dad wrapped the rifle around a tree, but there it was."
grewapair
In the Forest
"Years ago , first real job I was in training as a forest ranger and came upon a large group of men night hunting standing by several dead deer ,all were armed and as I exited the vehicle many of the guns were pointed in my direction. In training I was not armed and as they realized it guns were lowered. I was alone, unarmed, outnumbered and should have been writing summonses but I was just glad to leave."
clementine1864
Whoops
"I let the gun holder make the first moves. I didn't talk unless I was addressed first. I didn't move unless I was told to. I didn't try to run or leave until he left.
"And then I peed myself."
somethingsomewhere27
"Similar situation. I was stuck up in college (west Philly) and I just gave the guy what he wanted calmly. He had followed me into my house off campus. He then stole my bike and rode it off."
Pure-Ad2609
Fool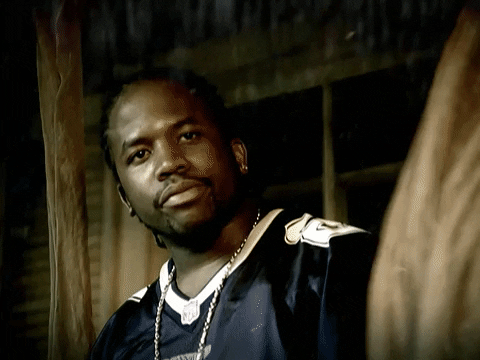 Big Boi Smh GIF by Outkast
Giphy
"My brother pointed a rifle at me, just fooling around. Aimed the gun down and slid the bolt, found the gun was loaded. He threw up."
1999falcon
I hate guns even more now.
Do you have a harrowing experience of your own to share? Let us know in the comments.
The popularity of zombie films, TV shows, comic books and novels have lead a lot of people to imagine their zombie apocalypse survival strategy.
Where would they live?
What about food and transportation?
Perhaps most important for many people are the weapons they plan to wield.
But some weapons that do just fine pre-apocalypse, are less than useless after.
Redditor Mister_DumDum asked:
"What's the worst weapon (but undeniably a weapon) to have in the Zombie Apocalypse?"
"Thoughts and prayers." Those are the two main things doled out immediately in the wake of a mass shooting in the United States.

Let's face it. While platitudes are all well and good, they are merely a contrivance to fill the silence that has stunned devastated communities.
As many American citizens call for stricter gun legislation, there are just as many who advocate for their right to the Second Amendment.
How has this become the polarizing issue in the country while many other parts of the world maintain peace–presumably due to citizens not having the right to bear arms?

Genuinely curious to hear from a specific demographic, Redditor Wonderful-Wash-2145 asked:

"To the Americans who don't agree with changing the gun laws? Why?"
People shared their informed opinions in great detail.
When Gun Advocates Lack Common Sense Or Knowledge
"I live in a state, California, which has all of the gun laws that people are asking for and then some. While our gun violence isn't as high as a lot of other states, it was already rapidly trending downward before our biggest laws, like our 'Assault Weapons' ban passed. And we've still had our share of mass shootings. With the laws in place it's easy to see why they're ineffective."
"Assault Weapons ban? Because the only thing separating an AR-15 from any other semi-automatic rifle are ergonomic features like the stock and grip, AR-15s and similar rifles are still sold here, just with those features swapped out for less comfortable alternatives."
"'Universal' Background Checks? What people don't realize is that every gun store around the country has to run background checks on buyers already, 'Universal' means that private sellers have to do that too. How is that accomplished? The buyer and seller have to meet at a gun shop so the gun shop can run the background check. The problem is, there's nothing to stop someone from just NOT doing that. If you want to sell a gun to your best friend, there's nothing stopping you from doing it in the comfort of your own home, no paperwork required. So universal background checks aren't universal, they're voluntary but if people called them voluntary background checks, it would be too self-evident that they're not much of a solution."
"Before people say 'Well one state having those laws is ineffective because people can just buy from another state.' No, that's not legal. You can only legally buy a gun in the state in which you reside. Do people still do it? Yes, people break the law by buying from private sellers, which more laws wouldn't prevent."
"Americans buy 15 Million guns a year from dealers, who knows how many are purchased from private sellers. Countries like Australia where gun control has been effective only had a few million guns in their whole country, much less the hundreds of millions that the US has."
"The reason gun nuts oppose 'common sense' gun control is that a prerequisite for common sense is common knowledge, and it's rare for gun control advocates to have knowledge of both firearms and the laws that currently regulate them in pro gun control states like California."
In The Absence Of Enforcement

"And, a lot of the existing laws aren't enforced. Domestic abusers are supposed to surrender their arms are rarely do and the police rarely follow up, for example. I saw a thread yesterday where someone cited 27,000 known firearms holders that were illegal that law enforcement didn't do anything about."
– allboolshite
Weak arguments were also presented.
A Proposal

"So why not make guns have to be registered the way cars are? If I want to sell my car to my friend, I have to fill out paperwork to tell the state that the title for that car is being transferred to my friend. Can't we do the same for guns?"
– SenoraNegra
A Salesman's Statistic
"I sell auto insurance. Do you know how often someone comes in to insure a vehicle they purchased but never put into their name? Literally like 5 times a weeks if not more."
– Hemp_Milk

Troubling Situation
"A big problem with anything regulatory is how ripe it is to be exploited for the person doing the regulations. A lot of gun control measures have to be enforced by someone and if that person is racist, guess who gets the regulations enforced against them more often? It's still a policing issue when at the core a large group of people simply can't trust the police, and now this is putting both parties in an even more dangerous position."
– Marco2021st

The thread continued sparking a lengthy discussion about gun culture.
A Slippery Slope
"I think one of the concerns that people are thinking about is that the 'gun reform' movement is a stomach that can't ever be satisfied, meaning, they are always going to ask for more ways to reform guns until eventually people won't get to have any. And I think people who are against gun reform know that 'gun reform' is a slippy slope to banning guns outright and overturning the 2nd Amendment."
– BoringNoise9942

What's The Point?
"Governments do not care about their people. Look at selling drugs to the black community, poisoning alcohol during prohibition, anti-privacy laws, I could go on but there's no need to fill paragraphs of these things. And we're supposed to hand over our tools of self-defense and expect the government to protect us? The same government that just sat there outside the Uvalde school?"
"And how are they going to get guns out of the hands of criminals anyway? A good chunk of these shooters are already using guns they can't legally own. If they try to completely get rid of firearms through a 'war on guns' in the same way they've waged a 'war on drugs' for decades, then the amount of illegal, untraceable firearms is only going to go up with every passing decade."
– Mama_Mega_

The Challenge Of Regulating Culture
"I think people are dancing around a core point here as well: you cannot legislate culture."
"Say we do implement just the most severe of gun laws and, miracle beyond miracles, they are 100% effective. Alright, so if I want to hurt a bunch of people en masse and guns are out of the question what do I do? What about just running a van through a crowd? What about some improvised explosive devices? Knives?"
"People think guns are the problem, but they are just a very convenient tool by which the problem expresses itself. I've lived in many of the so-called 'safe countries' with strong gun laws. In some respects, they are indeed safer, but it's because the laws reflect a pre-existing cultural sentiment. This also doesn't mean random mass violence doesn't happen. I'm going to use Japan here because that's a country I spent a long time in: there were the famous sarin gas attacks in 1994, also a murderer who drove a vehicle through a crowd in Akihabara (early 2000's, I believe), and a lot more public stabbing sprees than you'd expect. One even happened a few stations down from me while living there and three little girls on their way to school died. It's more of historical crime now, but there was also an early 1900's mass shooting where a man, rejected by local women, decided to cut off power in his local village and systematically execute everyone in their sleep before blowing his own head off at dawn."
"The effort needs to be put into why we seem to have so many disaffected people who are so far gone that mass shootings seem like a reasonable consideration. Gun laws are ultimately just a bandaid fix and, because a good portion of the U.S. is culturally attuned to firearms in a positive way, it's a bandaid fix that one would have to fight tooth and nail for."
"It would be an inefficient fight and even absolute victory would just result in a half measure. I oppose gun laws for precisely the same reason I oppose the war on drugs; it's a fight that will never end just by slapping on new policies. Generations of legislators and activists will commit to it and unfathomable amounts of tax dollars will be dumped into it and in 30 years we will still be asking ourselves the same fundamental questions about our safety."
"The uncomfortable reality, at least from where I sit, is that a lasting solution is going to have to be proactive, play the long game, and be willing to figure out what has gone so wrong in our social makeup as to push people to random acts of mass violence."
"And even then, there will still just be psychopaths beyond salvaging and reincorporating into functional society."
"I also know people will want to just say 'no, more just gun laws' or 'this is all the fault of capitalism' etc. etc. but I think those who hold these simplistic, one-note positions are fooling themselves into thinking that this is as easy as identifying the sole 'big bad thing' and then destroying it. As a historian, I can guarantee you that it's never just one factor at play.'
"I couldn't agree more that Americans need a more proactive and preventative approach to this issue. But I think guns are just the patsy boogeyman that is simple and comfortable to place blame on. If Americans choose to fight that fight, then so be it, but I maintain that it will be long and ineffectual. In the mean time, more will die and we can all happily believe we are doing something about it."
– Samhain27

What Is It About America?
"I get 'gun culture'. But why is the US more violent?"
I think madmen and people that commit acts of random violence are basically the same % in every country. Difference is that if a mad men in my country comes at a supermarket with a knife, he might kill one or two people but he will get tackled."
"Taking a car trough a crowd, been there. That's a different animal, is terrorism."
– Good-Groundbreaking
The thread was full of debates with pro-gun activists presenting their case and anti-gun advocates responding with arguments.
It's an endless discussion that has no resolve in sight.
So now what? What are your thoughts and suggestions that would promote a compromise or solution about gun control?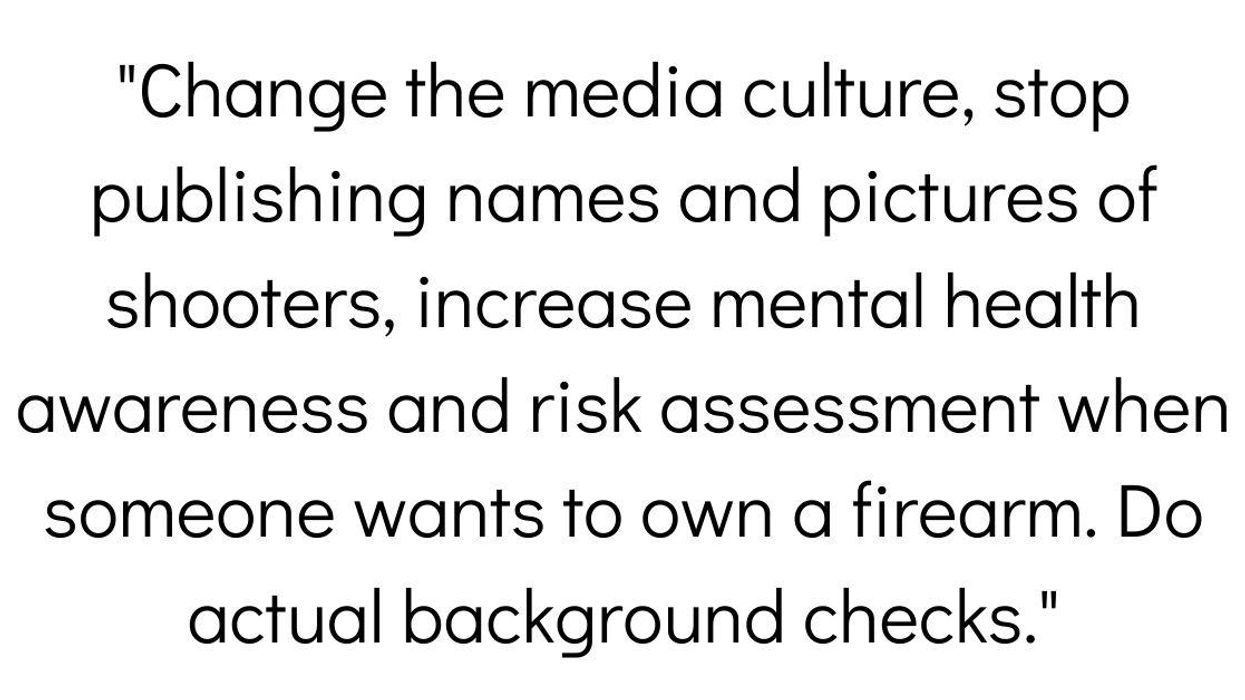 America is in a terrible situation.
We are addicted to guns and nobody seems to care.
And nothing seems to get done.
RedditorSpecktakles88wanted to take a serious moment to ask:
"What, in your opinion, is a realistic solution to gun violence in the United States?"

I don't know what more there is to say on this topic. But let's try...
American society failing...
"A school shooting is the ugly culmination of multiple facets of established American society failing. A single 'solution' would mean a complete overhaul of countless modern systems."
Lupia_
"Indeed, the whole idea that there's no, one solution, is what people who don't really want this to be sorted out rely upon."
"Every time this sort of thing happens and people talk about solutions they demand you give them A solution, pretending to care and be engaged. Then they can easily point out the one you've suggested won't fix the problem, make out that you're eating everyone's time and are stupid, and nothing changes."
Aloonatron
Swiss Cheese
"There's a model used in risk analysis called the swiss cheese model - in short, every tactic that you throw at a problem will be like a slice of swiss cheese. Each hole in the slice of cheese is an opportunity for the problem to still slip through. Some slices will have more holes in than others, but if you have enough slices stacked, you won't have any holes."
"So it's not just one solution that's needed - it's lots of solutions, all working together. Some may be less directly effective (such as restricting lobbying), some may be more directly effective (such as making background checks 100% required in all cases)."
Blythyvxr
Too Much Effort
"Well for starters, make sure your local police force isn't made up of a gang of cowards."
CannaPanda69
"How dare you expect police to waste their time stopping mass murder?!?! They have speeding tickets to write and drug kingpins to arrest for having a dimebag in their car!!!"
TheMadTitan2016
"Don't forget about stopping parents from going in to save the kids."
therealbeeblevrox
Complex Issues
"I get that this is the internet, and hence 5000 people have expressed a mostly non-expert opinion, but there are actual public health experts in gun violence, mental health, and injury prevention science that politicians should take policy direction from. Wicked problems require complex, systemic, and science-based solutions."
jamafam
Culture Shifts
"Everyone is arguing that it's a mental health issue, but there are people with mental health issues and crap healthcare all over the world and this STILL doesn't happen. I think the states needs a huge culture shift."
LuigiLoly
"And the vast majority of people who have mental health issues in the US are... not violent. I agree it's mainly a cultural problem. The government can't fix radicalization or the glorification of violence. Better gun laws can help too, but it's a cultural issue."
The_GREAT_Gremlin
Well those all sound good. And not at all new. Gimme more...
No Safety
"People realizing two very important facts that have become painfully clear in the last 4 years:"
"The Government does not care about you. They will not protect you or your children."
"Law Enforcement does not care about you. They will not protect you or your children."
"No one is coming to save you. Act accordingly."
SaltyPilgrim
From Afar...
"In NZ we have a massive mental health problem, yet mass shootings are extremely rare. We also have good gun control laws, with most people with guns using them for farming, hunting, animal population control or hobby shooting."
"Looking at the US from afar, there seems to be a very paranoid culture centred around a need to protect oneself at all times, and personally I think that's a core issue. Why are people so scared? Addressing that issue would probably have a substantial effect."
grizznuggets
Media Issues
"Change the media culture, stop publishing names and pictures of shooters, increase mental health awareness and risk assessment when someone wants to own a firearm. Do actual background checks."
ThePantsMcFist
"There has been a major shift in reporting on mass shootings (at least on the local level) where the name of the shooter is reported in the immediate following of the event, and then not mentioned again. Everything afterwards is focused on the names of the victims and community reaction to the shootings. Both local stations I have worked for have implemented this method of reporting."
Hybrid_Johnny
Broken
"As someone on the outside looking in. I feel you have a broken nation and I have no idea how you can fix it. I don't know how well received this will be and I maybe wrong, but I feel like the corrupt elite in your nation are playing with our patriotic values for their own greed under the guise of national security. I mean. A few thousand Americans die in one day and you spend trillions of dollars and 2 decades to bomb impoverished nations, destabilise regions and directly and indirectly kill thousands across the 3rd world in the name of national security and the war on terror."
"Yet tens of thousands of Americans die each year to gun violence and nothing can be done. Is this not a national security issue. How much talent are you losing every year that could benefit both your country and the world if you would just give them a chance to live."
bushmanbob_82
Something to Cling to...
"We also need to give our children hope. They currently do not see a life ahead of them that is equal to or better than the one their parents lead. They see nothing but pain, strife and hopelessness. We need to show that we can give them a world that is as clean when they are adults as it is now. We need to show there will be a career waiting for them, that they will be able to afford housing and be a member of a healthy society. Hope is one critical part of the solution."
GamemasterJeff
We're in some troubled waters friends. We can fix this. We just have to want to.
Want to "know" more?
Sign up for the Knowable newsletter here.
Never miss another big, odd, funny or heartbreaking moment again.
Most Americans are still reeling from the recent shooting at Robb Elementary School in Uvalde, Texas.
Perhaps the only thing more horrifying, is that it was the 27th school shooting to happen in the United States in 2022.
And even worse, at least eight further mass shootings occurred in the wake of Robb Elementary.
Though far too many of our most prominent politicians refuse to acknowledge it, gun violence is a systemic problem which seems to be uniquely American.
A problem which politicians seem unwilling to even try to solve.
Redditor hostofanimus was curious to hear from his fellow Redditors what they think it would finally take to finally put an end to mass shootings in the USA, leading them to ask:
"What will it take for it to stop mass shootings in America?"
It will never happen.
"Impossible."
"The amount of guns in the country + root individualistic society + rampant access to the internet breeding highly radicalized echo chambers + media sensationalism + poor financial and mental health opportunities = disaster."
"I'm all for doing something new, but there is no clear cut answer."
"Einstein couldn't solve this one."- gandaalf
"If nothing happened after Sandy Hook, nothing will happen now."- sokratesz
"Nothing changed the last time children barely older than toddlers were shot."
"Nothing will change this time."- good_god_lemon1
When people pay up.

"When stopping mass shootings can be monetized."- Ezaccly
When people get up off their butts.
"Nothing that anyone is actually willing to do, obviously."- tigerpayphone.
A universal rebirth

"A complete culture change."- Puzzleheaded-Pipe-39
When we start properly educating our children.

"I grew up in South Africa and went to some pretty crap schools filled with some of the dregs of society."
"We had underpaid teachers who didn't really care etc."
"I was skateboard kid who was seen as a freak due to skating and liking metal and 'other; music."
"I took my fair share of beatings from the bullies at school and outside of school but I never ever had a desire to walk into school and murder the bullies or teachers or anyone else for that matter."
"I think the problem in America is much bigger than a weird kid going mad."
"It's got to be societal for anyone to harbor that much hate for life."
"Just my honest opinion and from my perspective."- eary_Violinist_3610
Coupons.

"They used to handout free personal sized pizza coupons for reading books when I was in elementary school, maybe we can do something like that?"- anonymous152839.
When it starts being reported like the problem it is.

"First and foremost, stop treating it like a soap opera."
"The news channels detail and go over so much on these shootings it isn't reporting, it's entertainment."
"It's become so mainstream that at this point I just shrug and go 'oh, another one, whatever'."
"I'll hear about it for another few months, then some other kid will glorify it cause tv and do it himself because he needs the attention and monkey see monkey do, it's obvious how to get that attention from as many people as possible all at once."
"The problem is much deeper than this and takes people more qualified than I to solve, but this is where it starts."- shippwnyo
When people actually see the damage done.
"This will sound horrific, but photos of the crime scene."
"Yes, of the dead children."
"Vietnam's trajectory was heavily influenced by the press being able to capture the atrocities committed/experienced by our own."
"Think about the most famous photos- we all know the ones."
"I'm thinking of the gun to the man's head in the street as I type,or the teenage girl screaming over her dead friend at Kent State."
"Compare that to what photos we have of Iraq."
"Very little."
"And how does this difference in documentation affect the American psyche?"
"We see one war, documented well, with few secrets. the other shrouded by 'heroic' photos of soldiers with children in their arms."
​"Right now, the photos we have of shootings are at a distance in the aftermath, or are of memorials where people cry together."
"It creates a distance in everyone's mind, even a sense of inevitability because we have seen it so many times."
"Both in our collective minds, and that of politicians."
"We can ignore dead children because we have never had to see them actually lying dead, covered in blood, perhaps eyes open and staring at nothing."
"Its horrific for me to even type, the reality of what it might look like."
"But yet we openly wax philosophically online about the horrors that the families experience in the aftermath, not about a five-year-old, covered in blood, with a bullet in their chest."
"Why?"
"it's too horrific to even say, right?"
"And it will keep happening until we actually have to literally look at it."- plots4lyfe
That one horrific school shooting wasn't enough to legislate change over gun control in this country is shocking.
Making it very dispiriting indeed to wonder if this change, which must happen, will ever come.
Want to "know" more?
Sign up for the Knowable newsletter here.
Never miss another big, odd, funny, or heartbreaking moment again.