When it's time to go... GO!
Our guts know when it's time time to exit.
Knowing how to run and save yourself is important.
That little voice in our minds always knows when something is up.
Don't deny it.
It's especially obvious when a murderer is chasing you, or someone is on fire running toward you.
Redditor Apprehensive6815 wanted to hear about the times we knew we had to flee, so they asked:
"What was your 'I need to get out of here ASAP" moment?'
I've lost track of the amount of times I've felt that feeling and fled.
ROAR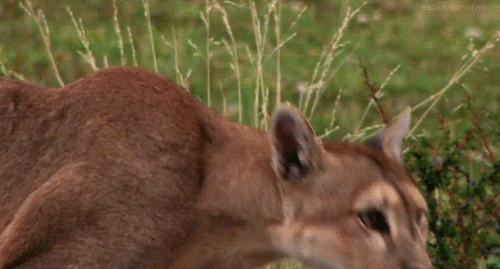 MOUNTAIN LION cougar GIF
Giphy
"I unknowingly walked up next to a mountain lion one morning on a hike. And I've never felt true fear til that moment."
_captaintripz
EXITS
"In the late 70s and I was stationed at Ft. Campbell, KY. I was off-post drinking with a buddy and we met a couple of older vets and we started talking, joking... nice time. As the bar was closing down they invited us to their place to have a few more beers. I drove a `65 Chevy pickup so we followed them down into Clarksville and ended up drinking beers in the family room while the one guy's wife and kids hung around."
"But all of the sudden the mood changed in the room. These guys turned nasty... making off-hand insulting remarks. No more jokes. Got dark real quick. I excused myself to take a leak and just as I came out of the john... I heard the guy who owned the house say to his wife in the kitchen, 'Take the kids back to the bedroom and lock the door. Don't come out no matter what you hear out here.'"
"The hairs on the back of my neck stood up and I immediately got tunnel vision. I turned and ran top speed down the hall and yelled to my buddy as I whistled past the family room and out the door. I had the Chevy fired up in no time flat and saw my buddy dive into the bed of the pickup through the rear-view mirror as I gunned the engine and fishtailed out the driveway. That's my 'I need to get out of here ASAP' story and it still makes my palms sweat thinking about it."
flippenstance
No Big Deal
"I was walking home one night after the bar, on a long semi lit street. There was a man walking a fair piece back yelling at me to stop, he wanted to talk to me etc. I just kept walking thinking just a drunk dude NBD. A cab pulled up to me and stoped and asked if the guy walking was my boyfriend. I told him know I have never seen him before. The cabby told me to get in the car because that guy paid him $50 to go around to block and stop me."
"The cabby did so thinking maybe we were a couple having a fight. I got in the cab and we had to drive past this guy to turn around to head toward me house and he started freaking out that the guy didn't stop for him. That night a cabby may have saved me from many years of therapy or possibly my life. I did not walk long stretches at night again."
yeahsheskrusty
Tarped
"I was building a cinder block wall in the winter in Canada. We had the area tarped off with a salamander heater running to keep us warm. One day I noticed my eyes were starting to burn so I looked over at the guy I was working with and asked if he felt weird in any way. When he looked at me I realized he was squinting and so was I. We were maybe 20 feet from each other. Needless to say we killed the heater and got outside the tarp. I wasn't in the mood for carbon monoxide poisoning."
PocketSand111
Members Only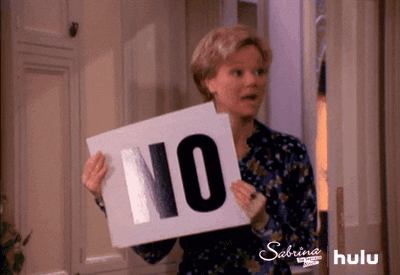 Cbs No GIF by HULU
Giphy
"I used to be a part of a rapidly growing cult. I knew I needed to leave when they started convincing teenagers to recruit kids at their high schools."
hermanalexie
Stay away from cults. Keep an eye out.
The Dad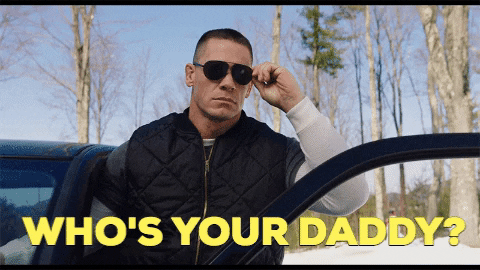 John Cena Movie GIF by Daddy's Home
Giphy
"My friends had a friend in high school we called The Dad. If he ever felt uncomfortable at a party and wanted to leave, we would follow. He had the best instincts and saved us from the police, random fights and other foul drama many a time."
joykilled
Wrong Turns
"I once took a wrong turn on a street in Chicago from a pretty decent neighborhood somewhere around Archer and Harlem. Anyways, I don't know how we ended up where we did but I was like 18 driving my Dad's Toyota Camry through a large group gathering of some gang all decked out in colors. Like they were literally everywhere on the street, just hanging out and chilling like they were having a block party... maybe they were, but we got the distinct impression that we did not belong on this particular street and sort of got the hell out of there as fast as we could."
DryEyes4096
Shots Fired
"I was 19 and hanging out with some work friends in Cleveland and one of the guys looked out the window and pulled out a gun and told us all to get down. I, of course, was terrified. Thankfully no shots were fired, but I excused myself after it ended and went home."
dma1965
Machete
"Was hanging out outside of my church when a dude ran by that kept looking behind him, then another one passed by that was throwing rocks behind him. When I looked what were they running away from there was a group of 5 dudes with machetes chasing them and one dead by the side of the road. Actually took me a minute to process and get inside."
MaximumPower682
Gotta Go!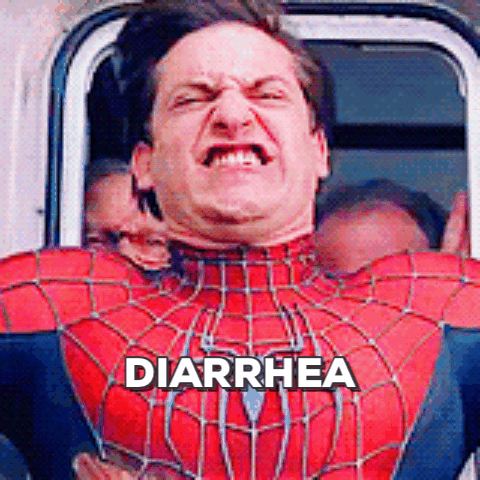 Tobey Maguire Poop GIF
Giphy
"Major diarrhea at the airport, and the toilet wouldn't flush."
Fracture_98
Life Lesson:
Always have good running shoes.
Do you have any experiences where your instincts quite literally saved you? Let us know in the comments below.