Generations are sometimes a little confusing. What makes up a generation? Is it their ages or year they were born? Is it what was happening politically during the formative years? Is it the economic landscape that either afforded or denied certain life expectations? Maybe it's the technology that they had access to.
According to the Pew Research Center, it's all of these things and more. All of these factors can influence a generations understanding of the world and ultimately their thoughts as the move through it.
Depending on what generation you're from, you might have seen the drastic shift from records to CDs to Spotify, from payphones and landlines to cellphones.
Marked by technology and pop culture references, the older generations might actually look to Gen Z, the iGen, with pitty for never truly understanding the struggle of walking to school up hill both ways.
What are the struggles of the past that young people today really won't understand unless they were there to experience it? We went to Ask Reddit to find out.
Redditor Bagolyvagymi asked:
"What's something that newer generations will never understand?"
Let's see how much things have changed in just a few decades.
Hoping the plans didn't change.
"Meeting up with a friend at the movies and having no way to communicate once you've left the house—your friend doesn't show: is he coming? Should I continue to wait, standing at the precise spot we agreed on? Has he died? Did he forget? I'll call home using a pay phone and hope my mom is there to tell me whether he left a message on the answering machine."
"So much anxiety. But I feel like people kept plans more then. They weren't checking their phone to bail for a 'better' option. In general people met at the agreed upon time and place."

"They also bothered to actually make plans and had to stick to them instead of flaking out or faffing about with 'I'll just call you.'"
- Belgand
"I remember the first time someone stood me up because we hadn't texted same-day to confirm we were actually doing the thing. I was baffled."
"Now I would never plan something a week out and just expect the other person to remember and show up."
"I hate that this is a thing we have to do now."
"Worst still is when it happens and somehow you're at fault because you didn't text them to say your plans was still happening. I showed up. Why didn't you text to make sure if you questioned it?"
- JediGuyB
Parents trusted their kids would be safe.
"Parents not knowing where their kids are and trusting them not to get into trouble."
"My kids watched Stranger Things with me and they thought it was unrealistic how the kids would just go ride their bikes wherever late at night. I told them we used to do that all the time."
"One time I broke my collar bone in a pick up football game and had to ride my bike home. I was like 10 miles away. (That sucked.)"
"Come to think about it, it seems rare to have enough kids playing outside to have a pickup football game nowadays."
"And trusting other adults in the community to assist, snitch, etc."
"The busybodies do suck when you arent doing anything wrong, and when they breach trust. But it is also good when the general community does not turn a blind eye to crap stuff going down, nipping bad trends in the bud."
You couldn't just download or stream your favorite song.
"Having to buy the entire album to get one song you liked or wait for it to come on the radio and record it. Missing any part of the song was unacceptable and you had to wait until it was played again."
"Than the DJ would talk at the end of the song and ruined it."
"Or hearing a cool song for 10 seconds in a movie and not knowing its name and buying the soundtrack so you can have the whole song and it's not even on there."
Which made road trips need a whole lot more preparation.
"Having a 3 ring binder of CD's for road trips."
"The binder was for the ok music... The real good stuff was in a holder on your sun visor."
- vrek86
"One major tragedy I remember was when I took a sudden hard right turn and all my favorite CDs on the sun visor flew out my open window."
Patience wasn't as hard to come by.
"Taking pictures, then waiting for them to be developed to see if they turned out okay."
"Then finding the while roll of film is someone's thumb, cause they didn't know how to hold the camera."
- dzotzer
"Or when you're on the other side of the country on a road trip with a friend, having taken some of the coolest pics ever. And then...the counter on the camera goes one number higher than the film should. To your horror you learn there was no film in the damn camera and the pics you've taken over the last week of your road trip don't exist."
- BeerCell
"And you took one or two pictures, not a dozen. Film was expensive, man."
"It was a HUGE DEAL about twice a year to take a roll of film in to be processed, then wait. And wait. And wait. Until FINALLY! Oh god I look horrible. And no do-overs! God, the advent of the cell phone camera has CHANGED MY LIFE like no other invention, obviously I am old enough to remember 110 film (shudders) but medical advances aside, what a game-changer."
The satisfying phone slam.
"Slamming down the receiver on a landline telephone. Pushing the red button is not nearly as satisfying."
"Is you slam hard enough you'd get that little ding to let everyone know sh*t went down."
"I have an office phone at my desk that I slam daily after dealing with our incompetent sales department."
The VCR rewind.
"Having to rewind the tape before returning it to the video store or incur a fee."
"We had a dedicated video rewinder."
"Or video stores in general."
It seems like quite a lot has changed over the years. Maybe because of technology life has becomes easier, but seems like there may be some pitfalls to convenience.
Have we gone to far with our societal advances? Or does it seem like we are heading into a bright future that so many have dreamed of?
Only one way to find out.
Want to "know" more? Never miss another big, odd, funny, or heartbreaking moment again. Sign up for the Knowable newsletter here.
Keep reading...
Show less
Sometimes we're all on the same page. It's not often, but once in awhile, it is possible.
In this current state of the world the generational divide is at an all time high. Everyone is on opposing side and no one seems to be getting along.
One generation blames the other for just about everything you can think of. So it's nice to see the once in a blue moon moment when agreement is reached.
They may be just small opinions but hey, gotta start somewhere.
Redditor u/coolfreeusername wanted to know the thoughts of the "youth" by asking:
Non-boomers of Reddit, what's your most boomer opinion?
There are also basic truths that anyone, at any age can be in unison about. Like, be kind to animals, everyone agrees there. Also, our government is overpaid, whether you're a Boomer, Gen Z, X, or 100 years old, we all know that's true. What else?
Hang Up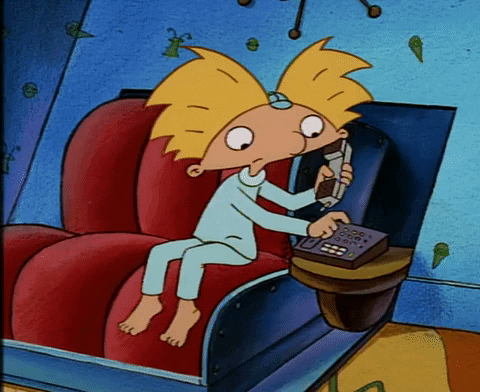 hey arnold nicksplat GIF
Giphy
"Five year olds don't need Smartphones."
Just Dumb
"Tech enthusiasts: My entire house is smart."
"Tech workers: The only piece of technology in my house is a printer and I keep a gun next to it so I can shoot it if it makes a noise I don't recognize. source, I think And that is indeed more or less accurate. People in IT don't like pointless attack surfaces."
Ink Issues
"My printer. I was trying to scan something at my mom's house this week, and her printer wouldn't let me log into the program to scan things unless I was connected to the internet. (She has internet, but her computer drops the connection every time it goes to sleep, so she has to reboot it all the time). And then it wouldn't let me scan things until I made an account."
"The printer has spent 100% of its life connected to the computer with a USB cord, and the printer knows it is connected via USB because it told me it was connected via USB. HP, you can f**k right off with these nonsense obstacles you put in the way of people using the device they already paid for. The only reason I need internet and an account to use the software is so you can nag me about signing up for "helpful" refills of your overpriced ink."
"And let's not talk about the free printer I got from my dad, which I tried to use to scan something, and which would not let me scan because it was out of ink, and clearly those two functions are entirely dependent on one another and could not possibly function independently."
Touch
"Physical keyboards are better."
"What's with car manufacturers now wanting to only put in a giant touch screen? Where are my physical buttons damn it! I can only deal with touch screens for phones and tablets."
"I think that most people will agree with you on that one. That's the reason virtual keyboards have clicking sound effects, to mimic the real and superior keyboards."
Just Chill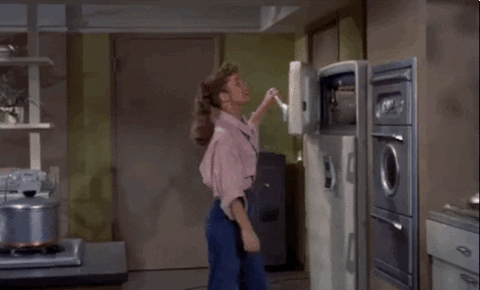 Classic Film Summer GIF by Warner Archive
Giphy
"I don't want my damn refrigerator connected to the internet. It has one job."
So, so true. All of that! Why do my home appliances have to also control the world? I just need my things to do their singular job well and that's all. Why are so many things in life complicated?
Butts Out!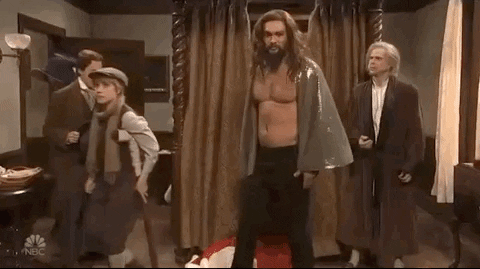 Jason Momoa Dancing GIF by Saturday Night Live
Giphy
"PULL UP YA DAMN PANTS!!"
"It's been several years since I've gone up stairs behind some guy with his whole butt out of his pants and in my face. Thank the Lord."
Politeness
"Sending out thank you notes when you receive a gift from someone. My mom was always big on that and I understand why. I bought an expensive gift for my friends birthday and she never messaged me or said thank you for the gift. Saying thank you isn't that hard and it means a lot to the person."
No Cameras
"Not everything needs to be filmed and put on the internet."
"This. I'm fine if you take a short video or a few photos to look back on, but you don't need to share your two minute video of the fireworks you watched on July 4th. Nobody cares, and you end up wasting your time looking more at your phone than at the firework show."
Tooooo Many Options
"There's too many subscription services for crap. It's nice to have access to unlimited movies and TV, but like. For the most part I wind up just watching the same sitcom over and over to decompress after work. I wonder how much I could have saved by just getting B99 and King of the Hill box sets instead of paying for Hulu for four years. And anything where they mail you a box of curated crap every month is absolutely unnecessary, toot freaking sweet."
"be that person"
"Communities within neighborhoods would be lovely. My mum talks about it all the time, but it's something I've never experienced myself. Like, we know our neighbors, but that's about it. I'd love to live on a street or in a suburb where people have little get-togethers (street parties for big events) or just generally know and look out for each other on a more meaningful level."
"Sadly I am but a lowly 23-year-old, far off owning my own property, but one day I would love to "be that person" and bake brownies for my little cul-de-sac. Sorry I can't back to all these comments, I'm overwhelmed lol, but I'm taking notes for future me. Currently, live on a council estate where not everyone gets on (there's a cockerel war rn) so now is not the time to get cuddly with the neighbours lol."
GO!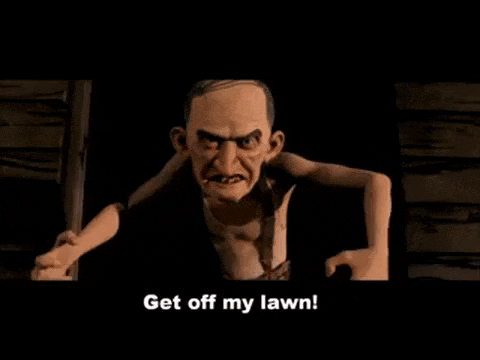 Boomer Reaction GIF by MOODMAN
Giphy
"Get off my lawn."
"Like a good neighbor, stay over there!"

Amen to so much of this. After reading this, I feel so much less alone. Now why can't we use this as a starting off point for other discussions? Let's try...
Want to "know" more? Never miss another big, odd, funny, or heartbreaking moment again. Sign up for the Knowable newsletter here.

Keep reading...
Show less
Ah, youth.
It's a concept lost on the young, so to speak. But youths are still basically a separate species, nonetheless. And we humans must deal with them.
Teenagers scare most adults. It's a time in our lives to be rebellious. It's a time some of us have willfully forgotten.
Keep reading...
Show less
The world is on fire. Literally. Civilization seems to have completely lost it's way. And every generation is looking for another to blame. And Lord there is plenty of blame to go around. The newbies... the Generation Z... have some strong opinions and thoughts for the Millennials. How could they not? The Z's have the most to lose before they've even begun.
Redditor u/joe_internet wanted to hear from all the grown' children out there about their opinions on the generation before them by asking....
Kids and teenagers of Reddit, what are some ways Millenials are already out of touch?
Want to "know" more? Never miss another big, odd, funny, or heartbreaking moment again. Sign up for the Knowable newsletter here.
Keep reading...
Show less
As each generation passes, we learn more about who we are, and the world we live in. You would think we'd constantly be improving, but sometimes that just isn't the case. Sometimes our ancestors just got it better than we did, and we have to try to live up to them. No pressure.
RandomDude72636 asked: What is the one thing our ancestors did better than us today?
Keep reading...
Show less