Reddit user WeirdJawn asked: 'Older Redditors, what do young people get completely wrong about past decades?'
I have no aesthetic or emotional issues with getting older as it certainly beats the alternative, so I freely admit I have reached a certain age.
It's the age of sound effects when I get up from a chair and asking younger people to pick things up off the floor for me.
It's the age of having to use Urban Dictionary daily to understand messages I get from younger friends and relatives.
But as much as I don't understand their language, music or hobbies, there's a lot they'll never understand about my childhood and adolescence.
I was reading an article by writer Eric Chilton who pointed out Gen X—the generation born between 1965 and 1980 of which I'm a part—was the last to live in a world without the internet, cellular phones and social media.
And those are only a few examples of the paradigm shifting innovations in our lifetimes.
Reddit user WeirdJawn asked:
"Older Redditors, what do young people get completely wrong about past decades?"
As a young person, I was fascinated with the idea my maternal Grandmother lived through the transition from horses to combustion engine vehicles, the inception of commercial air travel, the creation of the motion picture industry and the invention of television.
But I've lived through vinyl LPs and 45s, 8-tracks, cassettes, CDs and digital music players.
If I wanted to see a movie as a kid, I went to a theater—or drive-in—or waited for an often heavily edited version to air on TV. Then cable movie channels were introduced, followed by LP size video disc players, then Betamax and VHS, DVDs, HD and Blu-ray and now?
Digital downloads and streaming services—I haven't been to a theater in years.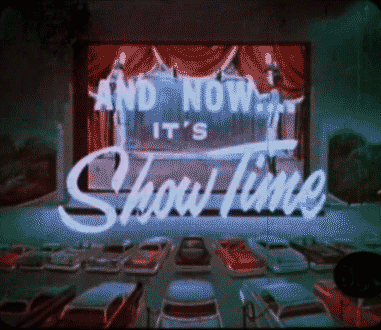 Giphy
TV
"Up until video rental stores in the early 80's, at school the next day every kid was talking about what was on TV the night before, as every single family was watching tv together every single night."
"With some exceptions, most people watched the same thing as their schoolmates or co-workers, just to be a part of the conversation."
~ Grimjack2
"There's something very isolating about modern media.
"You can be into a TV show, or YouTube series, and nobody else you know has heard of it."
"I'm a fan of aYouTube series—RedLetterMedia—that's pretty popular and very well regarded amongst its fans, and only one of my friends has heard about it.
~ SlashThingy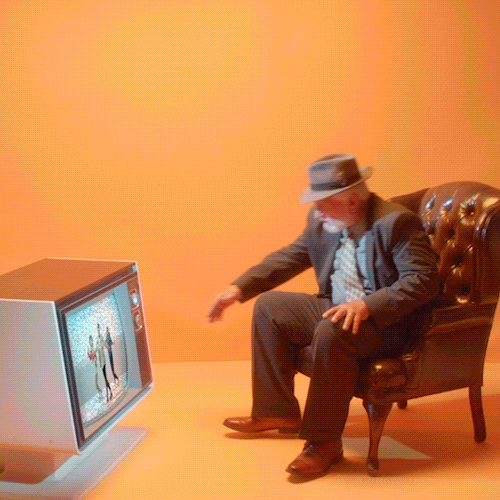 Giphy
Unanswered Questions
"Probably just how often you had to accept that you couldn't find out the answer to something."
"If you had a question you could ask your family, maybe your friends, maybe your teachers, and your last chance was the check the library."
"But if the library didn't have the answer, then you just had to accept that you weren't going to get an answer (or you'd have to hope to come across that answer someday in the future)."
"Now you just ask Google and get 10 answers in just seconds."
~ john_jdm

Giphy
One & Done
"How on-time you had to be for your favorite shows because there was little to no chance you'd see that same episode again until they (hopefully) did re-runs during summer."
"I remember waiting anxiously for the nightly news to be over so I could watch my favorite TV shows."
"Commercial breaks were just mad rushes for the bathroom, or to the kitchen to get something quick to drink."
~ ladyeclectic79
"Once it was done, it was gone."
"The happy tears I cried when they finally released The Stand miniseries on DVD about a decade after airing."
~ Barrys_Fic
"I feel I was in the last generation of this, even though channels were much more prevalent and reruns of everything was the norm."
"I remember rushing off the bus with all my friends because we were absolutely SURE Goku was gonna defeat Frieza this episode. And it was a crap shoot whether or not the driver would be fast enough for us to make it."
"Years later when DVDs started becoming more prevalent, they STILL didn't put shows on collectable media regularly. You couldn't just get an entire season of a show and binge it."
"At most you could find a 'best-of' compilation of five or six of the most popular episodes, and that was only if the show was incredibly popular."
"And what I am describing here was considered 'having it good' compared to older people."
~ McFlyyouBojo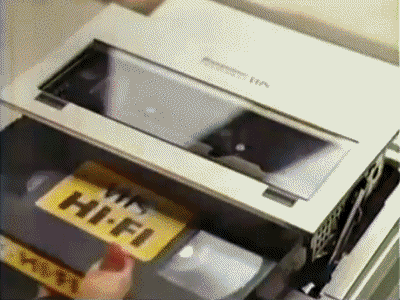 Giphy
Say Cheese!
"That it was incredibly common to just not have pictures of events or other things we see as important now."
"Not only did we have entire vacations where no pictures were taken, we could go months without a single picture being taken of any member of our family unless it was particularly notable."
"A trip to St Louis? No pictures. A trip to Disneyland? Maybe a picture at the entry gate or one of the souvenir pictures of us with a character."
"A trip to zoo? No pictures. An average day? Forget about it!"
"Frequently, the only pictures taken were at major holidays like Christmas or on someone's birthday."
~ bbbbbthatsfivebees
"I explained that to my kids the other day."
"What if every picture you took cost a dollar?
"And you don't know if it's even good until probably weeks later, as long as the photo lab doesn't f*ck up processing."
"Or your film or pictures don't get lost in the mail going to or from the developer or they don't send you someone else's photos by mistake."
~ beebsaleebs
"You had to plan ahead to take a photo."
"'Did you remember the camera? Did you remember to buy film or flashbulbs?"
~ brazilliandanny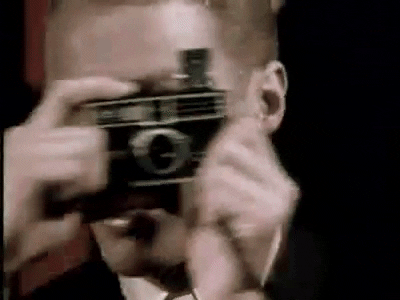 Giphy
So Few Options
"It's an exceptional AMOUNT of media to consume now. In the 90s, you had 3-4 super popular channels, and 4-5 low rated channels. They all showed one show at a time."
"Now we have a dozen streaming services with infinite media options."
"It's becoming increasingly difficult to engage in office conversation because so much content is available, people do not have to stray as far from their interest to consume content they want to consume."
~ MemeTeamMarine
Smoking Or Non?
"They understand restaurants had 'smoking sections' and that bars & clubs were filled with cigarette smoke. But I don't think many understood how pervasive smoking was."
"Non-smoking areas or sections didn't exist before the 1980s. There were ashtrays and people smoking literally EVERYWHERE."
"Jury boxes had ashtrays in front of every juror. Judge smoked, lawyers smoked, the gallery smoked."
"You smoked on planes, trains, busses, taxicabs, and in all transportation centers."
"You smoked at the library, the PTO meetings at schools, the town hall and all city offices. Hell, you could smoke at the courtyard at my High School as a student."
"You smoked in the elevator and on the escalator. The mall. The grocery store. Sports venues. Doctor's offices. Hospitals. Sitting at your desk at work even if you were in a cubicle or open area."
"The movies. The plays, opera, concerts and every other public performance, people smoked."
"A non-smoker would come home often smelling like smoke. One was constantly surrounded by smoke. It was insane."
~ parkerjh
"You literally made ash trays as a grade school art project, that's how common it was."
~ _Poffertje_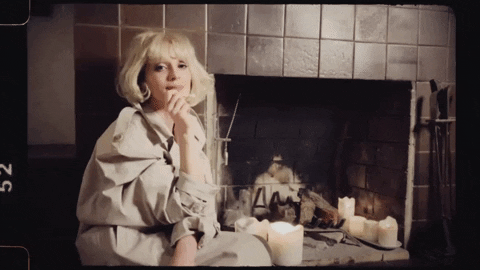 Giphy
What Choices?
"Probably under estimating how few choices there were."
"Today, it seems like everything imaginable is available in a variety of sizes, delivered to your door over night."
"Catalogs and mail order had 4-6 week delivery."
"Malls were the best thing ever—all the stores in one place, a wide variety of products and sizes and not downtown."
~ 2Loves2loves
"And also just how little people knew they were missing out. If it wasn't on network evening television (Channels 2, 4, 7, 9, and 11), or on a store shelf in your town, or in the Sunday newspaper... it simply didn't exist for you."
"If you had an inkling something existed—say, tin foil that comes in sheets instead of one giant roll—you could go around asking people, if you wanted. But you were more than likely to just get a shrug and, 'Why would you want such a thing?'."
"Let's say you were particularly enterprising, so you dial '0' and ask the operator for the number for corporate headquarters of Reynolds Aluminum Foil, if you knew the city it was in. Because there was no internet, and the only way to find a number was by dialing '0' and speaking to a telephone operator."
"But even if you spoke to someone at Reynolds, they had no way to exchange money for goods at that level, and they probably would just tell you they sell it in the Ohio area, and that would be that."
"You went to the market. They have one brand of pancake mix, and no one had ever heard of anything different, and why would you want a different brand, anyway?"
"Then you go to the hardware store, and they carry one brand of paint, and no one had ever heard of any other brand of paint."
"And it was that way for a long, long time."
~ nOwsL-ACEna-pe2323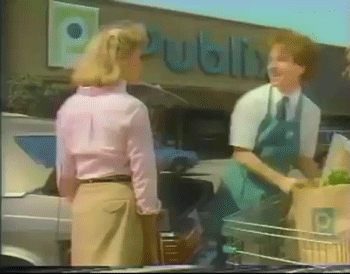 Giphy
One For the Road
"How common drinking & driving was."
"Until MADD came along, people did this routinely."
"It's where 'one for the road' originated."
~ HailRoma
"Yes! When my friends and I had our 18th birthdays in late 1979, the thing to do was to celebrate by driving through Beer Barn, where you could literally drive-through to get beer, wine, wine coolers, whatever."
"Then open them up and drive while drinking. At 18. This was in Texas."
"It also was not uncommon for my dad to drive while drinking when he was taking us wherever at night."
"Zero education on why you should not do that."
~ emeraldcity4341
Good & Bad
"I am definitely older (born in 1949 so Baby Boomer)."
"What today's young people don't appreciate is how, growing up, we had to invent our own sources of fun."
"There were no video games (which I enjoy playing), just 3 channels on a black-and-white tv (we didn't get color until 1967), and no real entertainment aimed at kids."
"All we could do is interact with each other and play established games like marbles or maybe an organized sport like Little League baseball."
"There was a baseball diamond, overgrown with weeds, across the street from us, but mostly we played in the woods that surrounded us, climbing trees pretending to be pirates or some such.
"I loved the bookmobiles that would visit my street, and I must have read every biography (all bound in blue covers) in my elementary school library."
"It was a different era with many fewer distractions and much more time for sustained imagination."
"Being a different place and time, we developed different skills for interacting with the world and each other than young people do today."
"Was it better? That's hard to say. We tended to have an insular view of our own little world, while today it is hard to escape what it happening everywhere on Earth."
"We had to wait days for a letter to arrive, and we shared a party phone line with our neighbor's phone. That is a far slower pace than today's instantaneous texting culture. (Yes, I do text.)"
"Some things have been lost while others have been gained. That's the way it always will be. Just wait."
~ BOBauthor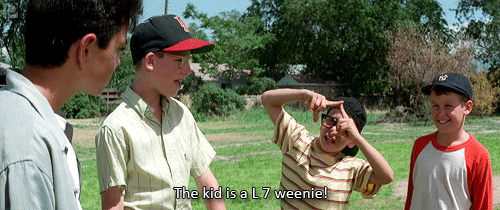 Giphy
In Chilton's article—referenced at the beginning—he stated:
"We [Gen X] will be the last generation to know the world without...
Cable TV
Cell Phones
The internet
Seat belt laws
Remote controls for the TV"
What would you add to the list?
Every generation has its own trends.
As a millennial, I'll be the first to admit we had our fair share of silly or stupid trends.
Remember the cinnamon challenge? Or all the Harlem Shake videos? We were not the brightest crayons in the box.
Girls wore only skinny jeans, boys adopted Justin Beiber's side-swept haircut, and we spent more time on YouTube than any other social media site.
Those who belong to Generation Z think we were pretty stupid too, but everyone else thinks Gen Z have their fair share of weird trends. Tide pods, anyone?
If we turn to Reddit, those Gen Z trends can be easily identified.
Curious to find out more, Redditor Distinct_Bee_4580 asked:

"What's a trend among Gen Zs you find weird?"
Pictorial Evidence
"Documenting themselves committing crimes then posting them to social media."
– Shaveyourbread
"was at a (car) accident reconstruction engineering office this summer and a 20 ish yo guy drove of the edge of the road and died and his snap story from the night was a video of his speedometer at 100+ in the dark in the rain and he was bragging that he was going fast (and also drunk)"
– Puzzled_Passenger_34
Look How Stupid I Am!
"They film EVERYTHING"
– AnOkFella
"I went out drinking with a mixed age group. We got silly drunk, and had a good time. A few months later, one of the younger girls posted a "hilarous" video of me blackout drunk and acting stupid. Nothing illegal, just embarrassing. It was horrifying. Like, why would you video someone that vulnerable, and then put it out in public? Like, what other videos did they take? She took it down, but didn't understand at all why I was so angry at her - because "she posted dumber sh*t of herself all the time!""
"Never again. I'll just stick with my older friends who know not to film anyone doing stupid sh*t."
– Lexi_Banner
"this. gen z getting themselves fired from work over tiktoks is such a common occurrence."
– sane_fear
Be Sensitive
"Gen Z here. Romanticization of mental illness or crime."
– Justatroubledgirl
"fr it's embarrassing because they treat it like it's a competition or something quirky like… no it's not? stop making your mental illnesses your only personality traits"
– yeehee087
Evolution Of Hair
"Brocoli haircut. Will definitely age like milk"
– ehjtarretetoutdsuite
"Ahh the "Meet me at mcdonald's haircut", no seriously that's it name, you can google it"
– ElOliLoco
Like e.e. cummings
"Finally I can ask this. Why do a large amount of gen Z's not use capital letters? Is capitalization going the way of cursive writing?"
– Themanwhofarts
"It's probably because of texting. Over time, texting with capitalized letters became seen as too formal, and people began to intentionally remove capitalization to seem more laid-back and informal."
– SignificanceBulky162
"Millennial here and a lot of people my age used to not use capital letters either in our early twenties. Might be regional, might just be a general "trying hard to appear chill" kind of thing"
– LatelyTea
Use A Dictionary
"Saying gaslighting every f*cking day with no comprehension of the word."
– joshjamon
"I know what it means stop gaslighting me"
– Technical_Watch2137
Here's My Life Story
"Oversharing personal struggles, overdramatizing common anxieties/struggles, and flaunting "going to therapy" to the point where it's clearly a means of seeking attention and staying relevant."
"On a related note, since I see it on dating apps all the time, when every other bio puts "going to therapy" as a green flag. Like yeah, that should be normalized, but mental health practices are turning into a new form of virtue signaling."
– WrongSperm95
Not Funny
"Bothering people just trying to go about their day in the name of "pranking.""
"I've seen one that regularly goes into a store like Home Depot and pretends to be an employee and then films the real employees who seem to be going a little overboard in their reactions; but I'm just like this poor guy is just trying to get through his workday without this bullsh*t."
"I just saw a man was getting charges pressed against him for attacking a kid that was "pretending to steal his luggage as a prank." The 'prankee' grabbed the kid by the hair and probably did go a little overboard but the number of comments I saw defending the kid amazed me. JUST LEAVE PEOPLE ALONE!!"
– steelbydesign
Feel The Beat
"Stupid Tik tok dances"
– greenok12
"At least they're getting some exercise"
– ImNotTheBlitz
Times Change
"Trying to "cancel" singers/rappers/actors for things they said 30 years ago when social norms were different"
– WhosMurphyJenkinss
"Gen z is the most pretentious moralistic and puritanical gen since maybe the lost gen"
– muldervinscully
The Capacity To Care
"For me it's the insinuation that I'm supposed to care about every problem/issue in the world. It's not realistic- we as humans don't have the emotional bandwidth to care or even keep track of all the issues in todays world. Social media is constantly bombarding these kids with the most recent catastrophe and everyone is expected to be an activist for it until the news cycle breaks. Pick an issue you're passionate about and do something, but letting every atrocity in the world affect your emotional state is counter-productive and makes you feel like the boot is against your neck at all times"
"My opinion is that this contributes to the rise of mental health issues like depression-"
– br0therbert
Let People Be Who They Are
"Queer discourse. Not in general, but the way I see now. People fighting each other over Pronouns, attacking each other because they don't believe someone else should go by the label they use."
"It feels like the LGBTQ community is running around in circles, nibbling at its tail and not realising its bleeding to death."
– confused-as-f-boi
Cause And Effect
"For me it's claiming everything as abuse..."
"*got punished for doing or not doing something they were told/asked to do or not do a thousand times... gets punished... that's abuse... wtf... actions and inaction have consequences... Don't want the consequence then don't do or do what I asked/ told you to do or not do... It was that simple when I was growing up..."
– SecretaryKey3923
The Internet Can't Help You
"As a gen-z myself, I'm also confused on why everything has to be posted on social media:"
""OMG I'm gonna die 😭😭😭""
""He made it into my house 😭😒🥺🥺""
""Idk what I should do now 😔😔😟😭😓""
"So you decided to post about it on social media rather then calling the police or ANYONE ELSE FOR HELP?"
– DaGamingTurtleB
Invited In
"Or the other way around"
""Look what a fun life I have, I'm here on the mountains with my entire family" nobody is home for 2 weeks pls come rob me"
– QBekka
"They are really the first generation with the capability to do that easily. They're like the oldest siblings who makes all the mistakes so the younger ones can learn from it. I salute their sacrifice."
– littlegreenb18
Fascinating…or questionable.
Do you have any trends to add? Let us know in the comments below!
Enjoy your youth while you've got it, Gen Z.
Reddit has a thing or two to share with you and we'll be honest, it's a little bit of a buzz kill. So if you're currently enjoying being young and cool, you might want to just keep right on doing that.
But if you're already jaded and feeling hopeless, then sure why not pile some more on that?
Reddit user TreatAlternative6908 asked:

"What's something Gen Z isn't ready to hear?"
and yeah ... some truth bombs were dropped. Thing is, we're not really certain any of this is stuff Gen Zers don't already know.
It's very possible they just don't care, which is honestly kind of admirable.
Expiration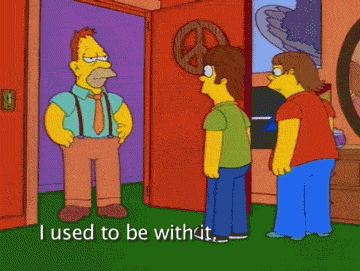 simpson abe GIF
Giphy
"That one day you too will be outdated"
- yesiknowimsexy
"I used to be with 'it', but then they changed what 'it' was. Now what I'm with isn't 'it' anymore and what's 'it' seems weird and scary. It'll happen to you!"

- heridfel37
"Oh this! Clothing style, vocabulary, everything of me is outdated. I'm the crotchety old man complaining about people whipping their phones out to twittledee twat this and that... and I'm only 35."
- Kuli24
Guilt-Free
"Just like harry potter/disney/anime/lol comic bacon culture millennials, you, too, will one day be an embarrassment in the eyes of teens and anyone else who isn't chronically online."
"Quit seeking the most moral and respectable of interests - just be f*cking cringe! Just enjoy sh*t even if it's not cool!"
"Be a decent person, but enjoy tiktok, or youtube gamers or sh*tty music or anime, or whatever."
"Nothing matters! Enjoy your hobbies and shed guilt from your guilty pleasures"
- puzzlekitty
"Best thing about growing up is enjoying hobbies and interests more openly, not giving a f*ck what others might think."
"As a bonus, you'll also meet people with shared interests since you're broadcasting instead of hiding it."

- MoistDitto
"💯 This is literally THE BEST thing about being an adult."
"I'm 45 and I like comic books and Halloween. And IDGAF who knows it because I'm happy when the pumpkin spice comes out!"

- Icelegion3000
Choose Wisely
"The choices you make today matter. You are not invincible."
- YourFatherHere1
"Especially bad health choices."

- Academic_Snow_7680
"Yes please take care of your teeth too."
"You don't want to be 25 trying to get braces or fillings and have to pay it yourself. Things get really expensive and you'll find ways to put that on the back burner. Which only makes it more costly"

- idk-though1
"I'm in my late 20s now and my friends who have neglected their health have night and day different living experiences compared to others who try to eat healthy and exercise."
"I've seen some friends who were fit and healthy leaving college turn into big unhealthy lazy slobs because of the poor choices they made."

- TGrady902
Yay For Average!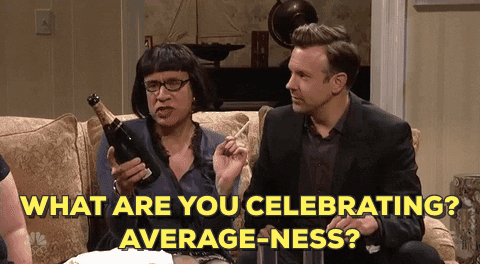 What Are You Celebrating Fred Armisen GIF by Saturday Night Live
Giphy
"You don't have to strive to be famous or to go viral. It's perfectly ok to be average."
- AHotColdBrew
"Average is ok. Ok is average."

''You should be so lucky as to live an average life with a family, job, friends, home, etc."
- the-zoidberg
"Totally agree. Being average is underrated"

- SalmonellaPox
"This is actually very comforting advice."
"I feel like everyone my age is obsessed with being famous or making a name for ourselves and that causes a lot of anxiety for people. Especially when they don't have a lot of followers or don't 'make it' by a certain age."
"This is definitely something myself and a lot of people needed to hear."

- RedQueenoftheGay
Fashion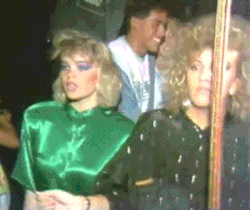 80S Dancing GIF
Giphy
"The 'cool' clothing you're wearing now will look silly in five years."
- jessek
"But might be cool again in 30 years."

- chillin1066
"And silly in 32 years"

- CaptZombieHero
"I feel like the actual stuff that was in style didn't really come back, just the niche subculture stuff."
"Like Emo style is huge now but you're not seeing too many people walking around with cargo shorts and pink polos with the collars popped, or cartoon characters drawn like gangstas."
"Come to think of it, studded belts were almost universally seen as cool and those aren't really back either."

- Maninhartsford
Happy Is Good
"It's not uncool or irresponsible to be hopeful, joyful, gracious, or to happy with yourself."
"Take a break from the news and the internet if it's making you too anxious to really live. It's cliché, but I mean it! "
"Turn to your community and make change and relationships where you can see them in real life. Let yourself be inspired and don't listen to older grumps who want to yuck your yum just because the world keeps turning."
- Material_Marzipan302
"Lead with light and love."

- cynbad89
"As a gen z kid, I actually really needed to hear this. Thanks."
- CrazyComedyKid
Think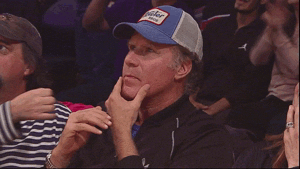 Will Ferrell Lol GIF by NBA
Giphy
"I'm in gen Z, and I would say that one of the most important lessons I've learned is that it's okay to not be opinionated."
"It is far more beneficial to yourself and others if you take time to listen and understand multiple viewpoints instead of seeking to form a concrete opinion."
"Along those same lines, it is okay if your opinions change. That shows that you are growing and learning about what you value most in life."
- megstheace
"Yes people. You are not a hypocrite for changing your views."

- GrimKreeper098
"And you don't have to form an opinion right away."
"You can do the research, listen to those multiple viewpoints, and meditate on how you really feel about the issue. It seems that we are judged on how quickly we can make snap-judgements, which often leads to just conforming to public opinion out of fear."

- RasaraMoon
Positive Isn't Positive
"Toxic positivity isn't positive."

- Punkstarbabe
"Can you help me wrap my head around the idea of 'toxic positivity'."

- Amethoran
" ' Good vibes only '."
" 'But my dog just died and I'm worried about-' "
" 'GOOD VIBES ONLY '✌️"
- camp-void
" 'Good vibes only' people stunt emotional growth and healing. Not every experience is a good one. Things can be traumatic and we need to be honest about them to process and move forward, otherwise we stay stunted and in denial."
"That can make a person really unstable, especially when their perfect 'good vibes' world is shaken a bit."
" 'Good vibes only' people have decidedly bad vibes, honestly."
- [Reddit]
"Ironically, the exact same people that do this also make long virtue signaling posts about the importance of mental health."
"Like 'Don't be afraid to speak up, but also I'm going to bully and shame you if you do. Good vibes!' "

- Blahblkusoi
"THANK YOU as a member of the Gen Z I know too many people like this and they all think I'm a d*ck because I won't go along with"

- SVWOH_L-3H_L
Hustle Culture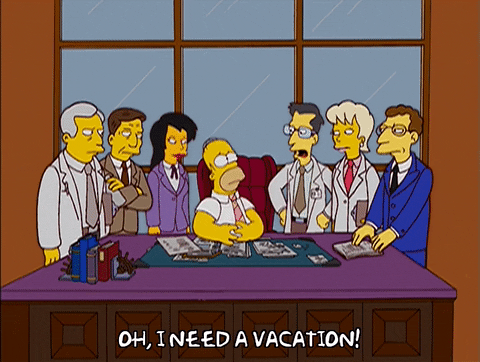 frustrated homer simpson GIF
Giphy
"Do not kill yourself a la hustle culture. Once you've damaged your mental and or physical health, it's very hard to get back to where you were."

- Educational-Candy-17
"So much this. I burned out three years ago, just at the beginning of COVID. In spite having the luxury of being able to rest as much as I needed to to recover, I am now only say 75% back to the energy levels I used to have, and it's much harder to just 'roll with the punches' in the way I used to."
"Do not do it to yourself."
- Jiktten
"I'm a millennial and this is the mentality my father planted on me. Mental health wasn't a thing in his vocabulary."
- 1millionkarmagoal
"I've never seen anyone benefit from the hustle culture. Eventually they burn out and mad/sad how all that work didn't do sh*t to their lives and what they really wanted they never got."
"They eventually quit that job and find a better one in their mid 30s believing they ruined their life doing non-stop work in there 20s and ruining every relation they had in the process."
- ghigoli
Powerhouse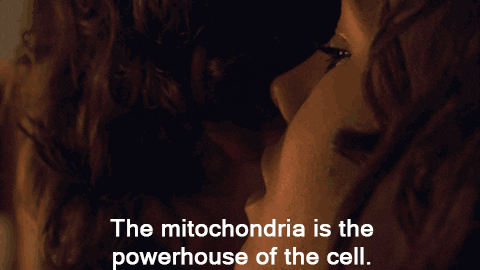 Secrets Of The Dead Biology GIF
Giphy
"The mitochondria is the powerhouse of the cell"
- nanorhyno
"And dissociation of BCL2 results in the formation of a BAX/BAK channel that releases Cyt-C from the mitochondria, which result in activation of the apoptotic pathway."
"Thus the mitochondria are the powerhouses of the cell as well as the bringer of destruction."

- mh078
"Knowledge is knowing mitochondria is the powerhouse of the cell."
"Wisdom is knowing mitochondria ARE powerhouseS of the cell."
"Oh I'm sorry, let me rephrase so people can understand!"
"The commonly repeated phrase 'the mitochondria is the powerhouse of the cell' is wrong because 'mitochondria' is actually plural."
"So people who repeat this phrase while rolling their eyes saying that they didn't learn anything useful in school are actually revealing that they didn't pay enough attention and don't know as much as they think they know!"
"Moral of the story, for further on-topic discussions, is this: Gen Z, you may think you know something, but it often will be wrong."
"Don't get overconfident. Stay humble and curious because making assumptions will lead you astray in this world."
- ghostly-smoke
"You are my hero this day good person."

- MusicalAutist
Let's flip the script a little in the comments.
Now that Reddit has dropped some wisdom for Gen Z - what would Gen Z like to say back?
Sound off!
Want to "know" more?

Sign up for the Knowable newsletter here.

Never miss another big, odd, funny or heartbreaking moment again.
We're always told to "respect our elders." In truth, many of our elders are wonderful and understanding people. Others are definitely not.
Many young people are very frustrated by older generations. Technology has taken its toll. The job market does not resemble anything that it used to be. The realities of the climate crisis continue to compound. Geopolitical events are raising tensions. Global inequality is at an all-time high.
Given all this, how can young people be expected to bridge the gap between their philosophies and those of people much older than them? People shared their frustrations with us after Redditor baker109123 asked the online community,
"Younger people are Reddit, what are you tired of hearing from older generations?"
"As a 29-year-old..."
"As a 29 year old, tired of older people telling me I'll understand joint pain, tiredness when I'm older. I'm disabled and chronically ill. I have had bad joints since birth. Like it's great that all your health problems are a result of your age but mine have been around and will worsen because of that."
supermeg77
It's true. Some of the older people don't understand that those younger are just as capable of being in the same (or worse) chronic pain then them.
"My mom and I got into a fight over housing affordability. " Your father (55)and I (53) worked very hard to afford this house (175k) and you make more than we did at the time we bought (1992)."
"The house now is worth about 1.5m, my mom didn't work and my dad made 100k/year. I make 150k and houses in my price range are 600k 1hr+ away from where i want to be and less than half size with less than half the lot."
x-Sleepy
Your parents bought their house at the best possible time. The income to house price ratio hadn't been that low for like a century and now is exponentially worse.
"I have more life experience than you…" then proceeds to go on an emotionally stunted rant based on their own personal bias due to trauma they refuse to process because "they know best."
[deleted]
Oh, don't remind me. How many times have I heard that one?
"A little bit late to the party, but as someone (30) identifying as LGBTQ, literally pretty much anything they have to say about queer/trans issues. Probably the most annoying thing is being CONSTANTLY reminded how hard it is to remember my name and pronouns despite being out for years now."
iamth3walrus
They didn't have all this trans stuff cause it was hidden
It's so invalidating when people react this way.
"I am 44 but I still feel like I am young. I am tired of hearing pretty much everything my generation says. I don't understand when everybody else just suddenly morphed into their parents."
Hattkake
I am younger than that and am still wondering when some of the people around me morphed. Did this happen overnight and I just happened to miss it?
"Literally any and all job advice."
"Literally any and all job advice. Sorry, Deborah, but you've worked the same unionized position for 30+ years. The number of valuable insights you can give me about the modern labor landscape numbers somewhere between diddly and squat."
spenhizle
Been there. This is so frustrating. The job market is nothing like it was before!
"I'm a restaurant worker..."
"They're so judgemental and rude. I'm a restaurant worker and I swear young people are way more polite and easy going while older people have zero patience (even though they're the ones who are already retired), oftentimes make racist, sexist, homophobic and bodyshaming comments and still act like they're above the younger generation simply because they've been alive for longer."
dreamingofhogwarts
The respect they demand after such behavior is wild as well.
"I'm tired of people complaining about how younger people are terrible as though they weren't the ones that raised those younger people to be what they are."
photoguy423
Ah, logic! A rarity in this world, it seems.
"Then promptly ask us..."
"How we can't fix anything ourselves. Then promptly ask us to fix their WiFi, set up their new phone and figure out why their computer is running slow. We can do plenty, we just have a different skill set!"
[deleted]
This is an excellent point. Everyone brings different skills to the table. Why is this so hard to understand?
"I hate how we've gone..."
"I hate how we've gone from me getting facebook as a teenager and my parents being like "DON'T BELIEVE EVERYTHING YOU SEE ON THE INTERNET" to them sending me "medical research" from unverified/unreputable sources."
ydmat3
And then they get very angry once they're fact checked. Who'd have thought?
"Buddy, I've been working..."
"Pull yourself up by your boot straps and work harder."
"Buddy, I've been working 60+ hours a week and prices keep going up and my pay is not and I actually cannot afford to change jobs, change my living situation, buy a more fuel efficient car, or go to college. There actually is no out."
"There is no work harder and I'll make it. I'm literally in the poverty trap. I'm slowly making my way out of it but it's going to be a long time unless some other opportunity magically appears. College isn't the price of a McDouble anymore old man."
[deleted]
Ain't this the truth. Sadly, many people are in this people and far too few people understand that.
It's very clear that there is an enormous generational divide. The difference between those who grew up with the internet and those who did not is massive. We could all strive to have a little more empathy.
Have some stories of your own? Feel free to tell us more in the comments below!
Want to "know" more?
Sign up for the Knowable newsletter here.
Never miss another big, odd, funny, or heartbreaking moment again.
We all hear how hindsight is 20/20.
So what are tips and life hacks that people wished they knew when they were younger? What would have helped them with life?
The over 35 crowd of Reddit decided to share some of the best advice they wish they had taken to heart.

Redditor jcab0219asked:
"Redditors age 35+, what's the best piece of life advice you can give someone in their 20's?"
Don't let anyone stop you from doing good…
"If you're a good person and you know it, don't worry about how people judge you. The good ones will find you eventually and the confidence you have in the meantime will serve you well." ~ iconoclast63
"Keep the hell off my lawn."
"The Japanese have a saying: 'The best time to plant a tree is 20 years ago, the second best time is now.' So..."
"A lot of your future will be shaped by what you do now. It's better to be at the bottom of a career you are interested in that halfway up the ladder and earning more in one you don't."
"If you find yourself just scratching out a living, at least be the best hen in the pen. And never get drunker than the boss."
"And if you're good at something, never do it for free. Become an expert in something."
"Start a financial plan. Or at least put away some savings each month - you never know when you'll go through a period of unemployment or get hit by a big bill for something."
"Look after your teeth. Give up smoking if you smoke."
"Keep fit - all you have to do is a 5k run once or twice a week and it makes a difference. And never lie to your doctor. For fewer than 5 floors, take the stairs."
"Push-ups and sit-ups are all you'll ever need to build muscle."
"Buy things that last, both in terns of quality and style. There's no point getting a suit that's in style now because it will be out of style in a year."
"Get a dark blue suit, three buttons, and if you can't afford to get it tailor-made at least go to a tailor and get him to take it in and make adjustments."
"That suit will last you for at least a decade. And if I can't see your shirt cuff, your jacket doesn't fit."
"Get some decent work shoes. More times than not, you will be judged by your shoes."
"And never eat lunch at your desk."
"Never leave a job without securing your next employment. But when it's time to go, don't hesitate."
"Learn to cook three things really well. Otherwise, remember that if you aren't hungry enough to eat an apple, you aren't hungry."
"Never buy a car at night. And always return a borrowed car with a full tank of gas, and never ask about another person's grades, salary, or what they paid for a car."
"Master a second language, preferably math."
"Never straighten another man's tie."
"Never turn down a breath mint."
"Never cancel dinner plans by text message."
"Pay attention. You only get one chance to notice her new haircut."
"In the long run, loyalty trumps ambition every time."
"Keep the hell off my lawn." ~ fletchindubai
The fact this needs to be said…
"Wear your sunscreen! Or more broadly, take care of you. Your skin,your teeth, your joints, your sexual health, etc. Invest in yourself for the long haul." ~ Wildflower_Daydream

"Take care of your teeth. They're expensive as hell to fix." ~ TinkTink3
​It boils down to being your own best safety net.
"Make a savings account of some kind RIGHT NOW, don't take anything out of it, only add to it. If you're gonna have the kind of sex that can result in pregnancy, be diligent about your birth control. Condoms, the pill, whatever - pulling out isn't good enough. Don't accidentally get pregnant or accidentally get someone pregnant."
"When drinking, learn your limits with people you trust and then don't make a habit of going past them. Don't leave your drink unattended in public places. Remember that you don't have to drink if you don't want to, and not wanting to is a good enough reason to avoid booze." ~ I_DRINK_ANARCHY
Life can't always be a party…
"The party/sex/drugs lifestyle isn't worth it. The memories aren't even that good and they'll leave you with health problems for the rest of your life. Go to school, get a job, and live life like a good boy or girl and you'll be happier ten years from now than if you went partying all the time." ~ rb7317
Even if it sucks, try not to burn that bridge…
"Don't burn bridges. I know being "anti-work" is the new trendy thing, but the problem is you never know if person conducting the interview for your dream job is talking with your former acquaintances. I would suggest that if you wanna quit your job, write a resignation letter, give a copy to your boss and another one to HR, and calmly explain why are you leaving."
"It's not mandatory to stay for 2 weeks after you resign, but is customary. If you are leaving because you can't work with your immediate supervisor, let HR or any other higher up know the reason why are you leaving, and that you appreciate the time you work with them (even if it's not true) and that you wish things have ended differently. Usually when new employers need references, they call HR, not your supervisor." ~ romeopapa22

Listen to that little voice!
"Cars are a waste of money - buy a practical, reliable, cheap car and do not waste money on tricking it out. You are your own boss and you decide what makes you happy, don't waste any time trying to fit into someone else's idea of you, be yourself."
"When you don't know what to do with your life, pick a direction and go! Any direction is better than floating around or treading water. Commit yourself to a lifetime of learning and no matter what you do, it will have value for the rest of your life. If it doesn't feel right, it probably isn't - listen to that little voice!" ~ BenevolentRustLord
Adulting is hard, you aren't supposed to know it all…
"Don't sweat that you don't have it all (or even some of it) figured out. Your 20s is the very beginning of your adult life, it's the training wheels stage, you are supposed to not know. Your work, money, career, friends, love, family, you have decades ahead of you to figure that out, you can't expect to know it right out of the gate."
"Figuring out how to do all that adult stuff is the same as reaching your milestones as a child - everyone does it on their own timeline and does things in a different order. Some kids talk early and walk late, it's the same thing, but it's easy to see your peers around you who are reaching the early milestones and think they have it all together - but they don't. Each in their own time. Plus, there is A LOT of faking it 'til you make it around, people talk a big game, but don't really know at all. And that's fine, too."
"Don't get put off by all this talk that nobody ever figures anything out and being an adult is just a big mess of misery and not knowing what's going on. You WILL get better at the skills you need. The problems and responsibilities will get bigger, but you will have far better tools and capabilities."
"Competency at anything takes time, be patient. Oddly, many people really romanticize the time they didn't know what they were doing with their life because they miss the time when they felt so much was possible. Try to enjoy that sense of possibilities, which only happens before you make those big decisions you are so anxious to be able to make." ~ zazzlekdazzle
Kindness and a good credit score go a long way!
"Marry someone kind. Also: Credit cards utilize something called a credit utilization score…meaning they look at the overall amount of credit you have and the percentage of it you actually use. A 'great' credit utilization score is about 10%…so if you have a $1000 credit limit they only want you to use $100 before you pay it back."
"It is a HUGE factor in determining your credit score. So if you're maxing out your credit cards every month and pay them back but your credit is still in the garbage, that's why. Tip: Ask your credit cards to raise your limits but don't actually spend more than you are now. This will decrease your credit utilization percentage and get you a much better score." ~ SeaTie
There is some good advice here.
And it's not too late to heed it, no matter our age.
Want to "know" more?
Sign up for the Knowable newsletter here.
Never miss another big, odd, funny, or heartbreaking moment again.