The ladies love gay men. The ladies love us. They just do. I have been checked out at the gym so often by women that one day I became so frustrated I had to speak. On this particular day, I was running like a fiend on the treadmill, and this lovely young woman sidled up onto the treadmill next to me. She would not stop eyeing me, flipping her hair and would incessantly try to make small talk; which I regretfully engaged in.
Finally near the end of the run, just as I was about to finish she pushed my shoulder to ask me if I wanted to grab a drink. I was thrown off because I was focused on my finish and because her push was more a shove and I fell to the floor. I wanted to read her for filth but instead just yelled... "leave me alone... I have a man!" She got the memo! As did the gym.
Redditor
u/lil_Chickens
wanted to hear how the boys out there let down a lady or two by letting them know... we bat for the same team girl. They asked...
Gay men of reddit, have you ever pulled the "I have a boyfriend" on a girl? If so what was their reaction?
Want to "know" more? Never miss another big, odd, funny, or heartbreaking moment again. Sign up for the Knowable newsletter here.

Keep reading...
Show less
Talk show host Wendy Williams is being accused of a wide range of intolerant behaviors after a rant on her show in which she told gay men to "stop wearing our skirts and our heels."
Williams was talking about the holiday "Galentine's Day," created by the TV show Parks & Recreation, which celebrates female friendships the day before Valentine's Day.
When she saw men clapping along with the women after a joke, she commented:
"If you're a man and you're clapping, you're not even a part of this. I don't care if you're gay. You don't get a [menstrual period] every 28 days. You can do a lot that we do, but I get offended by the idea that we go through something you will never go through."
Williams then went on to say to gay men:
"Stop wearing our skirts and our heels. Girls, what do we have for ourselves? You'll never be the woman that we are, no matter how gay!"
. @WendyWilliams to LGBT community. "I get offended at the idea that we go through something you will NEVER go thro… https://t.co/lgBnEfyu60

— Ent. Discussion (@Ent. Discussion) 1581620106.0
Internet users everywhere denounced Williams's comments as homophobic and transphobic.
Oh, Wendy. Your homophobia is showing: Wendy Williams to Gay Men: 'Stop Wearing Our Skirts and Our Heels' https://t.co/qFVwhUsrtv

— Jeffrey Luscombe (@Jeffrey Luscombe) 1581626159.0
@WendyWilliams i love you, i really do but if you're telling us to stop wearing "y'all skirts and heels", then give… https://t.co/RZe9Szi6JH

— Bruce williams 🤴🏽 (@Bruce williams 🤴🏽) 1581637109.0
.@WendyWilliams, some friendly reminders: 1. Many cis women would be offended by having their womanhood reduced to… https://t.co/yuGEDTaFv1

— Charlotte Clymer 🏳️‍🌈 (@Charlotte Clymer 🏳️‍🌈) 1581633607.0
Wendy Williams seems to have some trouble avoiding controversy.
Earlier this year, she had to issue an apology after making fun of a scar on Joaquin Phoenix's lip.
In 2018, she said she was "sick" of the #MeToo movement.
Y'all remember when Wendy Williams got coin to do that awful Drag Race commentary during the commercial breaks? 😅 N… https://t.co/bT8xQMQDQ7

— Kelly Mantle (@Kelly Mantle) 1581636903.0
Gays obsessed with @WendyWilliams is on our team: SHE. IS. NOT. Drop her. She's toxic. https://t.co/iX7hS6gmfX

— Boy Culture Blog (@Boy Culture Blog) 1581624196.0
Many pointed out notable LGBTQ celebrities who wear high heels and skirts.
Black gheys: Billy Porter look a mess at the Oscars in those heels and skirt. *Wendy Williams says she's tired of… https://t.co/lRaREnTXNc

— Carlos (@Carlos) 1581637921.0
#WendyWilliams @WendyWilliams life long watcher but no more! You are a transphobic / homophobic woman who doesn't g… https://t.co/sNavVdme8Q

— Paul Schmidt (@Paul Schmidt) 1581637933.0
Transphobia is no laughing matter.

@jessnatale/Twitter
Before long, Williams had issued an apology to her fans.

RT @pinknews: Wendy Williams makes tearful apology after saying gay men shouldn't wear skirts and heels… https://t.co/rl4EzYJO7Q

— ๒ รคץร Ŧยςк Շгย๓ק (@๒ รคץร Ŧยςк Շгย๓ק) 1581700172.0
But for many, the damage had been done.
Did wendy williams just say to gay men not to wear our skirts and heels?? I cannot stand this woman. 😒 https://t.co/MDU8xTidmT

— NeeNee (@NeeNee) 1581699802.0
I'm a woman and I dont want to be the kind of woman she is. Women don't own the right to solely wear skirts and hee… https://t.co/rJM0dqO3I6

— Maggie Rogers (@Maggie Rogers) 1581699025.0
Wendy Williams will have to be more careful in the future—there's a fine but important line between speaking frankly about gender and being ignorant and intolerant.
Keep reading...
Show less
A woman in Washington DC heard from her neighbors about gay men wearing provocative attire that included leather straps and mesh thongs attending an event at a local bistro.

That did not suit her at all.

So she wrote a letter of complaint on behalf of the neighborhood and falsely accused the men of engaging in "sexual acts" to city officials and the police.

She signed the letter and identified herself as "Jessica."
Black gay circuit party accused of allowing 'sexual acts' https://t.co/KQK9SpfFe7

— Washington Blade (@Washington Blade) 1579879738.0
While they are not for the faint of heart, the multi-day dance event associated with LGBTQ culture is hardly a violation of the law.
But Jessica accused the partygoers of attending "an organized sex party."
According to the Washington Blade, the event took place at the RedRocks Neapolitan Bistro at 1348 H St., N.E. on January 18.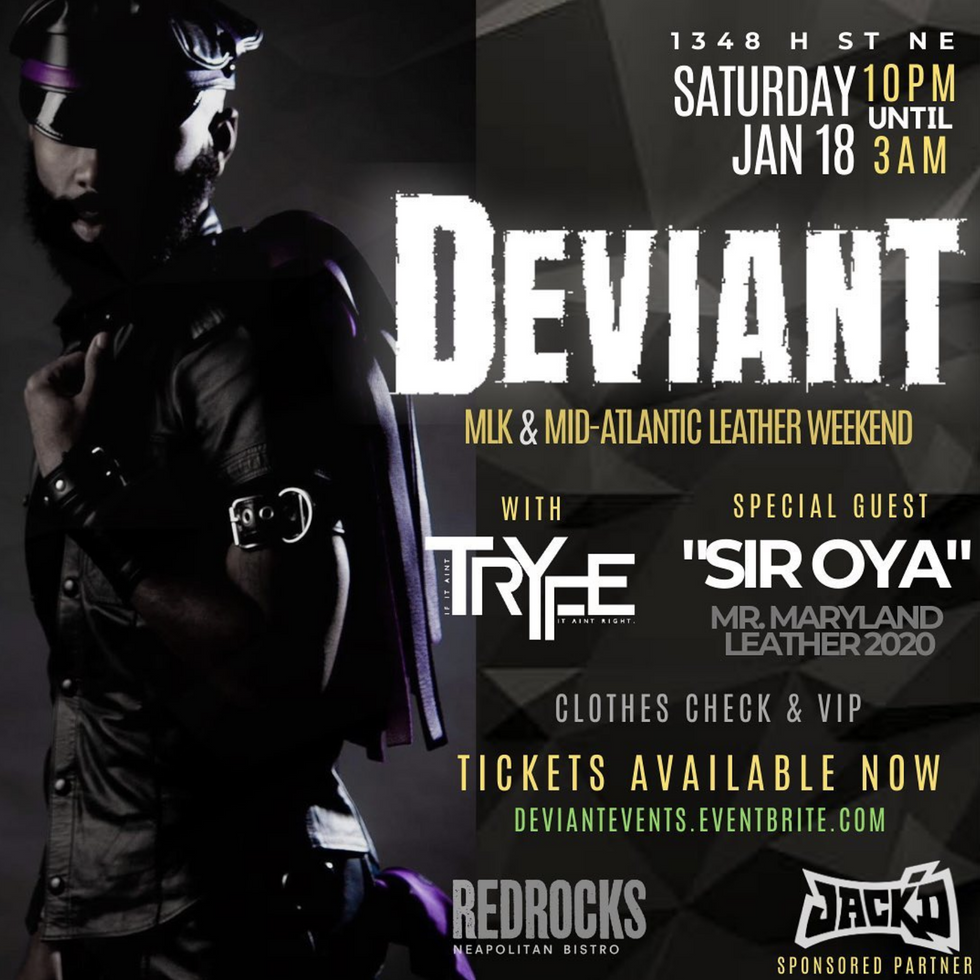 Deviant Events/Facebook
The exclusive event was promoted as "Deviant Mid Atlantic Leather Weekend"–which was not officially a part of D.C.'s annual Mid Atlantic Leather events at the Hyatt Regency Hotel near Capitol Hill–and catered mostly to Black men with an affinity for leather gear.

The manager of the venue alerted Deviant Event's lead organizer Micah Roseboro about Jessica's letter of complaint.
She had contacted the D.C. Alcoholic Beverage Regulation Administration (ABRA), which is in charge of regulating the sale, distribution, and consumption of alcohol at all establishments with a liquor license.

In the letter, Jessica alleged that her acquaintances:
"reported seeing multiple men in very provocative outfits including mesh thongs and leather harnesses walking throughout various residential streets in the neighborhood during and after the event."
@PinkNews Hahaha they can come walk around in my neighborhood anytime 😜

— Maria (@Maria) 1579948798.0
She added:
"Several of my neighbors also witnessed various attendees of this event engaged in sexual acts inside the venue and outside the venue."
ABRA can suspend an establishment's license if they are in violation of the city's liquor law or related regulations, including sexual acts.
A spokesperson for ABRA, Jared Powell, received Jessica's letter complaining about the party and told the Blade:

"The complaint has been assigned to ABRA enforcement for investigation."

Lt. Brett Parson, who oversees the department's LGBT Liaison Unit, said of the letter also received by the D.C. police:

"Upon reviewing the email, there are no allegations of criminal activity."
Roseboro issued a statement and called Jessica's allegations:

"blatant lies that may be quickly dispelled."
"This last event on Saturday, Jan. 18th, held temperatures close to 27 degrees Fahrenheit, and it snowed earlier in the day."

"No one was walking around outside in the provocative garments she speaks of."
@DaveHolmes I'm only concerned about Leather Weekend in the context of making sure everyone is warm enough because it's pretty chilly in DC!

— Jessica Ouellette (@Jessica Ouellette) 1579652087.0
Roseboro assured that all participants showed up and left "fully covered."

Additionally, he asserted that no sexual acts took place in the venue.

"Lastly, I'd like to dispel her lie about neighbors having witnessed sexual acts inside of the venue."

"That was impossible to do, as windows were completely blacked out on all floors."

"Again, we are proud of the work we are doing in providing a safe space for our patrons, who are queer people of color, so the blackout windows are not to hide them, but rather to protect them from bigoted, hateful onlookers."
Roseboro added that the D.C. police responded to a separate report of an alleged stabbing at RedRocks and showed up at the establishment, but officers saw no evidence of foul play or any other illegal activity.

In his statement, Roseboro clarified the meaning of his organization's name.
"Deviant is wherein queer people of color may gather safely and freely."
"We flirt and dance and dress scandalously. We wear harnesses and thongs and jockstraps and lace just to defy and redefine masculinity."
"Deviant is black, brown, yellow, (some white) and queer."
"Deviant is a place free of violence, shaming and ridicule…We celebrate one another's differences, and appreciate one another on the dance floor."
Cheers to our allies, who understand the importance of us having a safe space to party freely, as queer POC. ❤️ W… https://t.co/iqDIrUUKjQ

— DeviantEvents (@DeviantEvents) 1579633736.0
The bistro's general manager Tavarus Brandon-Flores and his staff have been supportive towards Roseboro and the attendees on the night of January 18 and during the previous circuit party in November.

The Blade reported that Jessica's email indicated she and her neighbors were already expressing they were "horrified" in advance of the upcoming February 15 event at RedRocks.
"We do not appreciate having this kind of activity in our neighborhood."
Despite the pushback, Brandon-Flores offered to go ahead with the next planned Deviant circuit party at RedRocks, but Roseboro said it may be time to look elsewhere.
"As much as I want to fight the good fight, I am looking to move the event to another venue."
"I feel it may no longer be a safe space for my people. I don't want to subject them to hostility generated by Jessica."
Keep reading...
Show less
Being gay is special. It's too long to explain it all, just trust the truth. Ladies... and maybe some gents, accepting the way God made is all is a very sobering experience. Telling the gay truth can be... no... IS empowering but can also be very entertaining.
Redditor u/InFinder2004 wanted to hear from all the men of same sex persuasion about trying to chat with the ladies by asking..... (Serious) Gay men of Reddit, what was your "Sorry ladies, I like men" moment?
Keep reading...
Show less