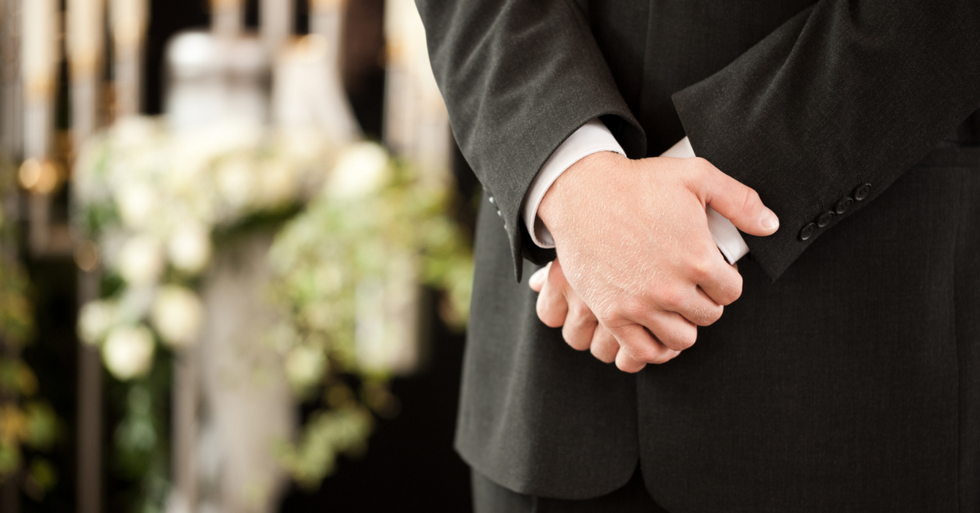 Moral issues can often divide families. For Redditor Conscious_Jury_7937, supporting his son's homosexuality meant distancing himself from his wife. When the Original Poster (OP) started to contemplate divorce, his wife was unexpectedly diagnosed with cancer. He stayed by her side until her death, but as soon as she passed he made sure to show his […]
More
The word gay, which was often used to describe moments that were joyous or lighthearted and carefree, has evolved considerably.
In modern usage, the word "gay" colloquially refers to homosexual men, but it can also be used in a demeaning way typically drawn from LGBTQ stereotypes of men behaving or appearing in a flamboyant manner.

Curious to hear how strangers online experienced how the word was used, Redditor Infrared-masochism asked:

"What's the weirdest thing you've been told not to do because it's 'Gay?'"
Interests in certain hobbies are apparently a dead giveaway of queerness.

Oh, Snap!
"I took up photography a few years back and my friends asked me to photograph their wedding. I did it and even made them a slideshow with nice music because I wanted to try it out. I showed it to them and my buddy said it was gay. He called his own wedding photos gay."
– livinalieontimna

Repeat Offender
"A few things I've been called gay for doing:
Reading
Using an umbrella
Wearing a sweater
Not knowing how to play any songs by Stevie Ray Vaughn on the guitar at age 15
Yawning
'Wearing a shirt with another man's name on it' (it was a hockey jersey with a player's name on it and I was 12)
Just to name a few off the top of my head!"

– PoisonLenny37

Way With Words
"The funny (not funny) thing too was it was when I was in grade 4 and it was the student teacher who said it. We did an annual trip to a water park in June every year before the end of the school year. I had a broken arm that year so on the way out to the bus I ran back to the room and grabbed a book and as I was walking out he was like 'a book? You're gonna spend the day READING?' and I was like 'well, broken arm, ya know?' And he was like 'pretty gay, dude, pretty gay!'"
– PoisonLenny37
With A Dreamy Far Off Look...
"I didn't know my Dad was your teacher, holy sh*t. Well at least you got it lucky, as someone who still carries around a book with him to this very day, Dad used to call me a gay for reading just about everywhere all the time. 'you're so busy with your face in a book all the time. I'm so disappointed in you, Son. I brought extra condoms down with me because I thought you'd be a chip off the old block taking virginity." - My Dad on the common area at the hotel we were staying at on vacation when I was 13 years old."
– byehavefun

Kitchen Kween
"Cooking. Umm, I have to feed myself and I'd prefer fresh, nutritious meals that don't require unhealthy takeaway and cost a fortune."
– bruh_wut69

Observing these normal types of behavior had skeptics convinced of their suspicions.
​Squeaky Clean
"My Dad used to tell my brothers not to wash thier hair so much.or they would 'turn gay'."
– ineedatinylama
"Real men can fry a steak with the grease in their hair 👌"
– LionToTheSlaughter99
Cat Gender
"I was taken aside by my deeply concerned and shocked friend and was told 'you know that's a MALE cat you're stroking?' I was astonished."
– jim_jiminy
The Stigma Of Kindness

"Being kind to others."
"Excuse me, wasn't aware that I had to burp and fart right in your face to state that I'm a straight guy."
– Lumbertech
"I've heard this one many times. Apparently basic human decency is in such short supply these days that the idea that it could come from a straight person is inconceivable."
– thequietthingsthat

Ear Candy
"Literally just happened about 5 minutes ago. Listening to music at work, Cindy Lauper's 'Time After Time' came on. Co-worker walked by and informed me how gay I looked sitting at my desk listening to that song."
– Bypolur

There is a straight way and a gay way to examine your body parts.
Not-So-Cute Cuticle Check
"Apparently I passed a straight guy test (back in the 90s) when I looked at my nails palm up with my fingers curled in vs palm down with my fingers out straight."
– Humble_Nobody2884

"Had a friend who said he had weird bumps coming up on his skin so i suggested he go to the dermatologist. He said only women do that. Alright man, good luck…"
– mrboondoggle
In elementary school, a couple of my classmates asked me to check my shoe because I stepped on gum.
I bent my right leg behind me and looked over my shoulder to inspect the sole of my shoe, which turned out to be devoid of any of the suspected gooey substance.
The two yahoos howled hysterically and said the way I checked my shoe was soooo gay, and that therefore, I must be."
Apparently, straight dudes would inspect the bottom of the shoe by lifting their feet up in front of them and inverting their ankles upward.
Gee... how did they know?

Coming out of the closet is an inconvenient rite of passage for anyone who has been suppressing their authentic selves for the comfort of their heterosexual acquaintances.
While there have been some advances made regarding LGBTQ+ visibility with role models who are out, it's still impossible to predict friends' reactions.
This is exactly why some tend to reconsider declaring their sexual identity.

Curious to hear from straight males online about what their reactions might be, Redditor Glittering-Ask-7298 asked:

"Men of reddit, what would you do if you found out your homie is gay?"
Some guys really appreciated hearing the news.
No Fanfare
"Nothing...I had this happen actually. I said congrats at first but then said 'that was a stupid response it's not like you're getting married.' We both laughed about my response and I told him I'm glad he felt comfortable telling me and that nothing changes between us if he thought it would."
– HUGE_duck_boots
It Started With A Homophobic Sister
"Had this happen to me as well. He's been (and is still) one of my best friends since childhood. I had no idea, other than I had noticed he really never dated anyone to my knowledge. One day, I called his sister out for some homophobic stuff she posted on Facebook (I think it was about Lil Nas X), because I distinctly remembered her having several girlfriends in high school."
"My buddy texted me to send a virtual high-five and came out to me. I told him that it had honestly never occurred to me but made a lot of sense. He then went on to explain he had been in some relationships but kept them private for obvious reasons. I told him it meant a lot being one of the only people from our small town that he's opened up to."
– CasperTek
Michael, We Know
"A buddy of mine years ago came out to a whole group of us at a dinner once and we were just like, 'uhhh... Yeah, Michael, we know.' And then like 10 minutes later one of the group just goes 'WAIT! Hold on. Michael, dude, did you just come out to us? Were you not out before??' Apparently he was not, or at least he didn't intend to be..."
– CO420Tech
Some straight male friends deserve more credit.
Heat Of The Moment
"My buddy came out to one of my friends. He pulled him a side at like an airport when they were traveling or something. Of course he never pulled someone aside IRL like that, so it seemed pretty nuts. And he and was like, 'I have something important I have to tell you. I'm gay.'"
"My friend was like, 'Jesus f'king christ. That's it? Don't scare me like that! I thought you were gonna tell me you had cancer or something.' Of course in the moment it was nothing but love for my pal, showing he was going to be loved and accepted. And that him being alive and in his life was what mattered most."
– ConvenienceStoreDiet
My Best Friend Isn't Dying
"My best friend did the same to me. I was living overseas and he told me he needed to talk to me about something important but we had a 13 hour time difference. I was so stressed thinking he was dying or something. Came out and I was like 'oh okay! You had me thinking you were dying of cancer!' We still joke about how dramatic it all was. Our group as a whole suspected he was gay but were letting him figure it out and tell us in his own time!"
– WhosThatLady9

Not A Big Deal
"My best friend came out in high school and was so worried about what people would think of him. He cried when I told him I accept him regardless of what his sexual or gender preferences are. I didn't really do anything about it because I'm not a homophobe :P"
– AdministrativeWar594
Here's the thing about true homies.
Added Benefit To The Friendship
"Most of my homies are gay. They help me not look homeless when we go out for dinner 😁."
– avero34

The Misconception
"Honestly that's the big fear of gay guys when coming out to their straight homie, like they'll just walk away from the friendship or be really unsupportive but if he does that he was never a homie to begin with."
– grandwizardElKano

Continue Being The Best Man
"this happened with my best friend actually. He was terrified to tell me, and in retrospect it saddens me because it meant I made him feel like there was a chance I would judge him for it. He's still my best friend today and was the best man at my wedding, so the answer is, continue to be the best friend you can be."
– IStanHam
Some levity goes a long way.
Calling Out His Relationship Status
"Stop making jokes about him not having a girlfriend and start making jokes about him not having a boyfriend."
– seafoamteal
Wicked Humor
"I had this happen to me, as well. I was like 'OH MY GOD, YOU EVIL GAY MAN! YOUR GAYNESS IS CAUSING ALL THE CROP FAILURES BECAUSE IT DISPLEASES THE LORD!' And then, naturally, we sacrificed him so that the rains would come."
– ultranothing

It turns out that LGBTQ+ people generally don't have much to fear when it's time to come out on their own terms to friends.
Their reactions will either reinforce the fact that the friendship has always been authentic or superficial.
If coming out results in revealing the latter example, well, it was time to clean house anyway.
Keep the real homies close. They'll always have your back.

For closeted individuals, coming out is a rite of passage in life that LGBTQ+ people never signed up for.
Why is it that anyone who inherently identifies a certain way has to explain themselves to those who are confused and unwavering in their socialized ignorance?
Times have changed and while there have been advances made for LGBTQ+ people to find more acceptance and feel less like an "other," there are still many challenges to overcome.
Even with gay role models prevalent in pop culture, it can still be difficult for gay youth today to come out to a parent who chooses to live in the past and align themselves to antiquated ideals in society that prevents them from loving their child as they are.
But sometimes, the response after opening up to a parent in a vulnerable moment can prove that unconditional love is the best thing in the entire world.
Curious to hear about positive responses, Redditor Expert_Recover3061 asked:
"What's the best response to 'Dad, I think I'm gay'?"
Even those who aren't fathers can give the best response.

Crisis Averted
"In the 90s, when my girlfriend finally told her traditional Italian mom and grandma at 19, they sighed in unison and grandma said, 'oh thank baby Jesus, I was worried that I was going to have to tell you.'"
– DifficultAccident9
What Gran Said
"'I thought you were about to give me bad news! Don't scare me like that!' - My granny when my uncle came out (in the '70's!). She was decades ahead of her time…"
– LongjumpingCake1924
The Rules Don't Change
"You still have to wear a condom."
– Ginchy1971

Not The Only Outcome
"Pregnancy isn't the only STD."
– rhymes_with_snoop
Bracing For The Worst
"This was my literal response when my brother came out to me. He'd called me and said he had something urgent to tell me and it had to be face to face. I was a bus journey away and started to panic so I made him tell me over the phone."
"'I'm gay.' 'I know that! I thought someone had DIED.'"
– Suspicious-Brain-521

Protective Dad
"When I came out to my dad when I was 16 I thought he would disown me. He said: 'Son, If anyone ever hurts you for that, I'll f'king kill them'. In that moment I realized that I had the best dad in the world."
– Winterpegs

These reactions raised eyebrows.
Cryptic
"'So that's why you don't like mushrooms'. At least that's what my friends dad said to him when he came out. We still don't know what he meant by that."
– narnababy

"One of my friends from high school was gay, and when he came out to his family his Dad literally didn't look up from his newspaper & told him his sister didn't need to tell him she was straight so why would he need to explain that he was gay? He's known him his whole life and already knew that."
"It was cute because he was so worried."
– 0Diamond0

These Redditors realized they had nothing to fear.
Cheers To That
"Well... My dad said 'I know... And I don't care. As long as you are happy, I'm also happy for you.' And then asked me if I wanted a beer or scotch to celebrate that I finally had the confidence to tell him."
– OneMorePotion
The Best Parents
"Our son came out to us a month ago. We already suspected, so it wasn't a shock."
"When he told me I thanked him for telling me, told him that I loved him, then explained that who he wants to tell next and how he wants to tell them is 100% his choice and we will support him however he wants and needs. He gave us a list of people to tell, and by the end of the week he wanted everyone to know."
"Love and acknowledgement and support."
– Feetyoumeet
Most parents these days aren't given enough credit for being understanding–and also having good instincts about their closeted children–as the fear of being disowned weighs heavily on the mind of individuals who are apprehensive about coming out.
A friend of mine told me her 19-year-old son came out to her and her husband. They already suspected and were waiting on him to come out on his terms when he was ready.
Her husband had the best response.
He said:
"Son, I just hope I get to have the first dance with you at the wedding."
Coming out is never easy.
Even in this day and age it comes with a touch of drama.
Of course we have to acknowledge how society has come a long, LOOOONG way with this topic.
The LGBTQ+ community of today definitely has a more welcoming world to announce themselves to.
But the truth is, it's still an intimate experience one must come to terms with.
And there is always that moment when... you know.
No matter your age, you still have the A-HA realization.
Redditor Haunting-Golf9761 was hoping everyone would be willing to share some intimate life secrets, by asking:
"Gay people of Reddit, what was the moment it clicked 'Yeah I'm gay?'"
I knew after an intimate evening with a woman.
It all just... made sense.
HER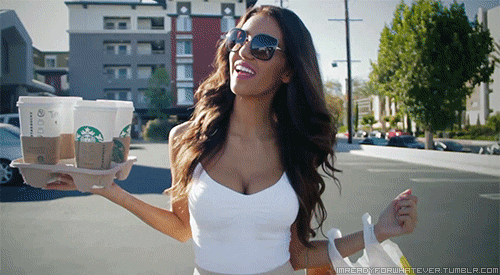 starbucks pretty girl GIF
Giphy
"Looked at a girl and thought 'If I was a guy, I'd date her,' and realized I didn't need to be a guy to date her. I was not brave enough to speak to that girl though."
PeachLeech
THE GRIP
"2018 summer olympics. Realized I had been watching men's water polo, alone, for eight hours."
FallenFae
"I don't know why but this made me laugh. I'd watch men's Polo, Diving, and Swimming and get amped. But like, I'd also be drooling over abs and butts."
shark_food31
"Lmfao this absolutely tracks. I'm bi AF and was OBSESSED with couples skating because everybody was so God da**ed beautiful and the chemistry was off the chain 🤣. The Olympics had a chokehold GRIP on me as a teen."
Lucky_Ranger
I Get It Now
"I'm bi, but I realized I wasn't straight while watching the Lizzie McGuire Movie when I was like 8-9. I was in the backseat on a long car ride watching on my portable DVD player. There's a scene near the end where Lizzie is on stage singing and the camera shot is behind her. I remember pausing the movie and staring at her butt for a good while wondering why it made me feel a certain way. A few years later I found my uncle's playboy magazines and it suddenly all made sense."
lovexnxpeacexox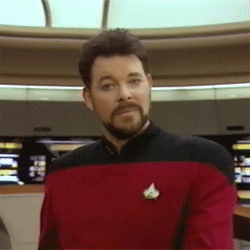 Happy Star Trek GIF
Giphy
"An episode of Star Trek the Next Generation where they showed Riker's hairy chest. I learned not only that I was gay, but a lot about my specific type of gay."
Santos_L_Halper_II
Gays in space. We're everywhere.
Oh My
"I'm not gay but Bi with a heavy female lean. I always thought some guys were cute, heard of Grindr went on and hooked up with one I thought was cute."
Milestailsprowe
Thanks, He-Man...
"When I was really really young I used to have erotic dreams with guys (thanks, He-Man), but didn't think much about it. That's when the internal conflicts started."
"I knew I needed to be married to a woman and have family just like every man in my family did. I feared being singled out, because I lived in a retrograde place where honor killings were common. There were no homosexual s in my family, why me? By the age of 15, I had abandoned the idea of marrying a woman and keeping homosexual affairs as some people do and decided to be upfront with me parents."
"I told them I was gay, and they seemed to take somewhat well. Deep down, they did not."
"It took years for them to truly accept me, but I can say that I have a good life. Not the one that was envisioned for me all those years ago."
Hideyohubby
The Literature
"I was 8 when my brother (6 years older) was recording the last Nirvana concert and I said David Grohl was cute. I didn't really know what it meant to be attracted to someone, but I was drawn to him and the words just came out. My brother said 'That means you're GAY!!!!' which I didn't understand what gay was yet but his tone made me respond 'Nuh uh!!!'"
"Turns out he was right. When I was 13ish I found my brother's porn magazines and found myself uninterested in the ones that were just women. That's probably when it fully dawned on me. Still kept it to myself until I was in college and out of my small rural hometown."
Mathandyr
Back in the Day
"Looking back, I definitely had feelings for women just as much as I did men. I just either didn't realize or was in denial about it. I was 20 when a girl crush really hit me hard and I started to realize it but was still confused for some time. Finally around age 24 I came out to my brother as bi, and much to my relief he did as well!"
Ohhhhhhthehumanity
Breathless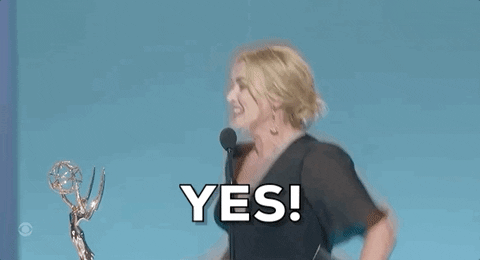 Kate Winslet Yes GIF by Emmys
Giphy
"My senior year of high school, Titanic was re-released in 3D for the 100 year anniversary of the disaster. Being my favorite movie of all time, my dad took me to see it at the closest IMAX theater."
"I caught myself trying to control my breathing during the nude drawing scene so that my dad didn't catch on to the fact that I was super into seeing Kate Winslet's breasts in towering 3D."
wildflowerhonies
Who doesn't love Titanic.
We thank these brave souls for sharing their stories.
Do you have something similar to share? Let us know in the comments below.