For those who must encounter it, the "coming out" conversation has got to be so anxiety-provoking.
Whether someone is telling their parents, siblings, extended family, or close friends they're gay, it must feel so scary to share such a massive, yet often unaccepted, piece of their identity.
So it also must be wildly refreshing when the other person responds with humor and levity. All of a sudden, total acceptance and an inclusive tone are conveyed.
Redditor RedditorYT asked:
"Gay people of Reddit, what was the best reaction you received to coming out?"

Many people talked about the times they discovered their sexual orientation was already old news by the time they mustered up the courage to come out.
For these folks, it was comforting to know they'd already apparently been accepted for months or even years.
The *Second* Talk
"Told my mom I was bisexual. Her reaction: 'Honey, you told me you were dating a guy months ago.' "
"Completely forgot I did that."
Well-Broadcast
"nervously: I'm gay"
"mom: girl, you came out of a closet with no door"
-- flapeybird
Shrewd G-Ma
"Best story: Me to grandma: gramma, you should probably hear from me first before blabbermouth aunt says it for me... I'm gay. Gramma: Yeah, I figured, but I wanted you to tell me rather than ask... just like that interesting 'vase' you keep on your patio which I know obviously isn't a 'vase.' (It was a bong and I lied.) Gramma was the best... I miss you gramma.)"
Making Plans Early
"I don't remember a specific coming out moment with my family, but I remember talking to my brother and dad about liking girls when I was a teenager."
"And my brother asking if I remembered being like 9 years old and telling everyone I wanted to marry my friend Mia. That's when I realised my closet door had pretty much been wide open all along."
-- rmp2020
Others were surprised when the person they told took the news with a completely casual and accepting demeanor. These people instantly felt silly for being so worked up.
One Less Thing to Worry About
"Dad was just like 'welp at least you won't get pregnant' lmao" -- SkepticalSpiderboi
"Two of my daughters are gay. It's an absolute bonus knowing that teen pregnancy is one less thing for me to worry about! If they have kids, it will be because they really want and plan for it." -- Someonetobetoday
Affirmation Like No Other
"I nervously sent my sister a meme about being bisexual. Her response was 'same' Funniest waste of adrenaline ever, ngl."
-- ohmanmytacos
Window Cleaners Share The Best Things They've Ever Seen | George Takei's Oh Myyy
Gearing Up
"My friend laughed because he 'thought I was gonna confess something serious, like I'd murdered somebody, proceeding to essentially say that he doesn't care/it doesn't matter if I'm gay lol. This was the reaction of all my friends, basically. I'm lucky to have such good friends"
-- thurbor
New Beginnings
"Best: my dad didn't say much, but his neutral acceptance coincidentally broke down a lot of walls we had when I was growing up. We got to know one another a lot more once I felt free of my secret. Love him times a million."
-- QuietPeanuts
In Good Company
"Best was when I told a group of friends in school and two others turned around and said 'oh me too!' then we went back to planning our weekend outing"
Best Friends
"Best- told my best friend. Cried. She stayed the night, we had pizza, drinks and watched a film. She slept in my bed, just like she did before. Nothing changed ❤️"
-- moonchild_86
And some were comforted when the person they told was all set up with a killer one-liner. The humor shifted the mood from anxious to warm in an instant.
Big Changes
"Not gay, but trans here. Well, gay too, but it was when I was coming out as trans."
"I came out to my little bro towards the end of the year. His response was: 'Are you sure you're not taking the whole "new year, new me" thing a bit far?' "
Shared Experiences
"My dad's 'I also like women' has to be my favourite." -- FreyaAthena
"Your dad is offically your wingman lol" -- MachuPichu10
"Mad respect for your dad honestly" -- UwU_was_ist_das
A Sliver of Hope
"I've come out twice, which complicates things, and not in a 'normal' way"
I originally came out as gay and then again as bi, so yeah a bit strange. But my mum takes the cake with the classic 'Maybe I'll get some grandkids yet' "
-- dawson270500
Burst Bubble
"My sister: Yay, I always wanted a gay brother!"
"Me: You realize that you always had one, right? I'm not suddenly going to change my personality and enjoy shopping with you."
"Her: Awww."
During Pride Month, when we celebrate the identities of so many who've had to fight to be accepted, it's nice to hear some stories from those who were accepted--at least by one person--right away.
Want to "know" more? Never miss another big, odd, funny, or heartbreaking moment again. Sign up for the Knowable newsletter here.
Keep reading...
Show less
Every person, no matter what age has that Oprah "Ah-ha" moment when it comes to the realization about sexual identity. Yes, nowadays, thankfully, it's a more accepting, inclusive world, at least more accepting than it used to be but progress has been made. But before one comes out to the world one must have a self reckoning. And those experiences can often be the most surprising. There is always a moment you can point to and say... "that was when I knew." And those moments can be chill or chuck full of drama.
Redditor
u/UnsettlingAura
wanted to see who would be willing to admit and discuss the moment they realized.... maybe it's time to explore some alternate ideas by asking....
What was your "oh crap I might not be straight" moment?
Want to "know" more? Never miss another big, odd, funny, or heartbreaking moment again. Sign up for the Knowable newsletter here.

Keep reading...
Show less
In 2020 when we discuss acceptance of the LGBTQIA+ community, we have to acknowledge and rejoice that we have come so far. We really have. But somedays it feel like there are still miles to run to get to the finish line.
In this time of culture war and grand renaissance we're all learning. And hetero/cisgender people still need to understand a few things. The best route to understanding is empathy. If you don't know, then ask me. Ask me about my fears, my goals and my triumphs as it all pertains to my struggle as a gay man. You'll be surprised about our similarities and about what the community still must endure while you believed the struggle was over. Just don't be inappropriate.... unless you're asking me out.
Redditor u/Eat-the-Poor was hoping the LGBTQ community members would be willing to share some truths that need to be heard by asking.... Homosexuals of Reddit, what is something about being gay that a straight person would never guess is a thing you have to deal with on a regular basis?
TMI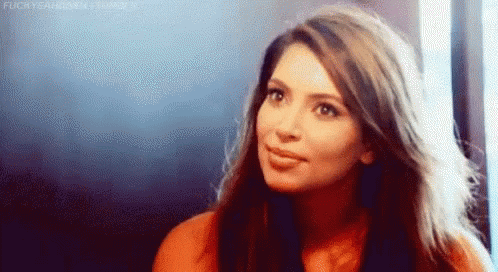 Ummm GIF by memecandy
Giphy
People asking how you have sex. I've had neighbors, a former boss, and family members ask me immediately after I told them I have a serious girlfriend. Its like, you wouldn't ask a straight person that.
Like, "hey, so, I'm gay. I've been dating my gf for four years. Sorry I've been telling you otherwise."
Them: "so like...lol...how do you have sex? Who gives and who receives? Do you use toys? Lol I heard lesbians use a lot of toys. Cause you don't have anything down there, you know? Do you just lay next to each other? How does it happen, lol!"
And I'm like, "uhhhh..." As if it weren't awkward enough to tell your foolish self I'm gay already?!
Looking Forward
Having some sort of conception of the future.
Since gay marriage is a relatively recent thing (and it came suddenly and unexpectedly) you never grew up assuming that you would ever get married, have kids, or build a home. The question of "what do I want to do with my life" really was never addressed in your younger years because you assumed there was no future for you.
If you managed not to die from AIDS or by your own hands then you were not going to have a real love life, real friendships, a family that supports you, etc. all of that was dependent upon you making the world believe that you were straight, a facade that you might be able to keep up with for a while, but not forever. Eventually the mask would slip, people would find out, and your life would slowly unravel from there.
Unlike other kids who were excited to live their dream as a doctor, a cop, a vet, or whatever else, the whole idea of the future was something to avoid for me, because I was always so certain that if I would even be alive to experience it, it would be lonely and pointless.
But thankfully none of that happened. I'm still here corporeally but that's about it. It's just that since there was never any thought put into my long term future now I'm bearing the consequences of it as an adult.
Do No Harm
People just don't understand what it's like. And there's no ill intentions in many cases!
I live in a very liberal, gay friendly area. I recently had to get tested for an uncommon urinary bacterial infection (which ultimately just turned out to just be problems induced from sitting more due to COVID WFH). The doctor saw my ring and started to go on about if it came back positive my wife would need to be tested as well, risks to women, etc.
It was strange, I actually felt bad for how she was going to feel when I had to politely interrupt her and say I was married to a man. She was absolutely mortified by her assumption and kept apologizing.
No harm. No negativity intended. But it was a reminder that in all aspects of social interaction it's just one more hurdle I need to overcome.
Always Out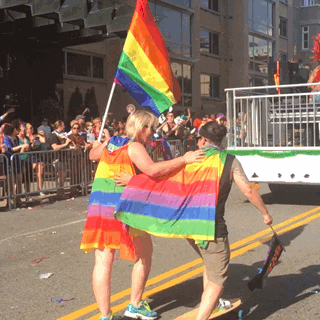 gay pride rainbow GIF by Capital Pride | Have Pride 365!
Giphy
Once you come out you never truly stop coming out.
Every time you fly, cross a border, get stopped by a cop etc. Same question and how do the two of you know each other? I am always tempted to say "We have been sleeping with each other for 35 yrs." But I never will.
Just Asking...
My next door neighbor that I spend a lot of time with was raised extremely religious to the point where she wasn't exposed to pretty much anything. (No Harry Potter, no news). When I told her I was bi, she had a lot of questions, but it was kind of refreshing to be able to answer honest questions without dealing with preconceptions. She was very sweet and kind about it. She just wanted to understand what she's never been exposed to before.
Never One and Done
The mini internal debate you have every time you tell a story about your SO. Do I say friend or girlfriend? Have I come out to this person yet? Is there someone in the vicinity who I don't want knowing I'm gay? If I do say gf, will the person think I'm getting political/over sharing even though they wouldn't think that if I said boyfriend instead of girlfriend? Coming out is not a one-and-done deal. You have to make that snap judgement a thousand times and every time it's scary.
Convo with Dad
The first thing that comes to mind is a few years back I was talking to my dad, and he mentioned when he met my mother, she was having serious family issues with her own father. They didn't get along, at all, and my dad helped solve the issue because the way he was raised... family was the most important thing, and he "couldn't date a woman who didn't get along with her family."
I had to tell him if that's an expectation he has for my future spouse, he better get over it before I meet her. Cause when you're gay, there's a very real chance your SO will not have a family to bring you into.
It hadn't occurred to him before then that my future wife might not get along with her family, and that our family will have to become her's instead. It's something I accepted a long time ago, but my dad really struggled with the idea for a long time.
Danger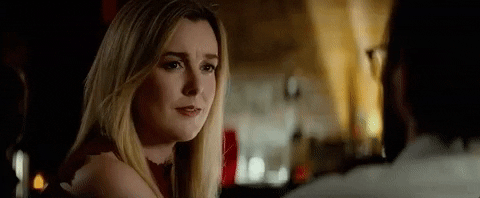 Meaning Excuse Me GIF by 1091
Giphy
Knowing that there are some people who really hate gays even though everyone today pretends they are totally cool with them, and there's always a chance decisions will be made at work that result in you not getting the promotion or straight-up getting fired.
The "It" Approval
People being overly loving of my sexuality, sometimes it feels really forced. I appreciate the support, but I feel like it's trendy to support gay people.
It's something to be celebrated. But for example, it's like acting like someone's 28th birthday is just as meaningful and a milestone as age 30.
I grew up Catholic, and my parents and friends were super against gay people. Now that it's trendy I feel like it's easier to support.
I Do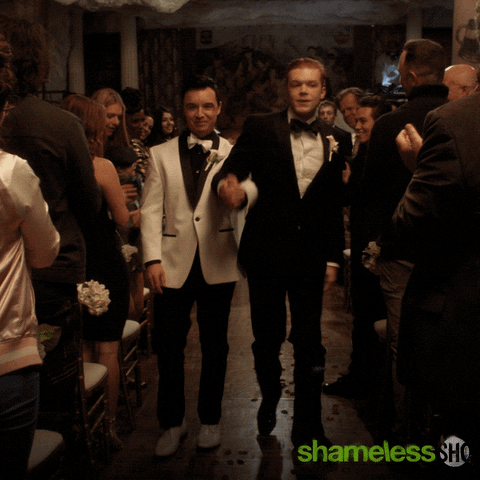 Episode 12 Showtime GIF by Shameless
Giphy
Planning my wedding was a pain.
"Are you going to wear a dress? Are you going to have bridesmaids or groomsmen? Where do we sit? Are you allowed to do it in a church"
YES. Our wedding party consisted of myself, my husband, the minister, and my baby SIL as the flower girl. My husband and I walked each other down the aisle. The minister read a Walt Whitman poem. We exchanged rings and vows and had a nice buffet set out for us. No dancing, no silly games, just marriage and fake Italian food. It was great.
Want to "know" more? Never miss another big, odd, funny, or heartbreaking moment again. Sign up for the Knowable newsletter here.

Keep reading...
Show less
Last year, a poll of 7,000 LGBTQ tech employees in Silicon Valley asked if they'd experienced homophobic harassment at work. 40% said yes.
But while that number is disheartening, the report made no mention of what the makeup of that percentile was.
Leanne Pittsford has an idea on how to address that.
After getting her master's in equity and social justice, Pittsford wanted to continue her work in LGBTQ activism. She began that work with Equality California. While there, she helped overturn the same-sex marriage ban in California but saw the win as bittersweet:
"I was managing the data in the campaign. I had a front-row to the sexism and the inequality that was even happening in the LGBTQ space everywhere I went. I worked in the Castro every day and I saw very few women. We did events and we tried to get women to be a part of the campaign. And not to say there weren't some incredible women, but every time you'd go to an event, every time we hosted our event, it would be somewhere between 80 and 90% male."
The LGBTQ tech industry's preferential treatment of gay men motivated Pittsford to organize. She founded Lesbians Who Tech, "a community of LGBTQ women, nonbinary, and trans individuals in and around tech (and the people who support them)."
"I felt like queer women specifically, and nonbinary folks were missing from the conversation."
A Common Theme
Andrea Breanna—wife, mother, and transgender lesbian—feels the same way.
Breanna is the founder and CEO of RebelMouse, "a creative agency with the best [content management system] in the world." RebelMouse arms its users with the tools it takes to grow and publicize online content.
"We're really excited about how we help media companies and brands that are genuine about their content really grow organic reach," Breanna says of her system.
Genuineness is the lynchpin of Breanna and RebelMouse's success story.
In 2017, Breanna began coming out as trans to her family and, a year later, her employees and clients.
"It's really hard to do," Breanna says. "But it's been really beautiful. I've thought about trying to understand how I could be helpful [for] people who want to come out and how it could go well."
She decided the best way was by setting an example in being her authentic self.
"Trans people need hope right now more than ever. They need to know that they can be successful if they're very good at their job. They need to know that people will follow a trans leader, sign deals with them, and allow them to grow their businesses," Breanna says.
A Common Hope
Pittsford agrees. And both see hope in numbers. Lesbians Who Tech now has over 50,000 members and dozens of chapters worldwide. RebelMouse has over 55 employees across 26 countries.
"I'd love to see us get to 100,000 people," Pittsford says. "I'd love to see us have more presence in some of the countries that need us the most. And I'd love to see, you know, more CTOs or CEOs who are LGBTQ women."
Breanna acknowledges her unique story. "I very much hope that the story of RebelMouse will not just be about how we helped the open web build a better product, but also about how we showed a different way to build an organization that cares about itself. What if Google and Facebook realized that three in 50 of its employees were trans?"
We're all still waiting on that answer.
Keep reading...
Show less
People who engage with more than one gender have a really unique experience.
Those of us who fall squarely into heterosexual or homosexual know the emotional and sexual patterns of the genders we are attracted to, for the most part. We know what to expect on a first date or in a long term relationship.
We don't have to keep track of too much information. Bisexual folks on the other hand? They have their work cut out for them.
Keep reading...
Show less