Hobbies are great, but they can get awfully expensive very quickly. Not every hobby is going to cost you an arm and a leg, though; some are even completely free!
Reddit user Maximus100BC asked:

"What is a hobby that is 100% free?"
Cleaner Neighborhood And Relaxed Mind
I've been litter-picking and I find it more engaging than just walking and super soothing to help my community look tidier.
I've been doing around some trails near my house and the road along my street with my son. Sometimes my mom joins as well. It really does make you feel good until two weeks later when there is litter everywhere again. If there were not parks with garbage cans nearby I don't think I could keep up with it.
Libraries Rock!
Reading (public libraries)
Public libraries also offer free services in borrowing all sorts of media from other libraries. I watched all of the studio ghibli films by borrowing from public libraries
Observation Is Key
​People watching
Sometimes I like to imagine short histories about people I don't know based on the interaction I'm watching
This. I hate airports but I make it tolerable by making up narrations about other airport goers.
You Could Become A Grandmaster...Or Not
Chess. Online chess is totally free and materials to learn are all over the place.
Readers beware, chess can either be the best game in the world, or the most frustrating game in the world (due to the fact that you're not getting better at all).
Or both.
Put It On Paper
Writing
My husband and I are working on better recreational habits and one of the things we started doing is working on a sci-fi book together. HUGE bonding activity.
Don't Take Them All Home, Though
Volunteering at a local dog shelter.
The 12 dogs you end up adopting are definitely not free….
Rocks Are Cool
You could collect rocks. You can start that in your own backyard even.
I play DnD; I collect (math)rocks aka dice.
You'll Always Have Your Instrument With You
Singing
Straight up my favorite hobby. And you can enjoy it anywhere! Doing the dishes? Driving the car? Just sing!
Also: maybe it's just me but singing is so cathartic I can use it to calm down when really angry or upset. So that's a win too!
I love singing, but doing it on front of anyone is really difficult. I'm even somewhat confident that my singing is at least not unbearable to listen to as well, but singing in front of someone is just a crazy amount of anxiety. So basically the only time I ever do is in the car.
Trains!
Train spotting
If you assume you have internet and don't use it just to watch rail cams, that's free. Virtual Railfan is great and you may get to see a shooting like the one in Arizona this week. Also go to a railroad crossing or even a park that is adjacent to some tracks and just watch.
Give Your Time, And Get Something In Return
Volunteering. You can meet great people, help others and learn something for life.
I used to volunteer in the hospital, that is how I decided to go into medicine as a career. Meet some really nice people, too.
Hobbies don't have to cost you hundreds of dollars to be rewarding.
Keep reading...
Show less
Have you ever found yourself handing over some hard-earned money while wondering "why am I even paying for this?"
There are some things that absolutely should be "free" - or at least not an extra fee on top of some already-paid money. So let's talk about them.
Reddit user QadeerRay asked:
What is an item you think should be free?
The responses were honestly a lot more varied than I expected. I was positive I'd see someone mention the places that charge you for using rain water - the literal water that falls freely from the sky - but there's a lot here that I hadn't even thought about and honestly, I'm kind of salty now.
Come, be salty with me.
Keep reading...
Show less
Nothing in life is free. If it seems free it still comes at a cost whether it costs in environmental impact, time, energy, or wear and tear, it is hard to imagine anything completely free. However, some things being free from monetary cost would be a tremendous benefit.

Although there have been many attempts by different organizations to make things like water, medical care, and education free there are equally as many who oppose it. One could argue that providing free education would reduce spending in others areas in a big way.
Education, especially higher education, is linked to a reduction in crime, substance use, and self sufficiency. As some states are currently providing free community college they are seeing these positive impacts. Even ensuring quality education for children has seen major returns. With every dollar spent on education seeing up to $7 in economic returns, $2 of which use prison costs. In areas with underfunded educational programs the rates of crime are higher. Knowing this, sometimes making things free—for something like education—makes sense both fiscally and socially.
To find out more Guilhermedidi asked Reddit:
"What should be free, but isn't?"
WiFi is a funny thing…
"Wifi at hotels. Keep your little conditioner bottles and give me free Wifi." ​ColemanOtis
"Wifi is a funny one with hotels. Cheaper hotels tend to include it for free because they are chasing value orientated customers. Fancy hotels don't tend to because they reason that if you are happily dropping a few hundred a night for a room what's a few dollars for WiFi?" Minidooper
"Basically, free water ain't happening because people are wasteful garbage."
"Clean, drinkable water." Slippedstream
"Funny story, in my country water used to be free. People started wasting so much water that the water grid was basically on the verge of collapse. After introducing water meters and a water bills, the usage dropped by a very significant amount."
"My local sewage treatment plant still uses only half of it's allocated space after several decades of grid expansions, because they thought it's gonna need that much capacity when water was free. Basically, free water ain't happening because people are wasteful garbage." kaszak696
Not only helps life quality but it makes solid economic sense.
"Period products and contraception." atomic_blue
"This. Think how much money we could save as a society by making contraception freely and easily available to poor women and men who lack access but do not want to have children."
"That's a lifetime of Medicaid, education, and social security fees prevented all for the cost of a birth control prescription and a cheap condom." Wrong_Coast
Free trials that don't stay free…
"Free trials on everything. It should be against the law to collect credit card info, contact info, data, etc if they're offering a free trial." shaka_sulu
"My cousin would use a gift card to sign up for a trial, and then make sure to spend the card before the trial was up. Because some companies will automatically charge you at the end of your trial and make it near impossible to cancel."
"I simply refuse to give iTunes my updated billing info because I accidentally took the 1 year trial of Apple TV, never used it, and can't figure out how to cancel now. So now I just keep getting emails that they need a new credit card to bill me for that, and I'm like nah, you keep that expired card number." SmallTowneBoy
Accessibility is necessary and legally mandated.
​"Education for the Deaf and disabled. My son lost his hearing at 18 months from bacterial meningitis of the brain blood and spine and then a secondary brain/mastoid infection. I live in New Hampshire where you are nothing short of f**ked if you're Deaf."
"It took us 5 years in a lawsuit to finally get the school district to pay for full funding for a school for the deaf for my son (to the tune of 86.7m for k-12). I live in New Hampshire where they do NOT have a Bill of Rights for Deaf and Hard of Hearing Children. Deaf children are born with the same ability to acquire language as any other children, and deserve the same chance to acquire language."
"Deaf children have the right and the capacity to be educated, to graduate high school, to obtain further education, and to pursue a career. To achieve this essential goal, all families of deaf children have the right to appropriate early intervention services as well as quality family educational services. These families have the right to accurate and comprehensive information, including access to state resources to help their deaf children reach their full potential."
"Deaf children have the right to acquire both English and American Sign Language (a natural visual language). Deaf children can acquire both of these languages simultaneously, with the support of intervention services prior to entering school and reinforced within the school system."
They continued with their experience…
"Deaf children can fully access education and society. This means every deaf child must have full access to all information, specialized personnel, school programs, social activities, and extra-curricular activities. Communication skills and/or modes by themselves do not equate language proficiency."
"Deaf children have the right to qualified professionals proficient in developing the child's acquisition of language throughout the early intervention and school years. To ensure this right is fully protected, deaf children must be assessed on a regular basis by qualified language acquisition professionals."
"Deaf children require settings that uitilize a critical mass of language peers to ensure age-appropriate development of learning, emotional and social skills.Deaf children require interaction with deaf adult role models to internalize their self worth and visualize their potential."
"Deaf children have the right to succeed. And yes I was right when I told you $86.7 million I live out of state, The school district had to pay after a lengthy lawsuit. His school is about 2.7 million a year. This includes all audiologist appointments, 1:1 ASL aid, transportation which is about a two hour ride there in 2 1/2 hour ride back and the summer school program."
"It is a medical facility. I know that does not add up to the 86.7 million but with taxes being out of the state, in-home respite care, medical doctors on staff it does add up. Also we had five years worth of lawyer fees that the school ended up having to foot once we won."
"My son is projected to go to the school until he is 25 however I do not see him staying at Beverly school for the deaf more than a year my son was completely Nuro typical before he lost his hearing. He has been deprived of language for five years now because New Hampshire does not believe that sign language is a language." crazydogbabymom
​Healthcare instead of so much profiteering…
"Insulin, especially in America." WarCrimeFunder
"Yeah, I'm a type 1 diabetic and I see the issue with insulin being brought up frequently these days. I fully support it being free, but I'm confused as to why it's the go to every time this question is asked. Why not any of the other drugs that people take daily that keeps them alive?"
"Cancer treatments? Having to choose between dealing with an illness that could kill you or going to a hospital to be bankrupted? T1D is such a small population in the US that it's amazing it's being brought up so much." _breadpool_
​"I think the reason that insulin is always brought up is that profiteering is basically the only reason it's as expensive as it as. Crazy new cancer drugs or whatever could still be trying to recoup their costs of development, whereas there hasn't really been much development when it comes to insulin."
"For example, Lantus should, by rights, have gone generic in 2015, but through various patent tomfoolery that's been extended to at least 2028." gritherness
Paying just to go into work…
​"Parking at the hospital you work at." LimpBrilliant9372
"Not just America. The UK charges hospital employees for parking in their carpark in some places too. Horrendous." RelativeStranger
No expensive funerals here please…
"Death. There should be an option of going to the dump and uneventfully dumping the body. I just want to be thrown in the f**king bin, any money that's spent on my funeral should be going to support my daughter and wife. People can celebrate the life or morn the death of the person at a pub, a home or whatever." rastika
We all need more education…
​"Scientific publications. Yet, big publishing companies charge for them (without compensating the writers may I say)." Braincyclopedia
The things that people feel should be free aren't the frivolous items that many would expect. It's the things like healthcare, clean water, and other necessities of our daily lives. Perhaps someday we'll find ways to come together and make the accessibility more realistic.
Want to "know" more? Never miss another big, odd, funny, or heartbreaking moment again. Sign up for the Knowable newsletter here.
Keep reading...
Show less
I understand capitalism and more often than not, I am a fan. I understand that nothing in life is free and you get what you pay for, also, everyone's time is worth something. And I fully comprehend that taxes are necessary to fund our cities and our basic ways of life. I am clear on a ton of that. However, there are just certain, basic, obvious things in life that shouldn't have a price tag. There is enough money to go around for a few free things. And I'm not alone in this opinion.
Redditor
u/starep
wanted everyone to share about what things in life should be available to all without a monetary value attached by asking...
What should be free?
Want to "know" more? Never miss another big, odd, funny, or heartbreaking moment again. Sign up for the Knowable newsletter here.

Keep reading...
Show less
When we think of cults, we think of creepy chants and sketchy charismatic leaders who victimize vulnerable people. We tend to imagine it as a sinister thing that happens elsewhere and would be impossible for "normal" people in "the real world" to fall into.
We would be terrifyingly wrong.
One Reddit user asked:
Redditors who broke free from a cult, what was it like?
And the responses were more than a little disturbing. Everyday people popped up to share their experiences - and almost without exception people seemed to not even know they were in cults when they were active.
Read through, take stock, and seriously consider the things you get yourself involved in.
Obvious Questions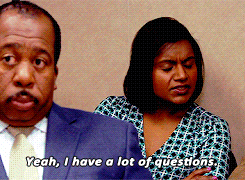 the office questions GIF
Giphy
I was in a doomsday cult for 23 years from my age 13 to 36 (1995-2018). Nothing odd or weird went on. You would genuinely feel good at start. But once we get deep enough you lose any kind of ambition in life and start having a lot of negativity about the present world and people outside the cult. And you're literally waiting for the world to end.
Based on its teachings, this world should have "transformed" by now, into their so-called heaven, and only a bunch of the cult followers should have remained in harmony. I totally believed everything I heard without questioning (probably because I was young and naïve) and followed their "Rules and regulations " to the dot. Like celibacy, food habits, keeping a distance from everyone outside the cult (even close family members) .. etc.

Finally, when some obvious questions started arising in my mind I felt like fool, and totally lost and betrayed. Like 4 years back, I felt like I couldn't meditate or listen to their daily verses. It felt totally off. I had to dig deep inside my mind to find the reason why I am unable to feel anything. That's when I felt that a number of things didn't add up. No outside influence at all.
It took a lot to break free and am still in the process. I'm 38 and married last year. She's a wonderful person. Her love and support helped me move on. I would say I am doing good now.
- ohrlygr8
Confusing and Painful
Confusing and painful.
I was born in a cult and left when I was 18, because I could not bear to live like that any more. They were very hard on women, reducing them to helps who were not allowed to voice opinions.
Leaving was one of the hardest things I have done in my life. It took me years to realize the pain I caused my family was actually not my fault.
Also, I felt so alien in the world. I missed the general background that people have, because the world I had lived in was so different. I was trying to fit in, without knowing how to set boundaries to protect myself.

I was lucky to know people on the outside. The group I was in did live amongst non-believers. We were just not allowed to mingle. When I left, I went straight into a relationship with someone from the outside.
Within days I realized I was in a bad situation there too. I stuck around way too long, trying to make it work and thinking I was the reason it was so hard. I did get an education, so I would be able to take care of myself.
After five years I ended the relationship, moved out and have been doing better since.
Once You're Out
I think the funniest thing about living in a cult isn't what you notice living in it. It's what you notice once you're out.
There were some pretty strange things that when you're long removed from it all you're like, "Holy shit that IS messed up." When you're in it it just seems normal.
When I was a young, I was told in the end of days I would be tortured for my beliefs. They would try to get me to deny Christ. I needed to stay strong, and resist. So 8 year old me was 1, afraid of getting tortured, and 2, afraid that I wouldn't be able to withstand the torture and wouldn't end up going to Heaven.
When I was a mid-teen, it was things like when I masturbated I was supposed to imagine having sex with Jesus....that last one I thought was weird even when I was in the cult, but more of a "eww, I don't want to do that" over a " that is some sick and twisted sh*t" kind of thing.
That's the weirdest part. When you ask what it was like, my first response is to go, "Like any other childhood really..." And then I think about it and go...hmmmm okay, not quite. It's funny how accepting minds can be when it's all you know.
Falling In Line
I broke from a cult. I had gotten sucked in during college.
They prey on college kids who are away from home, searching for an identity and desperate for a sense of belonging. At first it was fun. Nonstop activities. People who genuinely wanted me around. Help. Support. It felt good.
But it quickly took over. Then the pressure started. Subtle at first. Give up all other people and activities because they weren't good for me. Spend all my time and energy with the church. They assigned someone to watch me. To report to. To confess to.
At the same time I befriended the cult leader's wife and spent a lot of time with her. I felt privileged. But I started to see things.
I went to catholic school 13 years and I think that was the best inoculation! Then the whole women's role thing really got me steamed. I started arguing with the cult leader's wife about women being equal and I suspect something I said got to her because the cult leader hauled me into a meeting and talked to me for an hour.
By the end he could see I wasn't going to fall in line and I could finally see him for what he was - a fraud. So he kicked me out. I was banned hard! He was afraid I would infect others. My good friend had to flee in the dead of night and hide in another state. They hunted him. But me - they never even spoke to me again!
Long long ago when I was a preteen I had to stay with some relatives for a while. These relatives were in a 'church' that was run by an openly admitted, formerly imprisoned con man. I was told I had to go to this 'church' too, 3 times a week, or be thrown out of the house with nowhere else to go. Things started off more or less normal-ish and only gradually did it become a fanatical cult.
For the time I was there, I was as sucked in as everyone else and couldn't see that things were messed up. One Wednesday evening I had a bad tummy flu and was left with the neighbors while everyone else went to the church. Friday night rolls around and I'm still too sick and weak to go. Sunday morning comes and I'm perfectly healthy, but no longer want to go. Once again I was left at the house, but with instructions to be gone before they returned. I left and have never regretted it.

What made this 'church' a cult:
I know of at least one young woman in the congregation that had quietly asked around for help because the 'leader' was hitting on her and not taking no for an answer. She soon disappeared and was never heard from or mentioned again. I have no idea if something happened to her, or she just ran but either way it was bad.
At any given time in the last year I was there, at least 3 of the most attractive teen girls lived with the 'leader', an unmarried man, with no supervision, and their parents seemed to think this was wonderful.
The 'leader' would frequently say one thing and then contradict himself in the next sentence, and no one ever noticed or commented on it.
The 'leader' put a great deal of effort into separating his 'flock' from friends, family and the community at large. All holidays became 'satanic' and the congregation was forbidden to practice anything considered normal for holidays.
Years later when I was grown and married, a friend from childhood contacted me to tell me the cult was being investigated by, I don't remember now which alphabet agency. I immediately called the number for that agency that was in the phone book, and told them everything I knew. I never heard anything after that, and have no idea what happened.
-
BouncyFerret
"Altruistic Fellowship"
I left AA in 2011, after ten years of lies, coercive deception, and being intimidated by extreme fear.
Although many may laugh at AA being considered a cult, It has all ten of the 'Sam & Tanner' indicators, that would describe it as such.
As Scientology hides behind it being a religion, AA hides behind its structure of anonymity (at all levels). I was pursued and threatened if I didn't go back, and other members visited my family - at home and at their places of work - to tell them I was going to drink, and soon die if I didn't resume meetings.
As AA promotes the image of an 'altruistic fellowship' the Police are very wary of getting involved. It took me over six years to de-program, and even today, I have troubling thoughts from the incidents I witnessed while a member.

The problem isn't about the twelve step program as writ. The problem is the sick individuals that use Its anonymous status as a hiding place, To sexually predate on the vulnerable, use coercion to control, steal, and intimidate others, use 'sponsorship' to inflate their egos and manipulate.
I could recount dozens of sickening things I've seen and experienced around AA. Thankfully there are now many other legitimate support networks, and alcoholics are seeking them out, and gaining credible results. The 13th stepping, 3%ers, have finally been found out for what they are. I always found it odd, that the sickest conduct was always perpetrated by those with the alleged longest sobriety,
Thank you for sharing this. Indoctrination is scary at many of these meetings. The contradiction and wildly overstepping appropriate boundaries is near constant. I cant imagine AA in it's current state surviving us millenials who question "we do it this way and only this way because we do it this way" and I am forever grateful. Again - thank you.
- jlemo434
Dad Was Sent To Save The World
Not sure if it fully qualifies, but my Dad ran my family like a cult.
He was a fundamentalist Christian and believed he was a priest of the Melchizedekan order sent by god to save a bunch of people before the end times. In reality he was mostly just abusive and pathetic. We had a weekly scheduled meeting where he'd tell me, my siblings and my Mom that we were worthless (based on whatever we did he didn't like that week) and he was our only hope for salvation.
He also would lock me in a closet for days on end if I was more than a minute late mowing the lawn and had me dig my own grave twice (once for insulting my sister, which was a dick move...but not really grave digging worthy and the other time for deciding to leave the house after having been grounded for seven months prior.)

He was religiously popular in all our churches though he hid the whole "saving the world before the apocalypse" thing. I can't say everyone in those churches were bad people like my Dad, but they definitely weren't willing to believe me when I asked for help and were pretty crazy in their own right. My Dad was probably bipolar and a narcissist, I know my Mom was an extreme enabler, though she was abused as well, and I was the black sheep no matter what I did (my sister was the golden child and my younger brother was pretty much forgotten.) We were all, obviously, homeschooled.
I ended up going to a pretty culty fundamentalist university, it's not the one you're thinking of but was just as bad in a more personal way. It was the first time I got a lot of approval, literally had people calling me a prophet. But I realized that I didn't know what the fck I was doing and no one in there right mind should blindly listen to what I was saying and started seriously questioning my faith.
Ended up becoming the first openly non-religious person there. Was harassed, sued and physically assaulted by the campus pastor, personally publicly derided by the campus president and nearly kicked out over a rumor I was Michael Moore's nephew. I was nearly assaulted by a few students over my anti-torture stance, being the straight side of the first gay-straight alliance on campus...and for possibly being Moore's nephew. Was constantly stopped to hear arguments for religion.
Weirdly enough the professors were really good about it all, they disagreed with me but were supportive (I'm still friends with a number of them.) Though they also kind of treated me like a token in the classroom though, constantly asking me to provide the skeptical argument. That was pretty taxing as my entire life became debating religion.
Overall I lost a lot of friend, but some were surprisingly supportive. My Dad obviously hates me even more now. I tried being polite so that I could be there for my brother and I was. A few years back he actually credited me as the top positive influence in his life during an award acceptance speech (that little fcker's way more talented than me.) I didn't speak bad about my Dad until he brought it up during his 18th birthday when I took him out for our tradition Miyazaki film tradition. Prior to that I was just supportive, went nuclear on my parents the times that needed it (they tried to ruin his bugging game programming career in high school...and a lot of other sht,) and giving him old textbooks and computer sht I'd replaced with better so he'd at least have something.

Otherwise my non-religious life has been pretty peaceful and productive. I'm moderately wealthy, have a great career and generally enjoy my life. At the time I thought everyone was like the religious group I was in, but in reality most people don't give a sht. I've explored various other religions but not really found anything. I also tried a lot of psychedelics for a bit, which were kind of the nail in the coffin in explaining away the religious experiences I had as a kid. It's kind of weird how leaving that sht now is just normal (though it took a long time for it to feel that way.)
My Mom died last year from the flu, it kills me she never got away from my Dad. My Dad is a opiate addict, and has been for about two decades. He's also over 800lbs so no one really takes him seriously anymore. I never got an apology from the people I went for help to, though they all speak disapprovingly of my Dad now.
Weirdly enough, despite the sh*t I went through, I'm still friends with the pastors son from my teen years and loosely with the pastor. The son had a better life than me by far but managed to fck it up. The pastor was surprisingly accepting, though disapproving, of my non-religion. Despite being fcking crazy, I'll say that pastor did literally clear his schedule to stay with me while I was waiting in the hospital for my Mom to die - despite my family having left the church for 15 years while their new pastor didn't even show up.
It's weird, it's hard to condemn all the insanity. It's easy to condemn my Dad, but some of the people in that group weren't bad, but just crazy/broken people genuinely trying to do good but hampered by their insanity.
Selling Waterbeds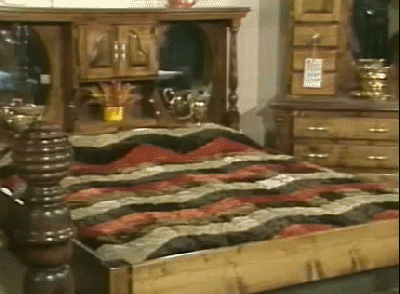 Giphy
I accepted a job as a traveling salesman once upon a time when I was desperate for income. Had no idea that it was a front for a cult.
We sold waterbeds, but anytime someone would tried to leave the company, management would gaslight you, become mentally abusive and manipulative, and try to use your personal life against you. All the other coworkers were honestly like creepy AF. They all behaved like subservient loyal robots literally.
The cult itself, was centered around the owner. They had subtle wording in their company core values and policies that basically referenced that they were a God, if not the God of humanity. It was weird as fck. I was subjected to some really shtty situations, and trying to tell my family and friends about it they wouldn;t believe me. Thought I was a lunatic, it was just a shitty job etc.
But no, there were death threats, other forms of threats, all sorts of just mindblowing crap from management, including attempted blackmailing, framing etc. Company meetings consisted of people getting hazed, but they called it "trust building exercises".
There was also some kind of weird double love triangle going on between some of the coworkers and management. I'm pretty sure the coworkers all fcked each other too. Like you know the movie, what's it called...West World or something? Where all the cyborg robot humans were obviously preprogrammed to act and behave a certain way without fault? That's exactly how my coworkers were.
In the end I realized I had to move across country without warning to get away from them.
Re-Learning The Basics
Having to re-learn basic words, definitions, and thought processes. Oh, Practical Prayer doesn't take up hours of your time? Circular logic is bullshit? Idle hands are NOT the Devil's playground? Being a passive-minded, obsessively-clean, hardworking, frugal SHEEP that gives your blood, sweat, tears, time, and MONEY all to the Church DOESN'T make you a contributing member of society?
- BarGamer
Forgive Everyone Everything
Ex-Mennonite here, from a rather extreme branch of it.
I fcking hate how people idolize Amish and Mennonites and have no idea how fcked up it all is. The physical and spiritual abuse that is carried out behind walls; the sickening way they treat animals; how they force victims to forgive, and cover up the crimes of their own.
People were so surprised and admiring when those Amish whose school had been shot up "forgave" the sicko who did it. Missing from the commentary was that we are told from when we are very young that the only way to enter heaven is to forgive everyone everything. And to be doormats for all the violent men in our lives, whether in or outside the community.
- Hurtin93
How The World Works
Being so completely ignorant of how the world really works was the worst for me. I lived in a bubble just thinking everything outside the religion didn't matter, because soon everything will be destroyed and almost everyone would be dead because they were not Jehova Witnesses.
I had to educate myself when I finally woke up. I read more than 20 books in one year. Trying to comprehend how the outside world really works. But my life has been full of failures because is not the same in theory than in practice. Maybe one day I'll get the hang of it and start succeeding.
Paying Them For The "Honor" of Volunteering
I was in a cult for around 7 or 8 years. It started off great. I was making so many new friends and the congregation was quickly growing... but then after some time I started to notice money go missing from the church coffers. They were always fund-raising to improve upon something for the church, but the amount of money that they would raise never quite added up to what they would do with that money. After a few years they ended up selling the whole church, with the senior pastors adding the profits to their retirement fund... that's just the financial side of things.
They would also take advantage of their staff. They would get people to work for them without paying them. In fact, one of my good friends got roped into doing a 'traineeship' there in which she had to do over 20 hours of 'volunteer work' every week, for which she had to PAY THEM for the honour of completing.
They would also frequently raise money for 'mission / aid work' in third world countries. However, the funds raised for this purpose were always misappropriated on expensive dinners for the pastors and fully paid vacations that they called 'mission trips'.
The worst part about it has the be the brainwashing. They reach you things that are very narrow-minded and they teach you to think a certain way which is very harmful. For example, they put a big taboo around sex.
So yeah, that really only scratches the surface, but that's a bit what it was like. I really had to reprogram the way I thought a lot after I left, after I realized that a lot of what they had taught me was false.
Holidays Are Amazing!
It was difficult. 25 years of not knowing how to think for yourself and suddenly having to, is hard to process. Everything was very routine and once I got out of that routine, I didn't know what to do. Forced myself to meet new people and figure out what "truth" is.
Very happy with who I am now after three years but still learning more about being independent and being open to new ideas and beliefs. Plus, holidays are AMAZING! I love Halloween and Christmas 🎃🎃🎄🎄
- kimv88
Want to "know" more? Never miss another big, odd, funny, or heartbreaking moment again. Sign up for the Knowable newsletter here.
Keep reading...
Show less