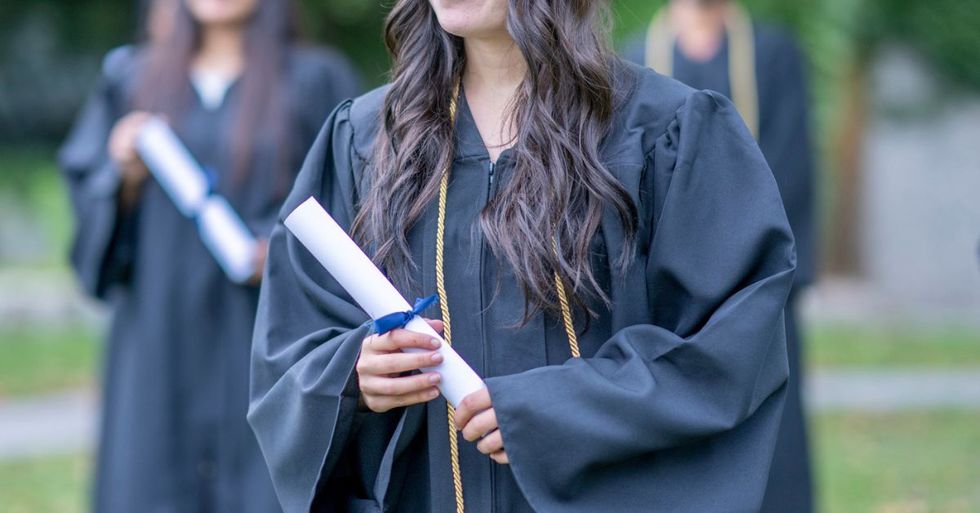 Redditor montanafesto is a stepmom to her significant other's daughter who is graduating. When the stepdaughter's mother failed to "secure a venue" to hold a graduation party, our Redditor stepped up and made arrangements to ensure her stepdaughter would have a memorable celebration. The issue, however, was who was on the guest list to attend […]
More
Humans can't help it, curiosity is in our DNA.

It's especially heightened when we're told no.
Or something we can't have or do is described as "taboo, forbidden, or just because it would break a rule."
Now I'm sweating just thinking about all the things I wanna try, just cuz.
I'm just gonna do it.
Redditor rabengeieradlerstein wanted everyone to fess up about what scandalous things have always seemed too enticing.
"What forbidden thing do you want to do?"
If I know it's "forbidden"... count me in! Let's talk fun.
Touched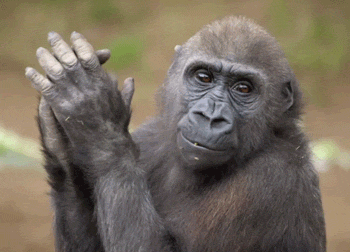 San Diego Lol GIF by San Diego Zoo Wildlife Alliance
Giphy
"Pet all the animals at the zoo."
uninvitedfriend
"The capybara and I are gonna kick it and have a good time."
Broken_castor
No Knock
"Go to a school or any communal building at midnight and wander around. Open every door and explore everything."
Ellenono
"I always love wandering around and simply being in the university building after a late event when nobody else (except the security guy) is there."
Amina_1999
"I legit worked at a school just so I could know what was behind those forbidden doors."
LeatherDiamond2766
'employees only'
"Go into all the doors marked 'employees only' and 'authorized personnel only.' I'm sure most of them are boring on the other side, but I want to know."
kingspooky93
"Most of them are boring. But in the back of the goodwill stores is where they have the stuff they won't put out - heaps of silver tea sets, mummies, gold bars, vintage jeans, all the vintage vinyl records, 1960's vintage rock t-shirts, the holy grail, the ark of the covenant, pieces of the true cross, and rare coins."
inkseep1
People are Crazy
"Climb up the Pyramid in Egypt."
Likestopound
"We used to (obviously) be allowed, but we can't now cause someone had sex on it. And I think filmed it. At least that's what the guides told me when I went last year!"
telegetoutmyway
"That's not true. Well it may be true that someone had sex on it. But the real reason is because it is extremely dangerous to climb the pyramids. Going up is fairly easy, however, going down is another story."
"There are no steps and the blocks are anywhere from 3 to 4 feet higher than the next. Descending means jumping that three foot drop 150 times. It's impossible to know if the stone you are jumping to is stable or has loose rocks on it. If you mess up, you will tumble all the way down. Many people have died from this."
klmccall42
Secrets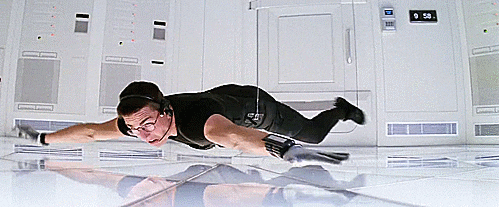 mission impossible GIF
Giphy
"Break in to the Vatican Vault."
Quebaina
"Now we're talking! Let's see all the goodies they got hidden up in there!"
Gigachaz
ET?
"Tour area 51."
gato_brd
"You won't see anything mind blowing; it will all be sorta cool because military but kinda boring otherwise. But because you know that missing piece of the puzzle, that little detail of great value to someone who knows what it means with more context, suddenly you're extremely dangerous."
NTGuardian
Enough
"Steal enough so that I never have to worry about money again."
Fiery_Bunghole
"That's not forbidden it's called running for political office."
Reddot
"This is it. No small time criminal behavior. Just one job that if pulled off, I'm set for life."
Keyboardists
Go Down
"There's this bridge near me that has like a walkway thing that runs underneath it for when it needs repairs and there are big signs everywhere saying authorized personnel only, but I know people go down there all the time. I just wanna go down and take some pictures cause I think the views would be really good, but I'm kind of a goody two shoes."
stephers85
Smack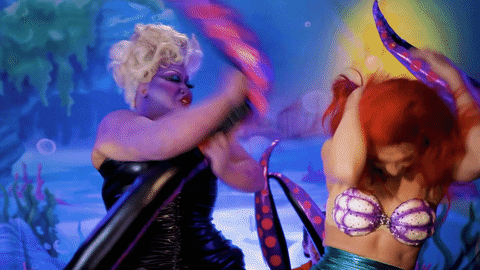 Ready To Fight Drag Queen GIF by PatrickStarrr
Giphy
"I've always wanted to hit someone around the face with a fresh salmon."
KbitKfox
"Done this, and had it happen to me. My older bro and I grew up on our dad's salmon fishing boat in Alaska."
fezwang
I'm onboard for all of this. Some rules are just to enticing to break.
Do you have similar law-bending desires? Let us know in the comments below.
Weddings are an occasion to celebrate. With that in mind, it's understandable that the couple whose love is being celebrated don't wan't anything to go wrong on their happy day. As a result, they might take extra precautions to ensure their day will be full of joy, and drama free. For a recent Redditor, it […]
More
There's a time and place for things. Generally speaking, that's a valid sentiment.

However, when it comes to giving your sex life a boost, spontaneously getting your groove on at any given time or place–other than in a bedroom–can be passionate.
Making love in the shower can be hot and also convenient after climax. Getting busy inside your boss' office after hours can be risky but highly erotic. And there's always the mile-high club for those unconcerned about being claustrophobic.

While some like to think there's no limit to having discreet sex anywhere, others believe there are places that should be off-limits.
Curious to hear where those are, Redditor scriptdog1 asked:

"Where should you never have sex?"
There are safety concerns.
Pounding The Pavement
"in the middle of the streets at 2pm?"
– shonenpunk

Doesn't Get Any Dirtier
"In a dumpster."
– notbluuet
"The one behind the Wendy's?"
– BobDogGo

Cinematic Trope
"In a horror movie. You're #2-3 to die."
– PoliticalScienceDoge
"Exactly, there's a very simple formula for surviving a horror movie."
"Don't have sex."
"Don't do drugs."
"Don't say, 'I'll be right back.'"
– ALEX7DX

You Gotta Hear This One
"In the ear."
– TicsDaily

There Will Be Blood
"On a roof."
"Shingles are not good wingmen. They will cut you the f'k up."
– Onederbat67

"Friday The 13th" Fans Know About This
"Camp Crystal Lake."
– Cockydjinn

Downward Spiral
"School staircase."
"You don't know how many videos there are of students f'king in them…"
– jaybankzz
Going Mental
"At a psychiatric hospital. Two students from my med school just got expelled for being THAT horny."
– Unfair_Fortune_4504

Objection!
"Chief of police in my town got fired for having sex in the township court room… so…there."
– Were-All-F'ked
Waking The Dead
"Twice removed Sheriff of my county was dismissed for having sex in a graveyard with a realtor. That's a pretty good place not to too."
– Semesto

Olfactory Assault
"In another specific food answer, in a room where you ate hummus before sex. The smell combo of sex and hummus is not good."
– timesuck897

It seems hot on paper but disappoints in execution.
Going Nowhere Fast
"A rowing boat. I promise, it is not romantic."
– dustlandfairytale100
"Even if you go gently….down the stream?"
– JnthnDJP
It May Look Hot...
"Sandy beach without a blanket."
– mdkubit
"Oh the friction. Yeah, don't do that."
– holy-f0ck

In Space, Nobody Can Hear You Orgasm
"Space station, spheres of juices floating around could be a problem."
– Hushwater

It's All Relative
"My Aunt Joan's house when you're visiting. 25 years and it's still not forgotten."
"No I did not have sex with my Aunt Joan. I had sex with my ex. wife in Aunt Joan's house while taking a nap."
"My ex and I were visiting elderly out of state relatives. We all ran around a lot in the summer heat one day and so we all decided to rest for a couple of hours."
"Ex and I closed the door, climbed into the guest bed and went at it quietly though not quiet enough it would seem. They had elbow to elbow figurines on every flat surface of their house except for their dining room table (Not exaggerating; over every square inch). That included the bed side tables. I suspect the rattling little bedside figurines gave us away."
"When we came out of the room later they acted strange particularly my Aunt Joan. It was very awkward. You could tell they knew. They acted that way for the next three days. We'd be at a bbq place eating together and the looks on their faces said it all: 'You had sex in our guest room.'"
"We never got another invite to their house for a vacation."
– TheMadIrishman327
Snack Attack
"In a bed where somebody just ate crackers."
– waterballoontits

Live Sin
"In a confessional booth in a Catholic Church."
– Workingclass_owl
I may or may not have engaged in an intimately sensual act while inside a car.
But if I were to impart wisdom based on whether or not I had this experience, I would suggest the safest way to do the deed in the driver's seat is while the vehicle is parked–not when it's cruising over 55 mph.
As you were.

Want to "know" more?
Sign up for the Knowable newsletter here.

Never miss another big, odd, funny or heartbreaking moment again.
Be careful of the things you know you shouldn't be doing. There is always a chance someone will find out.

No matter how hard anyone tries, sending naughty pictures over the internet or doing the nasty with someone you're not supposed to, could be witnessed by anyone just inconveniently stumbling upon the scene.
Curious to hear about accidental sightings of stealth happenings, Redditor PMForDickGraysonPics asked:

"What did you see that you definitely weren't supposed to see?"
Nudies
These Redditors happened upon some revealing images involving scantily-clad women.
What Mom Did
"One time I was up late at night scrolling Facebook at the same time as my drunk married mother who was an entire timezone away at the time. She was messaging an old fling from high school while her husband was away at work and was sending him close up pictures of her vagina. How I know this is because she didn't send them via messenger, SHE POSTED THEM ON HER ACTUAL FACEBOOK PAGE. I had to call her in the middle of the night in her zonked out stupor to get her password to delete pictures off her own Facebook page."
Retrospective Look
"Was fixing an elderly neighbor's laptop that had nudes of his wife on the desktop with the thumbnails at maximum size. It's like he wanted me to see them. I will say though, she had a bangin' bod for a woman in her 70s. I think it's safe to say he thought the same."
The Moaning Woman
"In my high school Spanish class, our teacher had taped (VHS) a telenovela for us to watch. When she put the VHS tape in, there was about .25 seconds of a porno that played...a topless woman moaning. Out of a class of around 30 kids, only about 5 of us looked around at each other and locked eyes with a 'did anyone else just see that?! look. Our teacher must have taped over an old porno VHS of hers."
Cheaters And Sex

Spotted: People seeking intimacy with people they aren't supposed to – or in one case, where they shouldn't.

No-So Clandestine Meeting
"Was working at a hotel during college and saw my lab partner get a room with the professor."
The Secret
"My dad gave me a piece of furniture one time. When I got it home, a post-it note which had been stuck to the bottom floated down to the floor. I picked it up, and in my dad's unmistakable handwriting were various notes about gay personal ads he'd been responding to -- details about the other guys. Their names and ages and sexual interests, the status of their conversations, etc. My dad was, at least I thought, very straight. I put two and two together and realized this piece of furniture was from an apartment he kept briefly while he and my stepmom were on the outs for about a year. None of this bothered me one bit, but I got the distinct impression that my stepmom (an older, very conservative lady) would have NOT been cool with any of this... I let him go to his grave without ever telling him."
Revealing Correspondence
"When I was still married, my (then) wife had left her phone on to run to the bathroom while I was in bed, I looked at it for the time, and found it was left open to a secret Gmail account she was using for sending literally hundreds of nudes back and forth between many many dudes. For years. Up to that night while she was fully 6 months pregnant. Mostly original stuff too. I think that hurt more."
Unfaithful Girlfriend
"The night I learned my ex gf was cheating, she just got up from the couch to kill a bug and left her phone face up on the couch with Snapchat open. The chat had a picture of her boobs and some sexting replies from the guy. My heart dropped down to my butt. Man, cheaters suck"
Nature Love
"I was hiking in a forest with some friends, and as we continued on the trail, the mound of rocks on our right side opened up to more forest. Myself and one of my friends were leading the other two by a couple of yards, and we both briefly saw a couple having sex several hundred feet into the forest on that right side. My friend and I gave each other that 'did you see that sh*t too?' look. By the time my other friends caught up the couple had split and we couldn't see them anymore. It was like 2pm in broad daylight off of a main road, which was the weirdest part."
Grim Sightings
The following Redditors shared the things they saw not involving nudity.
Eternal Slumber
"Bout 5 years old woke up to the snow finally starting to melt. Notice a girl 'asleep' in the garden. Went a told my dad, he took one look and told me to go play in my room. Turns out girl had been 'asleep' in our front garden for about 2 weeks buried and frozen under the snow."
Fatal Accident
"Saw a man crash his motorcycle into the back of a parked car. He flipped over the car hitting his head on the pavement and dying on scene. Firefighters showed up and sprayed his brains and blood down the storm drain. Later found out it was a girls father who I went to middle school with. I was 12."
Watery Grave
"Human bones in the bottom of a cenote in the yucatan of Mexico. Dad told me to stfu and not swim in that area anymore."
I didn't necessarily see it with my own eyes but I heard two of my friends going at it behind the backs of their respective significant others.
They probably thought I was passed out. News flash: I wasn't.
I, unfortunately, was sharing a room with them and another friend. He and I woke up to sounds moaning in the bed next to us, and I'm pretty sure our friend wasn't giving her a massage.