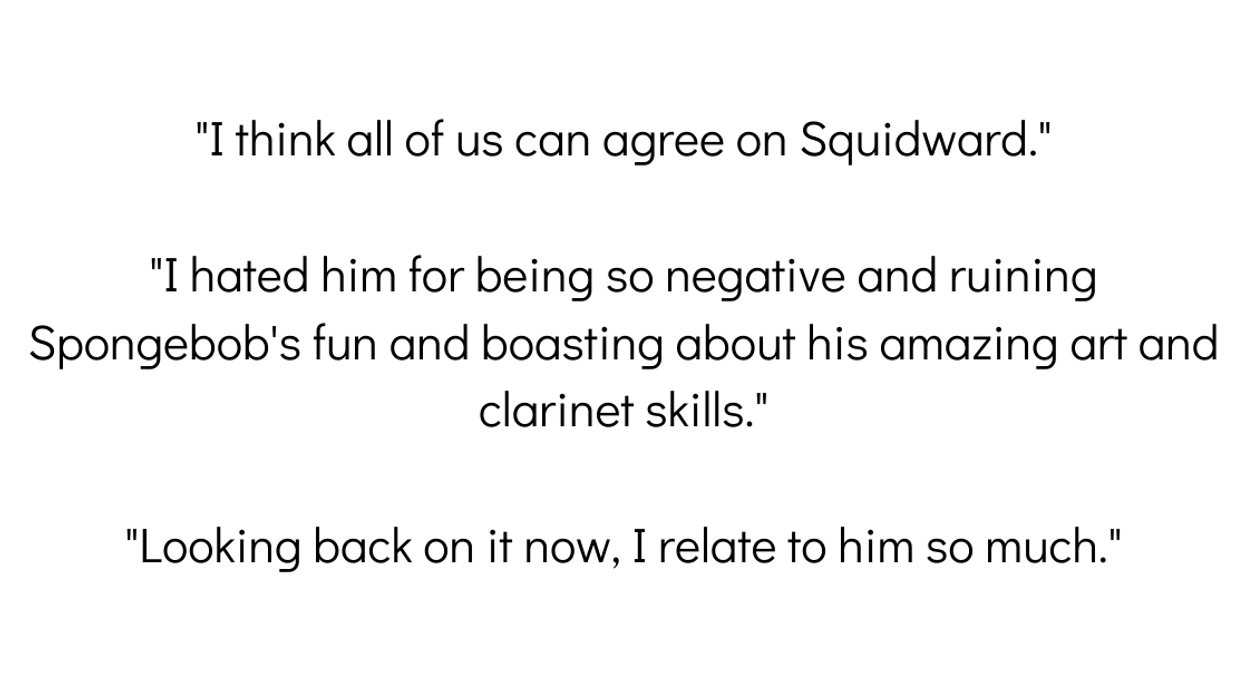 With age comes wisdom—hopefully.
And with wisdom, our perspective changes—hopefully.
So it's only natural our opinions on certain characters from books, movies or TV shows change as we get older.
A Redditor asked:
"Who's a character you despised as a kid, but now as an adult, you totally understand?"
Squidward
"I think all of us can agree on Squidward."
"I hated him for being so negative and ruining Spongebob's fun and boasting about his amazing art and clarinet skills."
"Looking back on it now, I relate to him so much."

- istantoomanygroups
"From being a kid and growing up to an adult, you might notice that your perspective changes from viewing the world from SpongeBob's eyes to Squidward's eye's."
- KrossVII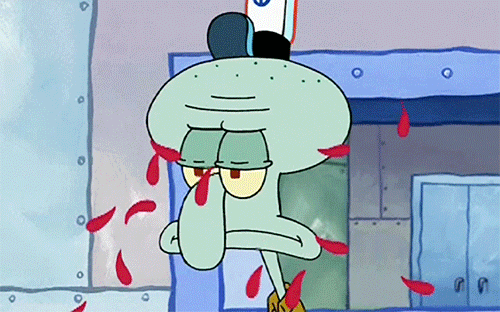 Giphy
Tom
"Tom - from Tom and Jerry."
"Jerry was one irritating bastard."
- RickGrimes112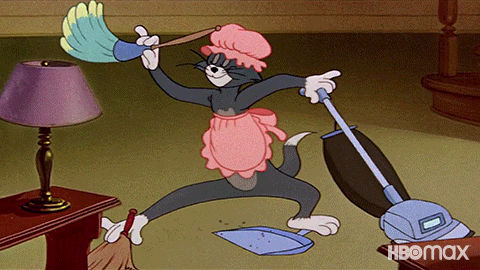 Giphy
Batman
"Batman! As a kid I thought he was the worst super hero. Always annoying and his bla bla, no real superpower, only money."
"As a grown up, I started to see his pain and grief to which I can now relate. Trying to have an impact even without superpowers now hits very differently, it's more courageous....after all he's just a normal dude, like we all are."
"And yeah... being rich also sound a lot better now. And as a woman I also think he's very attractive now."

- TryingToBeeNice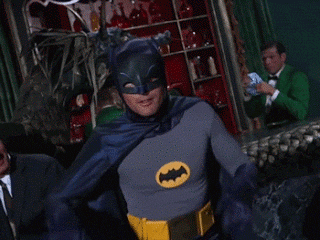 Giphy
Richard Vernon
"My mom one day re-watched the Breakfast Club and said that it was so outdated and that she related more to the teacher than the teens in the movie because she herself is a teacher and says she would hate working on a Saturday too."

- The_Theater_Girl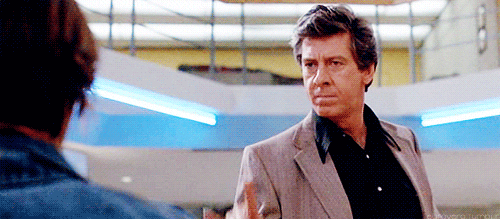 Giphy
Sharpay Evans
"Sharpay Evans from High School Musical."
"She's presented as the bad guy for encouraging Gabriella to sign up for the theatre club, and mentioning there's lots of roles so she'd be likely to get something despite her inexperience, which, as someone who's passionate about acting, newbies don't get lead roles, especially when they have stage fright, which Gabriella has so bad she freezes up at the audition."
"Sharpay is a theatre veteran and the only one to sign up for a lead role, so it's completely understandable why she would assume she would get the lead. When she gets the drama teacher to change the audition dates to the day Troy and Gabriella have other events she's just testing their commitment to the show, proven by how well she takes it when she doesn't get the lead."
"She was also TOTALLY RIGHT to be concerned as in the third film Troy actively abandons the show."
"It's no coincidence that the hyper feminine rich girl is demonized for no reason whilst the morally dubious 'heroines' are girls who dress and act less femininely and actively make fun of girly girls."

- we-love-a-arty-queen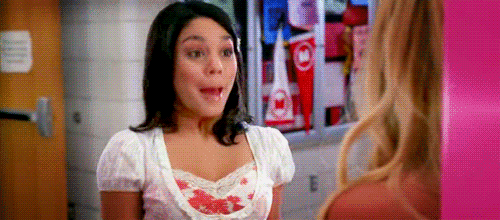 Giphy
Jafar
"I totally understand why Jafar was so greedy."

- SteakAndBacon123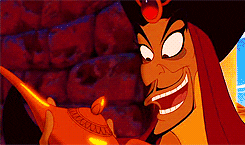 Giphy
Anakin Skywalker/Darth Vader
"Anakin Skywalker/Darth Vader. Now I know that he's morally evil, I won't deny the terrible stuff he's done, but once you grow up you realize that you really can't blame him for the stuff he did."
"If someone you loved were to die soon, you'd do everything you could to save them. He was easily manipulated by Palpatine into going against the Jedi Order."
"And as for Vader, he was just a man who had lost everything, he was broken, as any man with power with nothing to lose, 9 times out of 10 they're going to abuse their power. That's exactly what Vader did."
"But once he saw a chance to make things right, to save his son and finally fulfill the prophesy he was written into, he did it, even if it cost him his life."
"I definitely believe Anakin/Vader could've made smarter choices had he given himself a minute of thinking before taking action. But even then, I wholeheartedly understand why he did the stuff he did."
- PokemonBackpackKid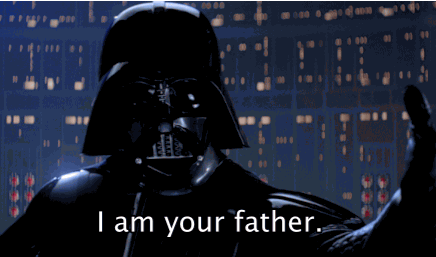 Giphy
Disney Villains
"Any Disney villain, honestly I relate so much now, but as a kid I was always so upset when they came on screen."
"Now I watch and I'm like 'ah yes, they went through stuff and they decided to be mean. Guess it's for protection at that point'."
"Look at Scar for example. He is the weakest lion but brilliant."
"He could have never won against his brother but he tried and lost, he then made a plan to kill the king."

- Randomthings1504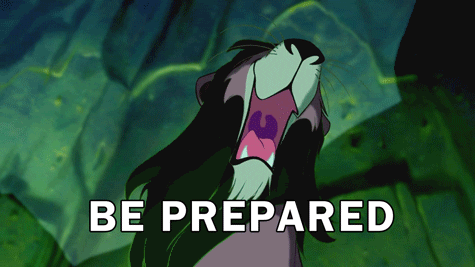 Giphy
King Triton
"King Triton. God, Ariel's so naive to me now as an adult."
"She doesn't know this dude aside from what he looks like, decides she loves him and is willing to give up everything and everyone to join him on land."

- One_Many3544
"I cringe now every time she says 'I'm 16, daddy!'."

"Nope, nope, nope."
- LakotaGrl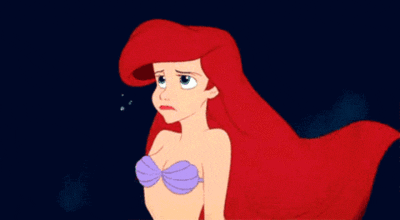 Giphy
The Skipper
"The Skipper on Gilligan's Island."
"I mean Gilligan helped shipwreck the boat, is always getting in trouble and you know as soon as they are rescued he will turn on the Skipper."

- VivaLasVegasGuy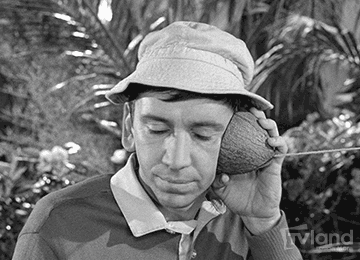 Tv Land Technology GIF by TV Land Classic
Giphy
So has your perspective changed on any of the villains of your childhood?
Did they make the list?
Let us know in the comments.
Want to "know" more?

Sign up for the Knowable newsletter here.
Never miss another big, odd, funny or heartbreaking moment again.
Keep reading...
Show less
There is nothing better than a great villain.
They are what makes a great story.
What would be the point of Batman without The Joker or Catwoman?
Who is Luke without Vader?
As an actor, I've always had the best time being the villain.
They're just more in tune with life. Even when they're bats**t crazy.
That's why we never forget them.
Redditor Rito_Harem_King wanted to discuss the bad "guys" we just can't shake. They asked...
"What villain can you just not hate?"
The villain is always just misunderstood. My ultimate has always been Dracula. Love you...
Good Tom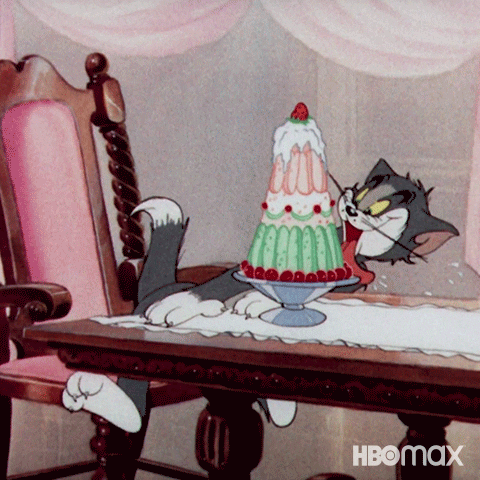 Hungry Tom And Jerry GIF by HBO Max
Giphy
"Tom from Tom and Jerry. I've always rooted for him."
deaf_phrog
It's the Chemistry
"Yzma. For one, she's just so crazy that it's hard to be afraid of her and you end up just liking her. She and Kronk have such great chemistry too."
everythinglatte
"I love Eartha Kitt and she absolutely killed it in this role. Hard to see a villain as a villain when I'm grinning ear to ear every time she's on screen!"
CheriesGhost
"I read this thread last night and forgot how much I loved this movie when it first came out. Today was a shi**y day and I get to watch it with my kid. Thanks for the reminder."
rhondaanaconda
LOLOL
"GLaDOS. She is just so crazy and hilarious you forget she enjoys gassing innocents."
HenryFrenchFries
"I have another surprise for you, and not a fake surprise like before. A real surprise, with tragic consequences. And REAL confetti this time! The good stuff! Our last bag!"
monkey_scandal
LEGO FOREVER
"Lego Joker."
irobot_67
"Bruh lego Joker is in the top two best portrayals of the joker imo. I'm a sucker for the goofier silver age villains (why be edgy when you're up against what is often the biggest edgelord in the city?) and he portrays those campy origins of the dc characters so well. I'm obsessed with the dynamic he has with the lego version of Batman."
animaginaryraven
So Cold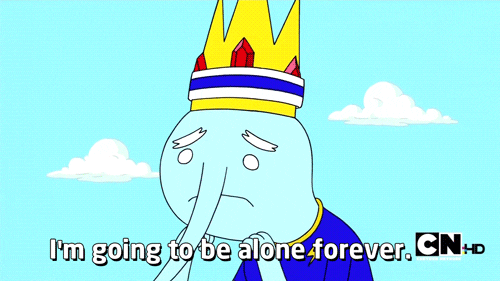 sad adventure time GIF
Giphy
"The Ice King. It's just a tragic backstory. He's just lonely and desperate for friends."
evil_wazard
I'm getting old. I have to look up a few of these. What I see I like though.
J & J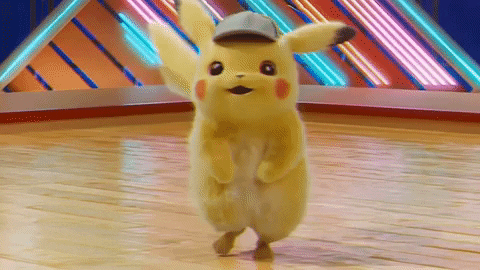 PokémonGiphy
"Jessie and James. Pokemon would not be the same without them."
MyAccounts0
Villain/Hero
"Magneto. Was he wrong, in knowing that humans hate and would inevitably attack mutants? According to Days of Future Past, no. Humans have proven that you don't have to be non-human for people to turn on you and kill you."
shygirl1995_
"A great villain has a realistic motivation to believe they are morally justified, and that's why I love like magneto. His actions are out of revenge and self preservation. He's not evil for the sake of profit or power, he could be portrayed as a hero in the right story."
drsideburns
The best...
"Wiley Coyote. I'm rooting for him to blow the Road Runner up."
ItsMyView
"But you know what? He never stays down. He always gets back up and tries something new. Granted, it's almost always something sold by Acme, but he's a coyote - it's a miracle he can even read the catalogue. That's why if I ever get a tat it'll be of Wile E Coyote."
iamsoupcansam

Don't choose hate!
"Who can hate Tai Lung? He's such a well developed character and I feel like he's more of a tragic character than a villain. There's so many questions left unanswered. What if Oogway gave him the scroll? Would he still lay waste to the valley? Because he didn't understand the scroll's lesson when he got it from Po?
"What if Shifu did defend Tai Lung? Would Tai Lung feel ashamed that he wasn't good enough for his master? Would it cause him to give up Kung Fu? What if Shifu did teach him Humilty and not fill his head with the idea he was MET to be the dragon warrior?"
"Like UGH, He needs to come back and be redeemed if there's ever a fourth KFP movie. He had his opportunity when he fought against Shifu. But he knew it was too late for an apology."
ShadowJDarkus
You're a mean one...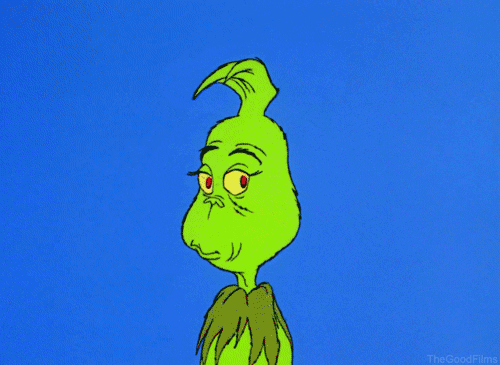 The Grinch Smiling GIF by The Good Films
Giphy
"The Grinch."
6bfmv2
"He wouldn't be so grumpy if there wasn't a dude singing songs, every 5 minutes, about what a piece of sh*t he is."
steakandcheese1
I love them all. Long live the bad guy.
#GrinchForever

Want to "know" more?
Sign up for the Knowable newsletter here.
Never miss another big, odd, funny or heartbreaking moment again.
Keep reading...
Show less
I love a good bad guy in fiction.
Who doesn't?
The villain is always the juiciest character.
In the end, they're the most broken and flawed. So they have the most to unearth.
But as generations have passed, and on a second glance, there are some characters we maybe give a little too much respect to and love to.
I mean, you don't watch Dateline NBC and root for the serial killer. Right?
RIGHT?!?!
I blame the book Wicked. It turned the villain story upside down... and The Sopranos.
Redditor TourSignificant1335 wanted to discuss all the characters in fiction we really need to re-examine. Maybe we shouldn't be lauding them so much.
They asked:
"What fictional character should people really stop glorifying?"
Hannibal Lechter. Yes, Sir Anthony Hopkins is brilliant. But he eats people. For fun. With wine. Not a good guy.
Bad Chris
"Christian Grey."
Freedom0001
"It's just cause he's rich and handsome. It's romantic only because of that. Imagine the story but a broke ugly guys tries to get a girl to get into BDSM and does a bunch if stalking. 100% guaranteed it will be advertised as a horror movie."
Ibreathoxygennow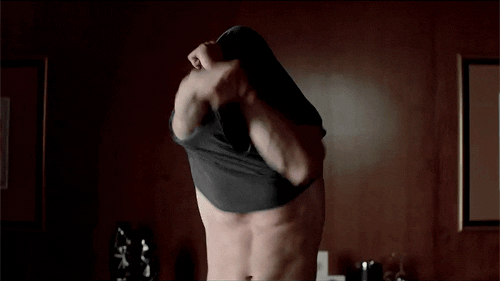 Giphy
Hit the Road Jack
"Jack from jack and the bean stalk. He broke into the giants castle, stole all his stuff, ran away and when the giant tried to get his stuff back, he freaking murdered him."
Exotic_Imagination69
'...and then Jack chopped down the beanstalk, adding murder and ecological vandalism to the theft, enticement and trespass charges already mentioned, but he got away with it and lived happily ever after without so much as a guilty twinge about what he had done. Which proves that you can be excused just about anything if you're a hero, because no one asks inconvenient questions. Seems like you share something in common with a Miss Susan Sto-Helit."
gl0vely
'bad boy'
"JD (Heathers)."
shawtyalilperry
I think people romanticizing JD is the whole point. If you find his 'bad boy' traits attractive, if you want to fix him, if you grow blind to his flaws. You then understand exactly why Veronica stayed by JD's side, even through all the crazy shit he did and also planned to do."
Etaleo
Psycho
"I thought Patrick Bateman was cool as a teen & young adult and now I'm an angry awkward weirdo."
Significant-Garlic87
"I believe in taking care of myself and a balanced diet and rigorous exercise routine. In the morning if my face is a little puffy I'll put on an ice pack while doing stomach crunches. I can do 1000 now. After I remove the ice pack I use a deep pore cleanser lotion."
"In the shower I use a water activated gel cleanser, then a honey almond body scrub, and on the face an exfoliating gel scrub. Then I apply an herb-mint facial mask which I leave on for 10 minutes while I prepare the rest of my routine. I always use an after shave lotion with little or no alcohol, because alcohol dries your face out and makes you look older. Then moisturizer, then an anti-aging eye balm followed by a final moisturizing protective lotion."
Limp-Munkee69
The Devil
"Madeline Wuntch. You might ask, if she's here who's guarding hades? That fork tongued lizard witch turned out to be a Korean toilet ghost."
itstimegeez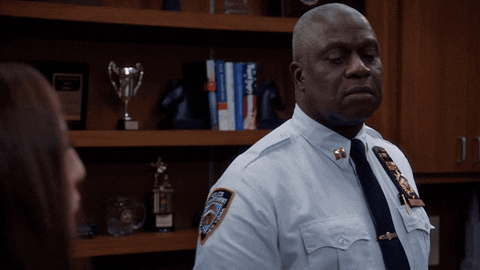 Giphy
I don't care how messed up 50 Shades is... I love you Jamie Dornan.
The Bad Guys
"Gordon Gecko - Wall Street."
"Jordan Belfort - Wolf of Wall Street."
"They are supposed to be cautionary tales of what not to do."
EnigmaCA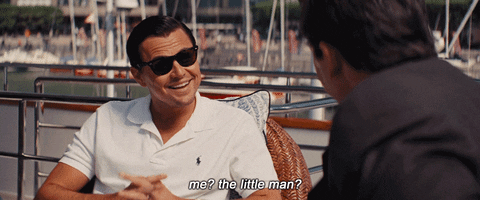 leonardo dicaprio GIF
Giphy
Tony. Tony. Tony.
"Tony Montana... like seriously, he had about the worst ending you could ask for 🤷🏼."
karmaredemption
"I love shi**ing on this one, because he got assassinated solely because he did the least gangster thing and killed his associate who was going to blow up a car with the narcs kids and wife in it. He dies because he had compassion for innocent people, unlike the thug types that glamorize his image."
AubinSan93
Bad Romance
"For those that love The Notebook. Noah threatened to kill himself if she didn't go on a date with him. Nope nope nope."
AlwaysShip
"They have a toxic boderline abusive relationship. I don't understand how people say it's 'goals' when all they do is fight and manipulate each other."
TWWSi
"I hate that movie with a burning passion. Witch cheated on her fiancé. Her fiancé deserved so much better. I'd pay to see the movie from his perspective."
lonestarcom
Twilighted
"Edward Cullen."
ThiccccLatina1996
"Robert Pattinson has openly talked about how f**ked up that character was. He almost got fired because he played him too dark. He was like 'yeah, it's dark, it's a 100 year old vampire stalking a teenage girl!' He thought Stephanie Myers was like actually deranged."
ScarletCaptain
"I find Bella way worse."
HumanEcon

Him
"Dude from You."
joosypoosy69
"The show first got recommended to me by a woman in my checkout line when i was a cashier. She told me, 'I wish someone loved me like that! Well kind of, haha.'"
LifeNorm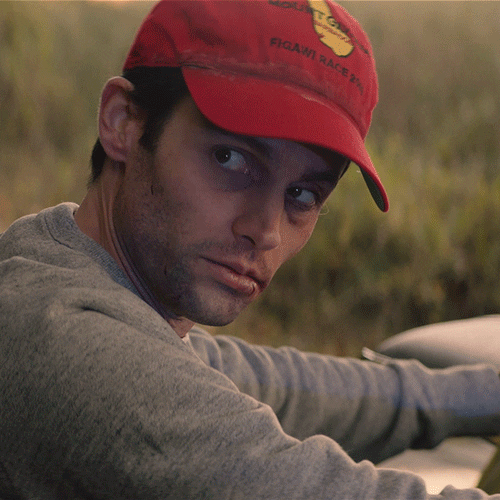 Giphy
Oh Effy
"Effy from skins— the show literally romanticized her mental health disorders."
mygayla
"This is a good one, I watched skins when I was in high school and I really wanted to be Effy, she seemed so cool and awesome and did all the cool kid things. I was a typical teenager and I can only be grateful I didn't do more stupid crap then."
MissNinja007
Interesting
"Luke Castellan. He is not a tragedy. Other characters had it just as bad as him (if not, worse) and didn't turn evil or try to kill innocent people (including the one he loves)."
REDDIT
"Luke is an interesting one to me. I always thought he was the type of person that you weren't supposed to agree with, but you could at least see where he was coming from."
"Even Percy kind of sees it, since he makes the gods promise not to neglect their children so much. There's also the fact that he was being manipulated by Kronos. Not that he was right or people should look up to him, but his choices definitely make sense."
TheOncomimgHoop
Toxic Together
"The Joker."
PinkSweetGhost
"Someone once told me after they saw Suicide Squad that they wanted a relationship like what Joker and Harley Quinn have. I told her 'So you want to be both mentally and physically abused? You want to have to look over your shoulder when he gets mad and hope he doesn't take it out on you? You want to be beaten half to death and then be told it was you who made him do it? Ok whatever floats your boat.'"
Sassh1
Bad Guy
"Walter White."
Sontronite
"Yeah he's legitimately just an awful person from the very first episode. He could have taken the job and not put him and his family at risk. He has several opportunities to stop. He even admits it was just for him. He's an amazing character, but he's a villain that happens to be a protagonist."
-SlinxTheFox-
Kids...
"Romeo and Juliet."
TemporalTailor
"The play was written just after a plague outbreak in London. They were just two horny kids who had to be married before they could get laid, and wanted to get some before they maybe died too. And their families were both filled with a**holes."
Muninwing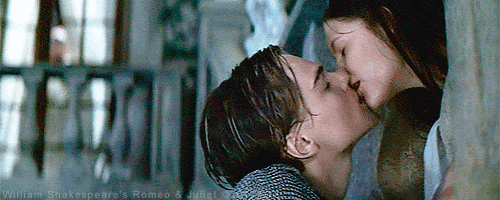 leonardo dicaprio love GIF by 20th Century Fox Home Entertainment
Giphy
Bad Touch
"The Peaky Blinders. I recently watched the show and I just don't understand why every guy wants to be like them. They are all horrible people who destroy everything they touch."
El_Diablo_09
"Glorified in the sense that they radiate charm and power? There's something appealing about the characters but someone watching the show would see that they are deeply troubled. There's a pretty big emphasis on their crippling PTSD, drug addiction and inability to form healthy relationships."
evilcreampuff
Bad People
"Ramona Flowers."
tr0jance
"This is the main reason that I prefer the comics over the movie of Scott Pilgrim (though the movie is great); by the end of the series both Ramona and Scott recognise that they're pretty shitty people but have made some kind of commitment to trying to get better together wheras the movie doesn't really go that far."
Mr_Pleasant2310
Bad Hamm
"Don Draper."
okaydamn
"Yeah, I think most people view the show in the lens of glitz and glamour of an idealized upper-class lifestyle of the time with some comedic and salacious side-story. "
"They miss the point that his most important character development comes later in revisiting his past. Facing being a paper tiger. Feeling lost in what most folk would value as an ideal life. Sad little kid hurt and haunted. And hurting many in the process of trying to run from that."
Dangercakes13
Alan is Genius
"Snape — he bullied a child so badly that he was that child's boggart. And that's just the tip of the iceberg when it came to being a bully or being unfair."
Altrano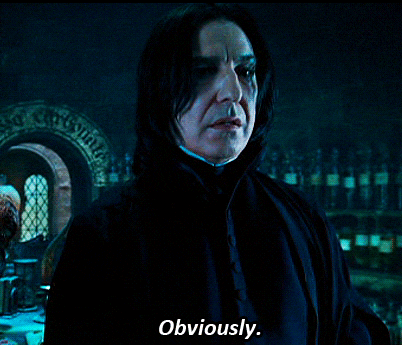 snape GIF
Giphy
Hate Her
"Carrie Bradshaw."
TrashPandaShire
"Yes!!! Thank you! She was the narcissist of the show and Samantha is the sh*t. Carrie cheating on Aidan for the piece of sh*t Mr. Big made me realize how much she placed herself first. And let's not forget the episode where she yelled at Charlotte for not giving her money to cover her financial mistake."
MotherAgnes
How is "YOU" so popular? I mean.. people, raise your standards.
Want to "know" more?
Sign up for the Knowable newsletter here.

Never miss another big, odd, funny or heartbreaking moment again.
Keep reading...
Show less
Fictional characters in cartoons and movies are drawn to portray those characters' personalities. Our hero's look like people we want to be friends with, the leading ladies are conventionally attractive, and our villain's look like someone we want to avoid. However, what if we develop stronger feelings for these animated characters?
Well, one Redditor wanted to know which fictional character we found attractive. This was clearly something on the internet's mind as over 19 thousand people commented about their various attractions.
Some of them weren't even just about their looks, but their charming personalities.
Redditor PigEgirl420afk asked:
"Who is a fictional character that is attractive in a weird way or you thought you would not be attracted to?"
Let's see which animation teams we have to blame for this not safe for work content.
James and the Giant Peach
"A while back I illustrated a James and the Giant Peach horror piece, and was very surprised to learn how many people wanted to f*ck a claymation spider."
"It was Susan Sarandon doing a French accent for a goth spider. It's not a mystery."
"It was definitely the scene where she wraps James up in a web for bed, tucks him in, and tell him no one can tell him what to do. Instantly sold."
"tell him no one can tell him what to do"

"She can..."
- Twillzy
Robin Hood vs. Zootopia
"When I was a kid I thought the animated fox that played Maid Marian in the Disney Robin Hood cartoon from the '70s was very very pretty."
- henazo
robin hood fox GIF
Giphy
"There's a certain community that I understand considers those characters the...ah...'gateway drug,' perhaps?"
"Haha, let's talk about the modern version."
"Nick Wilde."
"I didn't expect to feel those things when watching the movie the first time."
- Far414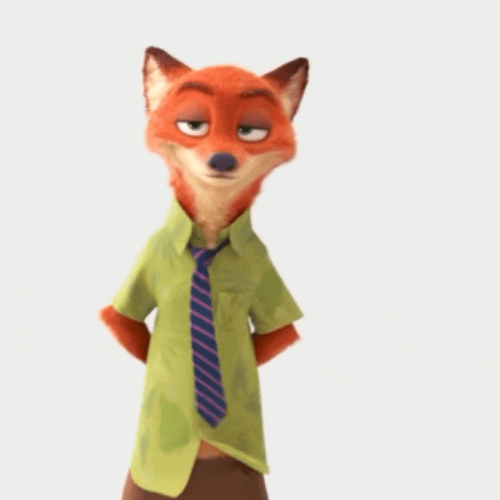 nick wilde selfie GIF
Giphy
Penguins of Madagascar had a great cast of characters.
"Kowalski from Penguins of Madagascar."
"The intelligent hopeless romantic type just gets me."
"Why not all the penguins? Sure, Kowalski is the most stable, loyal, and dependable - very sexy, but the others would be crazy fun, too."
- StuntID
Roxanne from Goofy Movie
"10 year old me definitely had the hots for Roxanne from a Goofy Movie."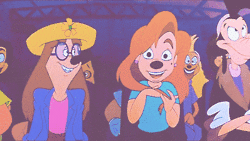 disney max GIF
Giphy
"It was not about her look. It was about the way she looked at Max. We all dreamt of having a cute girl looking at us like that."
"As a bisexual woman in my mid-20's who came across a screenshot of Roxanne on the internet long after watching the Goofy Movie last: they had no right to make a teenaged Disney character that attractive, it definitely was her looks for me haha."
"But yes you totally have a point lol. Everyone wants that."
- jelleem
But also Goofy.
"Goofy....100%"
"Dedicated father, selfless, caring, loyal friend...dude is grade A material."
"I'd sleep with him, I'd marry him, we'd grow old and die together....hyuck"
Not quite the character but close enough.
"So my friends still make fun of me for this, but like 10 years ago we went to Disney World and took pictures with a bunch of characters. We posed with Goofy, and I put my arm around him, and that guy was ripped. We walked away and all I said was 'Did you FEEL Goofy?!'"
"They still laugh at me. But I stand by it, that guy was hot."
Okay, this one was unexpected.
"The Pixar lamp."
"Have you seen the Pixar lamp? It hops onto screen with what I can only describe as the most graceful movements ever. It shakes its little booty at you, straight up squashes the letter I, and then gives you this stare as if to tell you that your next. It's intoxicating."
"Included a link so you can dissect this reply and you'll likely understand at least a little bit Pixar lamp."

animation luxo GIF by Disney Pixar
Giphy
"I like how this thread is 90% people listing conventionally attractive characters and 10% 'yeah that lamp.'"
"My answer is the bear from Annihilation or the weird blood alien from Alien Covenant."
If you had a character in mind that wasn't on this list, don't worry. It's clear that you're most likely not alone given the fact that nearly 12 thousand people wanted to bang the Pixar lamp.
In 10 years, maybe we will see which fictional characters our kids have a crush on.

Want to "know" more? Never miss another big, odd, funny, or heartbreaking moment again. Sign up for the Knowable newsletter here.

Keep reading...
Show less
I love characters I love to hate.
Even when I hate them I can always find the reason they're involved in the story, so I find it difficult to want them to be erased.
Certain characters flaws and the most heinous decisions are written to further story and bolster the audience's love for the heroes.
So as much as we loathe them, we need them; much like our enemies in real life. That is what makes compelling drama.
Redditor u/nekoandCJ wanted to spill the tea on the characters we could do without in our favorite stories by asking:
People of reddit, what fictional character do you hate with a passion?
The list is long for me. It all starts with the guy who shot Bambi's mom. Lord, to this day that is still traumatizing. But she had to go to give Bambi a story. And Michael Douglas's character in "Fatal Attraction," what a putz. He got what he deserved. But how else would we be able to sympathize with Glenn Close? Even though... well y'all get it.
Family Fail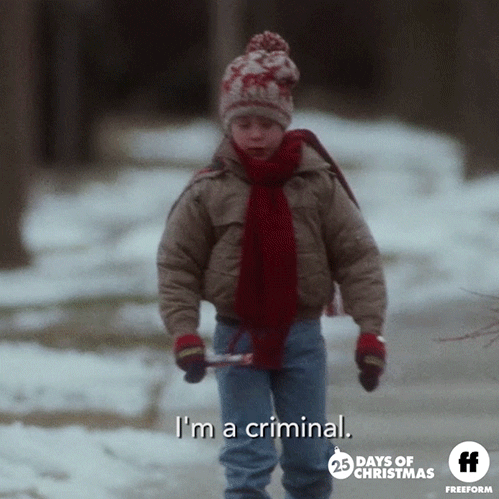 Home Alone Christmas GIF by Freeform
Giphy
"Kevin McCallister's uncle… "look what you did you little JERK!"
- IcyVirto
"Watching Home Alone as an adult is so much harder because basically every adult in Kevin's life fails him."
HIM!
"Percy from the green mile, that freak can DIE IN THE MENTAL WARD!!"
"That was what was so good, there is a Percy in every large group and more that one in any team where failure isn't punished, like a government job working at a prison. He was a great comment on humanity."
Love Sharon Though
"Ginger from Casino."
"Major kudos to Sharon Stone, her performance made me utterly loathe that character. She was a manipulative junkie who tied her young daughter to a bed so she could go out to score. I wanted to reach through the screen and choke her."
"Loathe the character, but that performance is absolutely god-tier. Helluva an acting job. Her and Pesci just freaking nail it to the stratosphere, playing thoroughly unlikeable characters in the absolute most realistic way. Ginger is the holistic ideal of the gold-digging party girl. And Pesci is that moron Dunning-Kruger guy we all know."
Wimps...
"Manny from Diary of a Wimpy kid I think there's a while subreddit about that little monster."
"Honestly Greg is also pretty bad. He breaks his best friend's arm and is not only not sorry about it but also thinks he's the victim."
- ManMan36
Call a Doctor!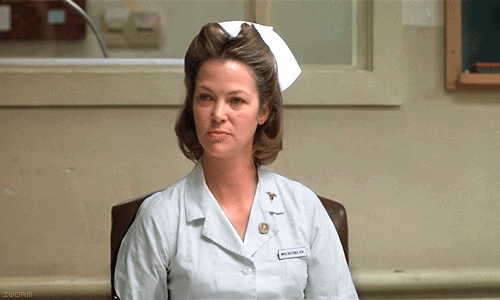 Giphy
"Nurse Ratched in One Flew Over the Cuckoo's Nest. My favorite antagonist ever. Louise Fletcher was perfectly cast for the role, too."
Ohhhh... good choices thus far. Although, I found Sarah Paulson's Ratched more detestable. You know who else is a mess? Elmira Gulch. Love the Wicked Witch. Hate Elmira! Go figure...
True Evil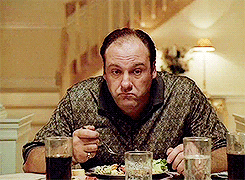 the sopranos hbo GIF
Giphy
"Livia Soprano made my blood pressure rise every time she was on screen. Great acting. Mission accomplished."
That Voice!
"Micah bell."
"I will say, I've seen Comic-Con panels with him and his smarta** sense of humor fit Micah perfectly. He may have hated the character, but boy oh boy was he a fantastic casting choice. As were all the main cast, for that matter."
"Currently replaying, and I so wish I could leave him to hang in Strawberry. Gotta give it to him though, he is a tremendous villain."
All the Drama
"When I tell you I stood up and cheered when I originally saw Heather from Total Drama Island finally get booted out of the competition. 'Twas a good day."
"Season 1 I HATED her and loved when she lost her hair. But then it was more of a love-hate relationship with her. She's a fun character. Owen, now that monster I hate. Loved him season 1, but then he just got reduced to fat guy who farts and contributes nothing."
Hit Him!
"Craig from Malcolm in the Middle. He's a selfish, annoying coward. Like the episode where he's injured and he makes Lois drive all over town to different restaurants for him. I love when the helper monkey turns on him, that's what he gets for treating it like crap. I especially hate the episode where Hal asks Craig to help him buy a comic book for Malcolm."
"And Craig also makes Hal drive him all over town for different meals and treats and gifts, then when Hal dares to ask when they're actually going to the comic book store Craig flips out and demands to be let out of the car and says he won't help Hal anymore. Like come the hell on, I just want to slap him."
"Do you need a cough drop, Dolores?!"
"I loved Umbridge for the simple fact that she brought out McGonagall's savagery like no one else, and it was glorious."
"Voldemort is just another generic, pointlessly evil type of character that only seems to exist in fiction. Umbridge is the type of tight @ssed bureaucrat that mimics the actual villain in many average people's real lives."
This thread could be endless. So many villains and loathesome characters so little time. But Lord the drama is good!
Want to "know" more? Never miss another big, odd, funny, or heartbreaking moment again. Sign up for the Knowable newsletter here.

Keep reading...
Show less