When we are overwhelmed with many trials and tribulations in this crazy world, we want to escape reality.
With plenty of options to distract us, you would think we can tune out the world around us by immersing ourselves in virtual worlds like video games.

Or those who prefer a more sedentary escape can watch a movie based on fantastical places for their mental escape.
But not all fictional universes are enticing. Some worlds are downright terrifying and nightmarish that make us grateful about our champagne problems back on earth.

Curious to hear about hellish landscapes we should be grateful are not real, Redditor monarchmondays asked:

"Which fictional universe would actually be awful to live in?"
Gamers can take out their aggression by blowing things up. Yeah, don't wanna live there.
Hellhole
"Warhammer 40K wins by a mile."
"The vast majority of the universe is a complete hellhole. Even the 'normal' human worlds are depressing, polluted, slave driving, disease riddled, etc."
"There is only war."
"Obligatory RIP my inbox. Video link for those poor souls who aren't familiar with the universe:"
"https://youtu.be/Z9xMnVfg_n0"
Grand Theft Auto
"The world of GTA would be terrible to live in. You'll have to live in constant fear of the maniacal psychopath who may or may not shoot you, run over you, or just straight up assault you."
Sugar Rush
"Candyland, the only thing to eat is candy and you would eventually be too fat unless you worked out constantly. And I assume there would be no actual water there either."
Most people enjoy superhero movies, but that doesn't mean we want to visit the places where the battles take place.

Sci-Fi Madness
"The Power Ranger Universe. Having a normal day and suddenly you're trapped in a giant pizza by a monster, then a bunch of spandex clad teenagers shoot lasers and a giant robot shows up that wrecks the entire downtown for the third time this month."
"Really any world with super hero(s). The everyday lives of the average joe is dependent on a few powerful beings and there's probably constant violence."
Scary Society
"The best thing say Superman could do for humanity is probably run on an enormous generator to meet the world's power needs and avoid f'king up the environment."
"In all seriousness though no sane society would allow an exclusive caste of magical beings to serve as judge, jury, and executioner. You can bet that whatever country can capture them first is going to get busy with a Manhattan project to understand and reproduce those phenomena and rightly so!"
Elements of some worlds depicted on TV and film are not that far off from reality – except the one inhabited by hungry, carnivorous naked giants.
Scary Anime

"Attack on Titan, most definitely. The war, the forced amnesia, constantly being at risk of being eaten by giant naked people, no thank you."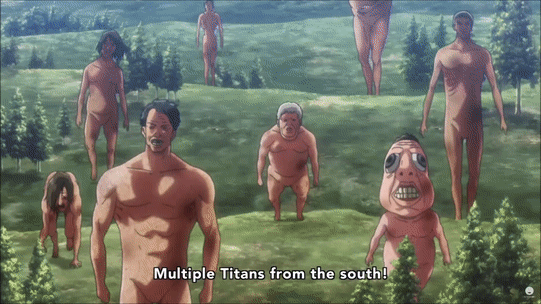 season 2 manga GIF by Funimation
Giphy
A Quiet Place
"Yeah the frustration and fear of it always being on my mind would be so intense I don't know if it would be worth being alive."
Encouraging Rape
"I'm gonna say the Handmaid's Tale. That country spent all their resources and time creating extensively branded torture infrastructure and getting nothing else done."
I love gigantic apes and lizard monsters, but they can most definitely stay on the screen.
When I saw Kong: Skull Island, I was terrified of imagining myself in that fantastical yet violent world.
Remember that dude who was SKEWERED by what he initially thought was an innocuous bamboo?
No, sir, that was a leg of a towering arachnid the poor guy was bamboozled into thinking was something else.
Fooled him once, and now he can rest in peace.
Yeah, I'm not mad about Skull Island being left out on my bucket list of places to live, let alone visit.

Keep reading...
Show less
My favorite movie of all time is Willy Wonka and the Chocolate Factory. That movie slaps, aside from the presence of the evil Grandpa Joe. But I can't help but think of the number of lawsuits that would've taken place after the movie. Despite the fact that Wonka had all of the kids in his factory sign a contract, there definitely would've been a legal case involved after a kid almost drowned in a chocolate river, right?
Luckily, I'm not the only one who speculates the legalities of fictional universes. Thanks to Reddit, we can have discussions like this without looking like a weirdo at every party you go to. Because trust me, most drunk people don't want to hear about your Golden Ticket conspiracy theories. Trust me.
U/Yuuhxyuuh asked:
What fictional character should have been hit with a huge lawsuit at the end of the story?

​Why is it that most children's movies come with some truly awful adult characters? They would've been the first to be slapped with a lawsuit.
I feel like this goes for most superheroes.
"The Power Rangers, they're a paramilitary group and are (almost) never officially sanctioned to operate by their relevant municipalities. They cause massive amounts of destruction from their fights and by not warning anyone about the enemies they battle."
​The poor Baudelaires.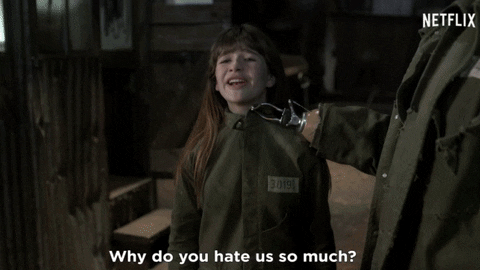 Why Do You Hate Us So Much Neil Patrick Harris GIF by NETFLIX
Giphy
"Pretty much every adult in A Series of Unfortunate Events."
"Given that the in universe legal system of ASOUE allows a man to marry his adopted 13-year-old daughter, coerced by a threat to her baby sister's life, under the guise of a fraudulent play, presided over by a judge unaware she is acting in an official capacity, and absolute none of this legally invalidates that marriage and the only thing that saved Violet was a loophole that a signature doesn't count if written with one's non-dominant hand, I don't have high hopes for the Baudelaires in civil court."

Do you feel it, Mr. Krabs?
"It's still running but, I can only imagine all the labor laws Mr. Krabs has broken."
I remember the episode where Patrick wanted to win an award Big Pink Loser and so he worked for Mr. Krabs with SpongeBob. The conversation was loosely:

Patrick- I can get my award working for Mr. Krabs
Spongebob- Yeah and at $50 dollars an hour. When I started working here, I had to pay Mr. Krabs $100 dollars an hour.
I always thought it meant Patrick was being paid that much until I realized what it really meant.
Hogwarts was a death trap.
"Vernon Dursley from Harry Potter. Child abuse, both verbally and possibly physically."
"Also, Hogwarts would have been sued I'm certain by multiple parents on multiple occasions if it were an option in the Wizarding world. That place is a security nightmare! (credit, mugglecast for fully convincing me that security nightmare is an accurate description)."

"Cerberus chilling in a closet, basilisk wandering the pipes, ferocious textbooks that can bite, dementors wandering around, very questionable teachers including a host to Voldemort, a death eater on polyjuice, a werewolf (despite that he was a good teacher), and a ministry official that used physical (permanently scarring) punishment on students. Totally acceptable place to send your kids every year, for sure."
​Weird, the movies you loved without question as a kid kinda shift your perspective as you get older.
​That deleted scene would've helped with context.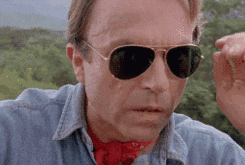 shocked jurassic park GIF
Giphy
"John Hammond from Jurassic Park. His legal team would spare no expense."
"From memory, there's a deleted scene from The Lost World: Jurassic Park where that happens. It's a boardroom discussion about payouts to the families of the workers who died and to the British family that accidentally stumbled upon Isla Sorna. Because of it, the board agrees to sack Hammond and make Ludlow head of Ingen with immediate effect. Ludlow then comes up with a plan to get their money back by opening up the park in San Diego using dinosaurs from Isla Sorna. Come to think of it removing that scene kind of removes a ton of context from the rest of the film."
Hell, I wanna sue this movie for messing me up.
"The dude who ran the Truman Show"
"Funny that movie was on tv and I just watched it again. Truman would have been able to sue for hundreds of millions. Then the money and fame would get to him. I think Truman would have had a mental breakdown after leaving. He would have been one of the most famous people ever. He wouldn't understand the hounding, everyone using him wanting him to do business with them."
"Everyone knowing every single intimate detail about you. Trying to come to terms it was all fake. He would be extremely paranoid his entire life and have a complete existential crisis"
Different rules for the John Hughes universe.
"Ferris Bueller."
"Everything that goes on with the car, hijacking a parade float, or trepassing throughout the neighborhood. Man the 80s we a different time."
It's so wild what fictional characters ​get away with. It almost makes me mad, before I realize that they're fictional and that I've had too much wine while bingeing these shows.
They should all be in jail.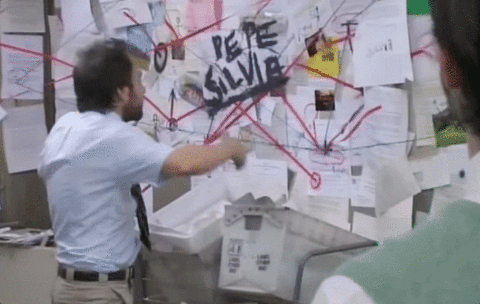 Always Sunny Fx GIF
Giphy
"The gang from It's Always Sunny in Philadelphia should be bankrupt from lawsuits and/or in jail by now from all the stuff they've done."
"I'd say almost 1 in 3 episodes should land one of them in jail for a couple years. With at least 1 season landing all of them in jail."
I can't watch The Office for this reason.
"Michael Scott."
"I like the episode where they hired an ex-con. He had been convicted of insider trading. Kevin later quietly confesses: 'I had him explain it to me three times. Because it sounds a lot like what I do here every day.'"
​Doctors would never get away with what they do on this show.
"Every character in Grey's Anatomy."
"The amount of HIPAA violations on that show was extremely distressing I have often said I would never ever want to be a patient in that hospital."
As for Willy Wonka, I'm pretty sure the only reason why he wasn't sued was that he had to live with Grandpa Joe. And that, my friends, is a punishment worse than death

Let it be known--if you ever find yourself in a fictional universe, you can basically do whatever you want without consequences. Best of luck, and godspeed.
Keep reading...
Show less
Have you ever been reading a book, watching a movie, or even sitting down for a fantastical cartoon and began to salivate when the characters dig into some doozy of a made up food?
You're not alone.
Food is apparently fertile ground for creativity. Authors, movie directors, and animators all can't help but put a little extra time and effort into the process of making characters' tasty delights mouthwatering even for audiences on the other side of the screen.
Read on for a perfect mixture of nostalgia and hunger.
AllWhammyNoMorals asked, "What's a fictional food you've always wanted to try?"
Some people were all about the magical foods eaten in the magical places. They couldn't help but wish they could bite into something with fantastical properties and unearthly deliciousness.
Nutritious
"Enchanted golden apple" -- DabbingIsSo2015
"The Minecraft eating sounds make me hungry" -- FishingHobo
"Gotta love that health regeneration" -- r2celjazz
"Pretty sure those are based off the golden apples that grant immortality. Norse mythology I think?" -- Raven_of_Blades
Take Your Pick
"Nearly any food from Charlie and the Chocolate factory" -- CrimsonFox100
"Came here to say snozzberries!" -- Utah_Writer
"Everlasting Gobstoppers #1, but also when they're free to roam near the chocolate river and the entire environment is edible." -- devo9er
Peak Efficiency
"Lembas" -- Roxwords
"The one that fills you with just a bite? My fat a** would be making sandwiches with two lembas breads and putting bacon, avocado and cheese inside. Then probably go for some dessert afterwards. No wonder why those elves are all skinny, eating just one measly bite of this stuff." -- sushister
Some people got stuck on the foods they saw in the cartoons they watched growing up. The vibrant colors, the artistic sounds, and the exaggerated movements all come together to form some good-looking fake grub.
The One and Only
"Krabby patty 🍔" -- Cat_xox
"And a kelp shake" -- titsclitsntennerbits
"As a kid I always pretended burgers from McDonalds were Krabby Patties, heck from time to time I still do for the nostalgia of it all. Many of my friends did the same thing." -- Thisissuchadragtodo
Cheeeeeeeeese
"The pizza from an extremely goofy movie. The stringy cheese just looked magical lol" -- ES_Verified
"The pizza in the old TMNT cartoon as well." -- gate_of_steiner85
"Only bested by the pizza from All Dogs Go to Heaven." -- Purdaddy
Get a Big Old Chunk
"Those giant turkey drumsticks in old cartoons that characters would tear huge chunks out of. Those things looked amazing, turkey drumsticks in real life suck and are annoying to eat."
-- Ozwaldo
Slurp, Slurp, Slurp
"Every bowl of ramen on any anime, ever." -- Cat_xox
"Studio Ghibli eggs and bacon" -- DrManhattan_DDM
"Honestly, any food in anime. I swear to god half the budget no matter what the studio goes into making the food look absolutely delicious." -- Viridun
Finally, some highlighted the things that aren't quite so far-fetched, but still far enough away that it's nothing we'll be eating anytime soon.
That tease can be enough to make your mouth water.
What's In It??
"Butter beer" -- Damn_Dog_Inappropes
"came here to say this. i was pretty disappointed with the universal studio version which was over the top sweet. it was more of a butterscotch root beer. i imagine butter beer to be something more like butter and beer, which wouldn't be crazy sweet, but would have a very deep rich flavor" -- crazyskiingsloth
Slice of the Future
"The microwave pizzas in back to the future two" -- biggiemick91
"I've been fascinated with those for years! They just look so good!" -- skoros
As Sweet As They Had
"The Turkish Delight from Lion Witch & Wardrobe. The real ones I had weren't bad but nothing special." -- spoon_shaped_spoon
"Came here to say this. I know it's a real thing, but I always imagined that it must have been amazing to betray your siblings over." -- la_yes
"You're used to freely available too sweet sweets. For a WW2 era schoolkid, it would have represented all the sweets for an entire year." -- ResponsibleLimeade
Here's hoping you made it through the list without going into kitchen for some snack you didn't actually need.
Want to "know" more? Never miss another big, odd, funny, or heartbreaking moment again. Sign up for the Knowable newsletter here.
No hero can ever emerge a remarkable hero without a formidable foe. So many have been brought to life on the silver screen and in great literature. The most entertaining, dastardly and downright fun to watch are the ones who can actually draw empathy out of us, and possibly a bit of sympathy. Each character is fueled by their pain and who can't relate to that? Half the time you may find yourself routing for them!
Redditor u/SadCicada wanted to discuss the MOST wicked of them all by asking.... Who is the best fictional villain and why?
Keep reading...
Show less